Game Guides
Devil Hunter: Eternal War – The Best Tips and Tricks for Getting Started on BlueStacks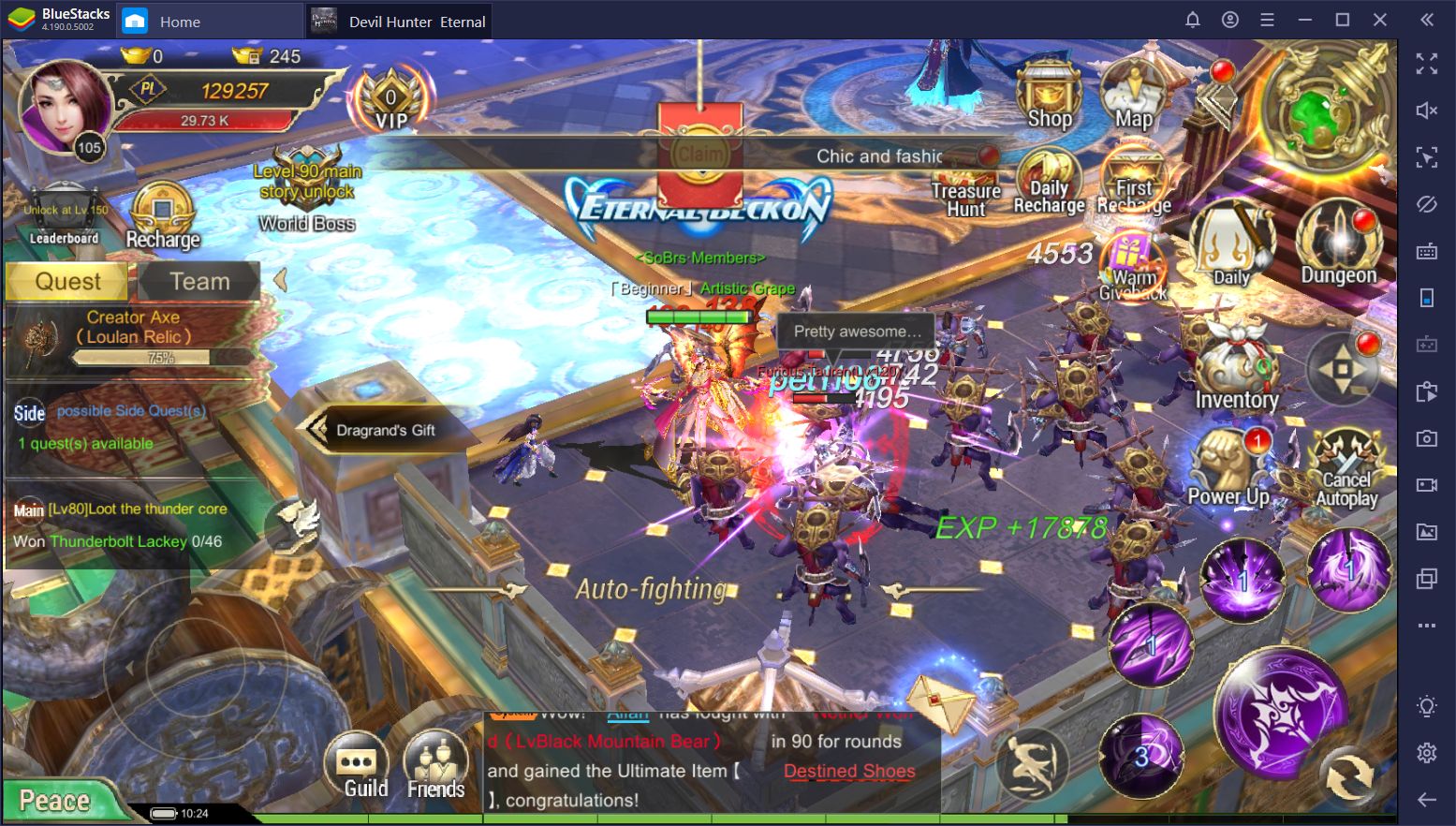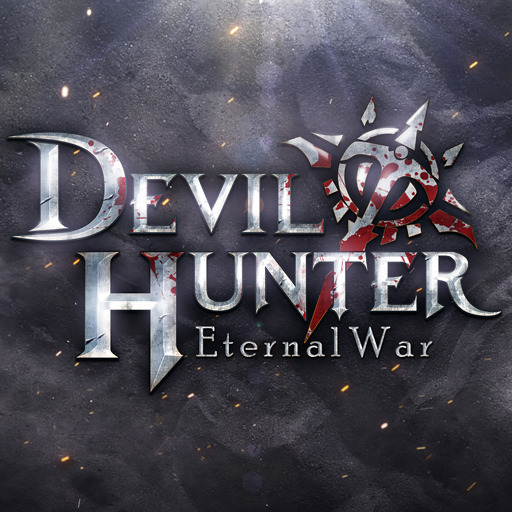 As far as MMORPGs with a heavy focus on automation go, Devil Hunter: Eternal War is definitely one of the most exciting additions to the ever-expanding catalog of mobile games in this genre. This game offers the traditional gameplay that we've come to expect from titles in this category while cranking up the automation features to 11. The result is a game that is stunning in terms of visuals and that is also very fun to play, while also featuring powerful auto-navigation and auto-combat features to streamline gameplay when the player simply doesn't have enough time to sink into playing.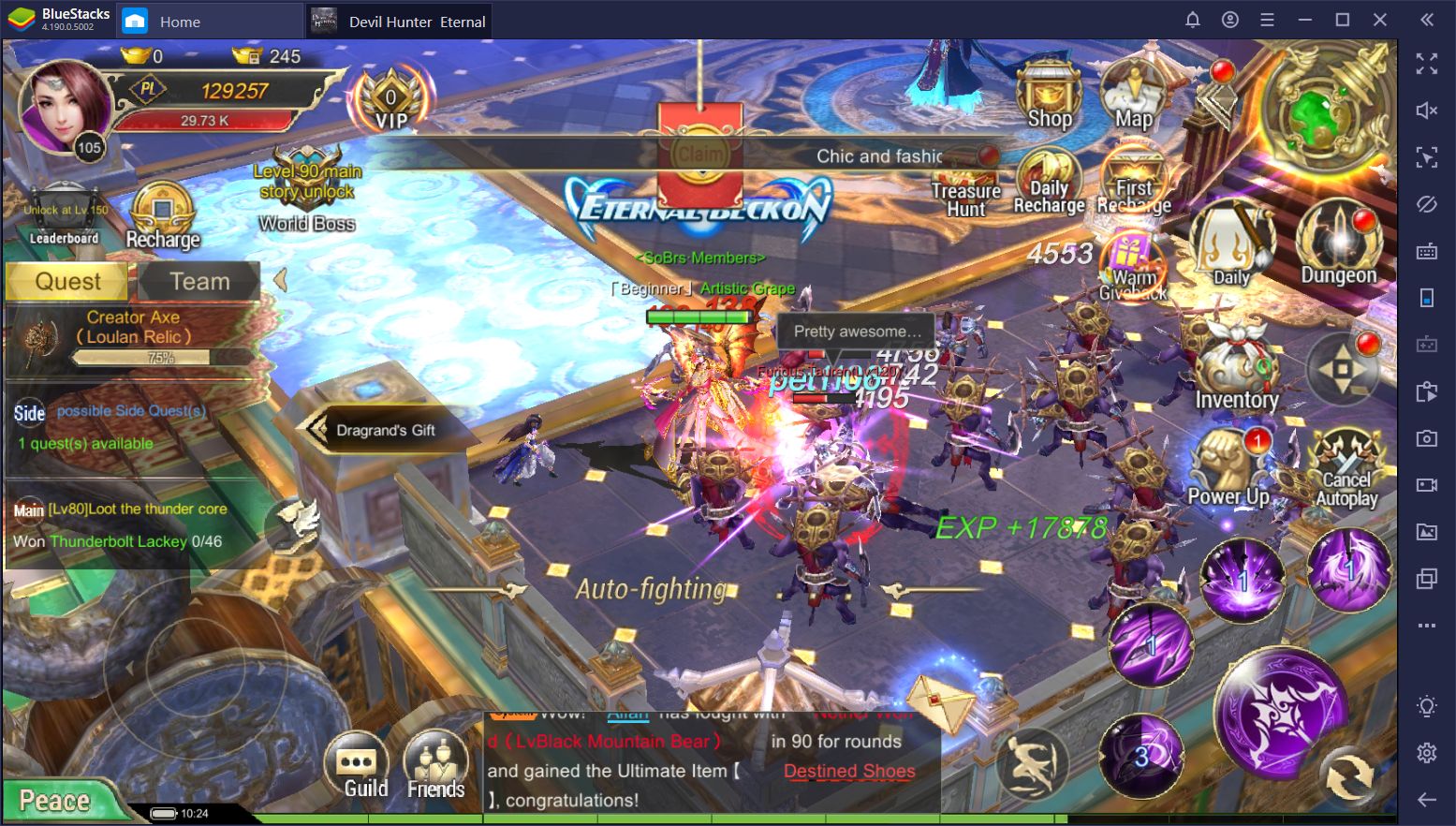 We already talked about the basic gameplay aspects of Devil Hunter in our beginner's guide. This time around, we want to share some awesome tips and tricks for those who are getting started in this MMORPG.
Improving Your Controls With the Keymapping Tool
First and foremost, we want to talk about the most important aspect when it comes to interactive media like video games; being actually able to play the game. This includes having access to comfortable controls that are conducive to the type of gameplay the developers want to create within their title. For intense, action-oriented games like Devil Hunter, the standard mobile touchscreen controls fall flat when it comes to comfort and usability.
This is where BlueStacks comes in.
Aside from providing a much better experience from the start by allowing you to enjoy HD graphics and performance that surpass even the strongest phones on the market, BlueStacks also offers plenty of tools to significantly improve your experience with any mobile game. The Keymapping Tool, in particular, is important for action titles like Devil Hunter since it allows you to create flexible control schemes that involve your mouse and keyboard.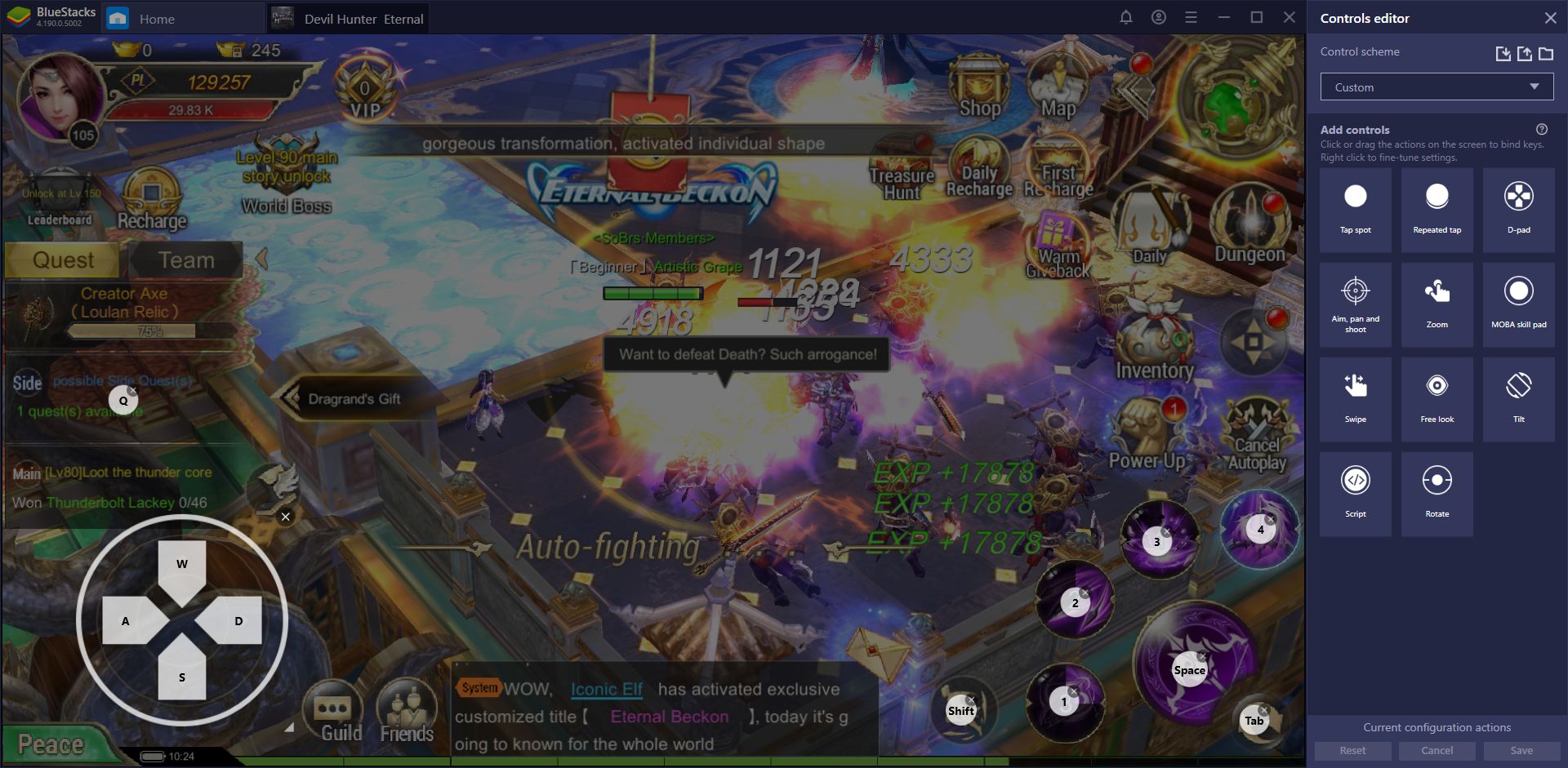 By using your peripherals instead of swiping and tapping at the screen like you'd have to do when playing on a mobile device, you can control your character's movements with a standard WASD configuration, and even bind your abilities to other buttons on your keyboard, improving your control and precision greatly even in those chaotic and hectic battles.
A good control scheme can go a long way towards ensuring victory over your enemies in games like Devil Hunter, and you'd do well to create one suited to your preferences if you're serious about getting good in this MMORPG. Take a look at our setup above if you need ideas on how to create a basic control scheme for this game.
Complete Your Daily Quests and Claim Your Activity Prizes
Now that you have a powerful control scheme configured, it's time to actually play the game. And while progressing through the main story is simple and straightforward, farming for materials and resources requires a bit of know-how. Luckily, the daily quests in Devil Hunter offer most of what you need as rewards for completing simple tasks. Once you reach a certain level, you'll see the "Daily" button appear on the top right of the screen. Within, you'll find numerous quests that reset every 24 hours and which give many different prizes upon completion.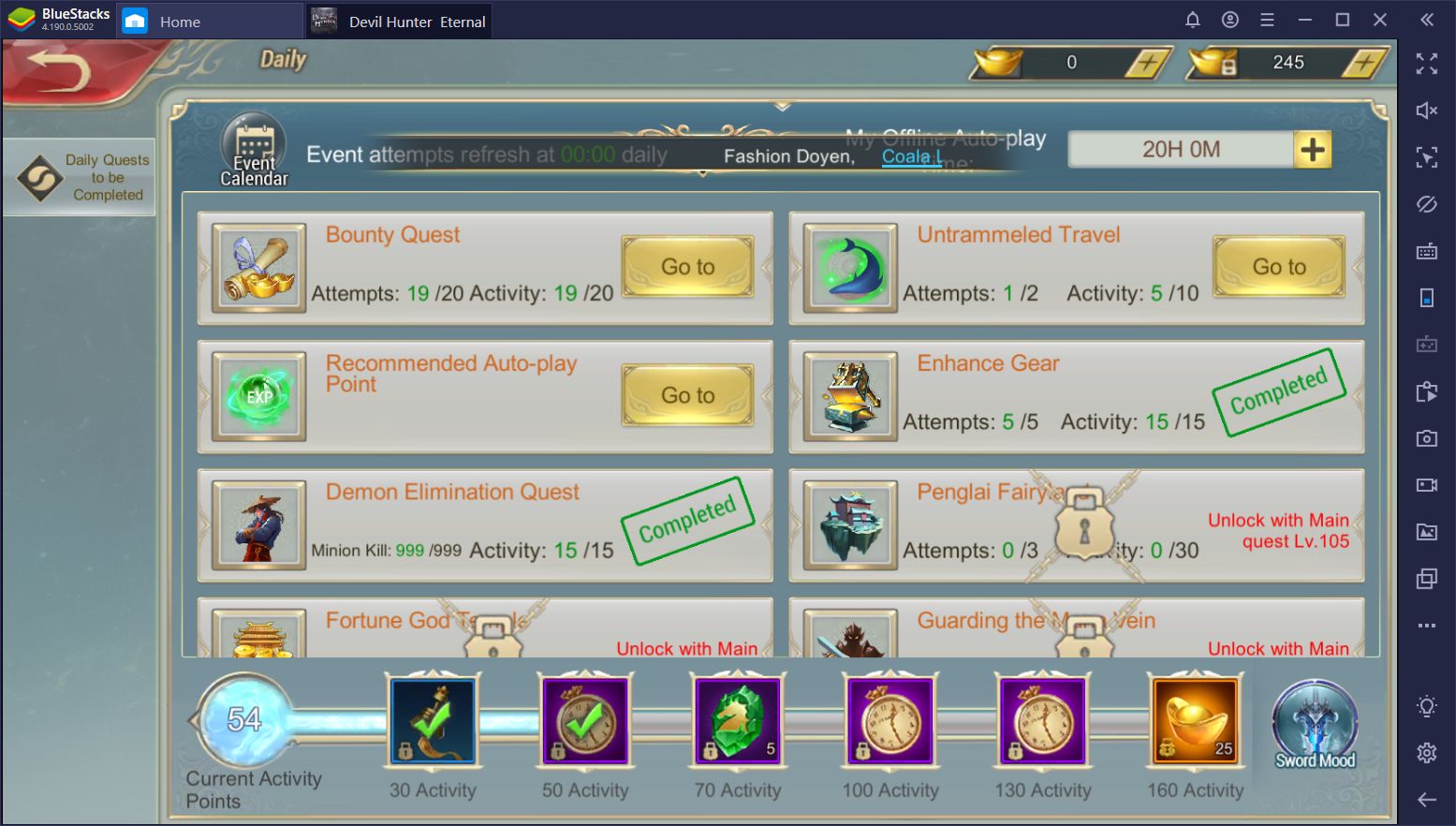 Aside from the rewards you receive from completing specific missions, you will also obtain activity points for finishing each daily task. These activity points add up and, upon reaching certain milestones, grant additional rewards, some of which are quite important. While some daily quests are more important than others when it comes to their rewards, it's worth it to do every single one in order to accumulate activity points and claim all the daily rewards, which include offline auto-play time, upgrade items, and even premium currency.
Recharge Your Offline Auto-Play Time Before Logging Off for the Day
Speaking of offline auto-play, there's an AFK system in Devil Hunter through which your character can continue grinding and farming even while you're offline. However, there's a limit to how much grinding you can do, which is represented by your offline auto-play time. In order to continue using this feature, you'll need to constantly recharge your offline time by using Offline Auto-Play Cards. Luckily, these items are readily available as rewards for your daily quests.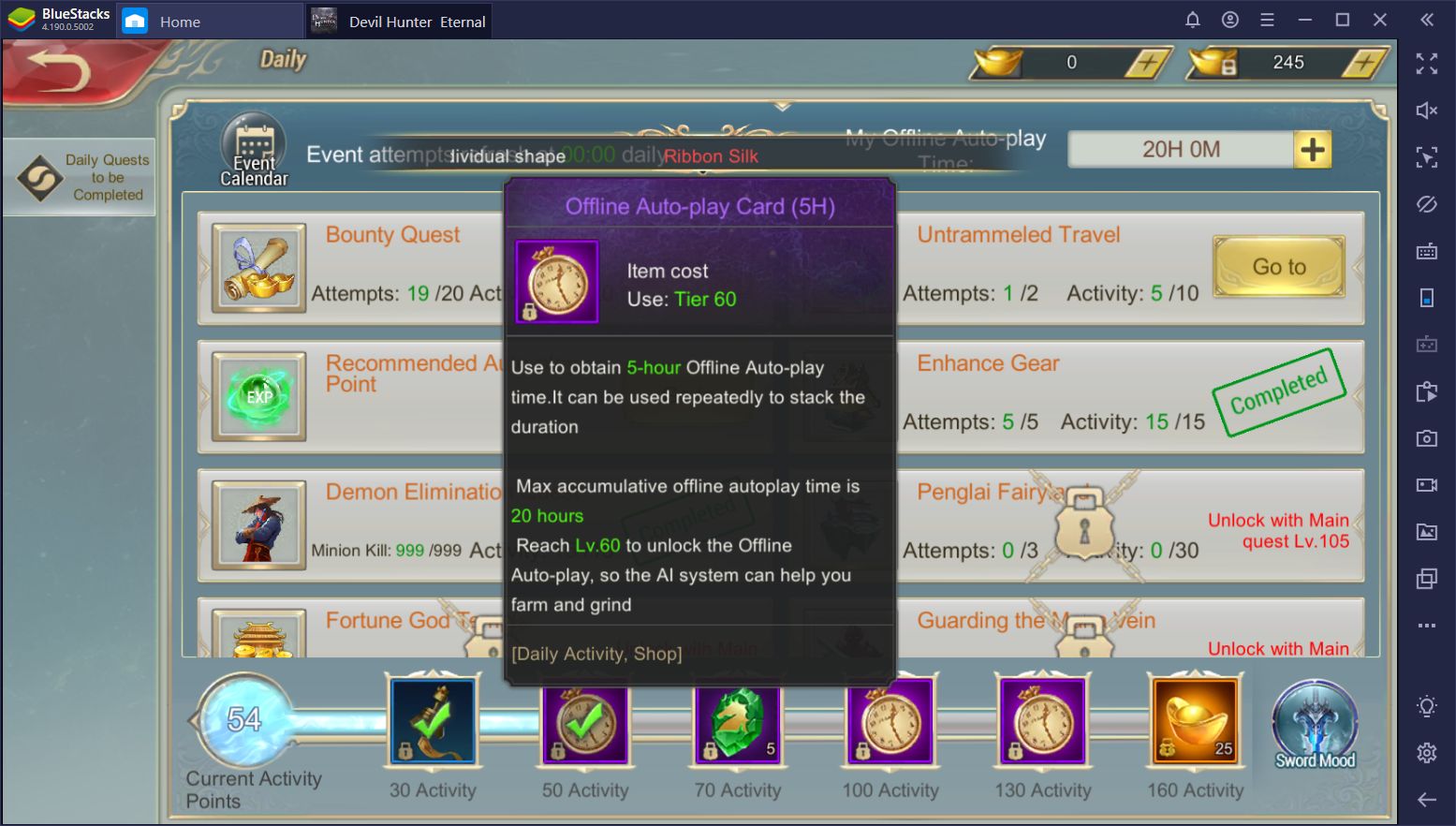 Keep Your Gear Upgraded
One of the defining features of Devil Hunter is how this game takes automation to the next level by offering truly effective auto-navigation and auto-combat systems, which allow you to skip most of the manual grinding as your character powers up and completes objectives in your stead. While these systems are quite powerful and rarely get interrupted, meaning you can automate most of the gameplay so you can focus on other tasks while your character completes challenges, this means that preparation is the most important aspect when it comes to progressing in this MMORPG.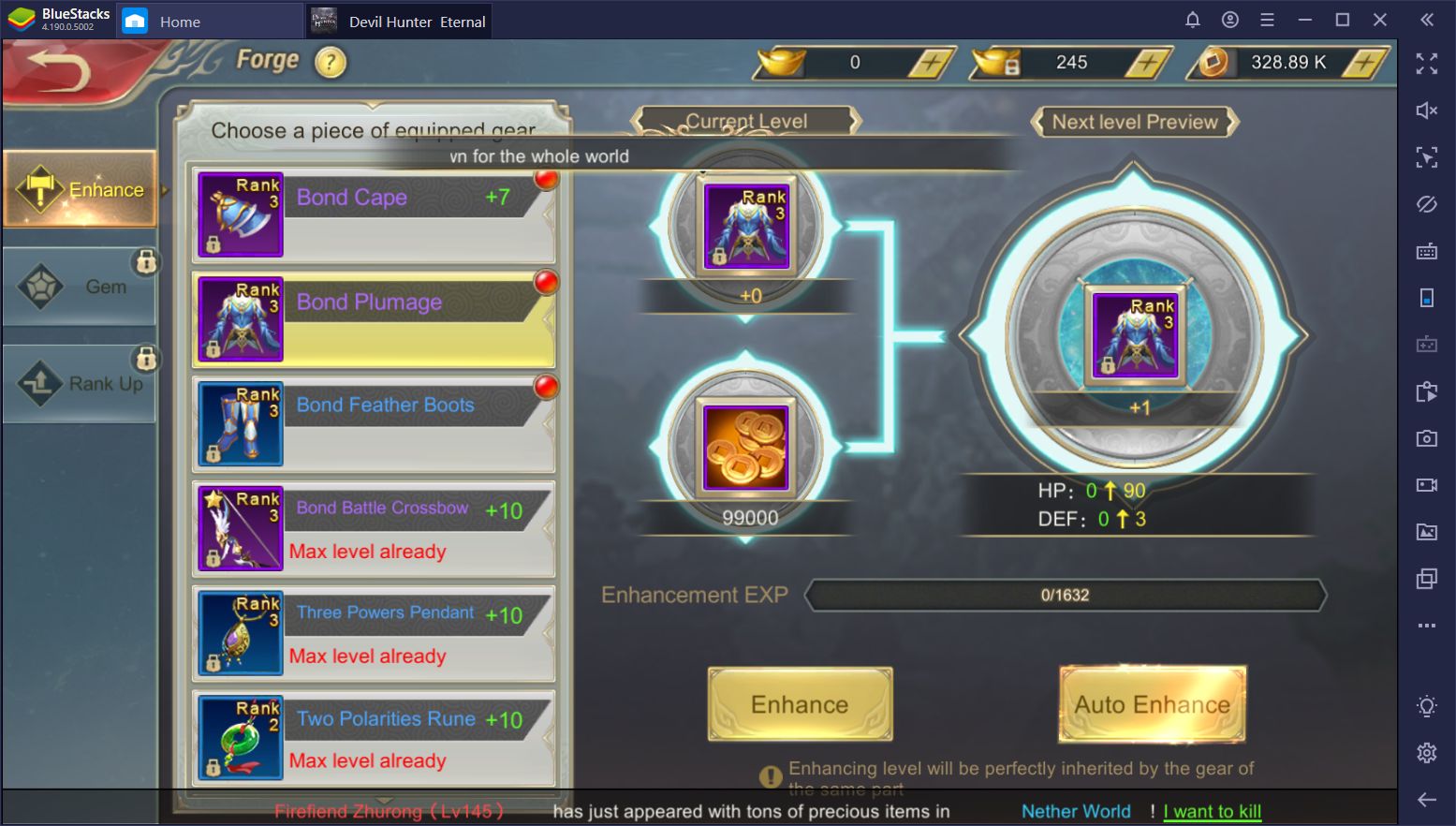 You see, even though your character can grind for you, he won't be able to get very far if you have mediocre gear and haven't invested resources into developing their strength. Even though your character will try their best to beat the monsters and complete quests, you'll run into many walls if you don't keep them upgraded at all times. However, Devil Hunter is a bit vague when it comes to upgrading as this game has little to offer in terms of tutorials and other helpful tips.
Those who are already familiar with mobile MMORPGs will likely have no issues getting used to most aspects in Devil Hunter. However, the newcomers to the genre may have issues staying on top of every single aspect that you must keep upgraded in order to stay competitive in this game. Luckily, upgrading your characters here can be summarized in a single sentence: "Look for the red dots."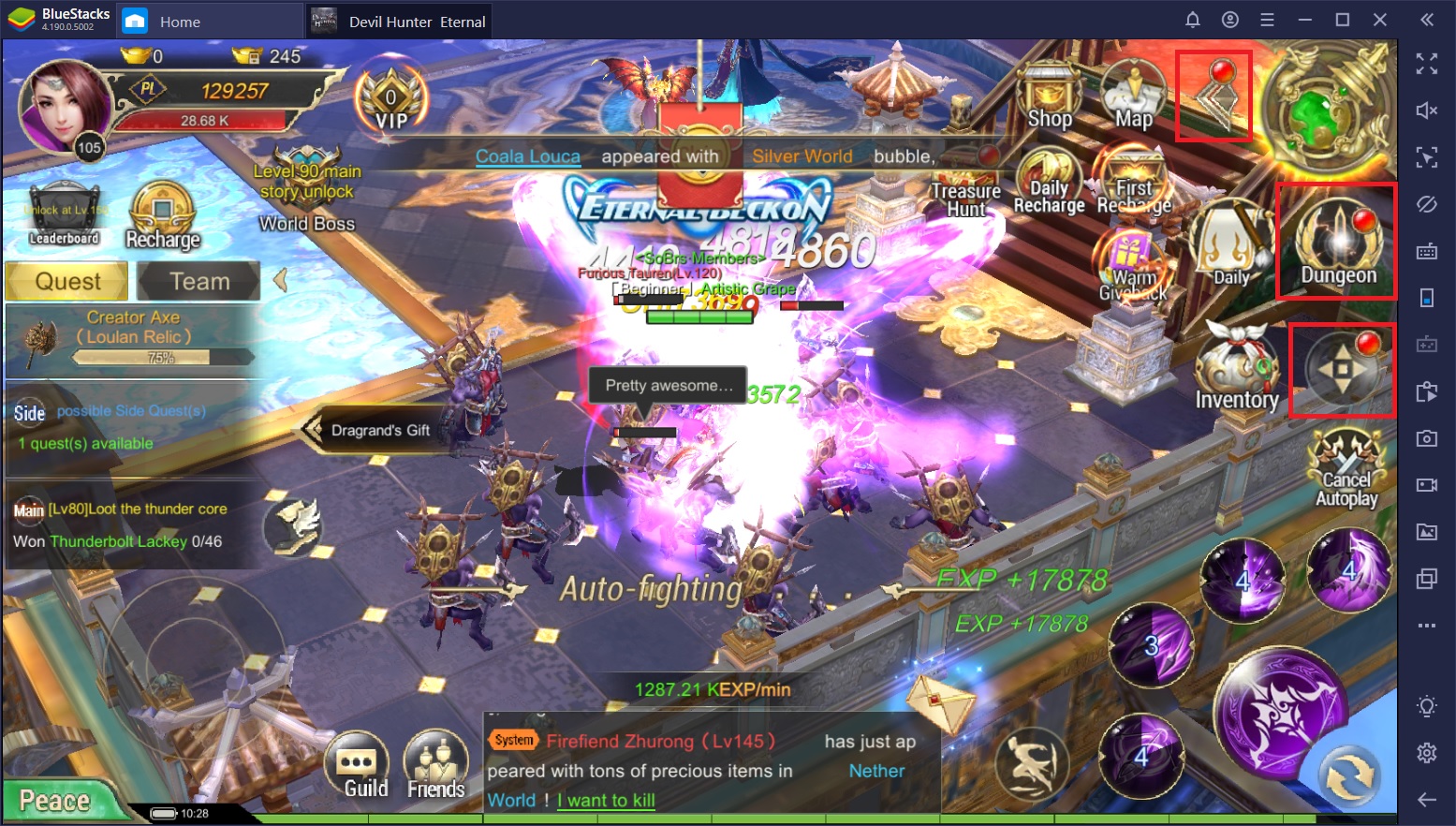 If any button on the UI has a red dot on it, it means there are upgrades available for that specific aspect of your character. Alternatively, a red dot also means that you have rewards pending in the corresponding menu, which must be claimed before you're able to enjoy them. In short, if there's a red dot somewhere, it will likely be worth clicking and exploring the menu as it'll either lead to improving your character, or collecting freebies, or both2.
When In Doubt, Use the Quest List
It's easy to get lost in Devil Hunter since this game offers a metric ton of stuff to do. Luckily, it's also easy to refocus your efforts when you don't know what to do, by simply checking your quests on the list to the left. This small panel not only shows you your pending tasks, but it also functions as the game's auto-navigation system.
By clicking on any of the quests listed here, your character will automatically walk towards the objective and try to complete them for you. This applies to everything from fighting, completing dungeons, and speaking to NPCs. However, there are some quests that require a some interaction on your end, such as navigating the UI and purchasing upgrades, among others. Luckily, these are always just a few simple clicks, after which you can go back to auto-navigation and continue grinding with reckless abandon.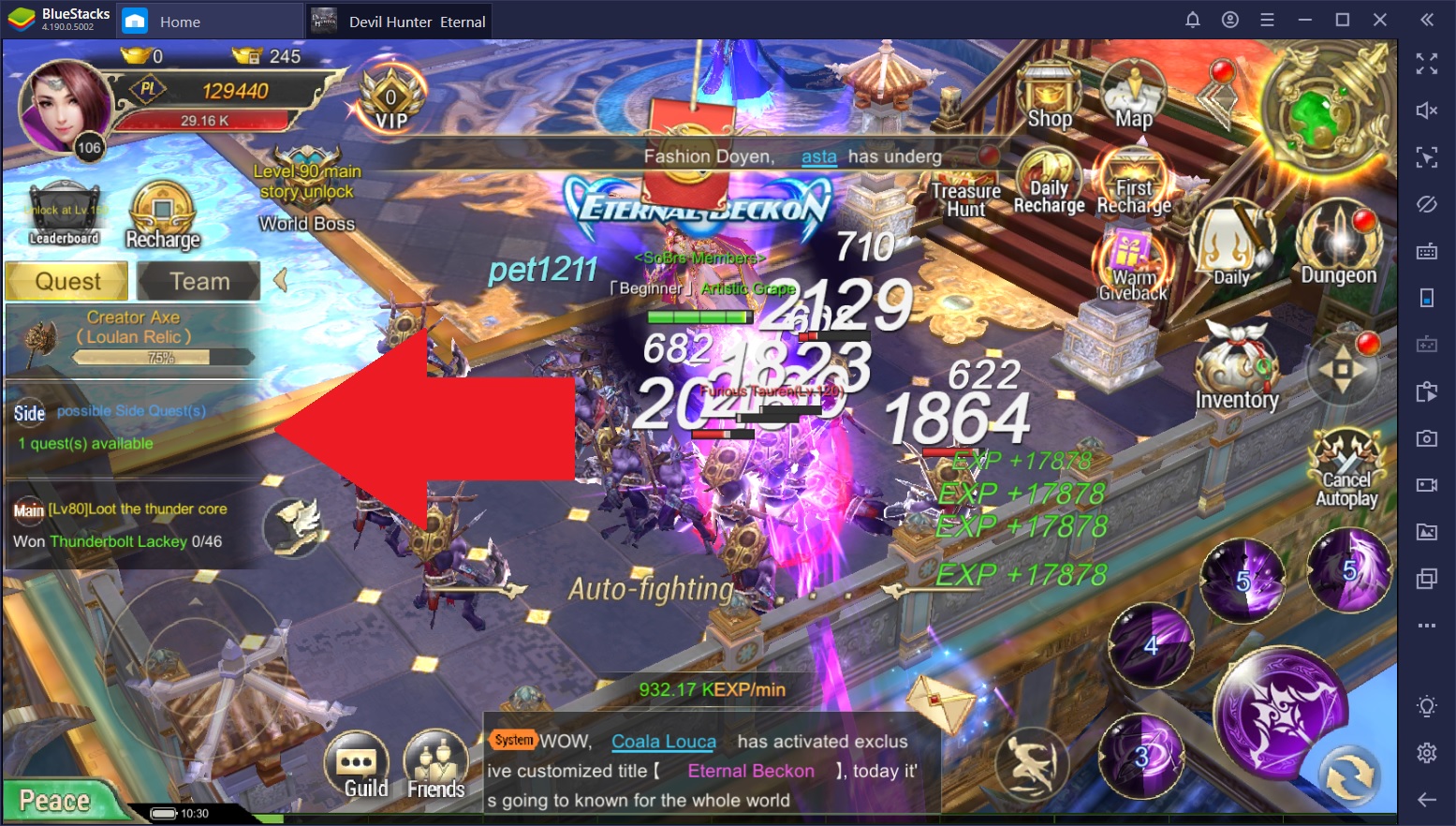 The key to getting good in Devil Hunter: Eternal War is constantly upgrading your character so that he or she can easily beat any monster and challenge without your constant supervision. However, on those specific occasions where you need to go up against the tougher challenges in the game, it's important to have a good control scheme that will help you to outplay any enemy. Luckily, BlueStacks has you covered every step of the way!