Game Guides
Dragonicle – Enhancing Your Gaming Experience with Our BlueStacks Tools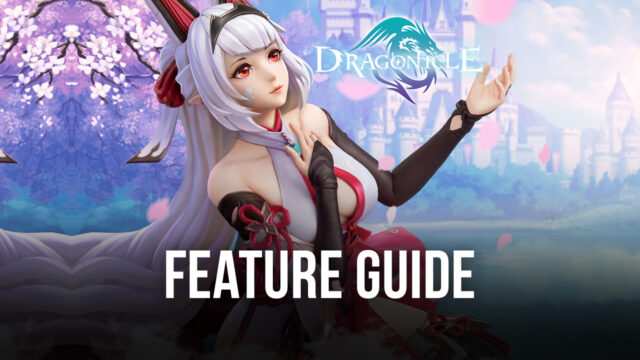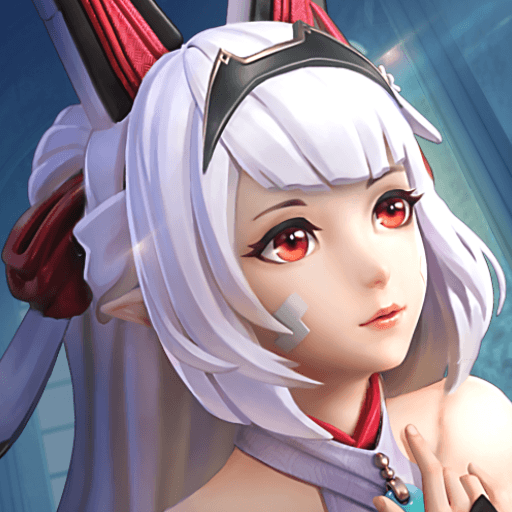 Dragonicle is the brand new mobile MMORPG that you can enjoy on your computer thanks to BlueStacks, our powerful Android app player that allows you to experience the best possible version of your favorite titles, on a much more powerful platform. In contrast to your phone's small screen, inferior hardware, and lack of versatility in terms of tools and features to assist you in-game, your gaming PC can provide much, much better experience with any mobile game. And what's more, when you play on BlueStacks, you also get access to a variety of aspects that can help to significantly improve your experience with any mobile game.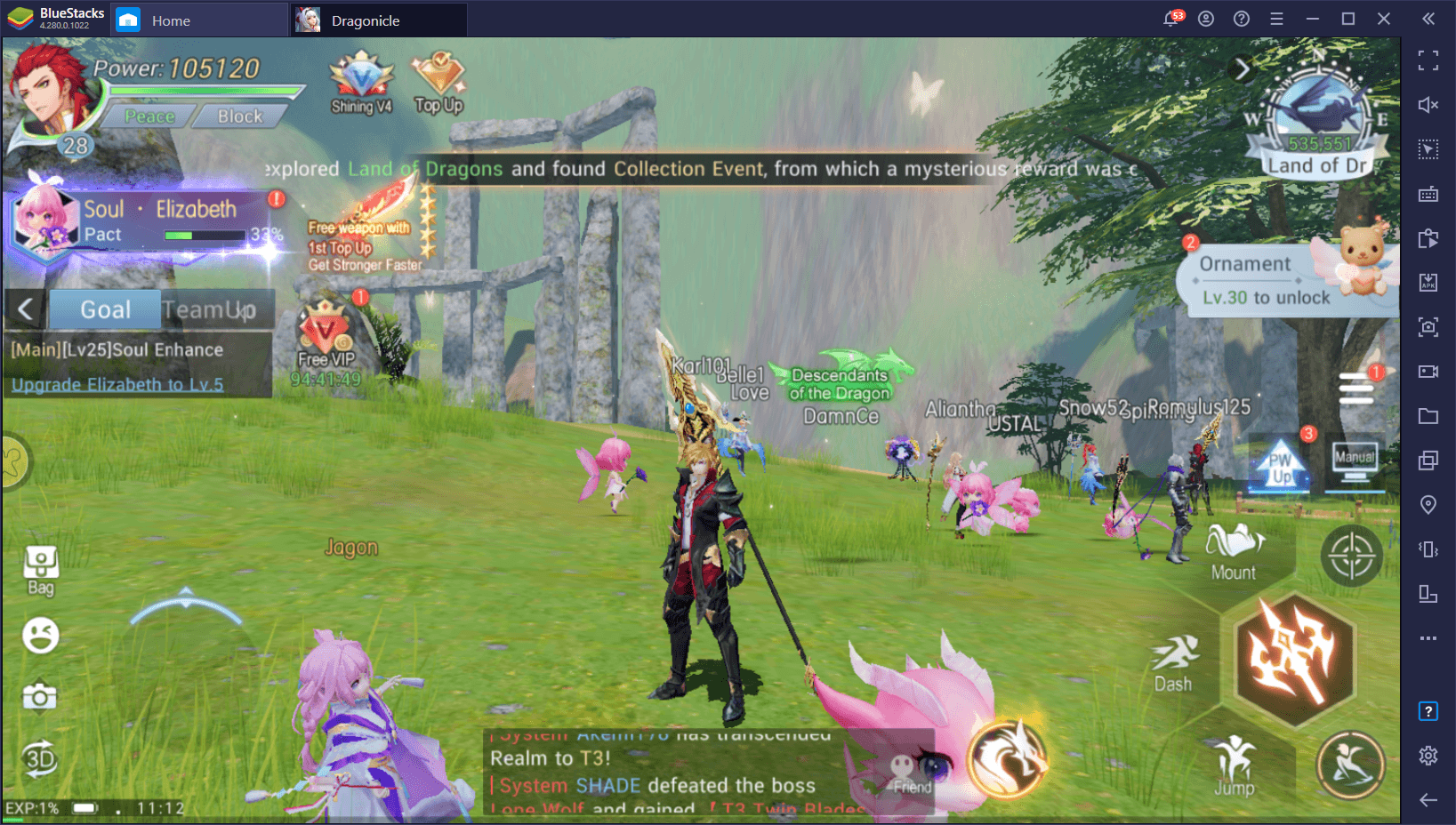 Now that you've downloaded and installed Dragonicle on your PC with BlueStacks, we're going to talk about how to use some of the most important tools that our emulator has to offer, in order to take your gameplay to the next level.
Experience the Best Graphics and Visuals the Game has to Offer
Starting out with one of the elements that immediately catches our eye whenever we start up a new game, the visuals.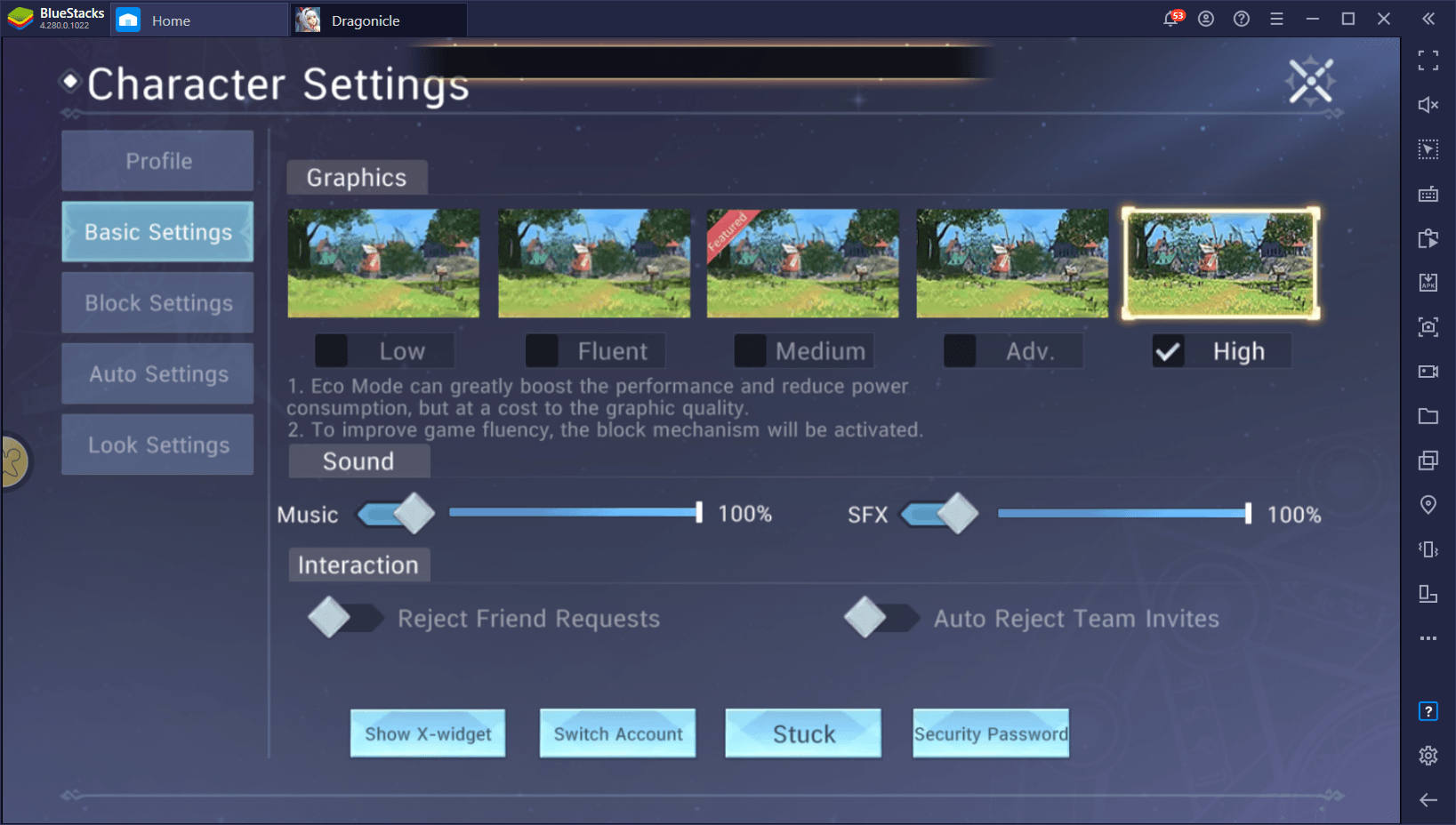 The eye candy in games, for some, can be one of the factors that keeps players coming back for more. There's just something about quality graphics, awesome animations, and other elements of the visual design that further cements our enjoyment of a game. After all, it's not the same mowing down hordes of enemies when the bad graphics don't actually let you appreciate the intense action. Luckily, Dragonicle delivers in droves in this aspect, giving us the options of choosing between several graphical presets that are suited to a variety of phone models and specifications.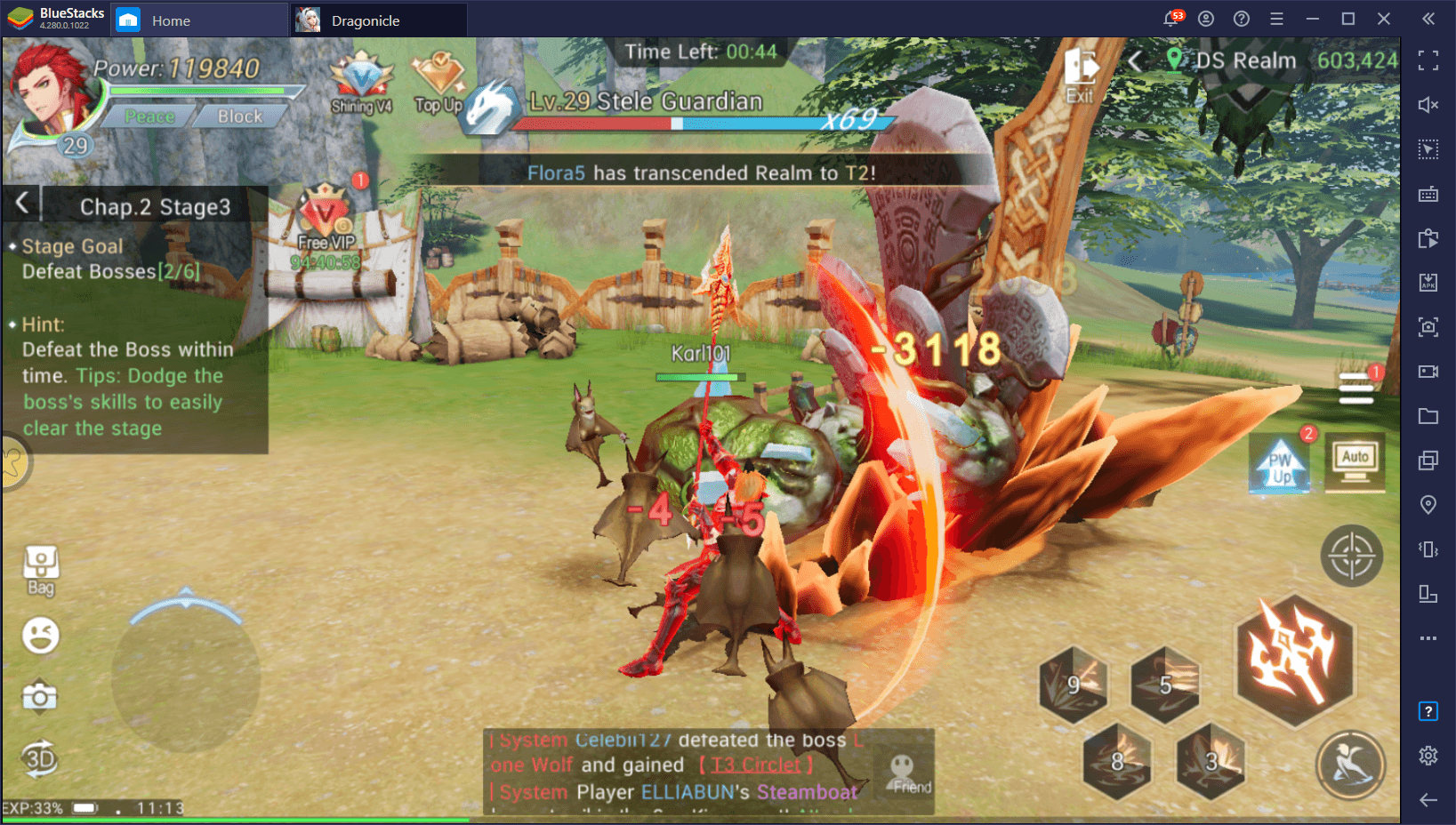 One of the great parts about gaming on BlueStacks is that you don't really care about the hardware limitations inherent to phones, and you can just crank the graphics to the max without worrying about performance issues. When you first launch the game, head on over to the settings menu, select "High" in the graphics parameters, and enjoy the best visuals that the game has to offer. The only limitation here is that Dragonicle doesn't have adjustable framerate, and the game seems to be limited at 30 FPS. If it were possible to adjust it, you can bet BlueStacks would run it at a smooth 60+ FPS without issues.
Improve and Customize Your Controls With the Keymapping Tool
Since you'll be playing mobile games on PC with BlueStacks, you'll obviously have your mouse and keyboard at your disposal at all times. And while you can replace the act of tapping and swiping on a phone screen with clicking on your screen using your mouse, you can also significantly enhance your controls on PC with the Keymapping Tool.
In essence, this feature lets you create any type of control schemes for all your favorite mobile games, by dragging and dropping a series of predefined functions anywhere on the screen, and assigning keybindings to them. In this sense, whenever you press the corresponding button on your mouse or keyboard, the assigned function will activate in the area where you placed it. With this tool, you can essentially control any of your favorite mobiles using your mouse and keyboard, as if it were a typical PC game.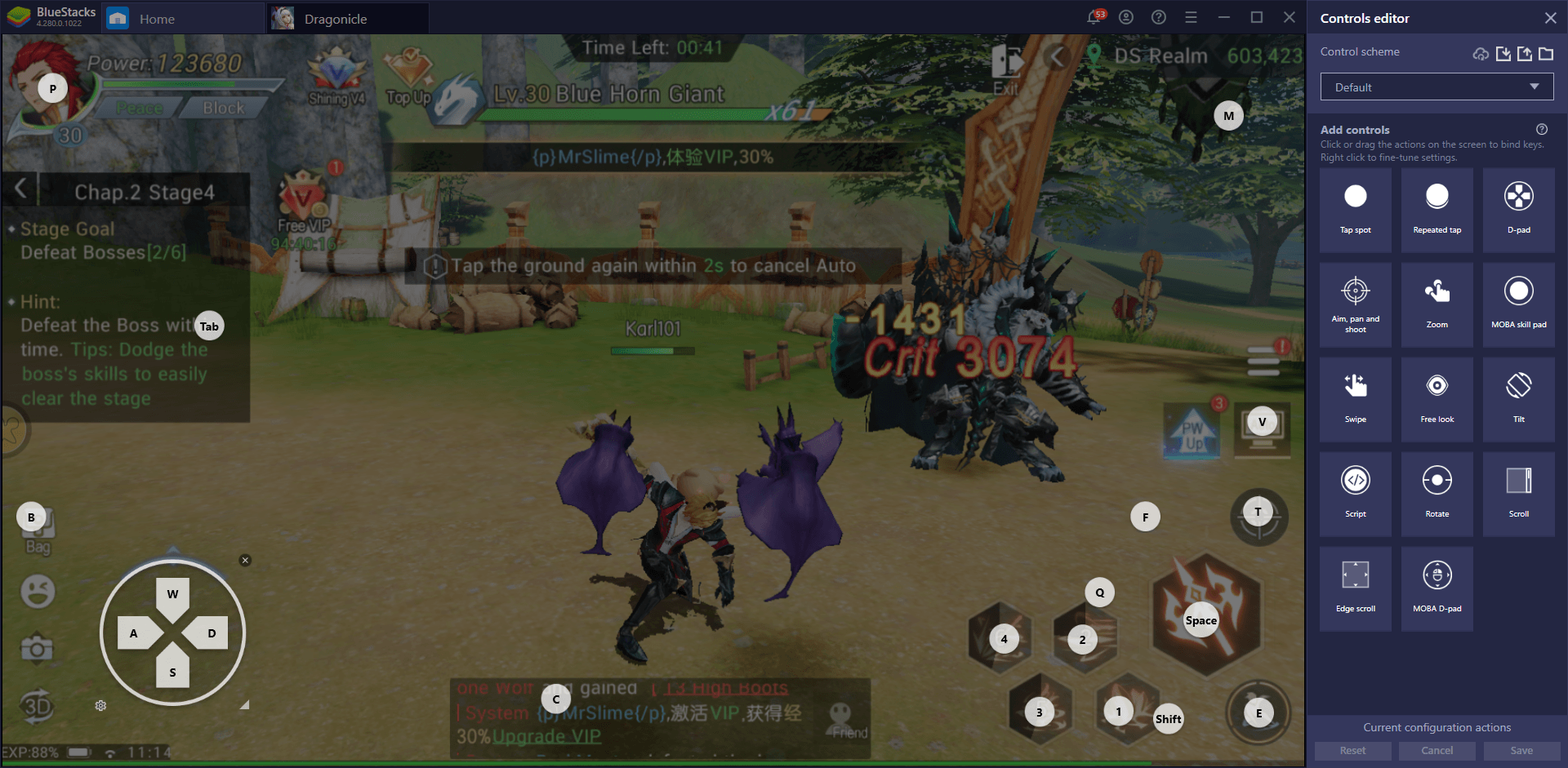 For Dragonicle, when you first launch the game, you'll notice that we have already a predefined control scheme that covers most of the basic controls such as moving, attacking, using skills, and accessing certain menus, among others. You can bring up a guide of the controls at any time by pressing Ctrl + Shift + H. Similarly, you can also toggle a visual overlay of your current controls by pressing Ctrl + Shift + F6, which is great for when you're first getting acquainted with a new control scheme.
Additionally, you can add new buttons to the existing scheme via the advanced editor of the Keymapping Tool itself, which you can access at any time in-game by pressing Ctrl + Shift + A. With this tool, you can drag and drop functions from the panel on the right to anywhere on the screen, and then assign keyboard and mouse binding to these shortcuts, to assign more functionality to the existing control scheme.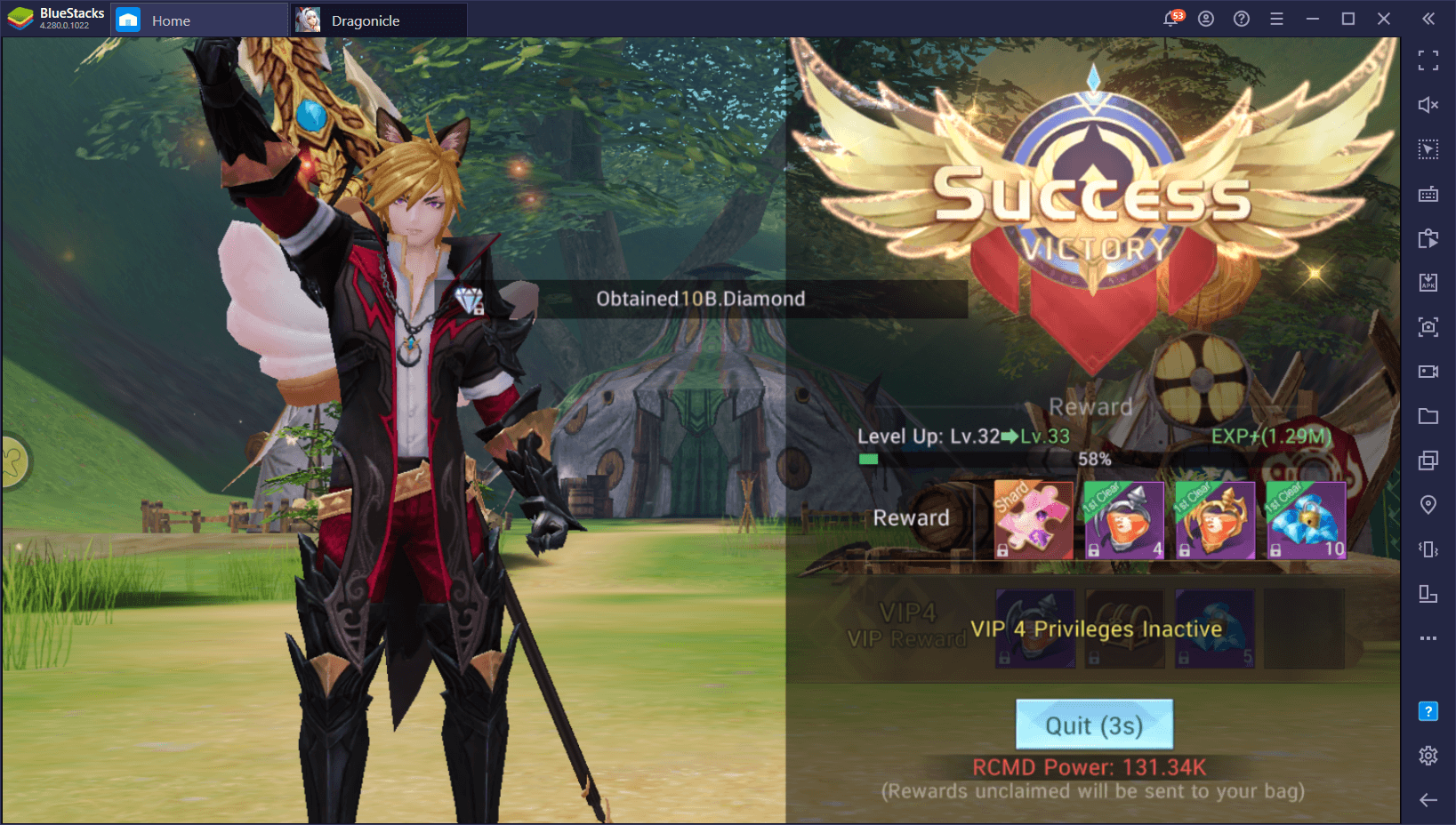 If you feel something important is missing from your current control scheme, you can easily modify it with the Keymapping Tool.
Automate Your Story Progression With the Macro Recorder
Despite being a mobile MMORPG with auto-combat and auto-questing features, Dragonicle doesn't actually have any features that automatically advance the dialogue. And while you can automate the grind by simply moving to a grinding spot, activating auto-combat, and going AFK, you can't do the same for the story missions.
This is where the Macro Recorder comes in, as this tool lets you record yourself performing certain actions, and then repeat them as much as you need with the press of a button. In other words, you can record yourself manually completing quests and advancing dialogue, and then use this macro to completely automate the story progression in Dragonicle. Though the actual macro would require a bit of creativity to get right, it's definitely feasible and within the intended purpose of this versatile tool.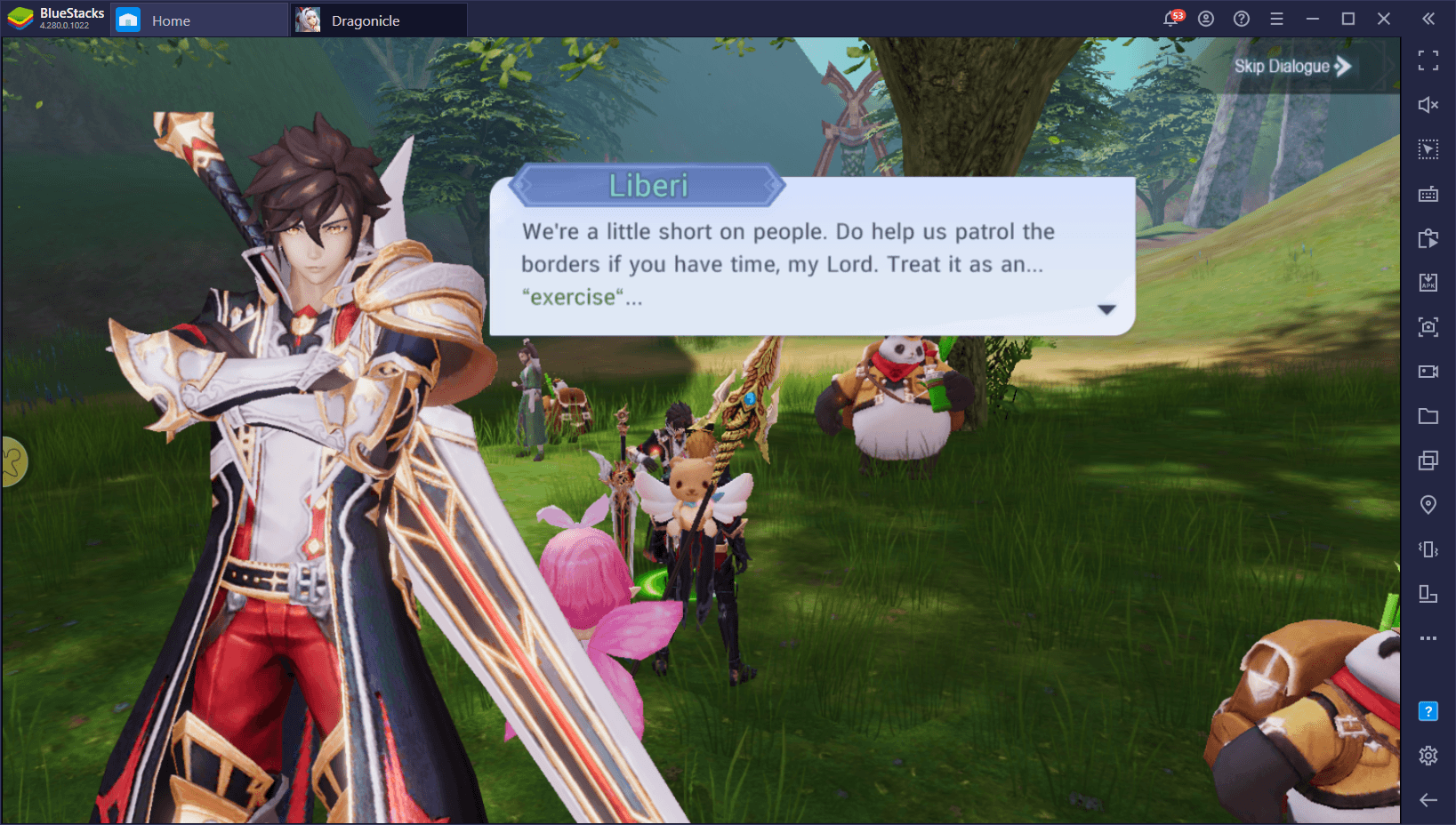 To access the Macro Recorder, simply press Ctrl + Shift + 7. In this screen, you can easily click on "Record new macro" to start the creation process. With the recorder running, you simply need to perform the action you wish to automate, and stop it immediately after you're done. Afterward, you must give your new macro a keybinding in order to use it, and you can also customize it's behavior by clicking on the gear icon beside it—you can even set it to loop for a set number of cycles, or infinitely, if you wish to automate certain actions across a long period.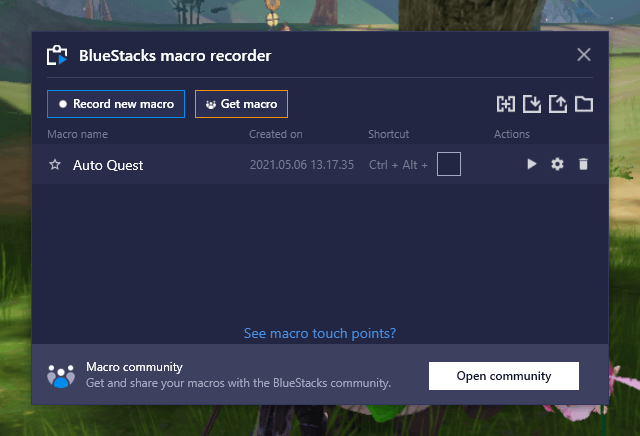 BlueStacks is all about capturing the best that your favorite mobile games have to offer, and enhancing them significantly, in turn increasing your enjoyment. Our Android app player can elevate your favorite titles from simple mobile games, to something that can rival titles in other platforms like PC or even consoles.