Game Guides
How To Play Empire: Rising Civilization on PC With BlueStacks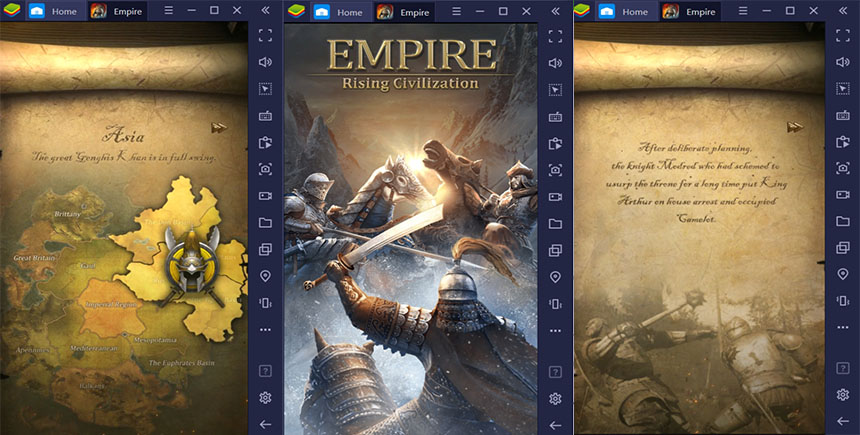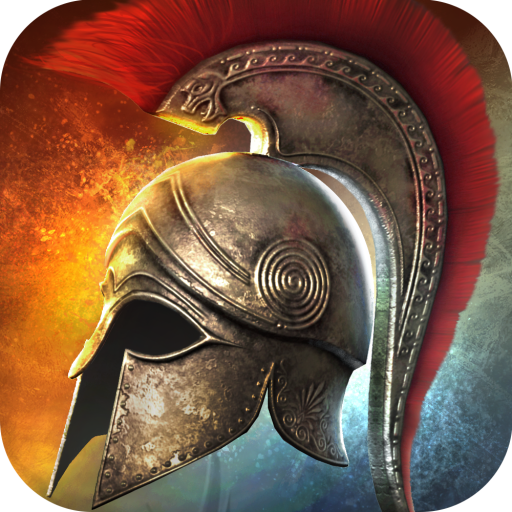 Empire: Rising Civilization incorporates all the elements of your favorite MMORTS out there but with the addition of an immersive story-based campaign. Put your knowledge of warfare to fair use and develop your kingdom to become a battle-hardened city to take on any challengers ahead. It's time to become the most excellent leader the world has ever known – defeat history's best leaders and generals as you inspire others to join you in battle!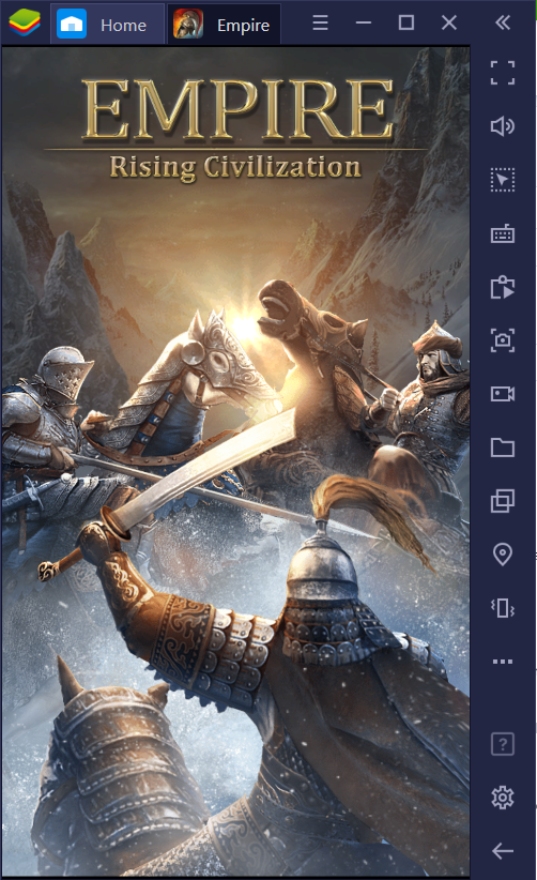 Managing your kingdom might sound like an easy feat initially, as the thorough tutorial makes it seem. As the game progresses, though, you'll encounter numerous game challenges, especially after your city loses its beginner protection that protects you from other players' attacks. Learn how to manage your resources, army, and infrastructure to prepare you for heated combat with other players.
What is Empire: Rising Civilization Story About?
This game revolves around various legends and stories surrounding military leaders in history. King Arthur has been taken prisoner by Mordred; you and other Camelot escapees at your side and have sworn to take it back someday. But for that to happen, you must raise a formidable army that will rival that of the great kingdom. Recruiting other great warriors like Don Quixote, Joan of Arc, Robin Hood, and a few familiar personalities will prove to be a big help.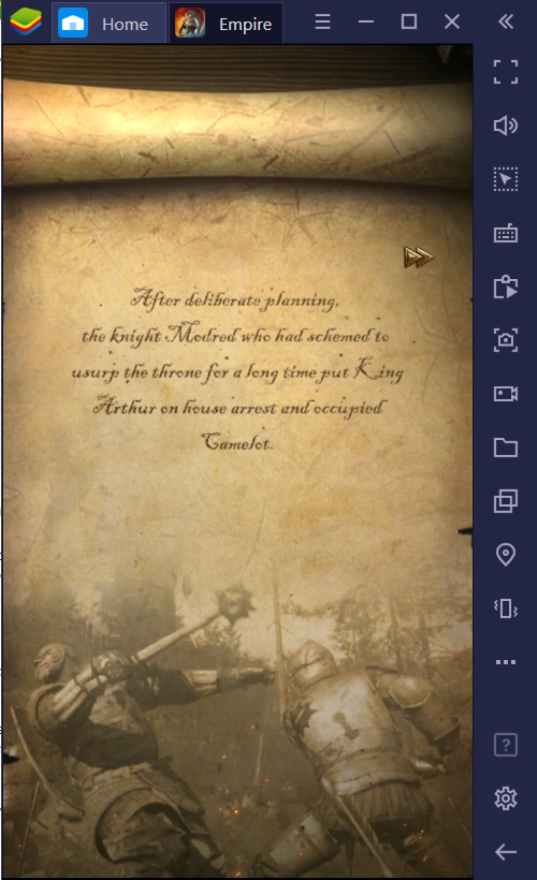 As an exiled general trying to create his own kingdom, you have become a threat to both Mordred and the Great Leaders who claim the land you're trying to build your city on. Surrounded by rebels, you'll need to learn how to defend yourself while creating a place where you and your people can feel safe. King Arthur awaits your aid, so you must do everything in your power to ensure that your army can stand against the largest militaries in the world!
How to Setup Empire: Rising Civilization on BlueStacks?
Interested in playing Empire: Rising Civilization on your PC? Get this game today on BlueStacks by following these simple steps that will allow you to play any android game on your computer easily. Empire: Rising Civilization may be a simple MMORTS, but with the different features of BlueStacks, playing on your PC can be worth your time and help you secure an advantage over your various rivals in the world!
Download and set up your Bluestacks client on your PC
Link your Google Account to the Play Store
Use the Search Bar on the Upper Right to look for Empire: Rising Civilization
Download the game to your Bluestacks client
Open the game and start building towards your goal of becoming an incredible kingdom!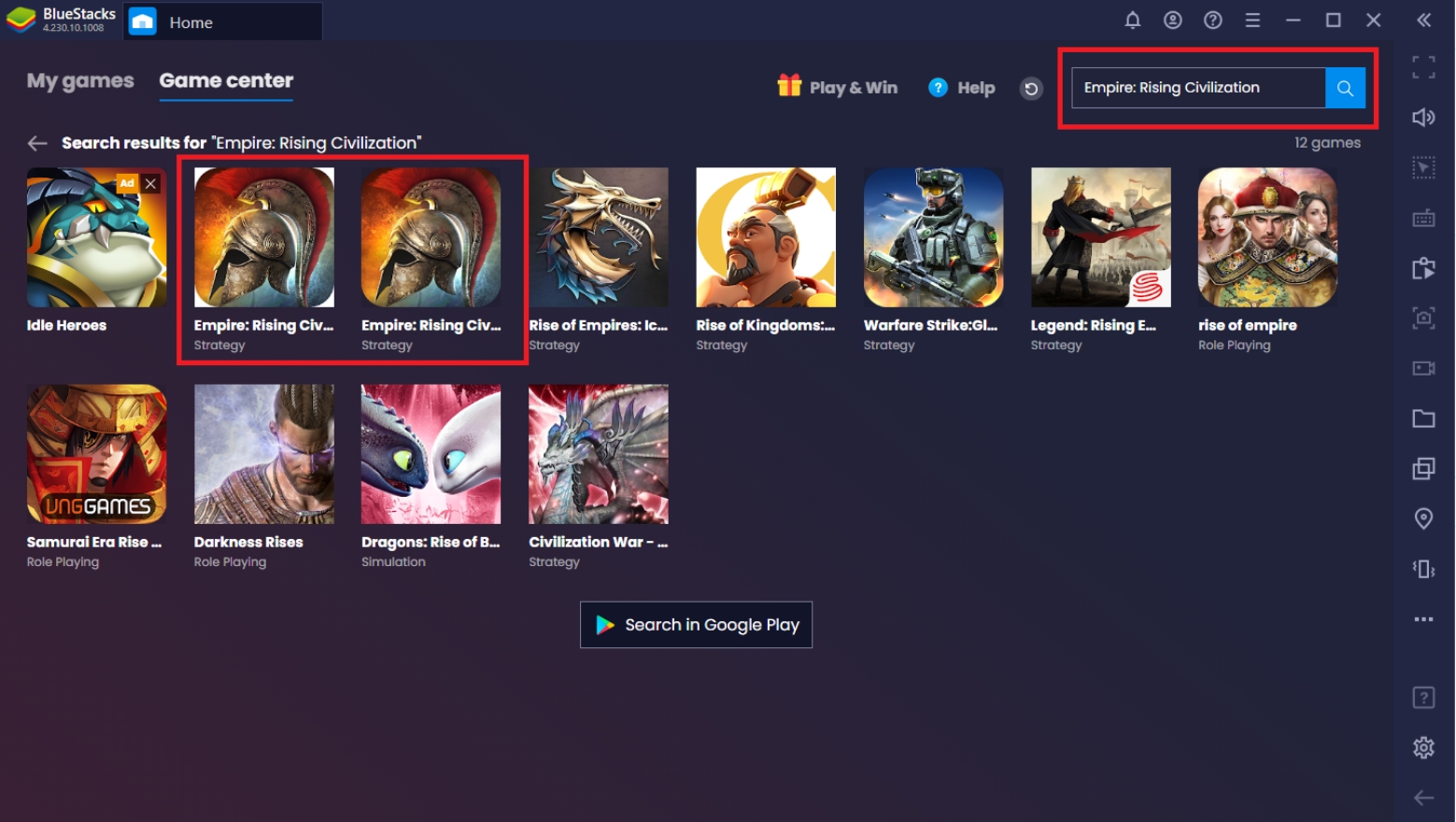 BlueStacks Key Features to Help You Become a Great Kingdom
Got Empire: Rising Civilization installed on your BlueStacks client? Now it's time for you to learn which features this platform has to help you become the greatest kingdom on the server. Take your experience by knowing how to use these key features. BlueStacks is a versatile platform with every feature you'll ever need that will contribute to your success at playing competitive games like these. It's time for you to become the Greatest Leader in the realm!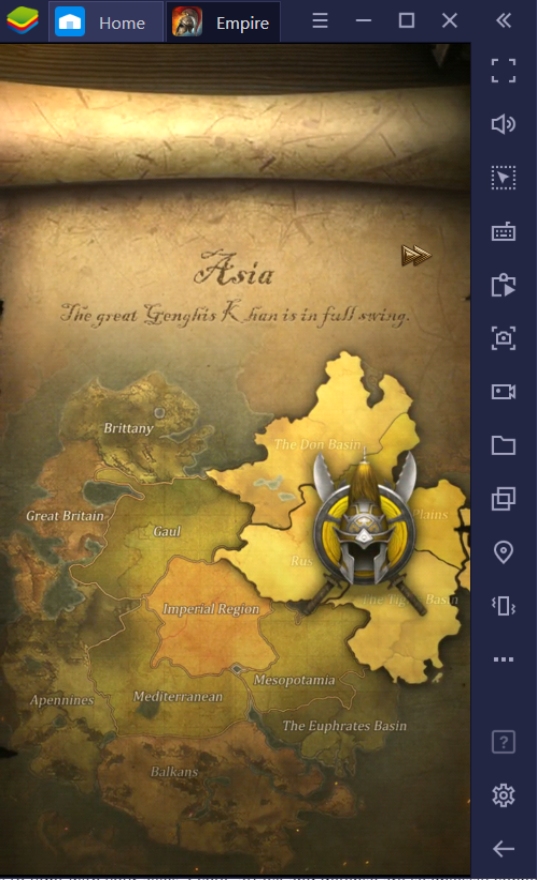 Multi-Instance Manager
The world is filled with all sorts of players. It's understandable that some players don't want to join alliances and prefer not to engage in the painstaking duties and responsibilities that an alliance player has. However, this game can severely punish the players who don't have the protection of a larger group. That being said, you don't have to socialize with other players just to create a powerful alliance that threatens surrounding players and makes you relevant in the game.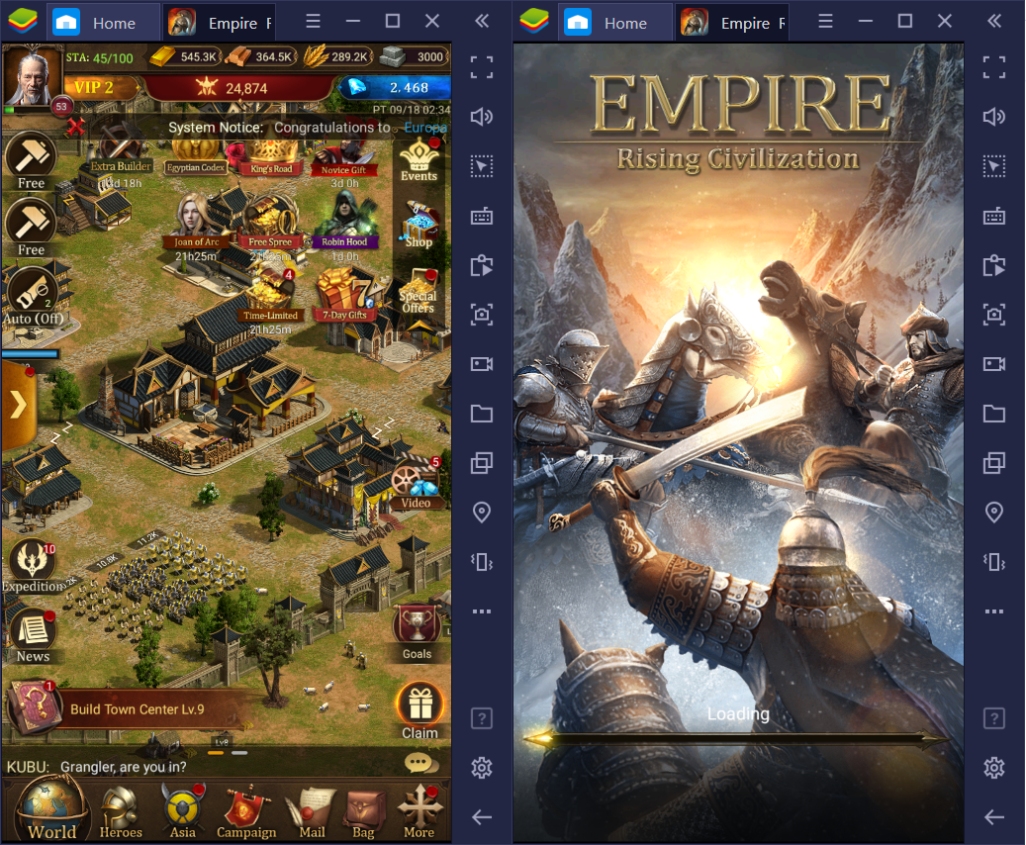 The BlueStacks Multi-Instance Manager allows you to control 2 or more different accounts at the same time. You can create an alliance solely made up of accounts you made yourself. With the BlueStacks Instance Synchronization, starting out and upgrading all your resources can be done in a single window. There's no need to have numerous devices when you have a computer that can handle processing many windows and the patience to develop numerous kingdoms at once.
Screen Recorder
It's time to share your gameplay with the rest of the world through the BlueStacks Screen Recorder function. This function is similar to mobile screen recorders but incorporates the power of your computer to reduce lag and FPS drops while you play and record at the same time. You can also share your gameplay LIVE by turning on the Streaming Mode and become one of the many players that share your time playing with people around the world.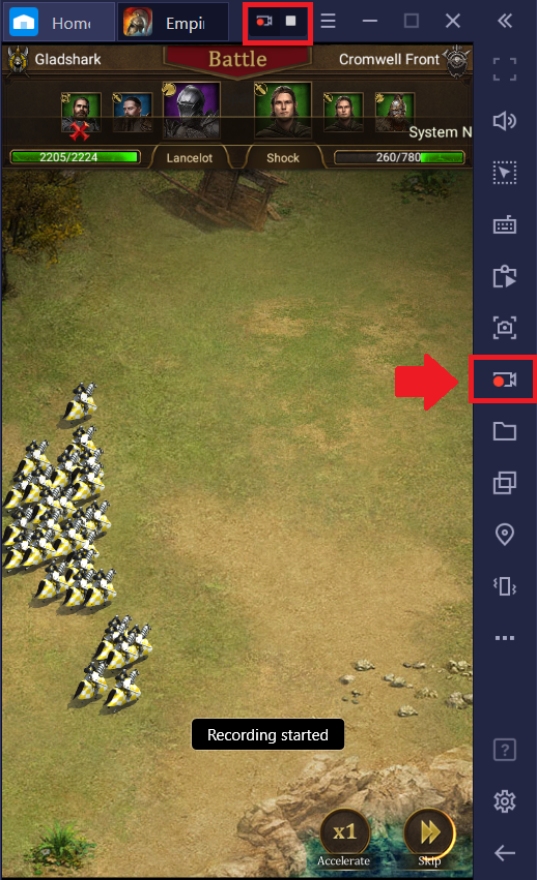 Witness the Rise of the Strongest General in History
As the world is plunged in chaos and war, you are tasked with ensuring that you adapt to the harshness of these lands. Don't think you'll be safe inside your protective barrier for long, as that too, will fall, and many enemies are eager for the chance to get you once it's down. It's time to assemble your men and reinforce your defenses because the realities of war are about to strike you down. Remember that the greatest general is the one that takes the battle into his own hands.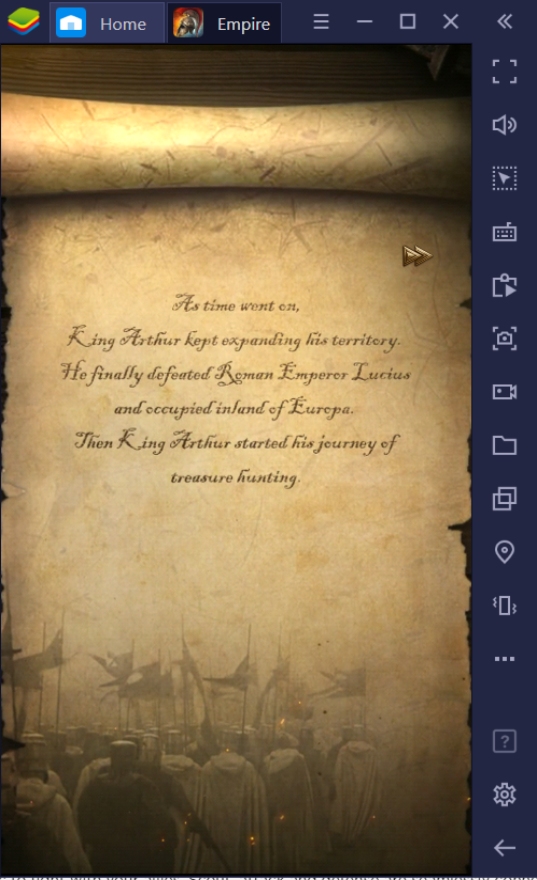 Empire: Rising Civilization is teeming with gameplay elements that will pique war enthusiasts' interest and indeed challenge their ability to manage the different sectors of a working society at war. It won't be an easy path that lies ahead of you; things can easily go wrong for those who are unprepared and inexperienced in these games. Luckily for you, BlueStacks has everything you'll need to become the Strongest General history has ever known!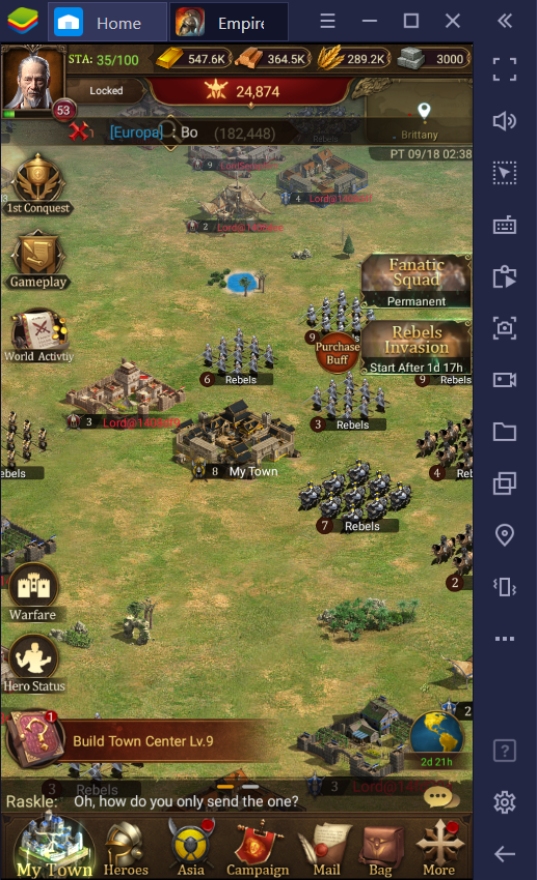 Download this game on BlueStacks today and enjoy the different limited events that await you. Learn more about how to play Empire: Rising Civilization with the BlueStacks game guides that contain more specific information on how you can improve your kingdom management with the help of this platform. What are you waiting for? Get out there and take advantage of the gifts given to you and decimate every other player in the realm!