Game Guides
Era Of Celestials: BlueStacks Setup And Configuration Guide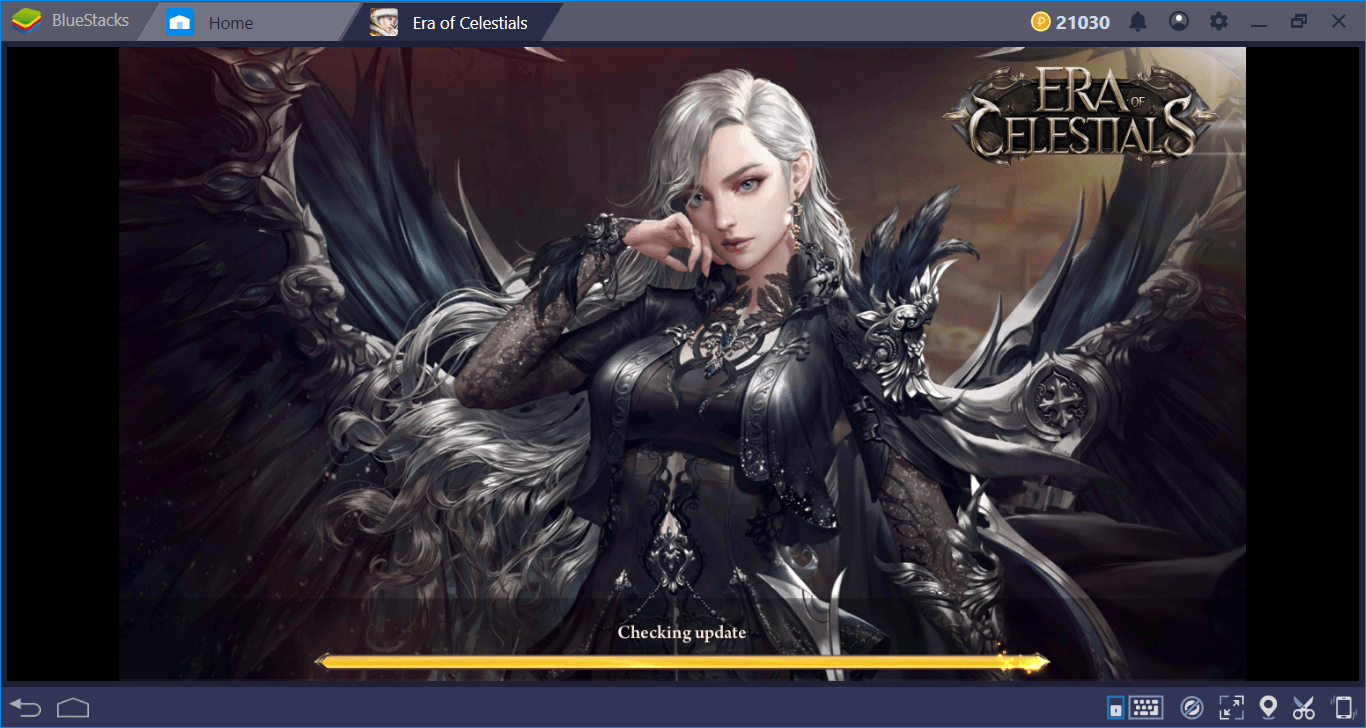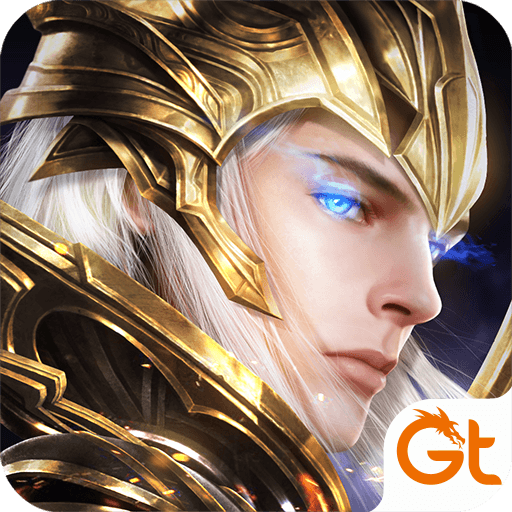 Era of Celestials offers a lot to discover: Rich content enough to keep you busy for months, maps filled with dozens of enemies, and the option to upgrade almost any item to the fullest. If you like grind-based ARPG (action role-playing games), this one could be exactly what you're looking for. And as always, you can get a much more enjoyable experience by playing the game with BlueStacks. In this article, we'll tell you how you can do this and give you a few tips exclusive to BlueStacks. If you're ready, let's start: Those monsters won't kill themselves!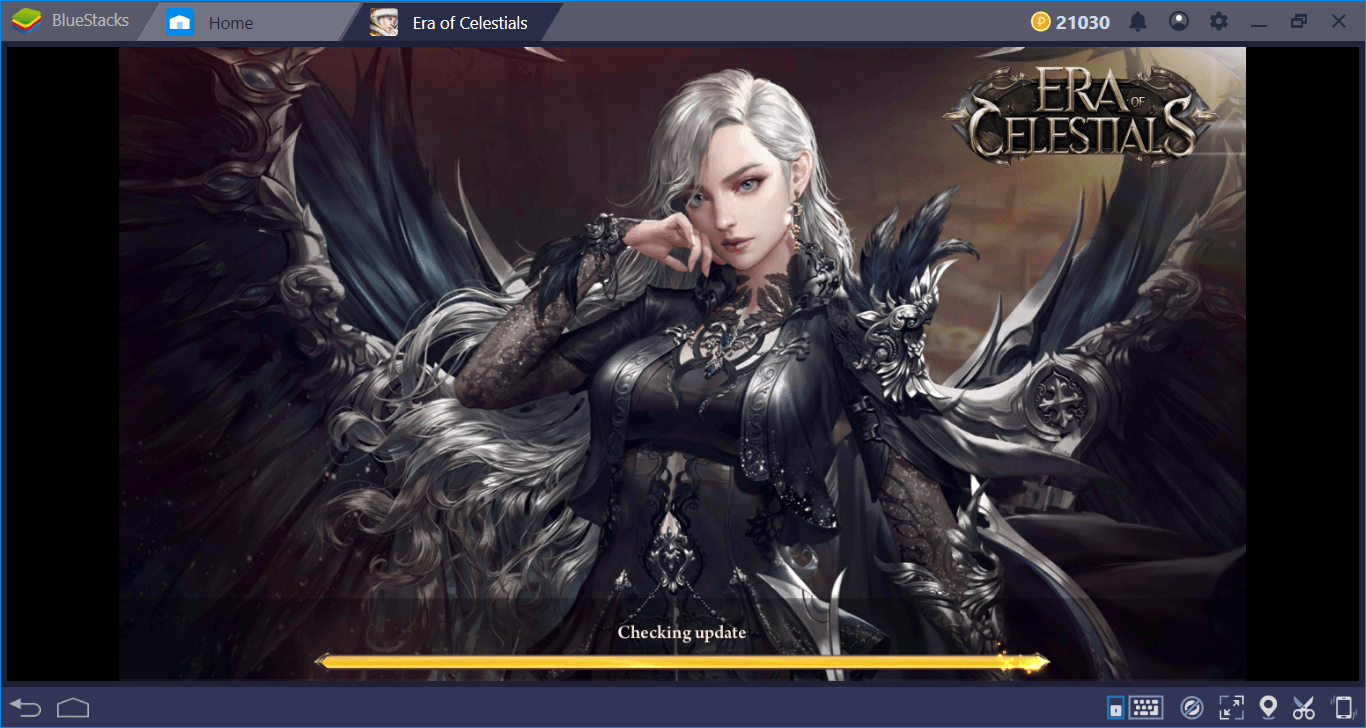 How To Install The Game
If you've installed a game on BlueStacks before, you're ready to install Era of Celestials too: Things you need to do are the same. Type the name of the game in the search box in the top right corner and press "Enter". Wait for the results to appear and after that, all you have to do is press the "install" button.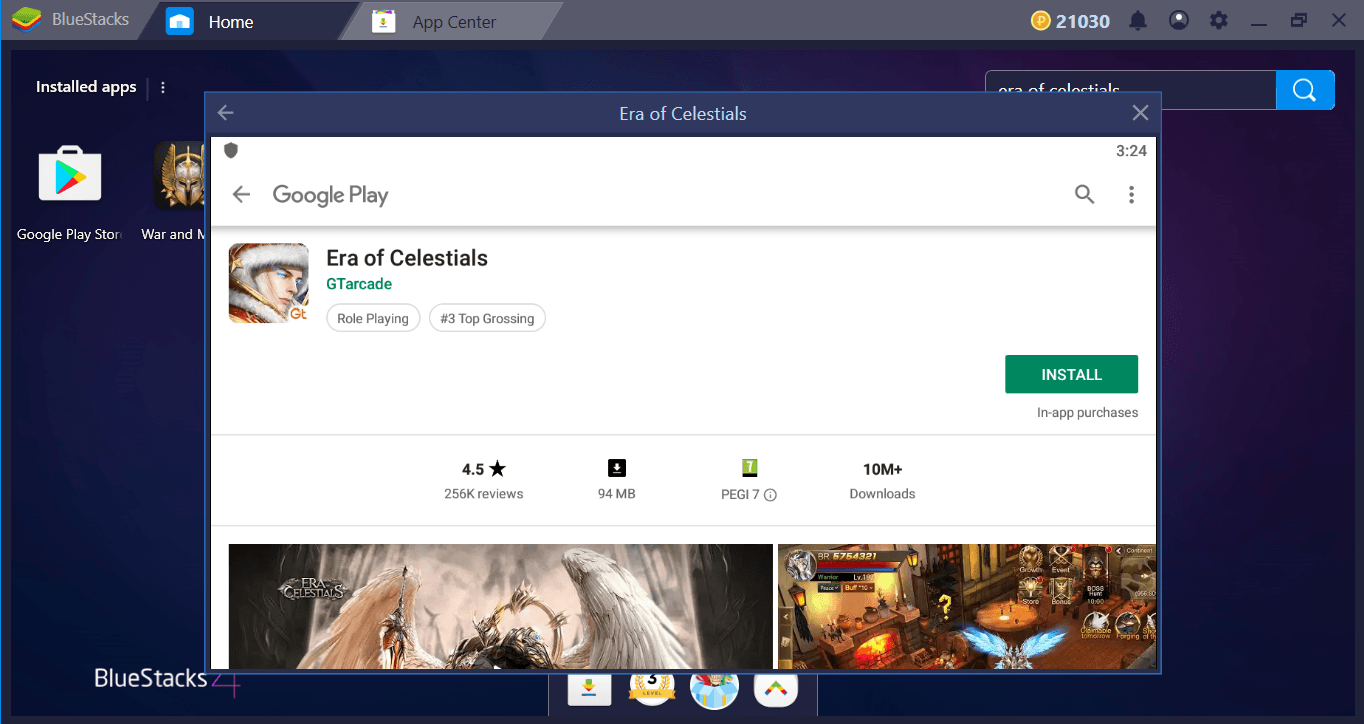 Surprisingly, the game is only 94 MB in size, so the download will be completed in a very short time. After this stage, BlueStacks will automatically install the game and notify you when it is ready to be played. So, when you see this message, you can start playing Era of Celestials:

Default Controls And How To Change Them
Era of Celestials is an ARPG, so you can just use your mouse for most of the game's functions. Keyboard keys will be necessary especially when activating your skills. The default controls are tied to 16 keys in total: You can use them to move, activate skills, and switch between game menus. You can view the default control scheme by clicking the keyboard icon in the lower right corner of the interface.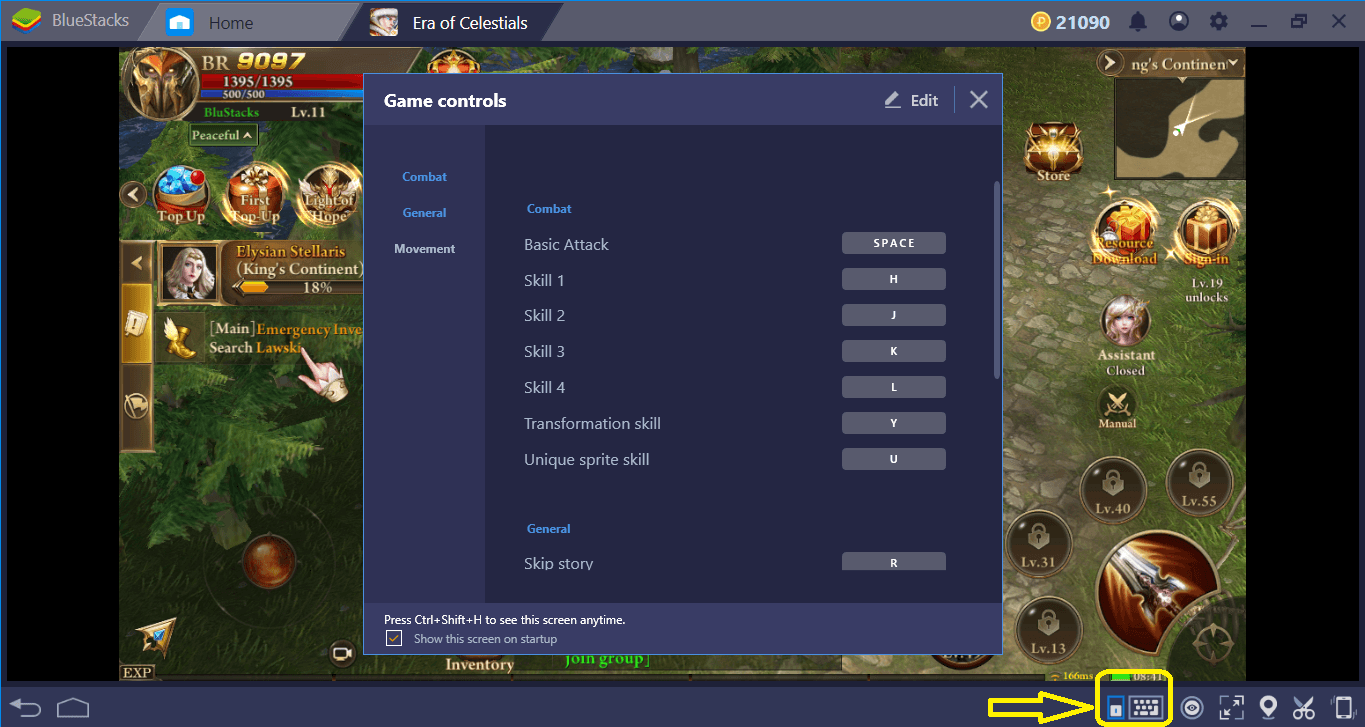 If you wish, you can make changes to this scheme by pressing the "edit" button and specify different keys. For example, some players prefer to use arrow keys to move, instead of WASD. If you are one of these players, you can easily make this change.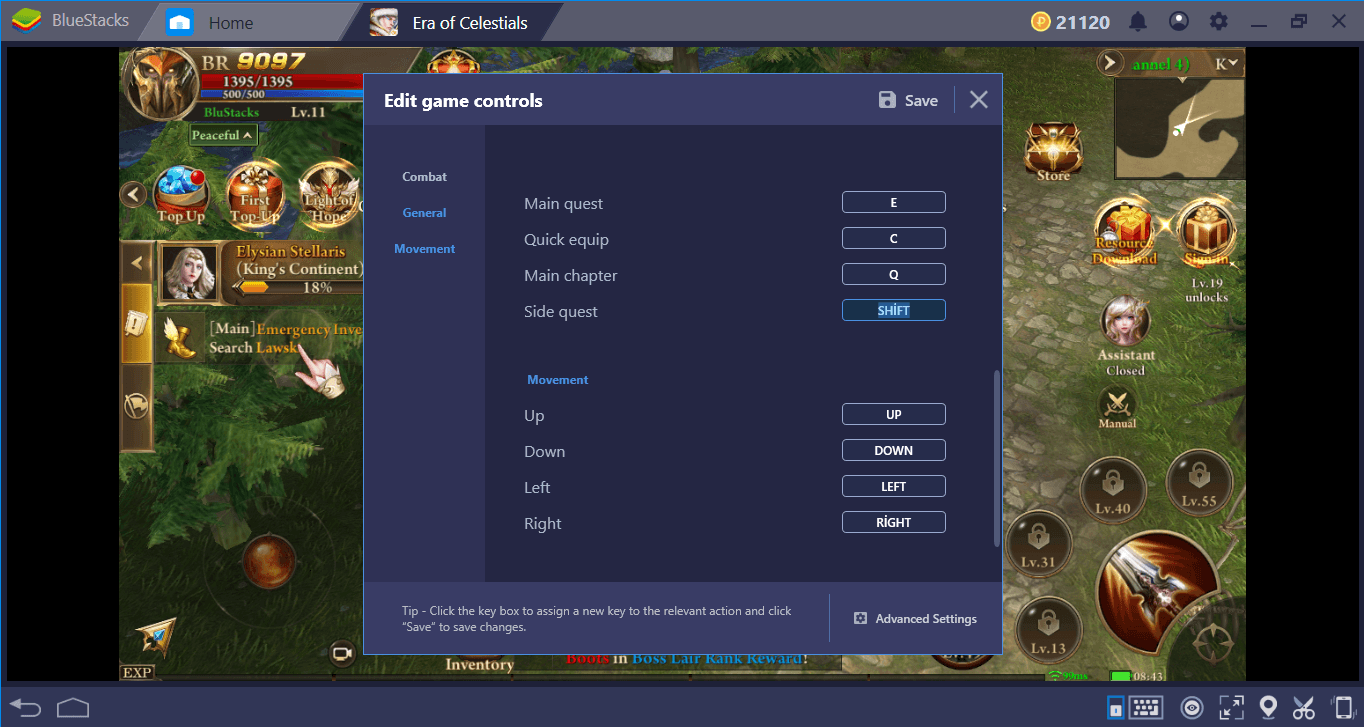 Remember to press "Save" when you are done, otherwise your changes will not be saved.
Using our visual keymap tool, you can also configure the game to play with your mouse only. This feature will be especially useful for "clicker" players because you can assign any desired function to a "tap spot" and put it anywhere on the screen. To get started, click the "advanced settings" button in the screenshot above.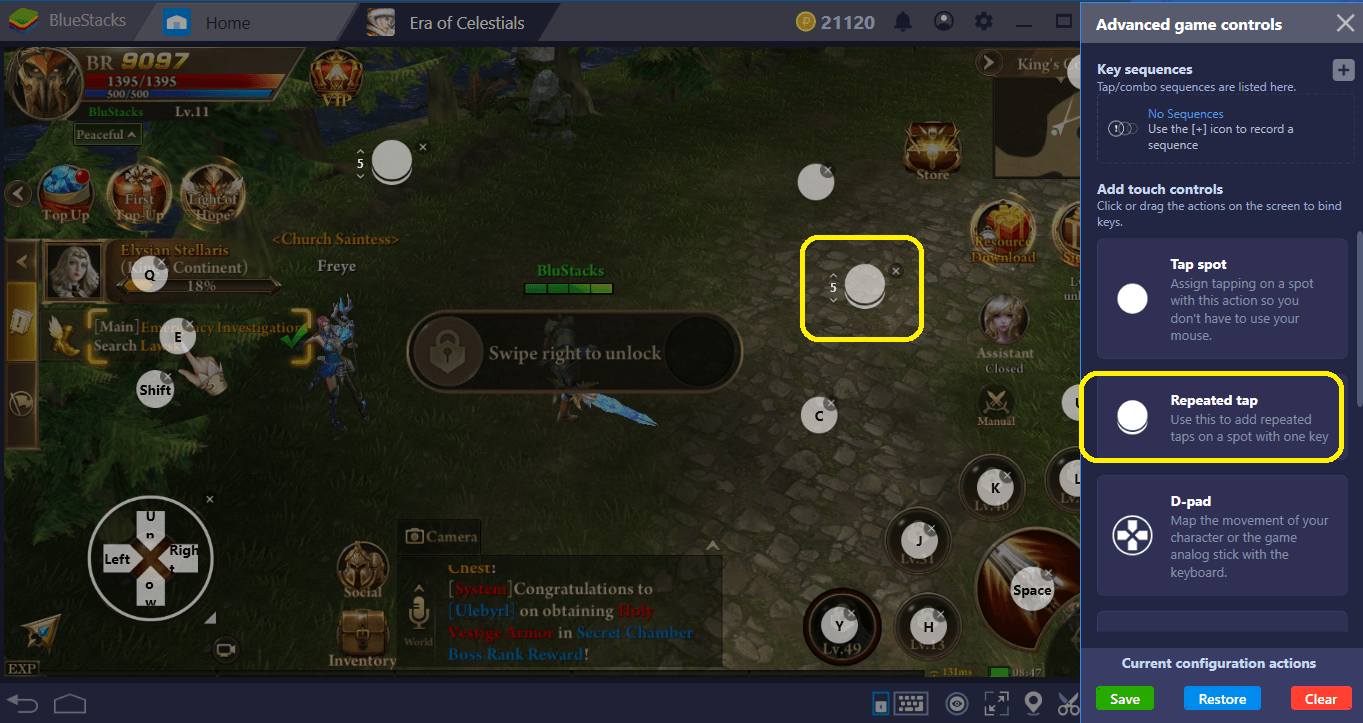 Note the visual shortcut in the marked location: This allows you to create a "repeated" tap area. So there is no need to make multiple clicks while fighting enemies, just create a repeated tap spot and you are done.
Create Skill Combos, Achieve Perfection
Era of Celestials already offers many automation tools: If you want, you can play almost 90% of the game without having to press any buttons. Your character automatically kills enemies, collects rewards, and moves – compared to similar ARPGs, we can say that it has a much more advanced automation system. However, the game still cannot "understand" the importance of using skills in order. There are lots of class skills that will be much more effective when used in a combo. For example, if warriors first use "Storm Thrust" and then "Thunderclap" abilities, they can severely damage a large group of enemies within a few seconds.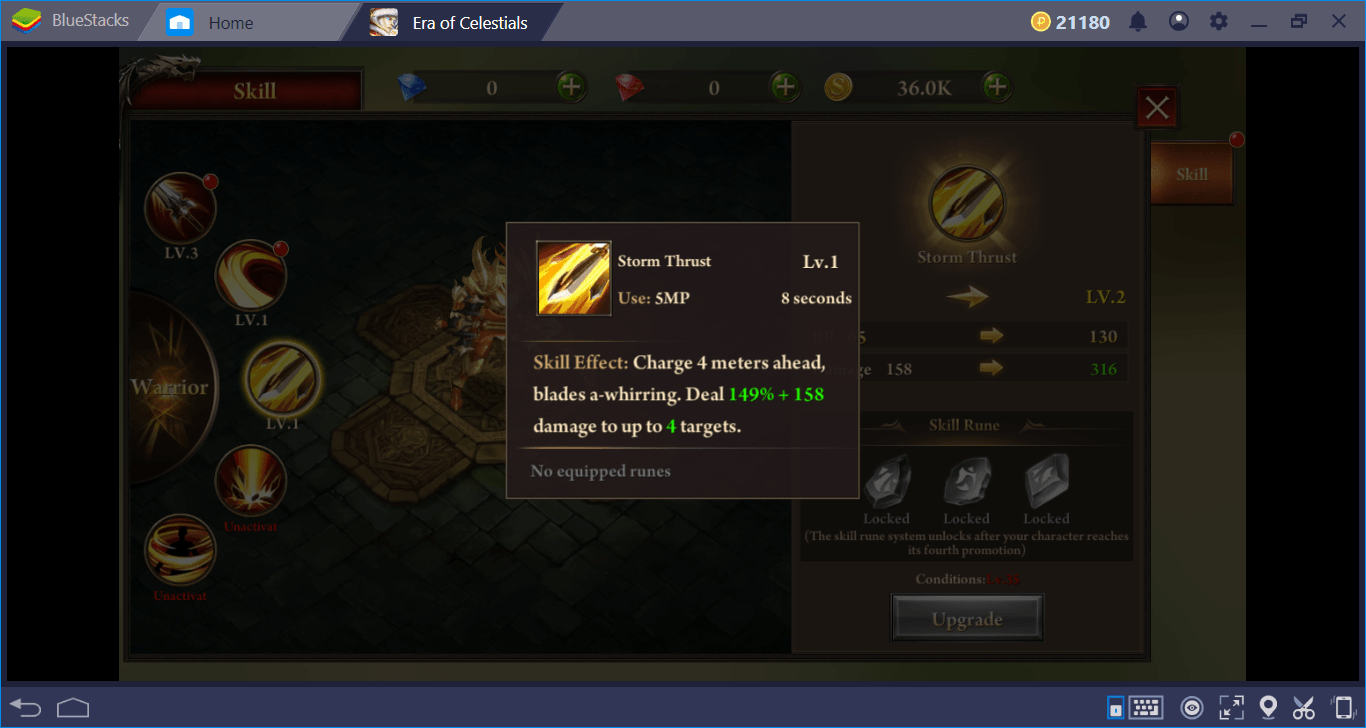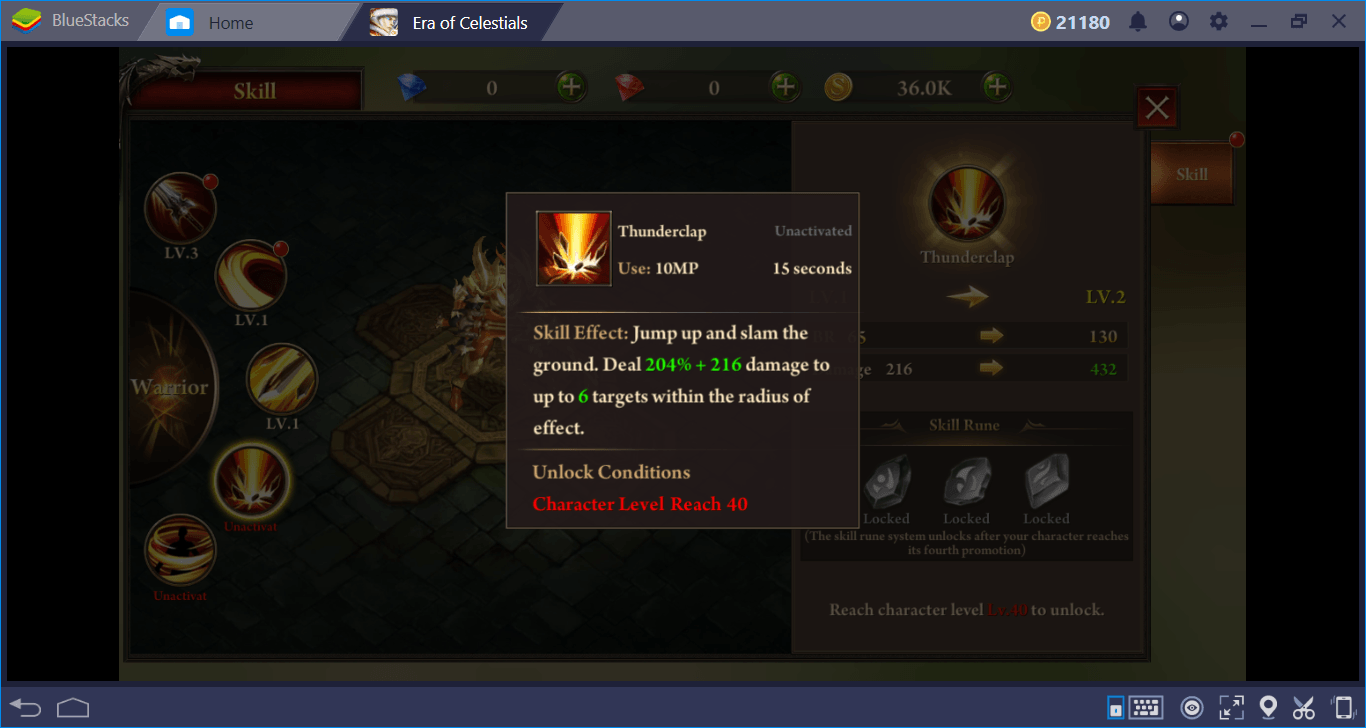 With the BlueStacks combo key feature, you can make the automatic combat system much smarter. All you need to do is to use your skills in the most effective way and save this process: Then, you can repeat this combo chain as many times as you want by pressing a single key.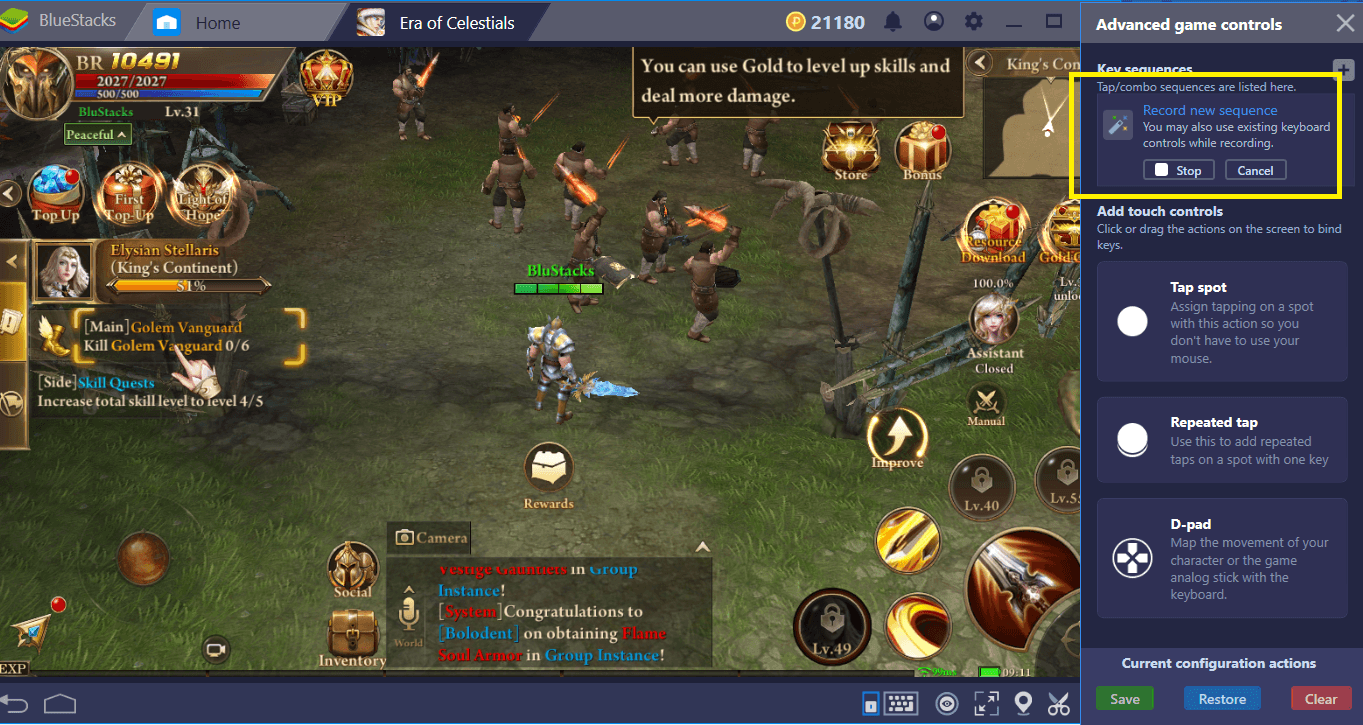 We start recording: When fighting these enemies, we will use our skills in the most effective way and assign a key to this chain of action.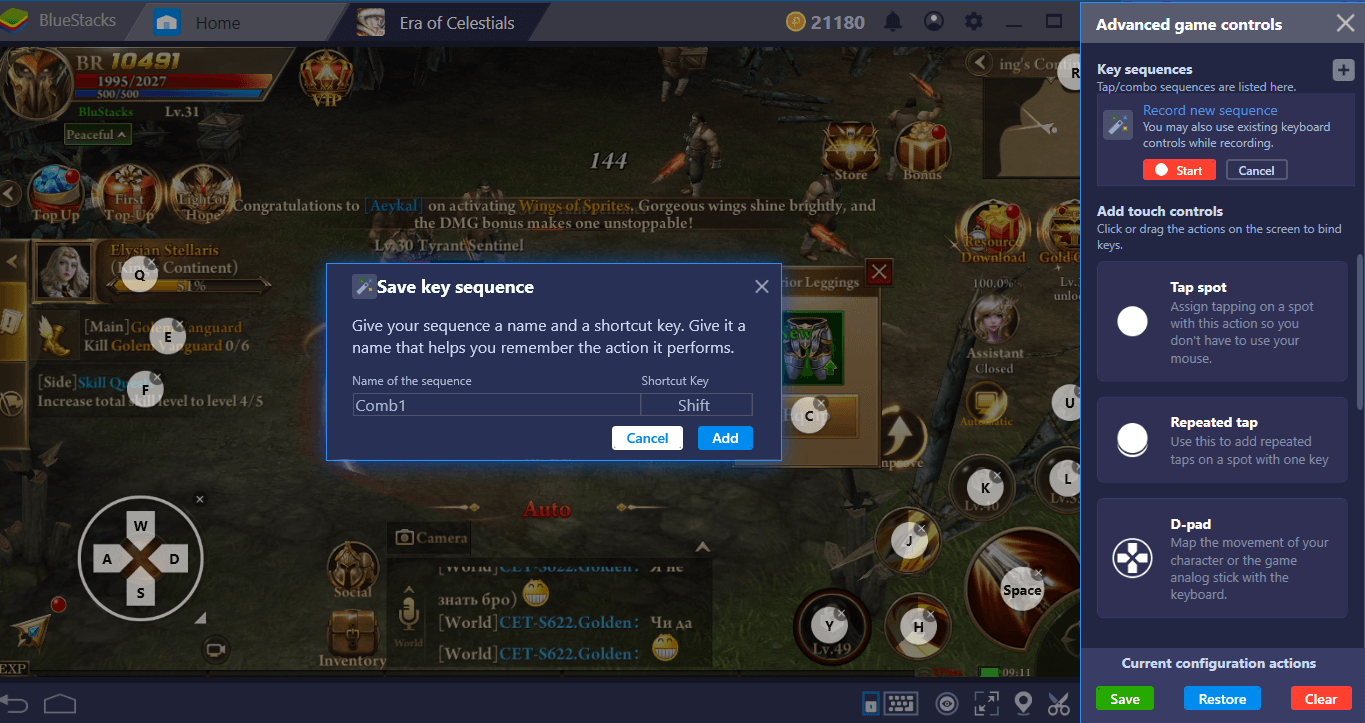 We ended the recording and set a key to repeat it. In the future, when we press this key, our hero will automatically repeat all actions involved in the chain.
With the Combo Key feature, you can perfect the already existing internal automation mechanics of Era of Celestials. Considering that you need to grind up to level 650, this will give you a big advantage: You can reach the last level in the shortest possible time and with the least effort, and get access to all the features of the game. If you have other BlueStacks tips, don't forget to share them with us via comments. Now, you are ready to start your adventure: Continue with reading our review and tips & tricks guide. See you in the game!