Game Guides
A Guide on Developing Your Empire in Evony: The King's Return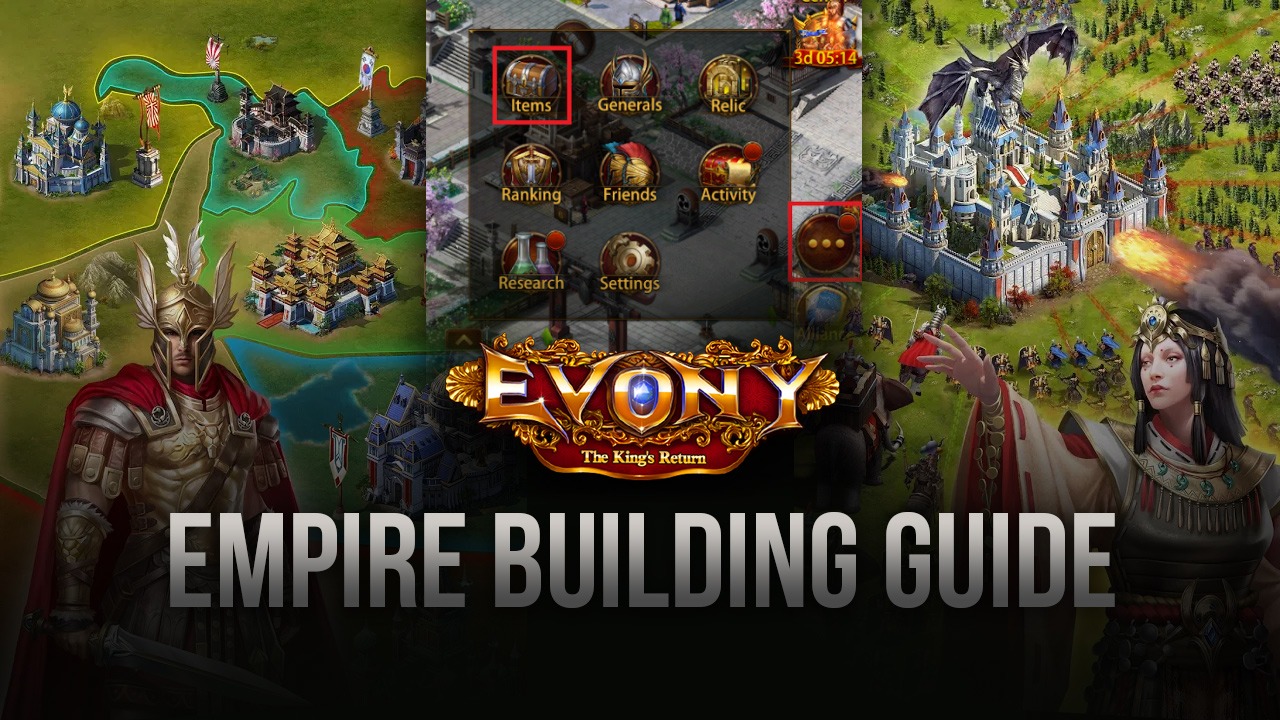 Infrastructure is paramount for your empire to prosper in Evony: The King's Return. In the game, there are a number of buildings and facilities that you can construct in order to produce resources. These resources are primary ingredients for other essential parts of your empire such as soldiers as well as other infrastructure.
In this guide, we'll explain to you the details of empire-building in the game as well as some ways where you can garner extra resources for your empire.
Choosing a Culture
Before officially starting the game, you are given the liberty to choose from a total of seven cultures. Each culture is based on past powers such as the European nations, America, and the like.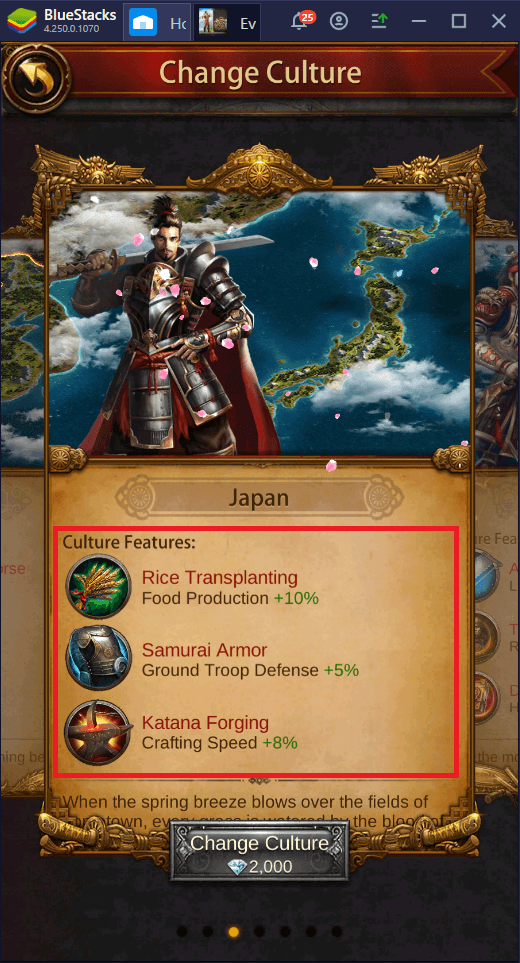 There is actually much more to these culture other than aesthetics. In fact, each culture has its own features. Features are essentially buffs to particular gameplay factors like attack damage, resource output, and the like.
The complete list of features for each culture are laid out in the table below:
Culture
Features

Europe

+10% Stone Production

+5% Mounted Troop Attack

+5% March Speed to Monsters

China

+5% Troop Load

+5% Ground Troop Attack

+3% Research Speed

Japan

+10% Food Production

+5% Ground Troop Defense

+8% Crafting Speed

Korea

+10% Lumber Production

+5% Ranged Troop Attack

+5% Healing Speed

America

+5% Gold Levy

+5% Siege Machine Attack

+3% Training Speed

Russia

+10% Ore Production

+5% Mounted Troop Defense

+10% Traps Building Speed

Arab

+5% Gems Gathering Speed

+5% Mounted Troop HP

+5% Bonus from Offering
Keep in mind that there is no perfect culture in the game. To an extent, it is true that some cultures have better advantages than other cultures. For instance, Korea's increased lumber production rate can aid players in building more structures for their empire. This can lead to a faster development time. Even in spite of that, there still is no best culture in the game.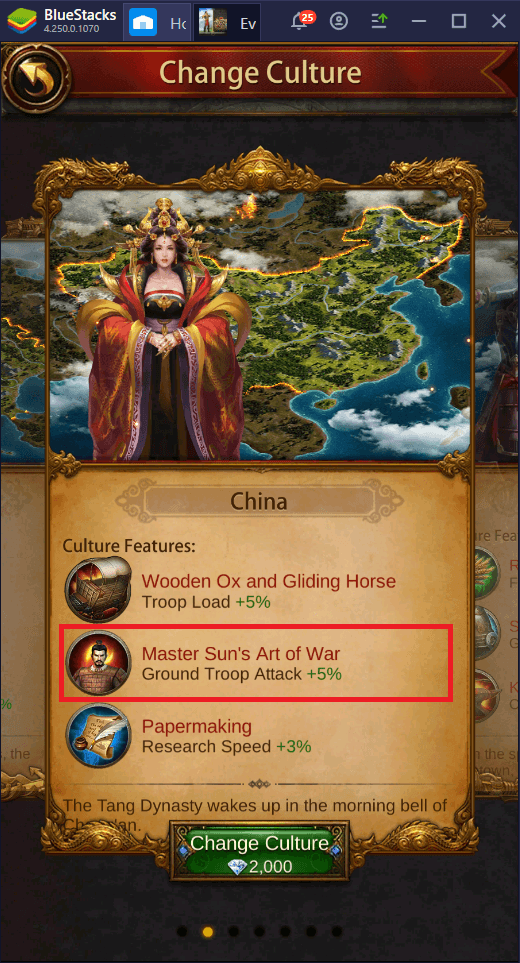 As a general tip, pick the culture that best suits your goal for the empire. If you want to focus on ramping up food production, then choose Japan. However, if you want to have a better attack rate for your ground troops, pick China.
We recommend using BlueStacks Multi-instance tool to experiment with the seven cultures and see which one you like best.
Basic Resources and Buildings
There are three essential resources for developing your city and these are:
Food – is mainly used to train troops (ground, ranged, mounted). Additionally, it is also a prerequisite for constructing buildings in your empire. Food is produced in

farms

.

Lumber – is a primary ingredient for constructing and upgrading buildings. Lumber is produced in

saw mills

.

Stone – is used to train high-level troops. It is not that important during the very early segments of the game but you will eventually need more stone as your empire becomes stronger. Stone is produced in

quarries

.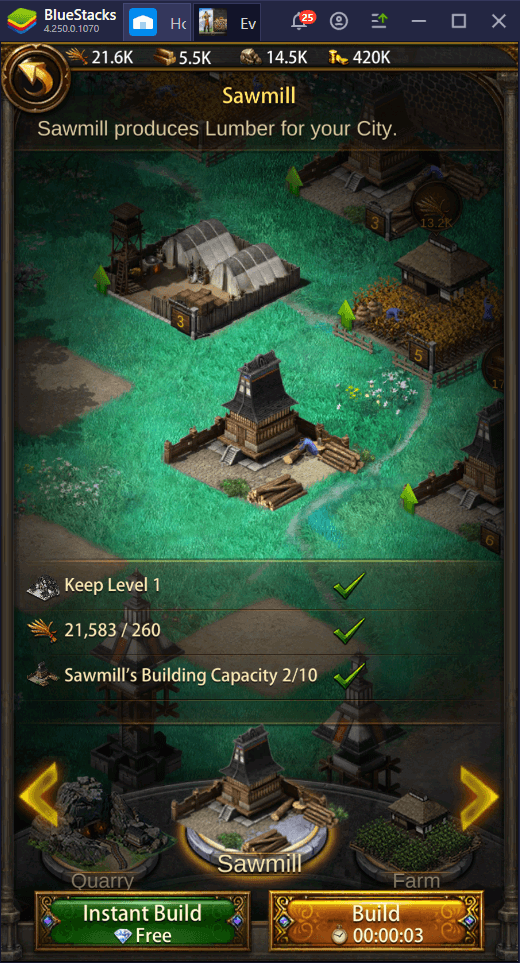 You can produce more resources by either building more facilities or by individually upgrading each one. Note that you can only construct resource-producing facilities outside the walls of the empire.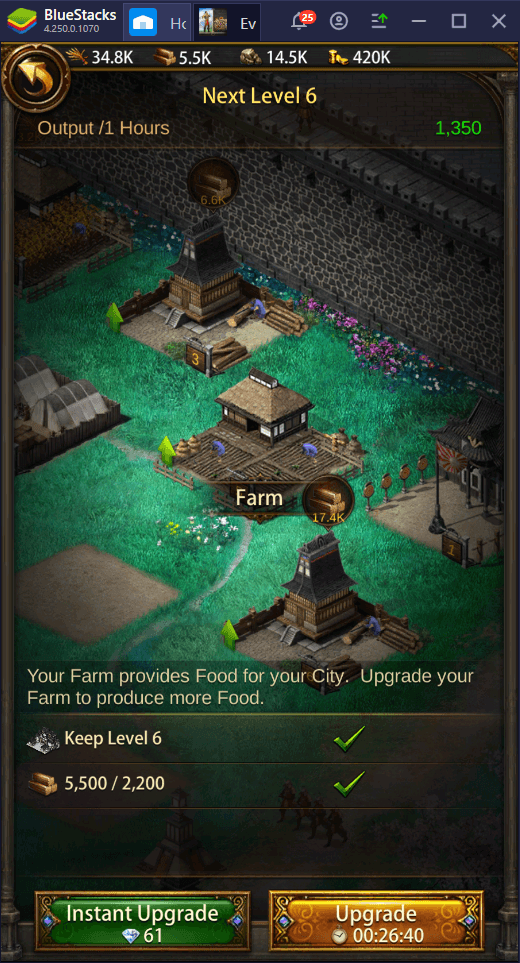 Upgrading buildings usually require a fixed number of food and lumber. Sometimes, your Keep (your main headquarters) needs to be at a certain level before upgrading certain buildings. Upgrading usually takes a few seconds or hours depending on the level at which the building will be upgraded to. You can instantly finish this by spending gems. After a new building is constructed, the first two instant upgrades are free. Afterwards, you will need to spend diamonds
Using the Academy to Improve Production
Upgrading your buildings with essential resources is sufficient up to a certain point. In order to improve the efficiency of production, you need to invest on research in the Academy.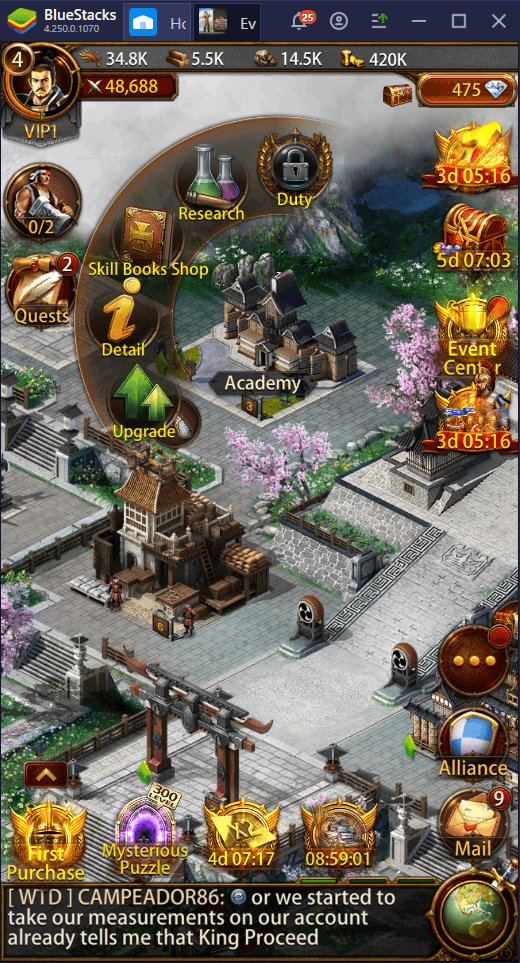 The Academy is a special building where you can internally upgrade multiple aspects of your empire by spending gold coins for research. There are eight categories that each provide a tree of fields to do research on. For upgrades related to resource production, look under "Advancement".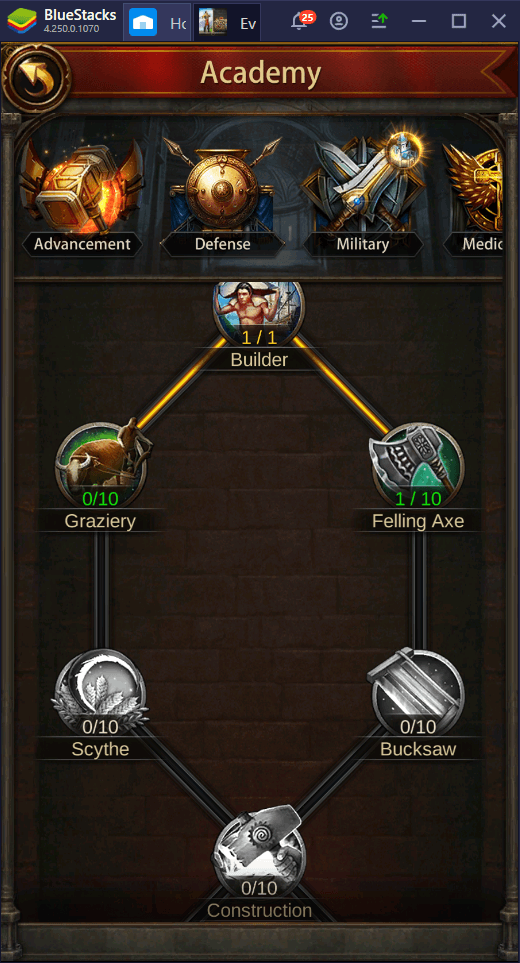 The branches of upgrades will only continue upon satisfying several conditions. These conditions can range from having the Keep and or Academy at a certain level, or having completed one branch to a certain level. You can each branch up to a maximum of 10 times.
Garnering Resources from Mysterious Puzzles
Resources do not exclusively come from farms, saw mills, or quarries. You can also gain a generous amount of resources by completing a series of puzzles called Mysterious Puzzles.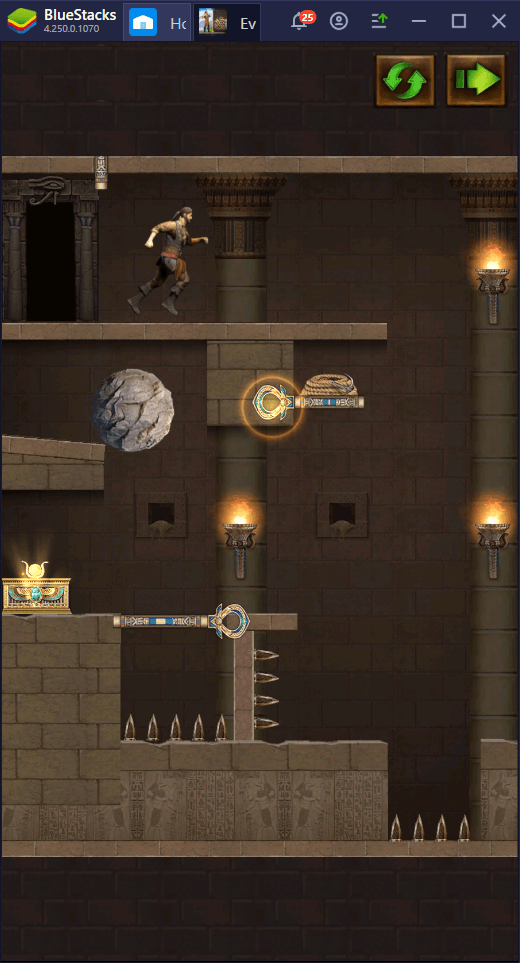 In Mysterious Puzzles, your objective is to "pull" pins in a specific order and timing in order to clear obstacles that can kill the character. It is a mini-game that relies on trial and error so you have to keep experimenting with different solutions until you find the right one.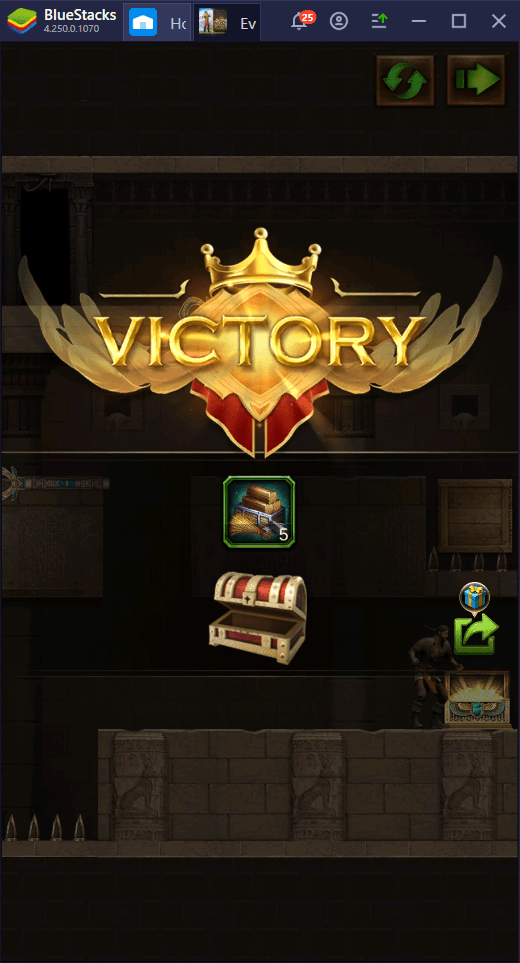 The end goal is to clear the path for the character to reach a treasure chest and finish the stage. Upon completing a stage, you are rewarded with resources, which you can ultimately redeem through your "Items".
Completing Quests
The game has a myriad of main and side quests that reward you for achieving certain milestones in the game.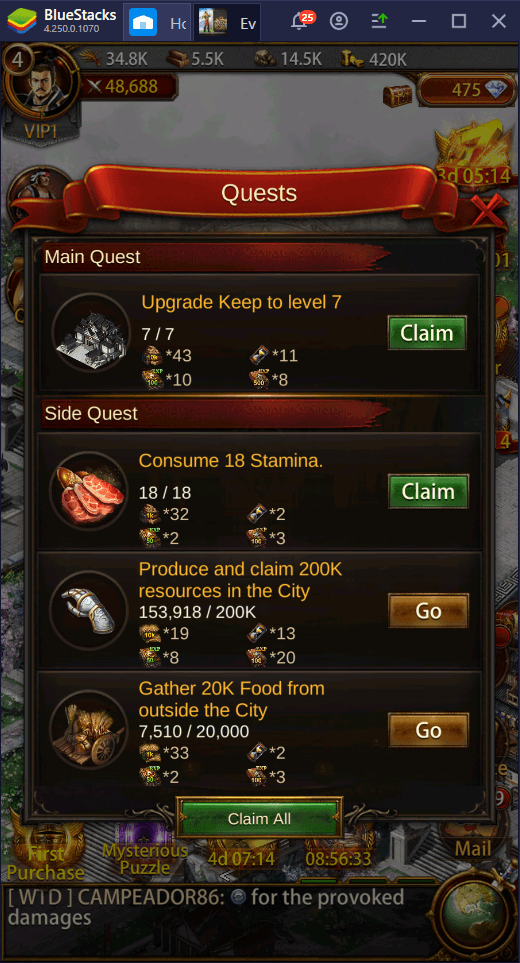 These milestones can range from upgrading your buildings to a specific level to training a set number of troops.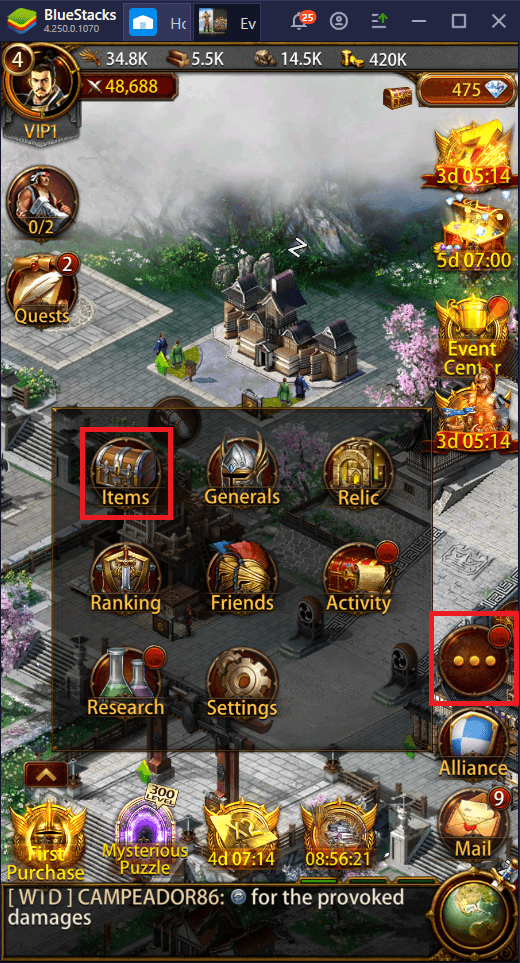 The resources you win are stored in your "Items" menu. Aside from resources, quests can also reward you with "speedups" which can shorten the in-game processes. Moreover, quests can also reward you with XP that you can use either on yourself or to your generals to level up.