Game Guides
Be an Emperor – How to Play Evony: The King's Return on PC with BlueStacks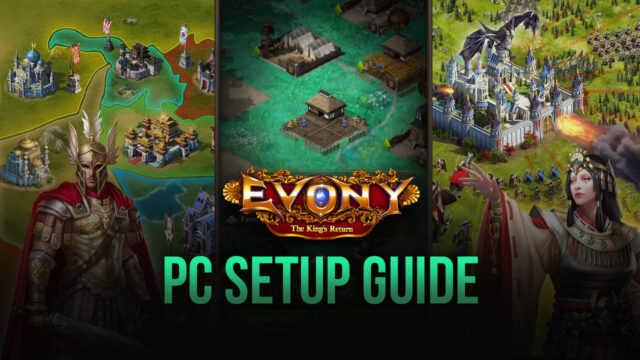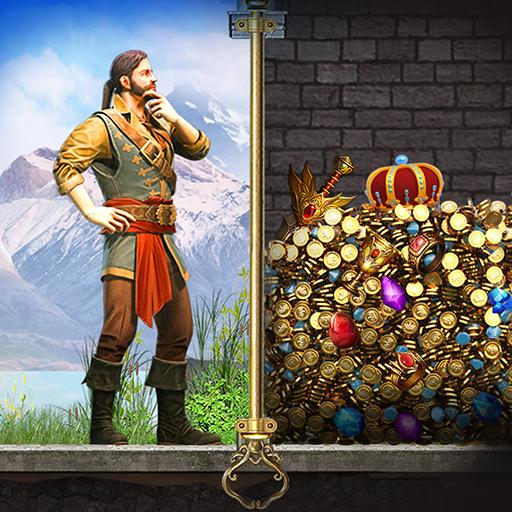 The idea of ruling your own empire is a power fantasy that many of us have thought about at least once in our life. Fortunately, you can now experience what it is like to become a ruler of a powerful nation by playing Evony: The King's Return .
Put on the shoes of not only an emperor, but also a general and a diplomat. Develop your own empire, train a powerful army, and create alliances with other empires now by installing and playing the game on your PC or Mac with BlueStacks.
How to Install Evony: The King's Return
Download and install BlueStacks

on your PC.

Complete Google Sign-in to access the Play Store, or do it later.

Look for

Evony: The King's Return

in the search bar at the top-right corner.

Click to install

Evony: The King's Return

from the search results.

Complete Google Sign-in (if you skipped step 2) to install Evony: The King's Return.

Click the

Evony: The King's Return

icon on the home screen to start playing.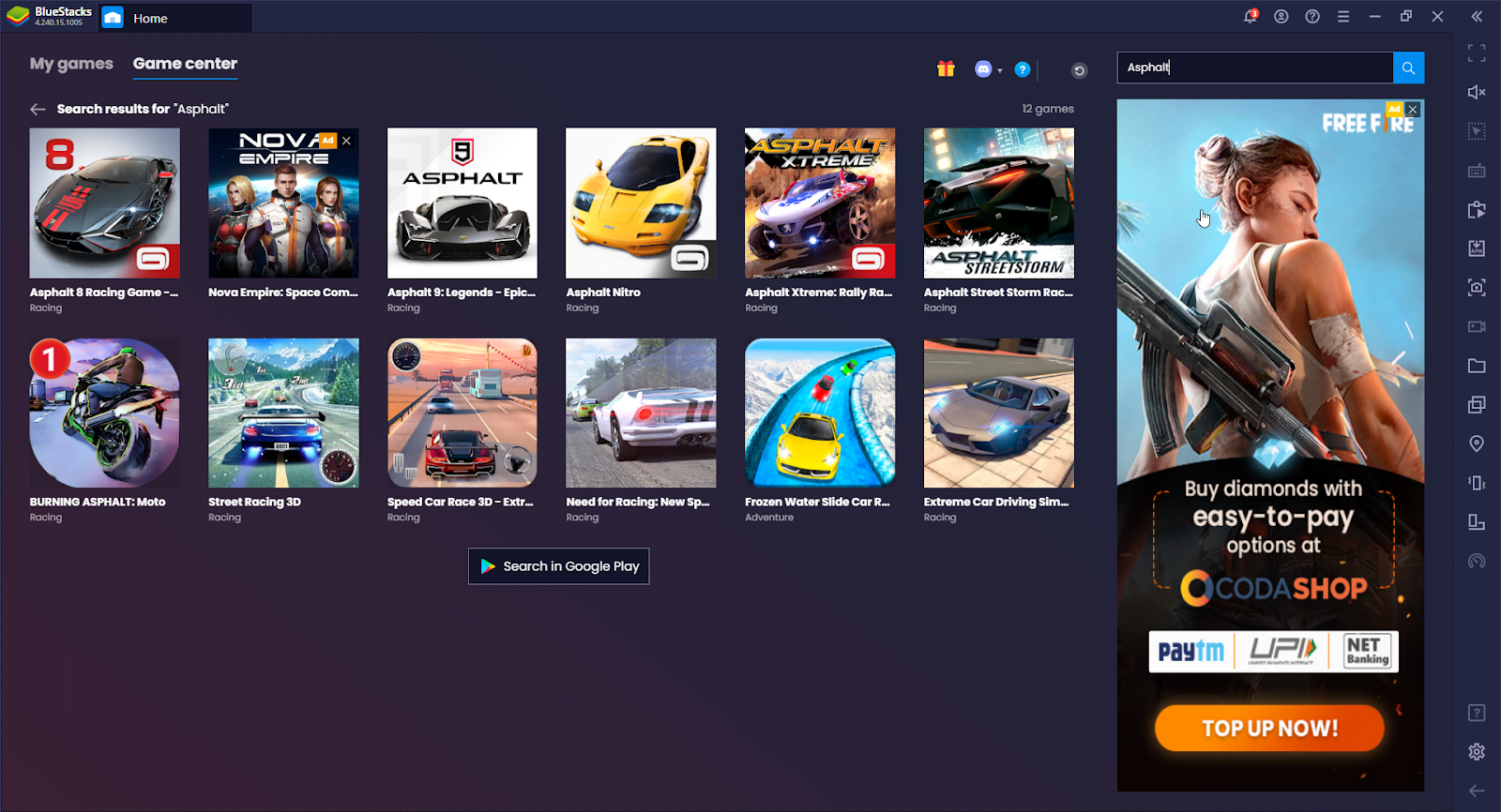 Build Your Own Empire
Evony: The King's Return is game that history enthusiasts will enjoy as it allows the player to select from seven cultures that are based on past powerful nations.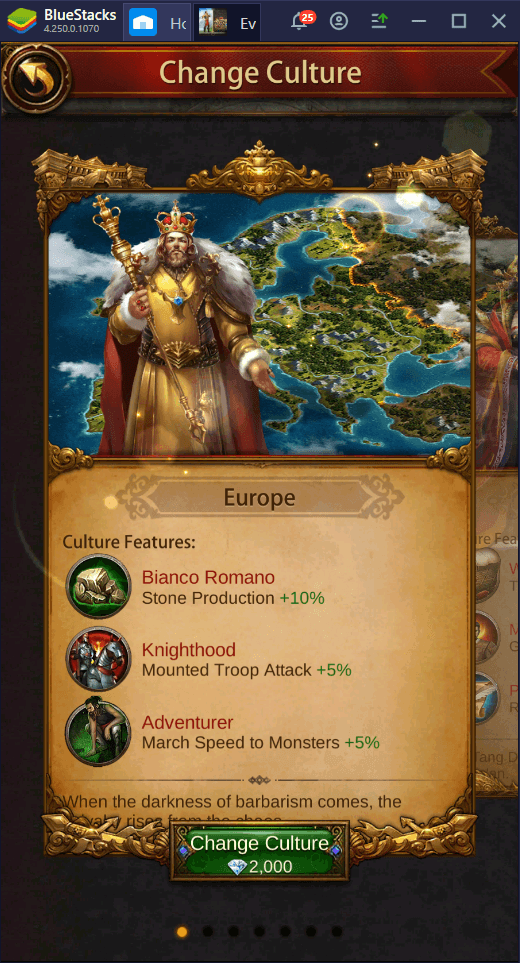 More specifically, you can choose from a: European, Chinese, Japanese, Korean, American, Russian, or Arabic culture. Have you ever dreamt of having medieval Europe as a theme for your empire? Then, this game is the game for you.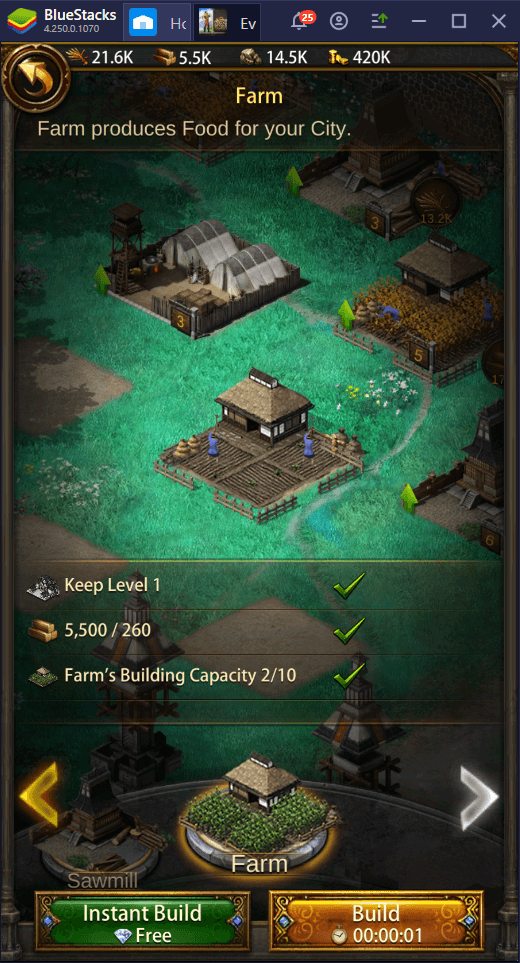 Upon choosing a culture, you can now start building your empire. As a head start, you can build essential facilities like farms (to produce food), lumber mills (to produce wood), barracks (to train ground troops), and the like. There are a multitude of buildings to construct for your empire.
If you want to know more about developing your empire, you can read this in-depth guide here.
After building a facility, you can then spend resources to upgrade it. Doing so will make resource production more efficient and will benefit your empire in the long-run. So if you upgrade your farms, then more food will be produced, and subsequently more prosperity within your empire.
Raise Your Army
Part and parcel of a formidable empire is a powerful army.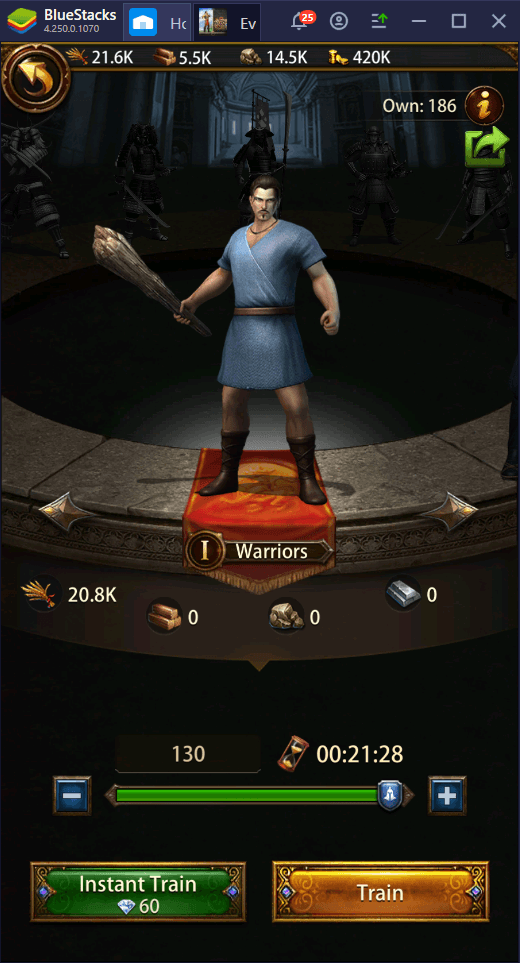 In Evony, soldiers can be trained in military infrastructure like barracks, archer camps, and stables. You can also craft war machines like catapults through a workshop.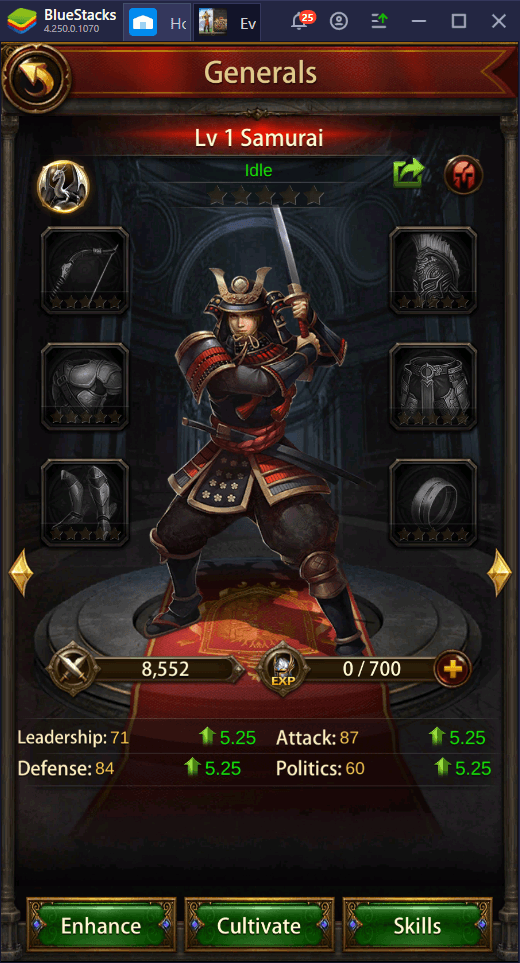 A battalion of soldiers is useless if they have no general to lead them. Generals in Evony are not just generic characters but are special ones that can give stat boosts to your troops during battles. These stat boosts range from increased HP to increased attack damage. Generals are recruited in the tavern and can be upgraded to spawn and house stronger generals to lead your army.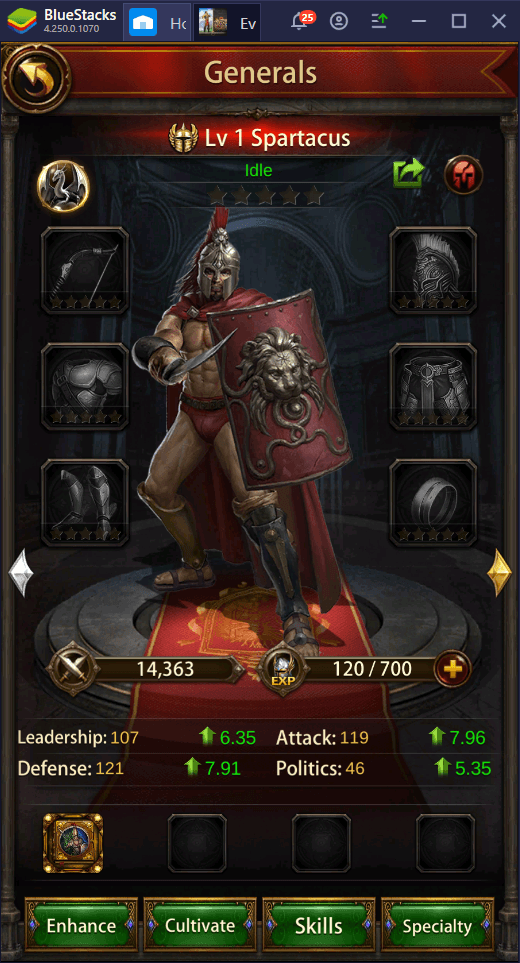 What is even better is that you can have real historical figures as your generals. If you are lucky enough to unlock them, you can have figures like Genghis Khan, Napoleon Bonaparte, and Julius Caesar as generals.
To know more about raising your army, read this guide here.
Solve Puzzles to Find Treasures
Aside from empire-building, Evony also contains a series of puzzle games.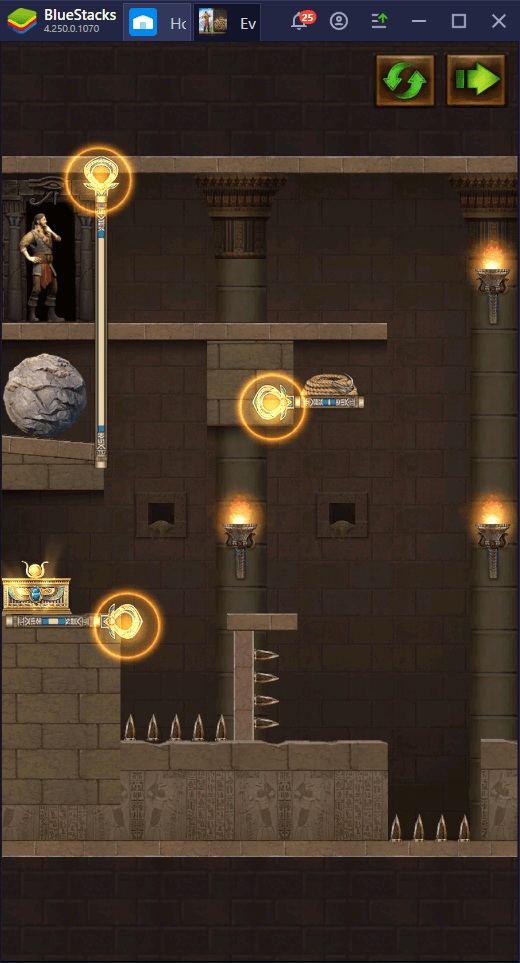 These sub-games are "pull the pin" puzzles in which you "pull" pins in a specific order, as well as within a specific timing, in order to ensure that a constantly moving character reaches the destination unharmed. The destination is a treasure chest that rewards you with resources that you can use in developing your empire.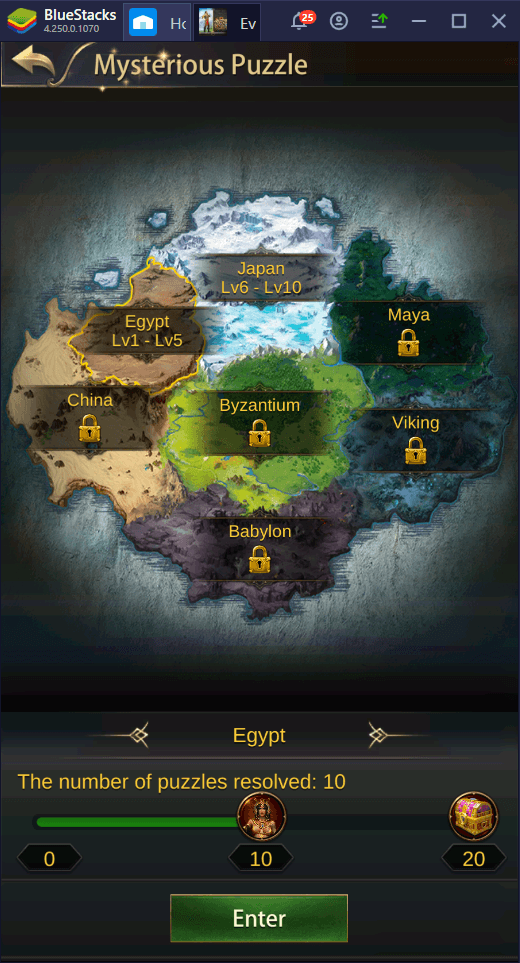 There are multiple puzzles to solve. Each sets of puzzles are themed according to a particular historical setting in the world (i.e. ancient Egypt). You unlock more puzzles as you keep levelling up in the game.
Conquer Parts of the World
To increase the range of your power, you can go beyond the perimeter of your empire and occupy other territories.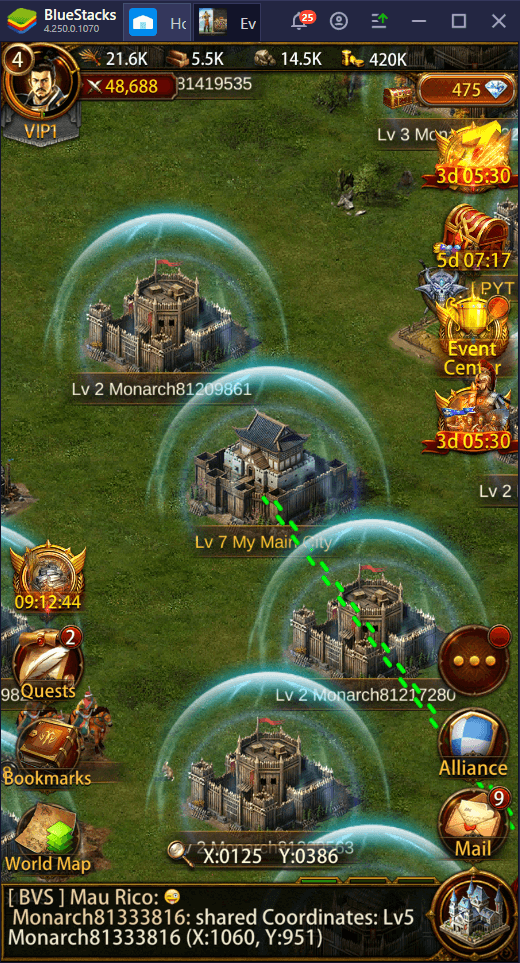 The world map contains areas that you can raid to garner particular supplies. Moreover, you can send your army to attack a group of hostiles and take away their resources.
You can even attack the empire of another player; however, make sure that you have a powerful enough army to do so.
Sending your troops out to venture the rest of the world map can take time. Depending on the distance of their destinations, troops can take less than 15 seconds to several minutes to arrive there.
If you want to learn more about how to conquer the world of Evony: The King's Return, read this guide here.
Rule the World with BlueStacks
Rule your own empire now and utilize the advantages of BlueStacks while doing so. For one, you can maximize the flexibility of BlueStacks' interface to make multi-tasking the game easier. You can minimize the game and let it run in the background while you are doing something else on your computer. This is useful for when you have to wait buildings to finish construction or when you have to for troops to finish their raids.
As mentioned, there are seven cultures that you can choose from as a theme for empire. Changing cultures can cost you 5,000 gems or $4.99. With BlueStacks, you do not have to spend anything to experience another culture. You can use the Multi-instance tool to create another virtual android device on the same system. From there, you can reinstall Evony and start over with a new culture.
Become the emperor that you have always wanted to be now by installing and playing Evony: The King's Return with BlueStacks. What is your favorite culture? Let us know in the comments below.