Game Guides
How to Use Our BlueStacks Tools Improve Your Experience in Fate/Grand Order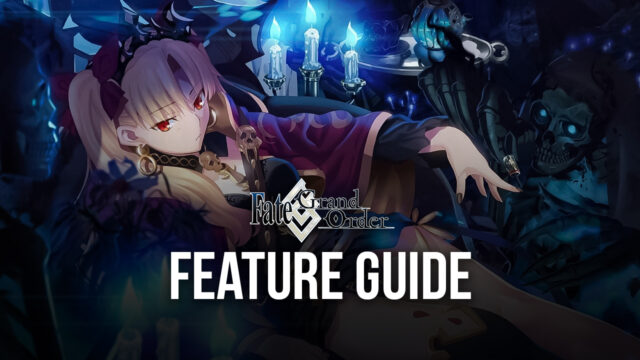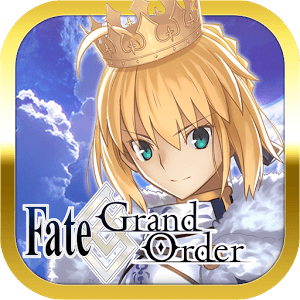 Note: While we'll be talking about Fate/Grand Order using BlueStacks 4, this game is already available on the new BlueStacks 5 with much better performance, less resource consumption, and more stability. Download the latest version of our Android emulator and give it a try!
Fate/Grand Order is the massively popular gacha RPG with card-based combat, tons of collectable characters, and a riveting storyline that revolves around a Master, a powerful summoner that commands Servants in the battlefield, and their adventures as they crack the mystery surrounding a prophecy that states humanity is going extinct in just one year. We don't want to spoil the story too hard as we think this is one of those games that is definitely made better thanks to its writing and narrative elements. Suffice to say, the story in FGO is quite good, and you should definitely give it a try if you're a fan of RPGs with engaging narratives.
Fate GO was originally released in 2015 in Japan, and received a global version, as well as a Korean release, in 2017. Despite these localizations that made the game available across numerous countries around the globe, it was still limited by one main constraint; the fact that it was available exclusively on mobile. Luckily, you can easily install the popular gacha RPG on your PC, and enjoy all its elements the way it's meant to be; on your large PC monitor, and with the best performance and visuals.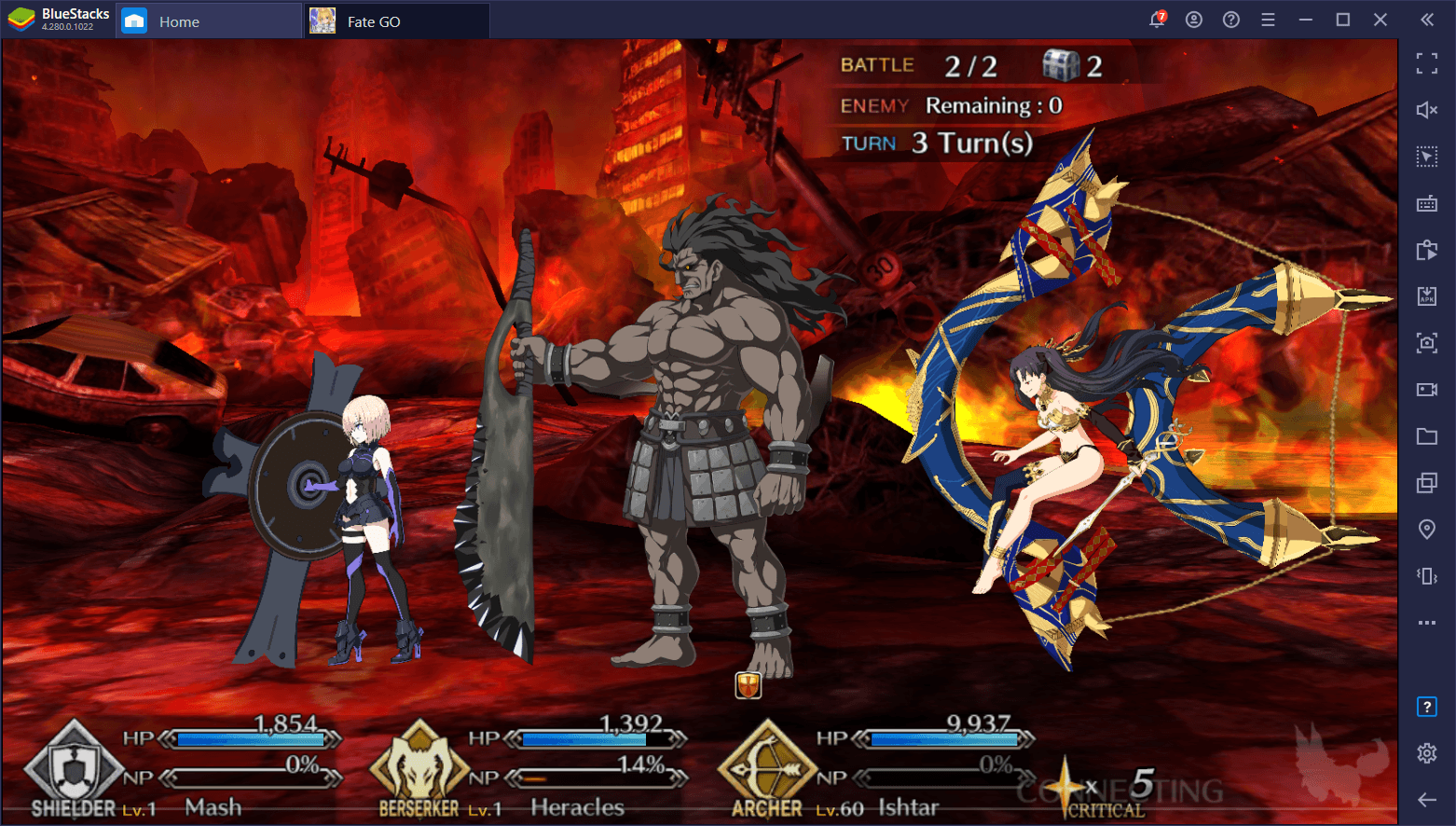 However, while good graphics are always a welcome addition to any game, BlueStacks goes far beyond these superficial pleasantries, and offers lots of different tools and aspects that can be used to streamline your gameplay in FGO. And in this article, we'll be talking about the best tips and tricks for using two of these BlueStacks tools to your advantage in the popular gacha RPG.
Streamline Your Combat Controls and Menu Navigation
One of the most importants of any game is, well, being able to play it comfortably. And in this regard, mobile games leave a lot to be desired. Even the games with the best designed controls are limited by the restrictions of a small touchscreen and the absence of physical buttons, which in turn to lead to no feedback and weightless gameplay. In other words, pressing physical buttons not only feels much better than tapping on a phone screen, but it also helps for improving the precision of the player in moments when it's most necessary.
Luckily, one of the key aspects of BlueStacks is the Keymapping Tool, a feature that allows players to create fully-customizable control schemes for just about any game, Fate GO included. In this manner, you will be able to control all your characters, and most aspects of the gameplay, using not only your mouse instead of your tapping fingers, but also your keyboard, for added comfort when navigating through menus and screens.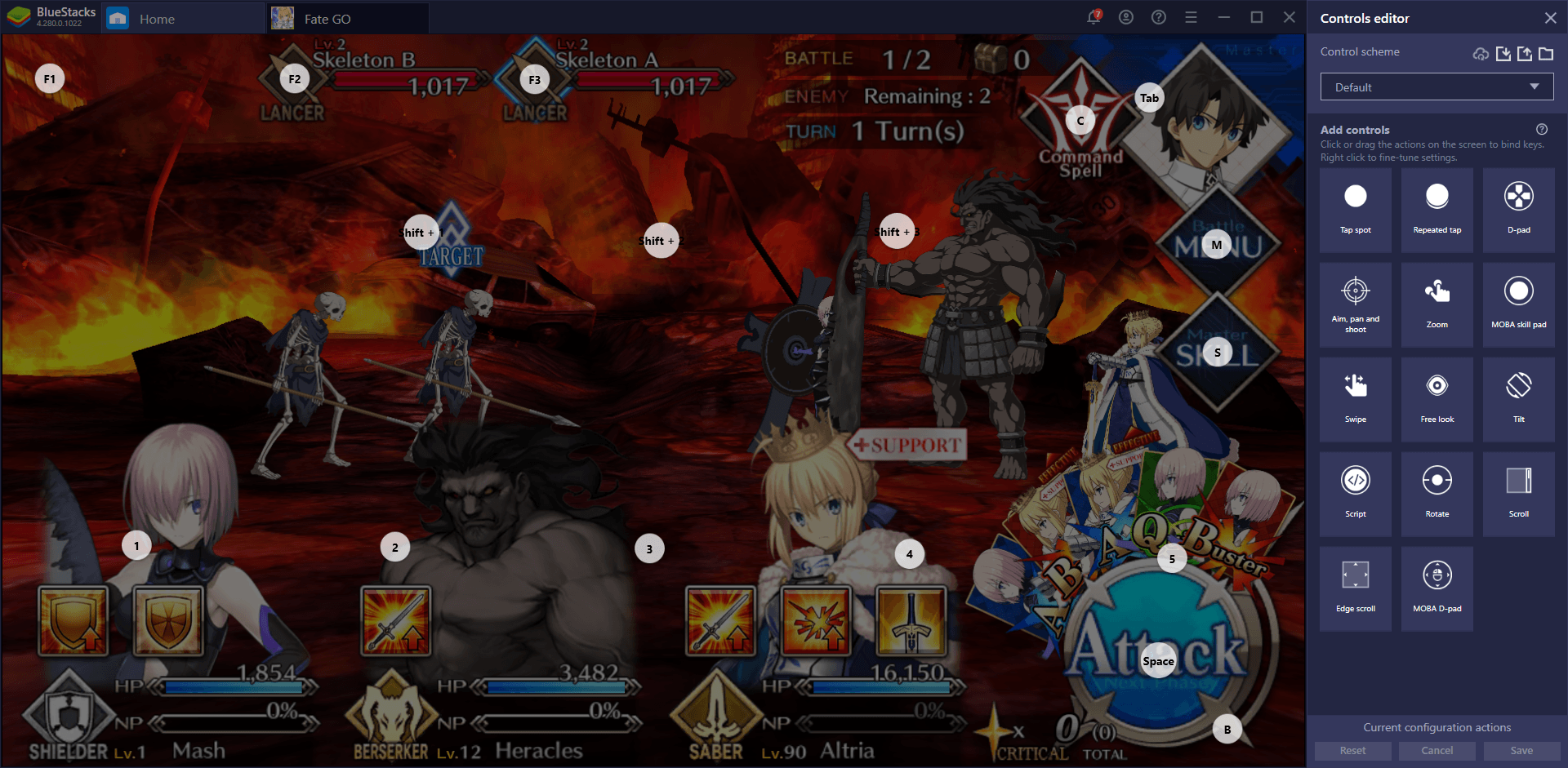 Accessing the Keymapping Tool is simple: While in.game, press Ctrl + Shift + A. In this new screen, you'll see a bunch of shortcuts that are placed by default. This is the control scheme for FGO that we designed here at BlueStacks, and that covers most of the basic buttons that you'll be pressing throughout your adventures in the game. With this scheme, you can easily control all your characters in combat by pressing the corresponding buttons.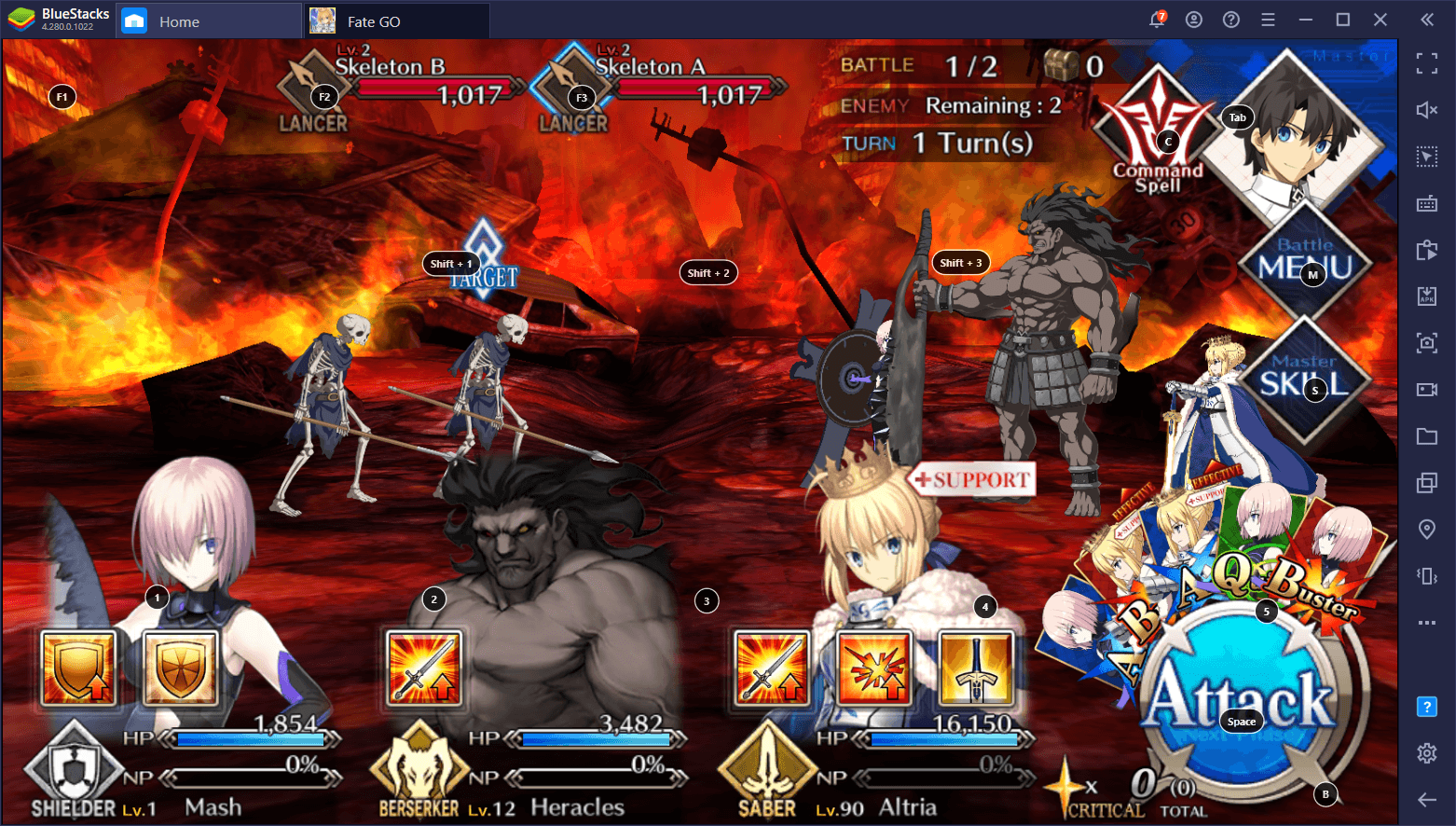 However, you can customize this scheme to your liking by dragging functions from the rightmost panel, placing them anywhere on your screen, and then assigning them bindings from your mouse or keyboard. With a bit of effort, you can effectively completely streamline most aspects of this game with the Keymapping Tool.
Reroll With Ease and Unlock the Best Characters From the Beginning
Rerolling is a crucial aspect of any gacha RPG, including Fate GO. In fact, unless you're a very casual player (which means that you're probably not even reading this guide), rerolling is something you might want to, at the very least, consider before starting your game in earnest since it gives you a significant head start in the main story if done correctly.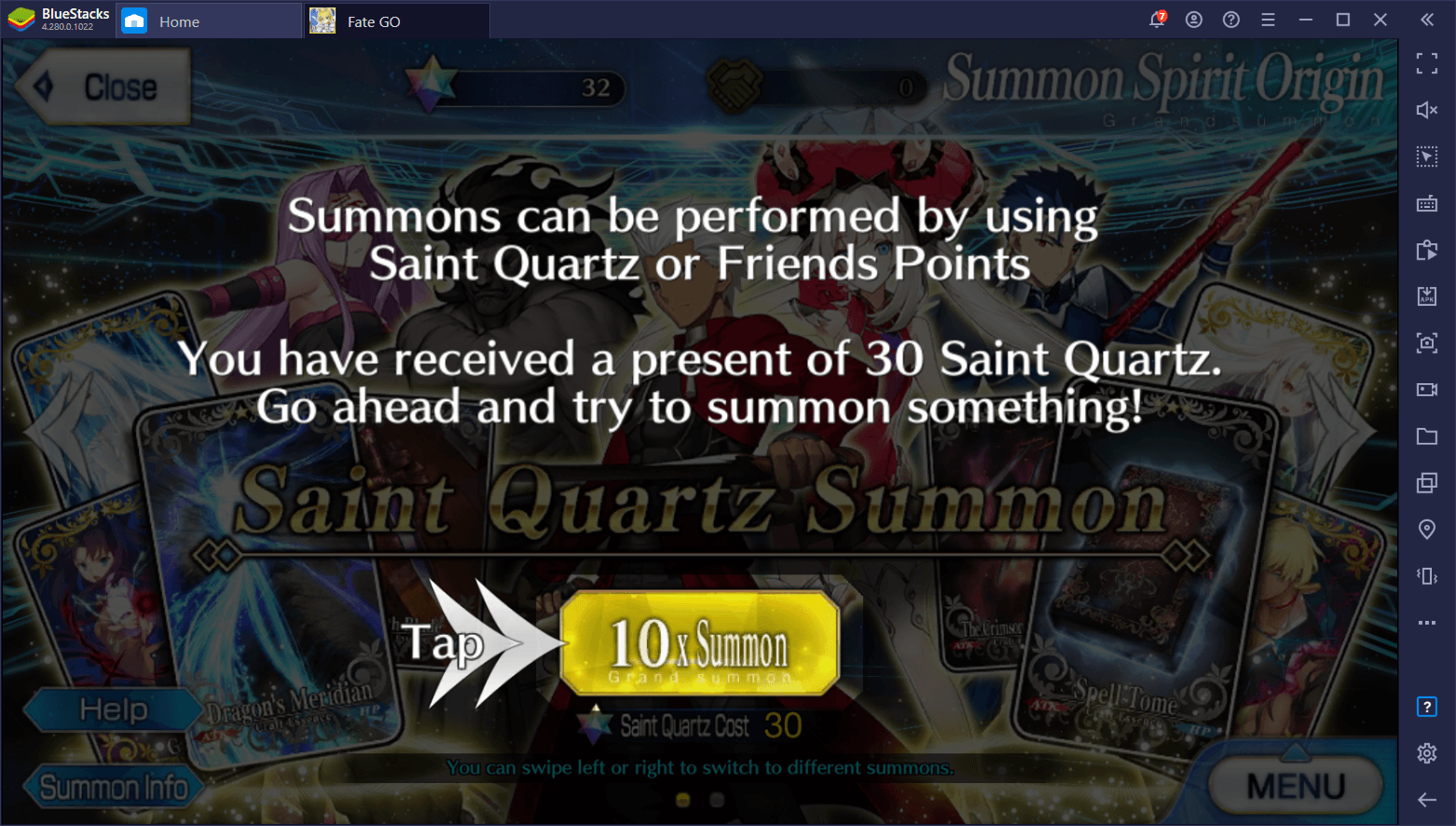 Simply put, rerolling is the process through which you can unlock powerful characters from the very beginning of most gacha games, by using the free summonings you get in the tutorial or in the first chapters. The idea is to start your game over as many times as necessary, and repeatedly use these free summonings until you get one or more good characters.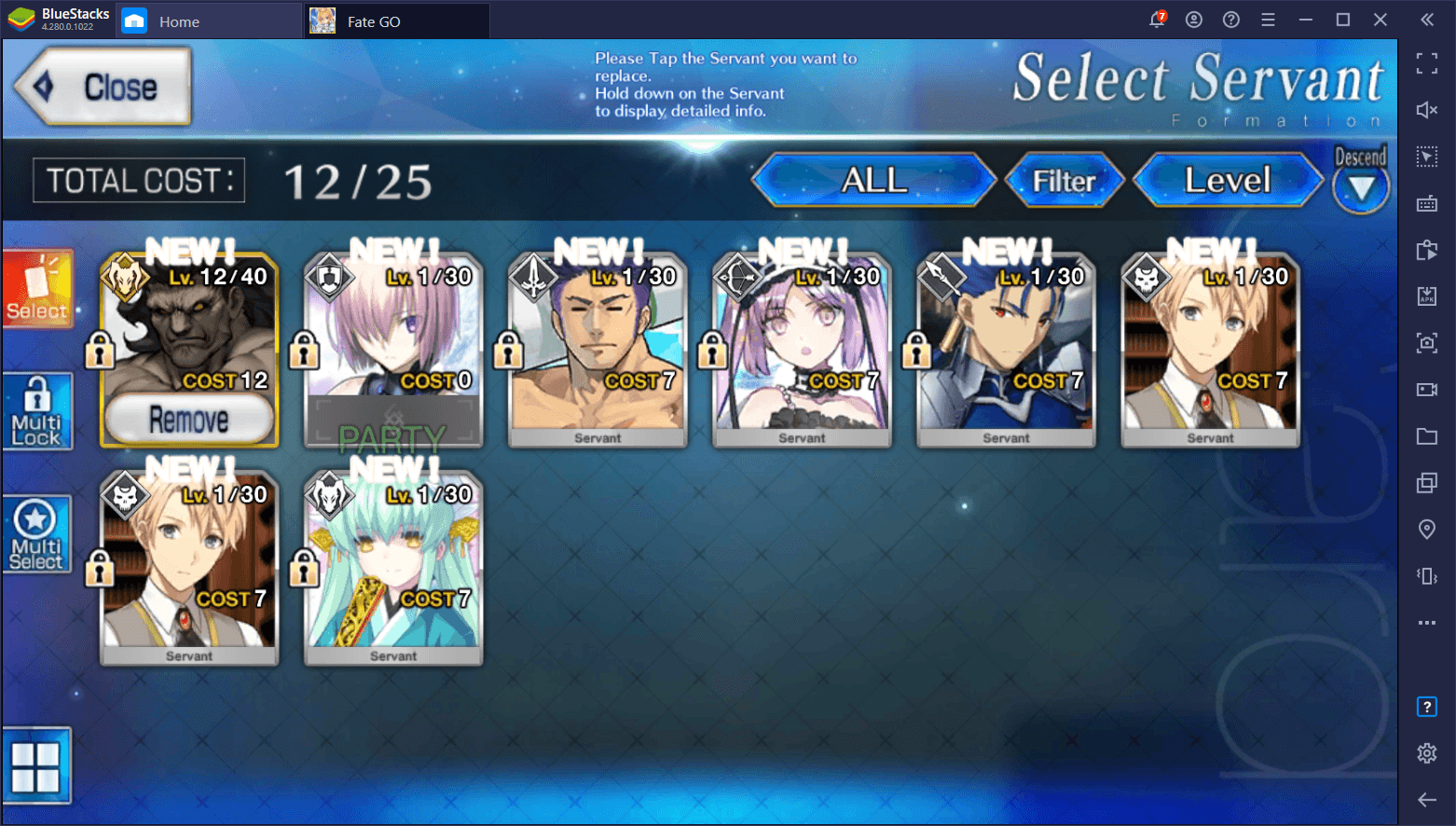 However, if you're playing on your phone, you'd be limited to rerolling one by one, which can take a lot of time. Conversely, by playing FGO on BlueStacks, you'll have access to the Instance Manager, a feature that allows you to create multiple iterations of our emulator and, using numerous unique Google accounts, access the same game in each of them simultaneously. Imagine instead of performing a single roll per session, you could perform double, triple, or quadruple that amount. This will no doubt significantly speed up your rerolling.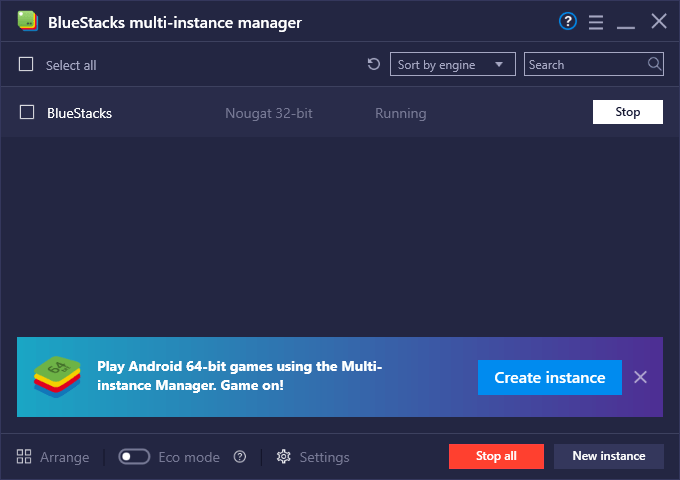 To access the Instance Manager, simply press Ctrl + Shift + 8. In this window, you can click on "New instance" to create a new iteration of BlueStacks, and then use it to install another copy of the game using a different Google account. You can create as many instances as your PC can handle, which will in turn affect the number of simultaneous rerolls you can perform at a time.
For added convenience, you can also use the Multi-Instance Sync tool to synchronize your actions across all your active BlueStacks windows. In this sense, with this tool activated, you can control and progress through the game on your main instance, while BlueStacks replicates your actions on all the other windows, significantly streamlining your progress and reroll efforts.
These are only two out of the countless ways that BlueStacks can help enhance your experience when playing FGO on PC. We strongly suggest downloading and trying it out for yourself to find out all the other useful things it has to offer. Feel free to leave your comments and suggestions in the section below!