Game Guides
Final Gear: Beginner's Guide by BlueStacks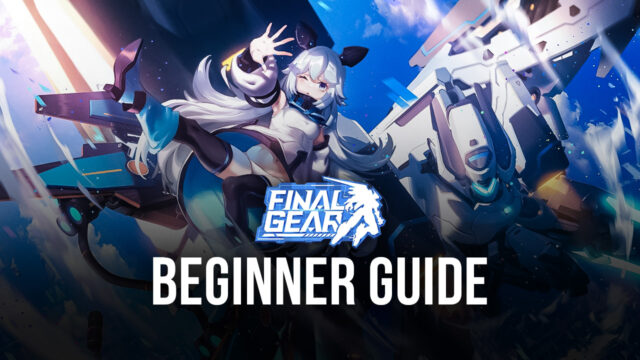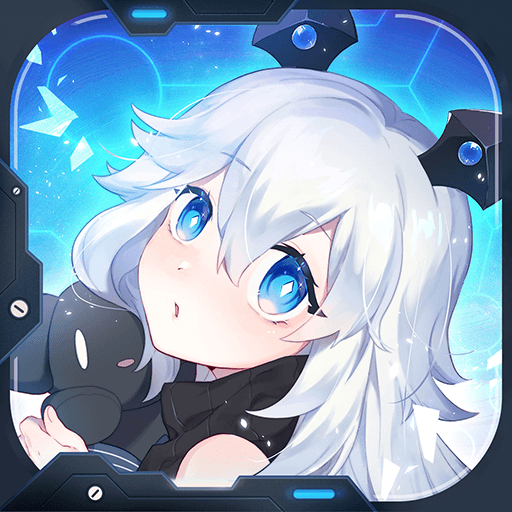 Komoe Technology Limited has officially released the global version of Final Gear for both Android and iOS users on 30th September, 2021. The game is free-to-play with IAP (In-App Purchases) and features a futuristic SRPG styled gameplay. Final Gear is a gacha game where players have to summon characters and weapons/body armor parts through specific summoning banners using gacha currencies. Final Gear offers multiple different gameplay modes like Campaign mode which features many different regions, Daily missions which consist of different areas where players can acquire resources to develop their characters or "mercenaries' ' as called in Final Gear. They also feature different event areas according to the ongoing event where players can get more freebies. This guide will be a thorough beginner's guide for all the new players joining the Final Gear global version for the first time.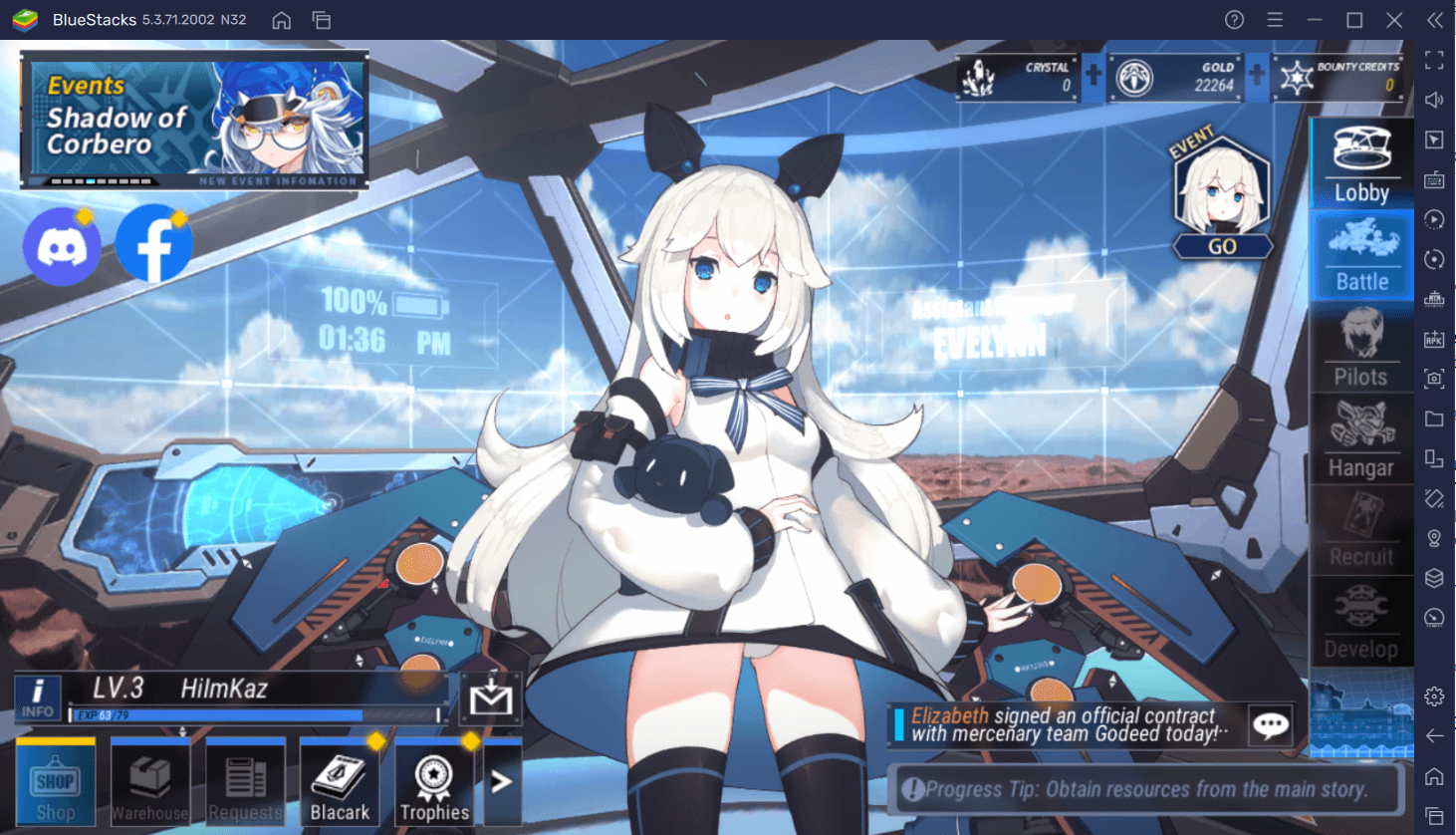 Final Gear is a Strategic RPG where players deploy a team of 4 mechs in battles. Each mech can be customized according to players with different parts and weapons. However, the base character and their abilities remain different. Players play out these battles against enemy machinery where they can control one mech out of the 4 at a time but can switch between any of the team members. The game also features an auto-play function for the ease of players where the game plays itself albeit might not be the perfect desired gameplay which the players can themselves commit towards as is usually seen in auto mode. However, as we played more Final Gear the more, we came to realize and appreciate the autoplay feature as the game really performs as expected and chances are that if you were able to beat the stages on manual then you will be able to beat them consistently on auto mode as well. All mechs in your team fill their ability gauge by defeating enemies and when the gauge is full, they can use their abilities.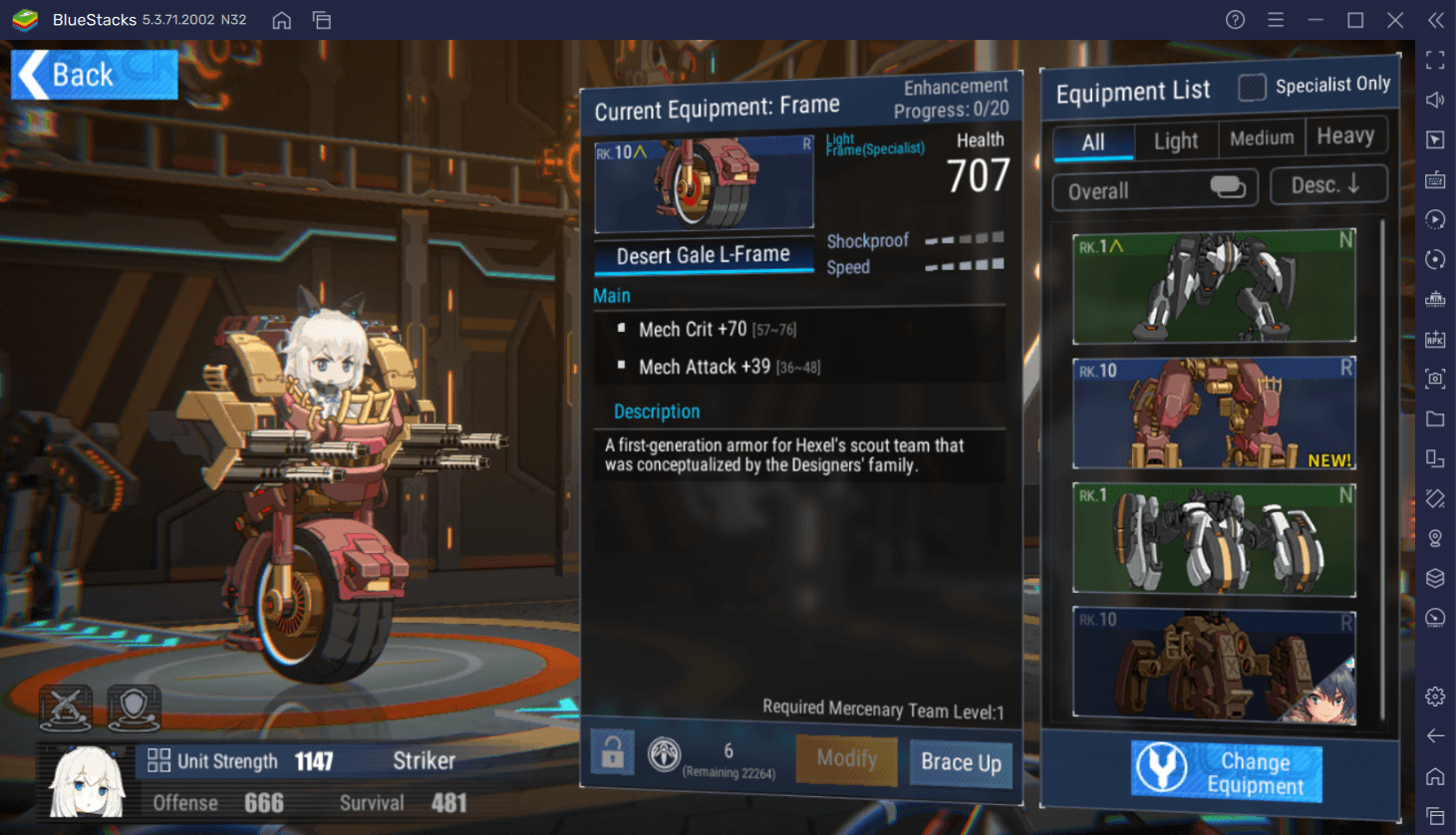 Final Gear features many different aspects of the usual gacha games like different currencies for different purposes and gacha/summoning for different characters and weapons. This might confuse the beginners at first but we will try to explain it in a very layman fashion so everybody gets the hang of it. In Final Gear, the player has 3 main currencies – Crystals, Gold, and Bounty Credits. Crystals are the premium currency that is further divided into 2 categories – Paid Crystals and Free Crystals. Paid Crystals are the ones players get when they purchase them using real cash/money and Free Crystals are the ones that you can get just by playing the game and completing in-game missions and achievements. Crystals are used mainly for recruitment and purchasing packages in the shop that require crystals. Gold is the next currency which is the usual currency that can be earned by playing on a regular basis and is used for a variety of things. These things include the likes of upgrading mechs or can be exchanged for other resources in the shop to boost your mercenaries. Alternatively, players can convert their crystals to gold at a ratio of 10 crystals: 1500 Gold. Bounty Credit is the currency that is earned by playing the main missions on the campaign mode. Players can earn these to unlock more maps and districts in the main campaign mode to play further stages.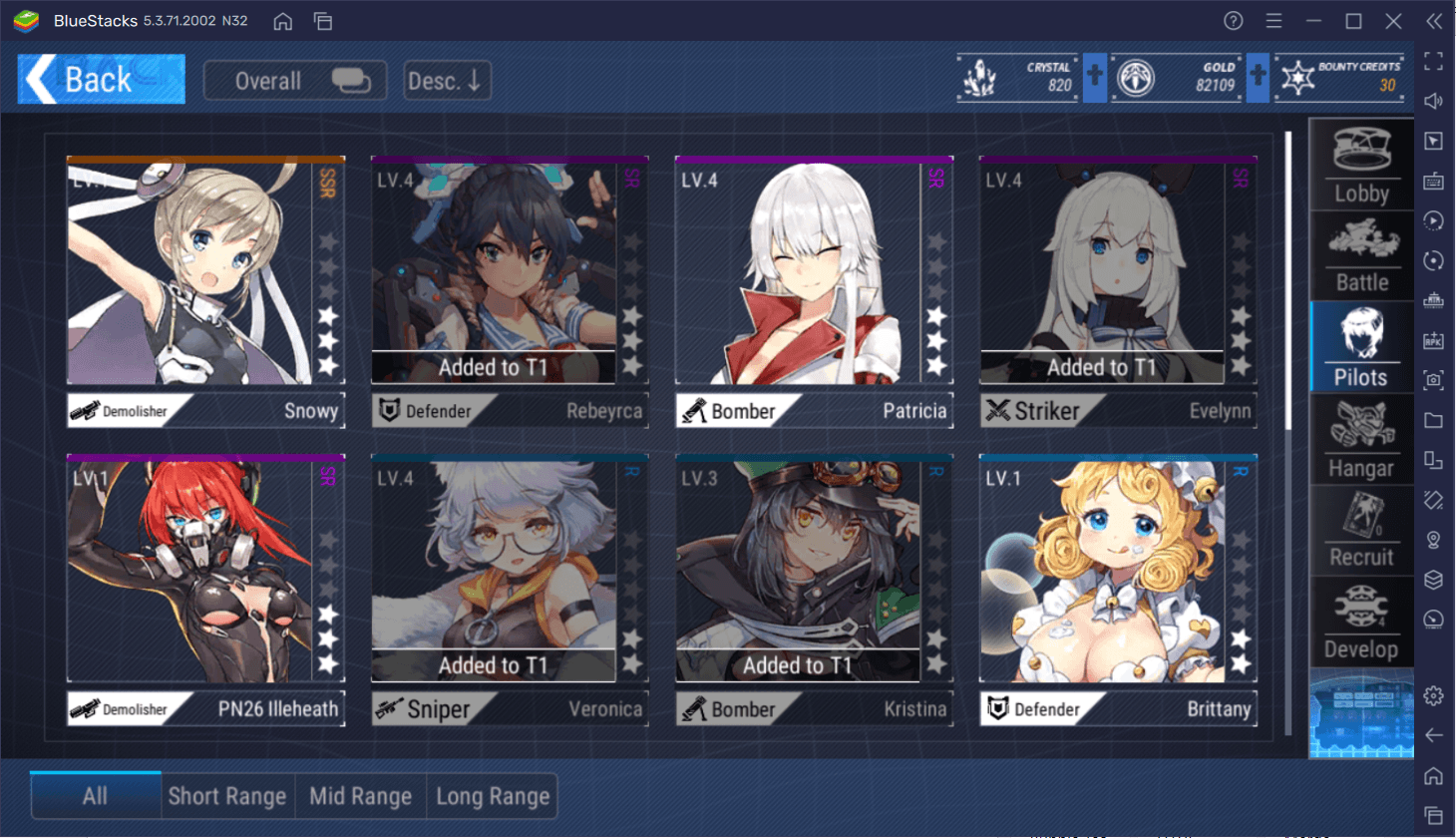 Final Gear is an SRPG that has a variety of characters with each having its skills and abilities. The game features beautiful artwork of different mercenaries which are represented in-game by 3D chibi artwork. All of these mechs are divided into 6 different classes – Bomber, Demolisher, Defender, Striker, Sniper, and Shooter. Each of the classes has its weapons associated with them. These mechs are also separated by the range of their attacks – Short Range, Mid-Range, and Long Range.
We are here to tell you about everything there is to know in the beginner's guide for Final Gear.
Understanding User Interface and Different Areas
User Interface (UI) is the most optimum way to understand how a game functions as well as the best way to let beginners know what they need to do, how they need to do it, and where do they go to do their tasks. In this section, we will cover everything there is to know about the UI of Final Gear. Firstly, let's see the various sections that are available on the home screen of the game: –
Currencies

(at the top-right section)

Event Tab

(at the top-right section beneath the currencies)

Lobby Tab

(the first option at extreme right)

Battle Tab

(the second option at extreme right)

Pilots Tab

(the third option at extreme right)

Hangar Tab

(the fourth option at extreme right)

Recruit Tab

(the fifth option at extreme right)

Develop Tab

(the sixth option at extreme right)

Base Tab

(the seventh option at extreme right)

Chat and Progress Tip

(At the bottom right)

Player Level and Name

(At the extreme left)

Shop Tab

(the first option on the extreme left)

Warehouse Tab

(the second option on the left)

Requests Tab

(the third option on the left)

Blacark Tab

(the second option on the left)

Trophies Tab

(the second option on the left)

Social Media Tab

(at the top left)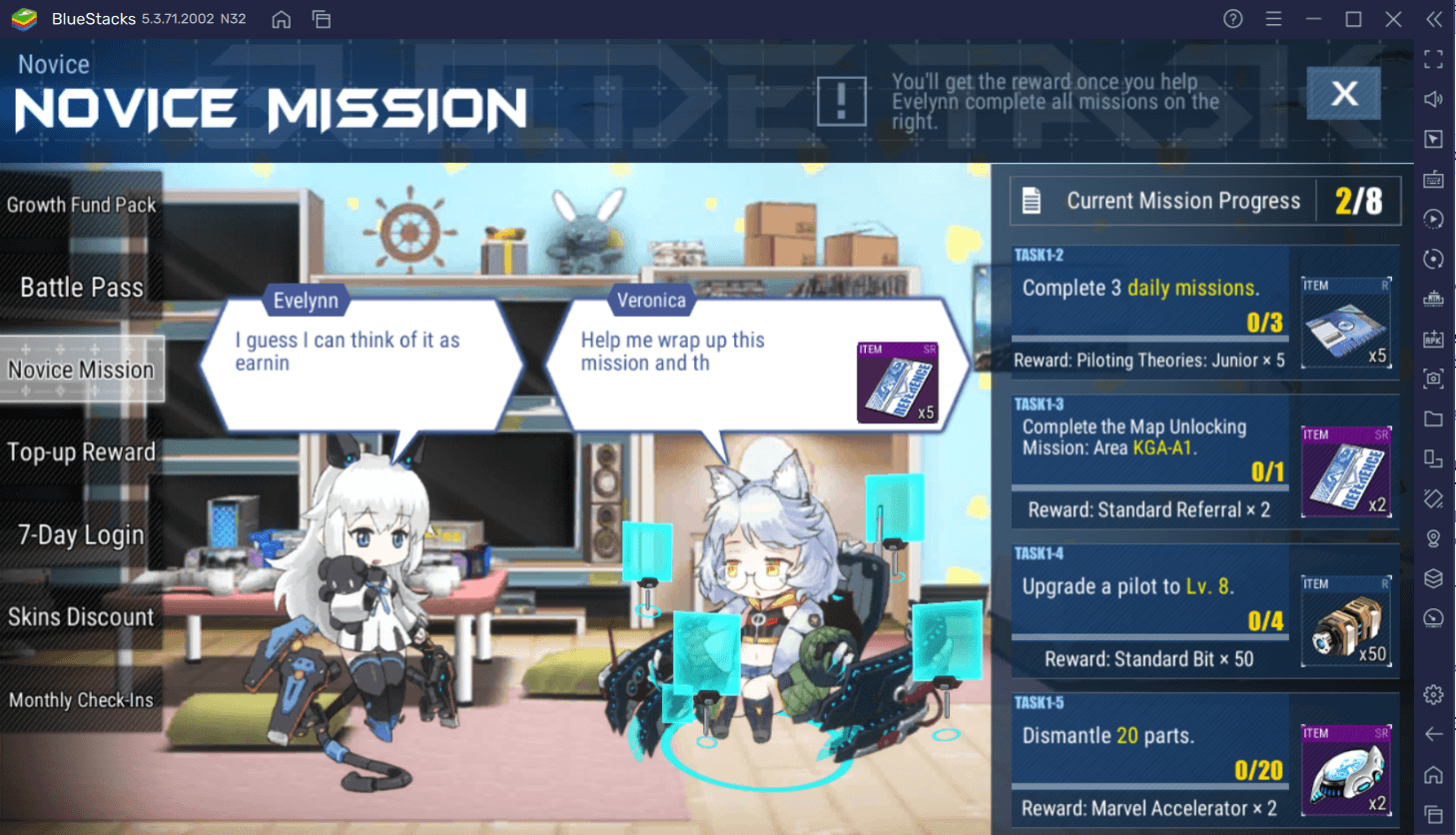 Now that we have laid all the menus and options, we can see what we are working with. The majority of the beginner's guide will be revolving around understanding these different areas where we will try to go in-depth in areas that need to be explained more.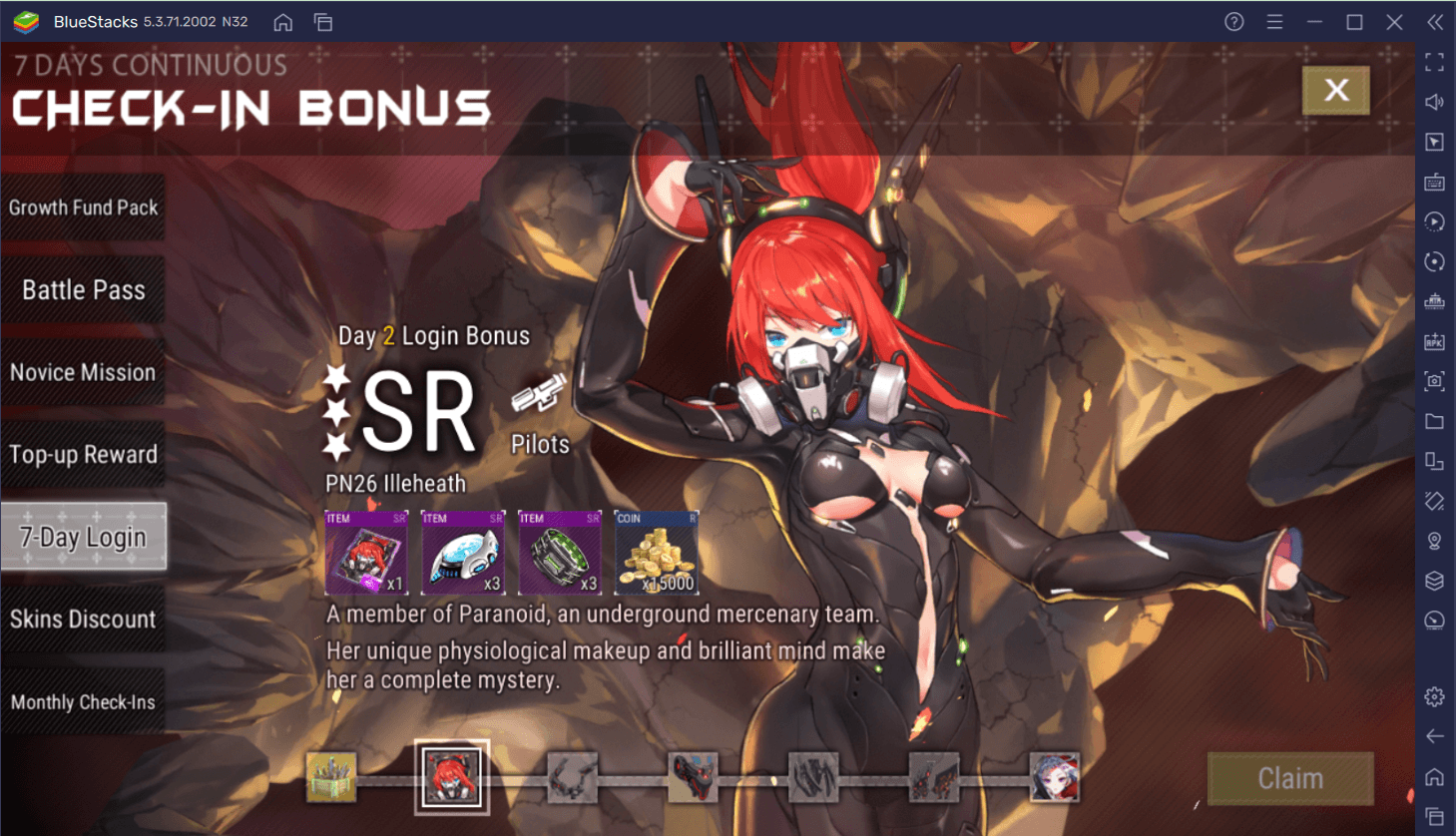 Currencies – We have already explained the majority of the currencies involved in Final Gear at the beginning of this guide but we will again give a reminder of the basic 3 – Crystals, Gold, and Bounty Credits. Other currencies that are included are: –
Major Accelerators – These are parts that are used to reduce the building time of any recruitment or parts to 0. Hence, they are used for instant building in a way.

Standard Bits – These are parts that are used for making different suit parts in the research lab. They are used in the develop tab and can be accessed through the story missions as well as by using crystals at a ratio of 6 crystals: 1 standard bit.

EXP Items – These are the standard EXP items in any gacha game where they are used to level up your characters or mercenaries in Final Gear. They are of different types and rarities with the higher rarities one giving more experience.

Gift Items – These items are different materials that can be accessed by going to the Pilot Tab->Choose character-> Fond. They can be gifted to different mechs to increase fondness with them.

Skill Upgrading Items – Items like the Textbooks and System Upgrades are used for upgrading the skills of characters. They are extremely rare and can only be acquired by recruiting, weekly quests, or purchasing through the shop.

Frame Augments – These are materials used for the breakthrough of frames for characters to make them stronger.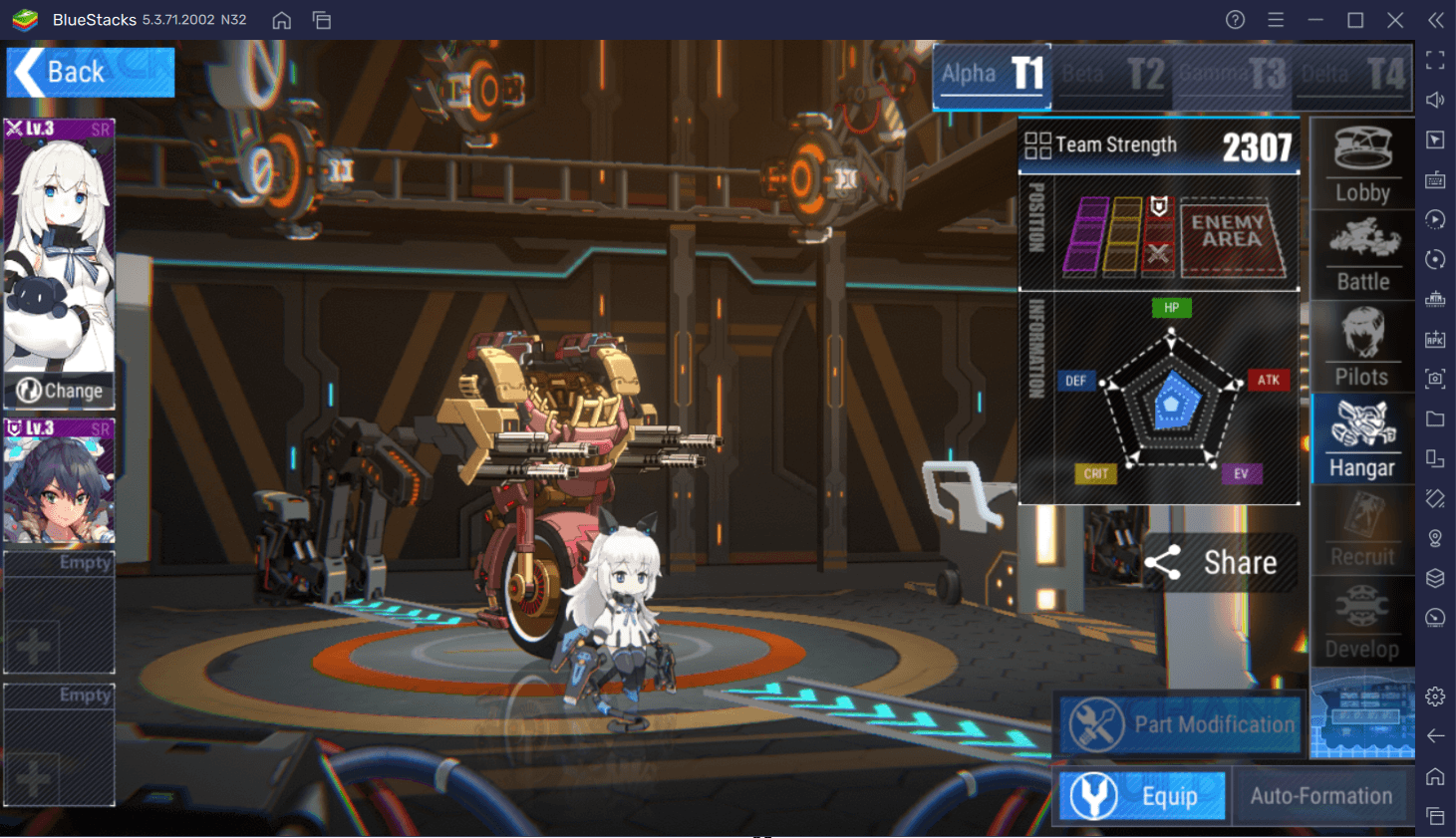 Event Tab – Events are the bread and butter for new content in any live-service online game and Final Gear is no exception. The game has a dedicated event tab for users to go through so they don't get confused and stay up to date on the new events and happenings. These events feature different challenging missions and/or rewards just by logging in. Currently, there are the 7-day login reward as well as Novice Missions events running along with purchase benefit rewards.
Lobby Tab – This is the main button to click when players are confused as they can click this button to jump straight back to the home lobby.
Battle Tab – This is the go-to tab for playing the game. The Battle tab leads to different areas of the game – Campaign Story Mode, Daily Resource Missions as well as Event missions. Players can access from the top right of the lobby. The missions available in the battle tab can be further divided into 4 categories – Important, Bounty, Daily, and Incident. Some of the missions are locked behind certain levels to ease the progress of players and not overwhelm them.
Pilots Tab – This is the tab where players can access their mercenaries from. They can sort them, upgrade them as well as evolve them. This is the go-to page to upgrade your recruited mercenaries in short.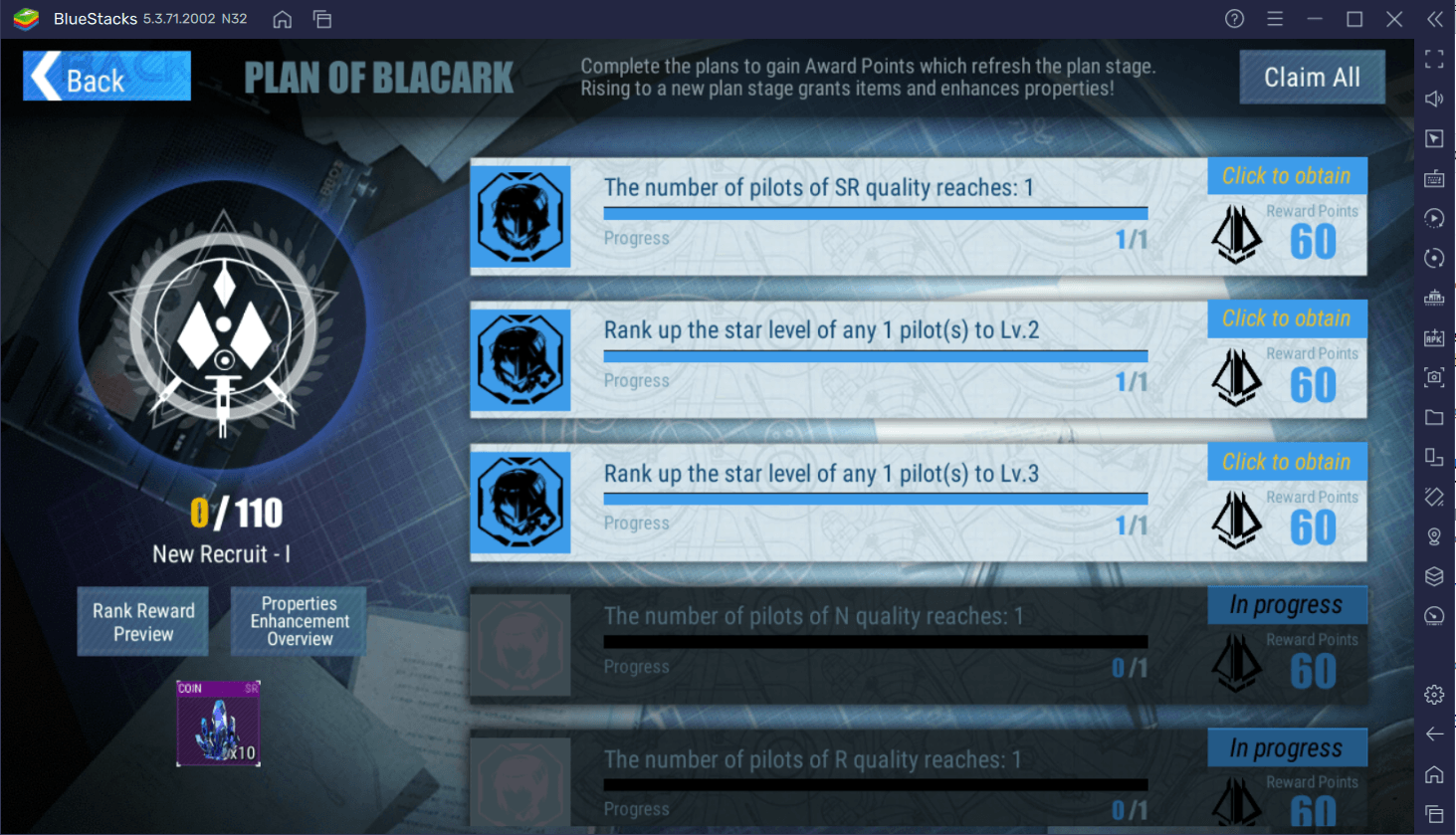 Hangar Tab – This is the tab where players can access the different body parts of their mech teams as well as customize each of them with different parts. This is the area where players can create different mech teams as well as rename them to their wish. Each team consists of 4 mechs so players can customize 4 mechs at a time using this option. They can also modify the parts of these mercenaries when the merc team level reached 60.
Recruit Tab – The recruit tab is the summoning/gacha element of Final Gear. Players can recruit using Crystals or using Standard Bits for different mercenaries here. Crystals are also further divided into paid and free, so are the banners. Players can summon on different banners that are currently ongoing. However, if you have just started the game, then you can summon multiple times till the character you want drops in the beginner summons. You can consider it like an infinite reroll option. This feature is a must and eliminates the requirement of rerolling in Final Gear. The rates of summoning are very good with a 5% chance for summoning the highest rarity mercenaries (SSR), 10% chance of summoning SR mercenaries, 47.5% chance of summoning R mercenaries, and 37.5% chance of summoning N mercenaries. There exists no pity but a step-up system where players are guaranteed SSR units and selectors at certain steps.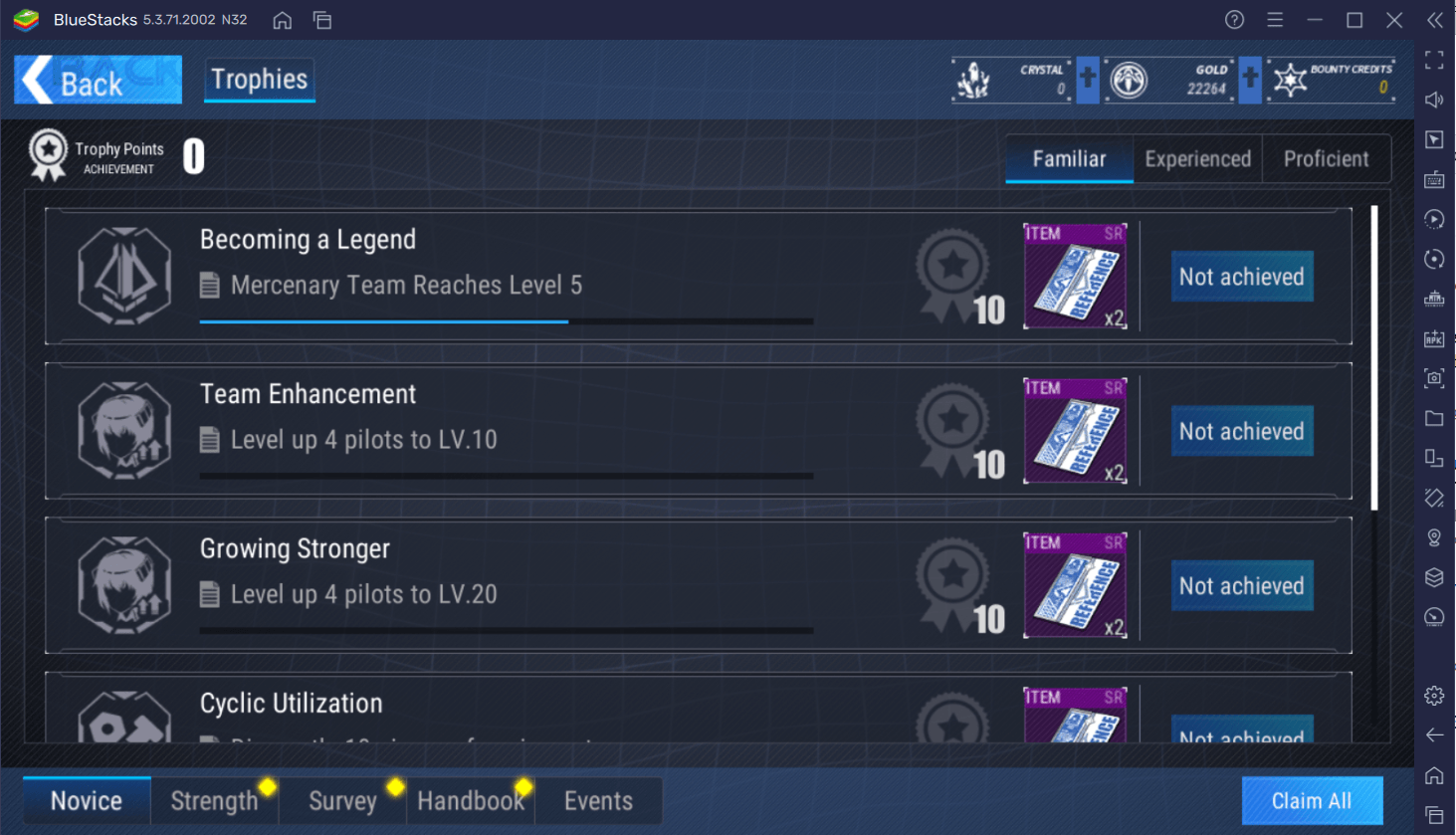 Develop Tab – The Develop Tab is the summoning gacha for the various parts required for mercenaries to enhance their stats. Consider it like a weapon gacha where players summon for different weapons and body parts or in some extremely rare cases, a custom suit through the different summoning banners that exist. However, they don't summon instantly but development takes time. Players can also use this tab to dismantle the current equipment parts.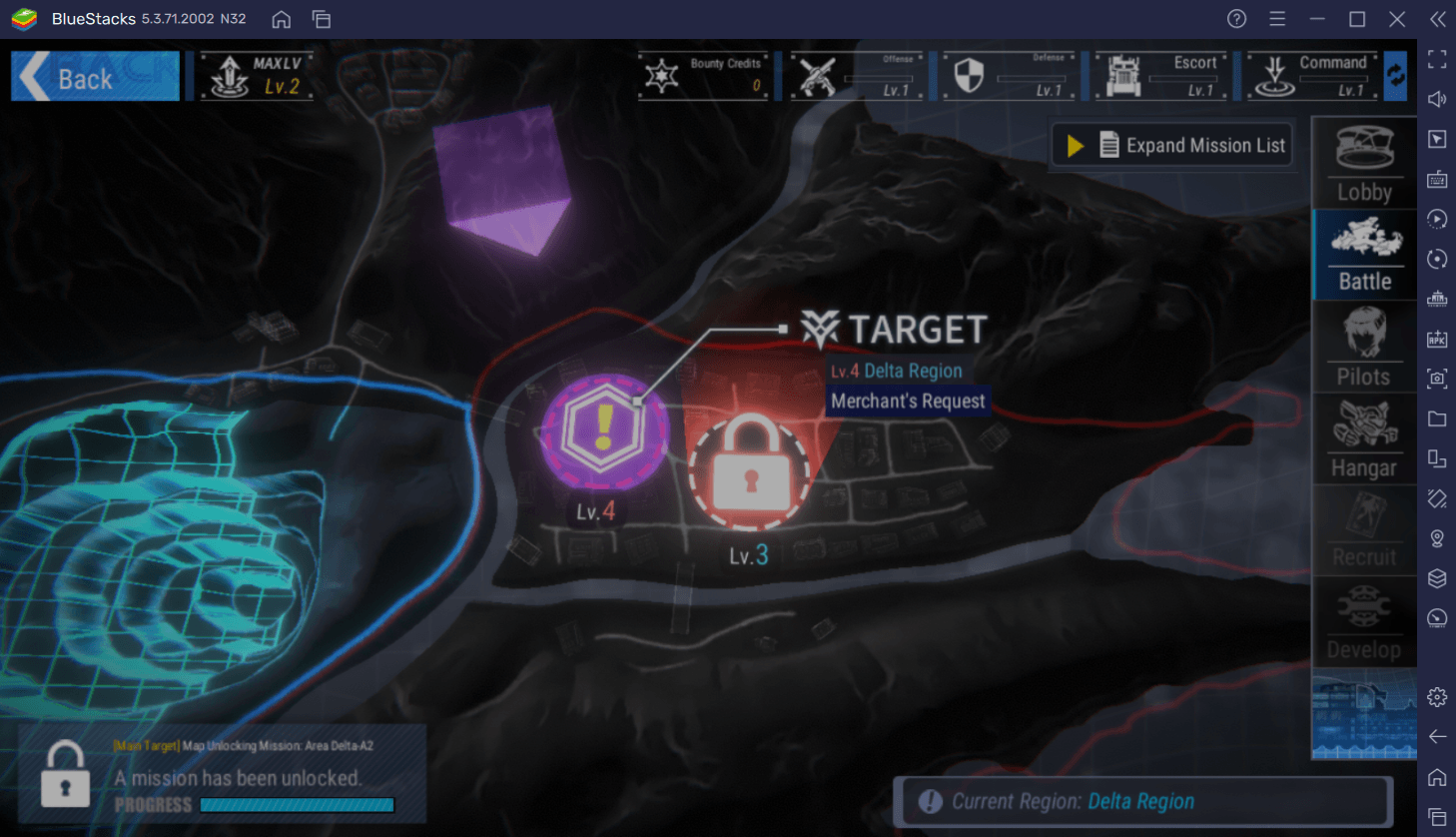 The rest of the tabs are very self-explanatory and do not require much discussion. They are your tried and tested achievements, missions (daily and weekly), the shop where players can purchase different items using real-life money or using their free-to-play crystals. The chat button connects you to all the players playing on your server and you can chat with them.
The Warehouse is the item inventory where players can view all the items they have or they can use. For example, the Superior SR Selector everyone gets as part of the pre-registration also lies here which can be used to select any SSR mercenary. The Mail tab is where players can access the rewards sent out by the developers like the pre-registration rewards, maintenance rewards, etc.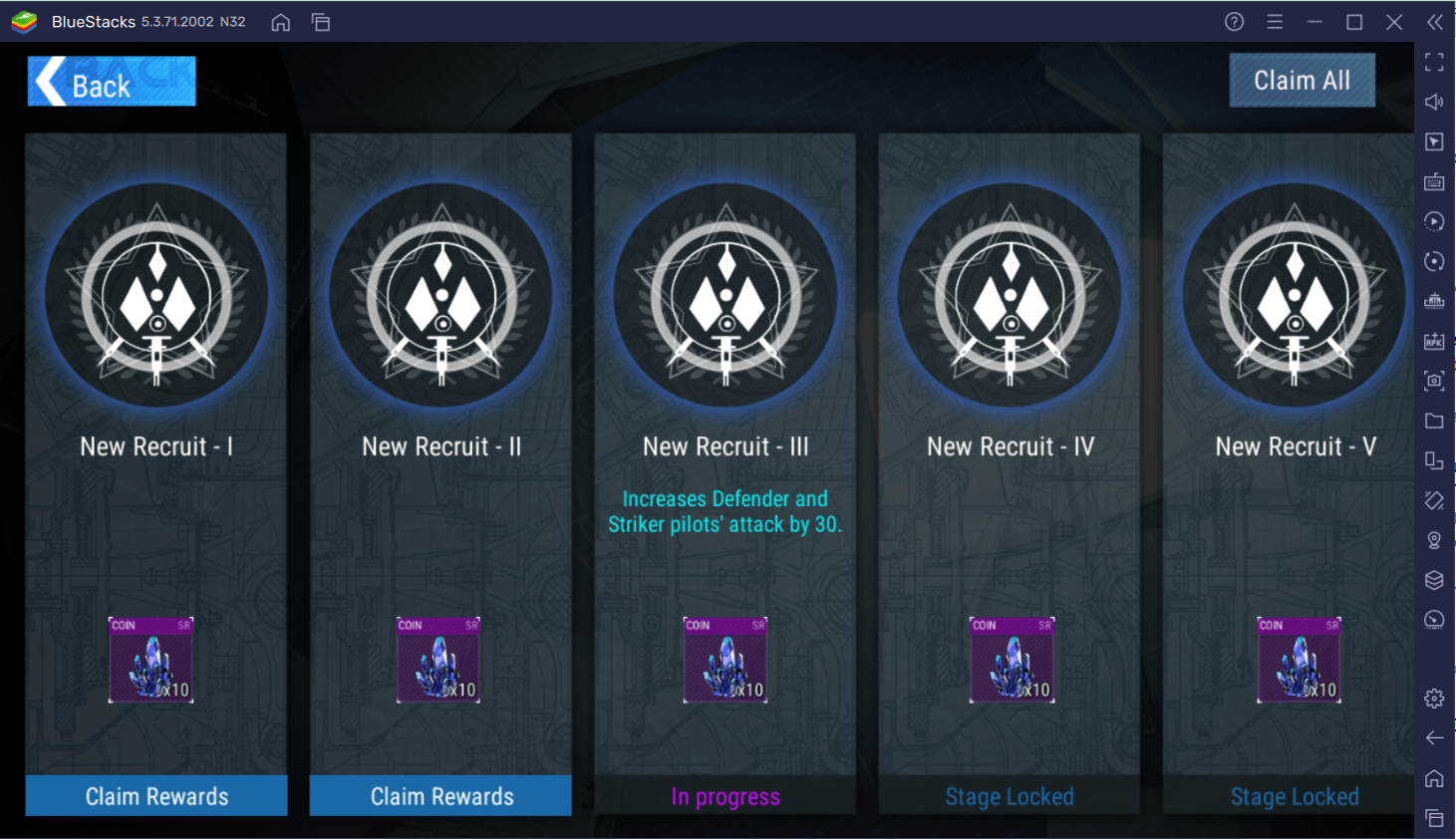 Games like Final Gear that are highly grindy and require constant attention for efficiently playing them are played much better lag-free on a bigger screen of your PC using BlueStacks instead of a smaller screen of a mobile phone They are also susceptible to battery drainage on the smaller capacity of mobile phones. Playing Final Gear on a bigger screen without worrying about battery drainage and lag-free gameplay is highly recommended. Hence, we recommend playing Final Gear on a PC with BlueStacks using a keyboard and mouse.