Game Guides
Upgrades in Grand Hotel Mania: How to Build a Cutting-Edge Hotel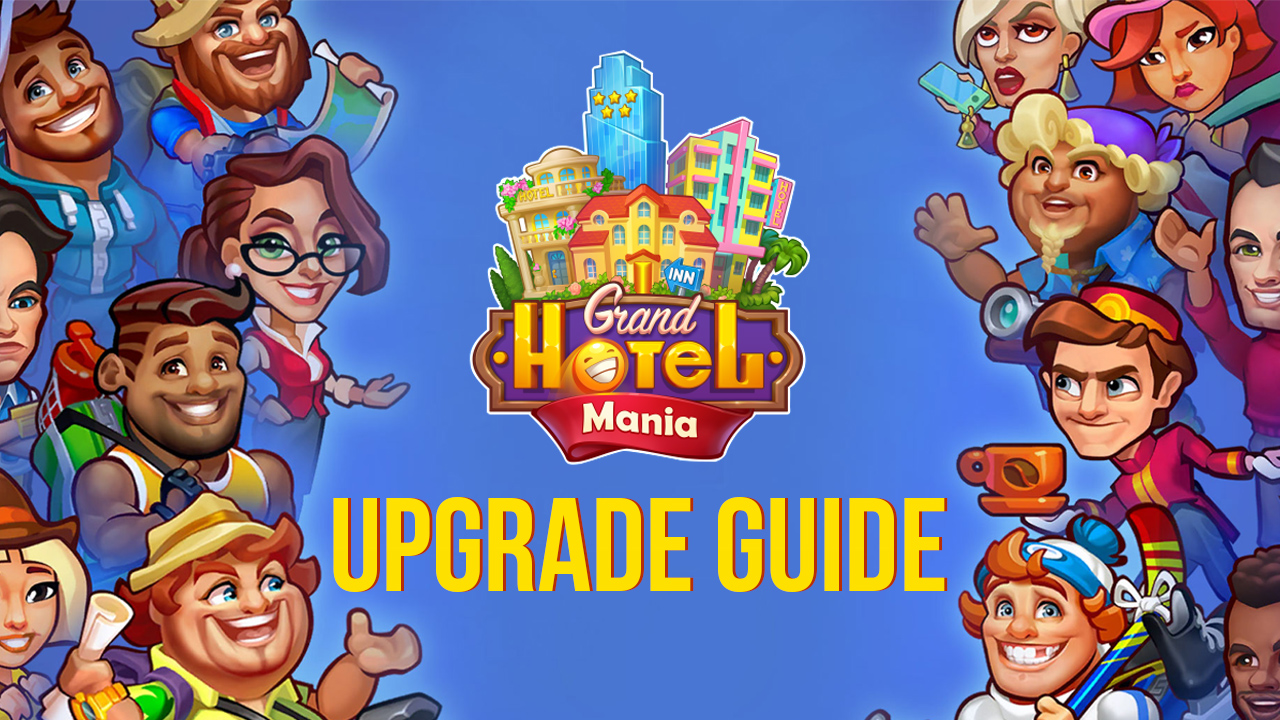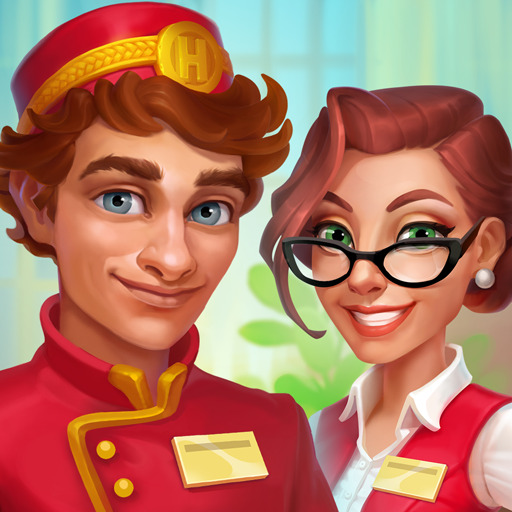 When running a hotel, having up to date equipment is essential if you want to make sure your customers are getting the very best service that they can. Naturally, being well stocked with top of the range tools also makes the life of the manager easier, so it's basically a win-win for all.
Let's take a look at how you can upgrade your kit in Grand Hotel Mania on PC with BlueStacks.
How to make upgrades in Grand Hotel Mania
First thing's first – where can you make upgrades and how do you pay for them?
Good questions.
In Grand Hotel Mania, upgrades to rooms and equipment can be purchased in the Journal, which can be found in the bottom left-hand corner of the home screen. Upgrades can be bought with money and gems, which together make up the two currencies in the game.
As you might expect, with each upgrade to a particular item, the cost of further upgrading it becomes higher and higher. Even in the early stages of the game, you will be paying prices in the thousands of coins for upgrades.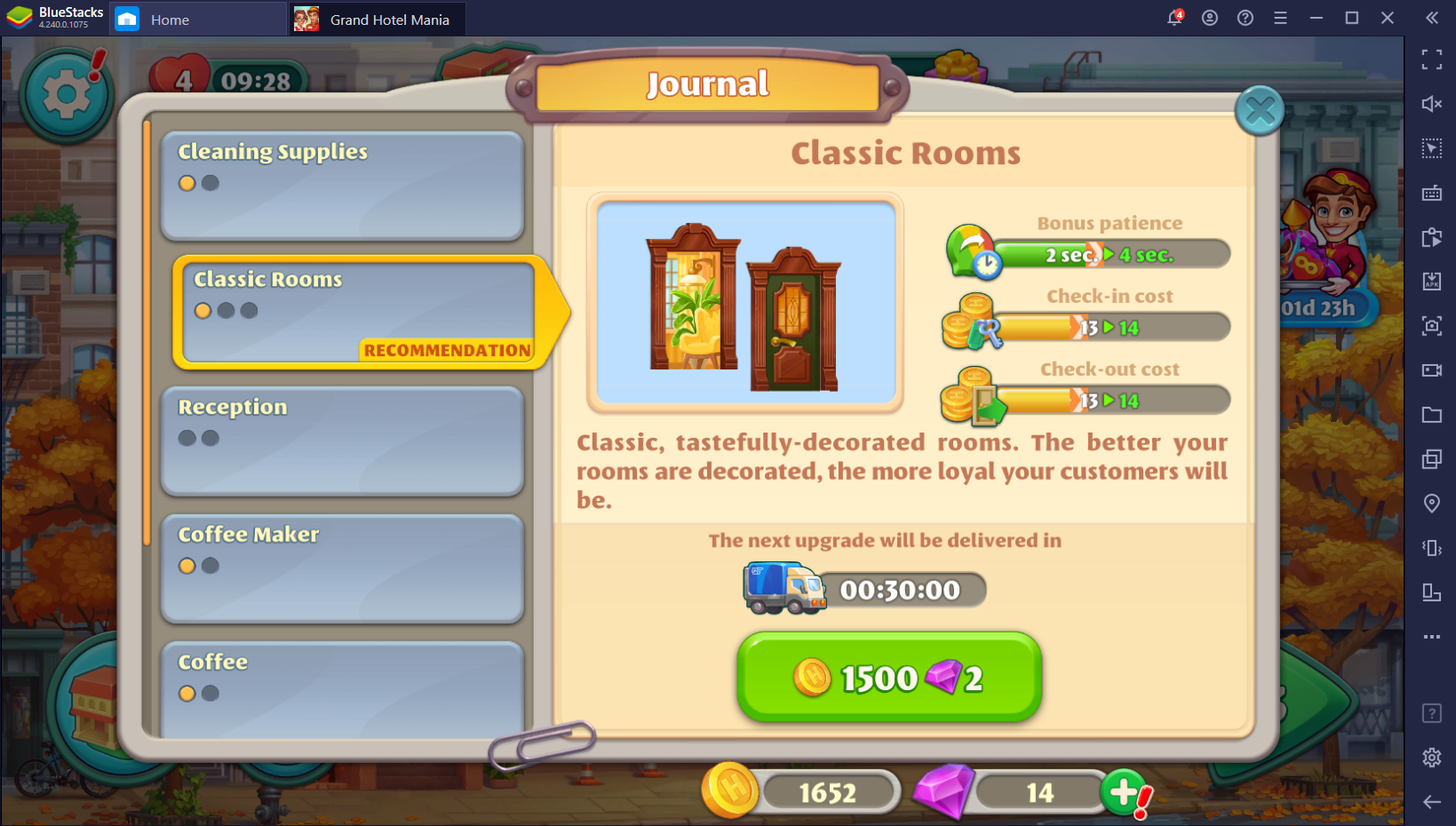 Gems, on the other hand, are much rarer, and early on you will be unlikely to see any gem price that's in double digits, at least not for the initial price.
A few upgrades can be bought with coins only, but most will require a mix of both coins and gems. However, once the purchase is made, there is another step to bear in mind – delivery.
Delivery takes time
Some upgrades will be delivered instantly to your hotel, ready to use in the very next level that you play. Many upgrades, however, will require time to deliver before they are ready to use.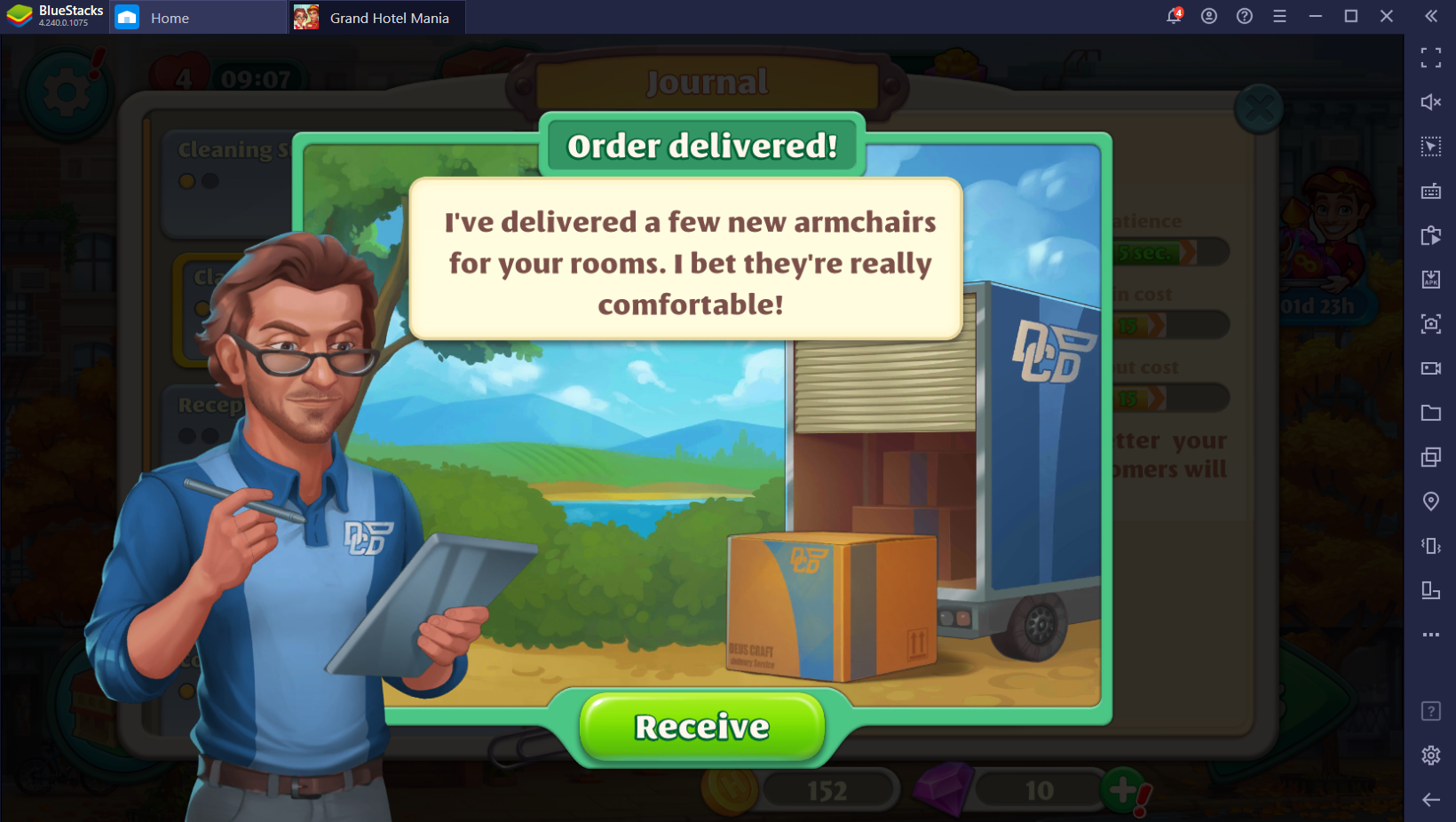 It makes sense really, you can't expect your brand-new coffee machine to just appear out of thin air, you have to wait for it to arrive.
Unlike coins, gems have a second use when it comes to upgrades. Not only can they be used to purchase upgrades in the first place, but they can also be used to speed up the process of them being delivered. The number of gems required for this, though, can be fairly high and will only get higher as upgrades get more and more valuable, so it's worth rationing out gems as much as possible.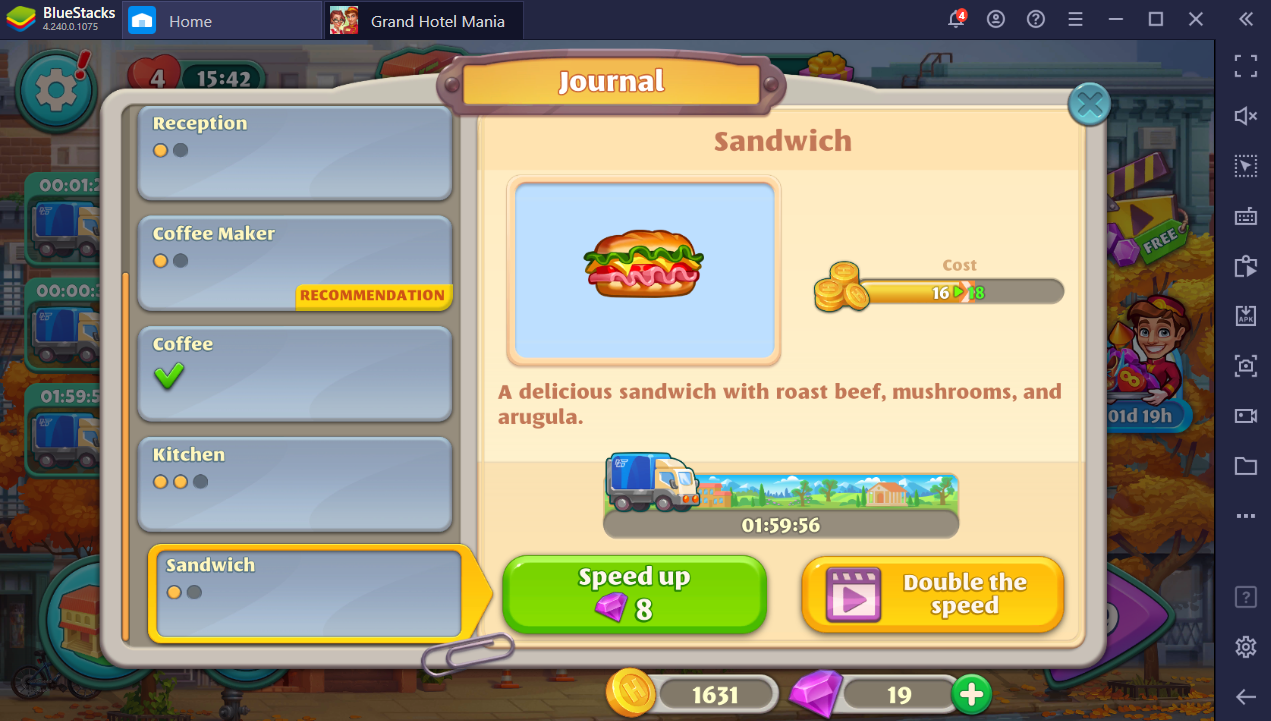 The thing is, unlike most games where delivery or building times start in the seconds and only get longer after a while of playing, in Grand Hotel Mania, delivery times start being counted in hours within the first few levels of play. By the time you're on level 20 of your first hotel, the Golden Apple, you can expect to be waiting over two hours for some deliveries. So, you'll find your gem reserves might not stretch that far.

If you do happen to run out of the valuable purple gems though, you can usually speed up the process of delivery by watching video advertisements. Each advert you watch will double the speed of delivery and, once you are close enough to the end of the timer, one last advert will complete the delivery.
So, with all that in mind, what in your hotel can you actually upgrade?
What you can upgrade
Cleaning Supplies
Cleaning supplies are used by the bellhop in your hotel to clean rooms after guests have left. This is one of the most important jobs in the hotel because, if rooms aren't cleaned, new customers can't be booked in.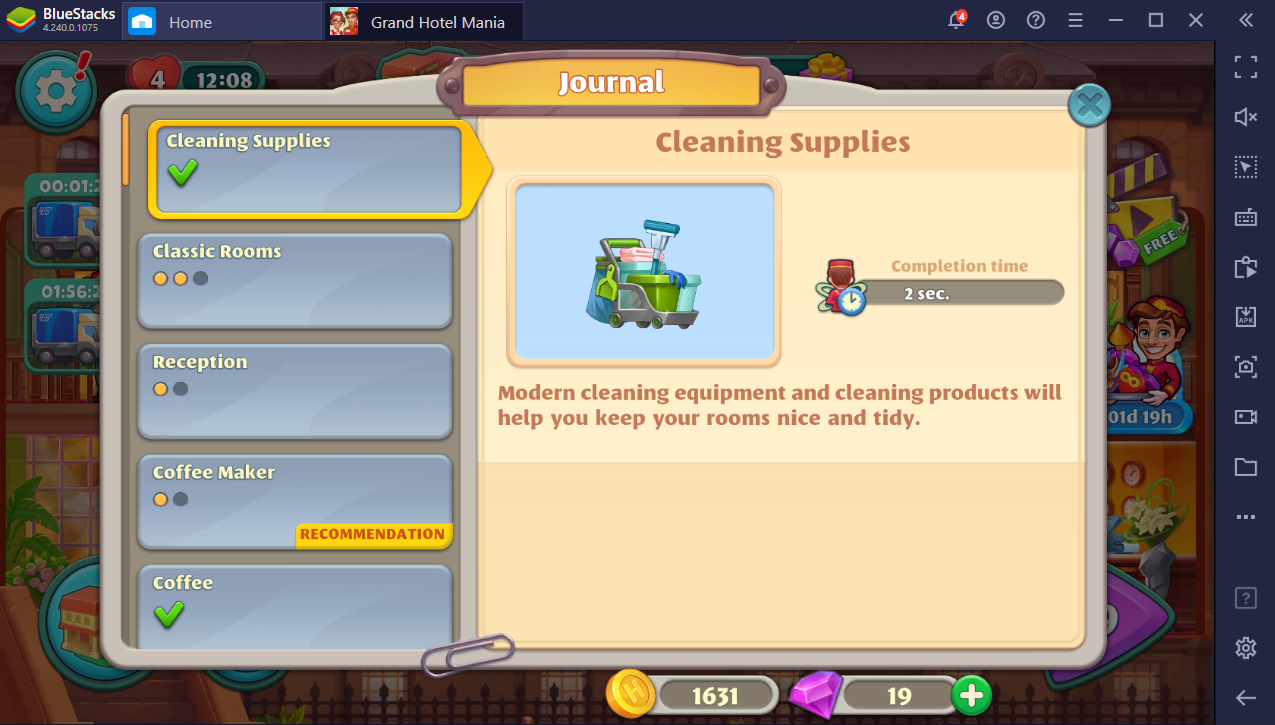 In the Golden Apple, cleaning supplies can be upgraded twice, with each upgrade reducing the amount of time it takes the bellhop to complete his clean after a customer has checked out.
Rooms
Upgrading the rooms in the Golden Apple is one of the most significant upgrades available, and so it carries a higher price too.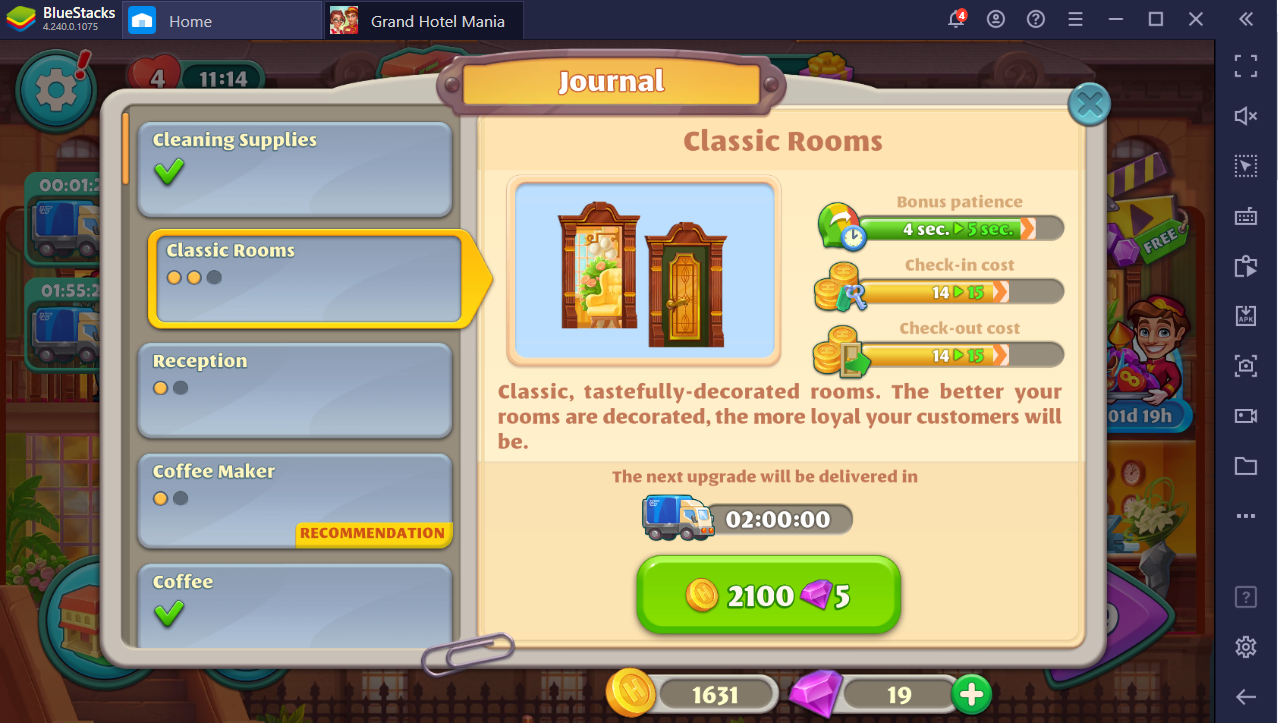 By upgrading the quality of the rooms in your hotel you will not only increase customer patience (the amount of time it takes for them to become agitated while waiting), but the check-in and check-out costs will also increase, meaning that you earn more money per customer.
The rooms in the Golden Apple can be upgraded three times, but it may take some time to save up enough money to get through all three levels.
Reception
The reception is the first thing your customers see, so it's important that it makes a good first impression.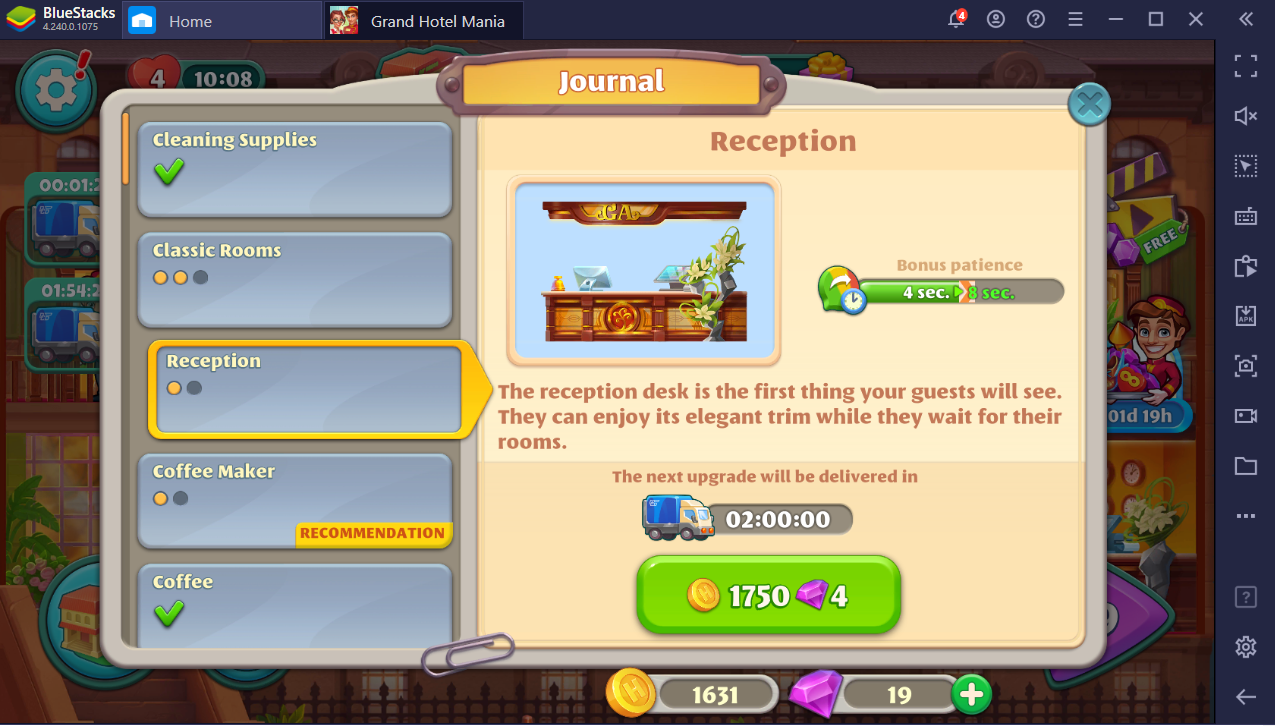 The reception area in the Golden Apple can be upgraded twice, with each level increasing customer patience significantly, giving you longer to complete tasks without losing potential guests.
Coffee Maker and Coffee
Most people enjoy a cup of coffee in the morning, or perhaps after a big meal in the evening, so having good coffee making facilities on site is vital for any good hotel.
In Grand Hotel Mania, coffee needs to be made in a coffee machine and then the piping hot drink needs to be delivered to the waiting customer. Both the coffee maker and the coffee itself can be upgraded separately.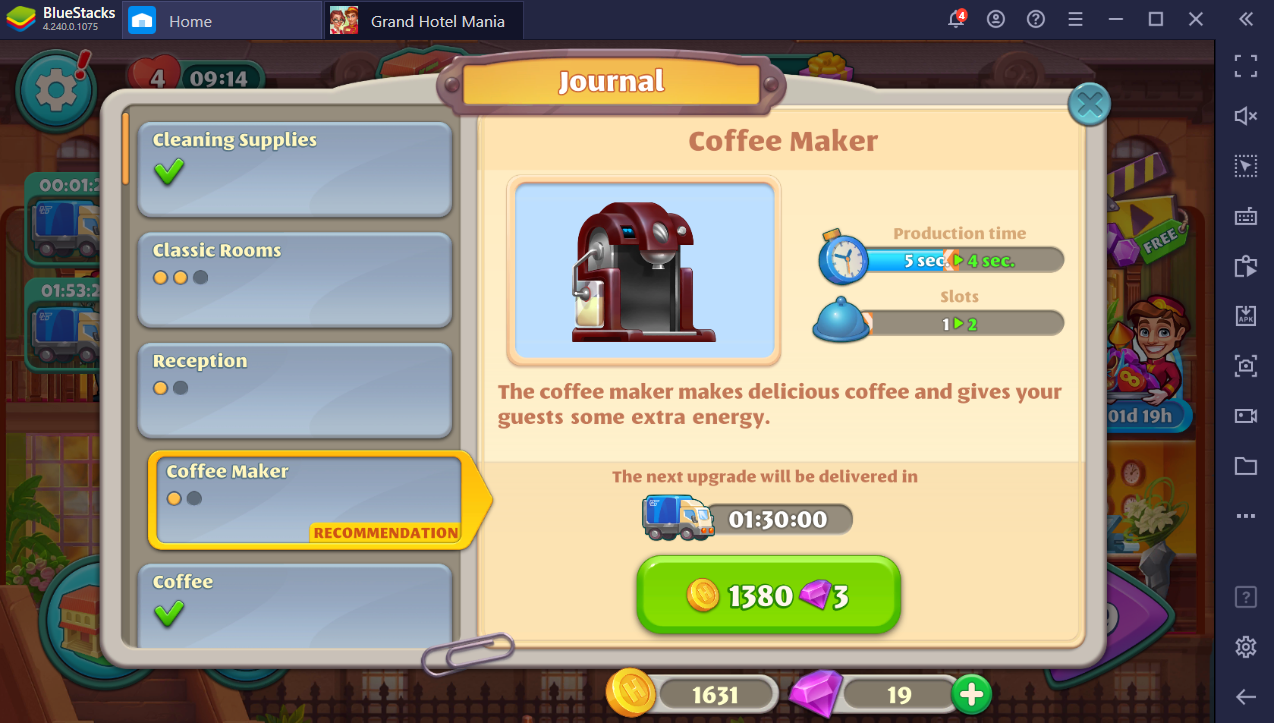 The coffee maker can be upgraded twice, with each time improving the speed of the machine. The second upgrade also adds a slot to the maker, so that you can have two coffees ready to go at a time instead of one.
The coffee itself can also be upgraded twice, with the price of a cup increasing with each upgrade.
Kitchen and sandwiches
Just as people need coffee to drink, they also need sandwiches to eat. Using the grill in the kitchen, you can send the bellhop to make toasted sandwiches for any hungry customers. They take a while to make, but they are worth it.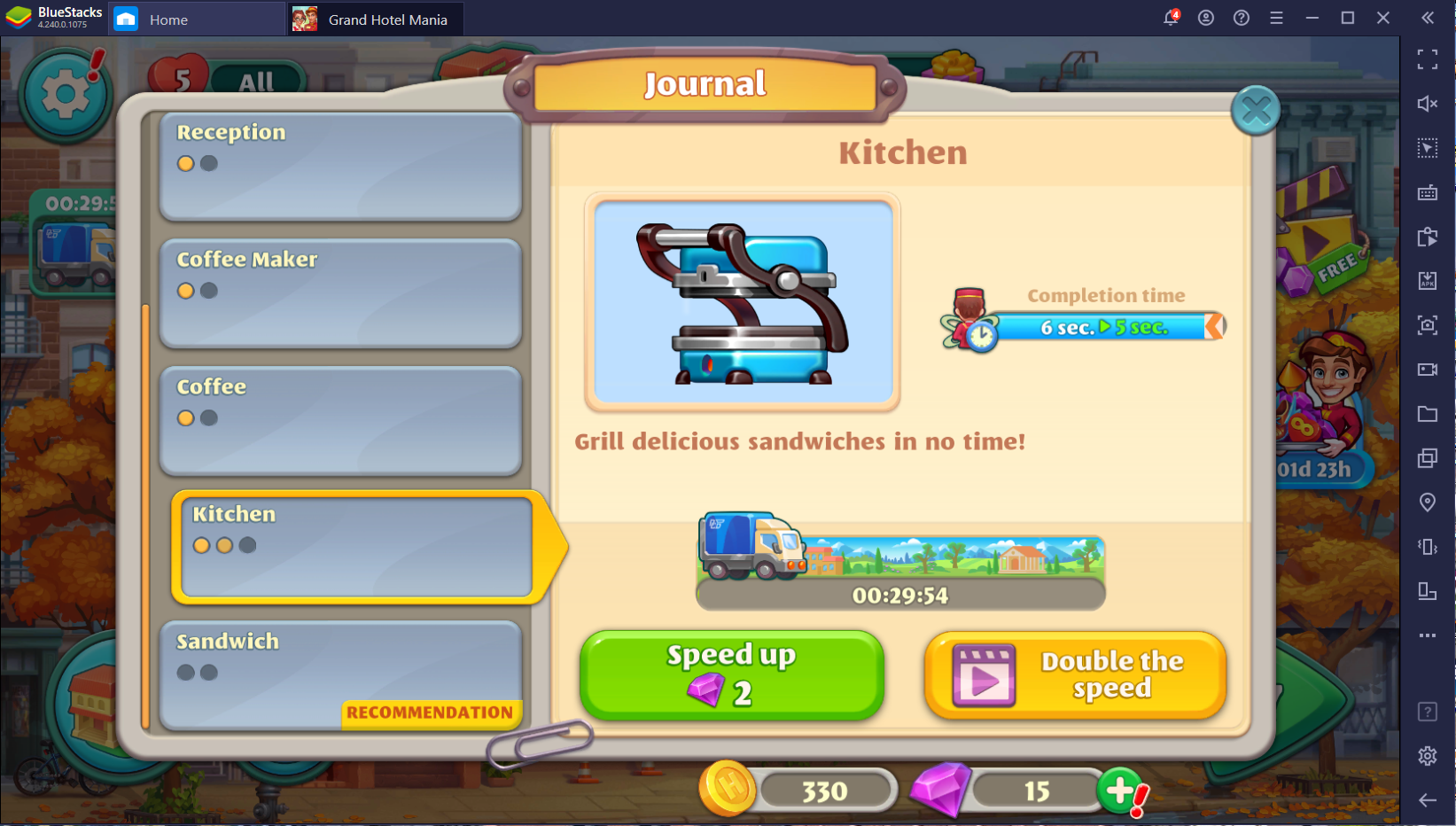 The kitchen can be upgraded three times, with the time it takes to make a sandwich being reduced with each upgrade. The sandwich itself can only be upgraded twice, with each upgrade increasing the price each customer gets charged.