Game Guides
How to Install HATSUNE MIKU: COLORFUL STAGE! with BlueStacks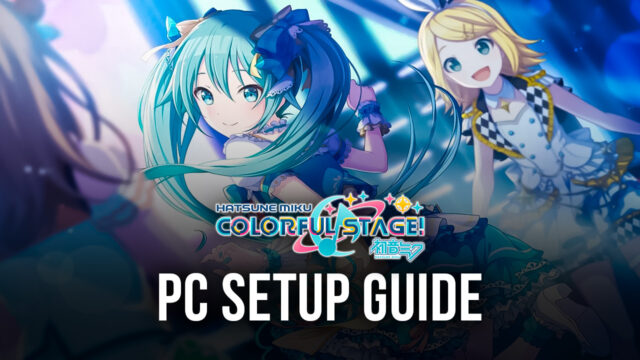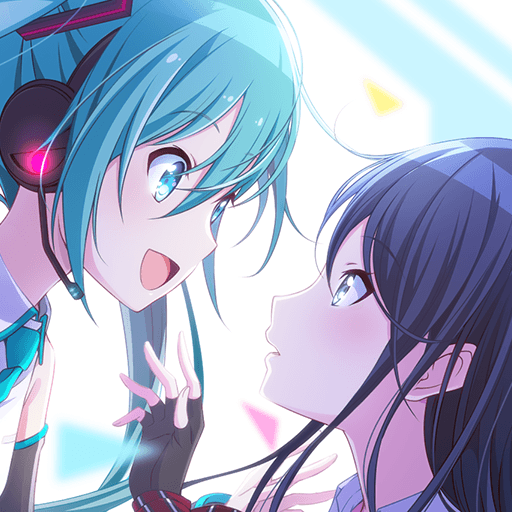 Imagine that one day, you come home after an extremely exhausting day at school. You pull out your phone and your headset to listen to some of your favorite music to finally relax. As you are browsing through your playlist, you find a mysterious song named "Untitled". You memorize every song that is in your playlist, so it is quite surprising and even scary to wonder how this untitled track even made it to your device. But out of curiosity, you decide to play the song anyway. Silence is all you hear through your headset. as the inexplicable untitled track contains no melody nor lyrics whatsoever. Suddenly, you feel every inch of your body fading away until your vision goes blank.
After awakening, you realize that you have mysteriously teleported to your classroom; however, something feels very off. You feel the hardness of the wooden chairs, hear the school birds chirp by the windows, smell the chalk-ridden air of the classroom – but they do not feel real. A very fashionable woman suddenly appears before you and warmly welcomes you in this surreal world. "Welcome to the Sekai!", she says enthusiastically.
Welcome to the world of HATSUNE MIKU: COLORFUL STAGE! Experience a whole new world that is built upon human emotions and driven by impactful music now by installing and playing the game on your PC or Mac with BlueStacks!
How to Install HATSUNE MIKU: COLORFUL STAGE!
As of writing, the game is currently in early access and is only available to a limited list of devices. The game seems to be only playable in 64-bit Android devices as of now but fortunately, you can utilize BlueStacks' Multi-Instance Manager to still play the game.
Download and install BlueStacks

5

on your PC.

Open the BlueStacks 5 Multi-Instance Manager.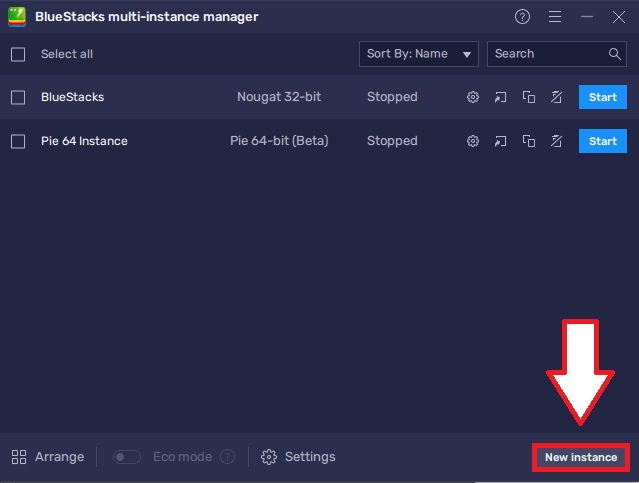 Hover over the bottom of the screen and click on "New Instance".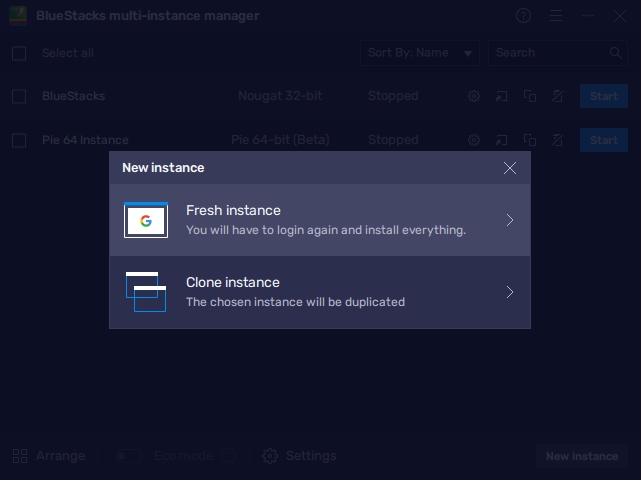 Click on "Fresh Instance".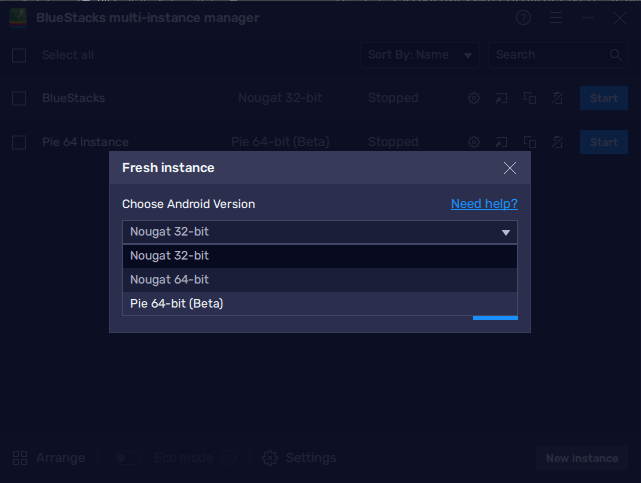 Select "Pie 64-bit" as the Android version.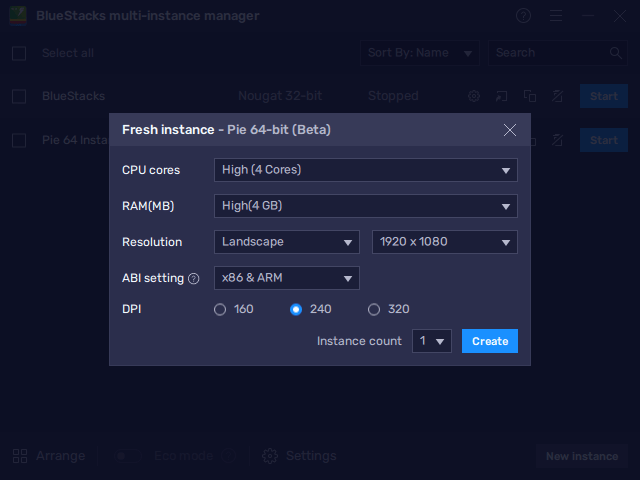 Set the number of CPU cores and amount of RAM that the instance will utilize. These settings must be proportional to your system specifications. For example, if your computer's processor has four or more cores, then select "High (4 Cores)" in the CPU cores option; likewise, if your computer has four or more gigabytes of RAM, then select "High (4gb)" in the RAM section. Optionally, you can also change the resolution and DPI (dots per inch) of the instance. Keep the ABI setting as is.

Rename the new instance with any name.

Start the new instance.

Complete Google Sign-in to access the Play Store and then open it.

Look for

HATSUNE MIKU: COLORFUL STAGE!

in the search bar at the top-right corner.

Click to install

HATSUNE MIKU: COLORFUL STAGE!

from the search results.
Enter the SEKAI
In the lore of HATSUNE MIKU: COLORFUL STAGE!, the Sekai is a mystical world created from various human emotions – more specifically, their 'true feelings'.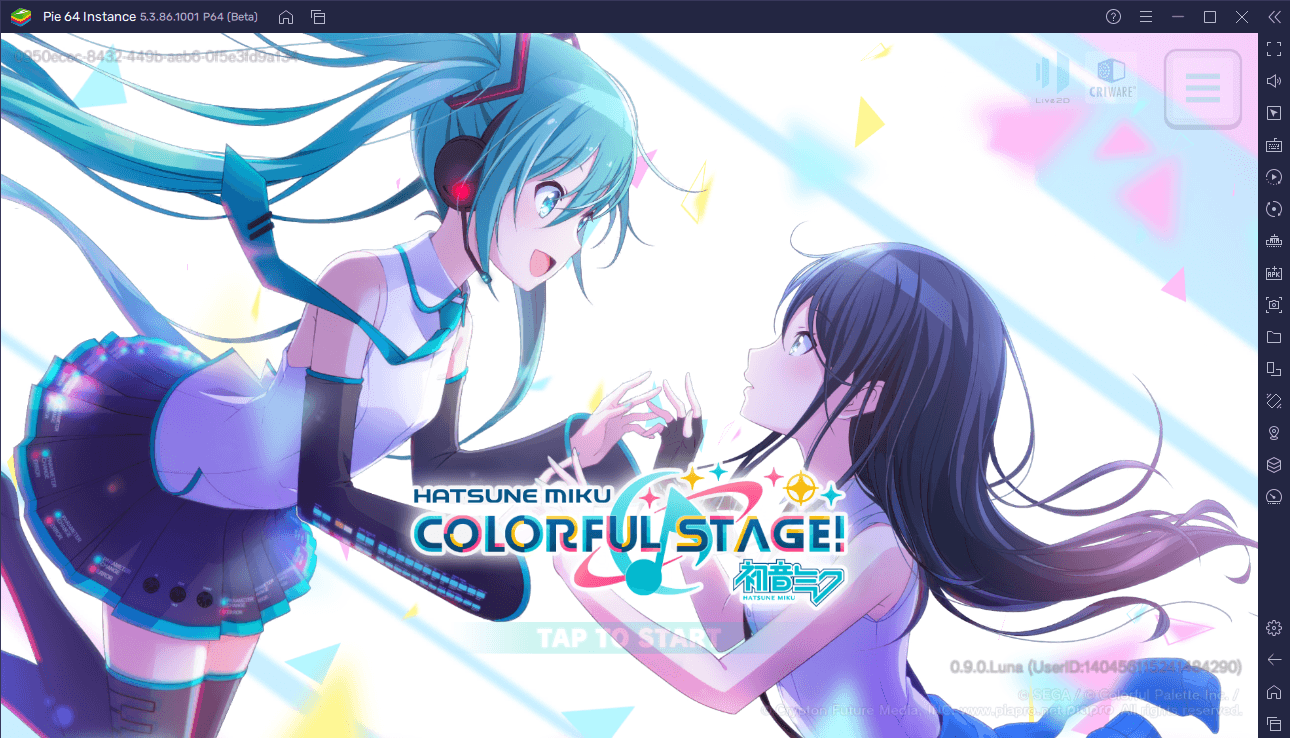 In the Sekai, characters such as Hatsune Miku and other VIRTUAL SINGERS exist whereas they are considered as fictional and non-existent in the real world. Their purpose is to guide the people who enter the Sekai to discover their true feelings.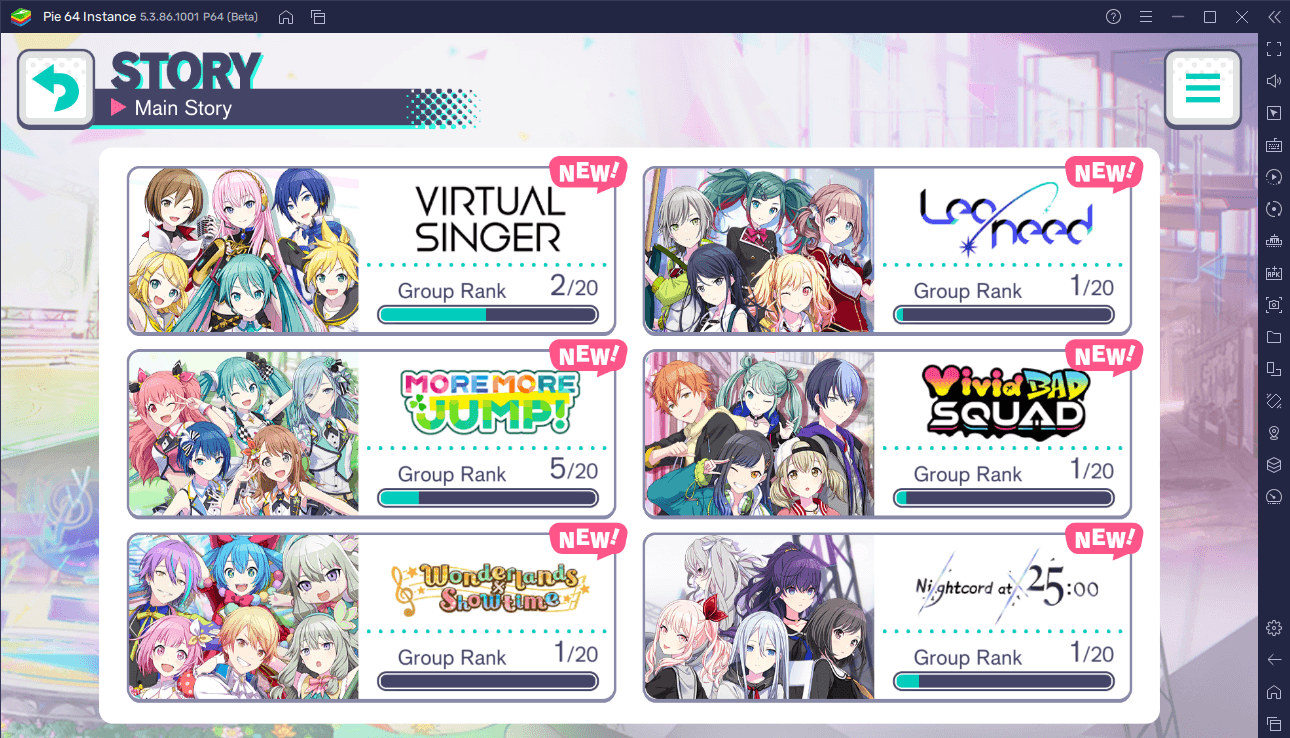 The game features a rich and amusing story mode that features several groups of people and their journey in the Sekai as they discover their true feelings and ultimately achieve their goal together. Because the Sekai are derived from differing human feelings, each story features a distinct and unique theme that changes the appearances of the Sekai and Hatsune Miku.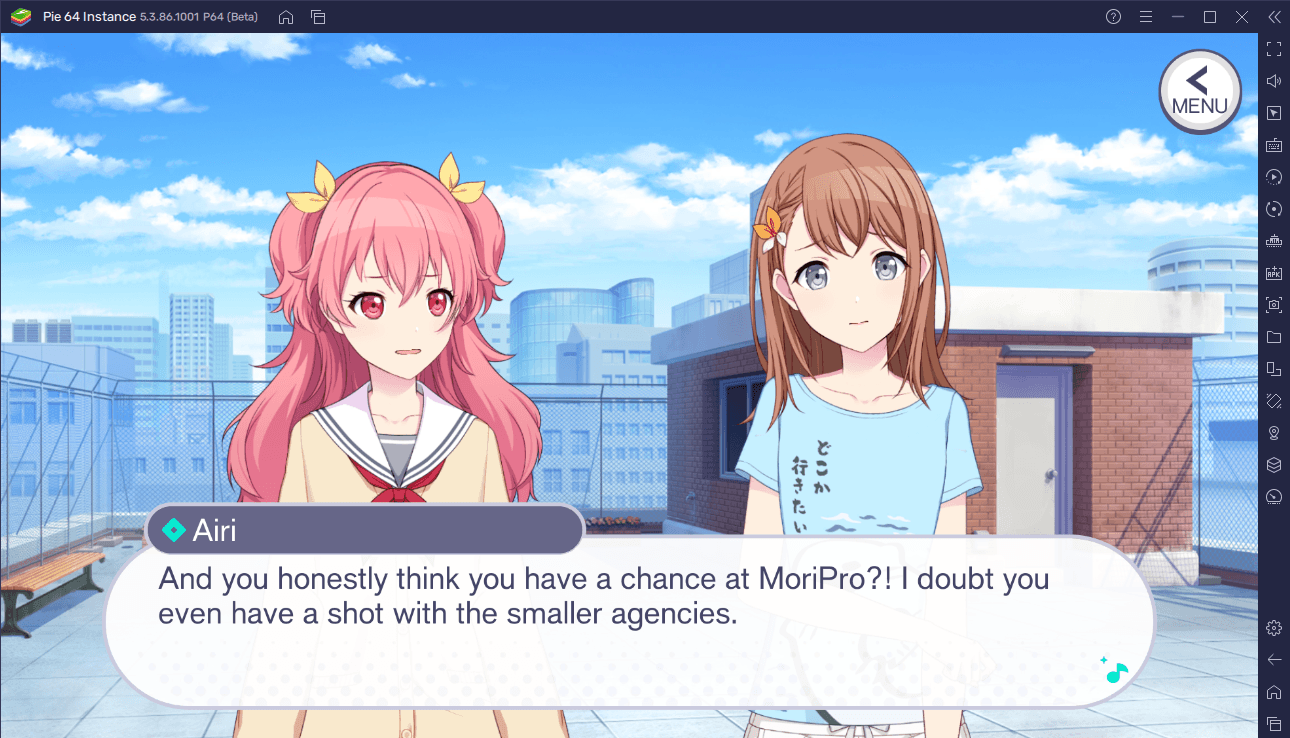 What makes the story mode very interesting is its incorporation of Live2D technology to beautifully present the characters and their stories. Through Live2D, each character has very fluid and believable animations that makes you feel like you are watching an anime episode happen live in front of you!
As of writing, there are five stories in the game:
Leo/need (punk theme)

: Ichika Hoshino enters the Sekai to, with the help of Hatsune Miku, rectify her strained relationship with her childhood friends.
More More Jump! (idol theme)

: Minori Hanasato, an aspirant idol who has failed multiple auditions, enters the Sekai and meets Hatsune Miku who keeps motivating her in her journey to be an idol. Her dreams start to become true as she forms an idol group with three former idols who went back to student life after experiencing irreparable problems with their idol career.
Vivid Bad Squad (hip-hop theme)

: Kohane Azusawa, a diehard street dancer, joins the dance group of a street dance legend named An Shiraishi. After entering the Sekai, Hatsune Miku guides Azusawa in outclassing Shiraishi in the art of street dancing.
Wonderlands x Showtime (theater theme)

: Tsukasa Tenma, Emu Ootori, Rui Kamishiro, and Nene Kusanagi enter the Sekai and seek the help of Hatsune Miku to restore the declining Wonder Stage theater back to its former glory.
Nightcord At 25:00 (gothic theme)

: Kanade Yoisaki, a traumatized, homeschool student, forms a music group with her online friends through an app called "Nightcord". She suddenly enters the Sekai where she meets Hatsune Miku helps her and her friends break free from their restricted, digital identities and express their true identities to each other.
Form Your Own Music Group
The characters from the main story can be used to form as much as 10 groups that can perform numerous songs live.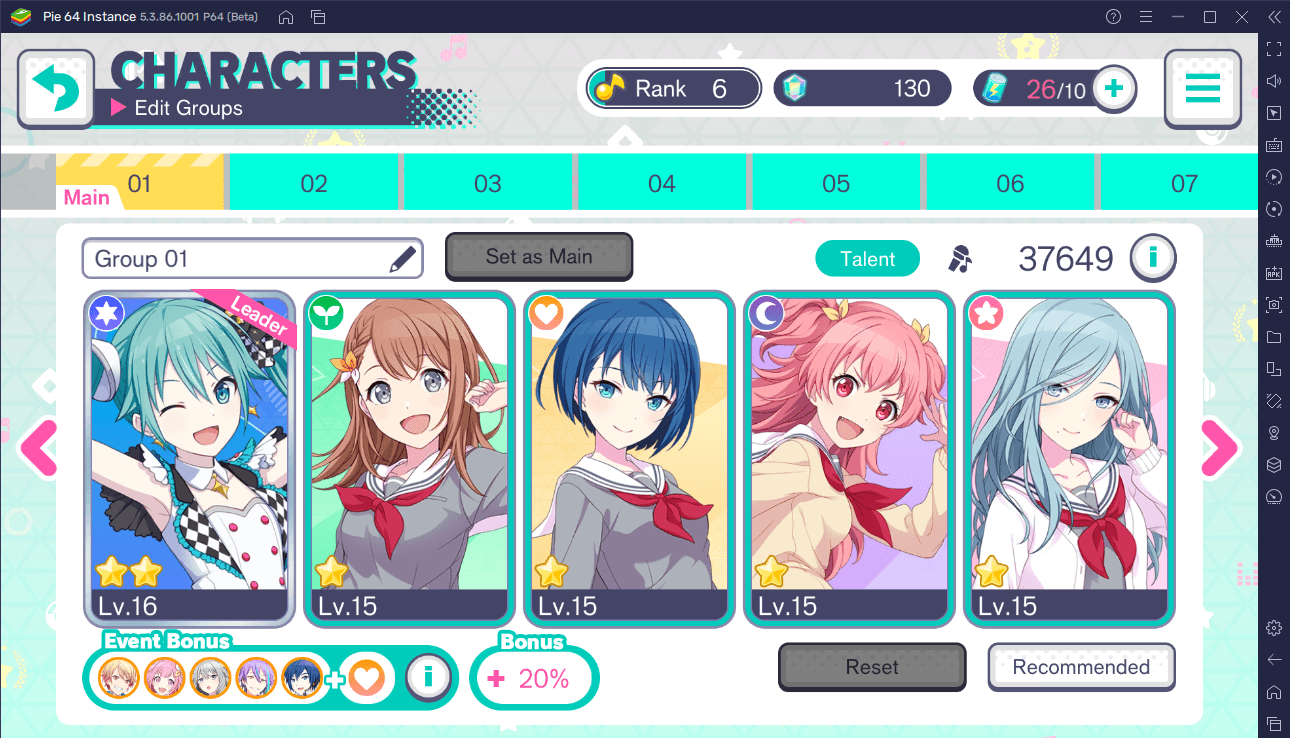 Each group consists of five members, and you must assign one as the leader of the group. Every group member has a talent rating, and this ultimately adds up to the group's overall talent. Talent affects the score in live show performances. With that, the higher the talent, the higher your live show score may be.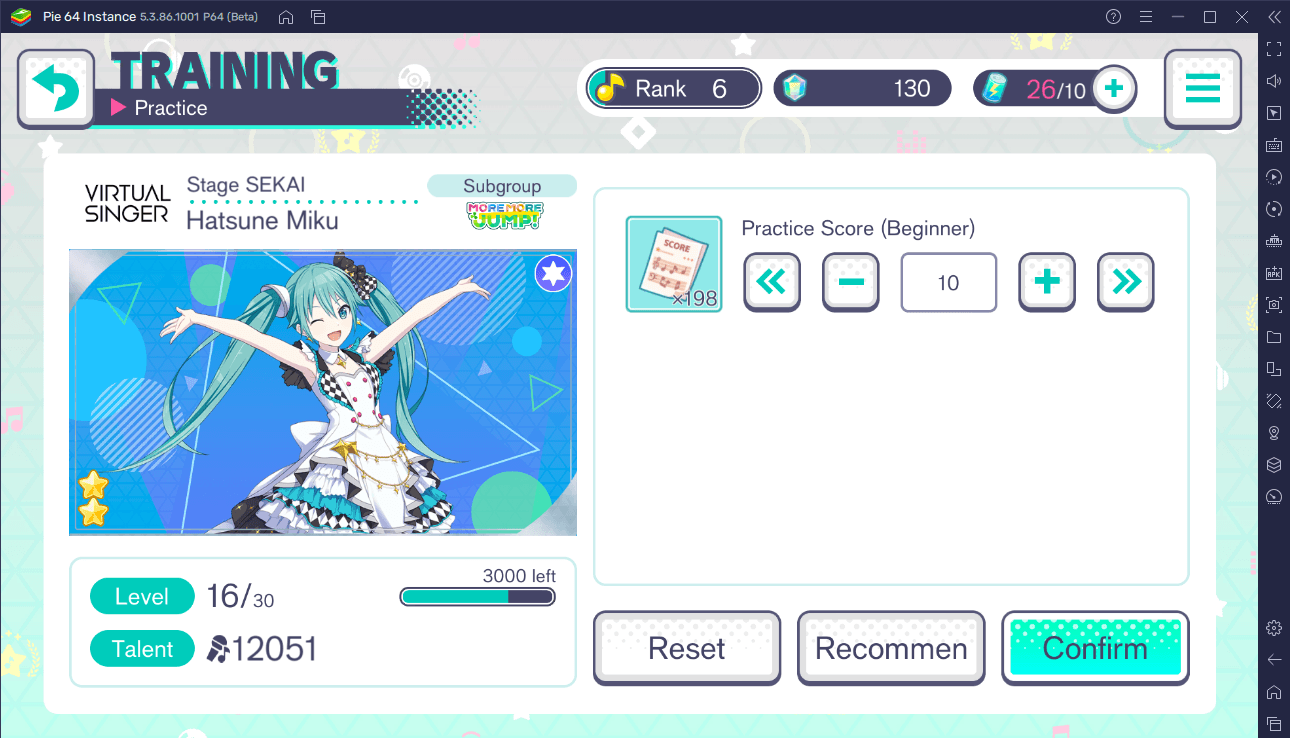 The game gives plenty of ways to individually increase a member's talent through training. For instance, you can use items called Practice Scores to level up a member and subsequently increase their talent.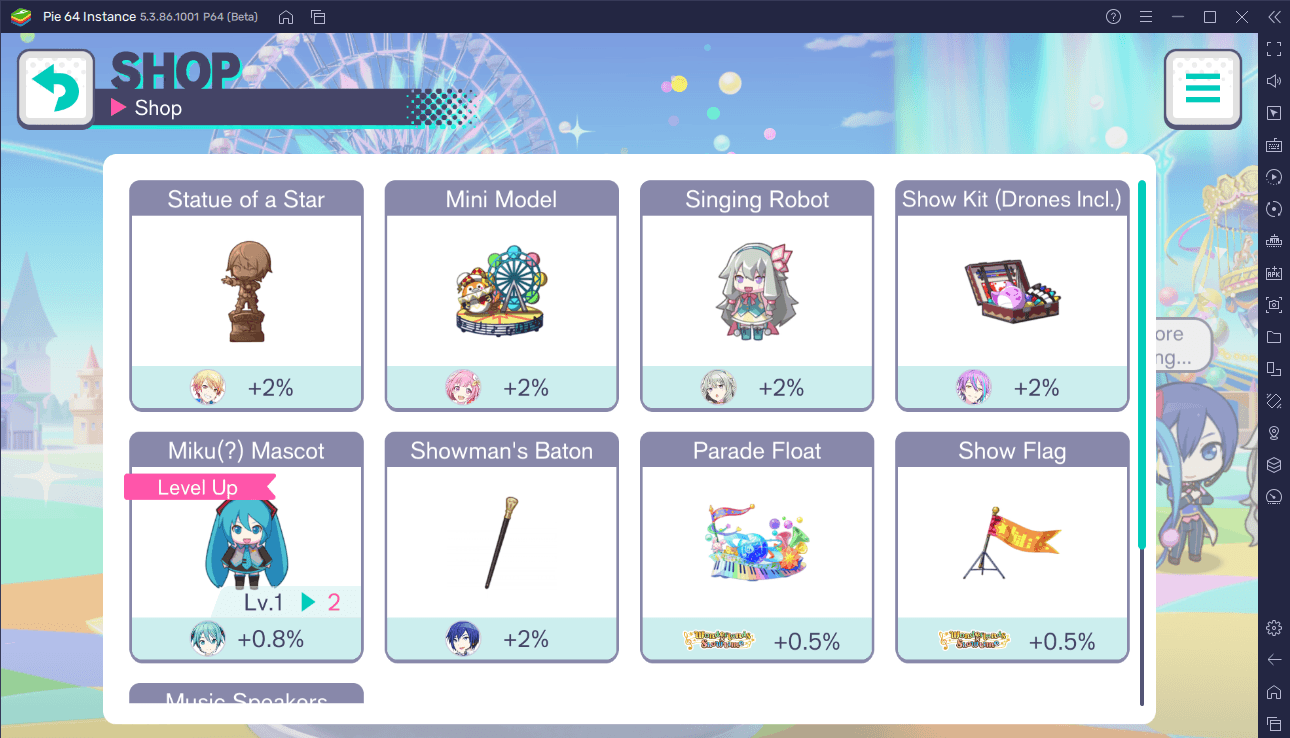 Additionally, you can also purchase items that are personal to that character to gain bonus talent in the several Sekais found in the game. These items can also be leveled up to further increase the bonus talent that they give out.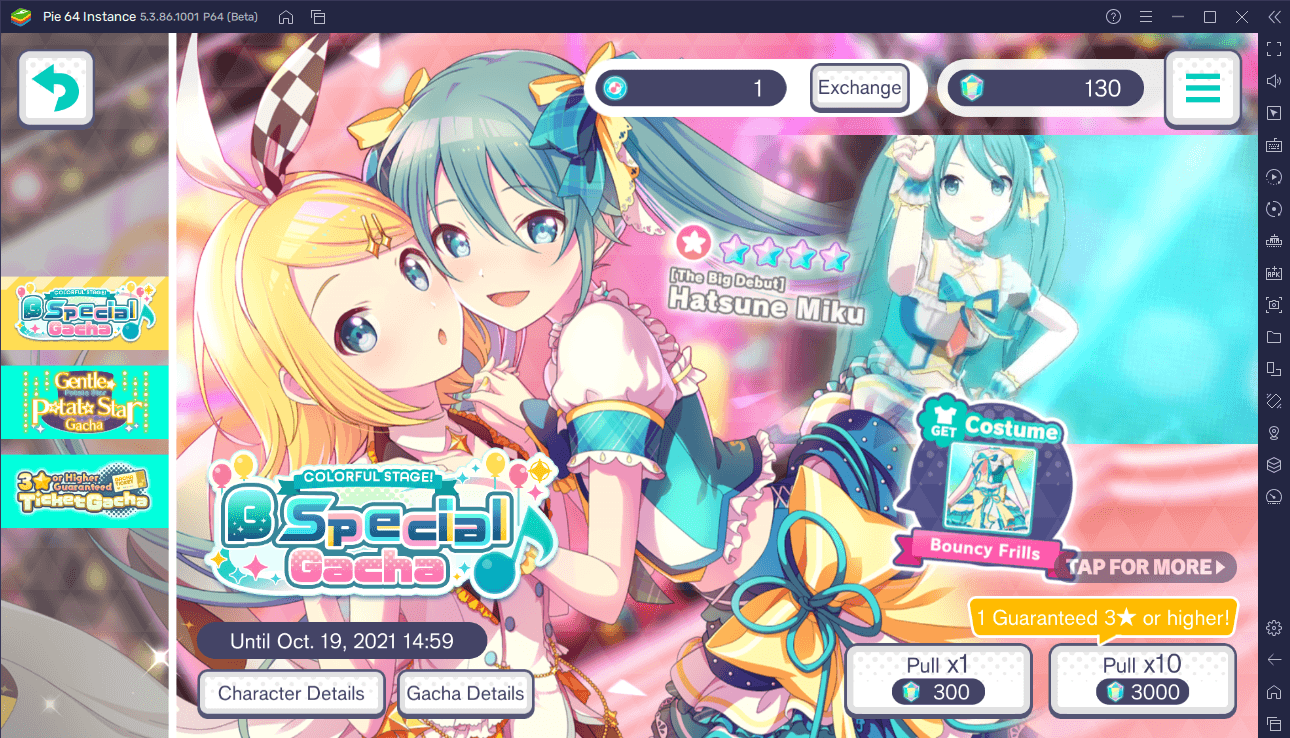 You do not have to keep upgrading the same character forever. The game also features a gacha system wherein you test your luck and 'pull' for a stronger version of the game's characters. These gacha characters have significantly higher talent ratings and they even come with special perks that can help you in playing live shows.
Play Live Shows
The main pride of the HATSUNE MIKU: COLORFUL STAGE! is its live shows where you can play a variety of songs, usually ones done by VIRTUAL SINGERS like Hatsune Miku herself.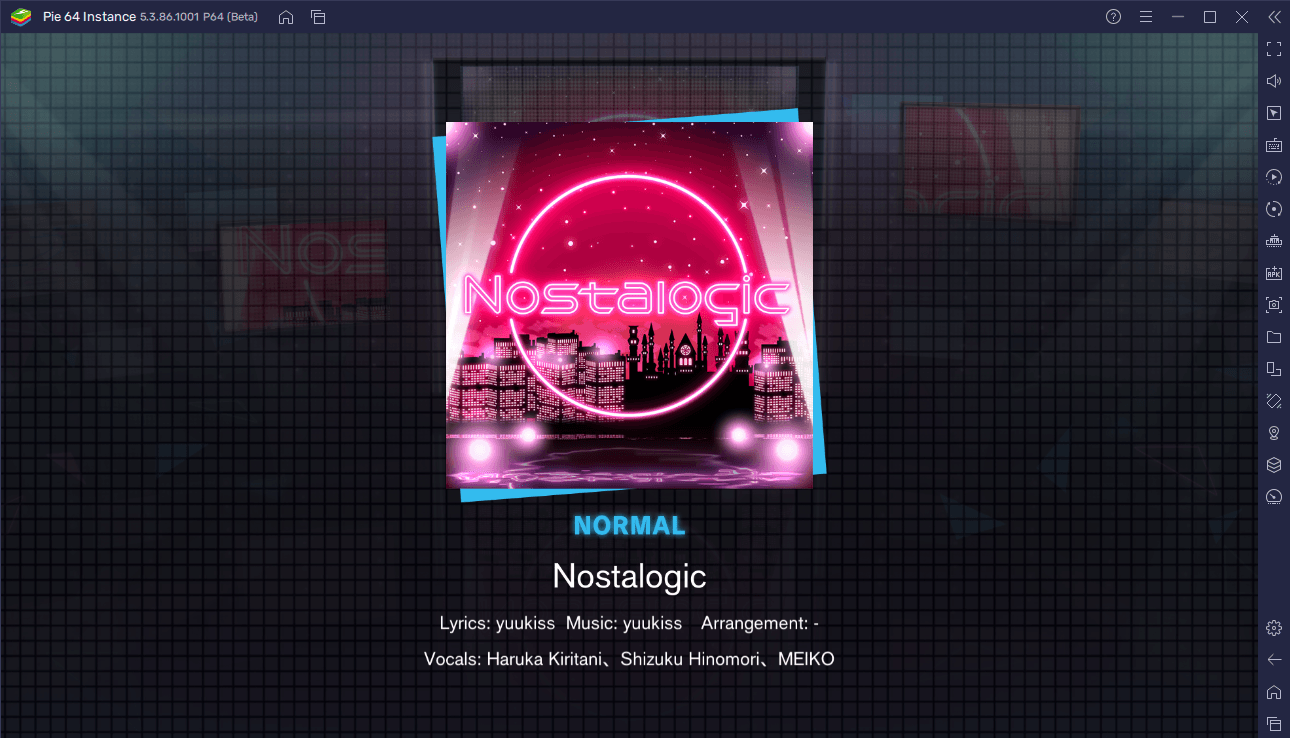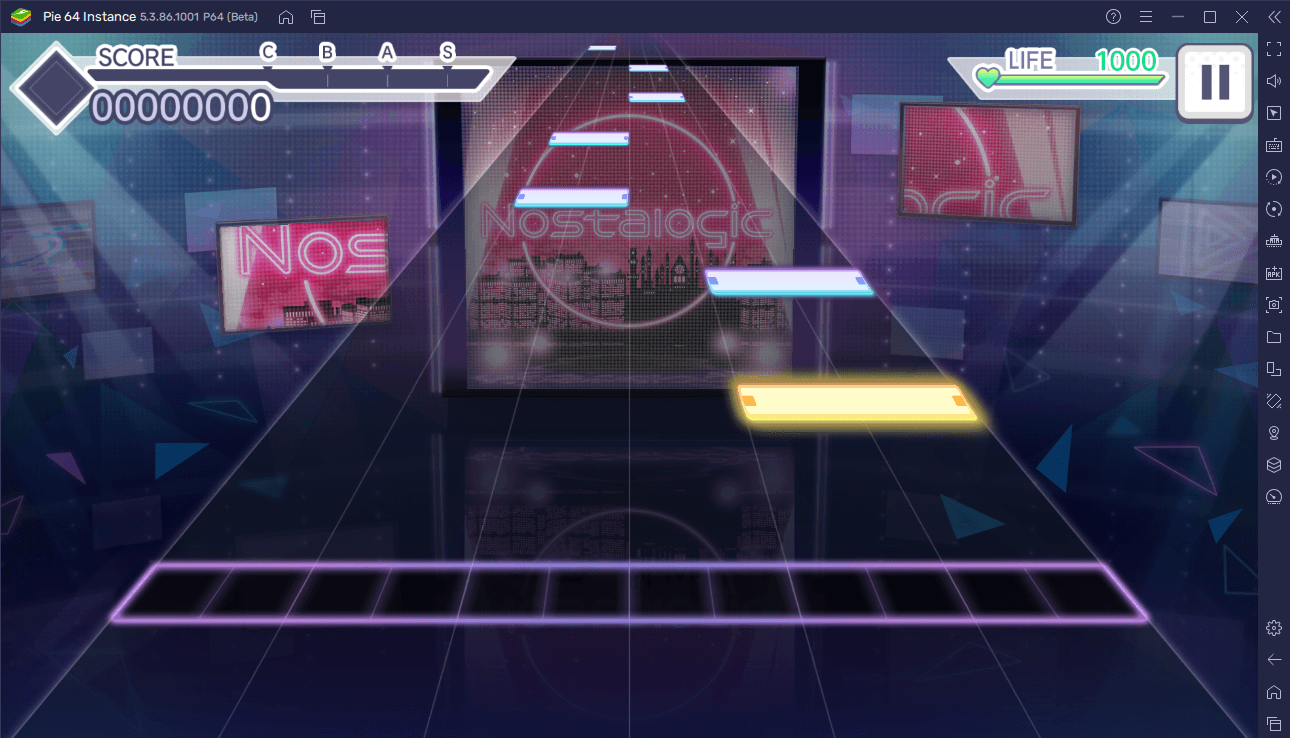 The gameplay consists of musical notes represented as colorful rectangles that move towards the bottom of the screen. At the moment that these notes reach the bottom, you must either tap, slide or flick them (depending on the note) to earn points. Each show starts out by giving you 1000 life points and missing just one note heavily deducts life points.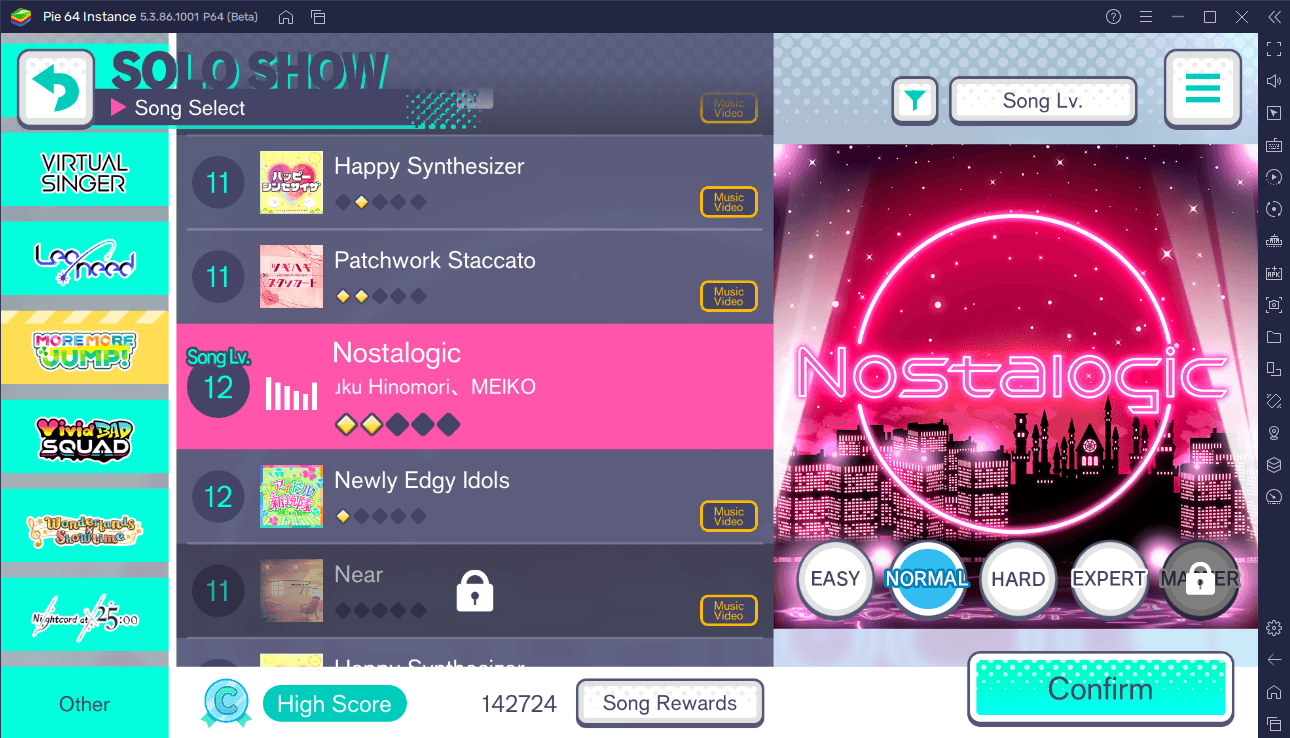 You can select one of five different difficulties for each song, and you earn rewards depending upon the difficulty you selected and your post-show rating.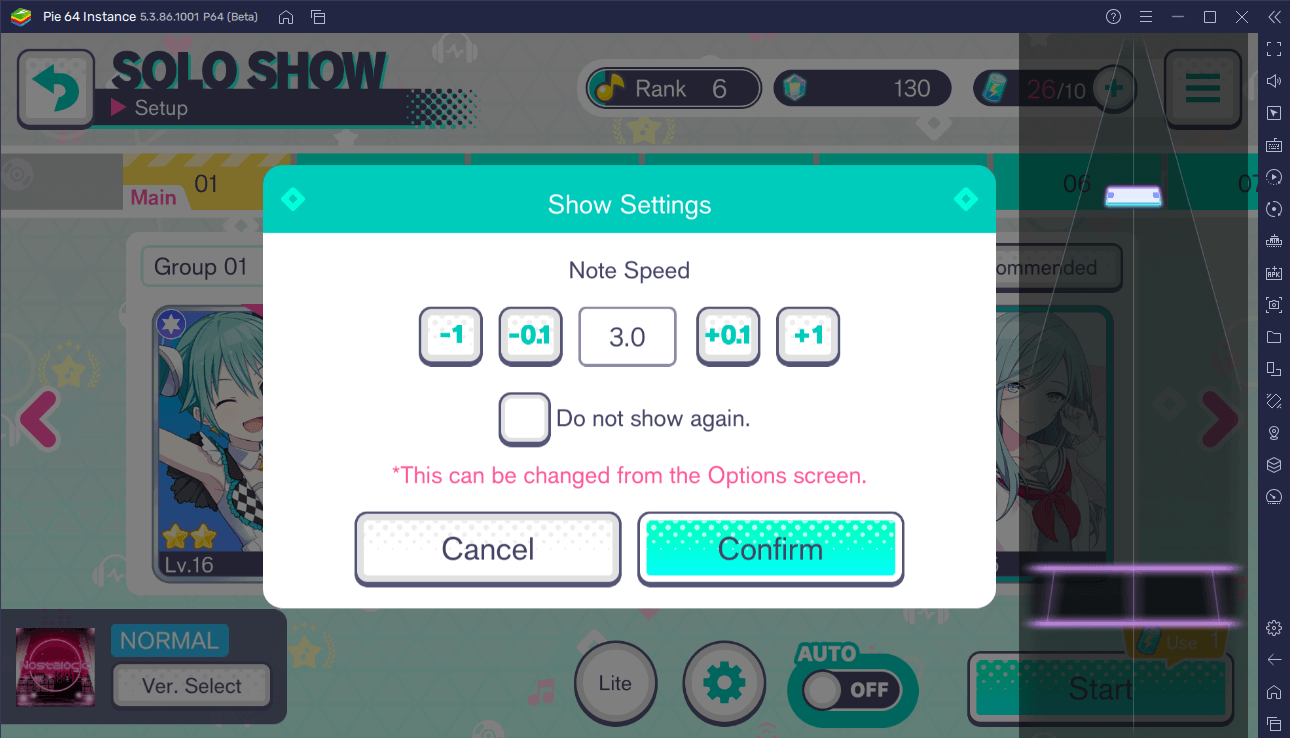 Additionally, you can also tweak the speed at which the notes travel towards the bottom, which is extremely helpful for when you want to practice. Lowering the note speed does not necessarily make the song easier.
Playing the live shows in HATSUNE MIKU: COLORFUL STAGE! can be a challenging experience. If you want to know more about how to attain the highest score in live shows, you can refer to this guide here.
Find Your 'True Feelings' with BlueStacks
Enter the Sekai and find your true feelings now by playing HATSUNE MIKU: COLORFUL STAGE! with BlueStacks!
One of, if not the best, advantage of playing this rhythm game with BlueStacks is that you can use your keyboard in playing the live shows, which ultimately makes you feel like you are playing each song on a keyboard instrument. Through BlueStacks' controls editor, you can assign certain touch gestures into a certain key, and you can use this to create your desired keyboard arrangement.
To get started in preparing your keyboard for HATSUNE MIKU: COLORFUL STAGE! with BlueStacks and learn more details about the basic of the game, you can refer to this beginner's guide here.
Aside from custom key bindings, you can also create multiple instances of the game through the BlueStacks Multi-instance tool, which allows you to install one or more virtual Android devices. With this tool, you can run two or more instances of the game at the same time.
Timed events are very common in this game and this can become a problem when you are living in a different time zone. Fortunately, BlueStacks has you covered with its UTC converter. Convert any UTC time to your local time and never miss a special in-game event ever again!
Discover your true feelings now with BlueStacks. Who is your favorite character in the game so far? Comment down below!