Game Guides
How to Farm EXP, General EXP, and Coins in Idle Warriors: Three Kingdoms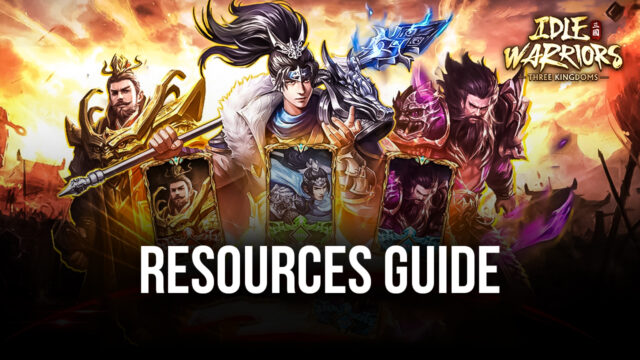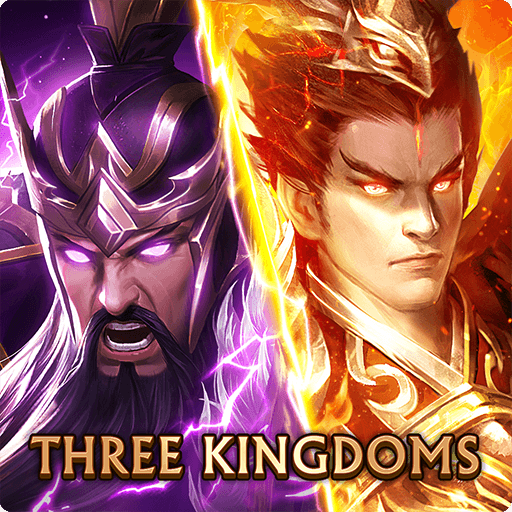 You are going to need three important resources when you play Idle Warriors: Three Kingdoms and said resources are prerequisites to upgrades for your team.
First is EXP which you need to increase your player level. Levelling up in this game is crucial as certain features can only be unlocked when you reach a specific player level. An example of this is the Suppression feature which allows you to send out unassigned generals into resource quests.
The second is General EXP, which you need to level up your generals individually. Levelling up your generals is one of the many ways of strengthening them. But what makes it reliable is that levelling up is relatively easier than any other method in that the resources needed for it can be acquired easily, especially after following this guide.
Third, are Coins, and these are used for a variety of things in the game. Not only are Coins needed to upgrade generals, but you can also use these to craft new gear or buy other resources from the in-game shop. In short, it is a multi-purpose resource and having a large supply of it is a huge benefit.
In this guide, we'll discuss some of the ways how you can efficiently farm these resources while playing the game. Routinely going through these features in every play session guarantees your being wealthy in the world Idle Warriors: Three Kingdoms and guarantees that you have enough resources to build a strong army.
Autoplay Income
Autoplay is the name for Idle Warriors: Three Kingdom's idling system. Through this feature, you can earn plenty of EXP, General EXP, Coins, as well as other useful resources even while offline!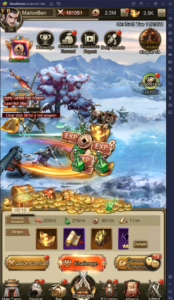 During Autoplay, your generals perpetually fight infinitely spawning enemies to acquire the resources gained from eliminating them. All these resources are stored in a chest. The chest will eventually become full after 12 hours of Autoplay. Beyond the 12 hours, you will no longer gain additional resource income. You must click on the chest to collect all stored resources and free up space.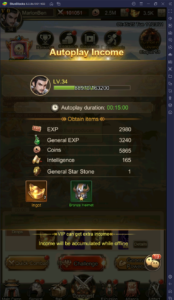 Aside from the main resources, you can also acquire Intelligence from Autoplay, which is needed for Suppression quests. But more than that, you can also gain Ingots, General Star Stone, General Fragments, and gear items through drops. The bonuses you acquire from drops are dependent on the current Conquest Chapter that you are in.
Quick Combat
The only drawback of Autoplay is that you need to wait plenty of hours to gain a substantially large number of resources. Fortunately, this can be resolved by the Quick Combat feature.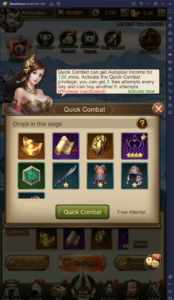 Quick Combat allows you to earn two hours' worth of Autoplay income instantly. Every day, you are given three free Quick Combat opportunities. After using up the three free ones, you can buy up to eight more using Ingots. Buying privileges from the game's Privilege Shop can grant you three more Quick Combat opportunities but this costs real money.
Conquest Chapters
Completing Conquest Chapters is another way of easily acquiring EXP, General EXP, and Coins.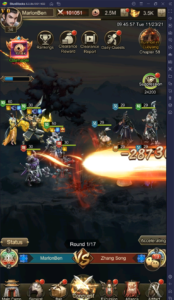 Conquest Chapters has you sending off your team of five generals to fight another team of five generals in a turn-based combat system.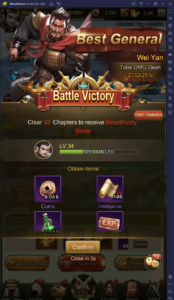 Assuming that your generals are strong enough to defeat the enemy team, completing a Conquest Chapter effortlessly rewards you with important resources as well as bonus ones like Ingots.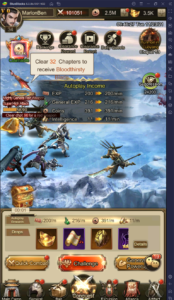 Moreover, completing a chapter also increases the rate at which you earn EXP, General EXP, Coins, and Intelligence per minute in Autoplay mode. Progressing to later chapters also grants you access to better bonus items garnered from the Autoplay drops.
Trial Tower
The Trial Tower is primarily intended as a source of General Star Stones. The stones are a prerequisite for advancing generals, which is a topic further discussed in this guide. Despite this, the Trial Tower also rewards you with Coins and General EXP, which alone makes it worth a try.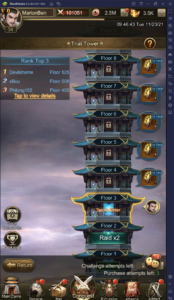 The Trial Tower is composed of a seemingly infinite number of floors and the objective is to clear each floor of the enemies that reside there and be awarded resources. Clearing every 10 floors of the tower grants you additional rewards.
General Star Stones are given to you when you successfully clear a floor in just one try. If you fail on the first try, you can consume challenge attempts to try it again, but you can no longer acquire the General Star Stones should you succeed. You can however still acquire the Coins and General EXP.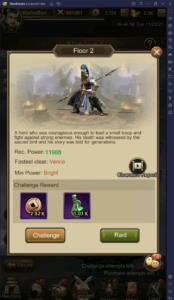 You can also consume spare challenge attempts to redo a floor instantly and collect its rewards by raiding it. Once you run out of attempts, you can either buy more with Ingots or wait until midnight for the game to automatically refresh your stock.
Daily Supplies
Through the daily supplies, you can earn a large number of Coins and General EXP by completing challenges of various difficulties.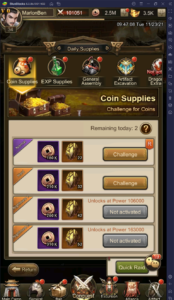 Daily supplies are segregated into several categories and each category is dedicated to a particular resource. Under each category, you are given two challenge attempts, and this refreshes every day (more can be obtained when you upgrade to a higher VIP level).
To efficiently farm Coins and General EXP, always do two challenges in each of their respective categories. Note that you cannot skip difficulties as you must complete the preceding difficulty before moving on to a harder one.
General Trial
Put your generals to the test and earn rewards along the way through the General Trial. Through this mode, your generals continuously fight waves of enemies similar to Autoplay mode except that you earn more General EXP and Coins here in a shorter amount of time. Additionally, you also earn other resources like Dragonsouul Jades and Advanced Recruitment Orders.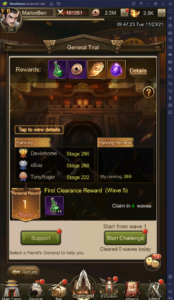 In each wave, your generals fight enemy generals in the same way as in Conquest Chapters although the difference is that their remaining HP and Skill CD (the points to activate their special skill) are carried over to the next stage and do not fully refill. This means that your generals have to survive as many waves as they can before eventually being defeated.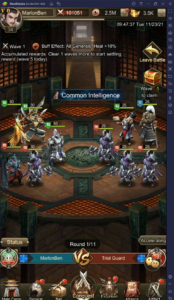 You earn more rewards as you clear more waves; however, this also means that the waves will become harder and harder. To have an easier time, you can call in a friend to deploy one of their generals to help you however this general must not exceed 120% of the power of your strongest general.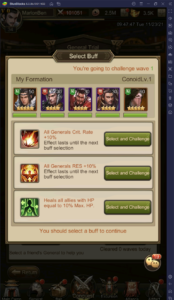 Moreover, the game also allows you to choose one of three buffs to give to your generals and you can do this again after clear five waves.