Game Guides
How to Install Idle Warriors: Three Kingdoms on PC with BlueStacks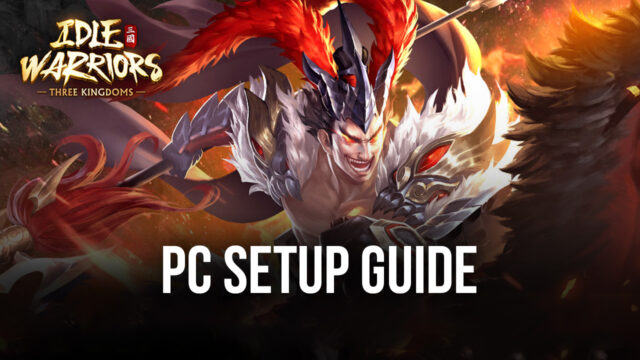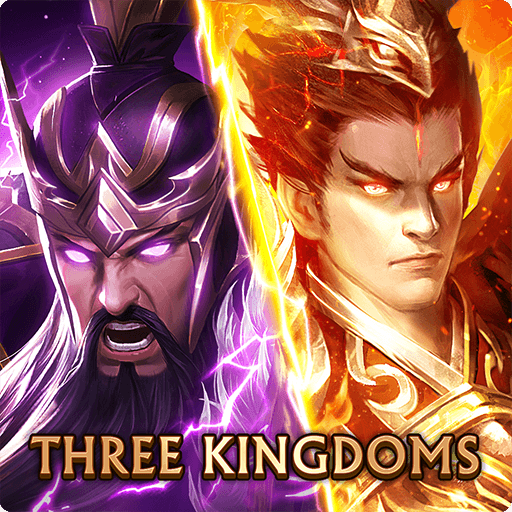 Enemies are taking over the land and the land has now become a battlefield for a free-for-all war for ultimate power. Now is the time to become a lord and build your very own army of powerful military generals to eliminate all enemies who stand in your way and also compete with other formidable lords for power.
Take advantage of the chaos now and become a conqueror of kingdoms when you play Idle Warriors: Three Kingdoms now on your PC or Mac with BlueStacks.
How to Install Idle Warriors: Three Kingdoms
Download and Install BlueStacks

on your PC.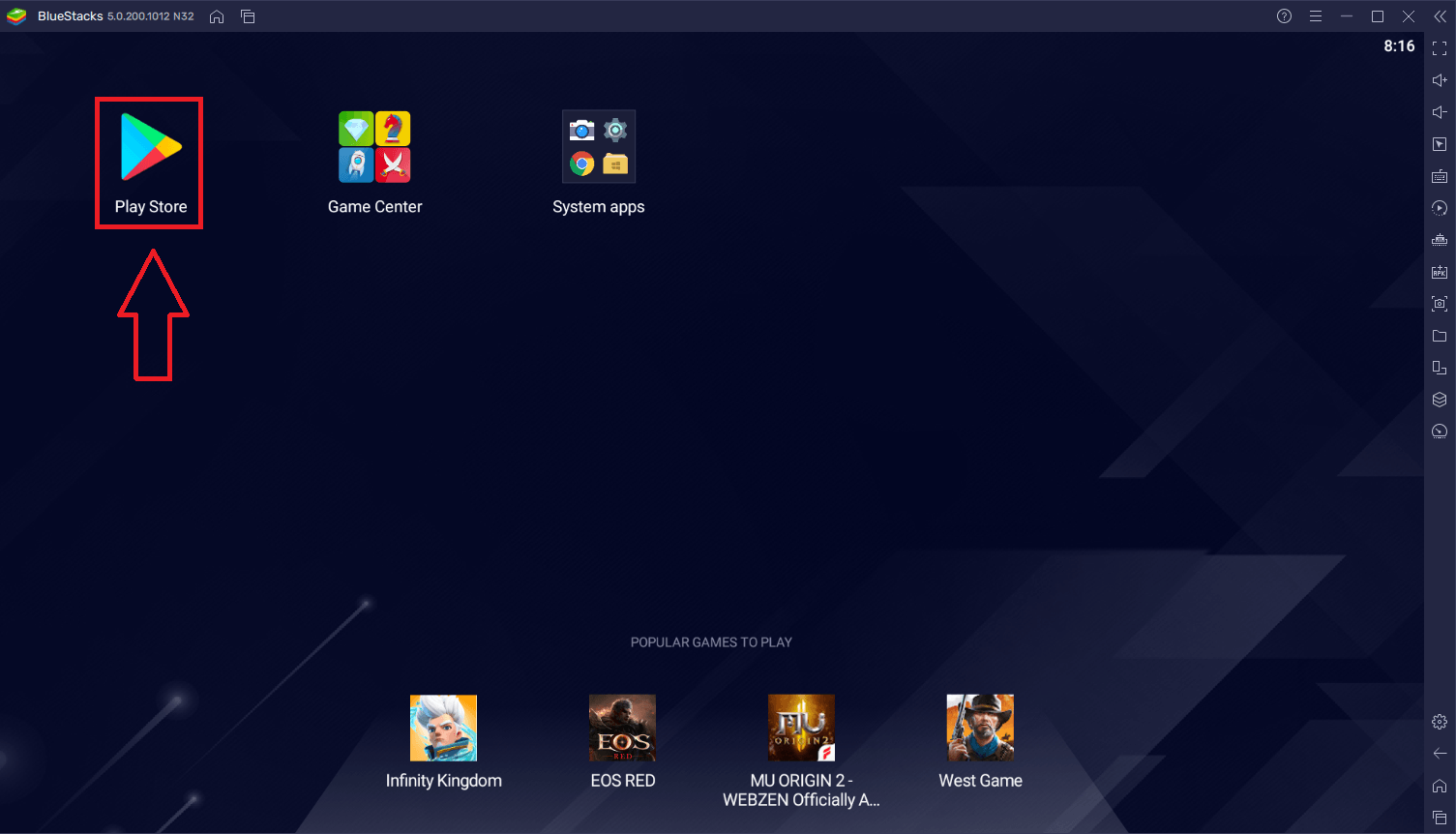 Complete Google Sign-in to access the Play Store or do it later.

Look for

Idle Warriors: Three Kingdoms

in the search bar at the top-right corner.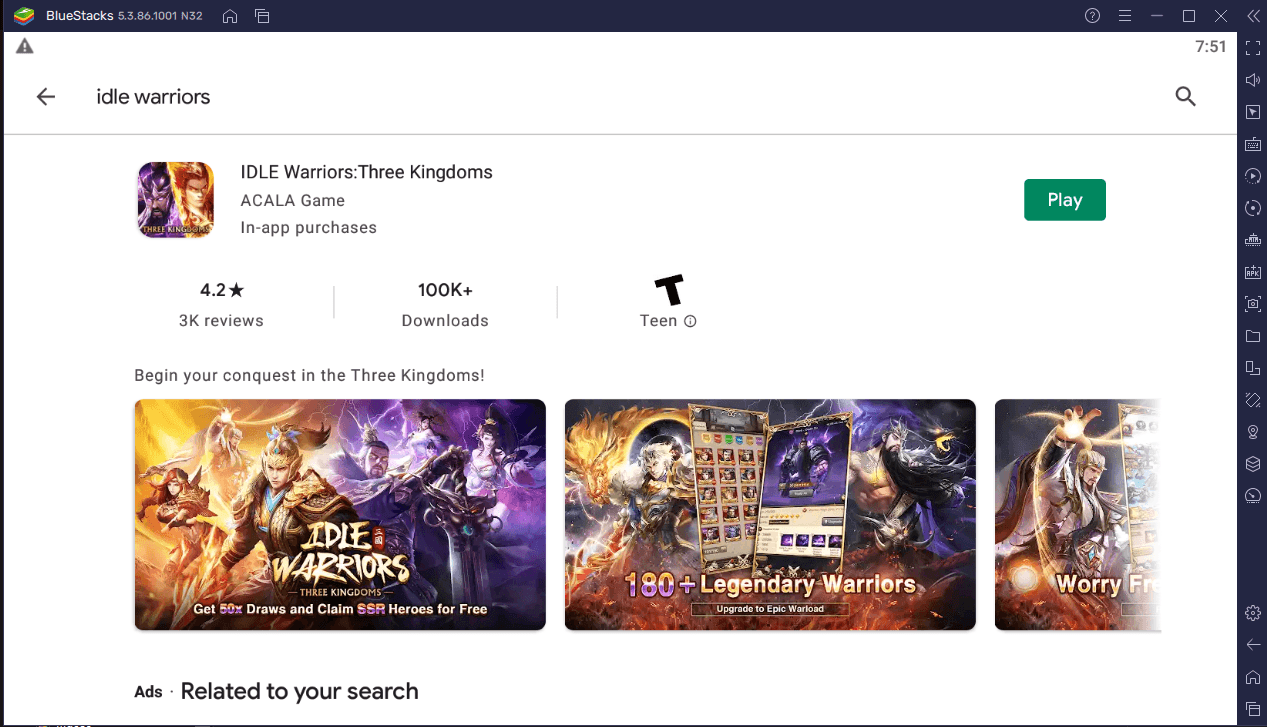 Click to install

Idle Warriors: Three Kingdoms

from the search results.

Complete Google Sign-in (if you skipped step 2) to install

Idle Warriors: Three Kingdoms.
Recruit and Upgrade Generals
Idle Warriors: Three Kingdoms features a myriad of generals that you can recruit into your army. The characteristics of a general are determined by several categories to which they belong, and this gives you plenty of diversity in terms of strategy.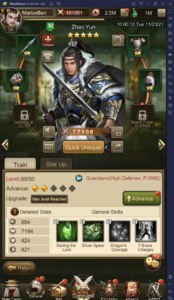 Generals have various combat roles and capabilities. For example, warriors specialize in high DPS (damage per second) and physical damage; guardians specialize in defense; counselors also specialize in high DPS, but they do so with magic damage, and alchemists are support classes that specialize in giving buffs to other generals but they can also do magic damage.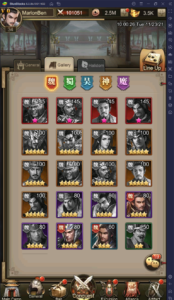 Additionally, generals are also segregated into various rarities which is determined by the number of stars that they have. Their rarity determines how strong a general is out-of-the-box. The strongest generals are those with five stars however there are even stronger generals who only possess one star but with a different color.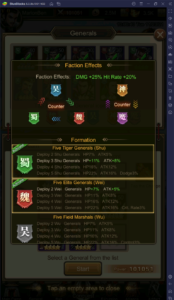 Lastly and more interestingly, the game also features a faction system wherein generals belonging to a certain faction can do more damage to another faction while receiving more from another different one. For example, Wei general does more damage to a Shu general but receives more from a Wu general. There are five factions currently in the game and the relationships established by this faction system allow for a multitude of strategic possibilities.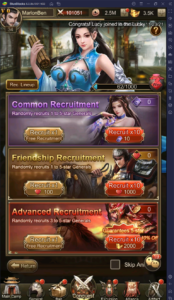 More generals can be added to your army through recruitment. There are three methods of recruitment: Common Recruitment, Friendship Recruitment, and Advanced Recruitment. Each type requires a different item for randomly recruiting a general, but each type also gives different chances of getting certain generals.
When recruiting generals from any method, you gain points for doing so. More specifically, 1 point for every Common Recruitment, 2 points for every Friendship Recruitment, and 20 points for every Advanced Recruitment. Upon reaching 1000 points, you instantly gain a five-star general for free!
Strategic Battles
The game features a single-player campaign called Conquest Chapters where five of your selected generals fight five other enemy generals through a turn-based combat system.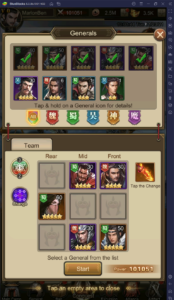 Before starting a battle, you must select at most five generals to deploy to battle but more importantly, you also must choose what formation they will use. The formation determines the positionings of each of your generals. Some formations allow more generals to be placed at the front (good for defense and attack strategies) while some allow more of the opposite.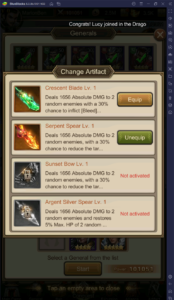 You can also equip a special item called an artifact. The artifact is a powerful item that can deal an obscenely large amount of damage to enemies during battle. Before that, the artifact must be activated first. It is activated when it gains enough points during battle which are earned every time your generals successfully attack an enemy.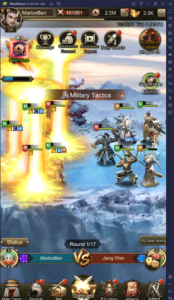 Battles in this game are automatically controlled and all you need to do is sit back and watch the action. There is an option however to accelerate the speed at which the generals fight. But other than that, you just need to wait until you emerge victorious, collect the rewards, and proceed to the next stage to continue your conquest.
Level Up On-the-go
The 'idle' in the game's name is there for a reason and that is because it boasts an Autoplay feature.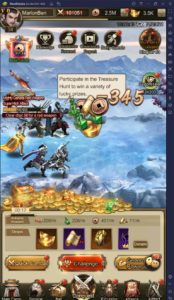 This is where your generals continuously fight waves of enemies for resources while you are not doing anything in the game – hence, idling. And yes, this even works while offline, so you still earn resources passively even without playing the game. All passive income is stored in a chest that becomes full after 12 hours.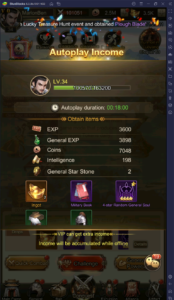 The rate at which you earn Autoplay resources such as EXP, General EXP, and Coins can be increased by playing more Conquest Chapters.
Compete in the PvP Arena
An idling RPG is never complete if it does not have PvP but fortunately Idle Warriors: Three Kingdoms does not disappoint.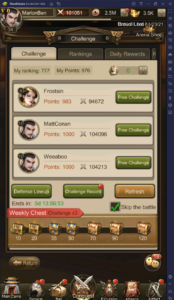 The arena allows you to challenge any player from around the world and battle their team of generals with yours. Emerging victorious in an arena battle gives your rewards such as Prestige which you can spend to buy special items in the Arena Shop.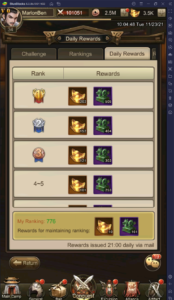 But more than that, you also climb up the leaderboards and increase your ranking. Depending on your ranking, you gain rewards every day, and having a higher ranking means getting more of these daily rewards.
Assemble Your Generals with BlueStacks
Begin your journey for power now by installing Idle Warriors: Three Kingdoms on your PC or Mac with BlueStacks and also gain access to awesome features that can take your gameplay experience to the next level.
BlueStacks can run Idle Warriors: Three Kingdoms while minimized and this means that you can keep earning resources live while doing other things on your device. You can have the game running on one window while working applications on another. Split the two windows to fit into one screen and you now have yourself a comfortable multi-tasking experience.
But more than that, BlueStacks also features a Script Editor which allows you to write custom scripts to automate your gameplay experience in any way that you like. For example, you can write a script for continuously playing Conquest Chapters so that you would not need to keep manually clicking the 'Challenge' button.
If you want to manage more than one account then BlueStacks also has you covered with its Multi-instance feature. With this, you can reinstall the game on a separate virtual Android device and be able to run more than one instance at the same time.
Become a lord now with BlueStacks. Who is your favorite general so far in Idle Warriors: Three Kingdoms? Let us know in the comments section below.