Game Guides
Iron Throne Game Modes and Battle Guide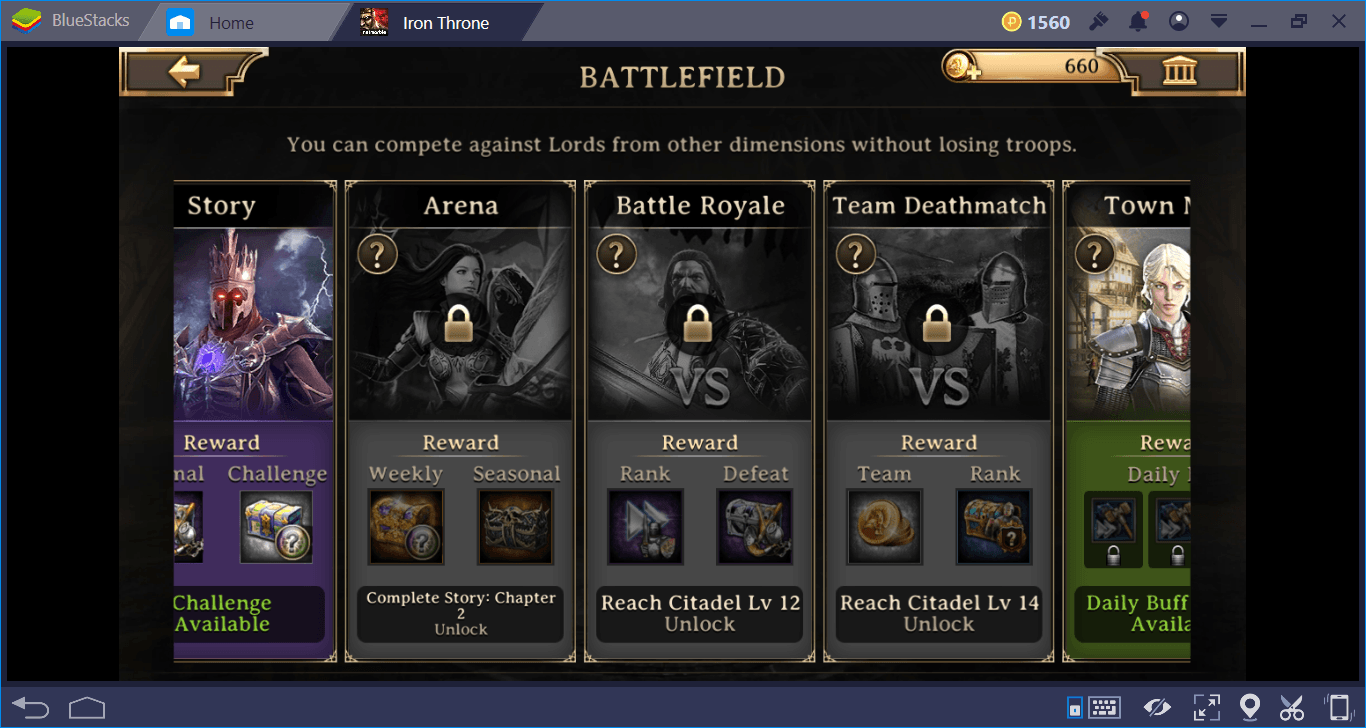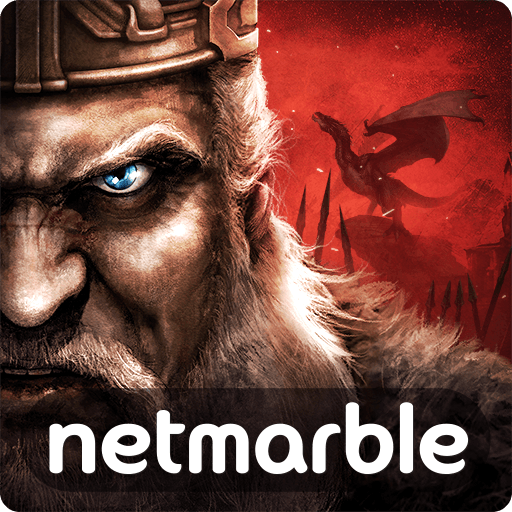 One of the unique features that Iron Throne has is that it offers a large number of game modes. With these modes, you can play the game like an ARPG by completing tasks in a town or fight against dozens of real players. The battle system used in these modes requires you to make tactical decisions at a level we are not used to seeing in mobile conquest games. For beginners, this may be a little challenging. Do not worry, we're here to help. In this guide, you will find detailed information about Iron Throne's innovative combat system and game modes.
Iron Throne Game Modes
Iron Throne offers 5 game modes in total. You can see them in the following list:
Story Mode: Becomes active after level 5. Also known as "Dimension Battle" mode. You are fighting against NPCs and are supposed to complete chapters.
Arena: Becomes active after completing the second chapter in Dimension Battle mode. As its name suggests, you are fighting against other players. This is a 1v1 combat and has its own seasonal tournament.
Battle Royale: This is a very interesting mode because you really play it like a Battle Royale game. 20 players are fighting against each other. The playground is constantly redefined by a circle of fire, and if you stay outside the circle, you die. To activate this mode your Citadel must be at level 12. The troops and resources you lose in this mode do not affect other game modes. So you can start each time with the same number of troops.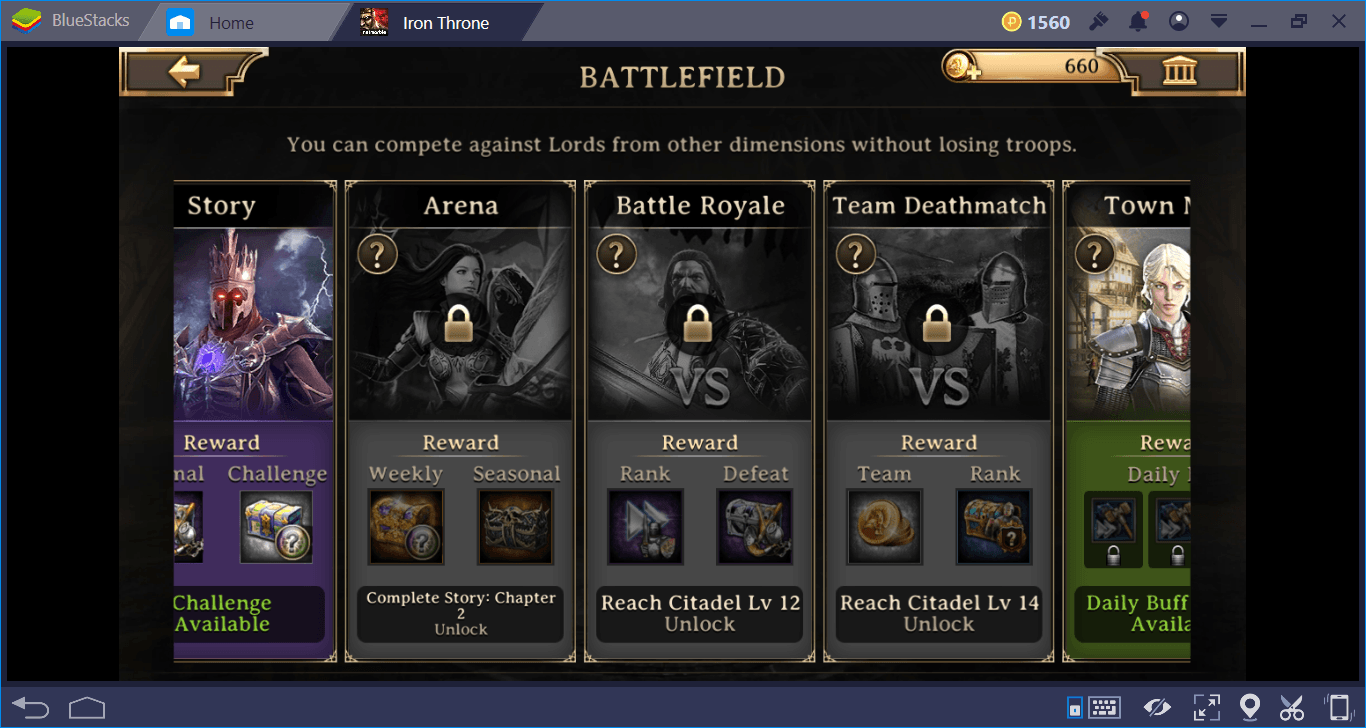 Team Deathmatch: We can say that this is similar to Battle Royale, but more extensive. Once more, you do not have to worry about losing soldiers and resources. In a very large battlefield, a total of 40 players (20 v 20) are fighting against each other. This mode is activated after your Citadel is level 14.
Town Mode: Iron Throne's RPG mode. If you've played an ARPG like Diablo before, this will be familiar to you. By controlling a single hero, you are investigating crimes committed in your city and killing different monsters. The Town Mode quests give you a lot of dialogue opportunities and make you understand the story of the game. Completing the quests gives you useful buffs which you can use in other game modes. You can activate Town Mode once you reach level 8.
The battles you have entered via these modes (and against other players) use a very dynamic combat system as mentioned above. Now, let's take a closer look at this system.
The Battle System
To understand the Iron Throne battle system, we first need to talk about the troops. There are three troop types in the game: Infantry, Archer, and Cavalry. If we show them in a table:
| | | |
| --- | --- | --- |
| NAME | PRODUCED AT | BEST AGAINST |
| Infantry | Training Grounds | Cavalry |
| Archer | Archery Range | Infantry |
| Cavalry | Stable | Archer |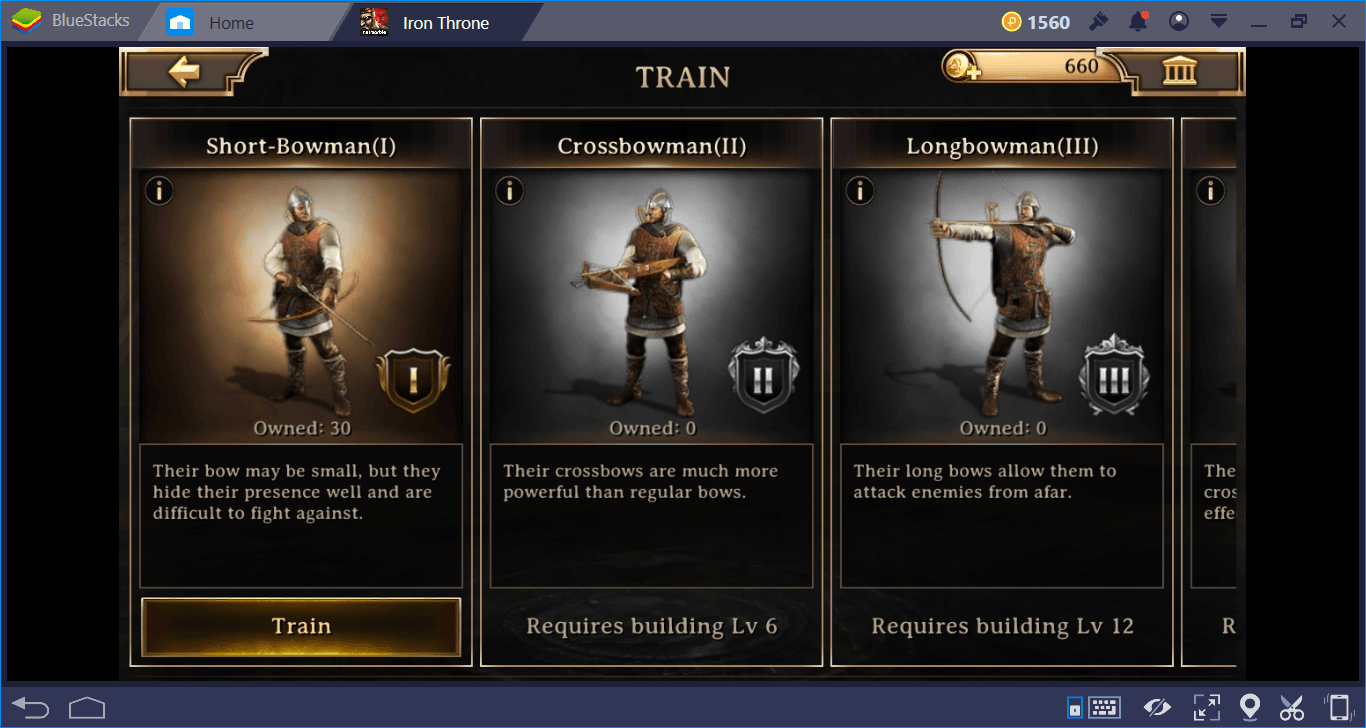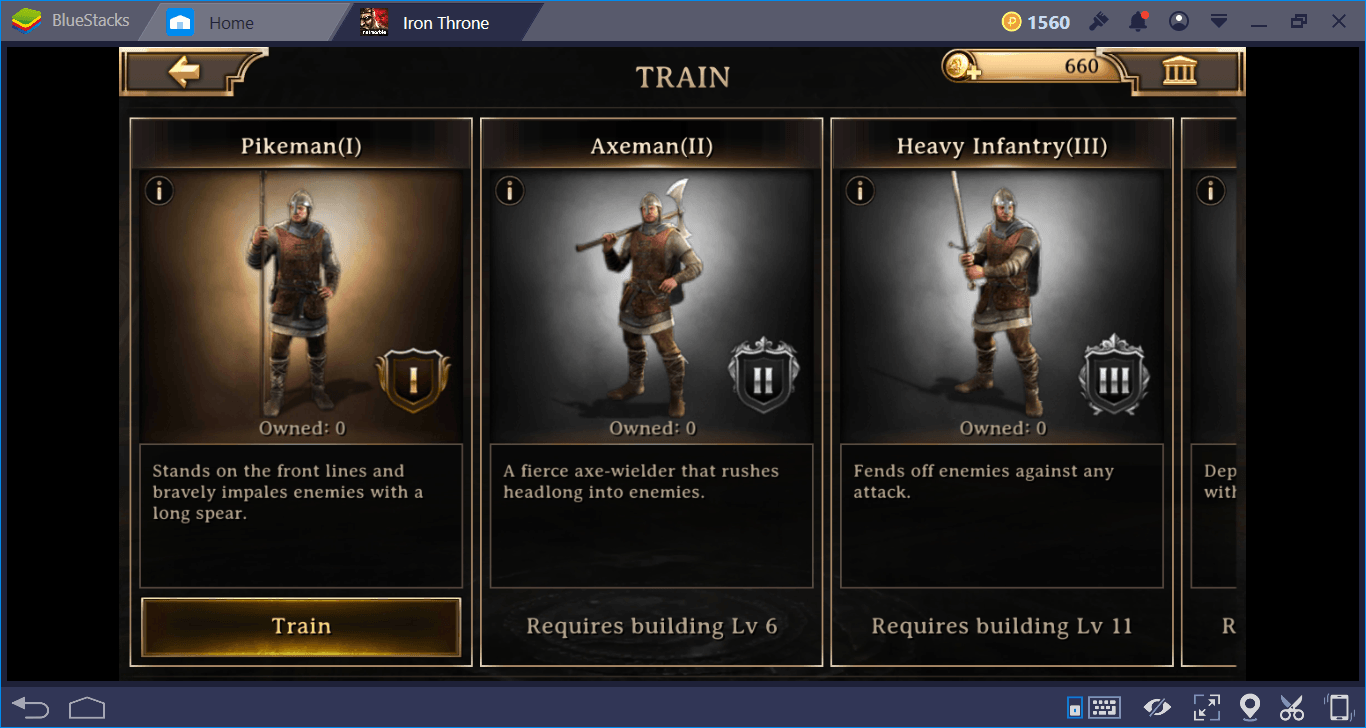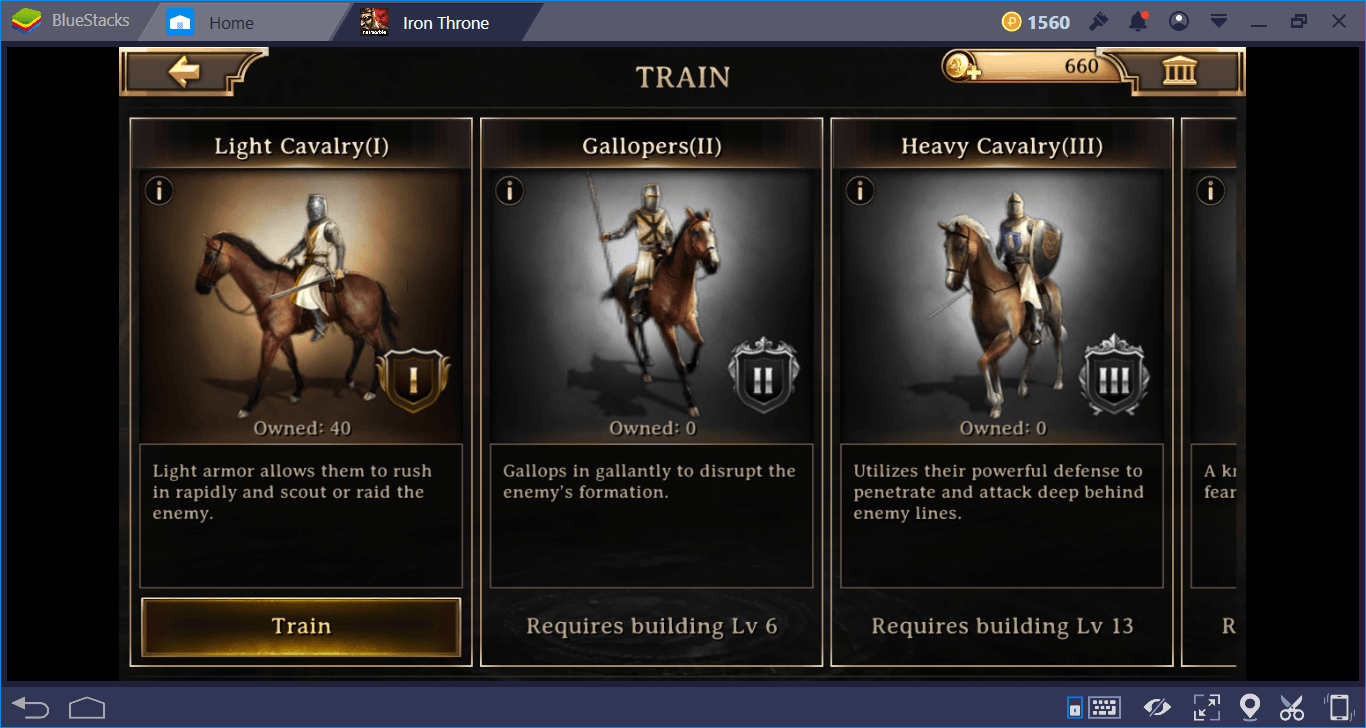 It is important that you learn which unit is better against which one, as you should place them on the battlefield accordingly. Let's start from the beginning: Before entering a battle, you will see the following screen. On this screen, you can choose the hero who will lead your army and determine which units will enter the battlefield.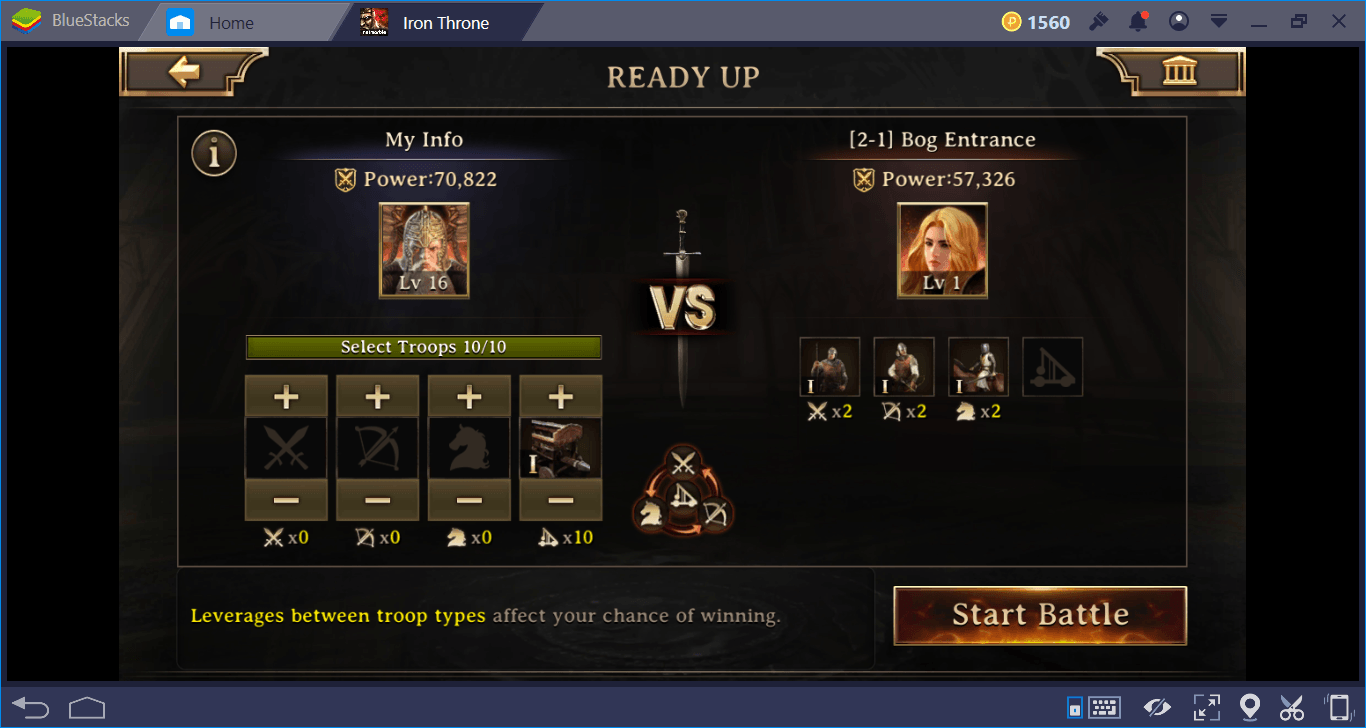 On this screen, you can also see of which units your opponent's army is made up. You will learn this information automatically when you are fighting against NPCs. If you are fighting against other players, you will have to scout their army by using the Watchtower building. In any case, when creating your own army, you have to pay attention to the units in your enemy's army. For example, if your opponent has an army of archers, your army must be made of cavalry.
Before the battle begins, you can place your units on the battlefield as you like. Note the alignment of your opponent's units is important: If the front row of the opponent's army consists of cavalry, for example, you should put archers in your front ranks. You have to make tactical decisions here, and the decisions you make will be different every time. After placing your units on the squares, press the "start battle" button.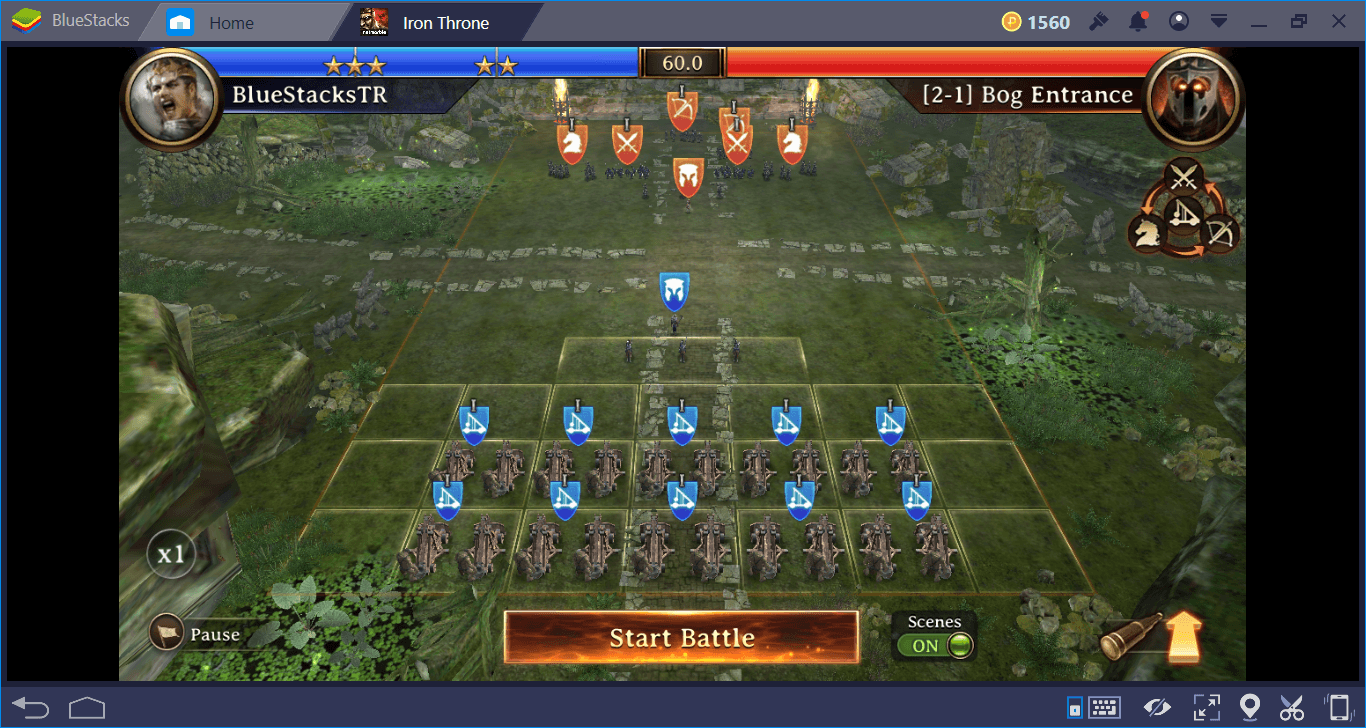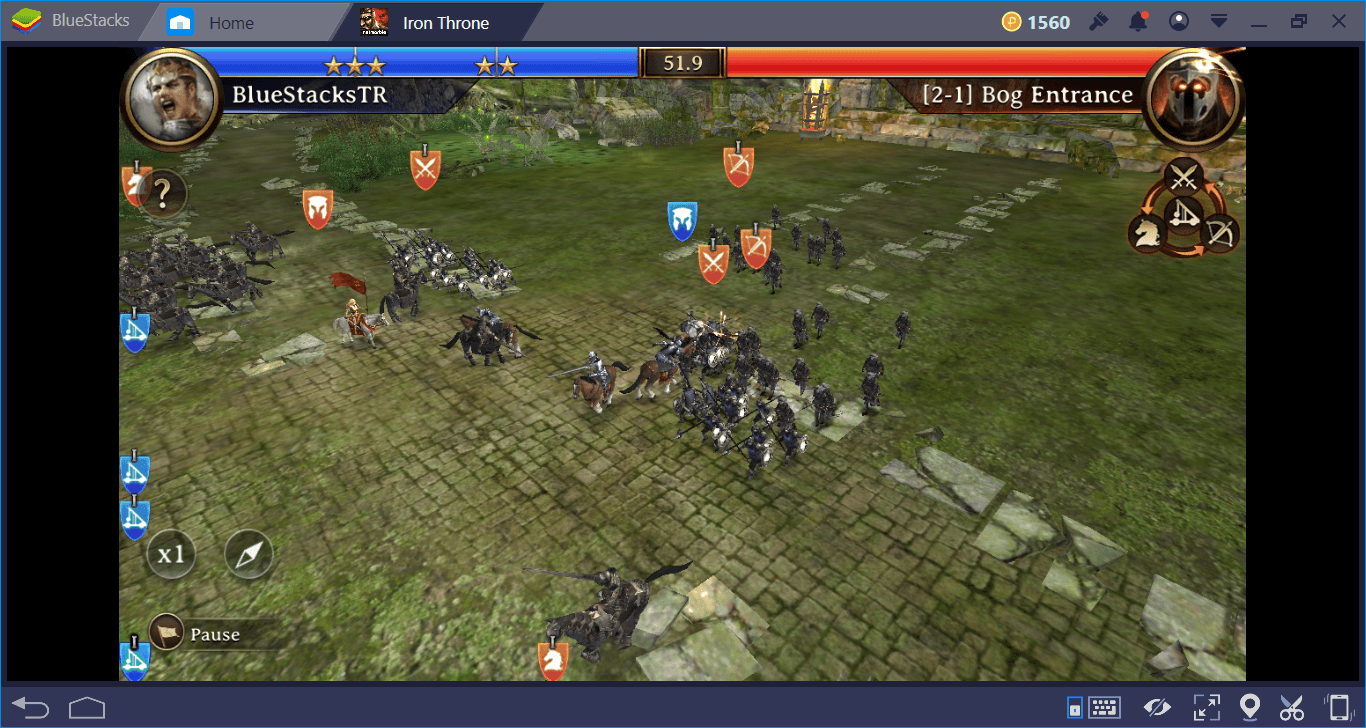 You cannot directly command your units after the battle has started, but you can help them. In the lower right corner, you will see the skills you can use and the creatures you can summon. This is a dynamic system and you can use both of them anywhere you want in the battlefield. Simply put, you need to hold and drag. For example, to summon a Troll, push the appropriate button and drag it towards the battlefield. Release the button to summon the creature exactly at that point. If you summon it in a place where your own units are in trouble, you will be helping them.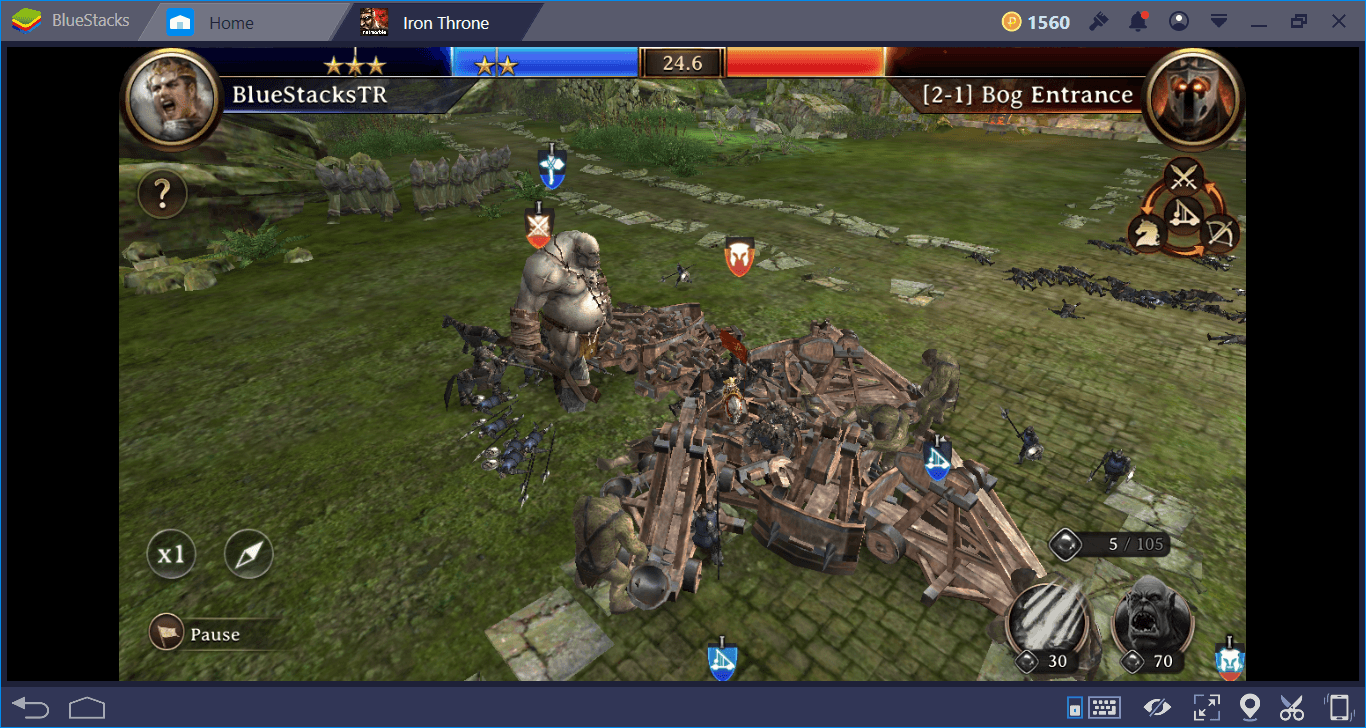 Be An Active Commander
In other words, you do not have to follow the battle without doing anything like in other conquest games. By intervening at the right moment, you can change the outcome of a war. But do not forget that every skill and every monster you summon requires mana. So you cannot use them continuously. You have to wait for the right moment: We recommend you to use them only if your army is about to lose.
At the end of every battle you win, you will receive an award. The amount of this award will vary according to the number of surviving troops. The more surviving troops, the greater your reward will be. If you are losing a battle after several attempts, do not insist: You probably do not have enough levels yet. You can replace your lost troops with new ones. Or, you can heal wounded troops at hospital buildings and put them back into battle.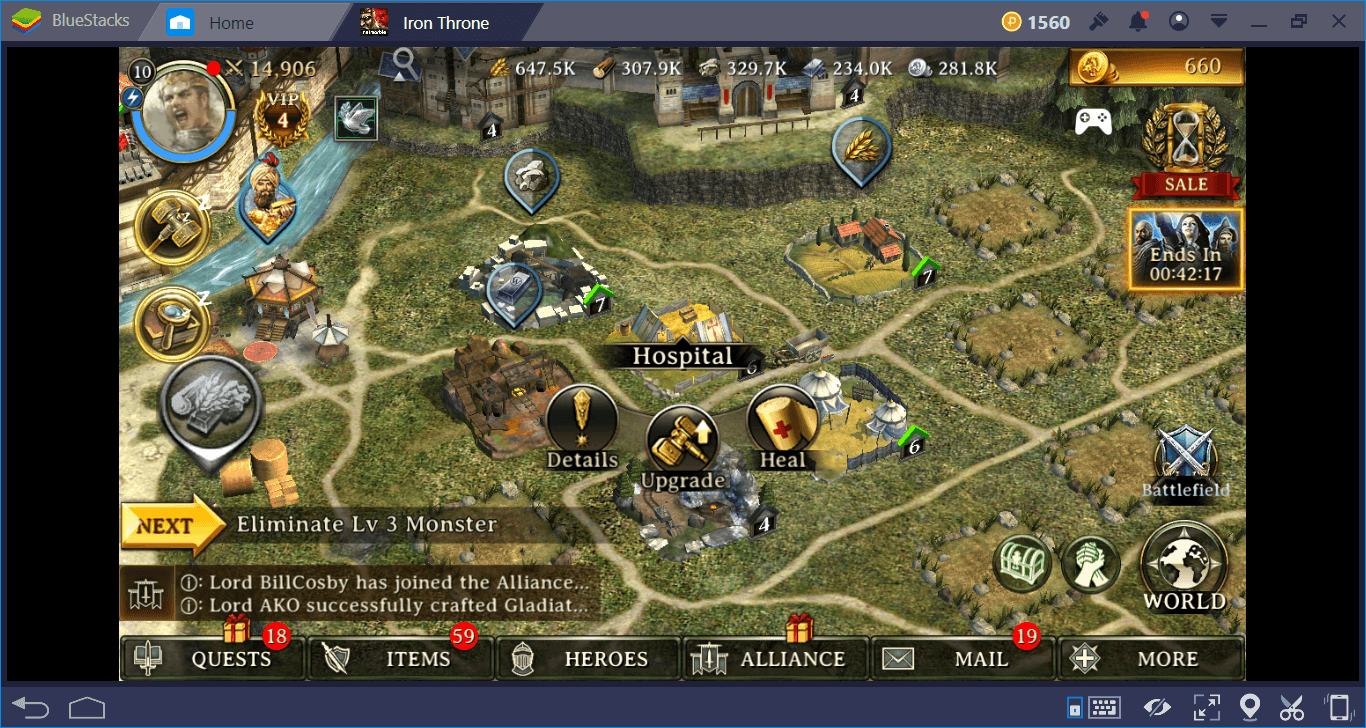 In this context, make sure your armies are always commanded by a hero with a guardian trait. For example, if you put a scholar or architect as a commander, your army will not be that effective. Finally, keep in mind that the quality and level of items used by your heroes are important: Heroes with higher level items will be more effective on the battlefield.
Iron Throne's battle system requires you to make strategic and tactical decisions. From this point of view, we can say that it is a separate game in its own right. If you've played Total War or Heroes of Might & Magic before, this is a very similar system. But do not worry if you do not have such an experience: Thanks to our guide, you know what you need to pay attention to during battles now. We wish you good luck on the battlefield!