Game Guides
Gold & EXP Farming Guide for Knight's Raid: Lost Skytopia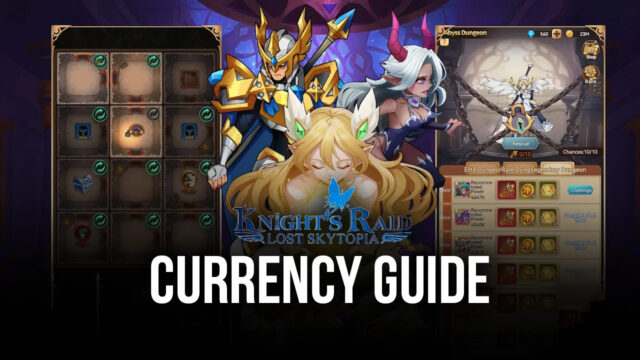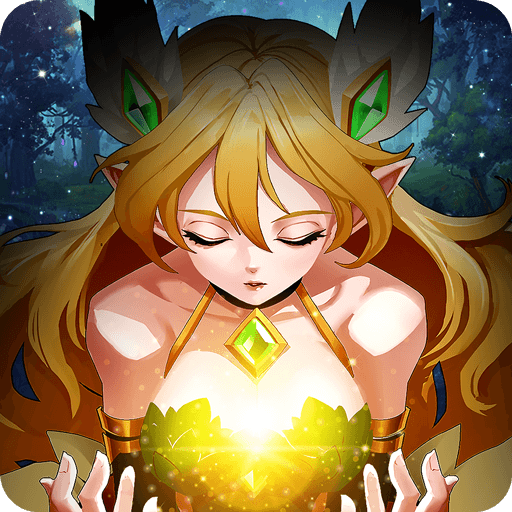 In-game resources such as gold, Hero EXP, and Player EXP are crucial when you play Knights Raid: Lost Skytopia. Gold is usually used to buy hero advancements which can unlock very useful skills for your heroes and to level up said skills to make them more effective during combat. Hero EXP is required to level up your heroes and ultimately increase their core stats such as HP, ATK, and DEF. Player EXP is responsible for leveling up your player level and this is important to consider as the maximum level of your heroes is dependent on the current player level.
You can know more details about upgrading your heroes in Knights Raid: Lost Skytopia in this guide. However, you will not even accrue the benefits of these upgrades anyway if you lack the resources. In this guide, we will tackle where and how to effectively farm gold, Hero EXP, and Player EXP.
AFK Earnings
One of the easiest ways to earn gold, Hero EXP, and Player EXP is playing through the game's idle mode and then collecting the rewards called AFK Earnings.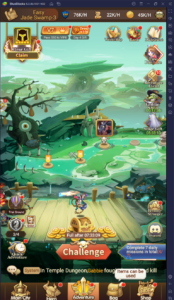 While you are online and are not actively doing any quests, the game will enter idle mode. During this time, your heroes will perpetually fight infinite waves of enemies and they earn the three essential resources while doing so.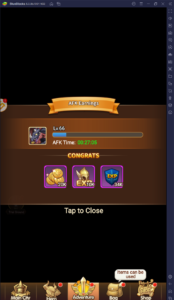 These resources are automatically placed in a chest. The chest will eventually become full, and no more resources can be added after that happens. Upon collecting the contents of the chest (AFK Earnings), you must wait exactly eight hours before it becomes full again.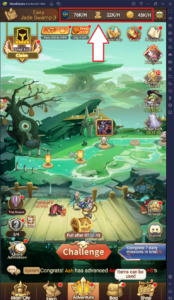 You can see the hourly rate at which these resources are earned on the topmost menu. The hourly rate can be increased by completing the game's adventure quests.
You must diligently collect the AFK Earnings so that you would not waste too much time that could have been spent on earning more resources and putting them in the chest. One thing you can do is to set a schedule for logging in to the game and collecting the AFK Earnings. Alternatively, you can choose to not exit the game at all and leave it running in the background. You can utilize BlueStacks' eco mode to reduce power consumption and this is most especially useful for laptop users.
Completing Adventures
Doing adventure quests is an easy way to garner gold, Hero EXP, and player EXP within a short amount of time.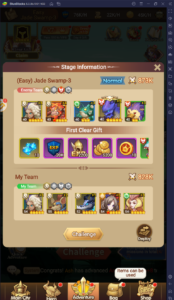 To begin a quest, click on the 'Challenge' button. Adventure quests take place in various regions and each region has multiple levels that you need to clear to proceed to the next. There are also multiple difficulties, which can be unlocked after completing previous difficulties. In each adventure quest, you must consider that the enemies that you are facing and ensure that you use the appropriate heroes. Remember that certain hero races are more vulnerable to another race.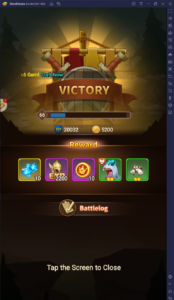 You are rewarded with Player EXP and gold upon completing an adventure quest. Additionally, 'First Clear Gifts' are also given and these include diamonds, Hero EXP, and the like.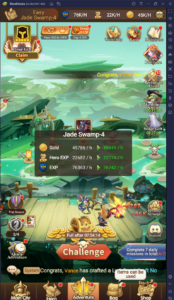 Completing adventure quests increases your hourly output during idle mode, which means more AFK Earnings. Moreover, bonus rewards such as Clear Gifts and VIP Privileges are also rewarded to you.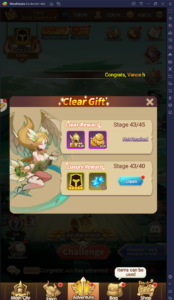 Clear Gifts reward you for completing a certain number of quests. The rewards can include Hero EXP, gold, as well as premium rewards like hero cards and diamonds and these can be redeemed by clicking on the 'Clear Gift' icon on the top left of the screen.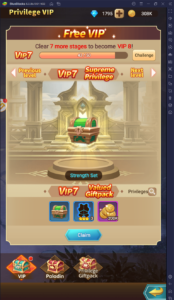 Clearing stages also brings you one step closer to progressing to the next VIP level. Being promoted to a new VIP level grants you special rewards that can include gold and other valuable items. Additionally, you are also given privileges such as an added amount of times that you can buy certain resources in the in-game shop.
Prayer Temple
The Prayer Temple can be found in the Main City and is essentially where you can acquire free gold and Player EXP.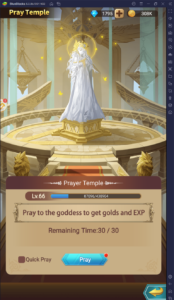 The free resources can be acquired by clicking on 'Pray' and you can do this repeatedly until you reach the prayer limit. You can use the 'Quick Pray' feature to instantly use all your prayers. After using up all your prayers, you will need to wait at least several hours to gain more. Additionally, you can use items called Praying Beads to instantly gain more prayers. Praying Beads cost 10 diamonds.
Daily Quests
You can obtain more gold by completing daily quests. These daily quests consist of mundane things that you can do in the game such as enhancing gear, upgrading heroes, and the like.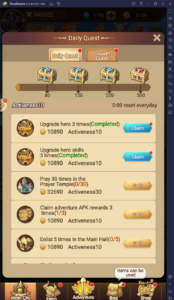 Completing each daily quest gives you Activeness and after reaching a certain amount of Activeness, you earn a rewards chest. This rewards chest contains significantly more gold coupled with diamonds. Doing more daily quests gives more Activeness and more Activeness leads to receiving bigger and better rewards chests. Note that you only have until midnight to complete the daily quests. After midnight, all daily quests are replaced with a fresh set of new ones.
Gold Exchange
Free gold can be obtained through the game's Gold Exchange. To access this, go to the Main City and click on the 'Welfare' icon found on the top right and from there, click on 'Gold Exchange'.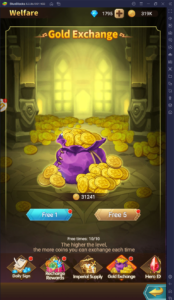 You are given 10 free exchanges to claim gold. Upon using up all the 10 free exchanges, you must pay diamonds to gain more. But you can only purchase exchanges with diamonds 10 and times and you need to upgrade your Paladin Level to be able to buy more. The Paladin Level is similar to the VIP Level system in that they both give you privileges within the game; however, the Paladin system is much more expensive and caters more to players who are willing to buy diamond packs with real money.
Worship Top Players
Some players of Knight Raid: Lost Skytopia have really made it far into the game that they have reached the top of the leaderboards. Interestingly, you can "worship" these top-ranking players in exchange for a large amount of gold.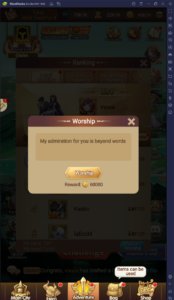 To access the leaderboards, go to 'Adventure' and click on 'Rank' on the top right part of your screen. From there, you can worship up to six players from the six different ranking categories.
Reversing Unused Heroes
There may be times wherein you have spent multiple resources on upgrading a particular hero only for you to receive a much better hero through the Hero Summons. Now, you want to upgrade the hero that you just got but are lacking in resources. Fortunately, you can refund some of the resources spent on your existing heroes through the game's 'Reverse' feature.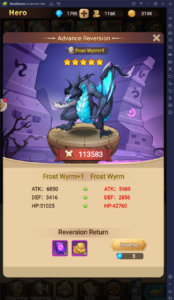 To reverse a hero, go to 'Hero' and select the hero that you want to reverse. Go to 'Advance' and then click on 'Reverse'. The resources that will be refunded to you are only the resources spent on advancing that hero. Resources spent on leveling them up and upgrading their skills cannot be refunded. Nevertheless, it is still a good source of quick gold and even Hero Advance Stone in case you are in dire need to upgrade a hero.