Game Guides
How to Make Your Team Stronger in Knight's Raid: Lost Skytopia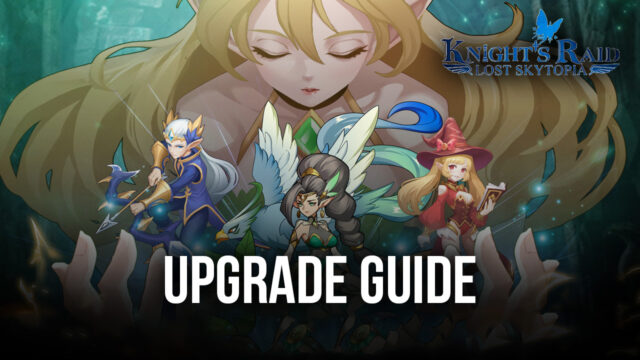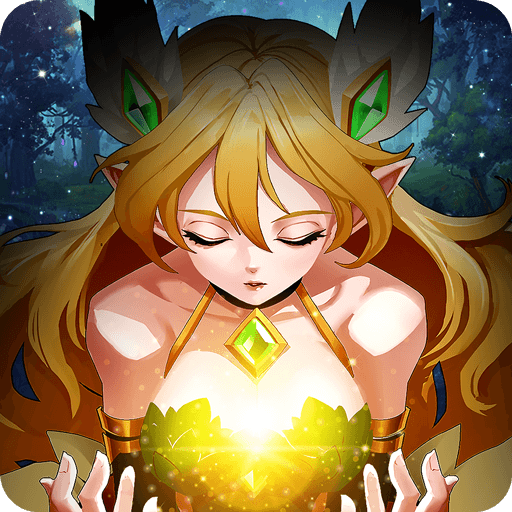 When you play Knights Raid: Lost Skytopia, you will eventually encounter enemies that are significantly stronger and can wipe out your heroes in less than a minute. To prepare for those situations, you need to purchase various upgrades as well as take advantage of the game's features to ultimately make your team stronger. The game offers plenty of ways to strengthen your team and in this guide, we will discuss all those ways, how they work, and how you can utilize them effectively.
Hero Upgrades
These are the most basic upgrades that you can do for your heroes, and they can be accessed by clicking on 'Hero' located on the game's bottom menu. There are two resources that are going to be used for these features, Gold and Hero EXP.
Upgrade
Hero upgrade expends Hero EXP to level up your hero. This results in their core stats such as health, attack, and defense being increased simultaneously by a moderate amount.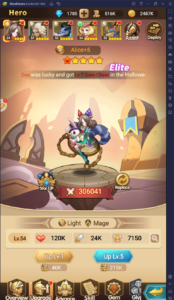 When upgrading, you can choose to climb up to either one level or five levels in one click. Be mindful as you may quickly run out of Hero EXP. If you run out, you can acquire more Hero EXP from idling, doing adventure quests, and more. You can know more about farming Hero EXP as well as other essential resources in this guide.
There is a limit to hero upgrades. The hero's max level is determined by the current player level. For instance, if you are level 45, then you can only level up your heroes up to level 45. You need to garner more player EXP (different from hero EXP) to increase your player level and subsequently increase your hero's maximum level.
While it may be tempting to pour all your resources into upgrading your best hero, it is best to treat your heroes equally. Ensure that the heroes in your team have equal levels to avoid any bottlenecks in overall team strength.
Advance
Hero advancements can also be used to buff a hero's core stats. Unlike the regular hero upgrades, advancements give out an exponentially bigger stat boost. Additionally, hero advancement is unlimited in use, but the drawback is that it is dramatically more expensive. A plentiful amount of gold, as well as Hero Advance Stones, is required to advance a hero. More of these resources are required as a hero reaches higher advancements.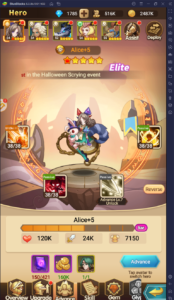 An awesome bonus of hero advancement is that it can unlock passive skills for 4-star heroes and above. These passive skills are permanent and effective upon unlocking, and they can greatly help the team during battle. Heroes with more than four stars have more passive skills, which can be unlocked upon reaching a specific hero advancement level. A hero's advancement level is denoted by a number appended with a plus sign on their icon.
In case you need resources, you can take back all of the gold and Hero Advance Stones that you spend on advancing a hero through the 'Reverse' feature. Reversing an advanced hero is done one advancement level at a time and each reversal costs five diamonds.
Skill
Every hero is an Ult Skill which is usually a devastating attack that can inflict plentiful damage to enemies. Moreover, some heroes have passive skills which give them and their fellow heroes buffs during battle.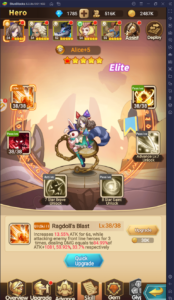 The effectiveness of these skills can be upgraded by spending gold. The 'Quick Upgrade' feature can be used to instantly bring a skill to the max level. Like hero upgrades, there is also a limit to leveling up skills.
Hero Star-Up
Aside from skills, a hero also has stars that determine their rarity and raw strength. A hero can have more stars with the Hero Star-up feature. However, this is only available for heroes with more than five stars already (these heroes can have one or more red stars).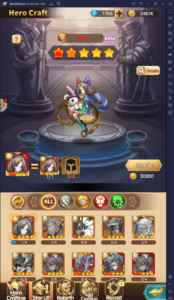 Hero Star-Up requires the hero themselves as well as a certain number of heroes with the same number of stars as the hero that will be starred up.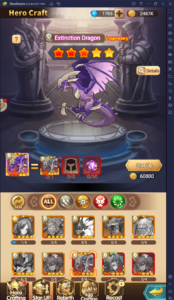 Some high-star heroes require an Awakening Stone in order to be starred up. These can be acquired from Expeditions or bought from the diamond shop or merit store. Additionally, some heroes also require a duplicate of the hero themselves to proceed with the star-up.
Equipping Gear
Giving a variety of internal upgrades to your hero can only get you so far. If you want to further strengthen your heroes, then you must equip them with six of the many gear items in the game.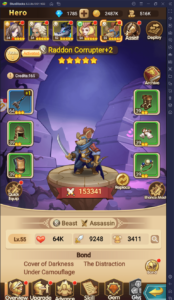 Per hero, six gear slots are allotted and each slot can hold either an item such as a weapon or necklace or armor such as a chest plate. Like heroes, gear items also have a specified number of stars which determines the gear's base strength.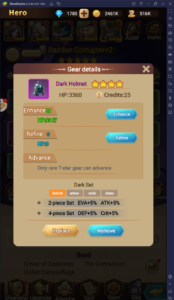 The more stars that a gear item has, the more powerful it is and the more power it can give to the hero who equips it. Gear can commonly be acquired by completing adventure quests. Rarer and stronger gear can also be acquired through Gear Summons. With Gear Summons, you can purchase new gear with either Gear Cards or with diamonds.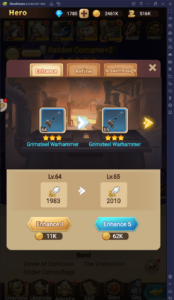 Your existing gear can be leveled up in a similar fashion as your heroes by spending gold. Like your heroes, the maximum level that a gear item can attain depends entirely on the current player level.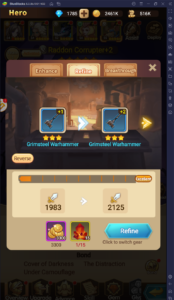 Gear items also have their own version of 'hero advancement' called refining. You can refine your items by clicking on the 'Refine'. Gold and Refine Stones are required to refine a particular gear item. The item's refinement level is indicated by the number attached to the item's icon. It can be refined repeatedly until it reaches an 'excellent state.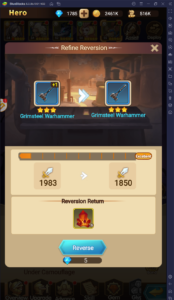 Gear refining also contains a reversal feature in which you can refund the resources that you have used up in refining a particular item.