Game Guides
The Best King of Fighters: Survival City Beginner Tips and Tricks to Start on the Right Track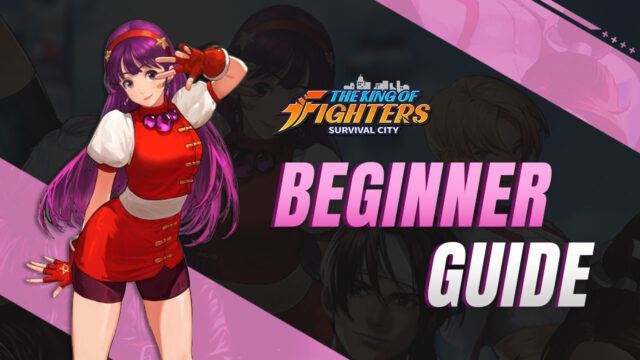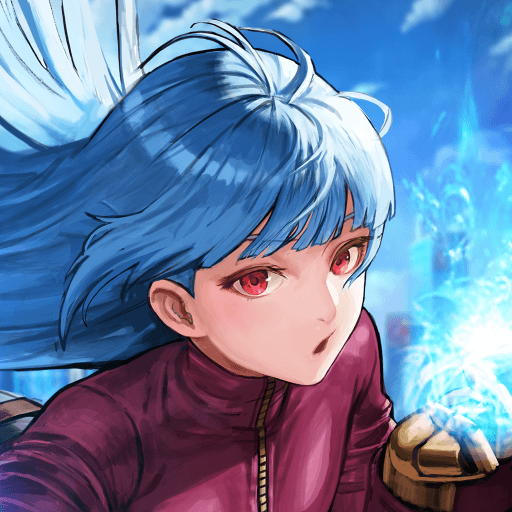 It seems like some of the most popular fighting game franchises are taking an interesting turn and branching out into new genres in the mobile gaming platform. This movement started first with Street Fighter: Duel, which was released as a beat 'em up gacha RPG, and now the new King of Fighters: Survival City, which is a gacha RPG with city building and conquest elements. And when it comes to the latter, this mix of genres can possibly throw some gamers off, especially the ones who are used to enjoying these titles as pure fighting games.
Table of Contents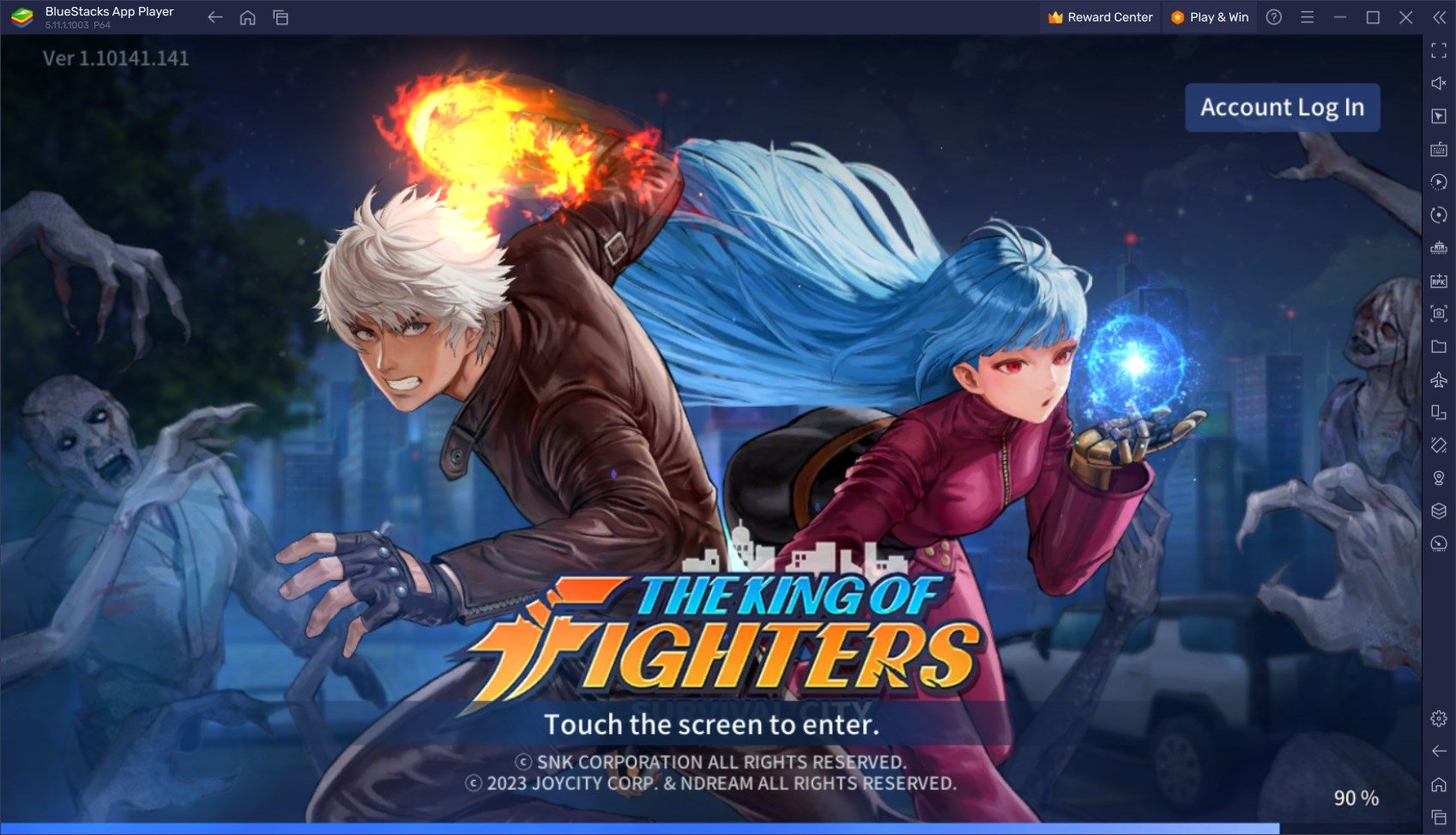 With that being said, if you're new to KoF: Survival City, and find that this game might not be what you expected, then this guide is for you. In the following sections, we'll be giving you a few tips, tricks, and strategies to start your journey in Survival City on the right track. As such, if you're just getting started, then this beginner's guide is your best bet.
Play on BlueStacks to Enjoy the Best Gameplay Experience
We can never start one of our beginner's guides without one of the best tips we can ever give our readers. Namely, by playing King of Fighters: Survival City on PC with BlueStacks, you can enjoy the best gameplay experience with this title on your computer, instead of having to play them on your small mobile device, and without having to deal with the issues that come from playing on these devices such as battery drainage, overheating problems, and more.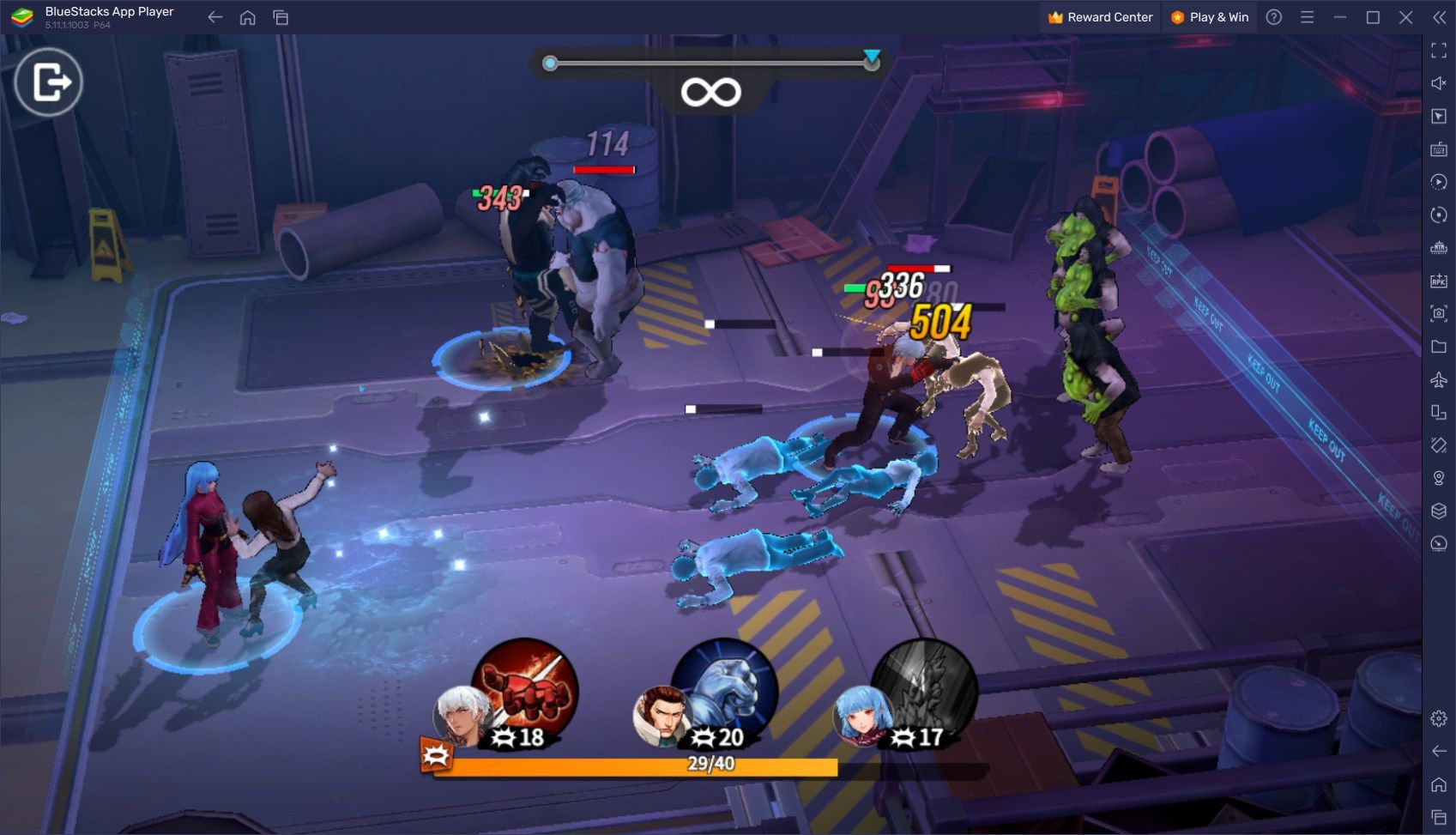 Downloading and installing Survival City on PC is very simple, only takes a few steps, and can be done in a couple of minutes. And after you're done, you'll be enjoying this game with the best graphics and performance, and without having to worry about any issues that might surface when you're playing on your mobile device.
The Main Story Quests Are the Key to Success
If you've played other conquest titles in the past, you'll find that the progression in Survival City is quite familiar. In other words, while the plot and story elements are unique to this game, the progression is similar to other titles, in that the main story quests are some of the most important elements you can work on. These quests consist of main tasks that will guide you through the basic aspects of rebuilding your settlement, and introduce you to the most important elements of the game. As such, these should be one of your main priorities if you're just getting started in this game.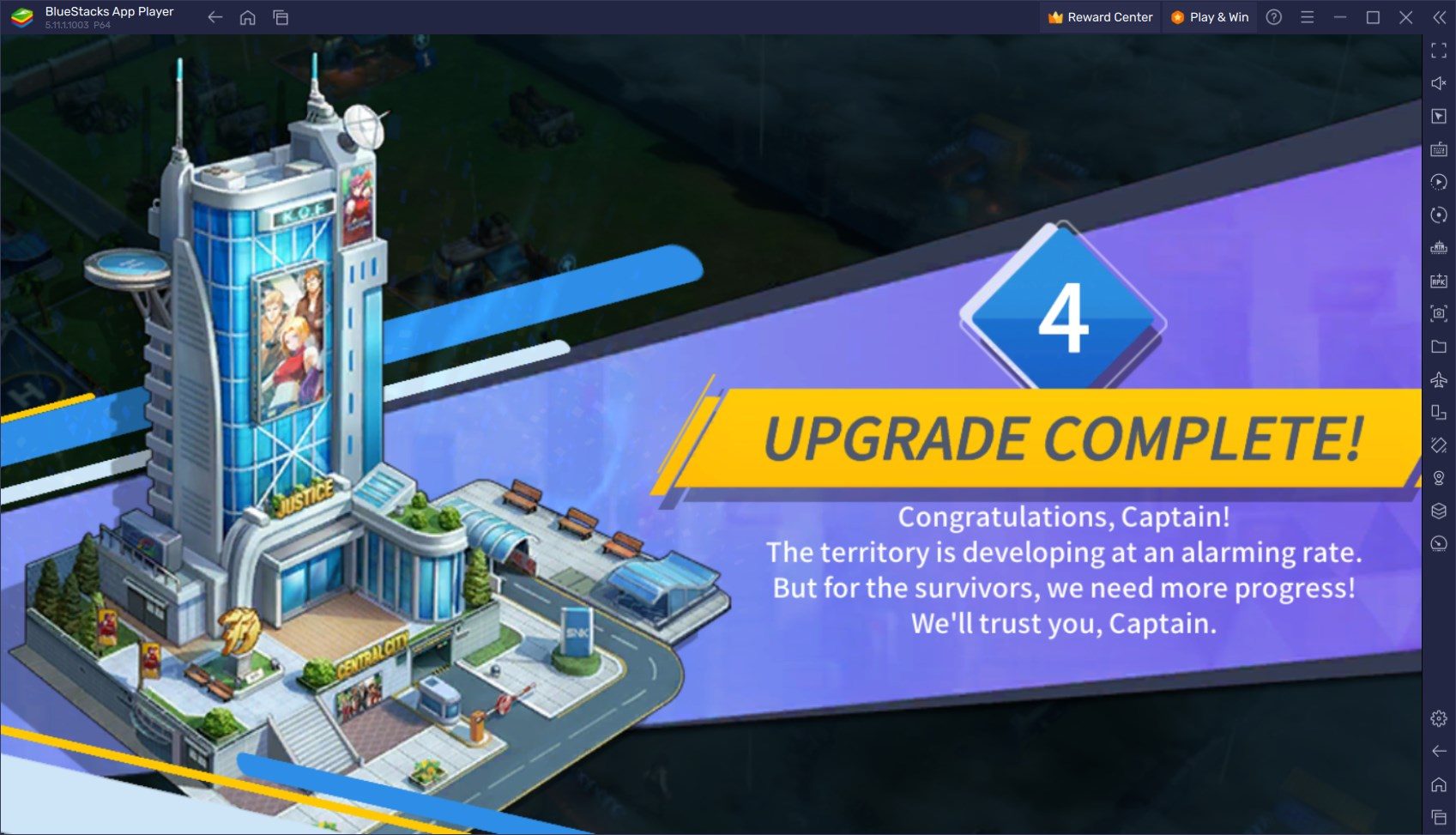 You can find the main quests on the bottom left of your screen at any given moment, and you can simply click on them to go to your next objective. However, depending on where you're currently in the story, you might find that some of these objectives are difficult to complete in your current state, and you might need to perform a few other upgrades to continue progressing.
This is where our next tip comes into play…
Keep Your Characters Upgraded as Much as Possible
King of Fighters: Survival City has a few different game modes in its core gameplay sections, with one of the more common being the exploratory sections where you lead your crew of fighters across perilous sections filled with enemies. These sections play like a beat 'em up title where your fighters attack automatically, and your main input is activating their special abilities at the right times so you can get the most out of them.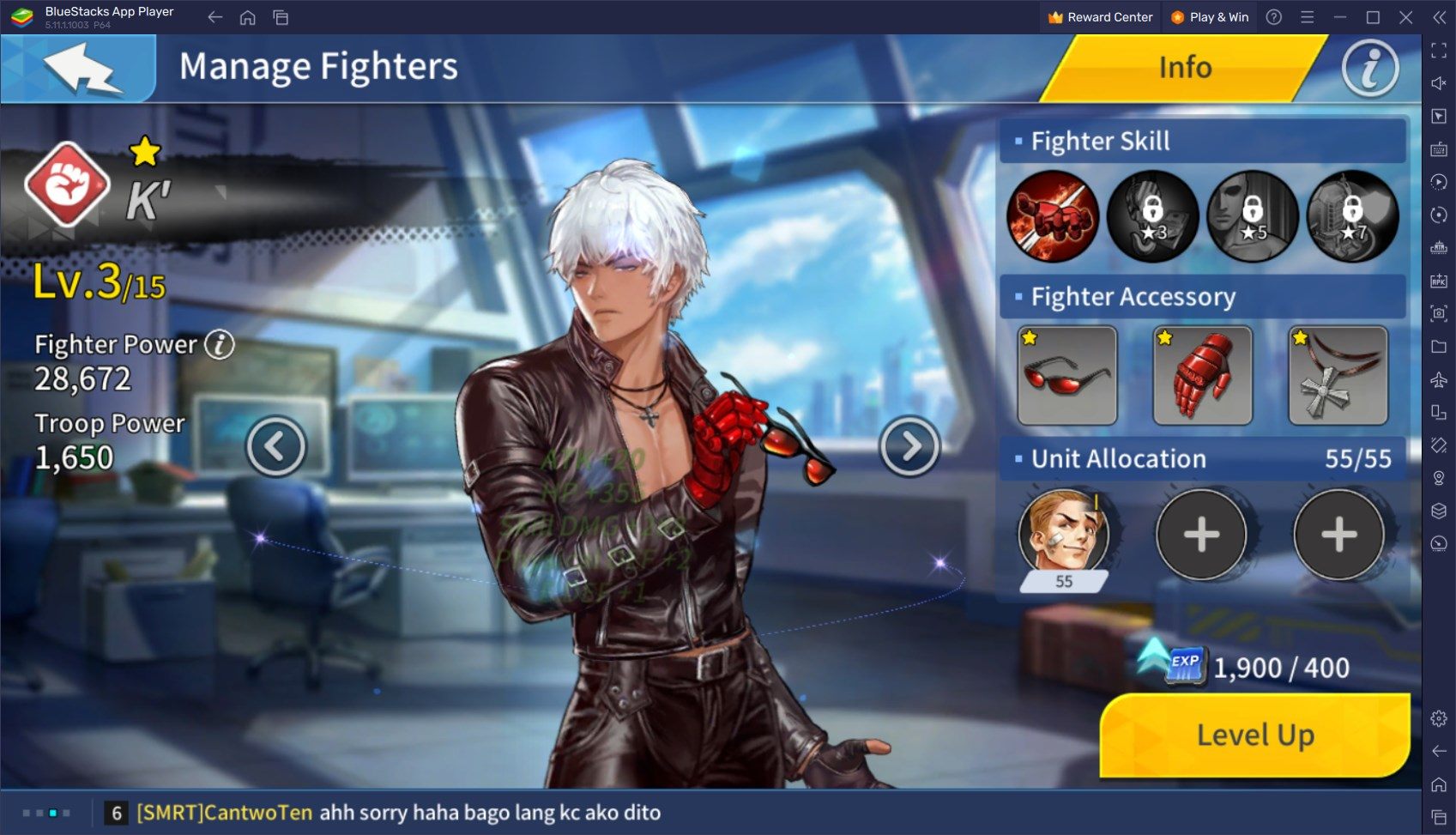 While having the best Survival City characters will help considerably to improve your odds of success in this game mode, you'll also need to keep them upgraded if you want them to stand a chance against the afflicted as well as NEST's strongest soldiers. After all, even if you have a few top tier characters on your side, they will be utterly helpless if you don't upgrade them.
There are a few ways to upgrade your characters in this game, though there are two main methods to achieve this in the beginning:
By Leveling Up: Use Hero XP to increase a hero's level, improving their stats in the process
By Increasing Their Tier: Increase a hero's tier by merging them with duplicates of the same tier to grant them additional stars and permanent stat boosts. Certain tiers can also unlock additional hero skills.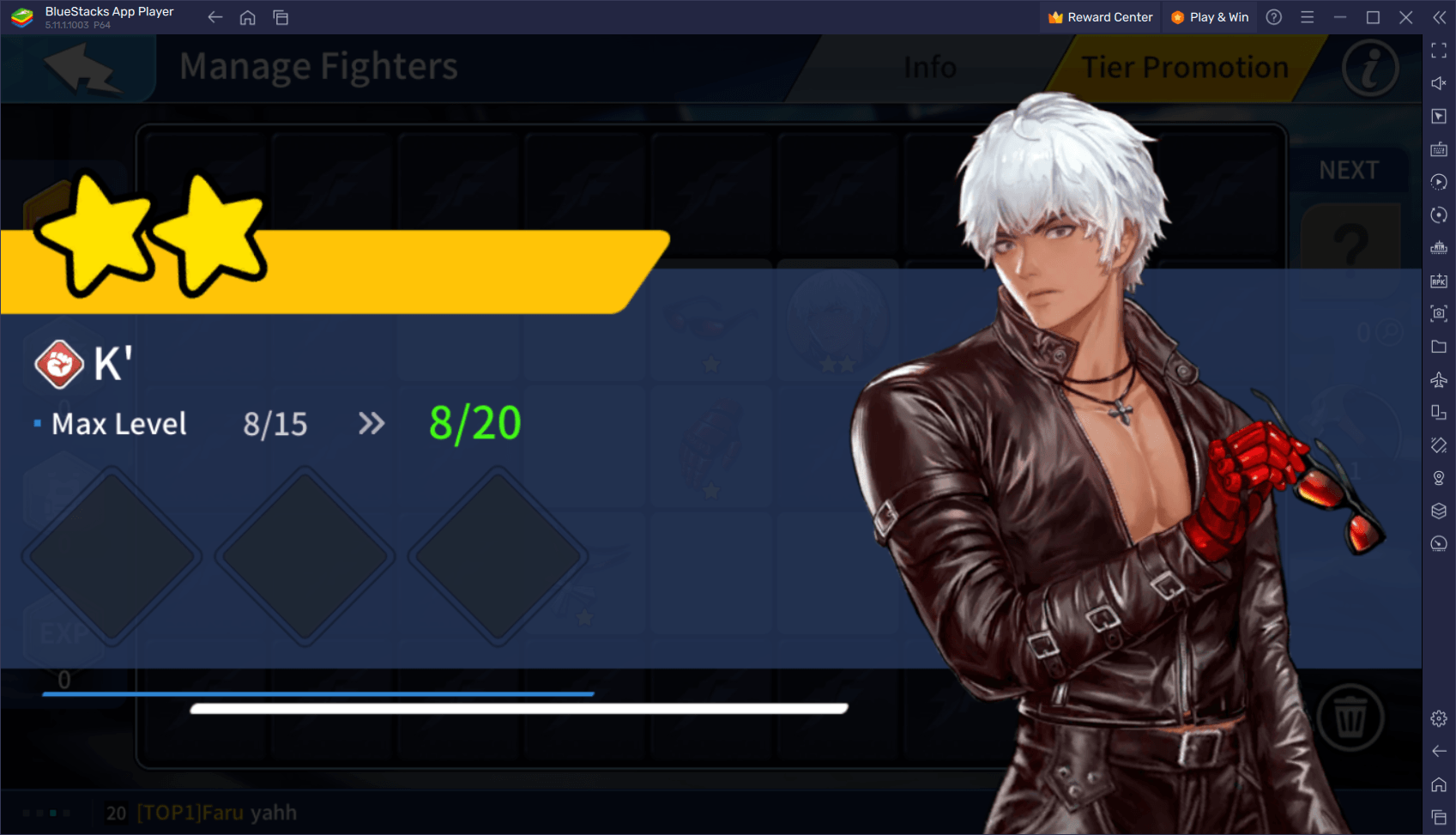 You'll probably only have access to upgrading a hero's level at the beginning, though you should definitely look into upgrading your roster as soon as you get the chance, as this will give you the best odds of completing combat stages with ease.
Keep Your Square Upgraded to Increase Your Troop Capacity
Shortly after beginning your journey in KoF: Survival City, you'll unlock the Square building, which is where you can turn the survivors you rescue from the main story missions into powerful soldiers that will fight to defend your city from attackers, as well as help you drive out the Afflicted from your territory. However, the capacity of troops that you can keep and train at any given moment will vary depending on the level of your Square; with higher levels allowing for larger troop capacities.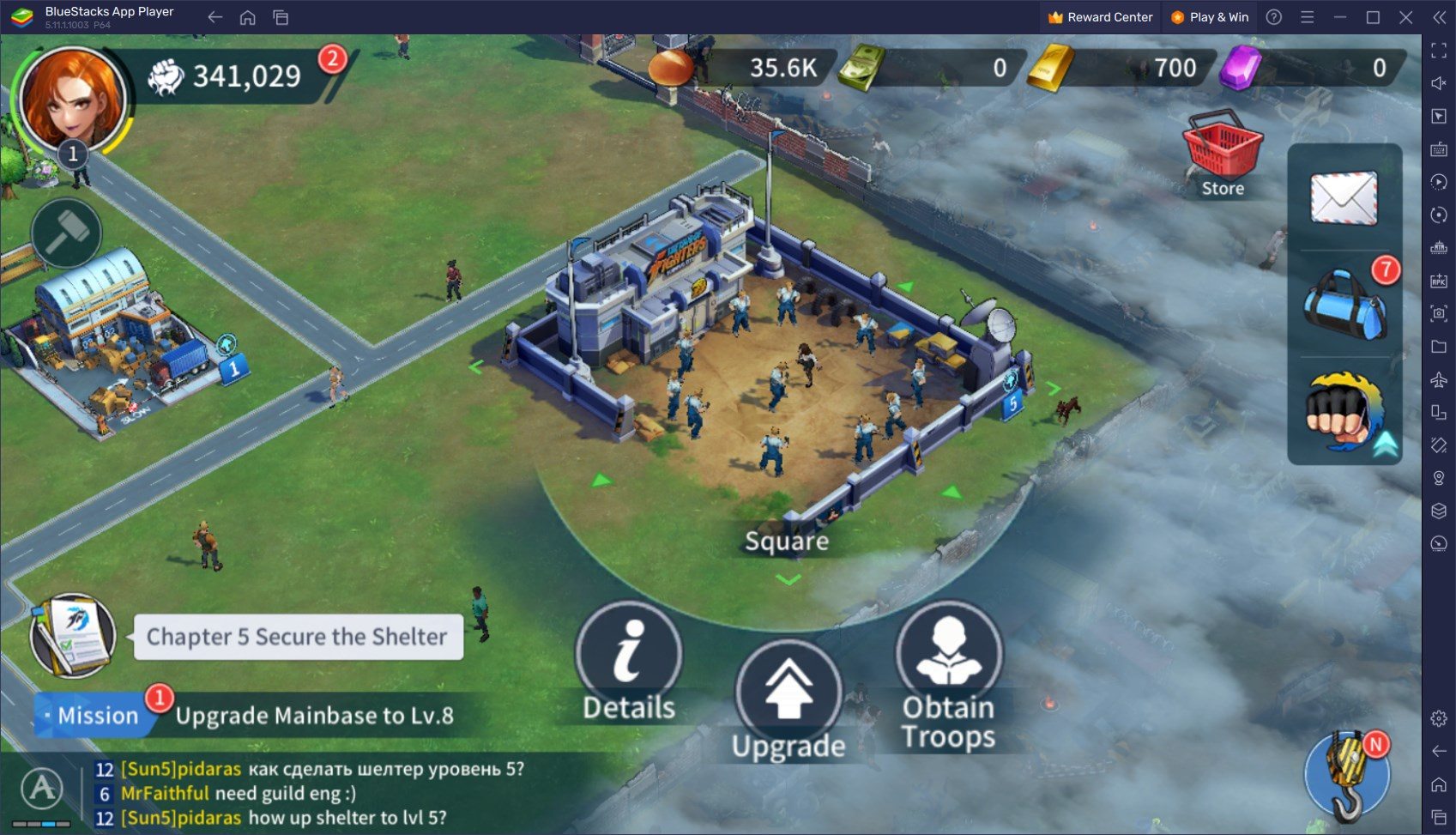 While having your Square at a lower level won't matter at the beginning, when your heroes are weak and can't have too many troops under their command, it will become increasingly important as you continue upgrading and enhancing your roster. Moreover, considering that you can lose troops very easily when fighting against NEST forces and other players on the world map, you should keep your Square upgraded alongside your heroes, so that you can refill your ranks whenever it becomes necessary to do so.
Complete Daily Quests and Challenges to Score Valuable Rewards
All of what we mentioned above with upgrading your heroes and troops, as well as keeping your square upgraded, will cost you valuable resources that you might not have in the beginning. Luckily, while completing the main story quests are vital for expediting your main progression, there are also other daily quests and challenges that you can complete to score rewards and resources that will be crucial for keeping your base upgraded.
You can find these challenges in their respective menu, by clicking on the "Mission" button on the bottom left of the main city screen. In this screen, you can click on the tabs on the upper part to swap between Daily Growth, Main Growth, and Achievement Sections. The latter two consist of tasks that can be completed in the long run, as you continue working through the game's chapters. Meanwhile, the former section will show you easier and quick tasks that can be completed in a few clicks, and that will grant you a steady stream of resources and rewards that are commonly used for your main progression in this game.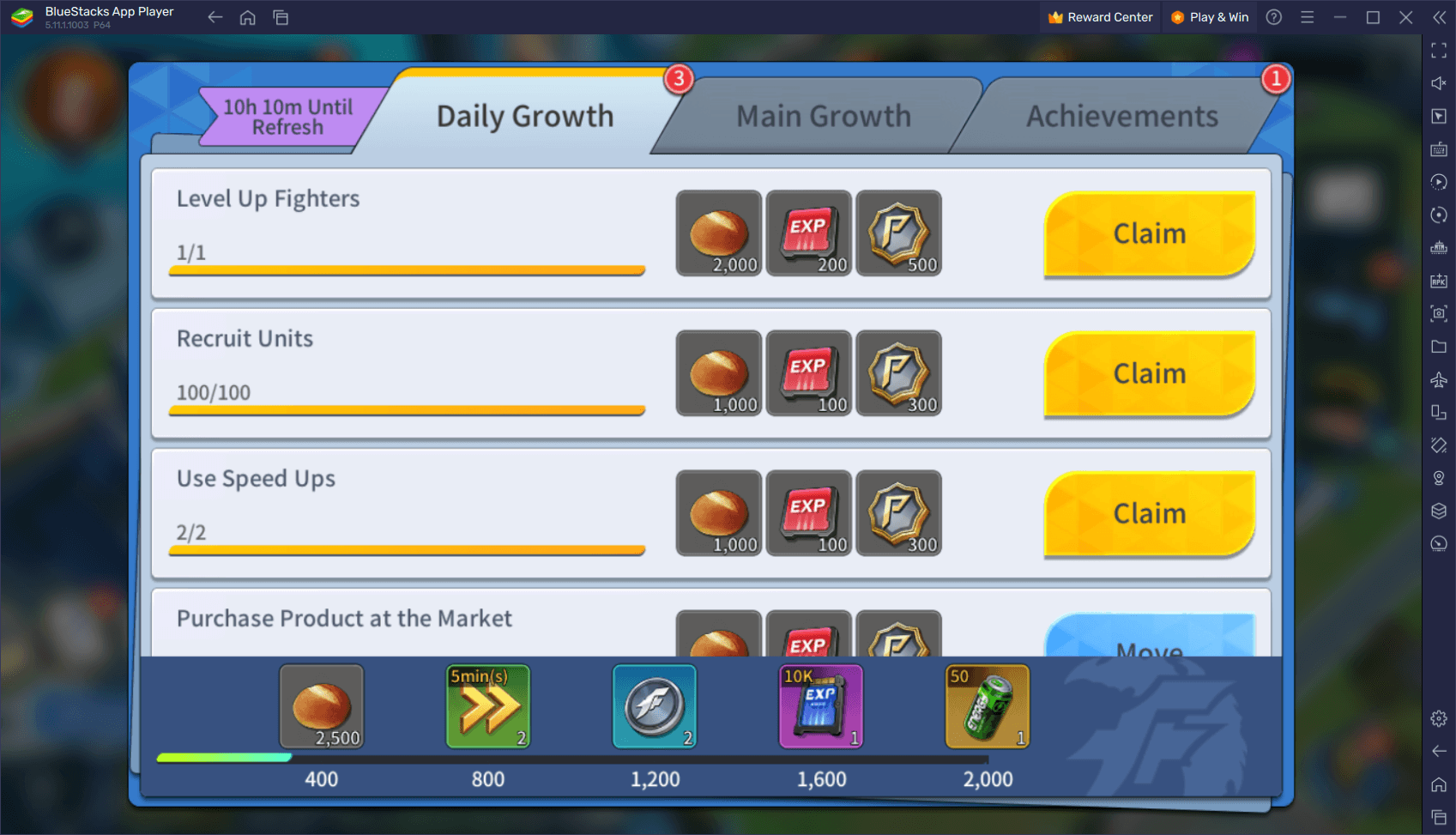 The Daily Growth missions reset every 24 hours, at a specific time every day, and we strongly recommend taking a few minutes out of your day to work on them if you want to optimize your progression. As we said, while the main quests are the way to go when it comes to progressing in the game itself, these side quests will give you the resources you'll need to keep all your units and troops functioning at their maximum capacity.
Don't Forget to Claim Your Freebies and Pre-Registration Rewards
As a game that was hyped tons before it actually released, Survival City actually broke a lot of milestones in terms of pre-registration numbers. As such, new players can claim a ton of free items from their inbox as soon as they start the game, which will be an enormous benefit for helping you get started on the right track.
Some of these pre-registration rewards include items such as summing tokens for recruiting new characters from the gacha; an exclusive tier 2 equipment set for Mai Shiranui; several speedup items to accelerate the development of your city, and resources like Dollars and Food, among others.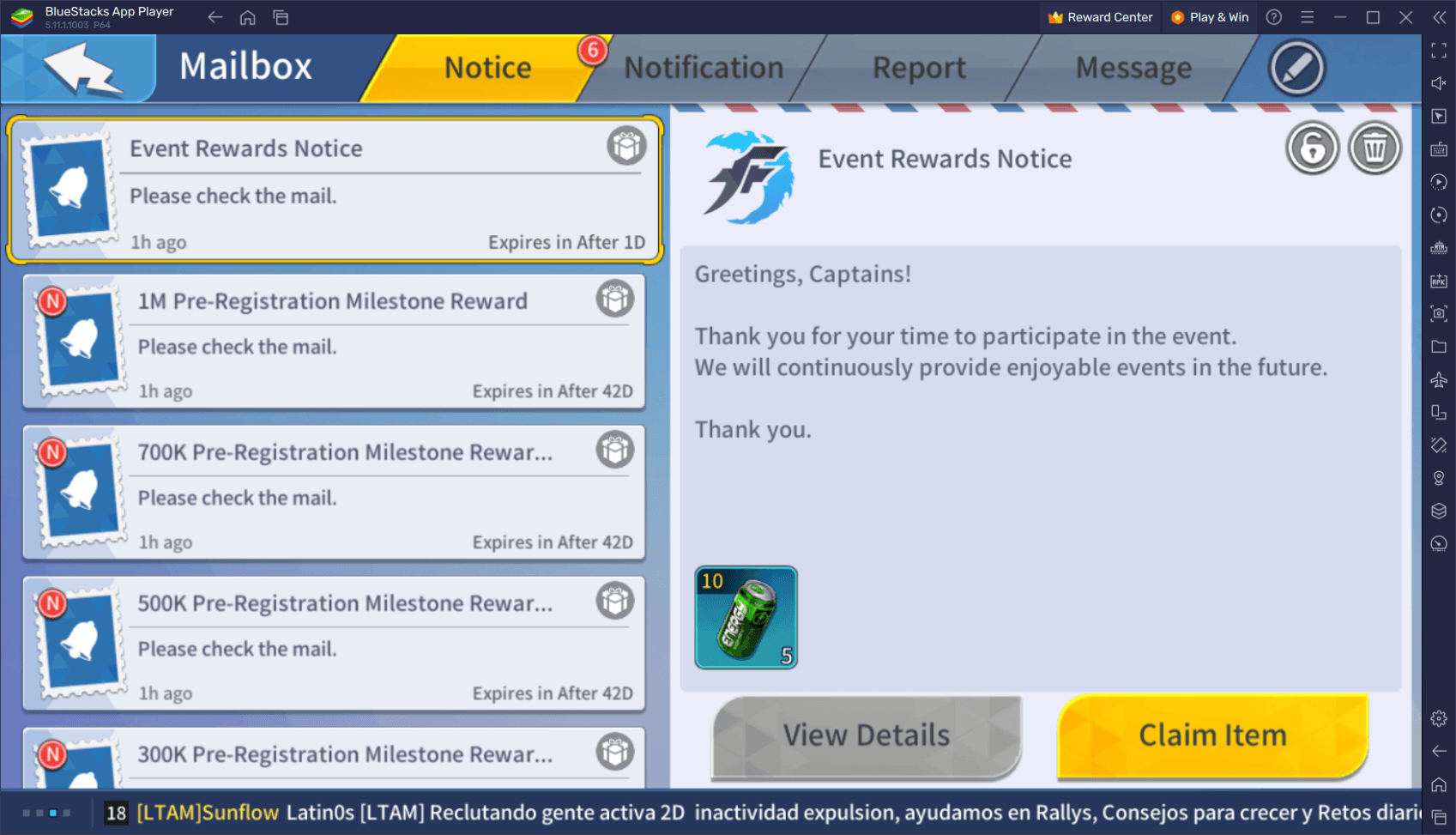 It goes without saying that, if the rewards you get from the Daily Growth missions are important for speeding up your growth, these pre-registrations rewards will absolutely help to give you the absolute best start in King of Fighters: Survival City. Just remember to pick them up from your inbox as soon as you get the chance.
Use Your Recruitment Tokens as Soon as Your Reach Chapter 4
While King of Fighters: Survival City is a gacha game, you'll need to actually progress through the story quite a bit before you get access to the summoning feature, through which you can summon and recruit new characters, which is bad news for those who were looking to reroll in this game. Nevertheless, the game gives you so many Coins for summoning characters through its pre-registration rewards, that it's likely that you'll be able to get a decent beginning in terms of your starting roster.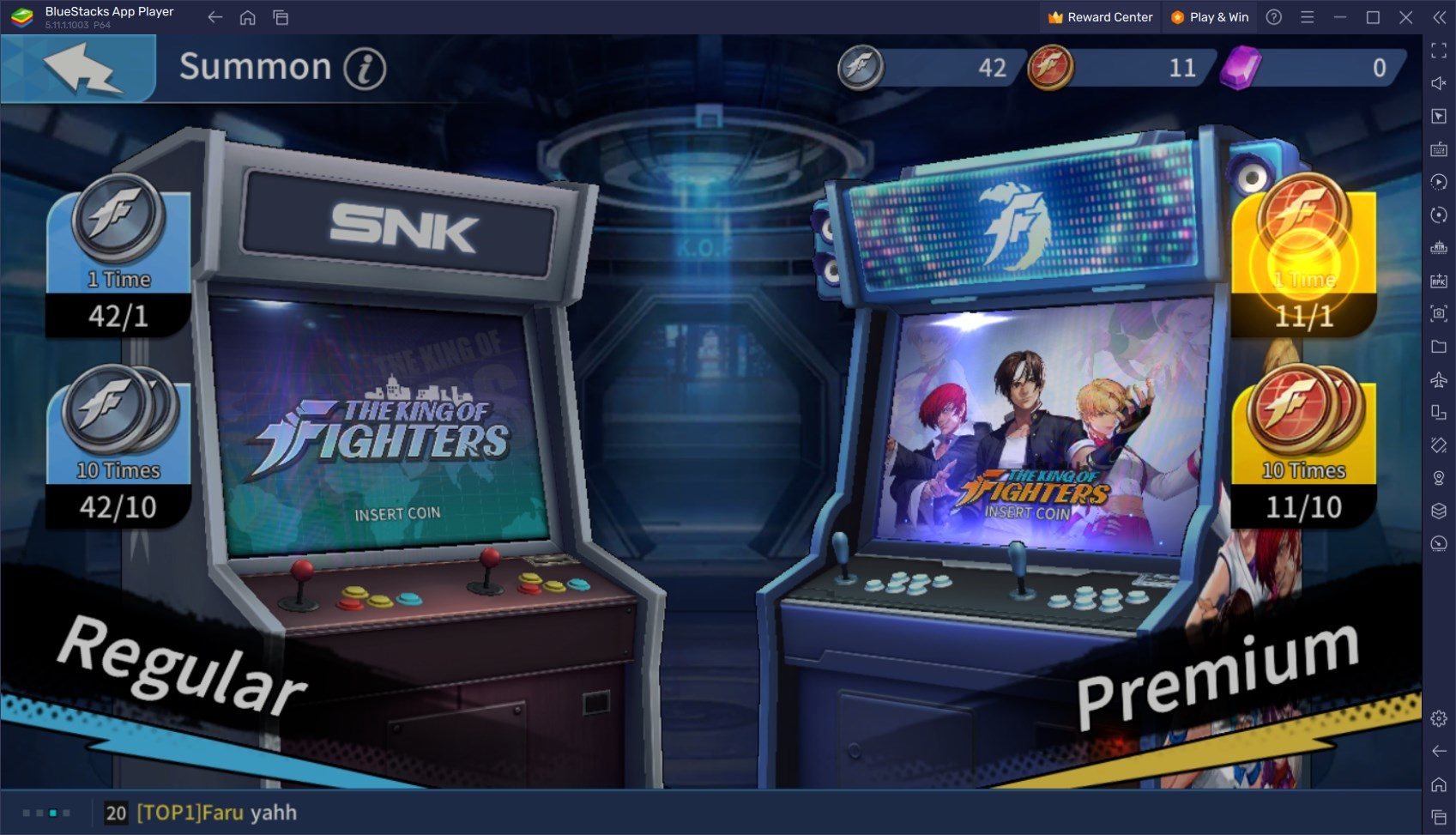 With that being said, we recommend rushing through the main story missions as fast as possible in order to reach chapter 4, in which you will unlock access to the summoning feature. And once you gain access to this aspect, we suggest dumping all your Coins on it. With some luck, you'll be able to score a top tier character or two, which will make it much easier for you to progress through the game's combat sections, and will also help to give you a leg up in the PvP scene.
While we can't recommend rerolling in this game, since it takes such a long time to complete every cycle, it's technically possible to do so. However, if you're thinking of rerolling in Survival City, we strongly suggest playing on BlueStacks, as our Android app player gives you the tools needed to play on multiple accounts at the same time. As such, you'll be able to perform double, triple, or more summonings, in the same time that it would take you to perform a single pull.
Check out our reroll guide for King of Fighters: Survival City if you want to learn more about this process.
Upgrade Your Building by Merging Two of the Same Type and Level
Survival City is a bit atypical in the way you upgrade some of your buildings. Case in point, instead of clicking on them and paying to upgrade them using resources, this game has merge mechanics that allow you to improve some of your buildings by merging two of the same type and level, much like a merge puzzle game. For instance, if you have two level 1 Shelters, you can click and hold to drag one onto the other, which will merge them into a level 2 Shelter. This will change their production, while also possibly giving you access to better perks further down the line.
There are multiple buildings in Survival City that can be upgraded in this manner, which is something that you should consider doing. However, it's important to keep in mind that these upgrades have some drawbacks. For instance, while upgrading your shelters might give you an advantage in the future once you unlock troops in higher tiers, each upgrade will also slightly reduce their current troop production. On the flipside, since you're merging two units into one, you now have more space in your city to build another Shelter, potentially bumping up your production if you have the resources to build more instances of the same building.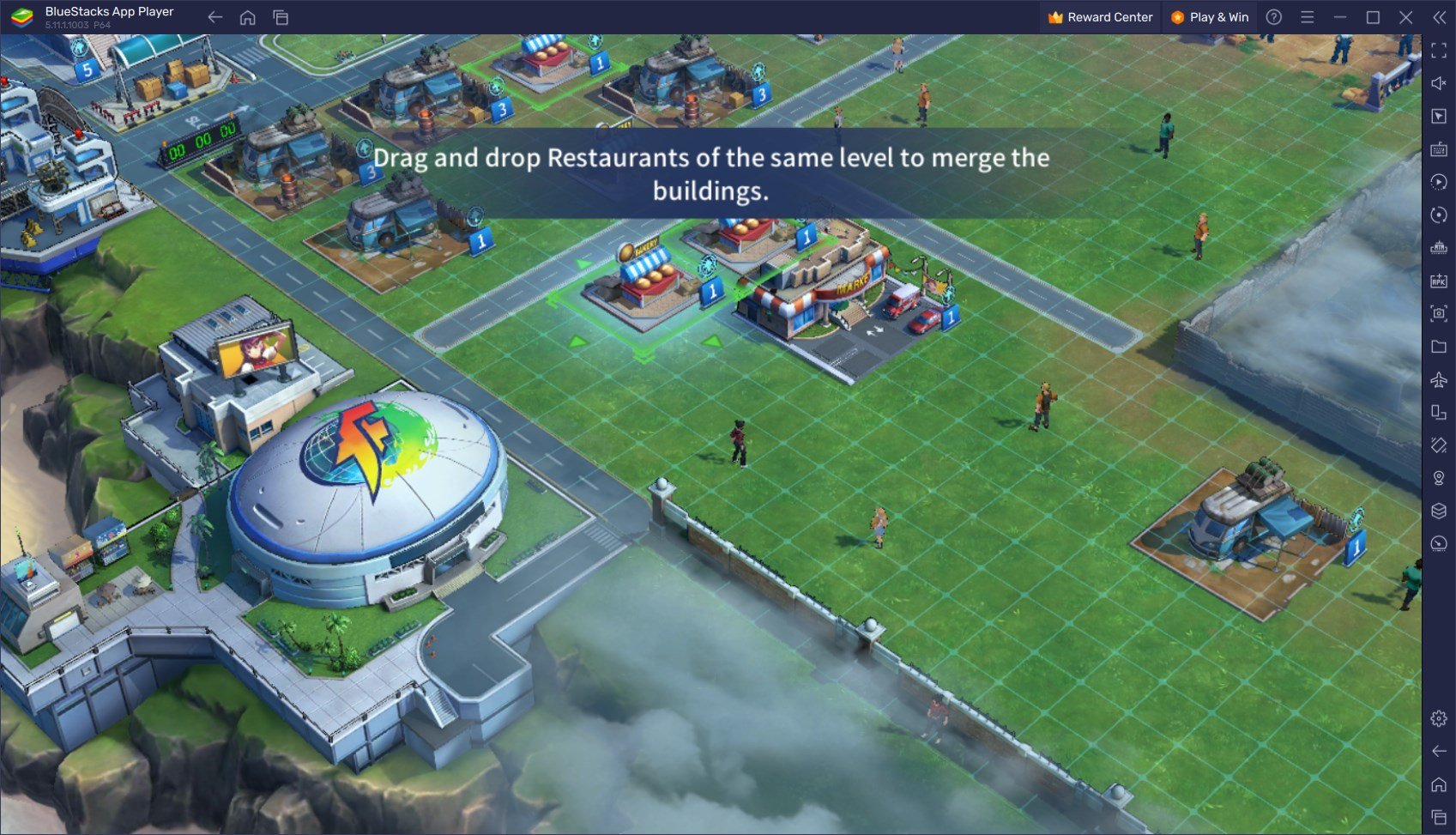 While we recommend always merging your buildings when you get the chance, you need to consider the drawbacks of performing this task, and whether or not it's worth it for you in your current circumstances.
These are just a few helpful King of Fighters: Survival City tips and tricks that can help you get started on the right track. Feel free to share your own pointers in the comments below to help other fellow readers out!