Game Guides
How to Play Land of Empires: Immortal on PC with BlueStacks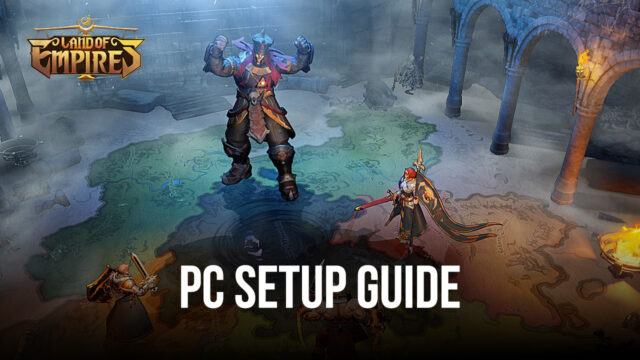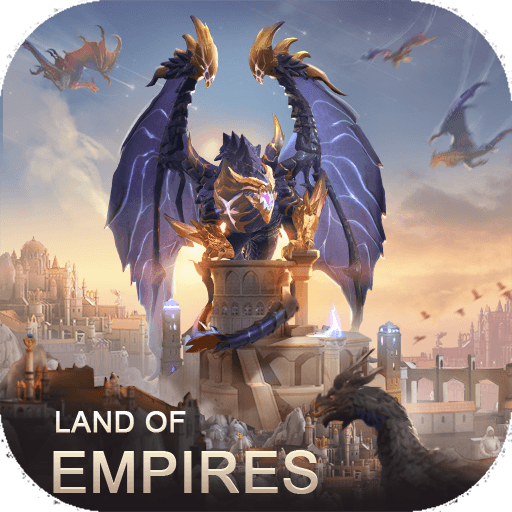 It's about time you play Land of Empires: Immortal, a new real-time strategy game set in a war-torn world filled with familiar gods, goddesses, and other mythical characters that will help you in your adventure or stand in your way from the path of righteousness. It's time for you to create your own empire so that you can build a grand army that can defeat any threat that stands in your way. This game uses all the best features of an RTS with the help of epic storytelling to give it the spice it needs to separate it from the rest.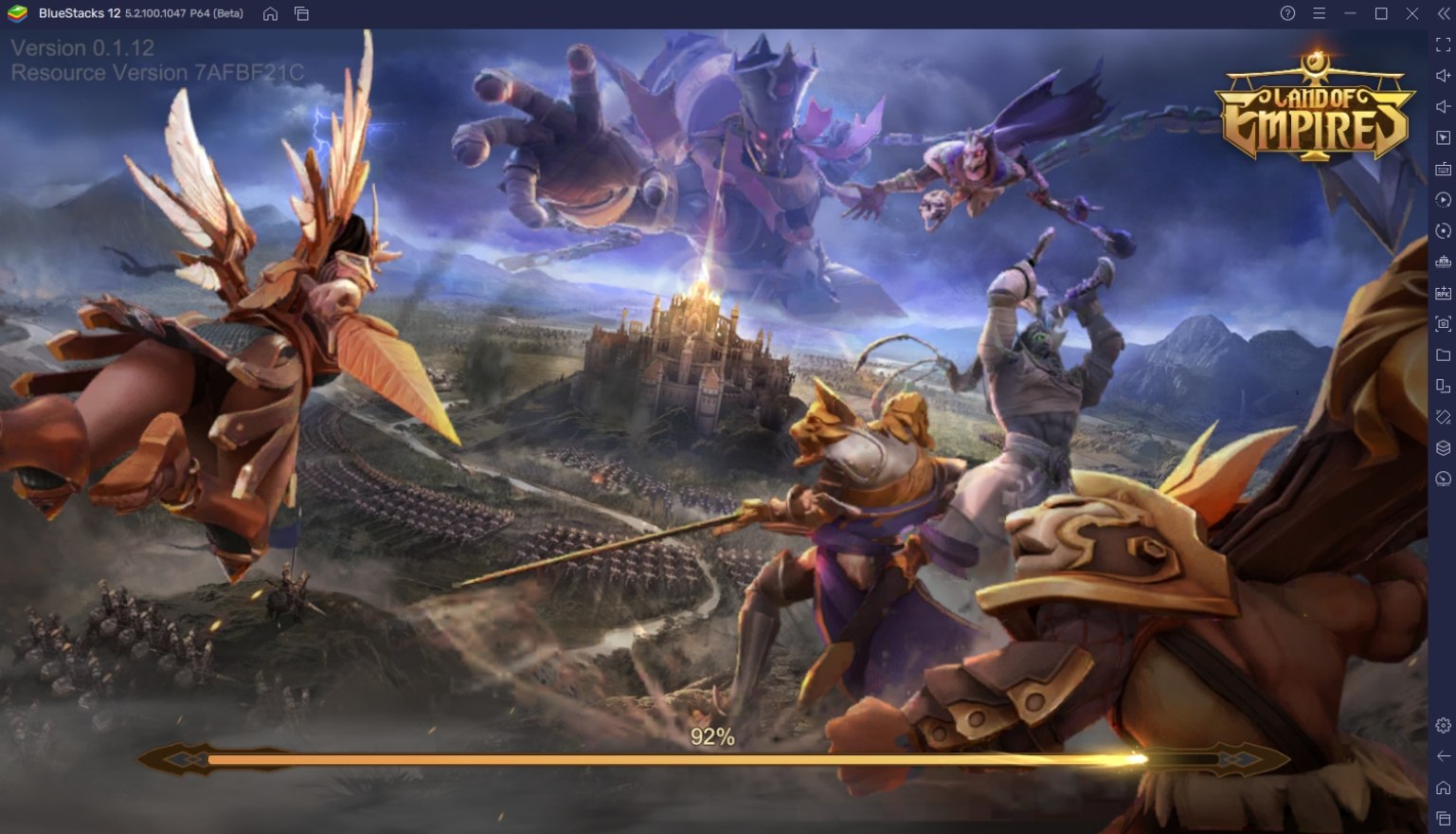 Land of Empires: Immortal is a real-time strategy game. You are now in charge of rebuilding an empire from scratch by constructing and repairing buildings, managing resources, and training and maintaining your troops. Epic heroes stand by your side that will command your army and help in the management of your kingdom. You can choose to be a kingdom that focuses on either economy or military, depending on how you want to approach the vast multiplayer feature of this game!
How To Set Up Land of Empires: Immortal on BlueStacks
RTS games have always been a genre that was best played in the PC. Whether it was traditional titles or those that you could play on your browser, every real-time strategy game that had made a huge impact in the industry has always come from the PC platform. While most mobile games don't have a port on the PC, BlueStacks allows for a seamless transition that allows you to enjoy any Android game on your computer.
To install Land of Empires: Immortal on your computer, please follow these easy steps: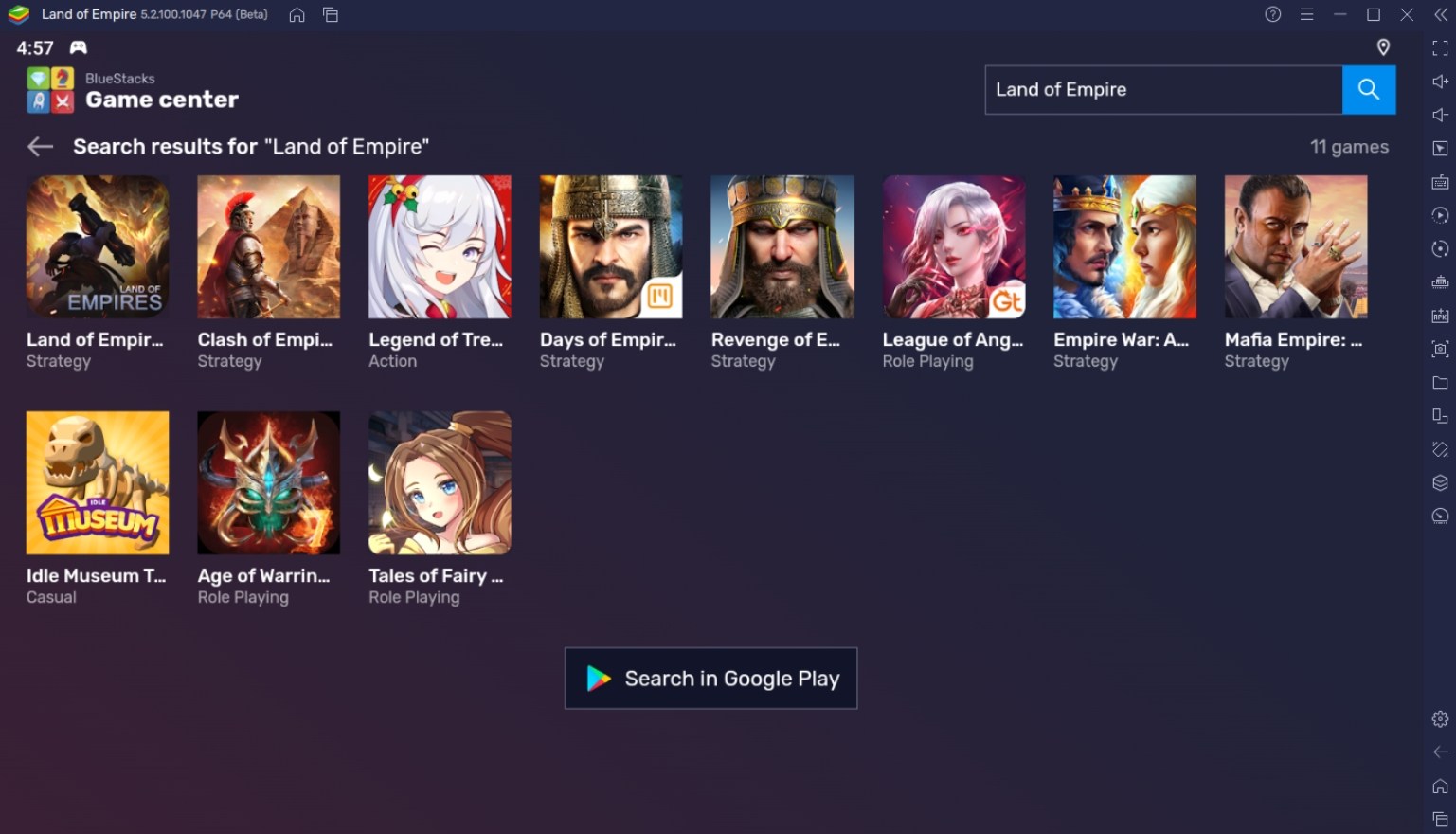 On the BlueStacks website, search "Land of Empires: Immortal" and click on the relevant result.

Click on the "Play Land of Empires: Immortal on PC" link on the top left.

Download and Install

BlueStacks

app player on your PC.

Click on the "Land of Empires: Immortal" icon at the bottom in the app player.

Complete the Google Sign-in to install the game.

Click the Land of Empires: Immortal icon on the home screen to start playing.
Useful Features When Playing Land of Empires: Immortal
Playing Land of Empires: Immortal on BlueStacks isn't just a simple "play on PC" transition. BlueStacks separates itself from other Android emulators by having state-of-the-art features that accommodate everything that gamers need to have the best experience when playing their favorite titles. Here are some of the best features that players can enjoy when playing on BlueStacks:
The Multi-Instance Function allows players to open a separate window where they can open another game at the same time. If you were playing on your mobile phone, you'd have to exit the game and open another app, which can be a bit of a hassle. This way, you can always monitor and carry out activities freely while you play other games. You can play several Android games at the same time without worrying about forgetting one or the other after playing your favorite games.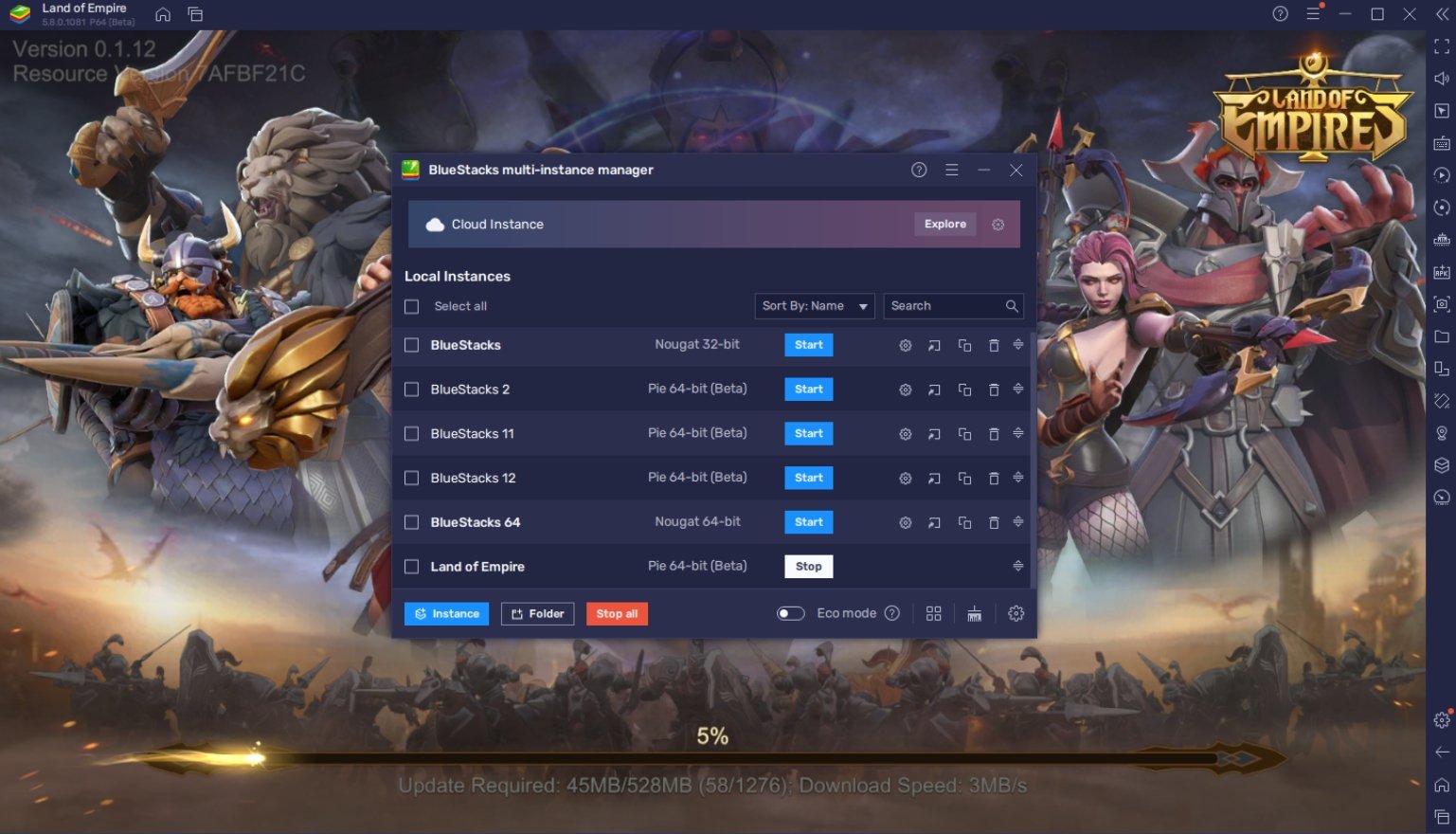 Land of Empires: Immortal isn't a game that's filled with action-packed gameplay that will keep you glued to your keyboard and mouse while you're playing the game. It involves a lot of waiting, so players are encouraged to play another game on the side or simply have this game running while you do something more productive. The Multi-Instance Function allows players to do whatever they want and even play other games if they're feeling like they need to maximize their play time.
The Macro Feature is a neat function that allows the player to create automatic commands that will help them accomplish repeatable tasks. This feature basically introduces an auto-play function to any Android game by recording a series of actions made by the player and replaying it at a later time. This is good for players that don't want to replay daily tasks in their game.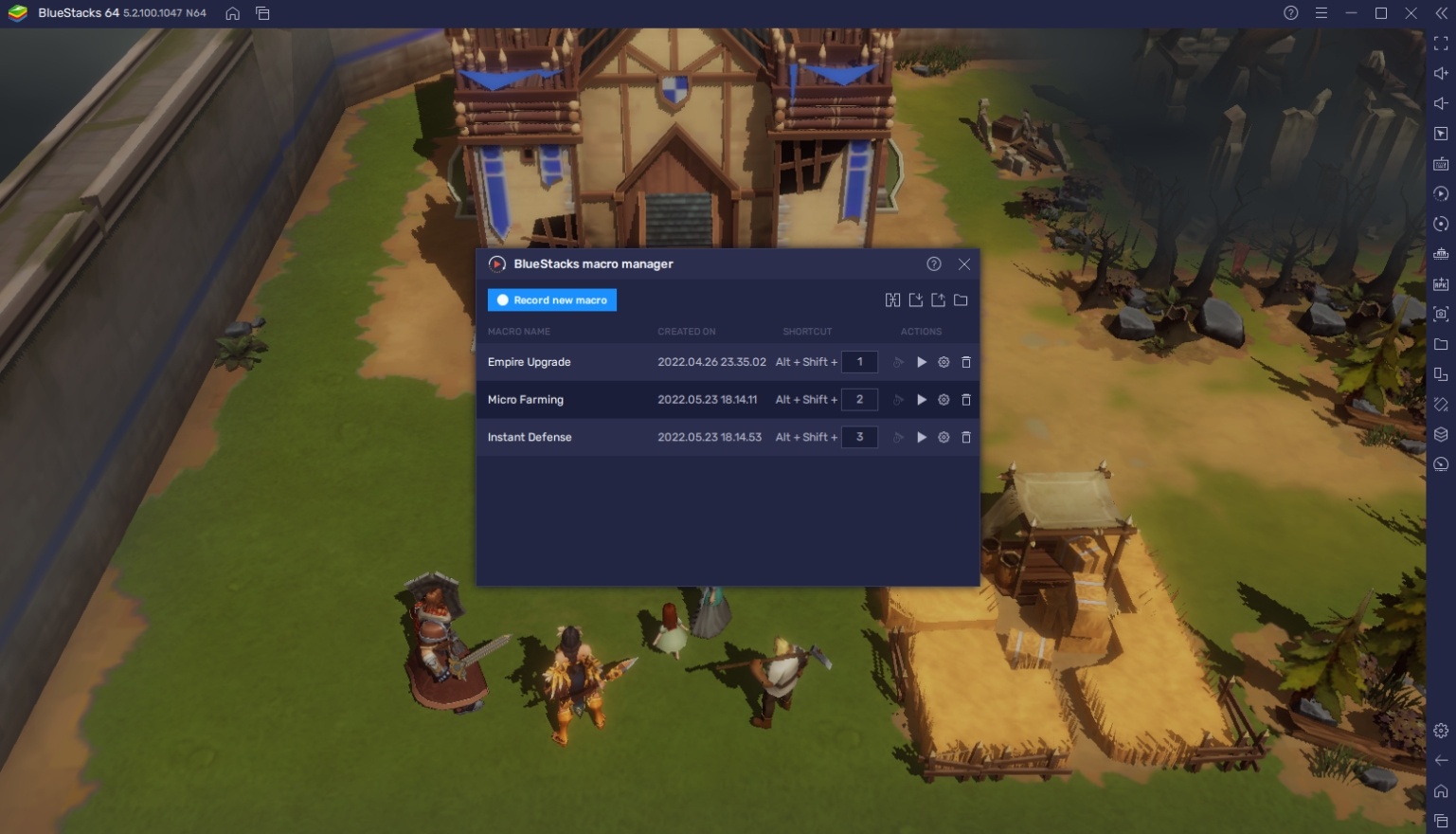 The Macro Feature is good when playing real-time strategy games because this genre rewards players that can min-max their actions. Unfortunately, humans aren't machines that can accomplish a task automatically at every moment. However, the macro feature can do exactly that so that extremely competitive players can create their own set of commands that ensures their empire is always ahead of the competition.
The BlueStacks Eco Mode is a power-saving tool perfect for idle and management games that spend most of the time being open in the background. This function basically reduces any idle instance's processing requirement by a lot so that you can open more applications on your computer and continue with the work that you're currently working on.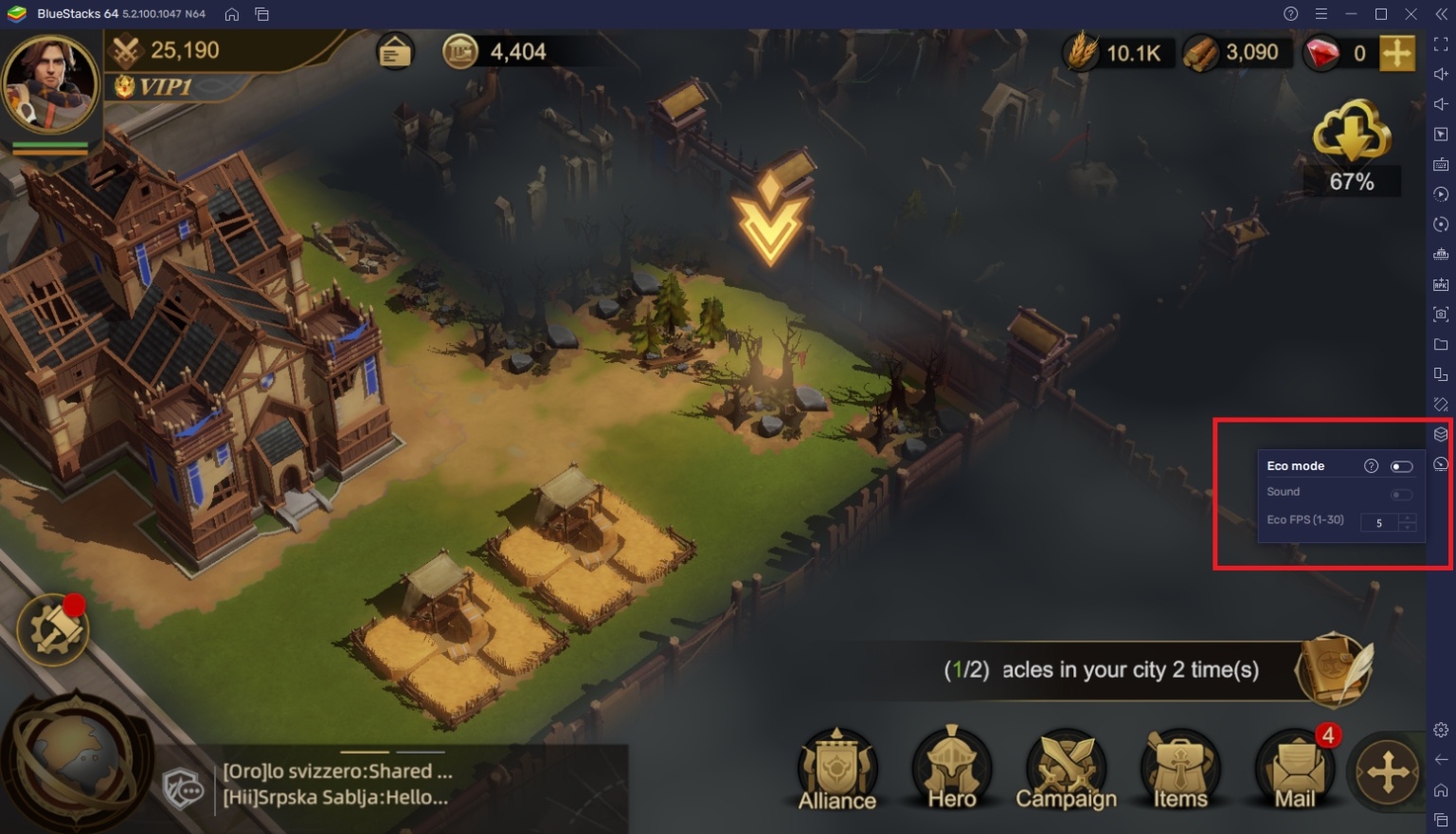 Land of Empires: Immortal is the kind of game that doesn't let you do much, but it's better left open on your computer so that you can manage it better. Even if you're doing nothing, it can still consume a lot of energy so it's a good idea to have the Eco Mode active while you leave it on the side. Activating this feature won't hinder your gameplay, but at the same time prevents you from processing unnecessary data that can make your computer slow down.
Build a Grand Empire Today!
Building a strong empire isn't easy and takes weeks of dedication to accomplish. There are a lot of strong players that will compete for supremacy, each making sure that their kingdom is always one step ahead of their opponents. The strong may survive long enough to reach the game's conclusion while the weak are sure to be culled early into the game. Ensure your future by becoming one of the strongest empires on the server!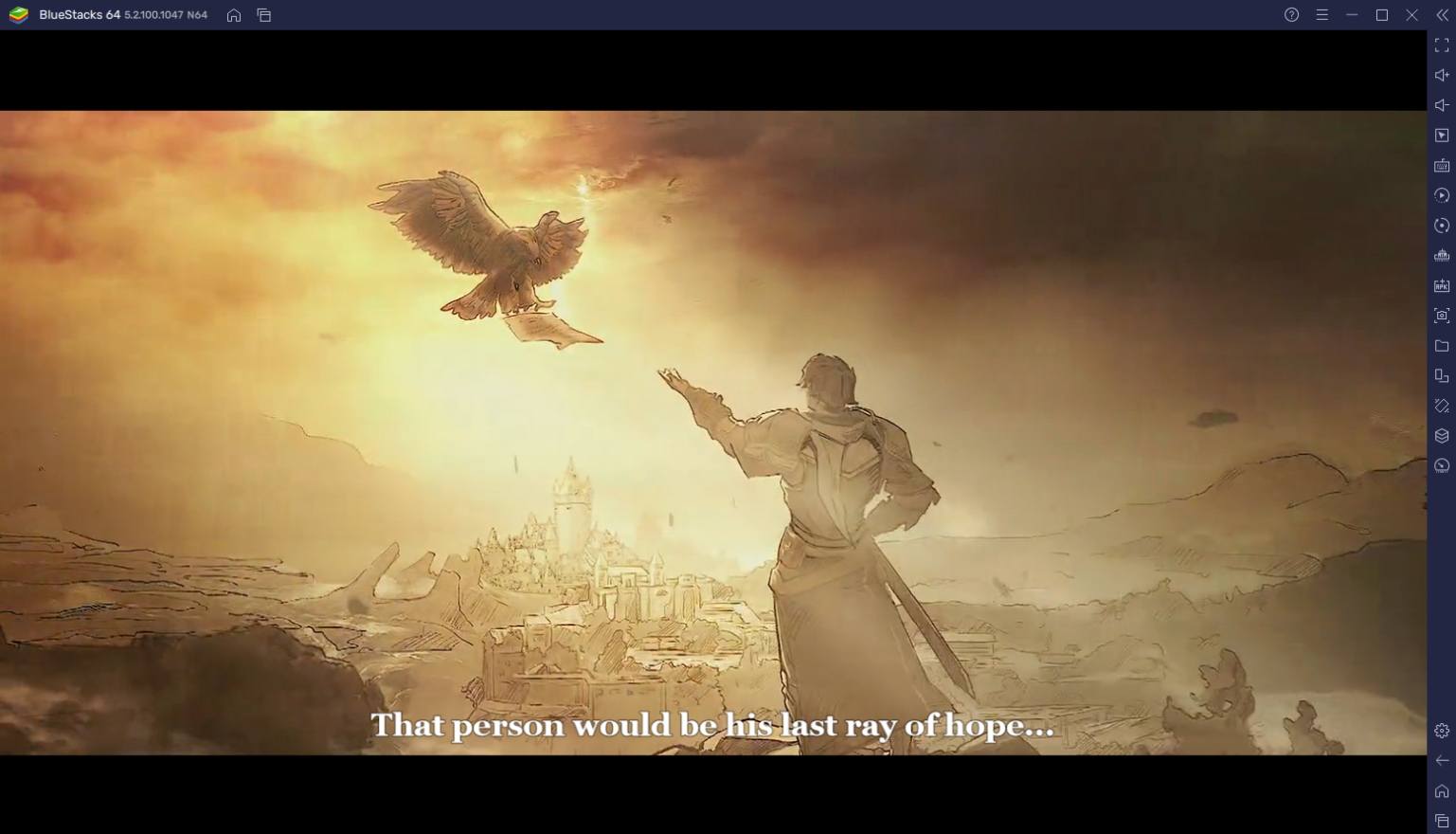 Beginners may have a hard time learning the ropes, but BlueStacks will make sure that you have everything you need to become a competitive player. Follow us for more tips and tricks that will help you learn about the fundamentals of playing RTS games competitively and some secret tricks that will help you succeed in Land of Empires: Immortal!