Game Guides
Legends of Runeterra on PC – How to Win New Cards and Expand Your Decks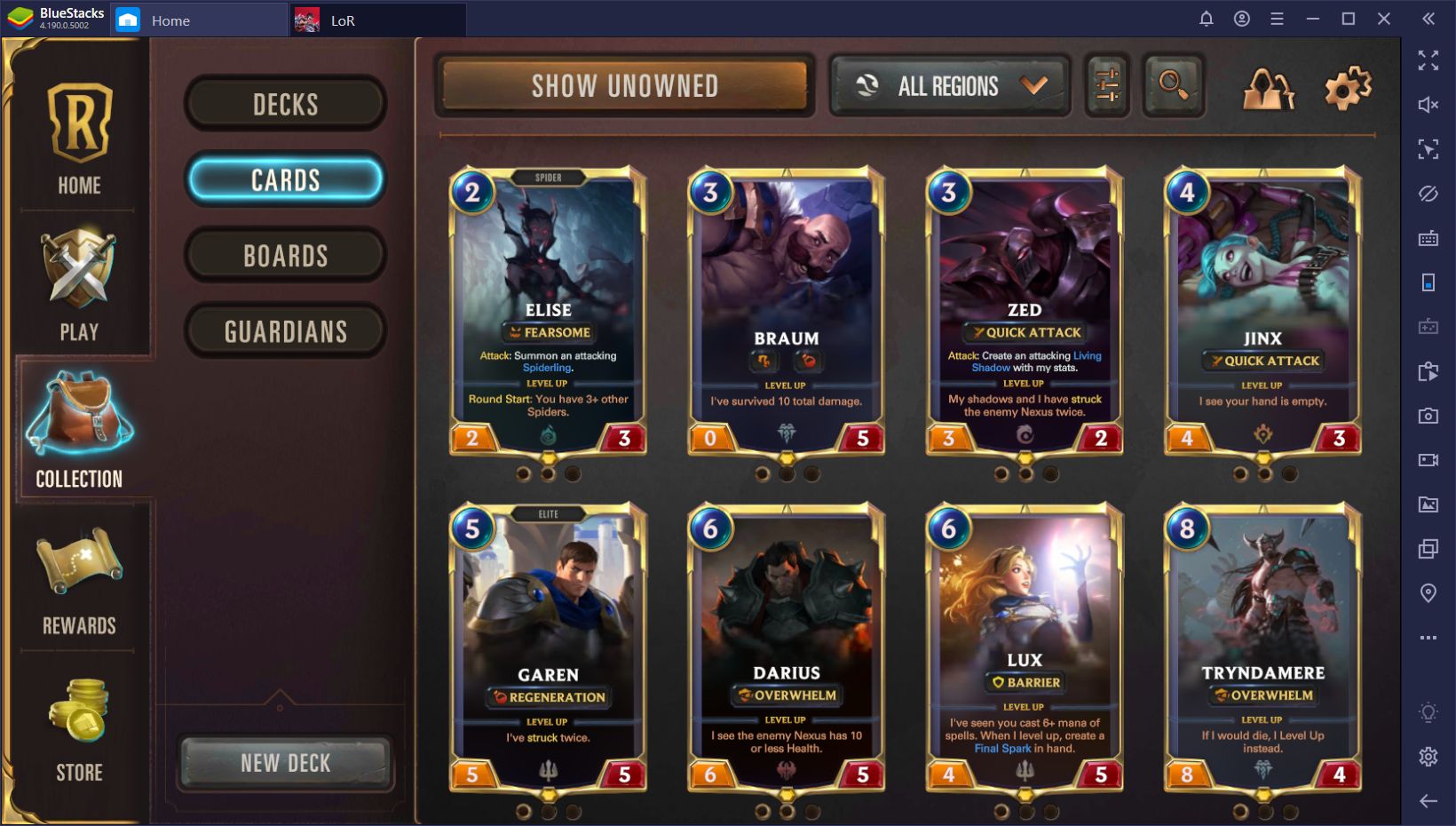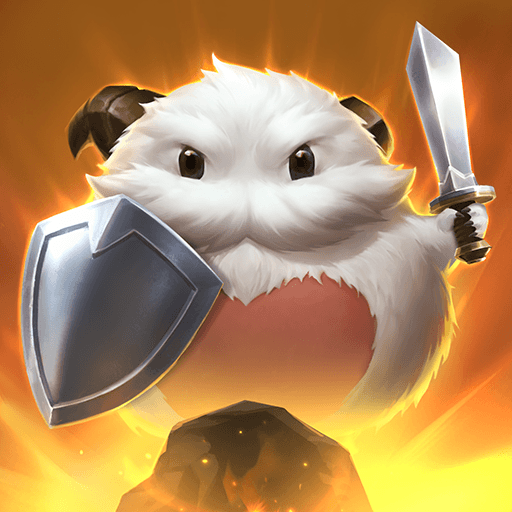 Like in many gacha games in the market, the joy of playing trading card games goes far beyond that of the standard matches and gameplay. Sure, outsmarting your enemies with superior strategies is good and fun, but there's also a point to be made for collecting every single card in the game before content updates roll around and add even more of them to the catalog. Not only do you have tons of fun working to complete your collection, but you'll also expand your repertoire of available cards, which will allow you to experiment with all kinds of decks.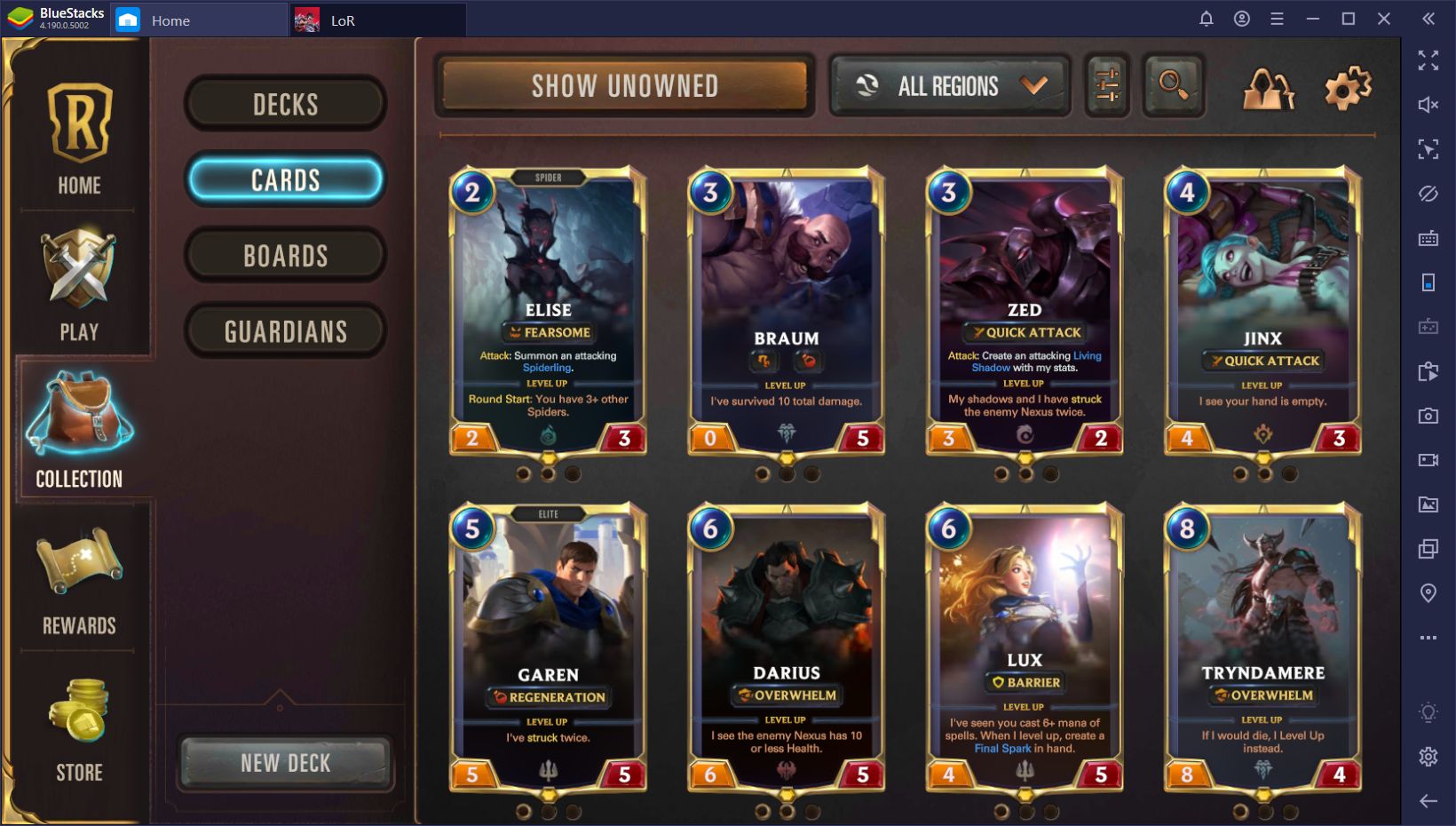 However, as is the case with even the most popular card games, Legends of Runeterra makes it a bit difficult to farm new cards, especially since the most effective way to go about it is simply by dropping real money on the store. There's actually a really good Starter Bundle on the store worth $5, which contains 66 cards, 11 from each region, including 6 commons, 4 rares, and 1 epic for each one. Considering that a single epic card goes for around $1 in this game, this bundle has a lot of value.
But don't worry, if you're not interested in spending money on this game, there are also a few ways you can score some free cards in Legends of Runeterra.
1. Completing the Prologue
First and foremost. As soon as you complete the tutorial and gain access to the actual game, you'll be presented with a set of quests in the "Rewards" tab. These initial quests encompass the prologue in Legends of Runeterra and are designed to help you get acquainted with the game's mechanics.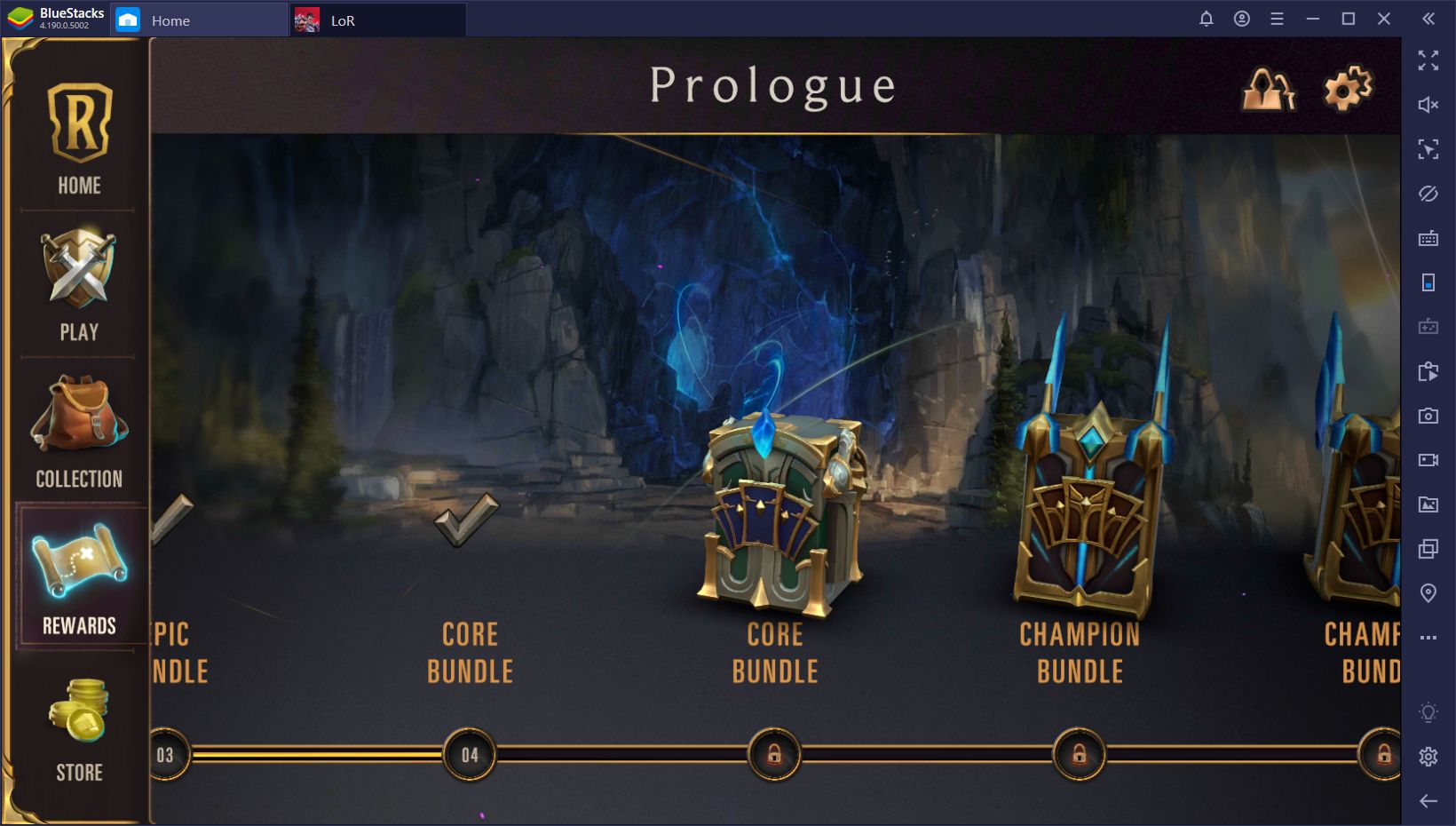 Even though we've already explored the basics of Legends of Runeterra in another guide, we suggest going through these prologue quests regardless since they reward you with plenty of bundles that contain loads of awesome cards. If anything, completing the prologue quests is a good way to get started in this trading card game, regardless of whether you're a newcomer or a seasoned vet.
Keep in mind that, once you complete the prologue, the rewards section will be changed to a "region rewards" category, where you can select which specific region to work on. By completing quests here, you will be able to level up the selected region and receive relevant rewards. At level 4, you will get several wildcards, while at level 8, you will receive a random champion card. In other words, a good idea is to reach level 8 with every region.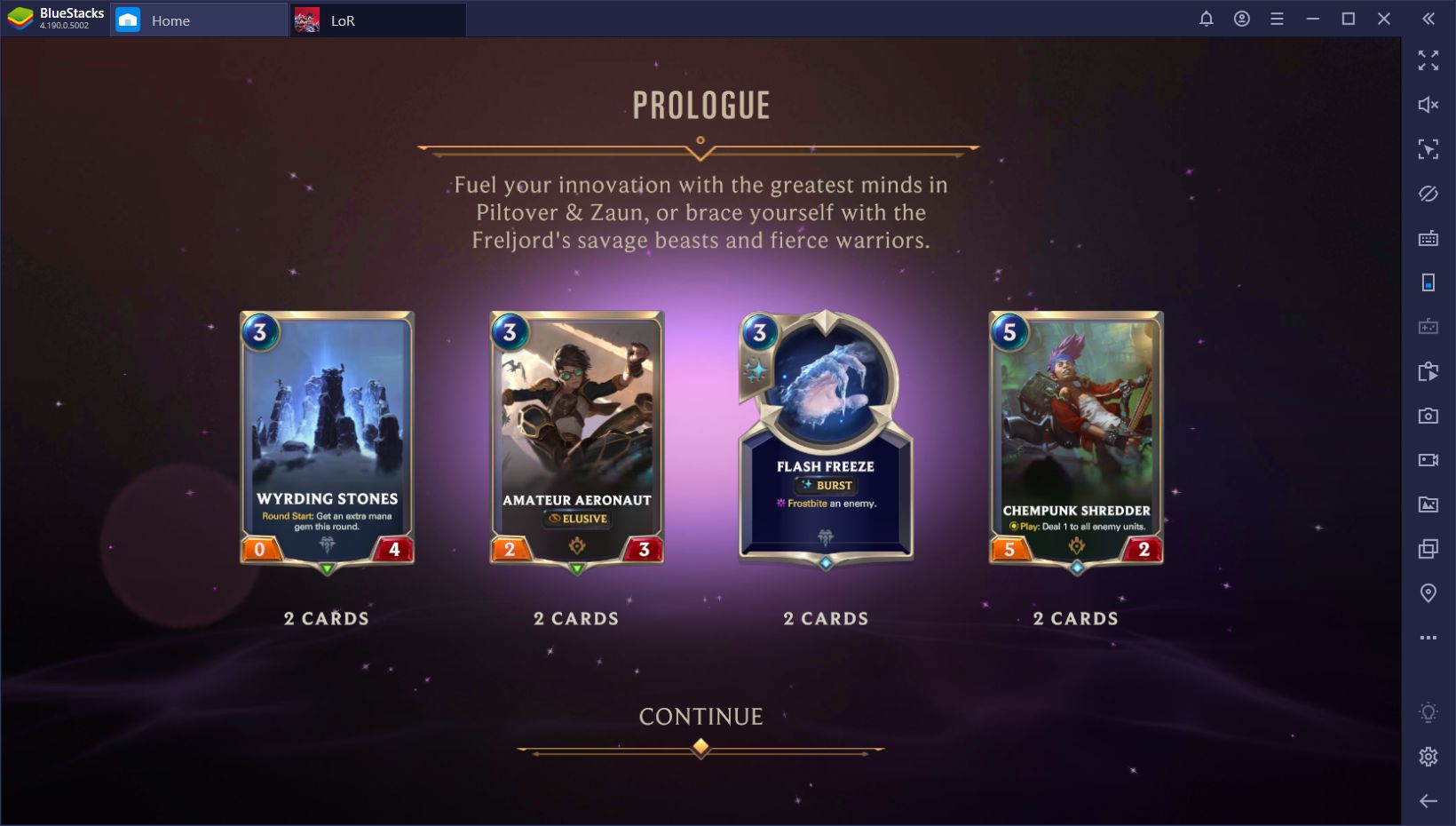 2. From the Weekly Vault
Just like with the quests you complete in the rewards section, you will accumulate weekly progress by playing the game as you normally would. Everything you accomplish in Legends of Runeterra will go towards the weekly vault and, once enough progress has been made, you'll be able to open up to three boxes with randomized rewards.
This, alongside the prologue and quest rewards, are basically the best value when it comes to acquiring new cards in the game as they're completely free and can be obtained by simply playing the game.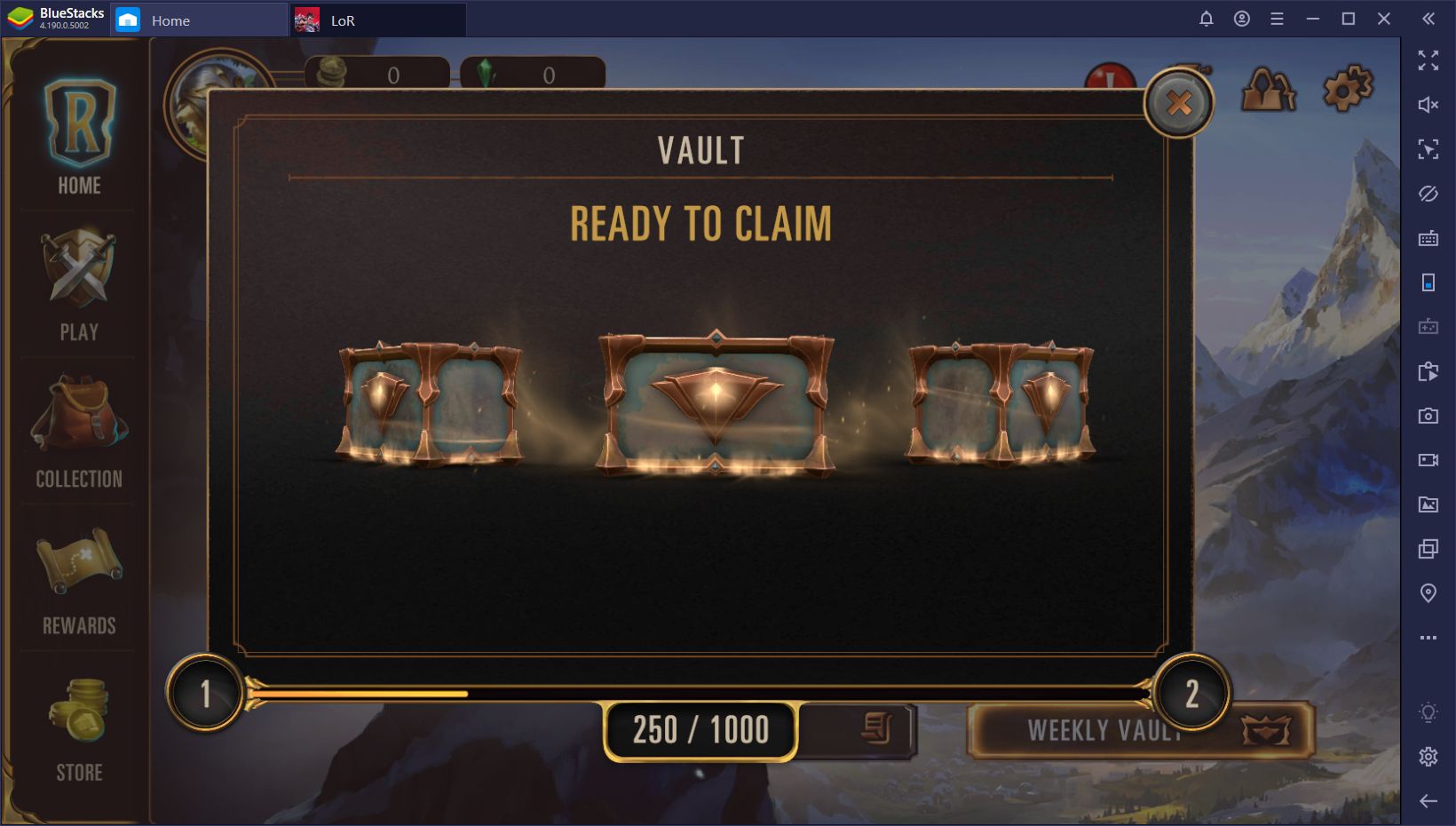 3. Craft Them With Wildcards
For those who want to play the store in Legends of Runeterra, there are ways to acquire new cards from this feature. Specifically, by purchasing wildcards, you can exchange these tokens for randomized cards of their corresponding quality—a common wildcard turns into a common card; a rare wildcard turns into a rare card, and so on.
You will need either coins or shards in order to purchase wildcards, which are the p2w and f2p options, respectively. The easy method is obviously for players to whip out the old credit card and purchase as many wildcards as they can. Luckily, there are limits to the number of cards anyone can purchase from the store using real money, which is aimed to prevent the game from becoming too pay-to-win.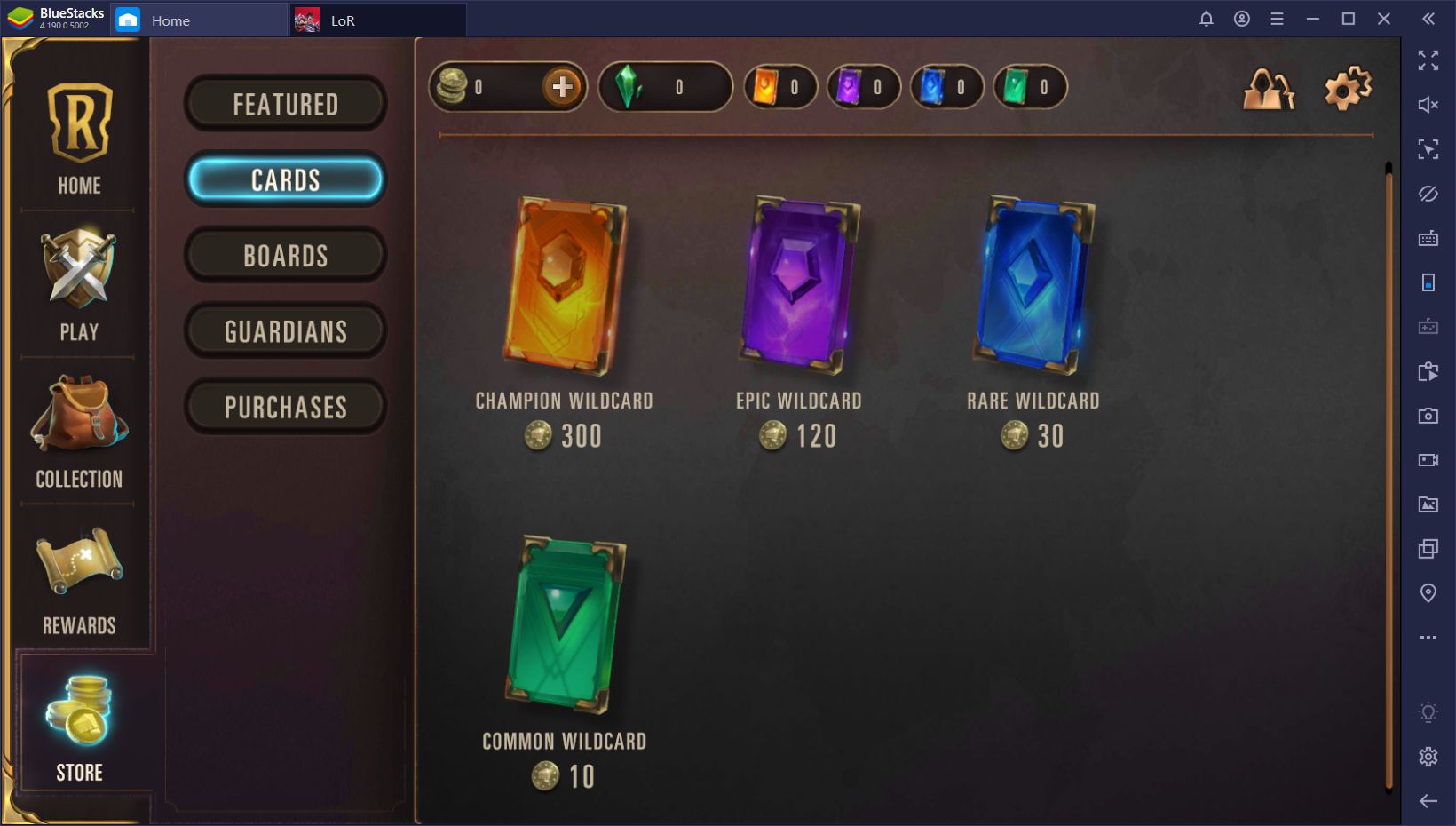 Shards are somewhat more difficult to farm, but you can still get a good amount of them if you play the game regularly. You can farm them from chests received as part of quests, or from participating in expeditions. Furthermore, if you receive a card that's already maxed out in your inventory, it will automatically be converted into shards.
The rate of conversion for cards is as follows:
Common: 15 shards, or 15% of the card's value.
Rare: 60 shards, or 20% of the card's value.
Epic: 250 shards, or 20.8% of the card's value.
Champion: 750 shards, or 25% of the card's value.
4. From Expeditions
Last, but not least, you can consider participating in expeditions, which grant you a bunch of rewards, including a whopping 4,000 shards for winning. This reward is enough to purchase quite a few cards from the store, should you choose to do so.
Expeditions are a series of draft matches where you must build decks out of cards that are provided to you, and then use them to win 7 matches. If you lose two matches, however, you're done. You will need an expedition token to participate, though. Luckily, all new players get one of those for free. Afterward, you will need to pay 200 coins or 2,000 shards for every subsequent attempt. Read more about the best champion cards in one of our previous articles.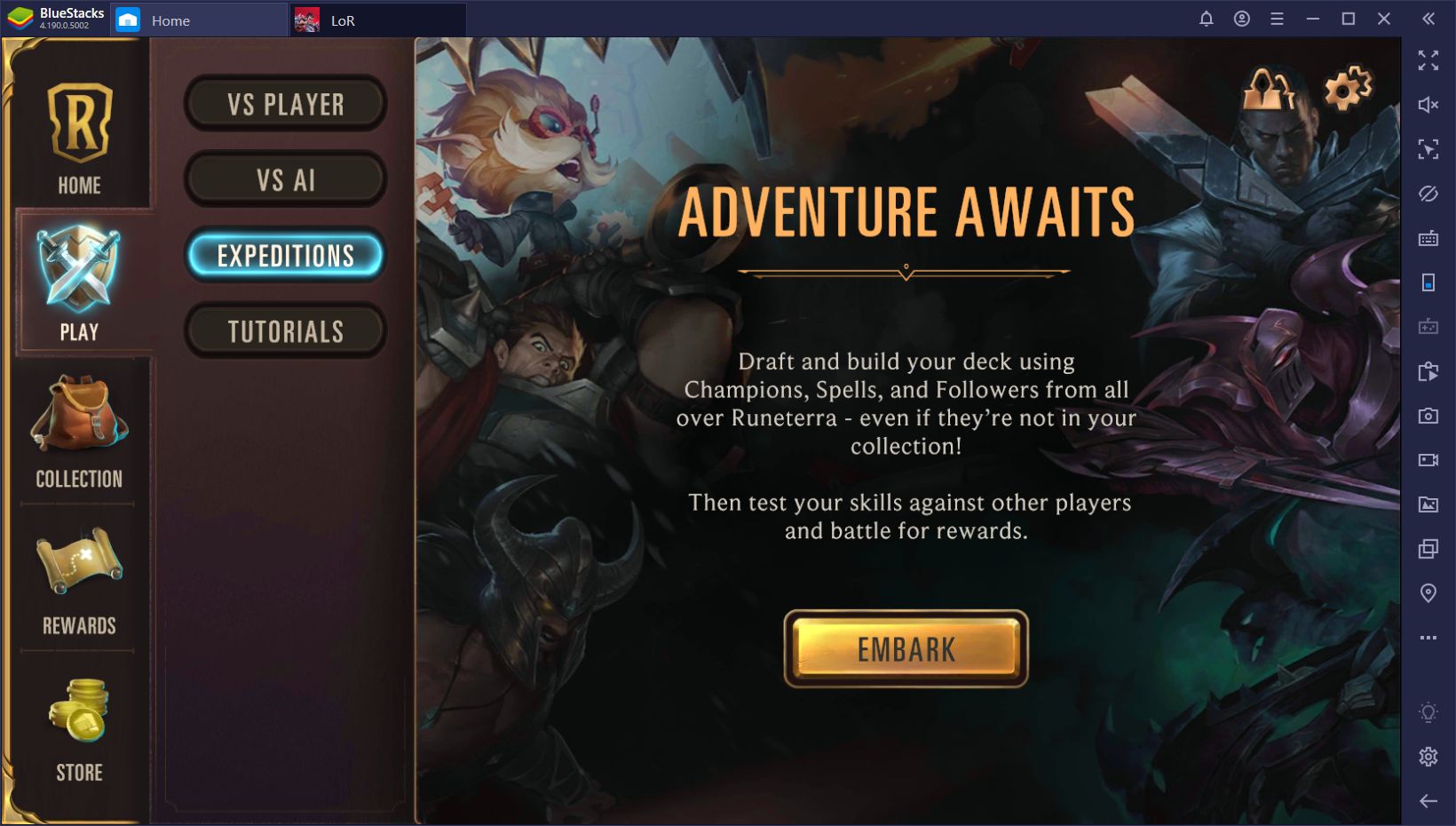 In short, as you continue to play, you will inevitably come across new cards in Legends of Runeterra. Nevertheless, if you want to speed up your collection process, the methods we listed above are among the best of the best.