Game Guides
Banish Evil in Light Chaser with BlueStacks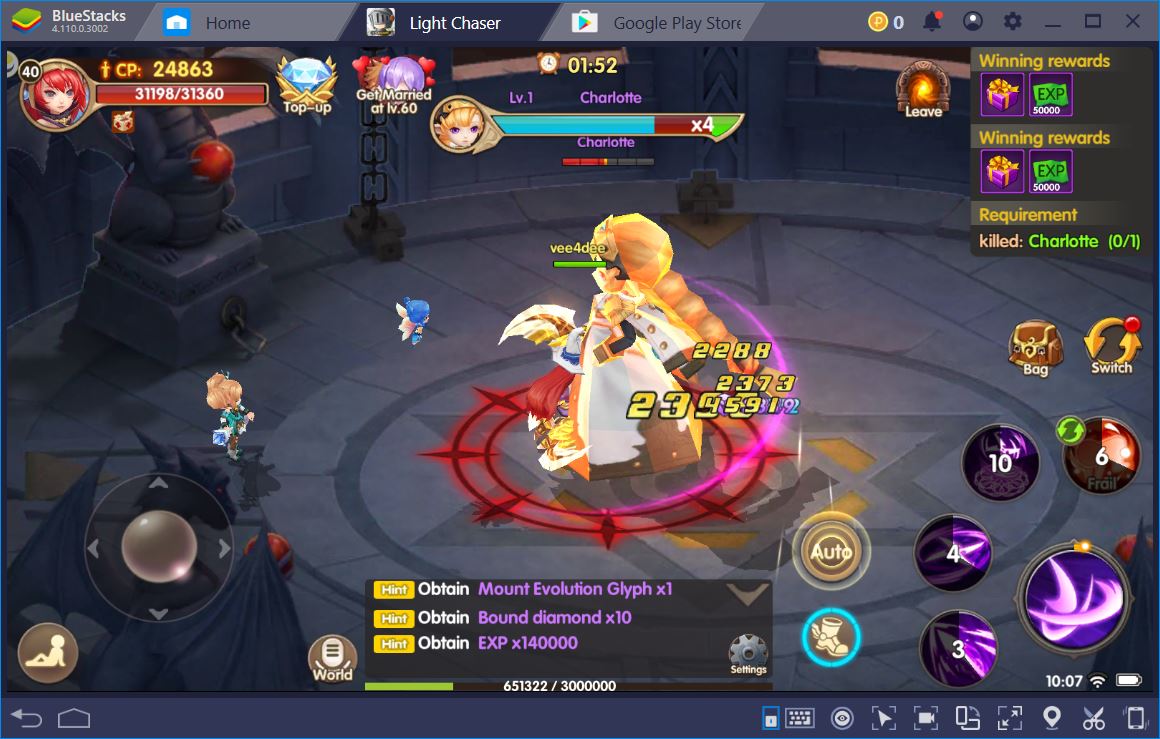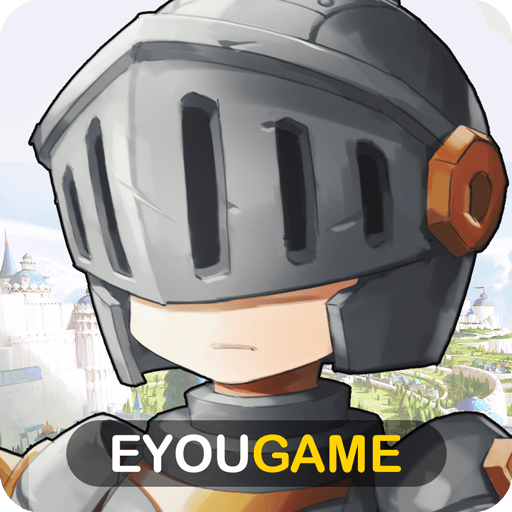 Although by no means a new MMORPG, Eyougame's Light Chaser continues to attract a strong player base, partly thanks to the well-known recipe employed by the developers. It feels familiar and comfortable – we've seen in Luna's Fate, as well as in Dark Domain, both of which are outstanding titles. However, this does pose a problem for Light Chaser. Is it distinct enough from its sister games to be worth playing?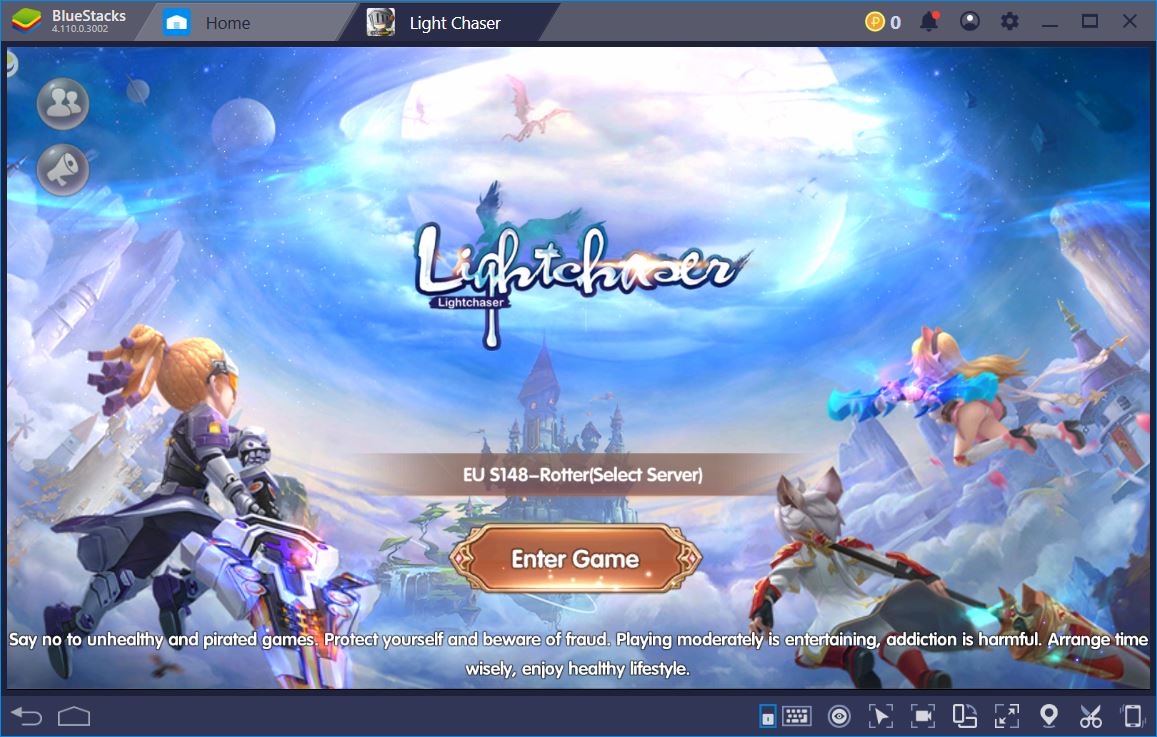 We're used to the character development, gear transformation, sidekicks, and social interaction of the former two. Does Light Chaser innovate the formula in any way? We believe it does. And it all starts with the story of the game world.
A World in Ruins
Lorraine is a continent plagued by an evil lord and his horde of demons. You, one of three heroes with the power to challenge his supremacy, are now tasked with banishing evil from the world. By no means a complex story, Light Chaser's tale still holds enough promise for us to engage with the game universe.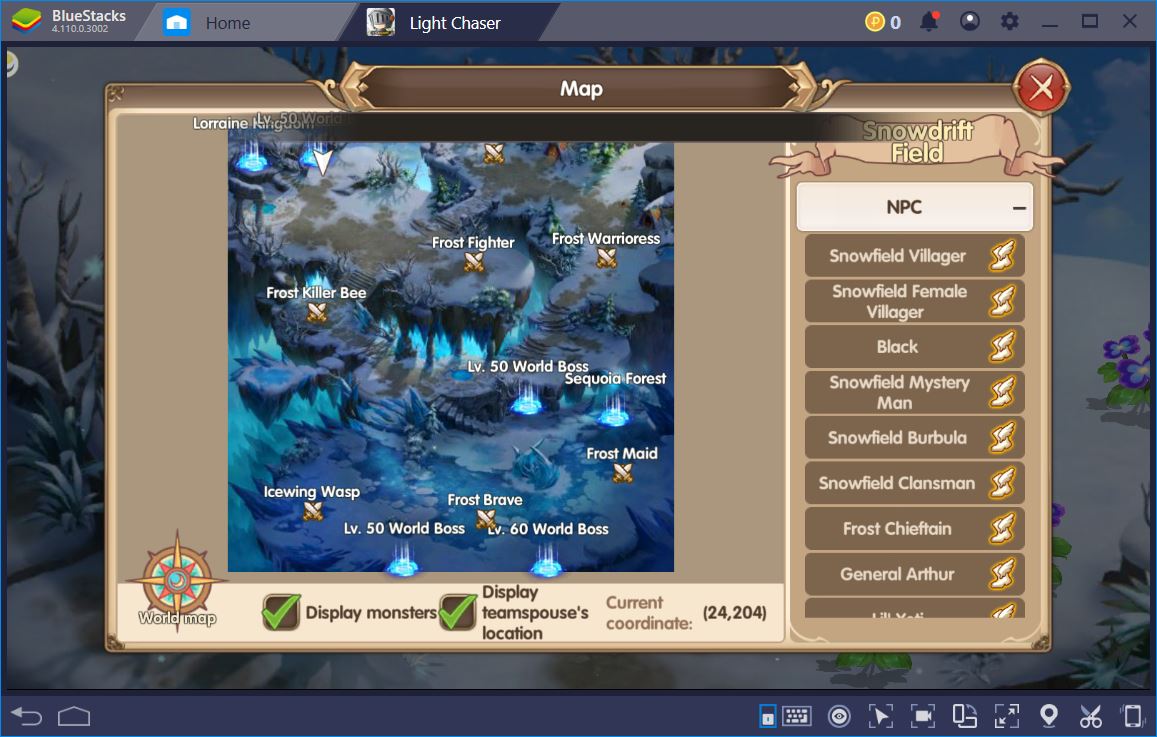 The class you chose has somewhat of an impact on the way you play, but it does not ultimately lead to a different experience of the game. If you don't mind investing some real money, you can switch over to either of the two other heroes at your own discretion. Currently, you can choose to be either a Knight, a Warrior, or a Dark Shadow (which is to say Assassin). Since we're always taking up the Knight role, we figured we'd do something different this time around and went with the Assassin.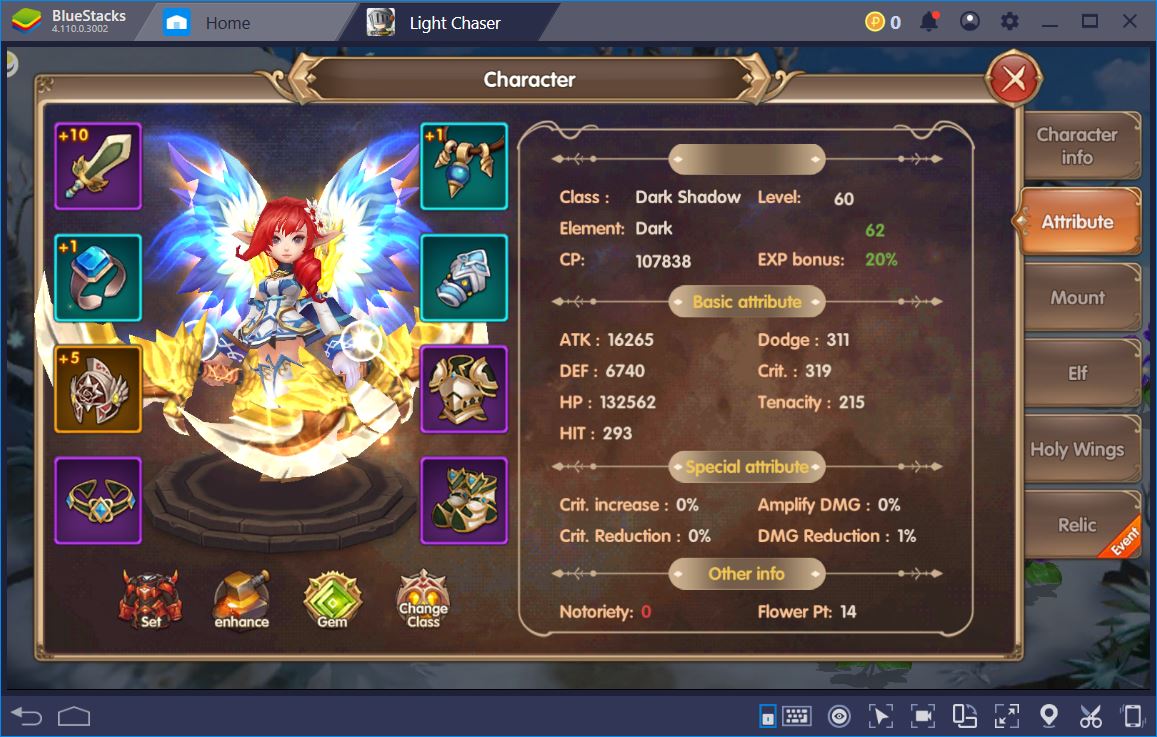 Despite the fact that Assassins are the most difficult class to play, they're also quite rewarding. What they lack in defense and survivability, they make up for in terms of burst damage and overall DPS. One thing we're definitely not pleased with is the fact that the classes are gender-locked. Fortunately, the Dark Shadow is also cute.
Protect Lorraine with BlueStacks
The amazing graphics of Eyougames' releases are often wasted on mobile devices that struggle with rendering the high-end textures. What's more, prices for the premium phones designed to run these games are increasingly higher, so players are often deprived of the enjoyment that comes with wonderful games such as Light Chaser. Luckily, you can play Light Chaser on BlueStacks and task your PC with the difficulty of representing the beautiful world of Lorraine to its full extent. No lag and no subpar graphics involved.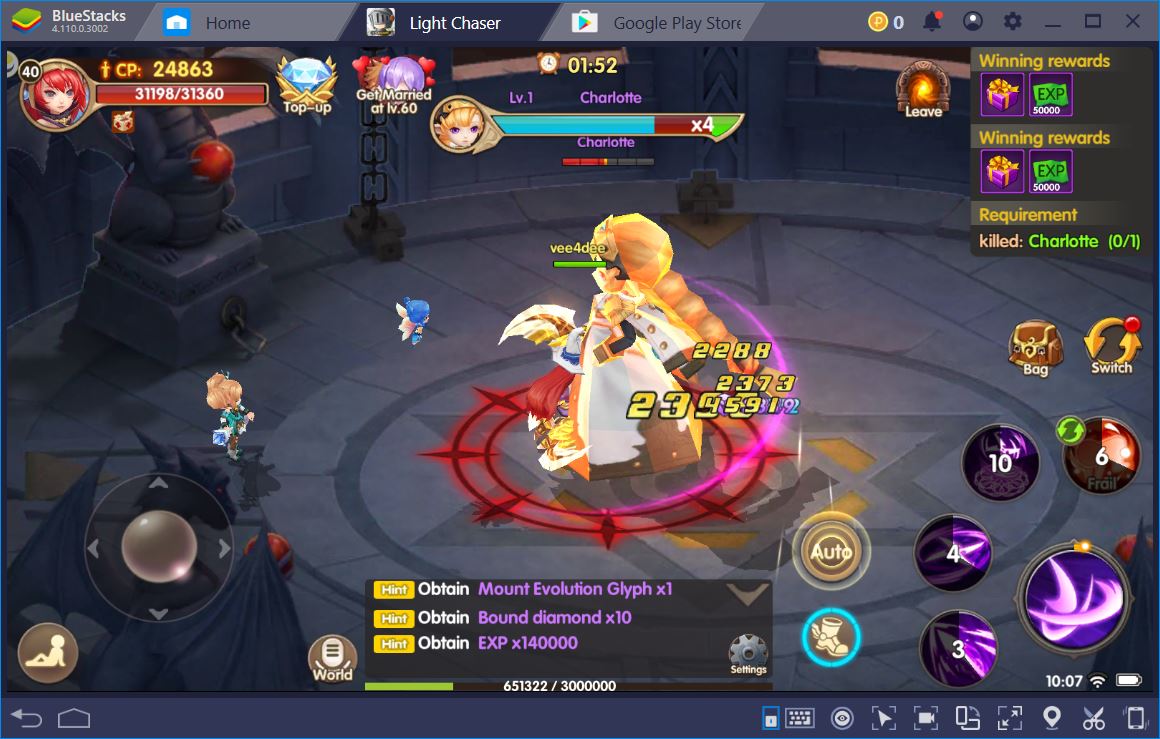 Much like in any mobile MMORPG, the auto-play feature will pretty much do everything for you in LC. At this initial point in the game, following the main storyline is your best bet, since it will give you immense amounts of experience. Throughout the first couple of hours, you'll get familiar with your class, as well as the overall game mechanics. In addition, you'll be joined in your adventure by a furry mount, your cute Elf pet, and a trustworthy Partner, all of whom will help you complete dungeons, activities, quests, and vanquish all evil from Lorraine.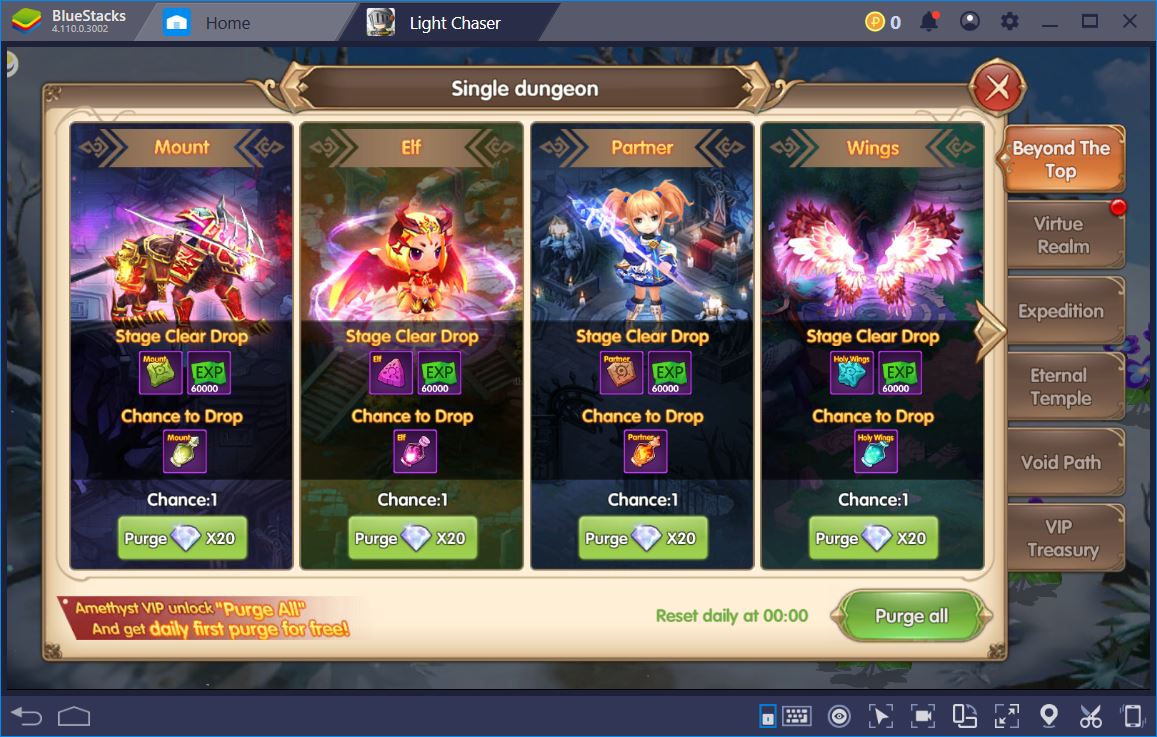 To streamline your experience of the game, you can count on the BlueStacks Keymapping Tool. The latter will help you play better and faster by using not only the mouse, but also keyboard shortcuts to make your way through encounters. For example, our setup includes using the WASD keys to move around, whereas our characters' abilities are assigned to keys 1 through 4.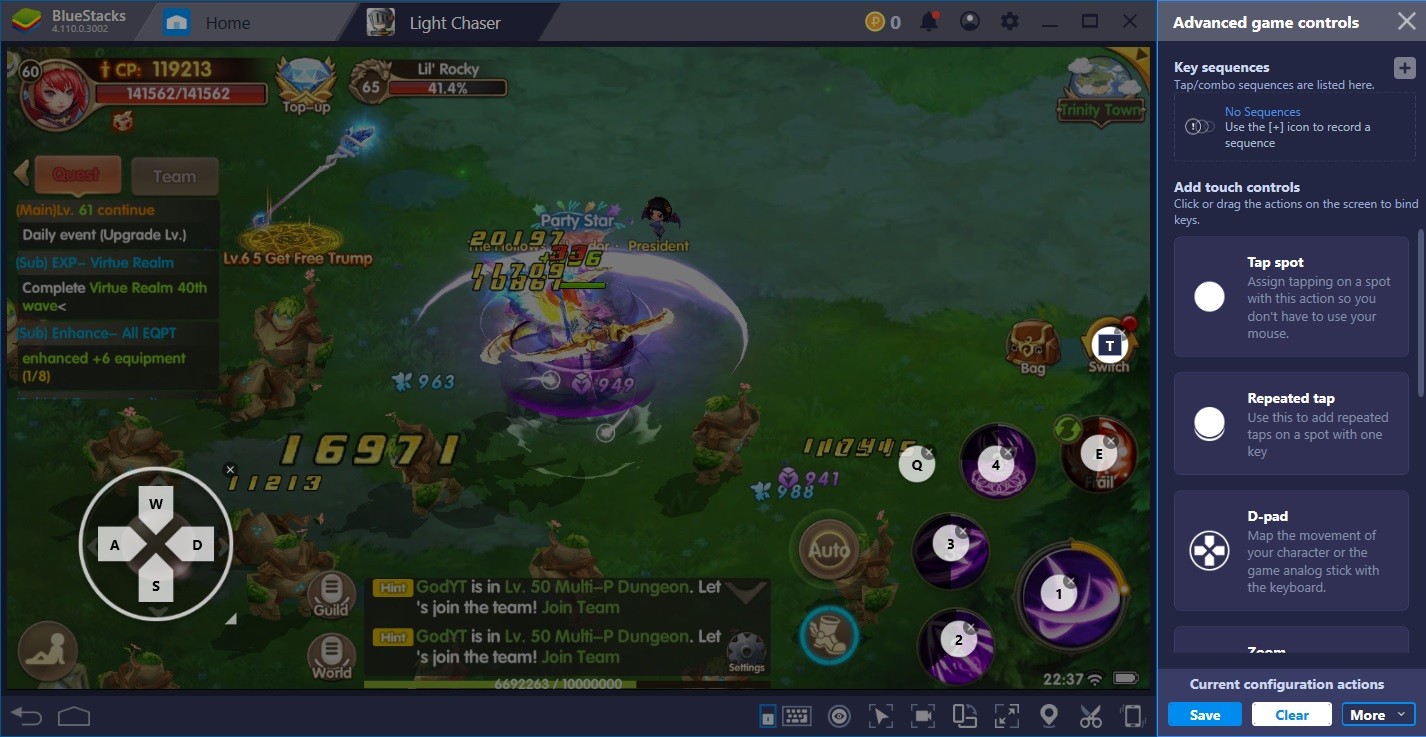 The Q key activates our special skill (the one that appears once your normal attack gauge is filled) and E has become our Ominous Curse, which is the Artifact skill. Because of the enhanced character control that BlueStacks offers, we now feel as if we're playing a regular PC MMORPG. However, you can always customize these key bindings to your liking. All you have to do is click the small keyboard icon to the side of the screen and select your own favorite controls.
Character Progression
Similar to Dark Domain and Luna's Fate, the true value of Light Chaser is revealed when you get into character customization and levelling. Your character's power, expressed in terms of a CP number, is directly influenced by your level, as well as by the upgrade stage of your gear, mount, pet, wings, relic, partner, artifact, and skill mastery. It may be a lot to take in to begin with, but, rest assured, you'll get used to everything in no time.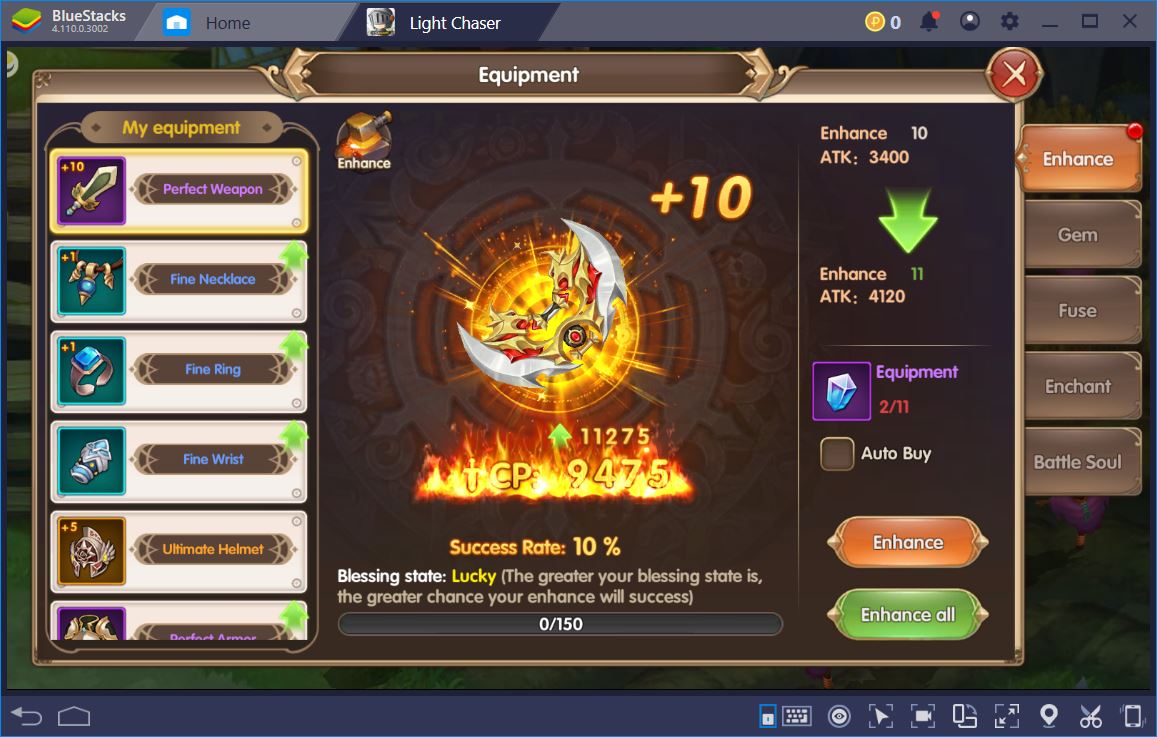 As you may have already intuited, gear is one of the best and easiest ways to increase your overall CP. Naturally, your mount, pet, and partner also have their own equippable gear slots. Unlike your character, each of these can have only three pieces at a time and the latter's impact on your overall CP is much, much smaller. For those who are fans of style, there are an abundance of costumes in various colors and themes to satisfy all tastes.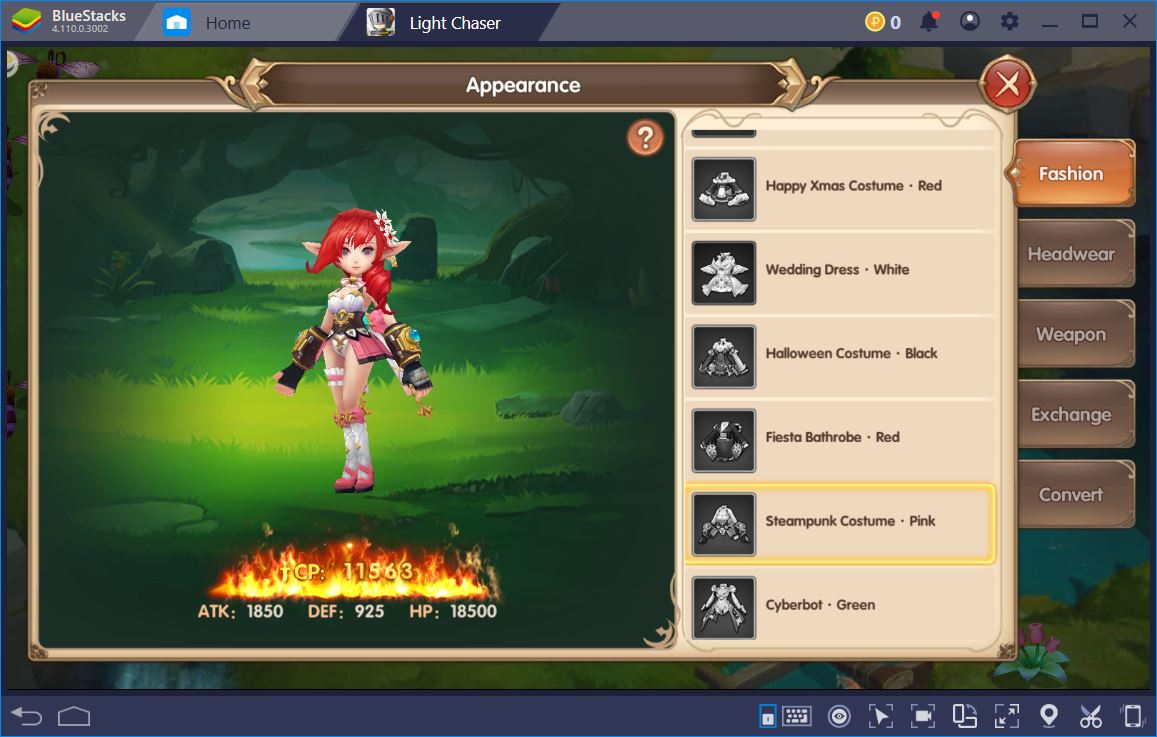 Social interactions through marriage, guild, and the party system make everything even more alluring. Sure, you'll have to farm a little, but you can do this easily by letting BlueStacks autoplay the game whenever you're busy doing something else at or away from your computer.
Fun Above all Else
If you're not having fun, then there's not much point in playing, regardless of whether you've invested money in it or not. We have the most fun when we team up with others, which is why we love the guild and marriage systems in Light Chaser. Guilds allow you to participate in group events and raids, while the marriage system can spice things up. You can farm dungeons with your significant other, profess your undying love, and benefit from a host of rewards in the meantime.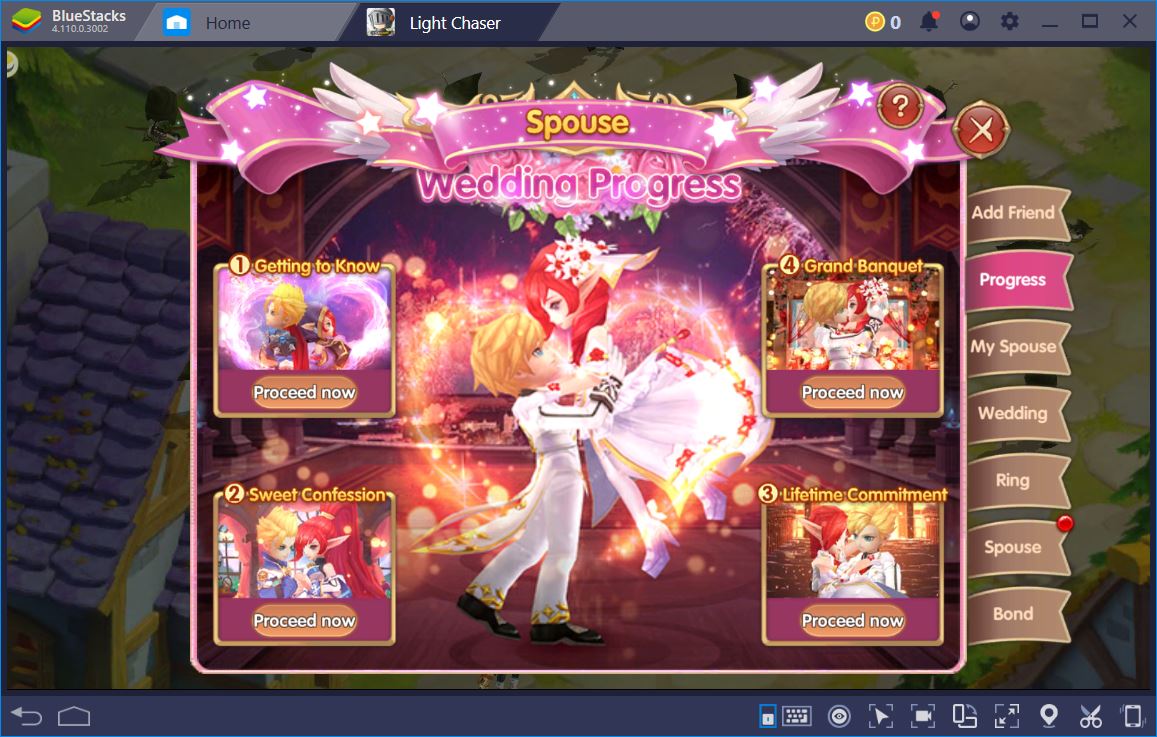 More importantly, playing Light Chaser o BlueStacks makes it possible to enjoy the game to its fullest, both in terms of visual quality, as well as when it comes to character control. Similarly to all Eyougames' releases, this title has a lot to offer in terms of simple entertainment and fun.