Game Guides
Lords Mobile: How to Get Free Gems?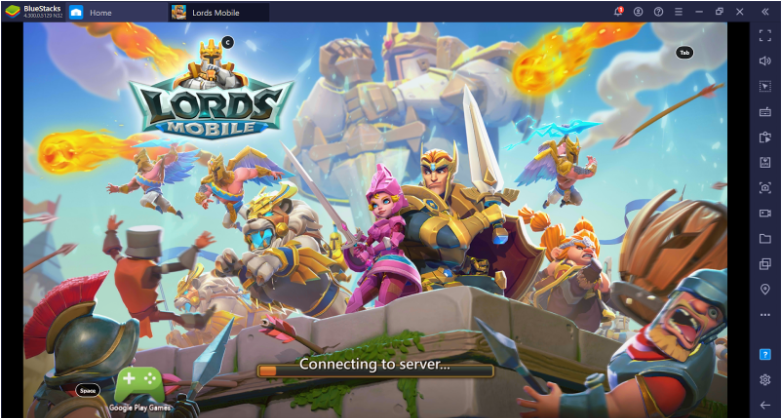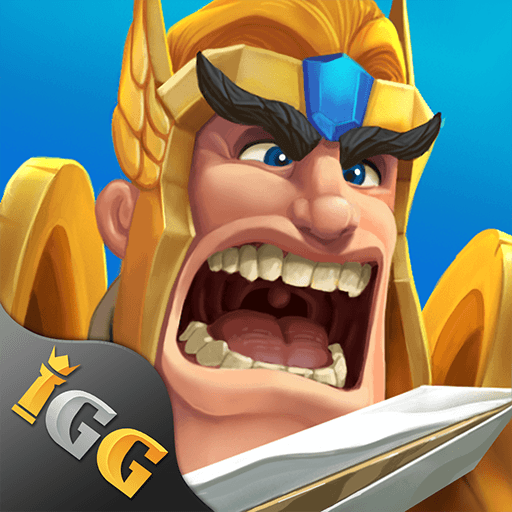 Lords Mobile is a free-to-play online strategy game where you form alliances and fight alongside your allies. You can experience the thrill of war as the armies clash to cause some severe destruction. Do you have what it takes to create an empire and conquer kingdoms? Then Lords Mobile is the perfect game for you. Prepare yourself to enter a world of mayhem in this RTS game. Recruit heroes from various backgrounds, train your troops, battle your way to the top, and conquer the world to become its undisputed "Lord." The experience gets even better with the BlueStacks Android Emulator as it gives you complete command of the controller settings alongside a bigger screen to enjoy 3D graphics to their fullest.
How to Get Free Gems?
You need gems to do almost everything in Lords Mobile. They are the game's premium currency and equally hard to get. You can either spend real money to get these gems to upgrade your kingdom or use shrewd tactics that'll help you secure free gems.
Here, we list down the best ways to pocket free gems:
Mystery Box
The Mystery Chests appear on the player's turf with a countdown just below it. There is a countdown of 1-60 minutes to open these chests. You can regularly open Mystery Chests in the game. They usually contain a small number of resources but occasionally also contain 50-100 gems. Although it is not a significant amount, it's free and can add up in the future. After opening 20 Mystery Chests in a day, you will get 5x rewards for the additional chest. The more Mystery Chests you collect, the higher the chances are of getting the gems. Try to collect as many Mystery Chests as possible daily.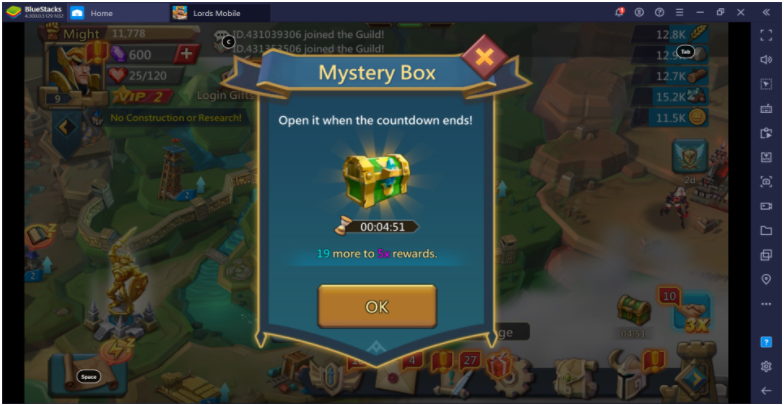 VIP Quests
VIP Quests are very similar to Mystery Boxes, but unlike Mystery boxes, you cannot open them frequently. To complete the VIP Quest simply open the VIP chest when it is ready. The players are given one VIP chest to begin with. Extra chests unlock depending on your VIP Level. You can open the extra chests at an hour's interval. You can increase your VIP level by logging into the game daily. This will help you get VIP points, which will surge up the VIP level. This chest typically contains few resources and gems equivalent to Mystery boxes. Prove your battleground prowess and reach a respectable VIP level to open more VIP Chests.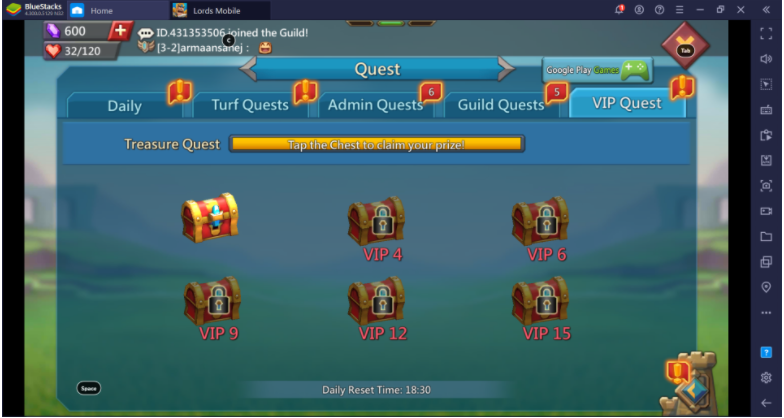 Social Sharing
Do you have a social media account on Facebook and Instagram? If yes, then put them to use as Lords Mobile offers 200 gems on each account. All you need to do is like their Facebook page and follow them on Instagram. As soon as you do these tasks, 400 gems will be credited to your account, which you can use anywhere in the game. The process is simple, and these would be the easiest gems that you'll earn in Lords Mobile. Use these gems to recruit powerful heroes and gain the prestige to become a conqueror of the universe.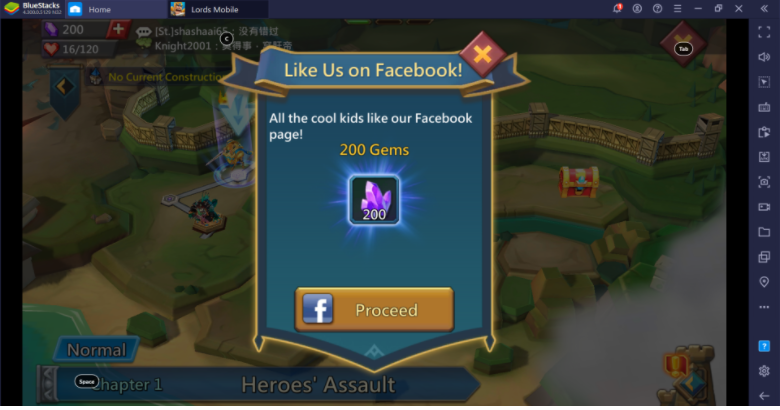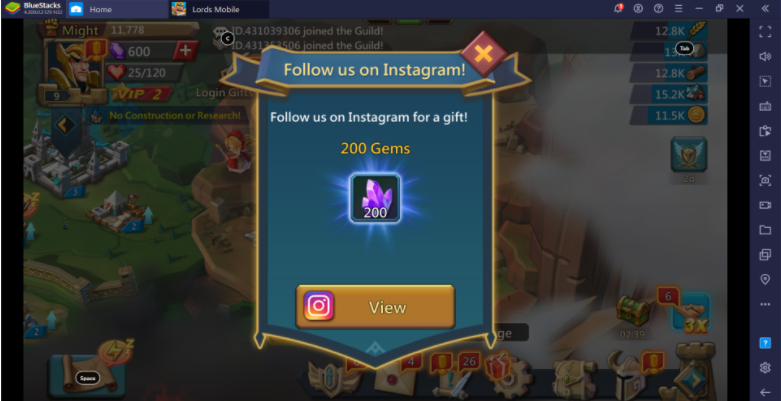 Monster Hunting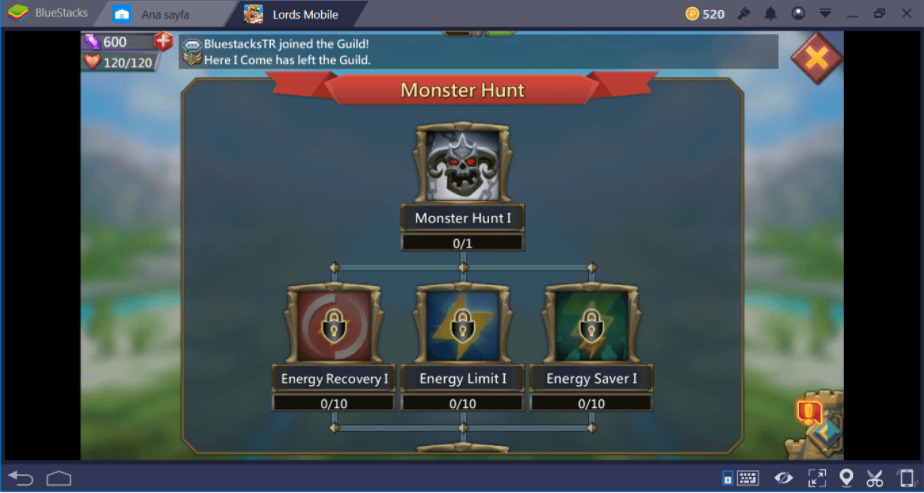 Monster Hunting is another tactical way of earning gems in Lords Mobile. The number of gems that you can pocket will depend on the monster's level you are hunting. The 'weakest' level of the monster would be level 1, and the 'strongest' would be level 5. The gems reward depends on the number of hits you do to the monster. The maximum number of gems you can earn per hit for level 1-5 monsters are 200, 400, 600, 800, and 1000. There is just one precondition to hunt these monsters – you must be in a guild. As soon as you join or create a guild, you will be rewarded with 400 gems, which you can use anywhere and anytime in the game. Bring your A-game to the fore, hunt these monsters, use your supreme gems, and gain a competitive edge over your opponents. With the BlueStacks gaming emulator, you can unleash combo attacks on your enemies using the advanced Macros feature.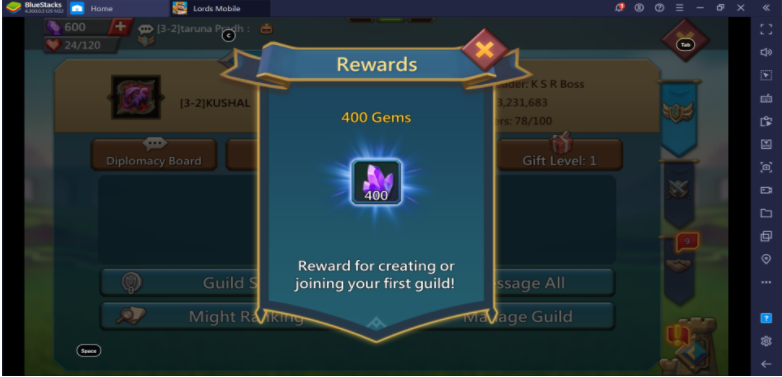 Challenge Hero Stages
Hero Stages are unlocked after completing Skirmish 2: Ridge Attack. To compete in hero stages, the player must unlock several heroes in the game. You need five different heroes to battle against the enemy, with difficulty levels increasing with each stage. Challenge Hero Stages that awards gems after successful completion. It is a competitive stage where you need to play with restricted heroes, and you don't get to choose their level and rank too. The stamina of the heroes is not affected when you are playing the Hero Stages. You need to be at your tactical best to earn the honor of participating in the Challenge Hero Stages.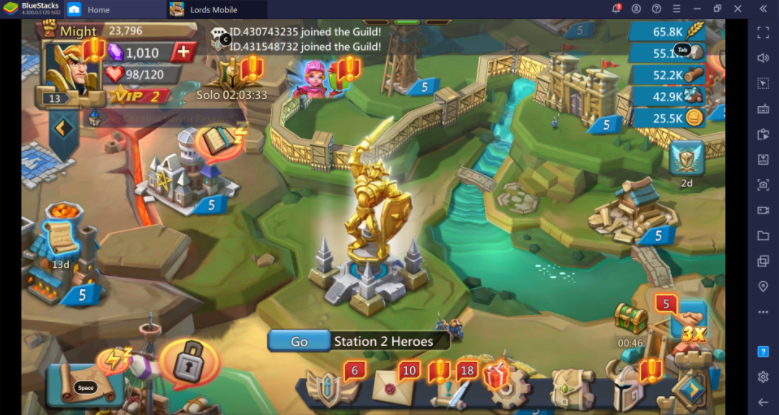 Colosseum
In the Colosseum, players can send a team of five heroes to battle against each other in the same kingdom. The players start at the bottom of the rankings, depending on the number of players available in the kingdom. The players move up in the Colosseum rankings by challenging other players. The Colosseum is unlocked in the game when you upgrade your castle to level 10. Depending on your colosseum rank, you are awarded some gems every three hours. The quantity of gems ranges from 10 gems at rank 5000 to 500 gems at rank 1. The best strategy to get a respectful rank at the Colosseum is to focus on 5-6 heroes and race them to glorious ranks. This will help you secure a higher rank at the Colosseum and increase your chances of getting a lot of free gems.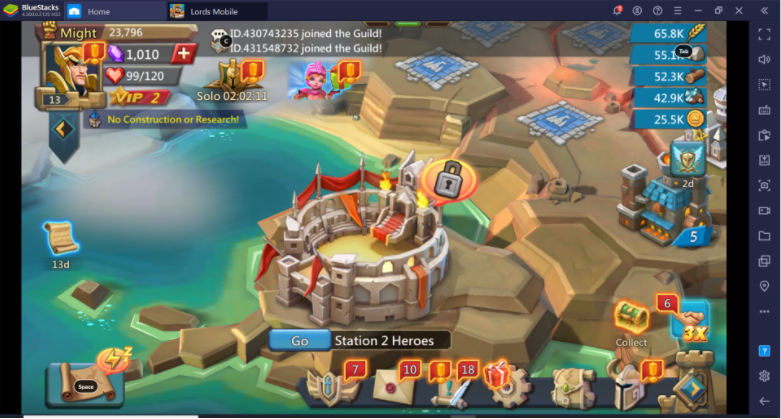 In-Game Events
There are many in-game events in Lords Mobile that take place frequently. During some special events, you can hunt down rare monsters like Gem Gremlins, and the reward could range from 50-500 gems. The "Solo" event refreshes every hour while the "Hell" event takes three hours to refresh. You can earn points by researching, building structures, training soldiers, and participating in the Labyrinth. If you complete the third level of these events, you can get a handful of gems. 100 gems are at your disposal if you finish the Solo event, and you can grab around 2100 gems if you complete the Hell event, which has a lot more obstacles. Try to compete in most of these events and collect precious free gems.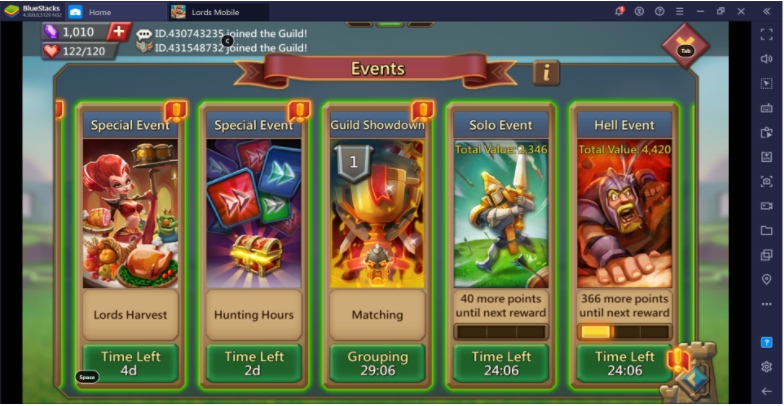 Feedback Reward
Love playing Lords Mobile? Just provide your feedback about the game, and you'll get 400 gems for a single click. To provide feedback, you don't need to connect any social media account. Just click on the 'Yes' button if you want to provide feedback and bag-in 400 gems for free. Earning free gems in a competitive game like Lords Mobile doesn't get any simpler than this. Apart from earning free gems, you can share your thoughts about the game and the improvements you want to see. Lords Mobile has a true fan base. Players have always given their honest feedback to make it a premier RTS game.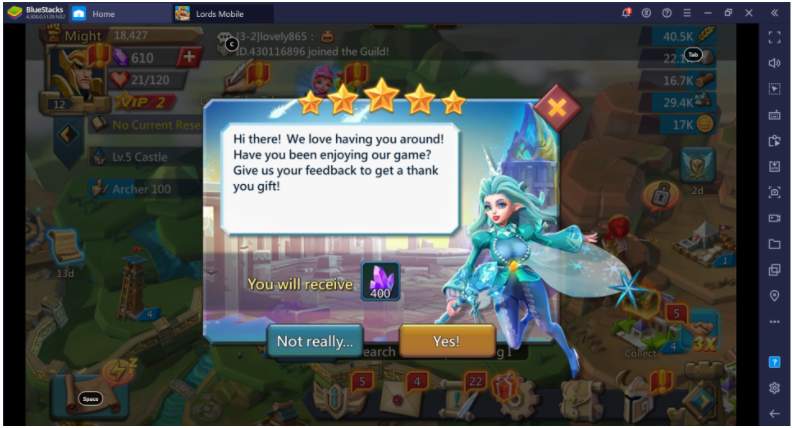 Conclusion
The tricks we discussed help you collect free gems in Lords Mobile. You need gems to speed up construction, train your troops, recruit powerful heroes, and for everything else that you can do in Lords Mobile. The game is all about the right strategy, trusting your guild members, and demolishing everything that comes between you and your ambition.
Your gaming experience becomes even better with the BlueStacks Android Emulator. It offers optimized solutions like GPU acceleration, which prevents unexpected frame drops. You get an immersive, lag-free gaming experience alongside several exclusive features that puts you ahead of your competitors.