Game Guides
Tips and Tricks for Mafia City: Become the Ultimate Crime Boss in No Time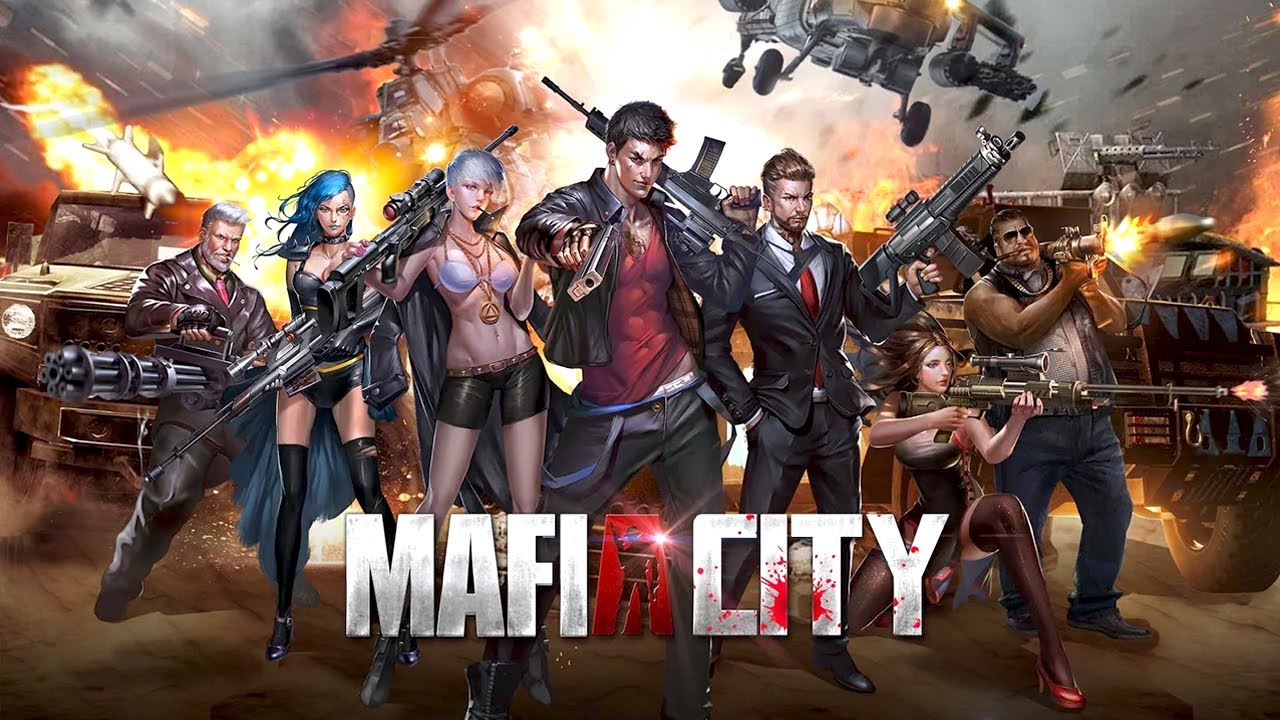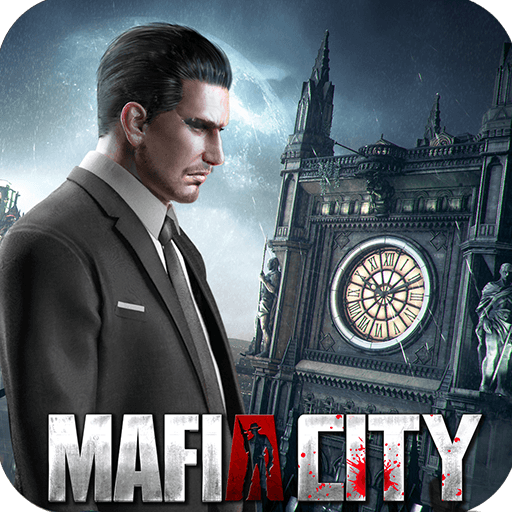 Running a gigantic criminal empire is not an easy task: There is a different enemy waiting to crush you in almost every corner and the problems of your city never end. If you want to quickly increase your power, you need all the help you can get. Well, Mafia City game already has this kind of help – you just need to know where to look. And in this guide, we will show you exactly this: Here are all the features of the Mafia City game that will make you the ultimate crime boss in no time.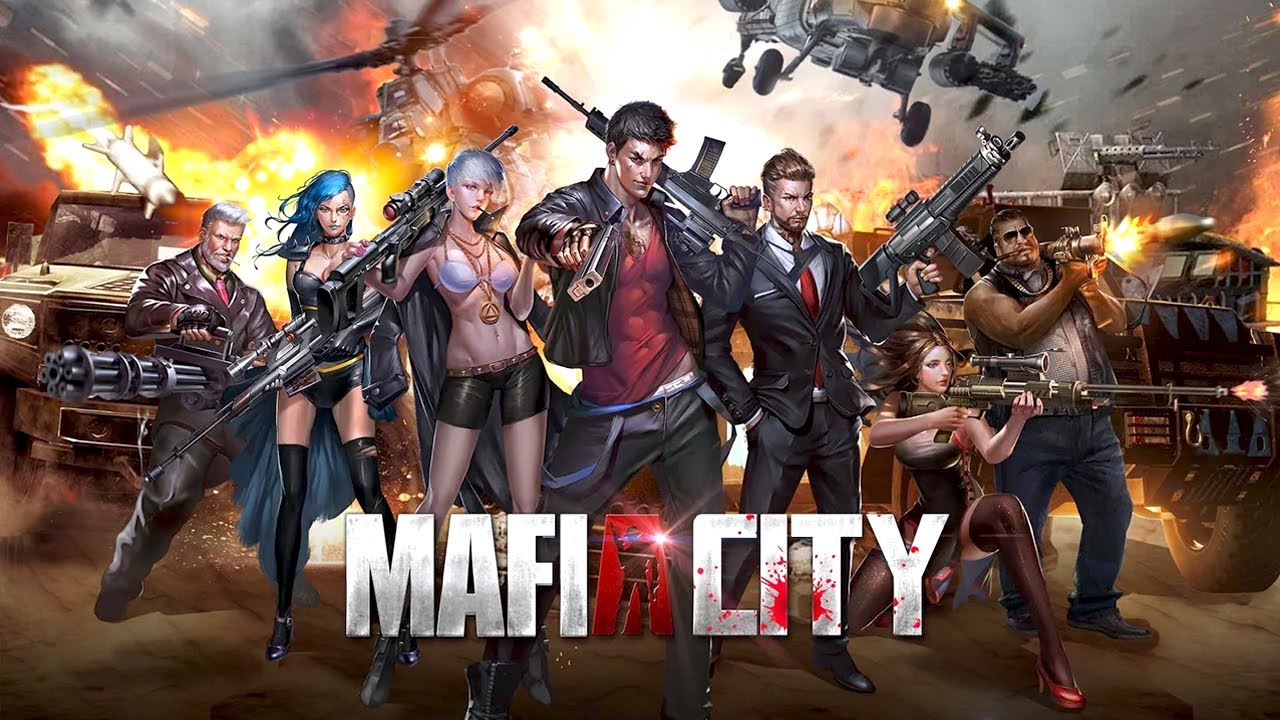 Create Multiple Farming Accounts
You will need lots of resources to expand your empire, and it is nearly impossible to gather this many resources in a single account. You need farming accounts – a different account for every resource in the game. We call them "instances" and it is very easy to create them on BlueStacks. We recommend starting with three instances: One will be your main, the second will be for farming cargo, and the last one will be for farming cash. In the cargo-farm account, for example, research only cargo-related skills and do not waste your time & resources for anything else. Both of these accounts will feed your main, and you will be focusing on increasing your military power on the main account.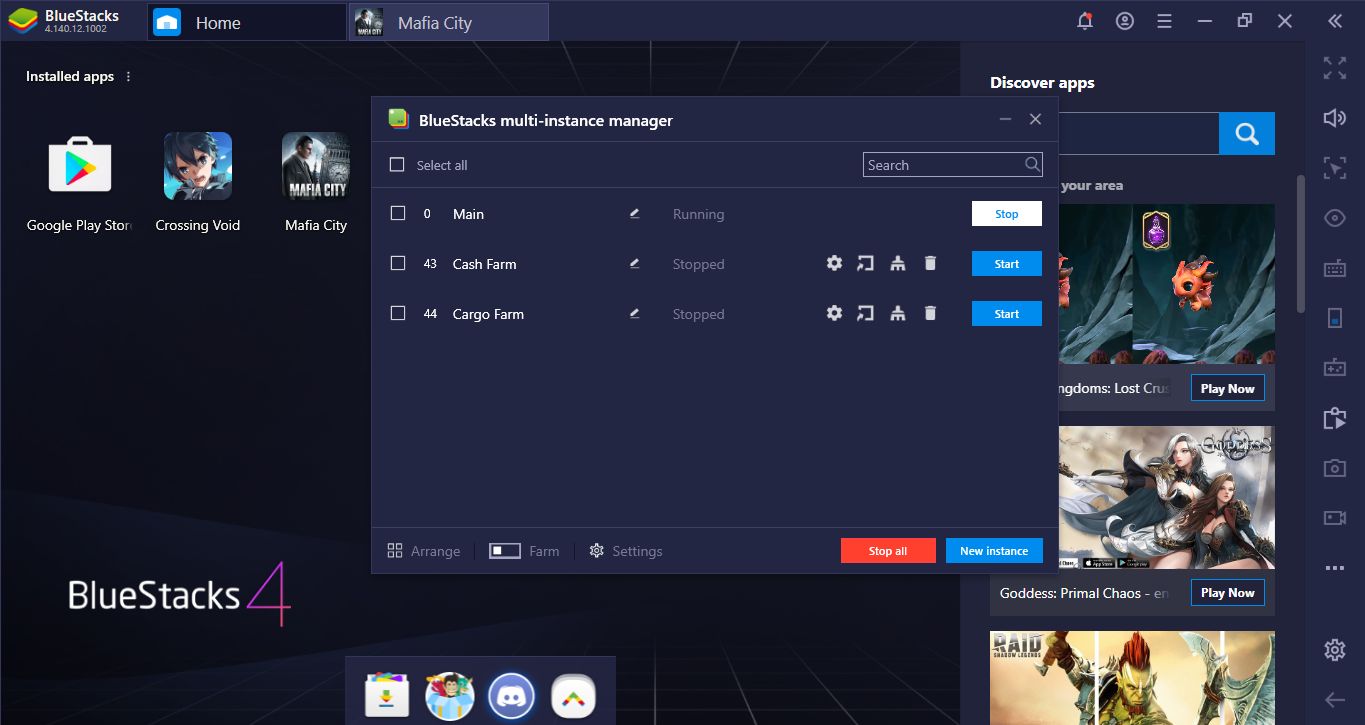 We start by creating three instances. The first one will be our main account.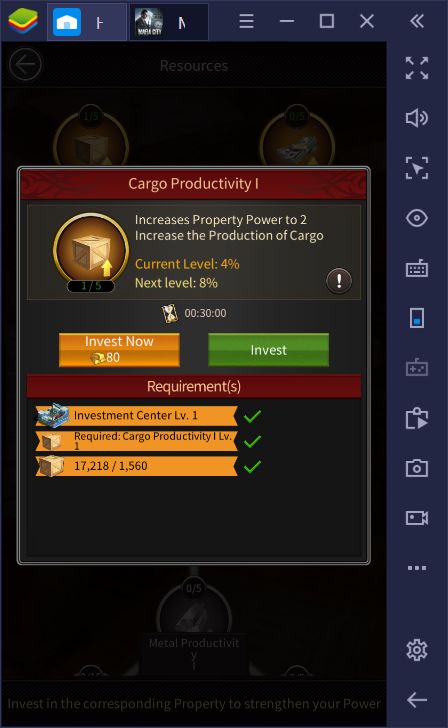 This is the cargo-farming account, so we research only related skills.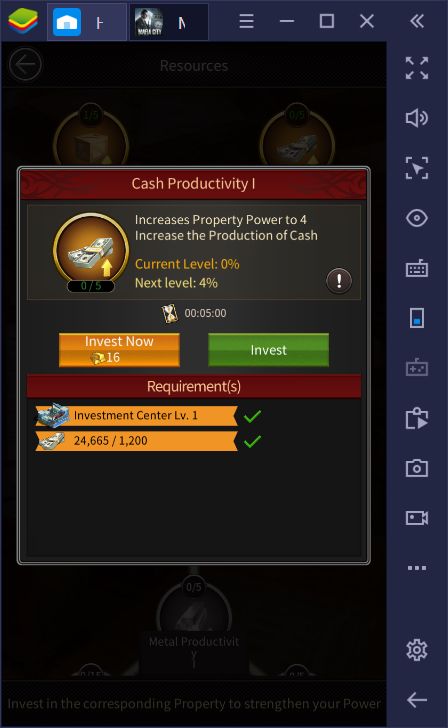 The third account will focus on cash related research. Send all of your farmed resources to your main account – simple.
Complete Daily Contract Tasks
The Mafia City game gives you lots of tasks every day and some of them are quite simple: Just by helping other clan members or using some resources, you can complete them. Doing so is highly recommended, because you get points for each successfully completed task, and these points are used to unlock loot crates. You can open your first crate after collecting 30 points and even logging in to the game will give you 5 points, so this will be easier than you think. Check your daily contracts often and don't forget to open your loot crates.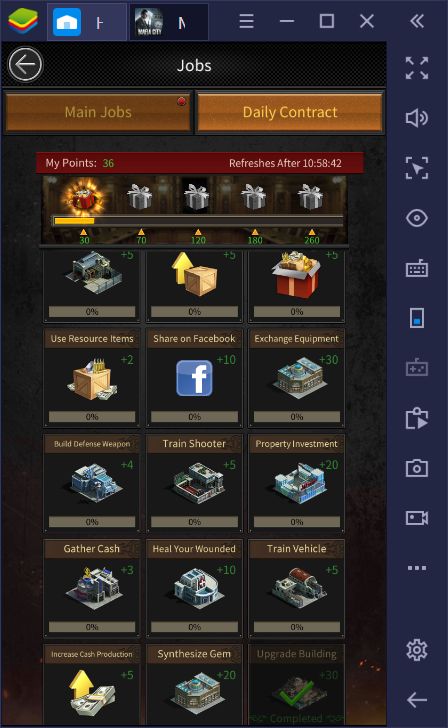 The green numbers you see show how many points you can win by completing that task. You just need 30 points for the first crate.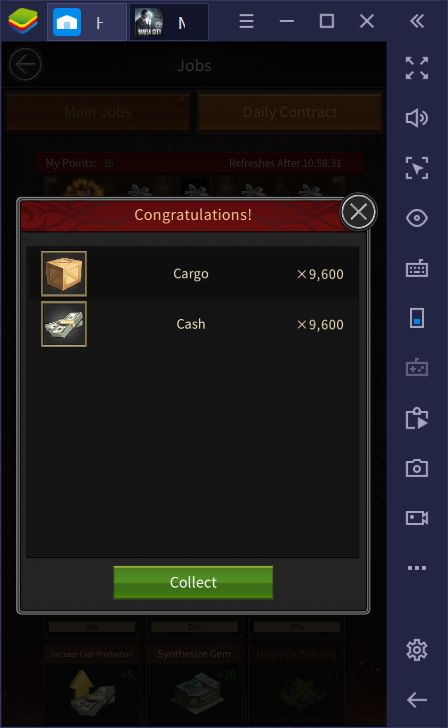 And these are what comes out of these crates: Lots and lots of resources.
Play The "Babe Game"
Like any other fearless mafia leader, all of your important staff consists of sexy-looking babes. As we mentioned in our review, these babes have different skills: Some of them increase your cash production, others give you defense bonuses, etc. They simply live in our mansion and give you these bonuses in return. But, is there a way to empower their skills and unlock new ones? Well, of course there is: You can play the babe game.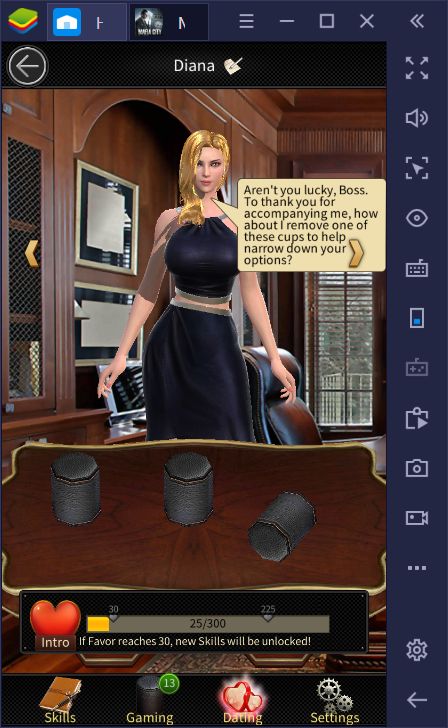 This is the game we are talking about. No, it is not about this babe, exactly. It is about finding a gem, hidden in one of these cups.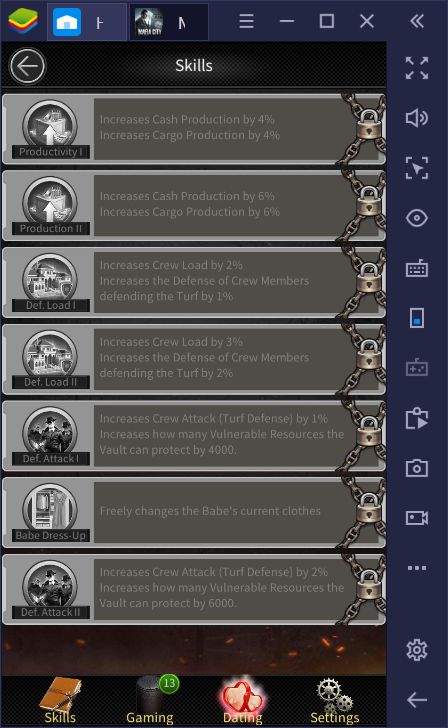 And these are all the potential skills your babe can unlock. Thank you, darling!
See What Needs To Be Done At Once
Here is a simple and useful tip: Click the arrow button on the left side of the screen from time to time. Doing so will open a menu that shows what needs to be done in your empire – you can see what you need to train, which buildings need an upgrade, and if there is a special "babe" award for you or not.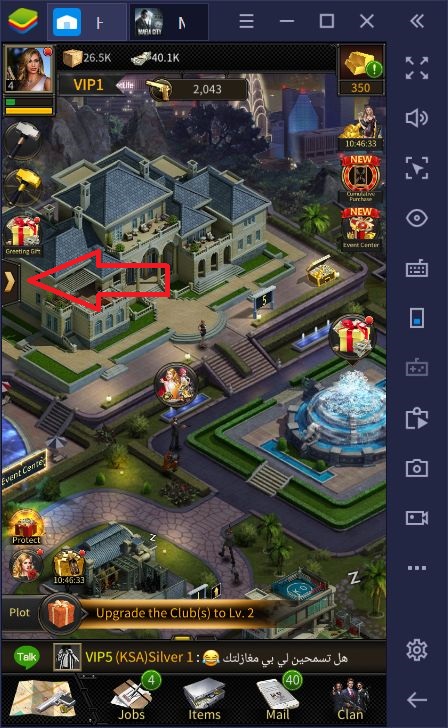 We are talking about this arrow.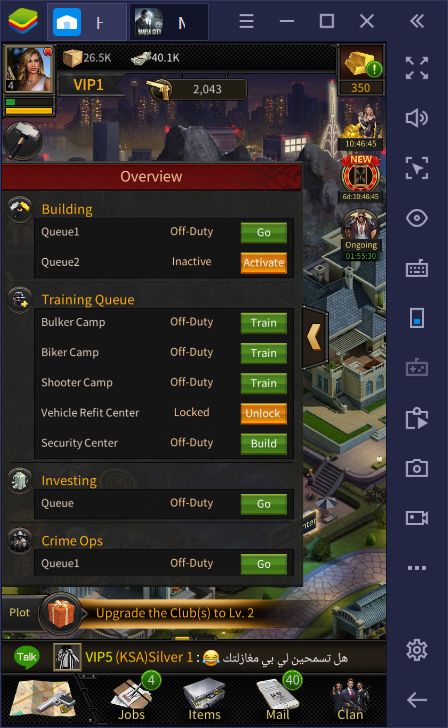 Here is the complete list of what needs to be done in your empire.
Use Your Gold To Purchase VIP Time
Gold is the most precious currency in the Mafia City game and the main way of getting gold is purchasing it with real money. You will still get a small amount of gold for free, in exchange for your in-game activities. Instead of spending it on babes, use your gold to purchase VIP status/time. VIP players get a boost on everything – they collect more resources in shorter times, and simply gain more points for everything. Well, you can do the same too: Free gold amount is enough to play the Mafia City game as a VIP player.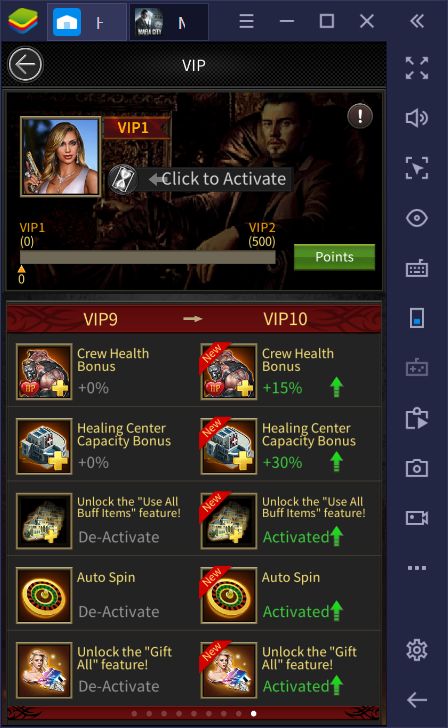 These are the benefits of being a VIP player.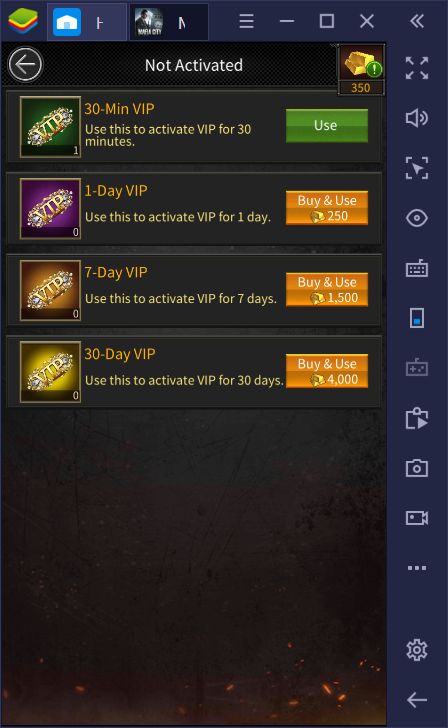 And this is how you purchase VIP with gold: At level 5, we already have 350 gold, which is more than enough to activate VIP for 24 hours.
You are now definitely ready to jump-start your crime empire: Use this information to rule over other godfathers. If you need more help, don't forget that we have a setup guide for the Mafia City game, filled with useful information. Good luck on the streets!