Game Guides
How to Play MapleStory M on PC with BlueStacks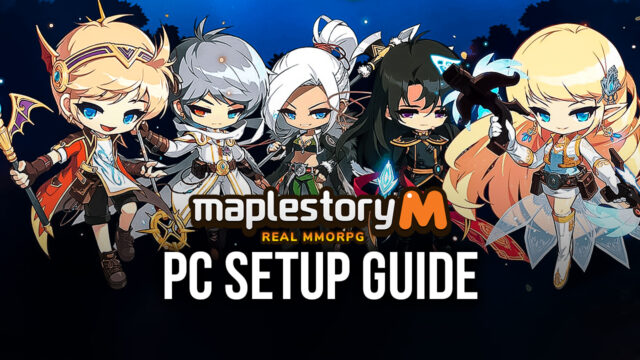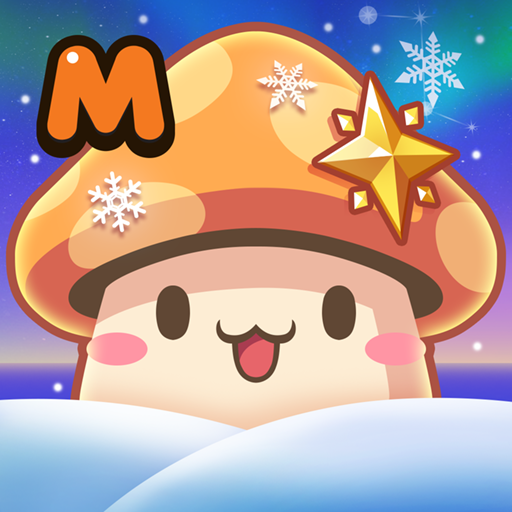 Many years ago, the Black Mage – an evil tyrant who wanted to rule the Maple World – was successfully sealed away by six courageous heroes. However, it did not take long for the Black Wings, the Black Mage's minions, to break their leader away from the seal and this catastrophically led to the Big Bang. With the Black Mage and his forces on the loose, the Maple World is once again in danger however its citizens will do anything it takes to stop them. This is MapleStory.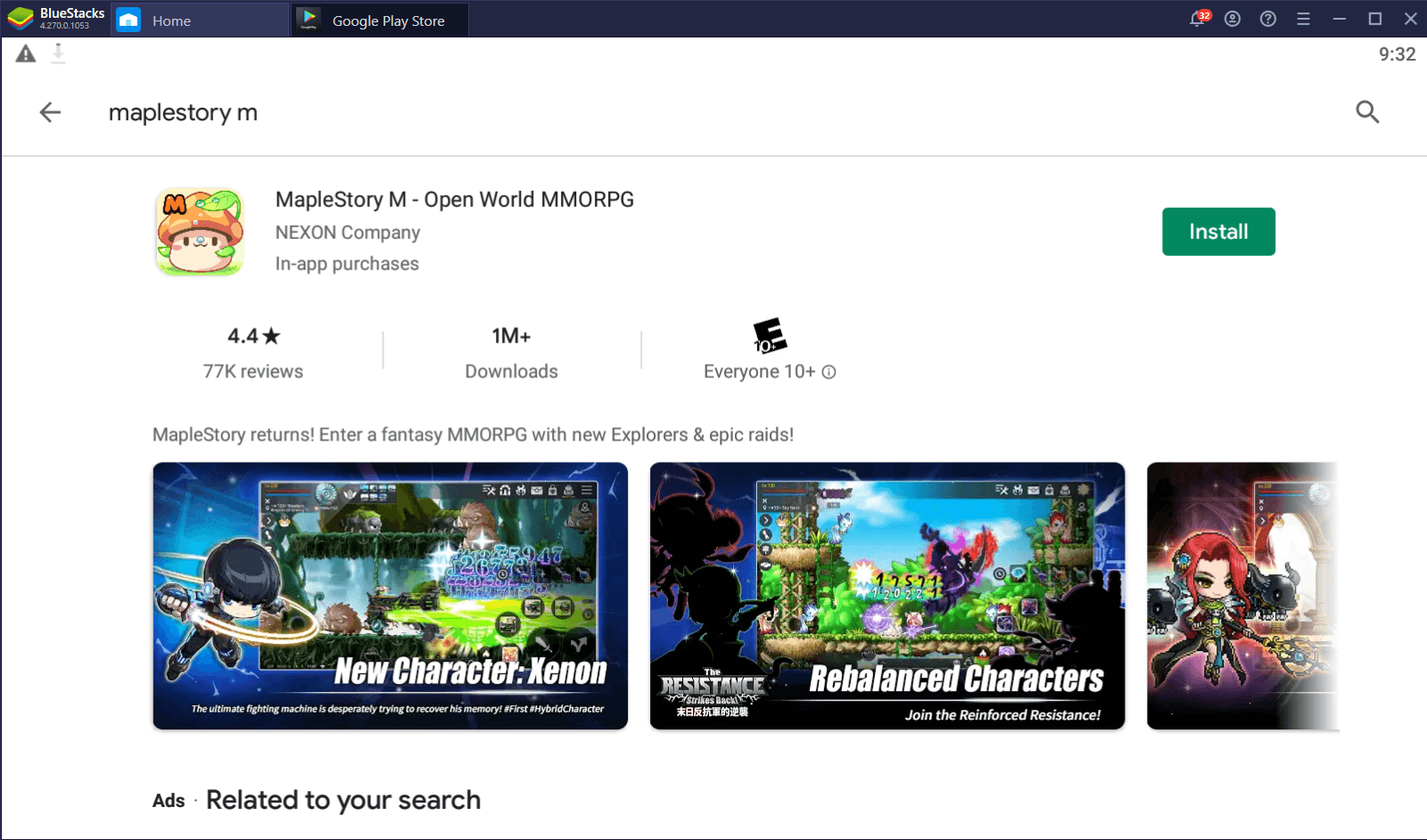 MapleStory originally started out as an online PC game but NEXON was able to bring the Maple World into the mobile scene with MapleStory M. With tons of new content, MapleStory M does not fail to amaze in delivering a fantastic MMORPG experience. Maximize your MapleStory M experience now by playing it on your PC or Mac with BlueStacks. Gain access to awesome features that can make your journey much more convenient such as scripts and the like. Enter the Maple World now and being your journey to stop the Black Mage.
How to Install MapleStory M
Download and Install BlueStacks

on your PC.

Complete Google Sign-in to access the Play Store, or do it later.

Look for

MapleStory M

in the search bar at the top-right corner.

Click to install

MapleStory M

from the search results.

Complete Google Sign-in (if you skipped step 2) to install

MapleStory M

.

Click the

MapleStory M

icon on the home screen to start playing.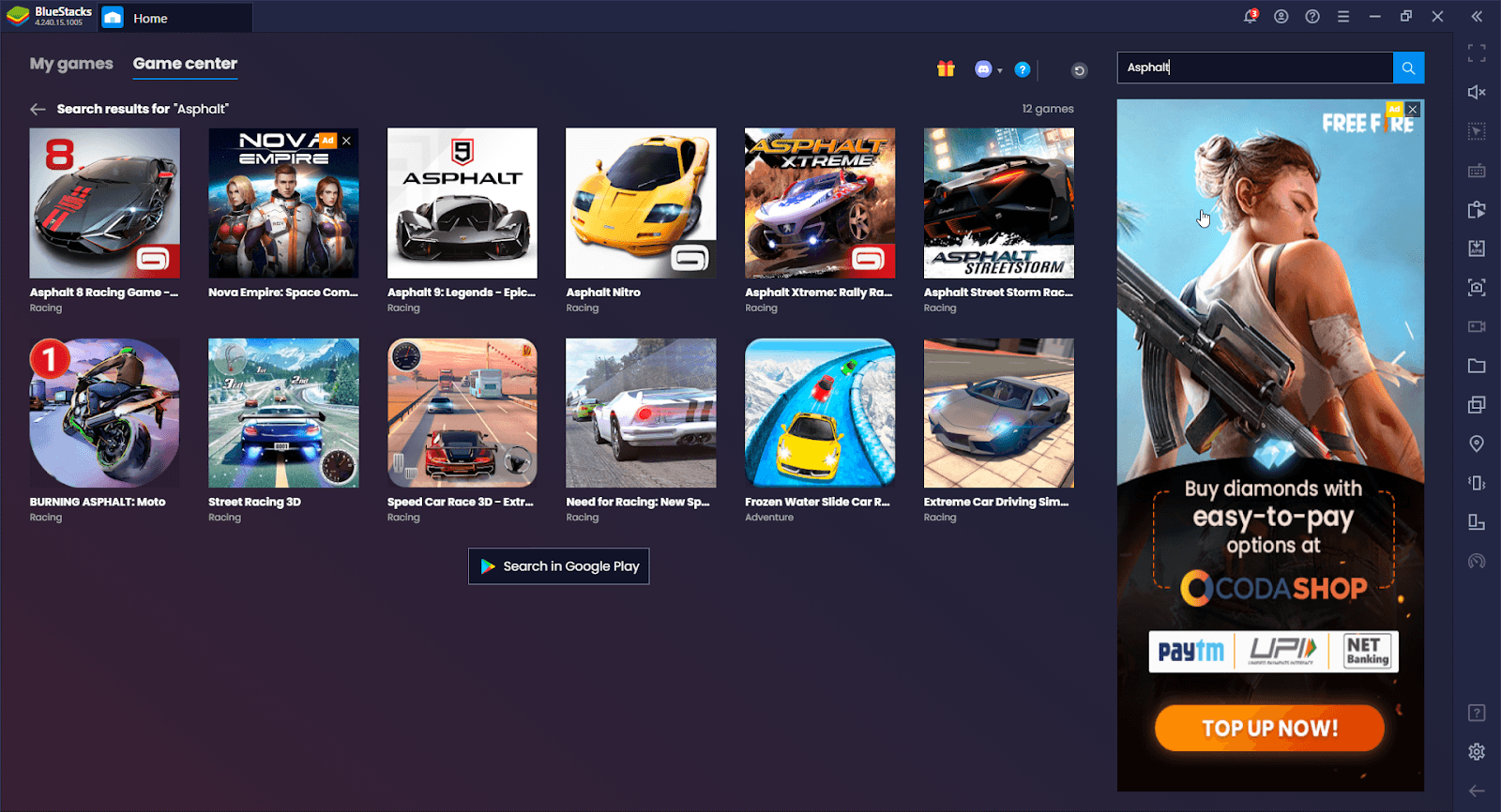 Play as Various Heroes
The Maple World is filled with a diverse population. If there is one thing that its citizens have in common, it's that they are all determined and brave enough to take down the Black Mage along with his Black Wings.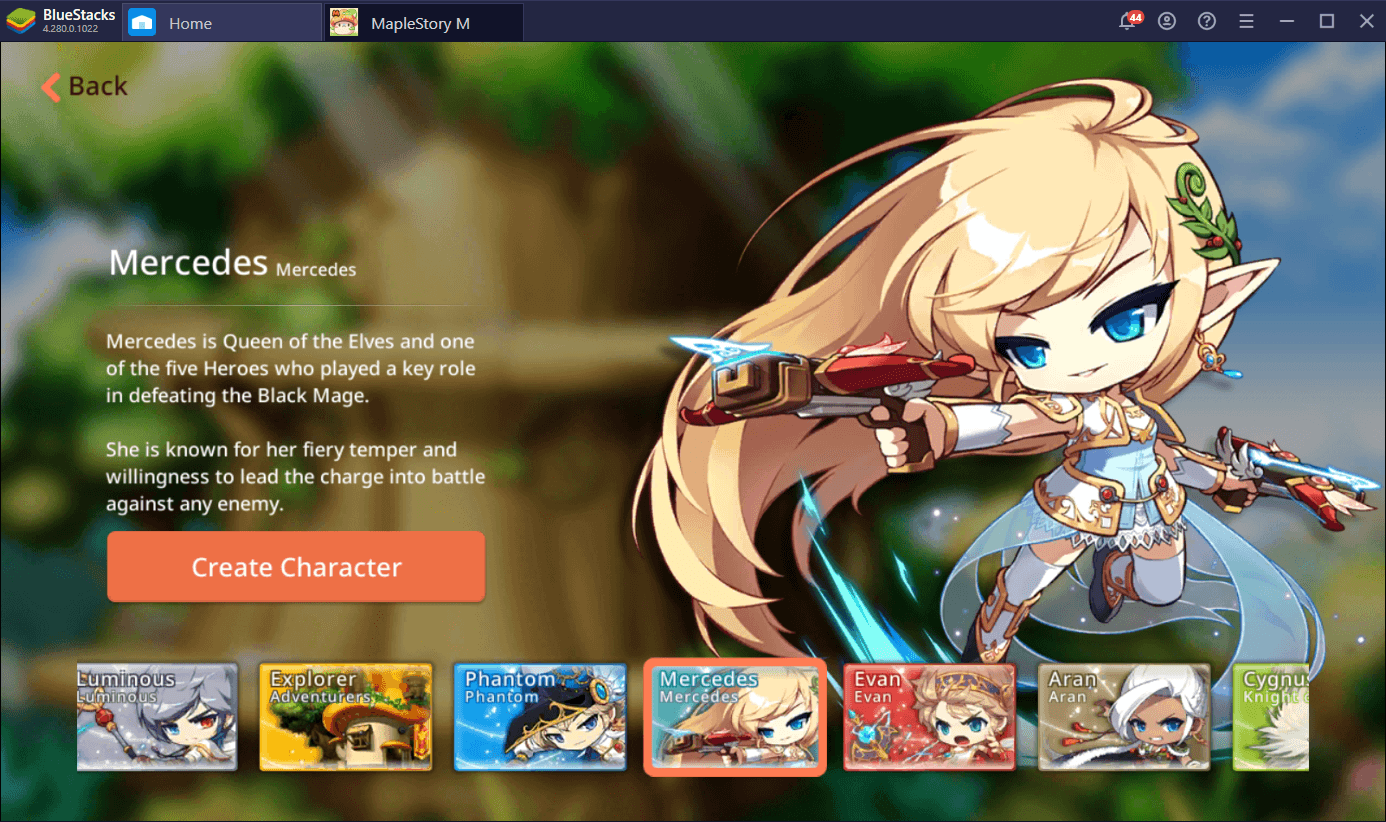 Upon starting the game you are given plenty of decent characters to play as. For one, you can play as one of the six heroes who were the first to seal the Black Mage.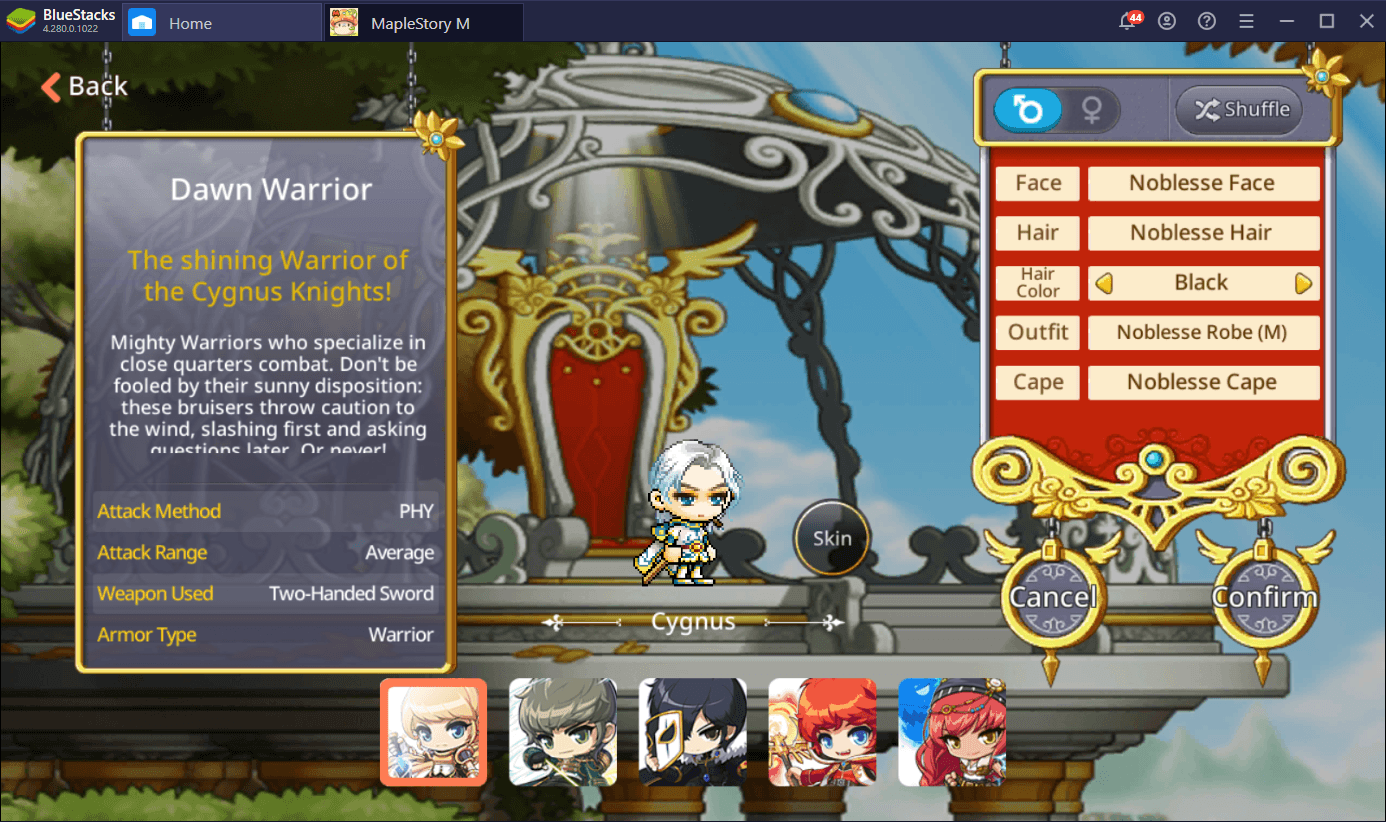 Aside from them, you can also play as a member of one of the Maple World's many groups. When the Black Mage escaped the seal, a number of citizens of the Maple World gathered and formed groups dedicated to stopping the Black Mage. They are the: Resistance, Explorers, and Cygnus Knights.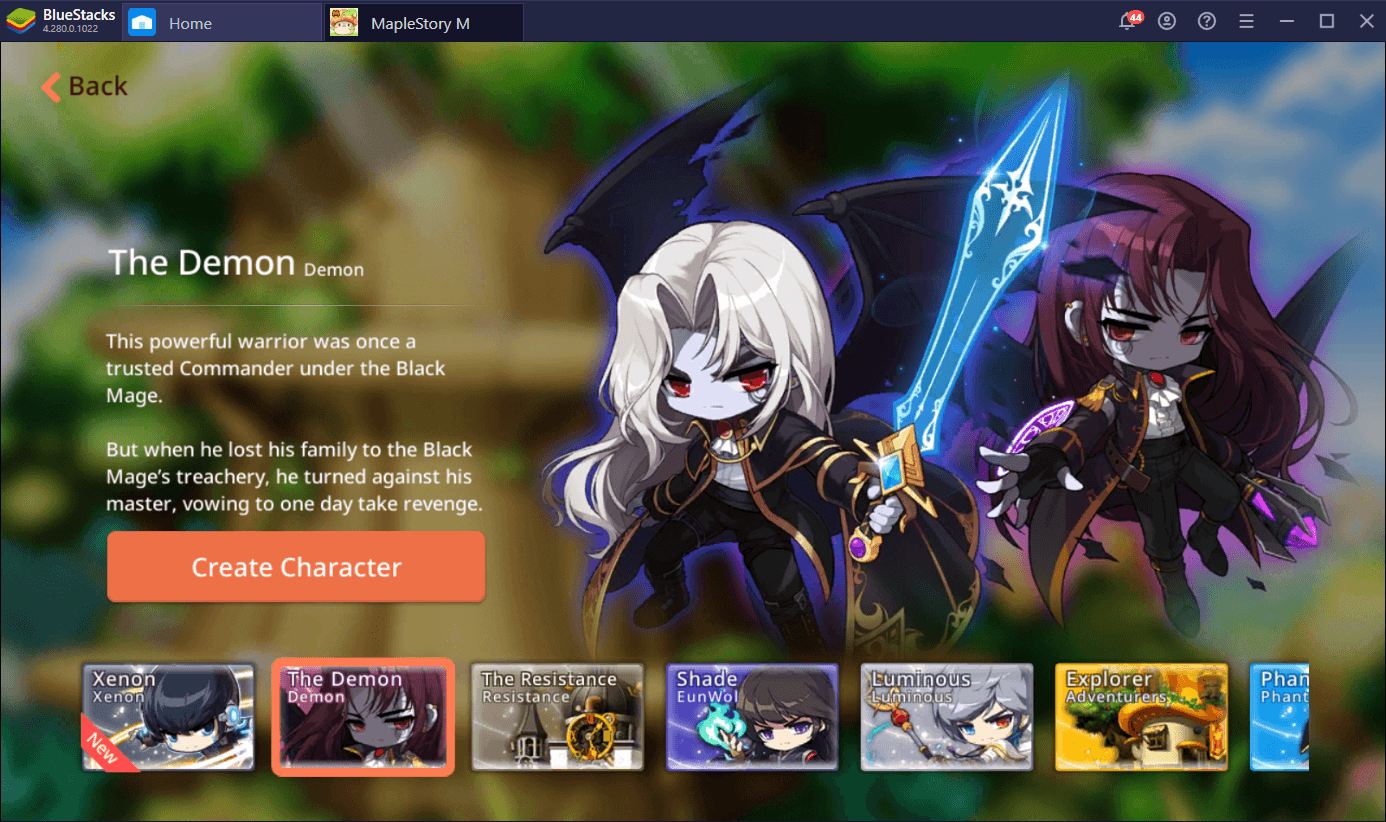 You can choose among characters who are quite different from the rest. They all have their unique reasons as to why they want to join the war against the Black Mage so they undoubtedly are just as strong as the others.
Each character has their own weapon, attacks, skills, appearance, and much more. It can be tempting to play as all the characters but fortunately enough, the game provides you with an extra five character slots with the option to purchase more.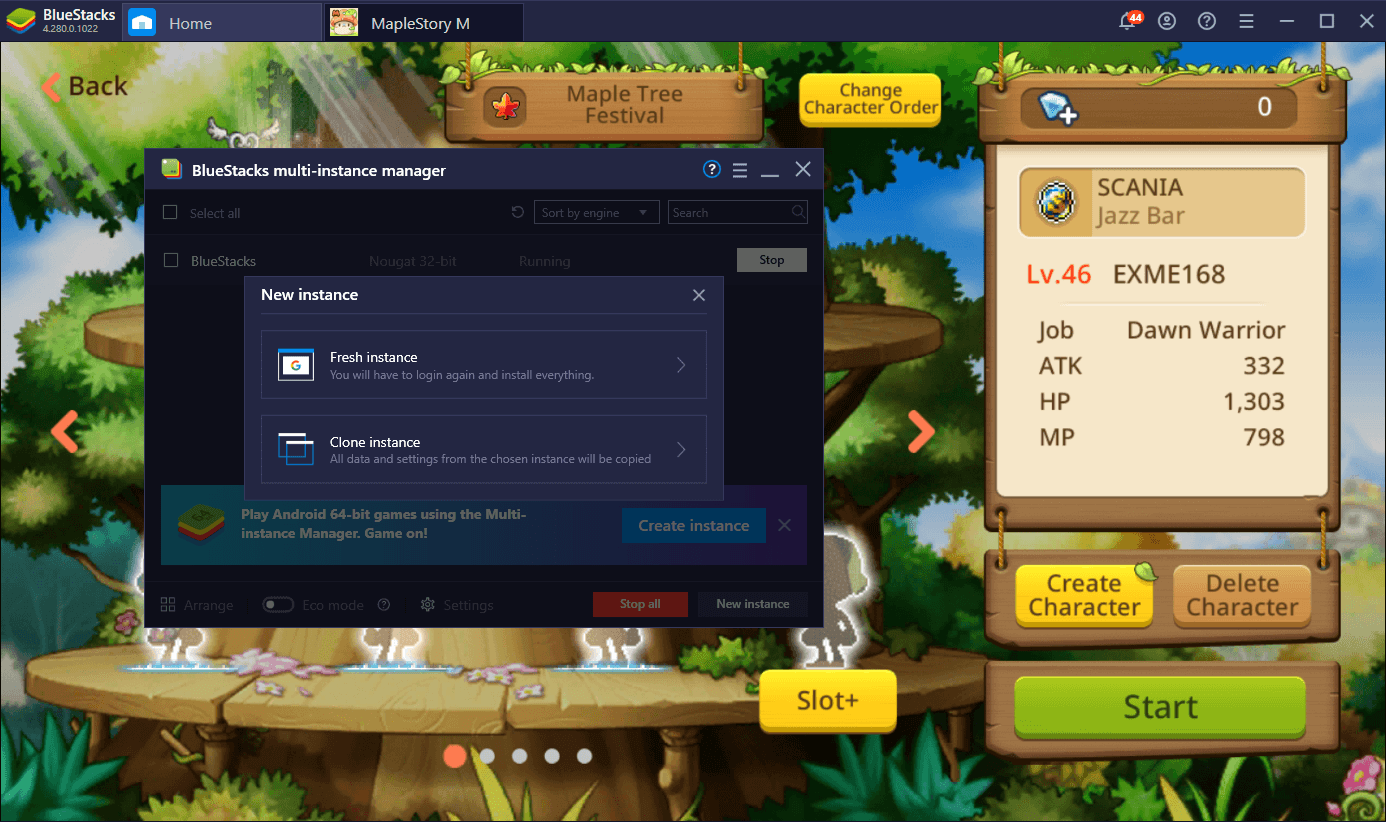 With the BlueStacks' Multi-instance tool, you can technically have even more character slots because the tool allows you to reinstall MapleStory M on a separate Android engine.
Complete Quests
MapleStory M has a myriad of quests to keep you occupied. You will not only meet plenty of people during your quests, but you will also explore various regions of the Maple World. From forests to bustling cities, there is always a new sight to see in the huge open world of MapleStory M.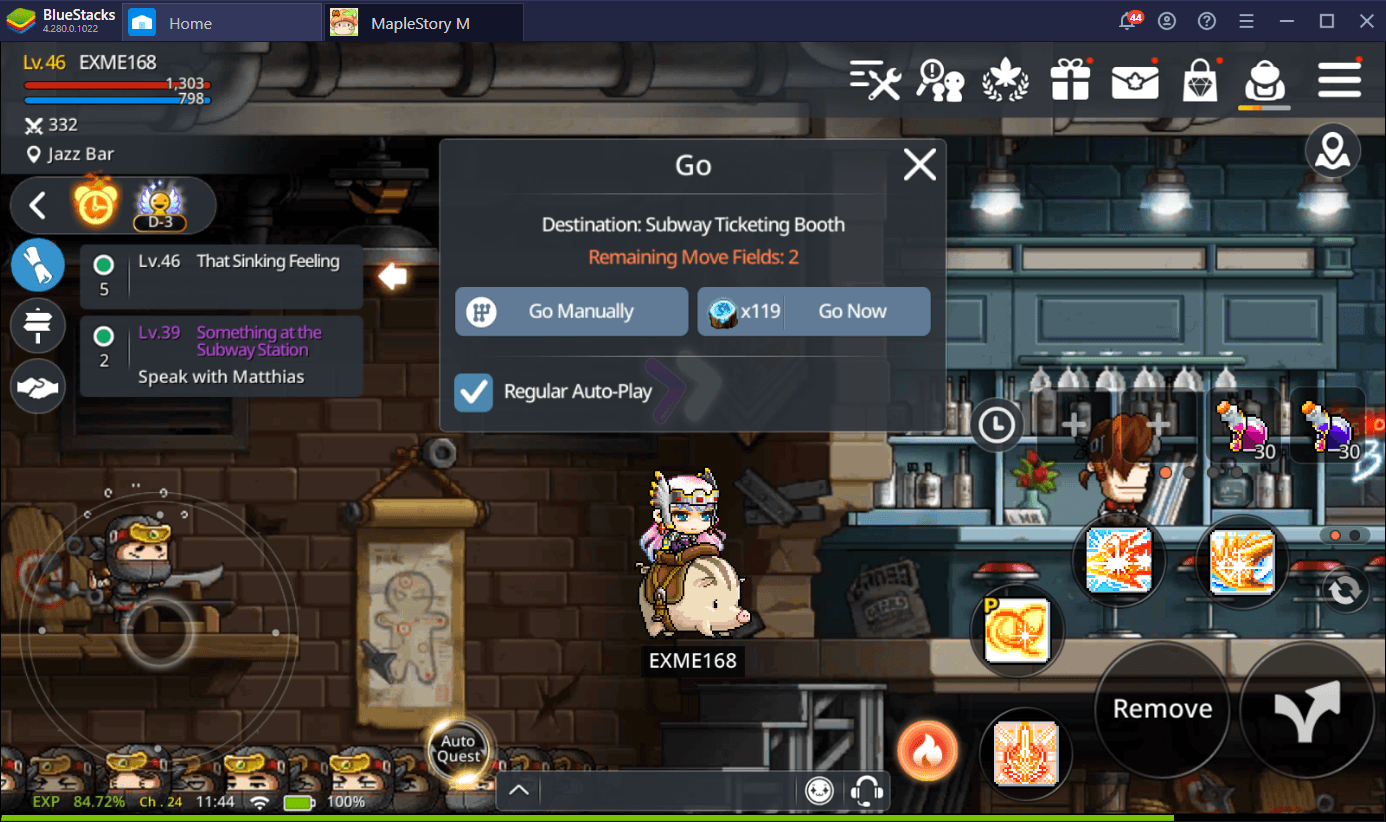 One interesting feature of MapleStory M is auto-play. Whenever you initiate a quest, the game will automatically activate Auto-Battle and the game essentially plays the entire quests for you. It will do all of the travelling of worlds and killing of enemies but you will still have to be there to conduct dialogue with the NPCs.
This feature allows you to do something else in the background while your character is doing a quest on their own and this is made even easier with BlueStacks' flexible interface.
Conquer Dungeons
If you are in need of some extra resources to expend on better gear for your character, then dungeons are the perfect places for you.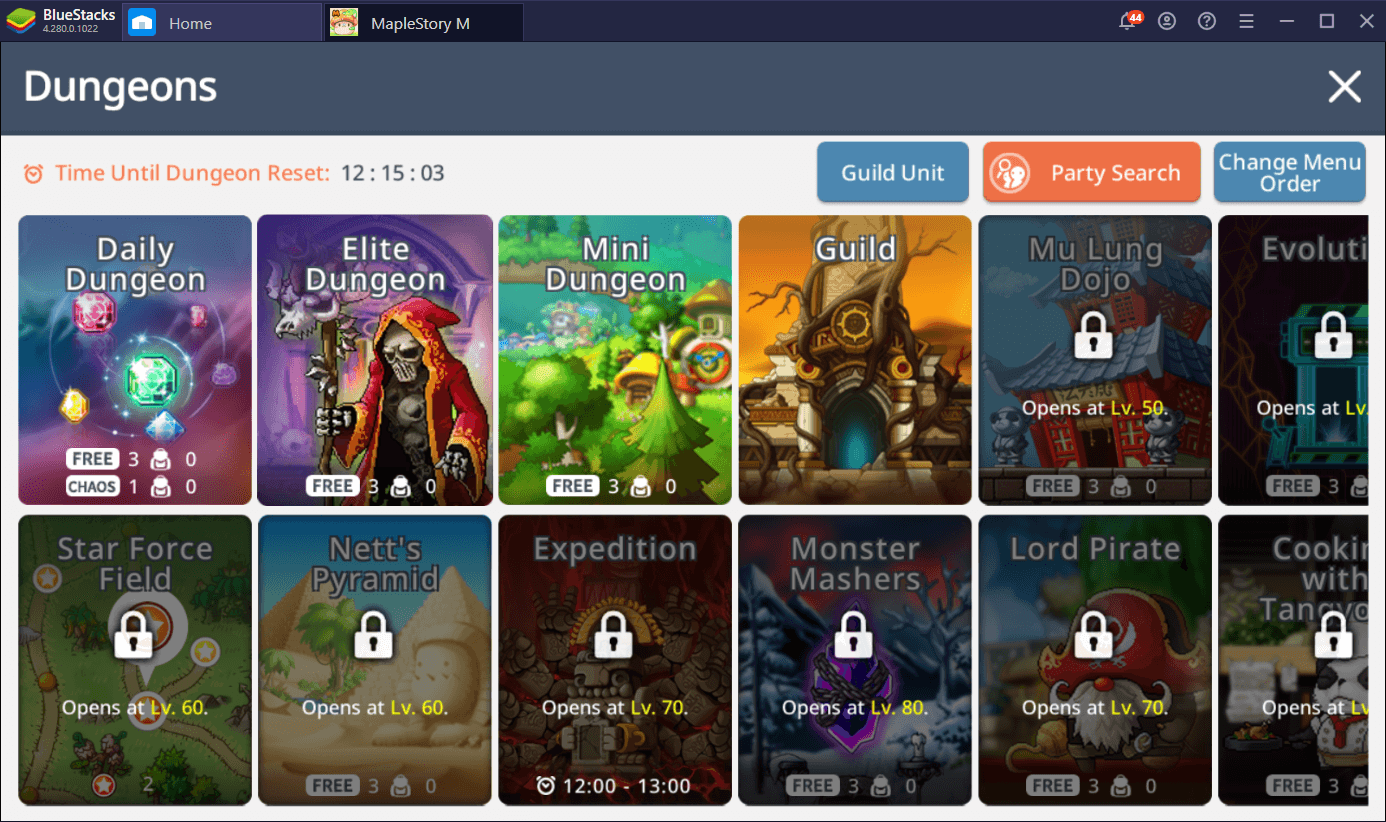 MapleStory M has a multitude of dungeons for you to explore. Many of these are special dungeons which you unlock as your progressively reach a certain level. But from the get-go, there are some basic dungeons like Daily Dungeons, Elite Dungeons, Mini Dungeons, and the like for you to explore.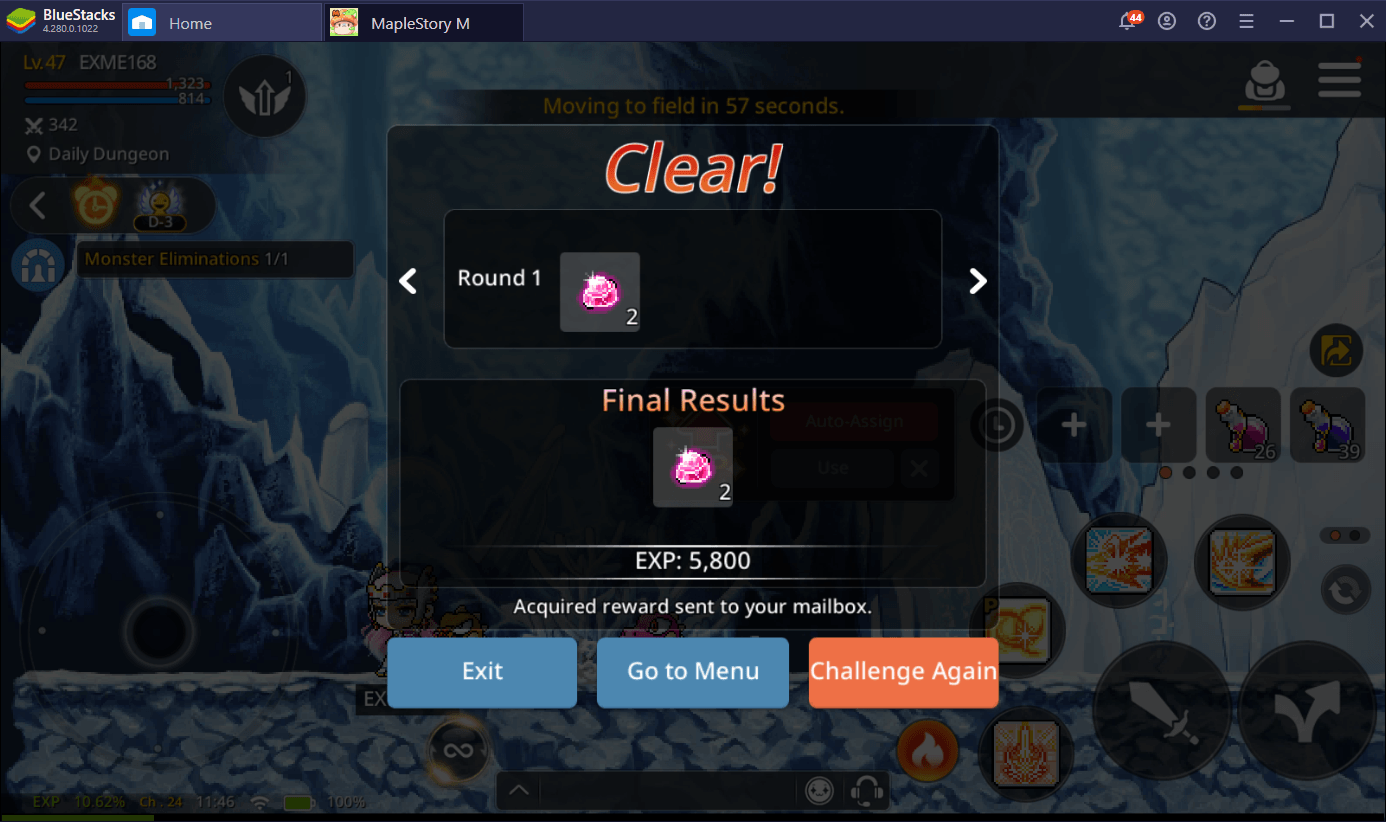 Each of these areas give very prodigious rewards upon completion so it is worth visiting dungeons every once in a while to acquire items needed to strengthen your character.
If you want to know more about dungeons as well as some other ways to attain resources, you can check out this specialized guide here.
Make Your Character Stronger
Every character in MapleStory M has their own unique weapon, armor, and set of skills that they use in combat to defeat enemies. It is part and parcel of the MMORPG experience to invest plenty of time on making your character stronger and stronger. In fact, the primary objective of MapleStory M is just that.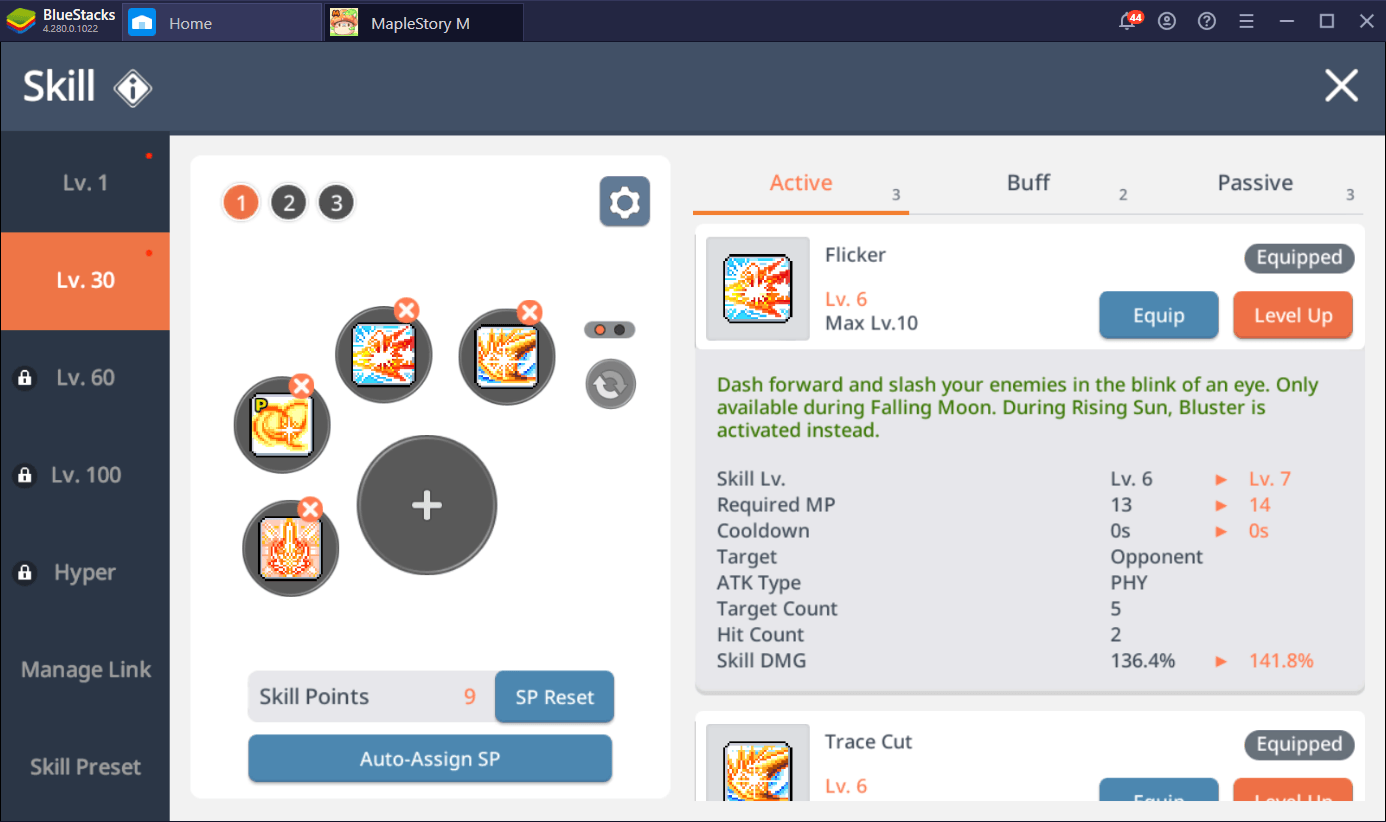 Playing the game by consistently completing quests and killing enemies will earn your enough EXP to level up. By levelling up, you earn skill points which you can use to upgrade your character's skills. Skills in MapleStory M are basically special moves that your character does that deals plenty of damage to enemies. Sometimes, skill come in the form of supportive actions like stunning enemies.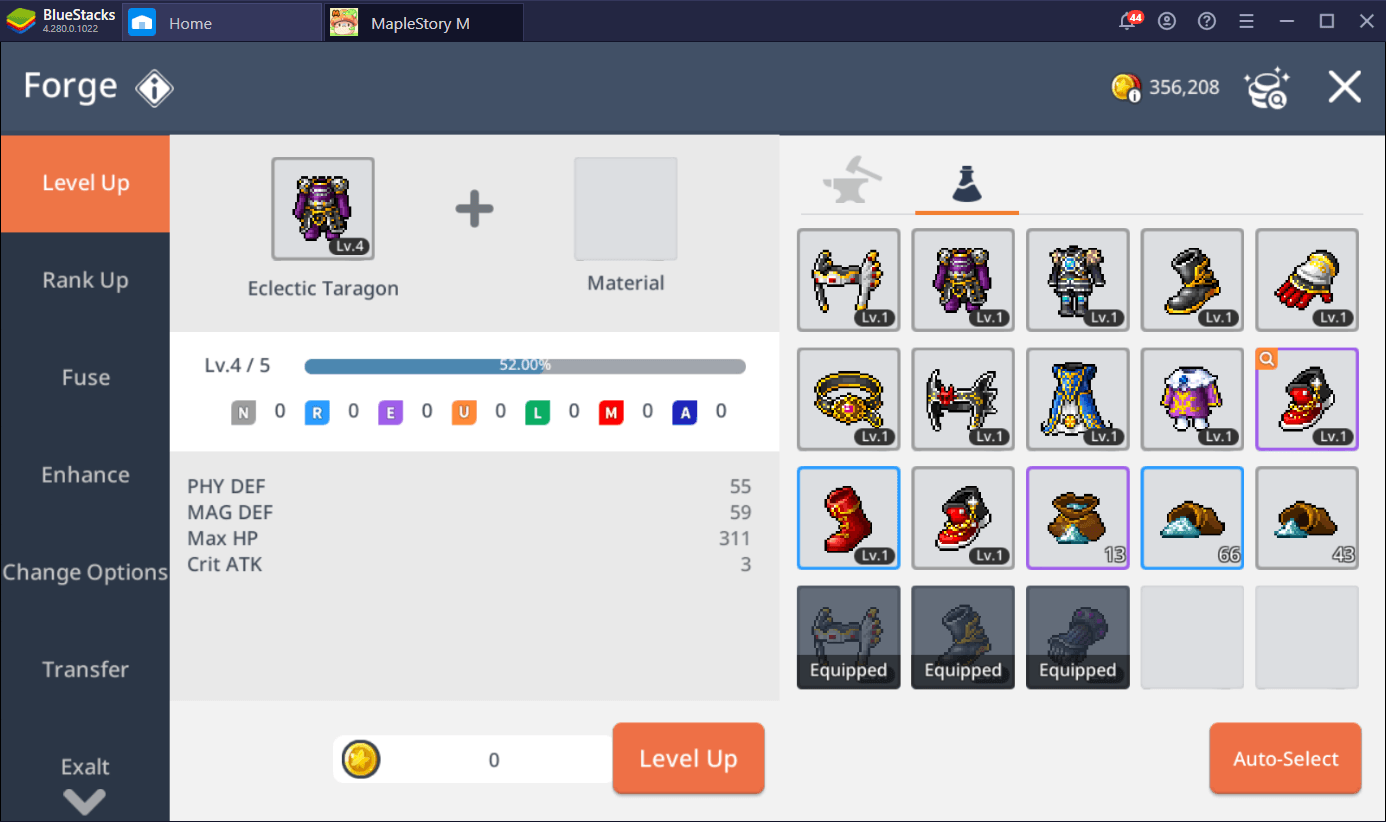 Aside from your improving your character's skills, you can also improve their weapon and the armor that they wear. You can do this by visiting the Forge – the primary place for all equipment-related upgrades. Gear reinforcements are done with specific materials, usually refining powder, that can be garnered by completing quests.
The process of strengthening your character in MapleStory M is already an adventure in and of itself and it is something that you have to embrace in order to defeat the Black Mage.
Begin Your Maple Story with BlueStacks
With BlueStacks, you can make your adventure easier with the awesome features that BlueStacks offers.
Aside from the aforementioned Multi-instance tool, you can create and compile your own combo moves through the Macro recorder. This feature allows you record a sequence of actions and save it all into one command that can be activated by pressing a combination of keys.
If you want more flexibility in making scripted sequences, you can meddle around with BlueStacks' Script editor which allows you to manually input commands to tailor each sequence in more detail. If you want to know more about recording macros and writing scripts for MapleStory M. read this guide here.
A long adventure awaits in the vast landscape of the Maple World and it is in need a courageous hero to help in the fight against the Black Mage. Are you up for the fight?