Game Guides
Metal Slug: Commander – How BlueStacks' Tools Can Help to Improve Your Game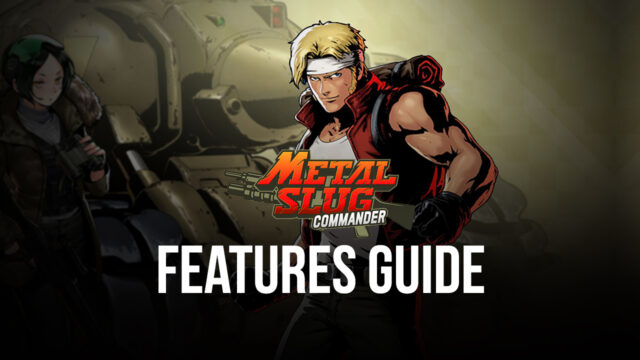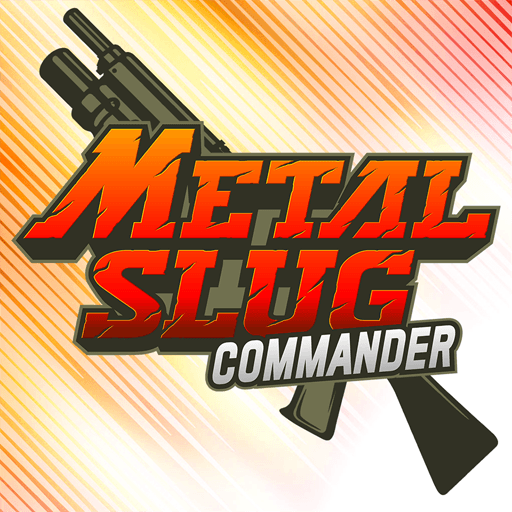 The Metal Slug franchise is one of the most emblematic in the side-scrolling shooter genre, dazzling everyone not only with its thrilling and exciting gunplay, weapons, bosses, and levels since 1996, but also enrapturing us with its iconic and fantastic art style. Especially regarding the latter aspect, Metal Slug has some of the best and most impressive visuals, which many users believe to be the pinnacle of 2D sprite and animations.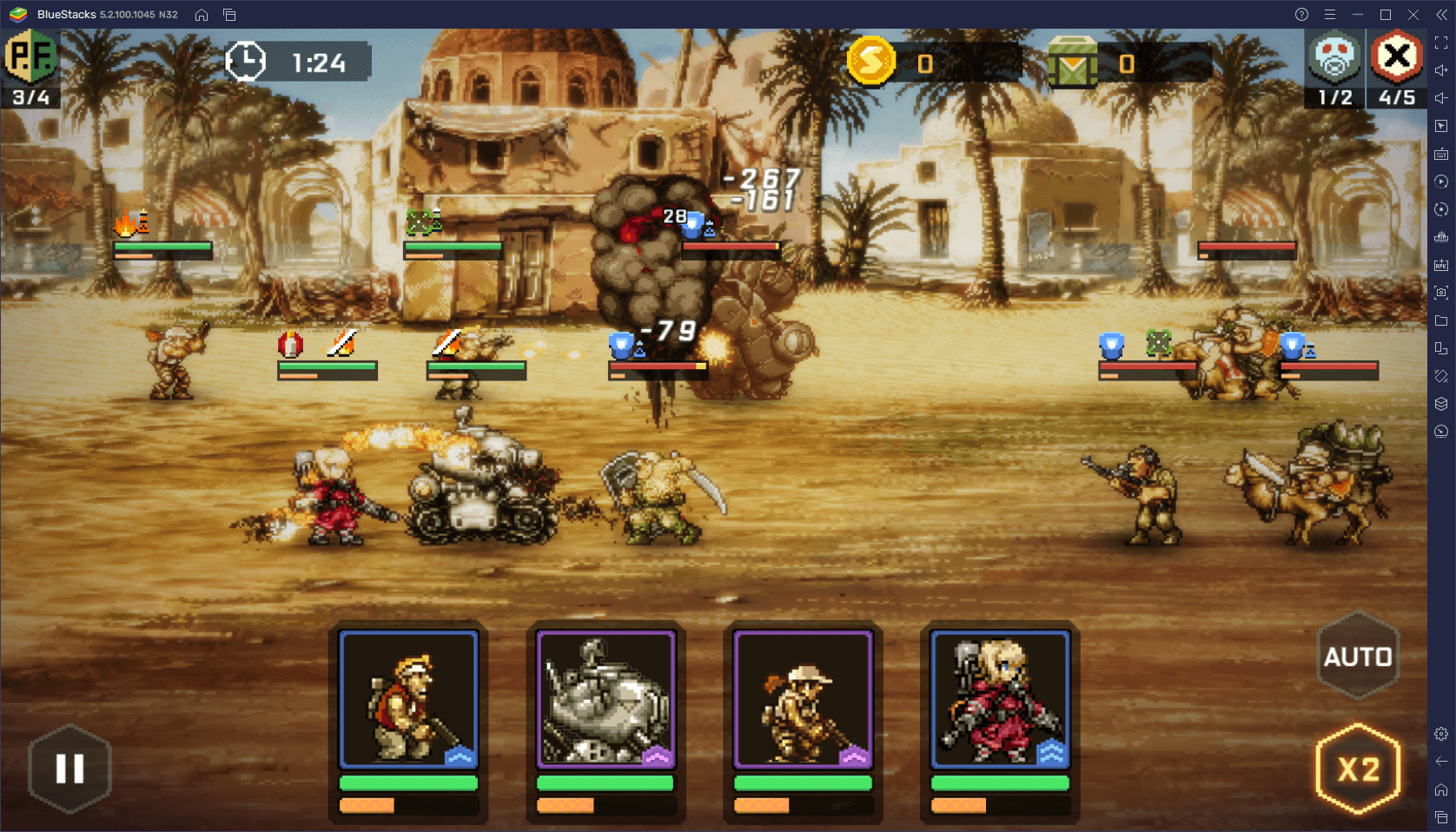 Since its origins, however, Metal Slug has become quite popular in the gaming industry, transitioning from the arcade to home consoles, and then onto other genres altogether. This tradition still remains to this day, as Metal Slug just released its most recent entry in the mobile platform, consisting of a gacha RPG with idle elements called Metal Slug: Commander.
In this game, it's your mission to take control of a squad of legendary heroes and put an end to the vicious war over the planet's resources. Joining you in your adventure will be characters from a variety of other Metal Slug games, from protagonists and important figures like Trevor, Marco, and Fio, to other interesting side characters and even antagonists like Morden, and Mars Commander, among countless others.
Gameplay-wise, this game offers pretty much a similar experience to other idle gachas like AFK Arena, but with a Metal Slug coat of paint. In this sense, you'll be completing missions, clearing levels, and farming resources to unlock and upgrade a variety of units. Additionally, the fights themselves are mostly automated, with your characters attacking on their own, and the player only having to decide when to use their most destructive skills.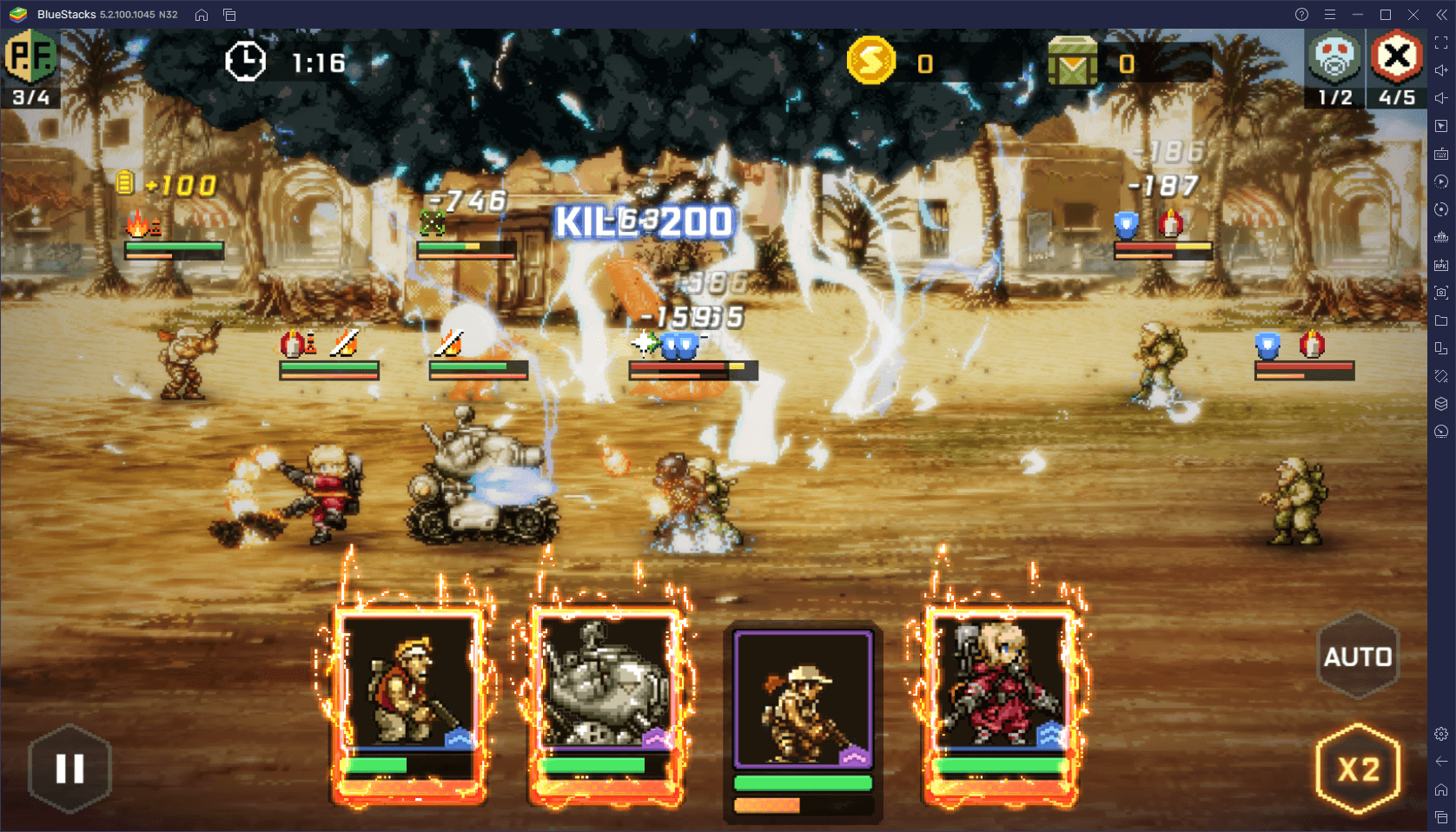 Despite being quite an easy title to get into and play, especially if you're a fan of the franchise, Metal Slug: Commander can be enjoyed much more if you play it on PC with BlueStacks. Aside from letting you play your favorite mobile games on a large computer monitor and with the best graphics and performance, our emulator also gives you plenty of different features and tools to enhance your experience even further. And in this article, we're going to show you exactly how to use some of these tools to improve your game.
How to Configure and Customize Your Controls
One of the best tools that BlueStacks offers is the Keymapping Tool, as it lets you control any mobile game on PC using your mouse and keyboard. In this sense, instead of having to play with touchscreen controls, which are often awkward and uncomfortable, you can control every aspect of the game using your peripherals.
In games like Metal Slug: Commander, you can use the Keymapping Tool to let you control your characters' skills in combat with the keyboard, instead of having to manually click on them whenever you want to use them. Similarly, you can also add shortcuts to the UI and other menus to simplify navigation and save you lots of time and clicks.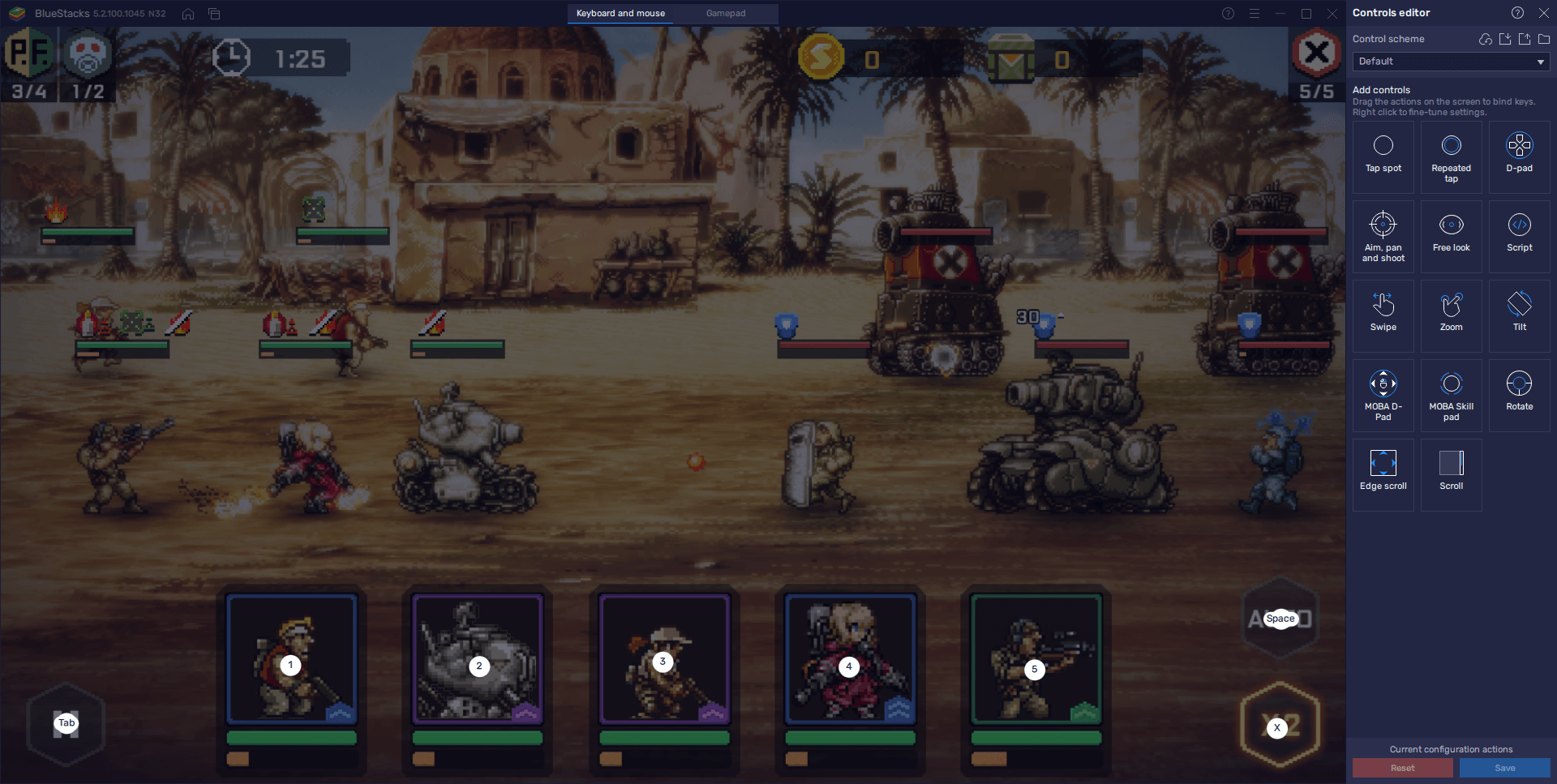 Customizing your controls in Metal Slug: Commander is easy; just press Ctrl + Shift + A in-game to open the Keymapping Tool. In this screen, you can modify the current bindings by clicking on them and then pressing the new key you wish to replace them with. However, you can also add new controls by dragging the predefined functions from the panel on the right, onto the desired location on the screen. Afterward, whenever you progress the corresponding button, the assigned function will play out wherever you placed them.
Play Multiple Games at the Same Time With the Instance Manager
While Metal Slug: Commander can be quite entertaining to sit down and play, there will come a time when you run out of resources or things to do temporarily. However, since your characters are always grinding for resources even while you're AFK or offline, it's worth popping up every now and then to claim these idle rewards and avoid capping them out since you stop producing whenever your AFK loot is maxed out.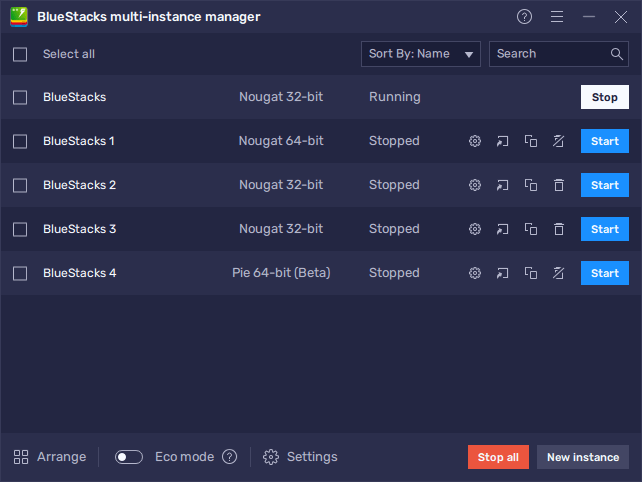 With the Instance Manager, you can create as many BlueStacks instances as you want (as long as your PC can handle them) and use them to access several different games at the same time. In this sense, you can have Metal Slug: Commander, as well as any other games on one screen at the same time, and without any sort of performance problems.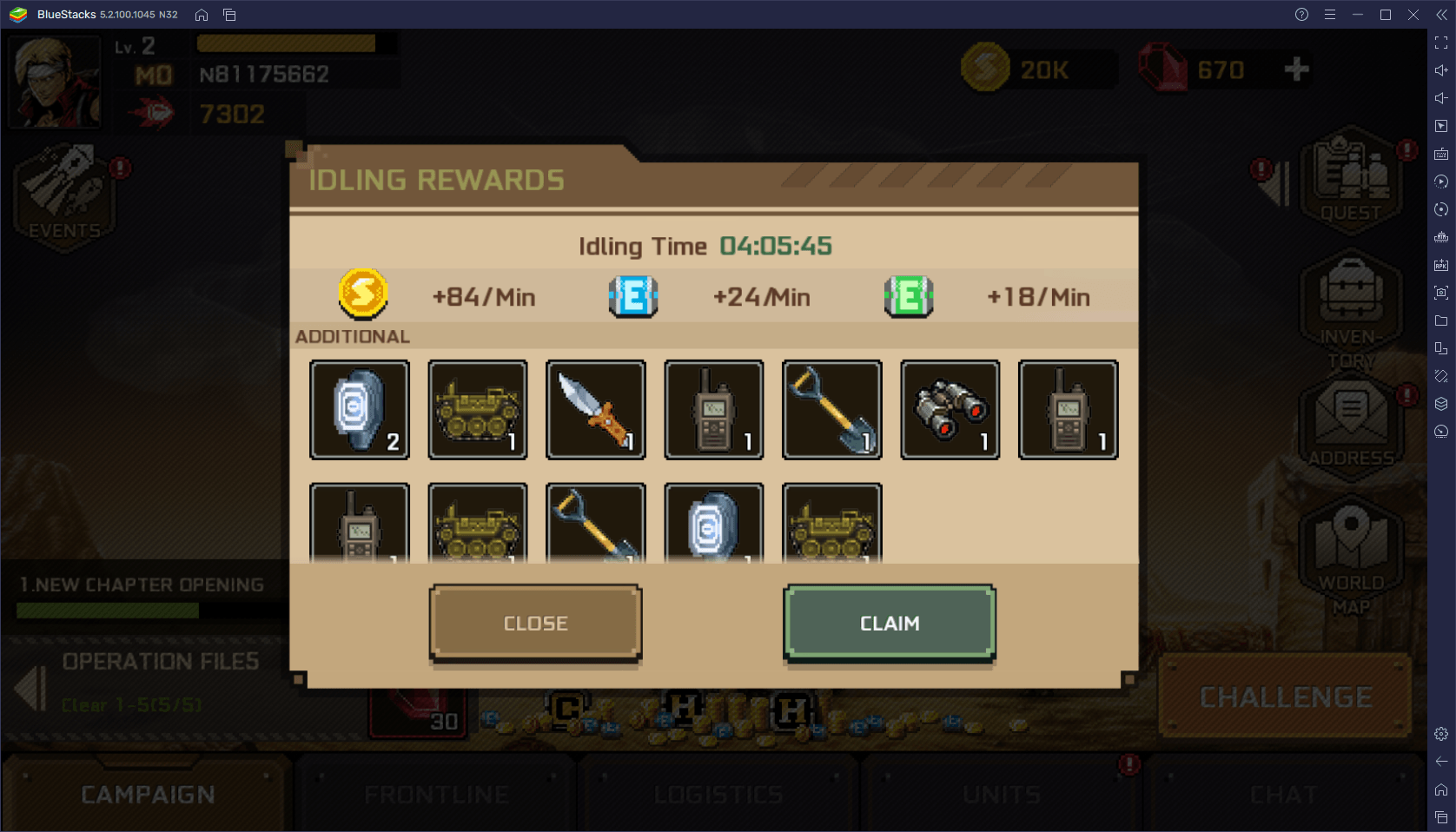 Being able to play multiple games at once is great for titles like Metal Slug: Commander, mostly because it lets you keep having a good time on your computer, while also staying on top of your progress in the game. In this sense, you can pop in at any time, pick up your AFK loot and make a few upgrades, and go back to your other games without missing a beat.
Get the Best Performance on Multiple Instances While Consuming the Least Resources
If the act of playing on several instances at the same time interests you, but you're worried that your PC might not be able to handle it, you don't have to worry; BlueStacks 5 puts several tools at your disposal specifically designed to enhance its performance while cutting down on RAM, CPU, and GPU Usage.
Starting with Eco Mode, this feature can help to significantly reduce CPU and GPU usage while gaming. When activated, this tool reduces and limits the frame rate of the selected instance in order to reduce usage. This is great for whenever you want to minimize Metal Slug: Commander to the background but want to come back to it eventually, so you can keep the instance running without sacrificing performance.
On the other hand, we have the Performance Mode feature, which lets you choose from three different performance profiles in order to manage RAM usage. The "High Performance" mode consumes more RAM in exchange for a smoother performance, while the "Low Memory" setting reduces RAM usage while possibly decreasing in-game performance. If you combine this feature with the Memory Trim tool, accessed by pressing Ctrl + Shift + T, you can optimize the RAM usage of the corresponding instance with the press of a button.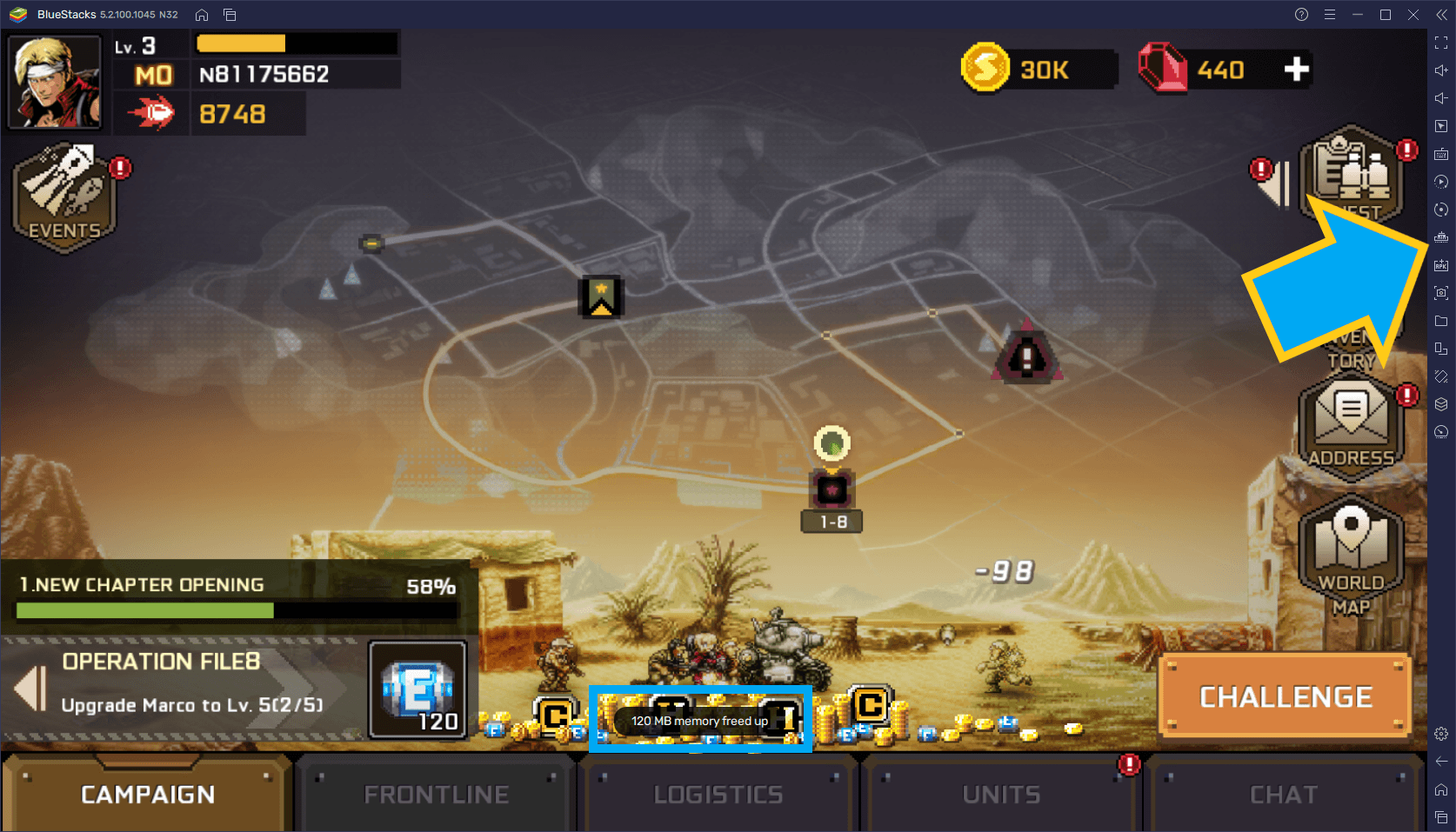 BlueStacks gives you all the tools and features you need not only to enhance your experience with Metal Slug: Commander on PC, but also to ensure smooth performance at all times.