Game Guides
Might & Magic: Era of Chaos Tier List and Reroll Guide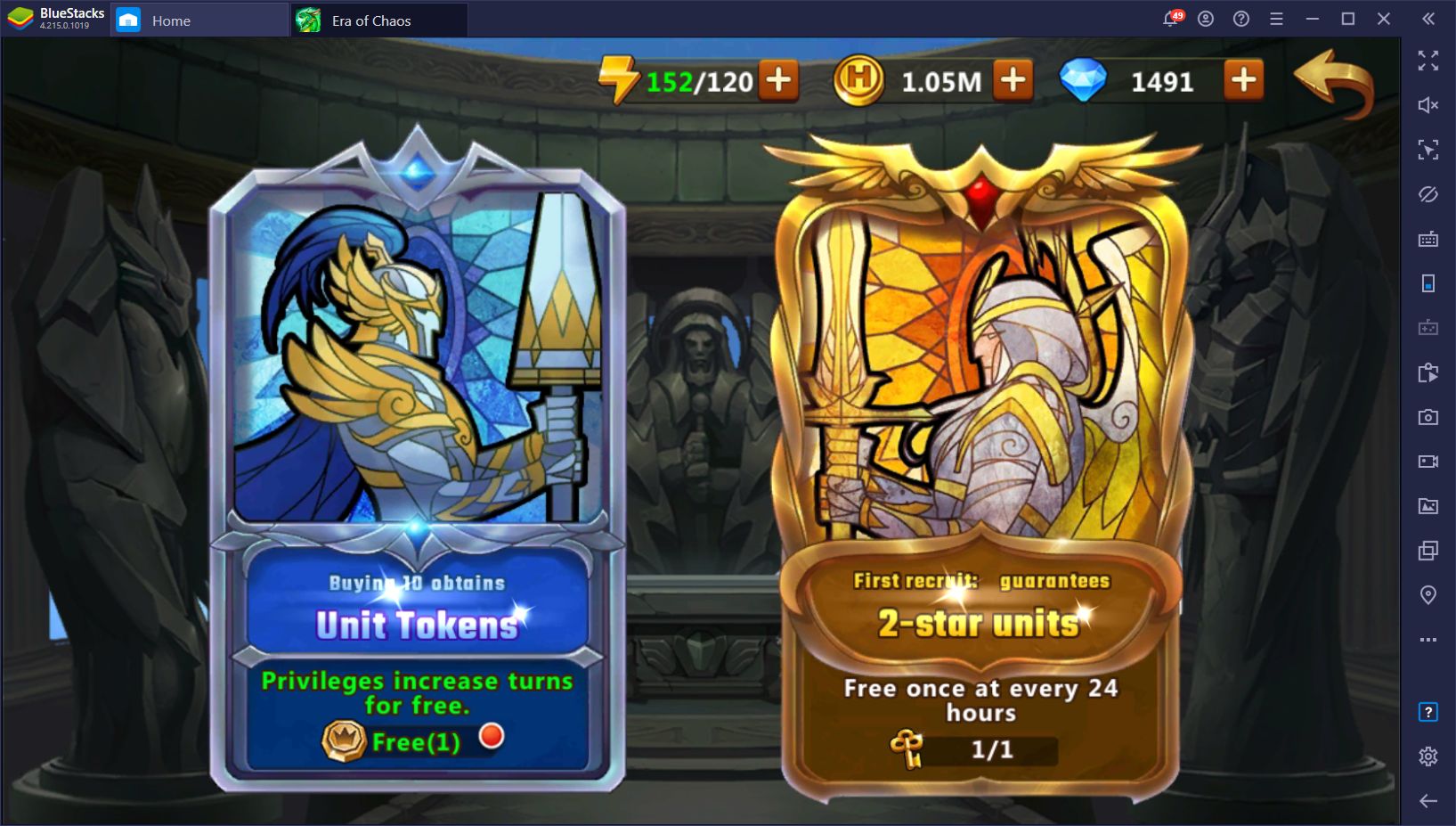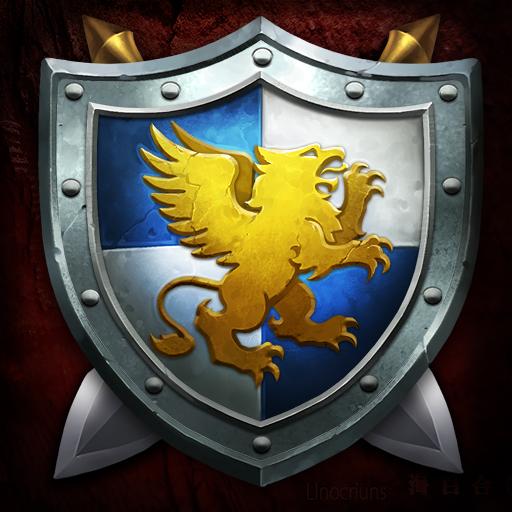 There are many different units to collect in Might & Magic: Era of Chaos, all of which fall into several categories and boast different and unique skills and stats. Using the right units in combat is almost as important as arranging them in the best formations to face the enemy in the field. In this sense, you'll want to unlock the best units ASAP. Moreover, your heroes are also quite important as they offer different spells that can turn the tide of any battle.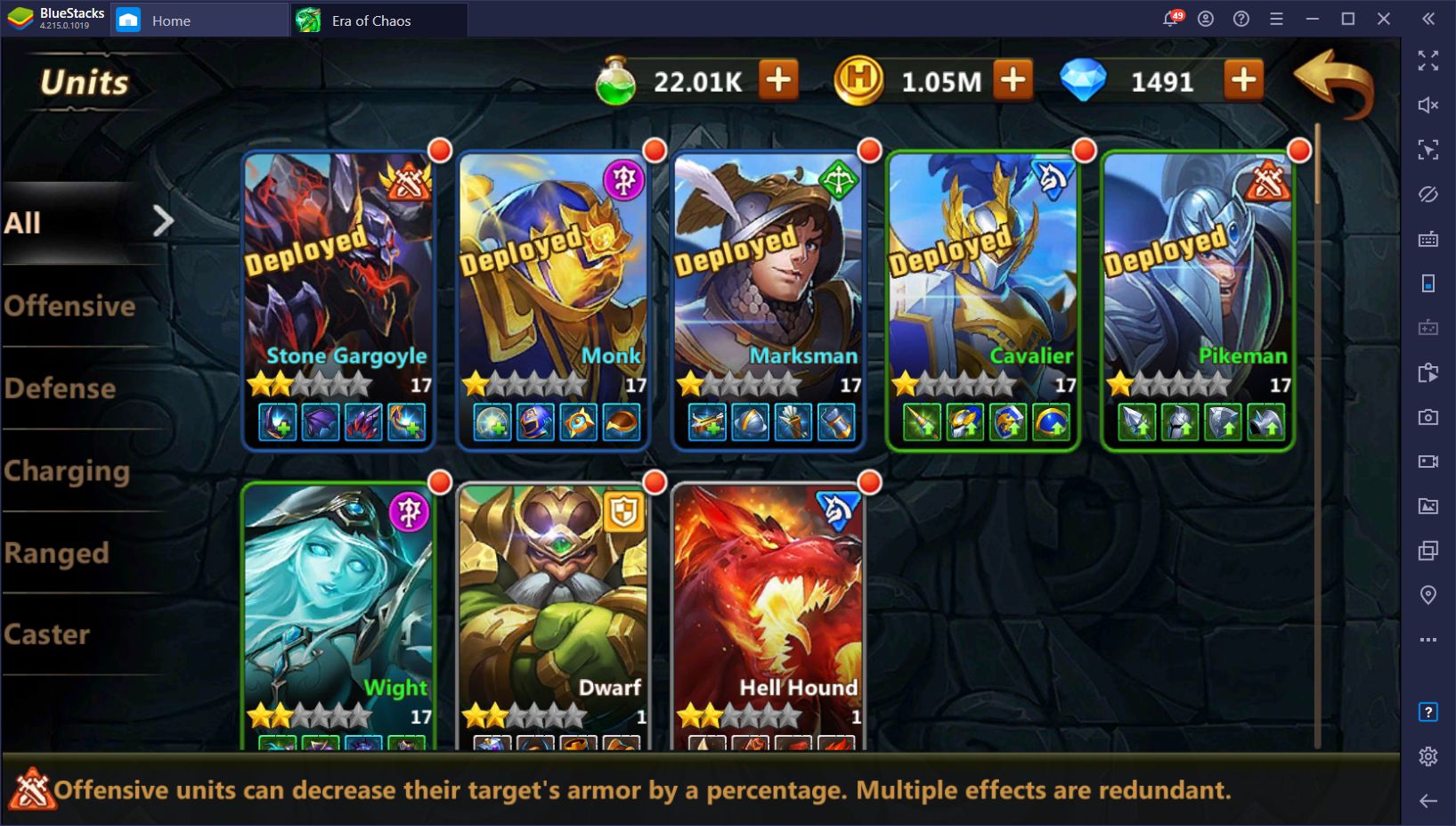 However, since there are quite a few different units and heroes to unlock in this game, you'll probably have troubles deciding which to upgrade. And since your resources are limited most of the time, you wouldn't want to invest on a unit that you're going to replace down the line. This where this Era of Chaos tier list comes into play as you'll find the best units and heroes that you'll want to unlock and upgrade.
Rerolling in Era of Chaos
However, before we get into the tier list proper we need to address rerolling in this game.
Simply put, it's possible, and even encouraged, to reroll in Era of Chaos as it'll allow you to score a powerful SR unit from the very beginning, which can dramatically make it easier for you to progress through the main story missions. Some popular targets for rerolling in this game include Angels, Pit Fiends, Giants, or Behemoths.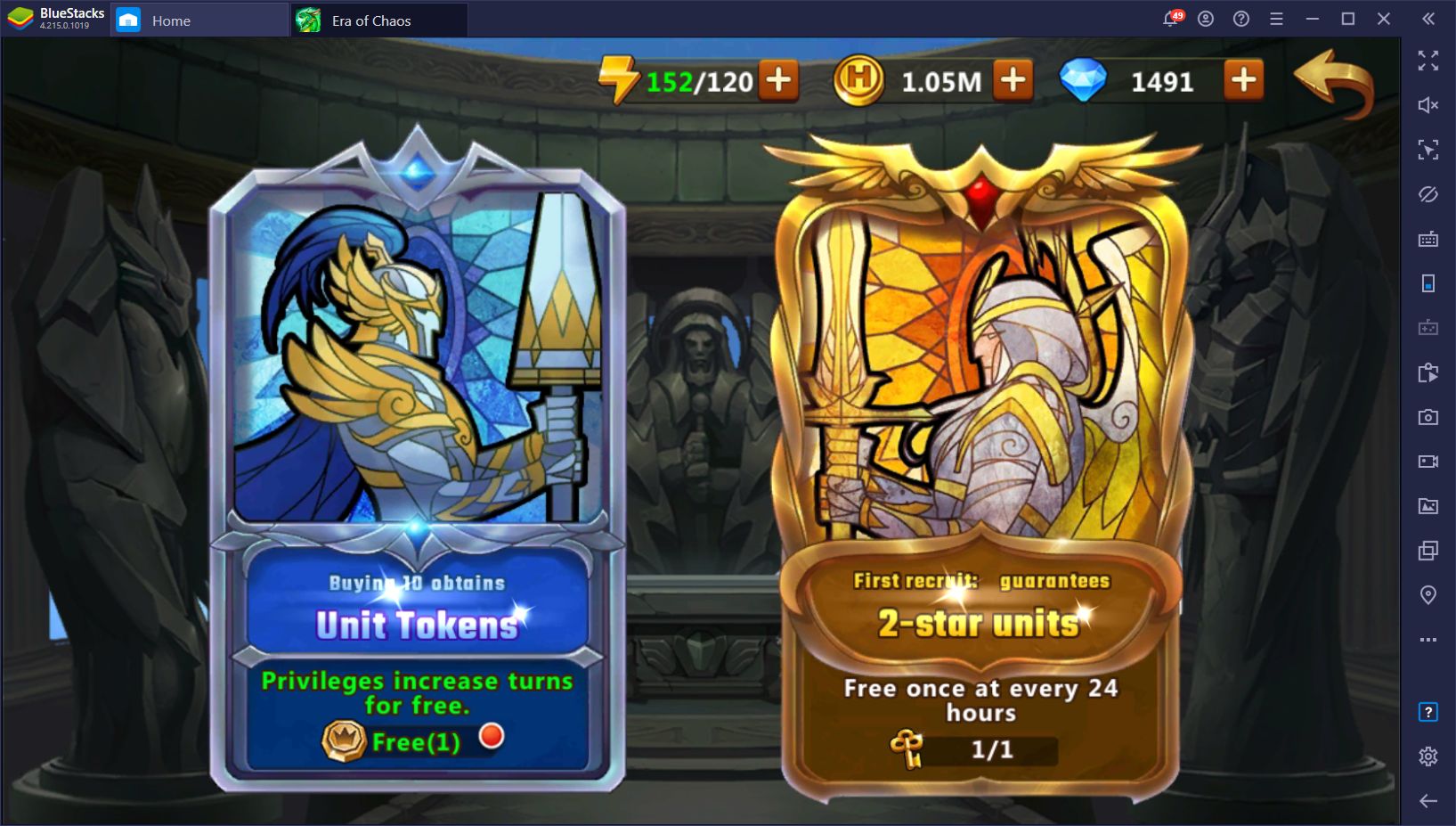 Rerolling in Era of Chaos is easy, and you can do it by following these steps:
Start a new game with a guest account.
Progress until you can perform your first 10x gold summoning. This can take a while as you'll need to save up over 2k Diamonds.
If you're not satisfied with the results, delete and reinstall the game to start over. Alternatively, log out and change servers.
Once you summon a good SSR unit from your first 10x, remember to link your account with Google Play to save your progress.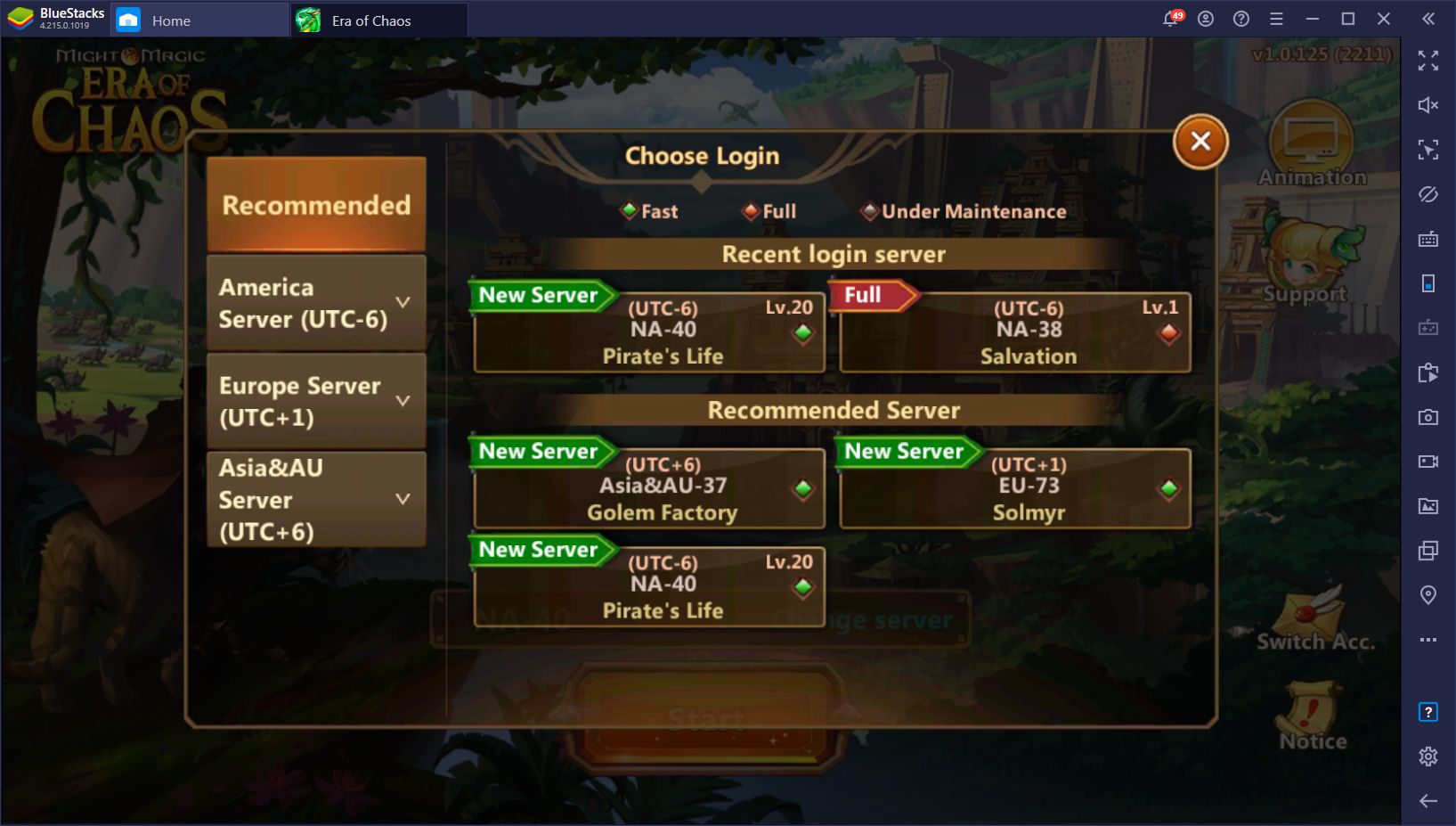 This process can take a few hours every run as you'll need to save up lots of diamonds to perform your first 10x pull. With BlueStacks, however, you can use the Instance Manager and Multi-Instance Sync tools to pull with multiple accounts at the same time. Instead of summoning 10 units per run, you can pull 20, 30, or even more, depending on how many instances your PC can handle. Download Era of Chaos on PC with BlueStacks and take your gaming experience to the next level!
Era of Chaos Unit Tier List
Your units in this game are the ones who will be doing most of the dirty work. That is, they're the ones that will take to the field and fight in your name. In this sense, one good way to win in Era of Chaos is to have the best units in the game in your squad.
As of July 2020, the best units in the game for PvE include the following:
1. Pit Fiends (SR)
They are quite tanky thanks to their Firespring skill, which allows them to heal themselves and all allied units in a large area for a total of 16% of their max HP over 8 seconds. They can also summon 4 powerful demons to assist in combat, which persist throughout the entire battle.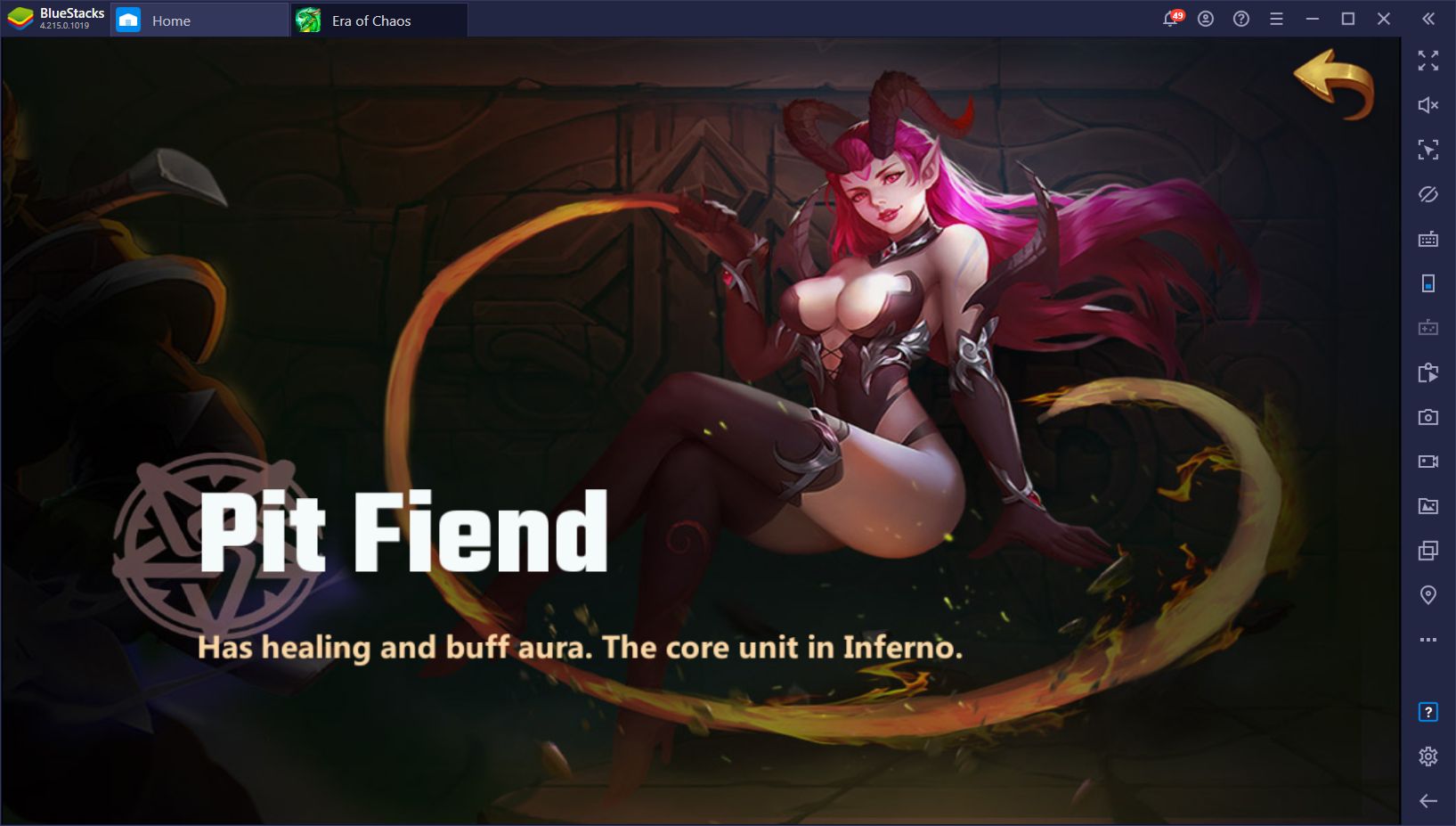 2. Angel (SSR)
One of the best units in the game thanks to their astronomical damage potential and healing abilities. They can deal heavy damage to 3 enemies and stun them for 3 seconds with their ultimate, and can also resurrect fallen allies with 30% of their max HP.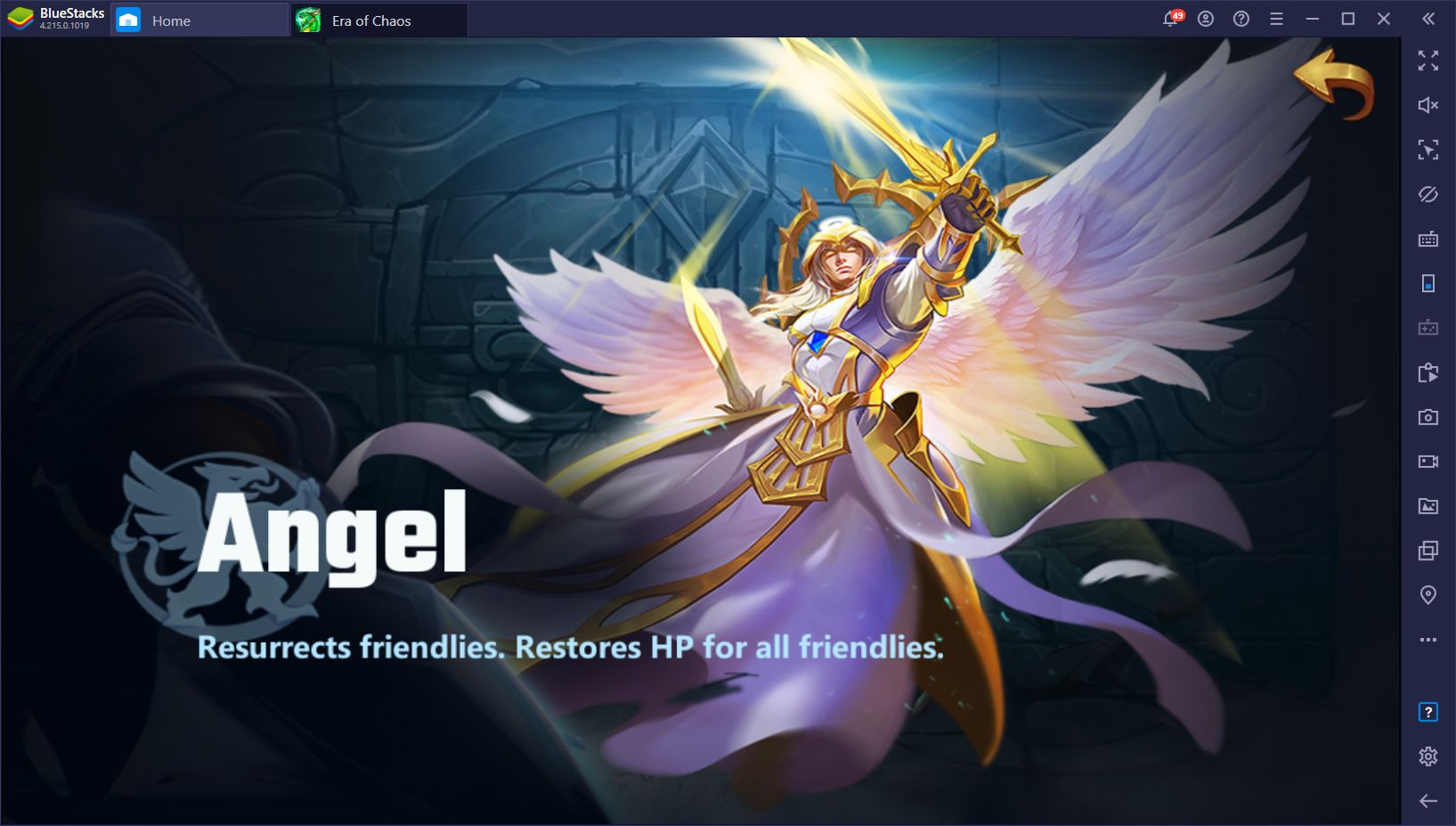 3. Devil (SSR)
The ultimate back-row destroyer, with plenty of skills for dealing with those pesky casters and ranged units. Devils can jump to the back row at the very beginning of the battle, and burst down the enemy with strong attacks. And if they survive, they will slowly burn and wither away with this unit's DoT damage.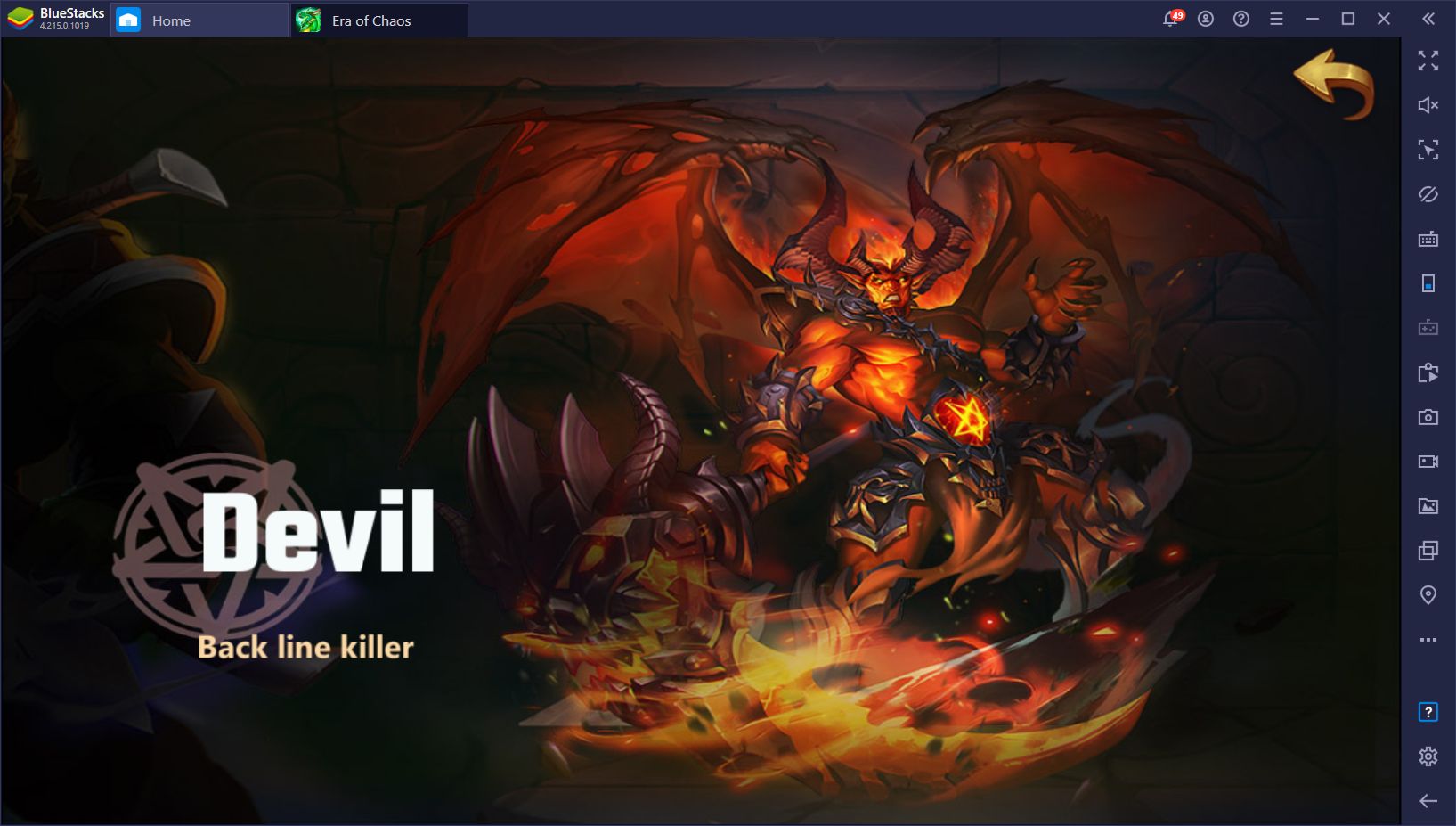 4. Wood Elves (SR)
Arguably the strongest ranged units in the game, especially when paired with Gelu. They can scale very well when they have additional ranged units deployed on the battlefield. By themselves, however, they are already very strong thanks to their burst damage and double strike capabilities.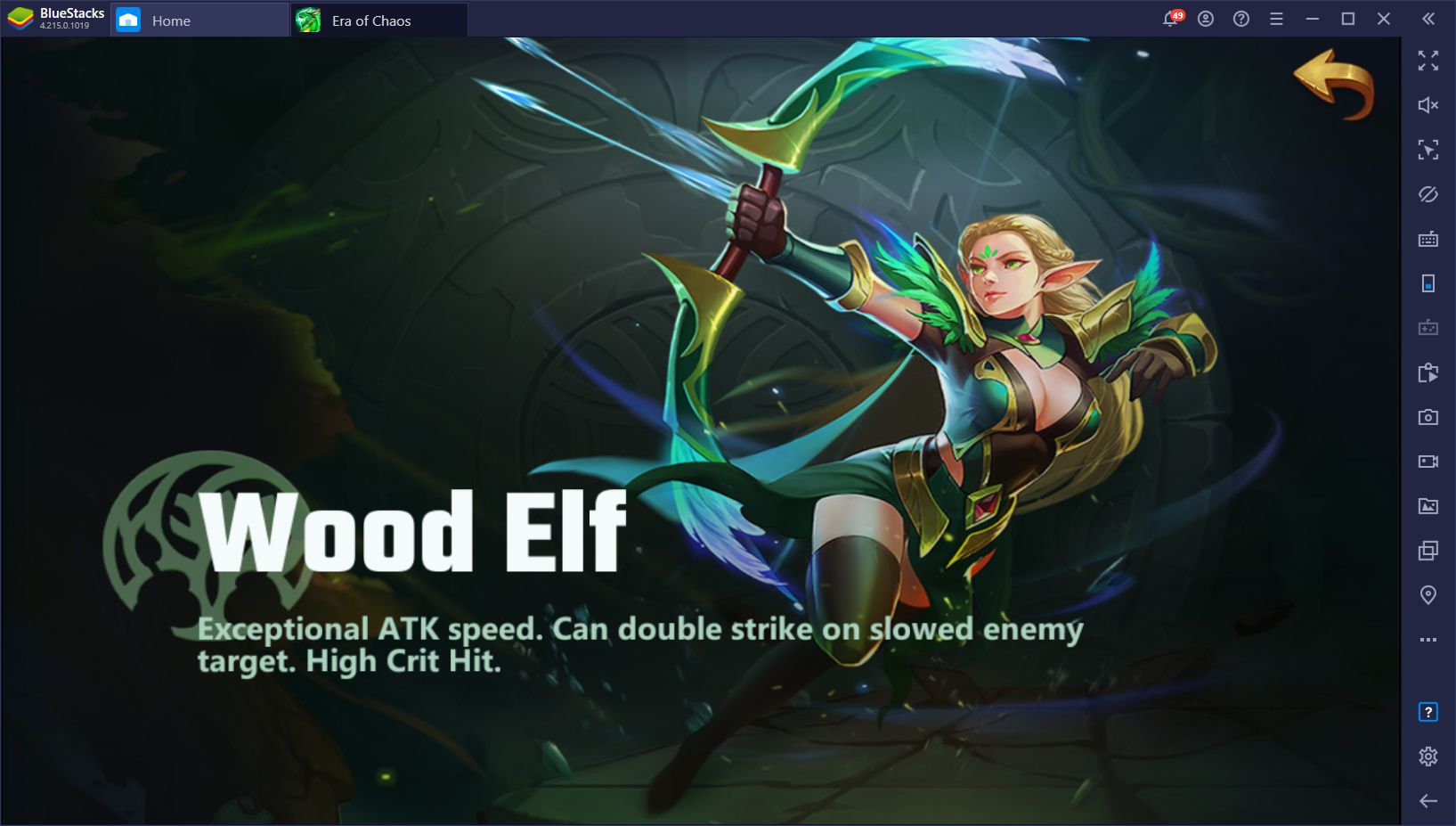 5. Marksmen (R)
One of the strongest ranged units alongside the Wood Elves, which you'll probably want to use alongside them. One of their main strengths is that they're easy to upgrade since you can farm their fragments relatively early in the game.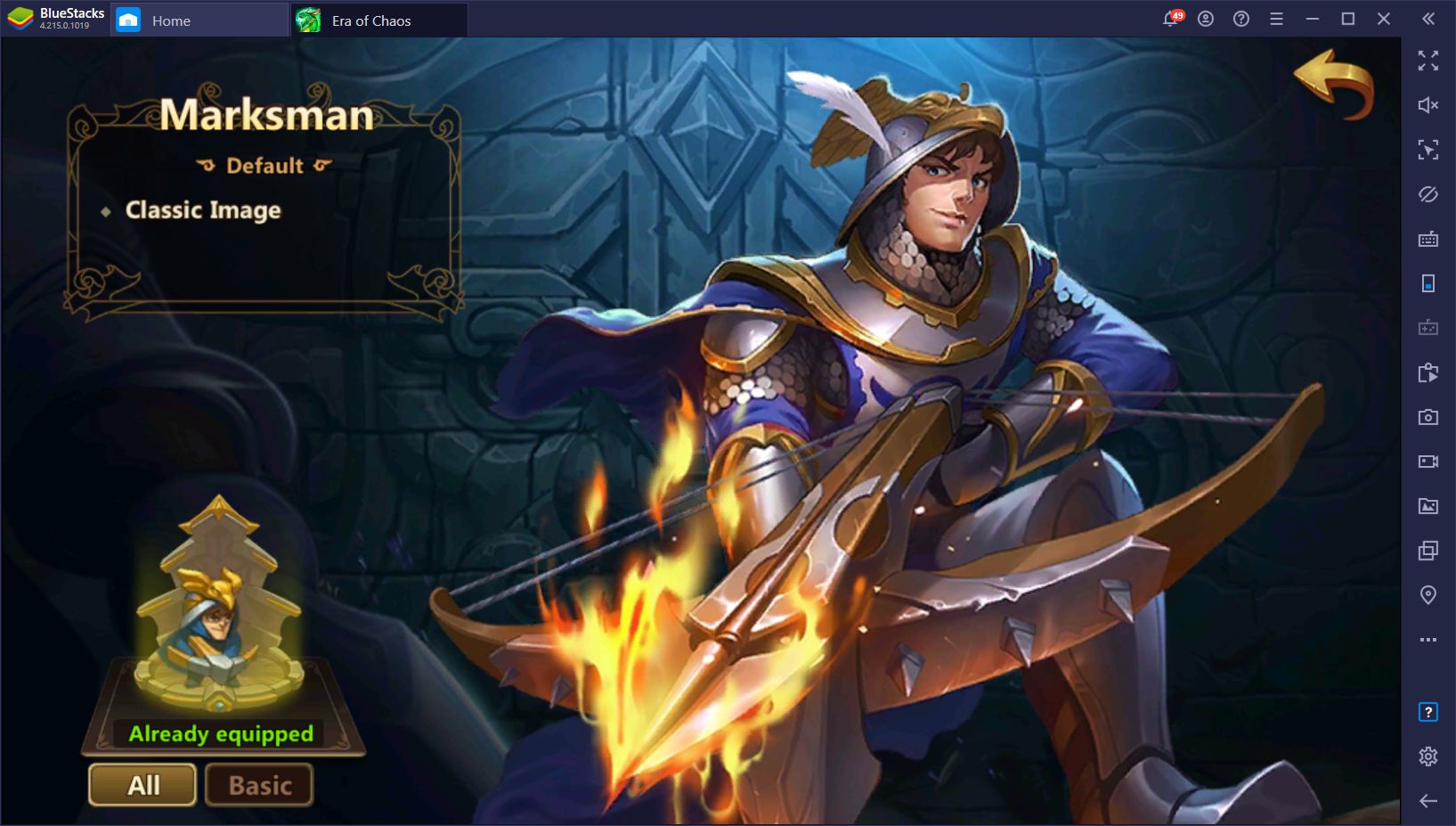 6. Pegasus (SR)
Another powerful ranged unit with a defensive focus that can shield allies from harm. This unit can also apply the bleed status to enemies on every hit, further increasing their damage output. After they die, they summon an additional pegasus that continues fighting until defeated.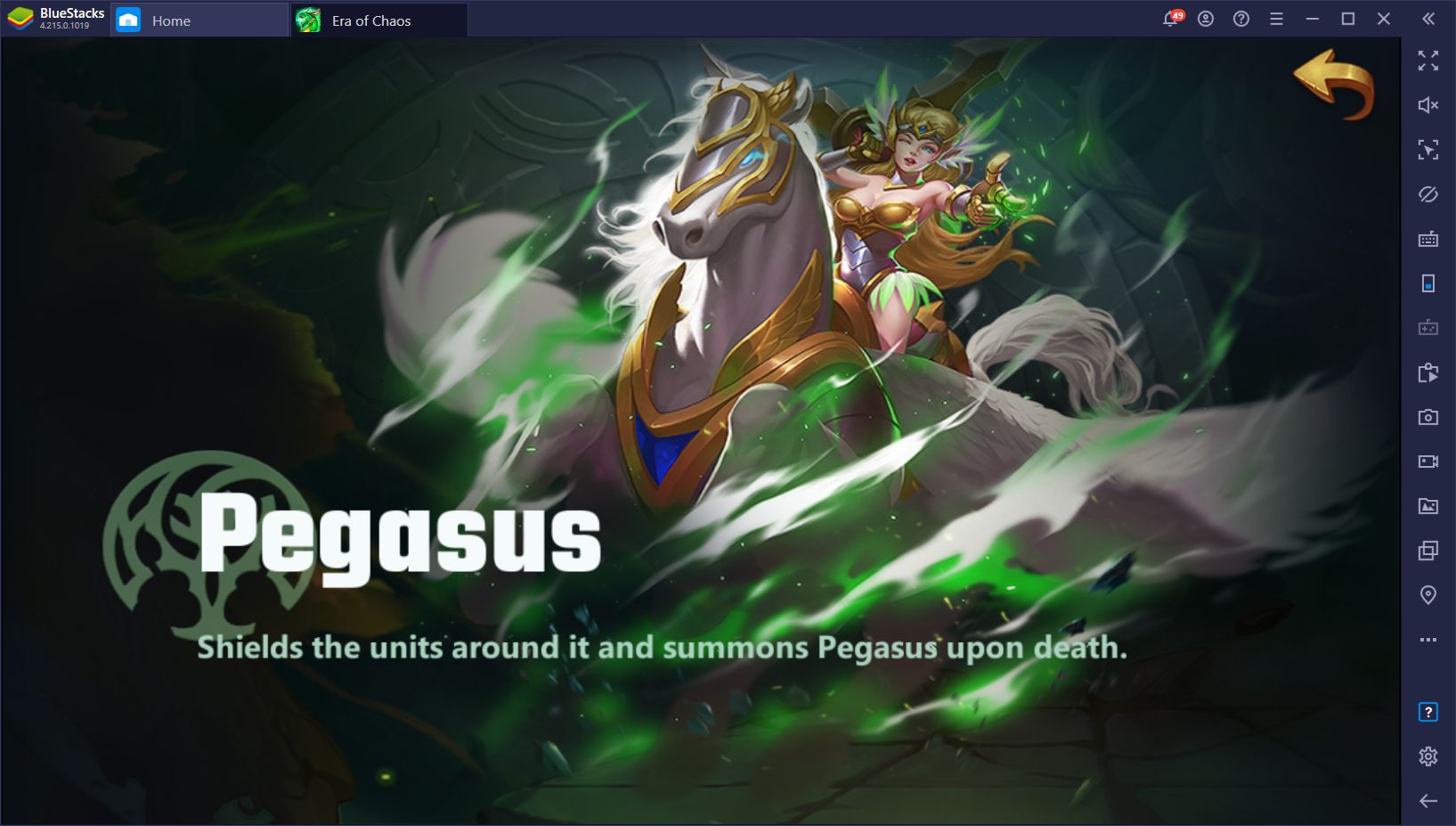 7. Black Knight (SSR)
One of the strongest charging units in Era of Chaos, with skills for weakening the enemy's morale, and landing devastating critical blows. They get much stronger as the fight goes on thanks to their Death Charge skill.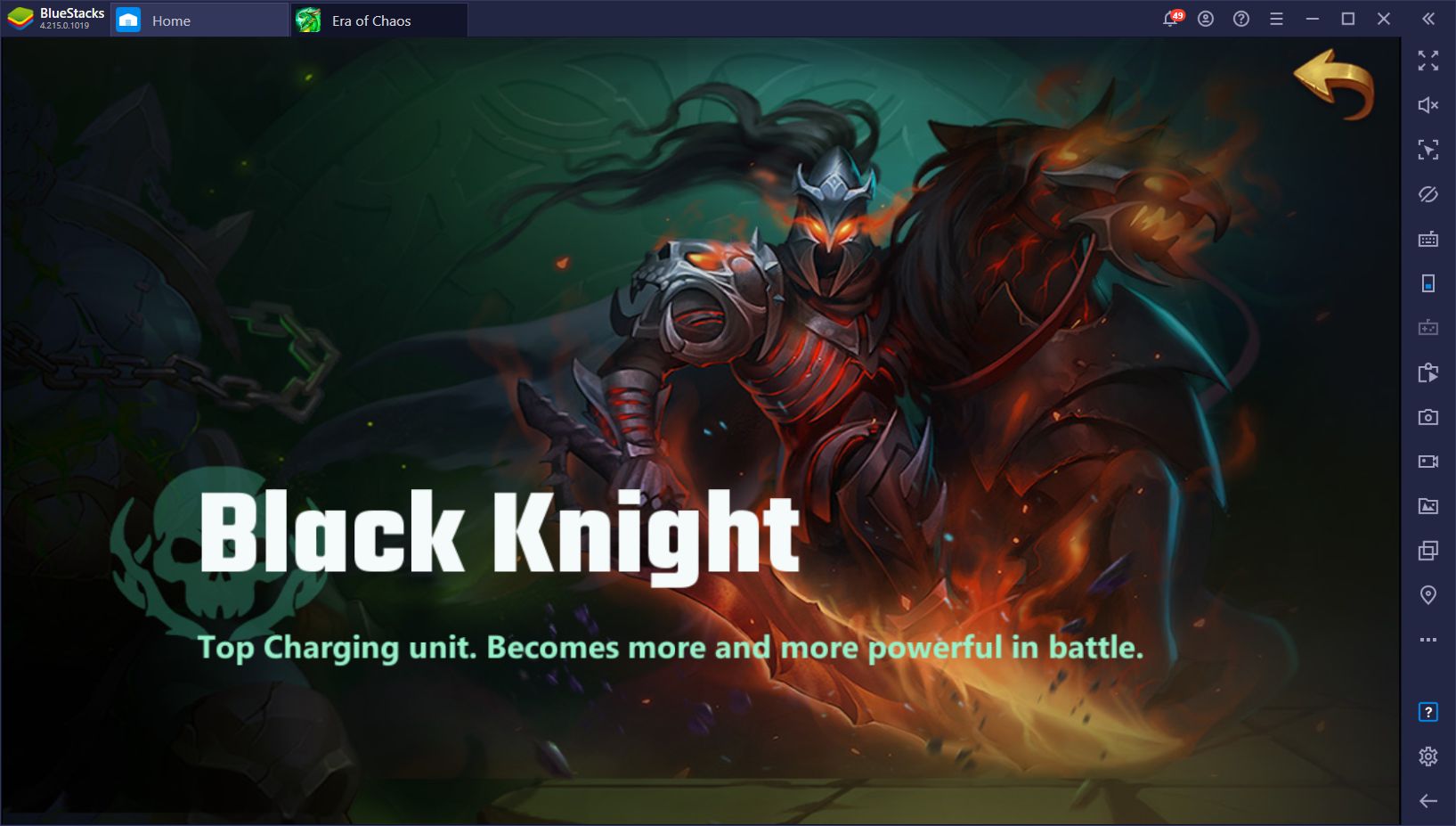 Era of Chaos Hero Tier List
While there are many different units that you can summon in Era of Chaos, there are also plenty of Heroes that you can recruit, and which all offer different spells and unique passive skills. Some of the best heroes in the game include the following:
1. Gelu
A master archer that can dramatically increase the power of ranged units. Gelu can upgrade Wood Elves to Sharpshooters, improving their double strike to expert double strike and increase both their attack and HP. He can also buff the crit damage and crit chance of all ranged units on the battlefield. His ultimate, however, is what sets him apart from the rest as he can increase the attack speed of friendly units by 500% for 5 seconds. This attack speed, coupled with staggering crit rate, turns your ranged units into absolute powerhouses.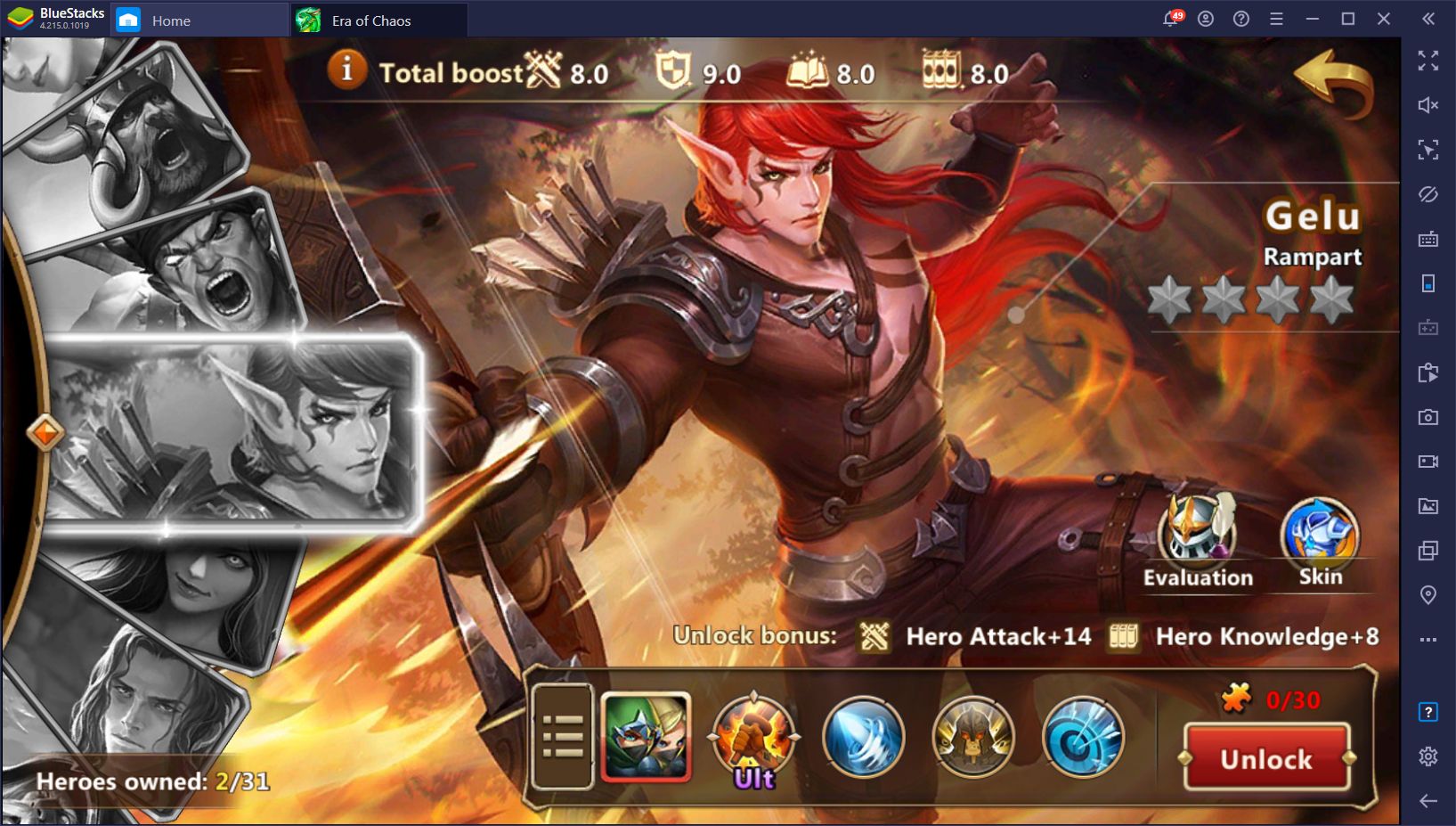 2. Ryland
A good defensive option that you can unlock for free by completing story missions. Ryland is a good flanker that can directly assault the enemy's back row with an army of summoned treants. Moreover, he can both shield his units, and heal their HP, keeping them alive for much longer. Though his specialty is Dendroids, he's still a good hero in the right hands.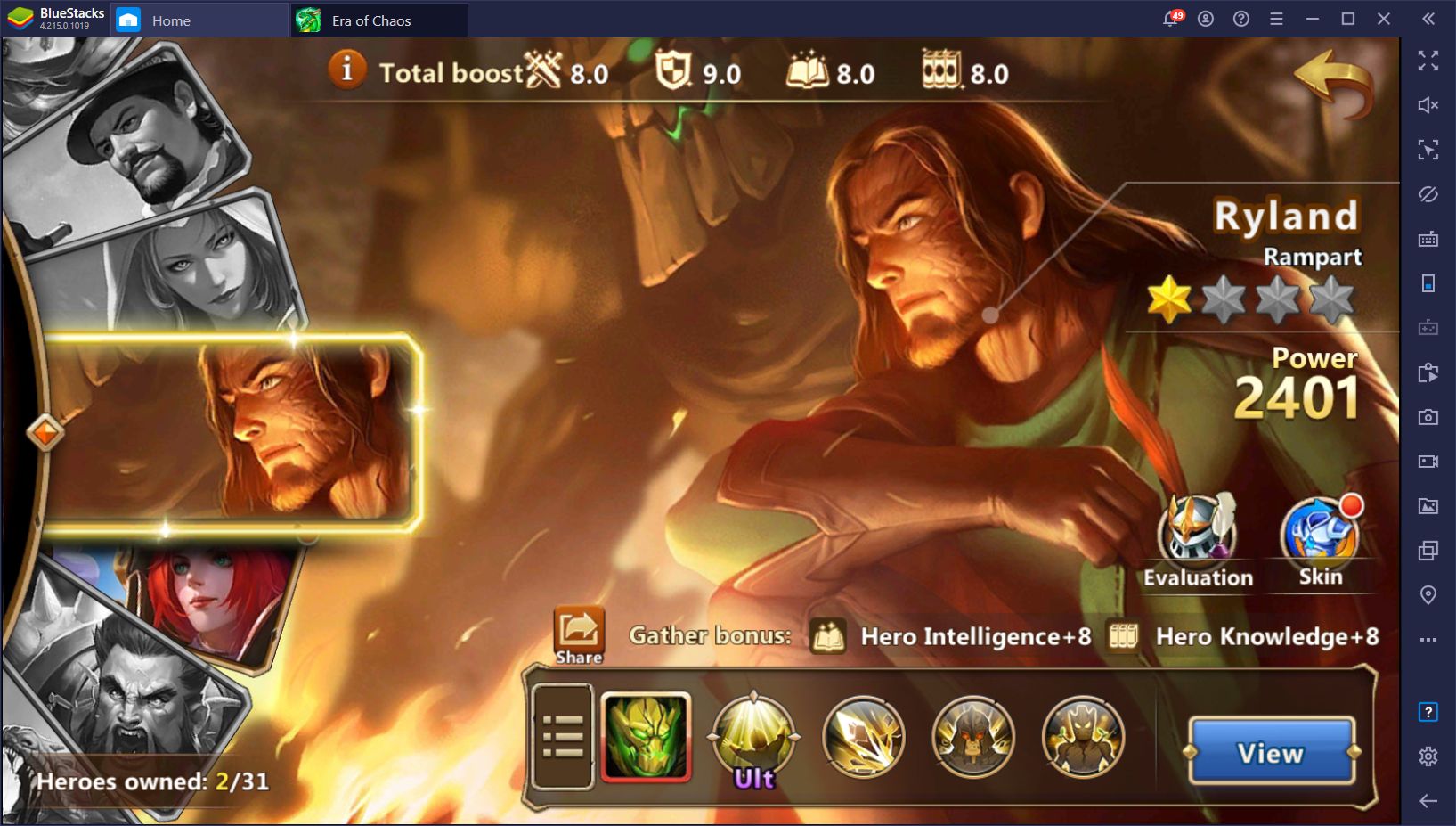 3. Catherine
The Queen of Erathia and the starter hero of the game. She's a balanced hero that offers both decent offensive and defensive capabilities. Her ultimate, in particular, is quite strong and can help to beat some of the toughest stages at the beginning.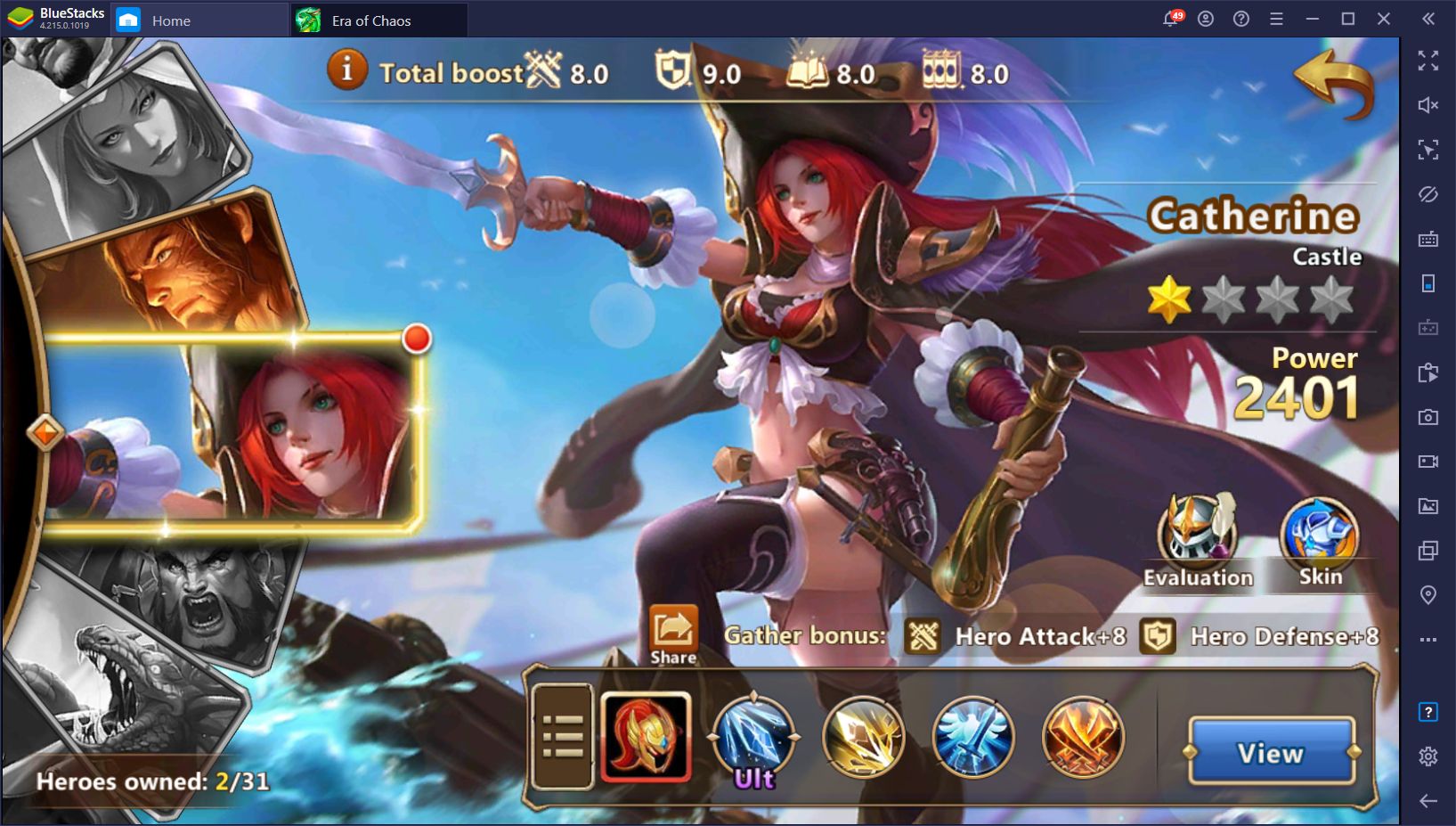 4. Mephala
One of the best defensive options that can provide damage reduction to her units, and even shield them completely from harm with her ultimate for up to 5 seconds. With her passive skill, she can essentially keep Stone Skin active on her units at all times.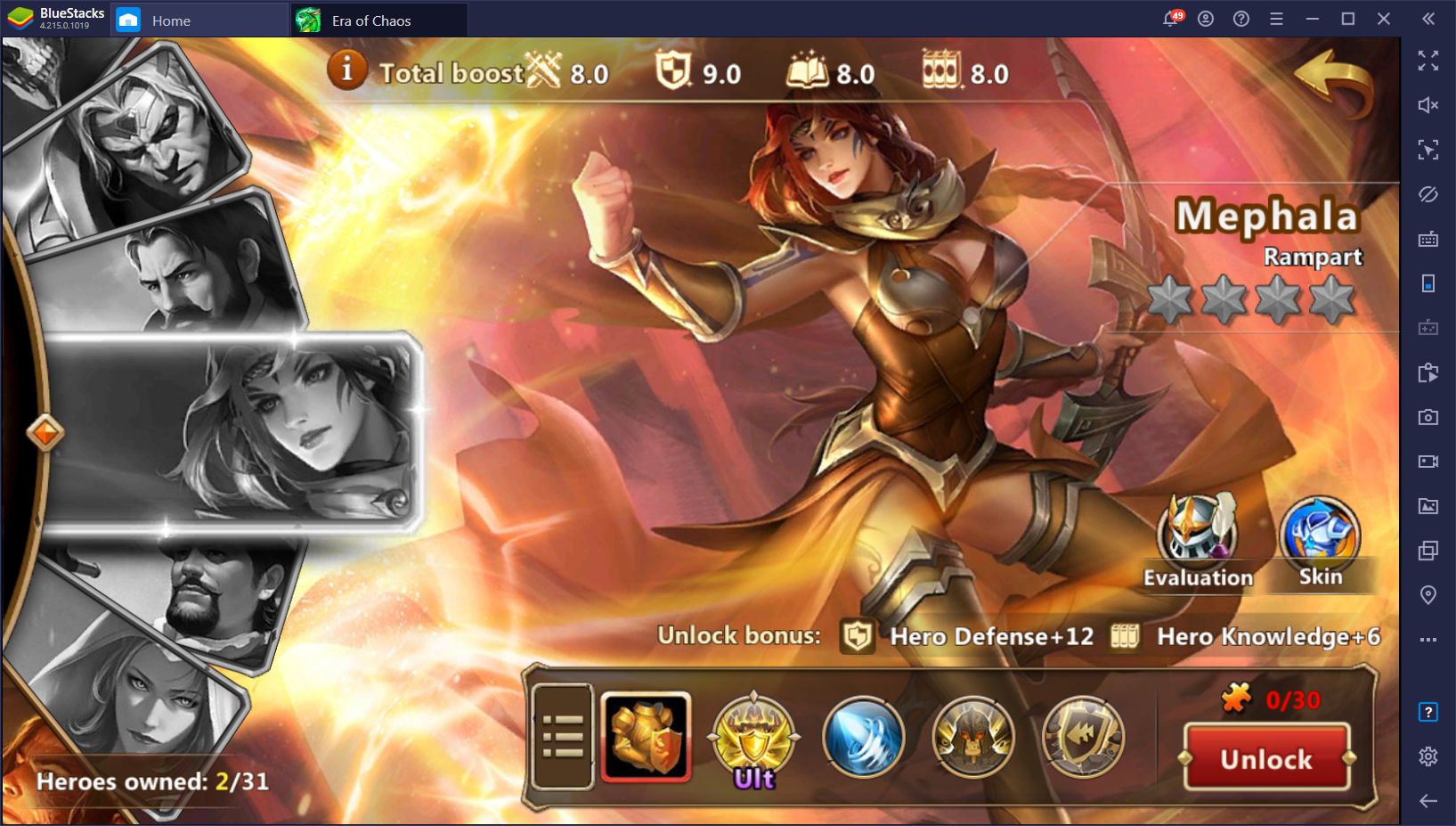 5. Astral
A master of AoE and crowd control that can incapacitate and weaken the enemy so that his units can wipe them out without resistance. His speciality is blinding foes, or reducing their accuracy, in general, so that they can't fight back.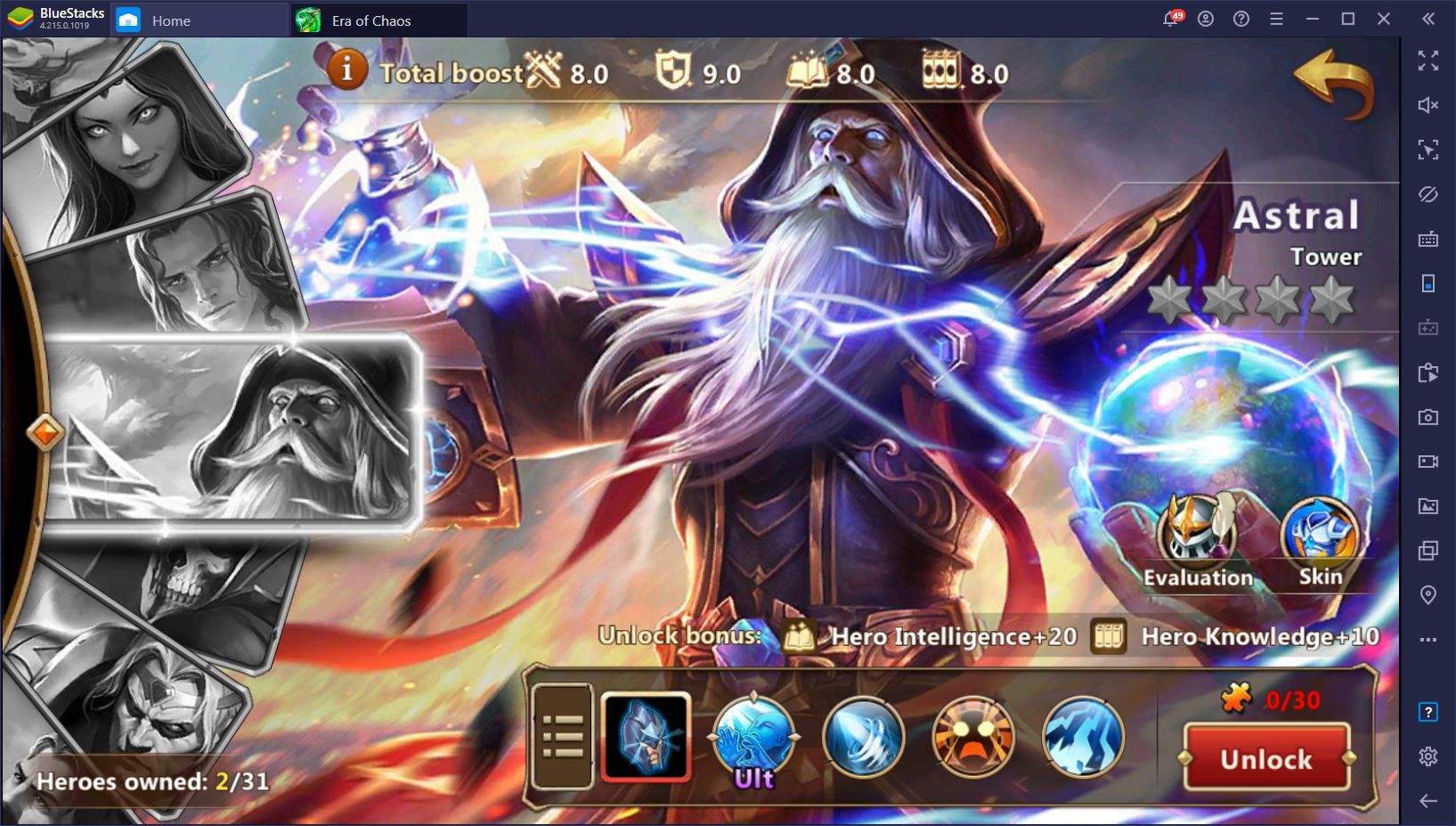 There are many different and viable heroes and units that you can unlock in Might & Magic: Era of Chaos. The ones we mentioned above are among some of the best, which are the strongest in a wide variety of situations. Which are your favorite characters and units in the game? Leave us a comment in the section below!