Game Guides
Might & Magic Era of Chaos – The Best Tips, Tricks and Strategies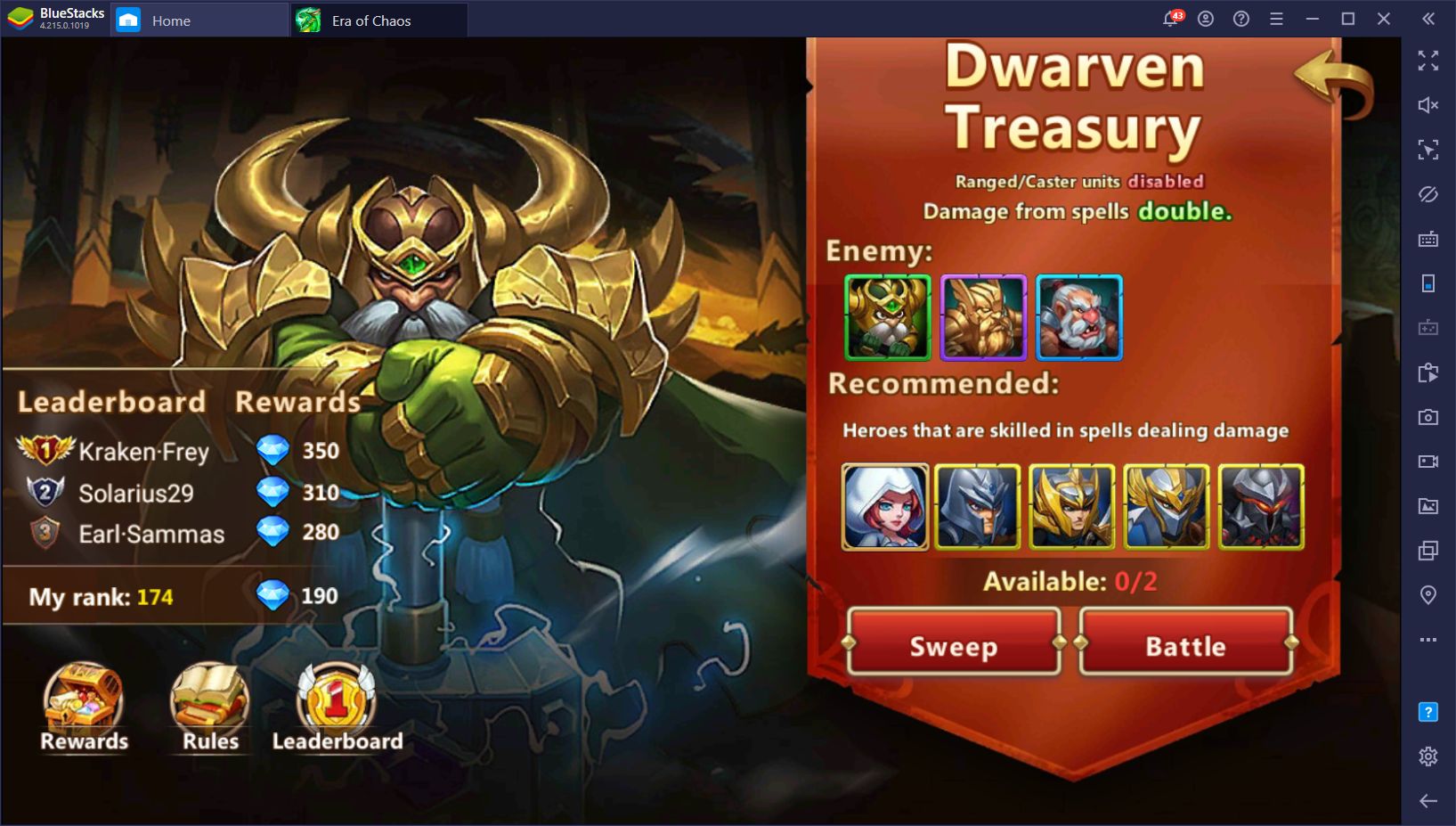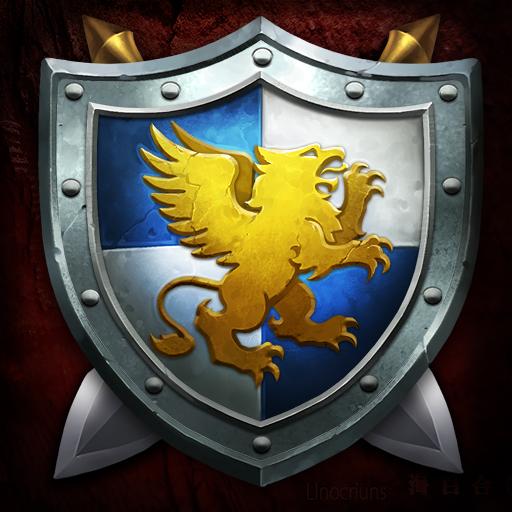 Era of Chaos is an interesting mobile RPG based on the popular Heroes of Might & Magic franchise. If you don't know them, the HoMM games were some of the most popular strategy RPGs in the late '90s. However, while the series of PC games is still alive, it has fallen into niche status as of late. The latest entry, Era of Chaos, is an attempt to recapture the audience by retelling the story of HoMM 3, which was one of the most popular games in the entire series. Furthermore, the fact that it's a free mobile game means that it's available for a wider audience, which helps to capture more gamers.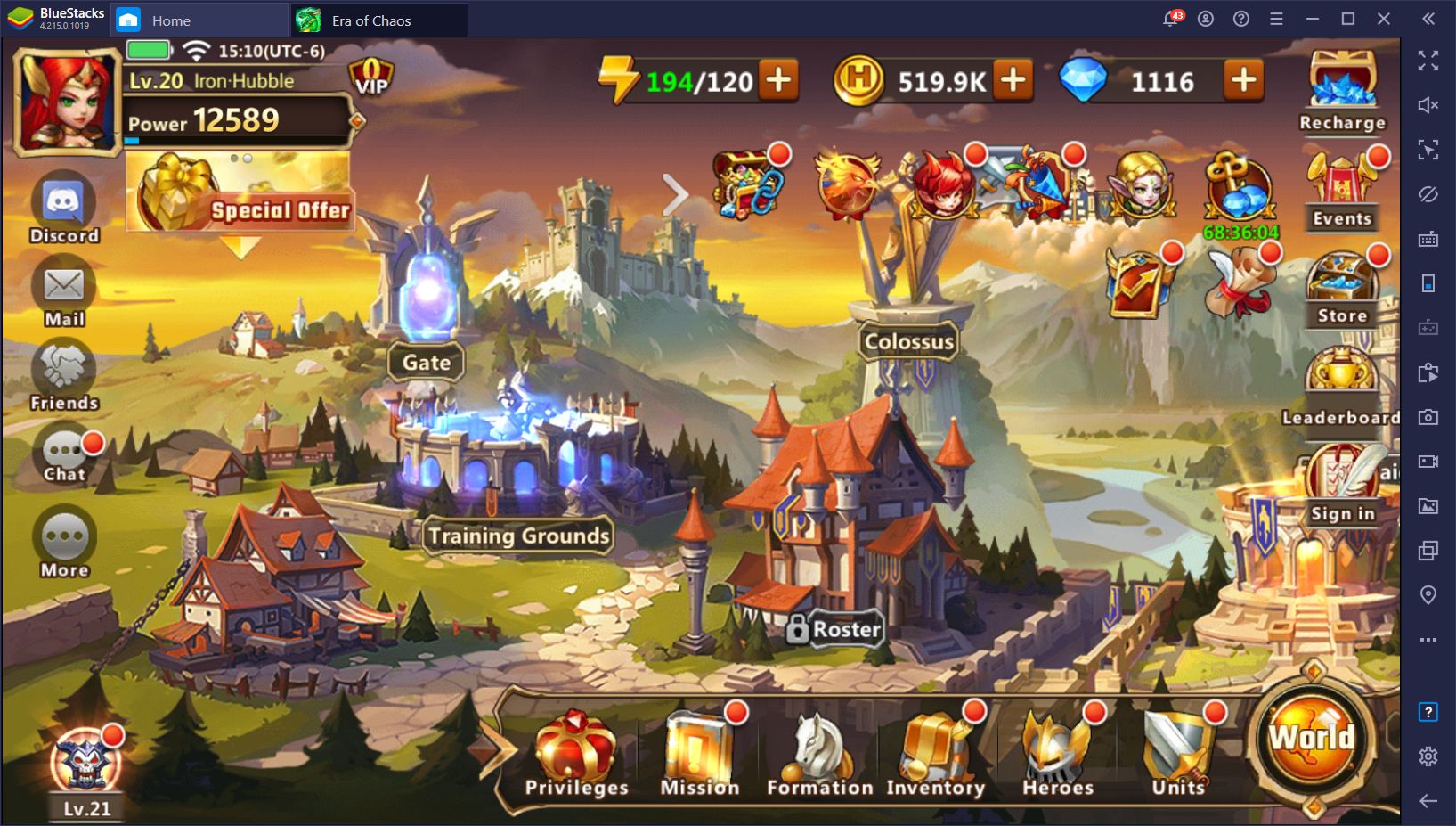 As a mobile RPG, Era of Chaos is actually pretty good. It features lots of automatic combat, as is standard with most phone games, but with a strategy twist in the fact that you need to arrange your units in formations so that they can effectively engage and beat the enemy on the battlefield.
There's quite more to this game than meets the eye. If you're new, we recommend taking a look at our beginner's guide to learn about the basic mechanics. On this occasion, we're going to share some of the best tips, tricks, and strategies that will help you to win any battle.
Automate The Grind and Enjoy Better Controls With BlueStacks
First thing's first; one of the most important about any game is actually being able to play it comfortably. And what better way to enjoy your favorite mobile games than by playing them on PC, with a large monitor, and with all the benefits that come from using your mouse and keyboard instead of relying on clunky touchscreen controls?
You can play Era of Chaos on PC by simply installing BlueStacks, our Android app player, and then downloading and installing the game just as you would any other phone game. Here's a step-by-step explanation on how to install this game on your computer: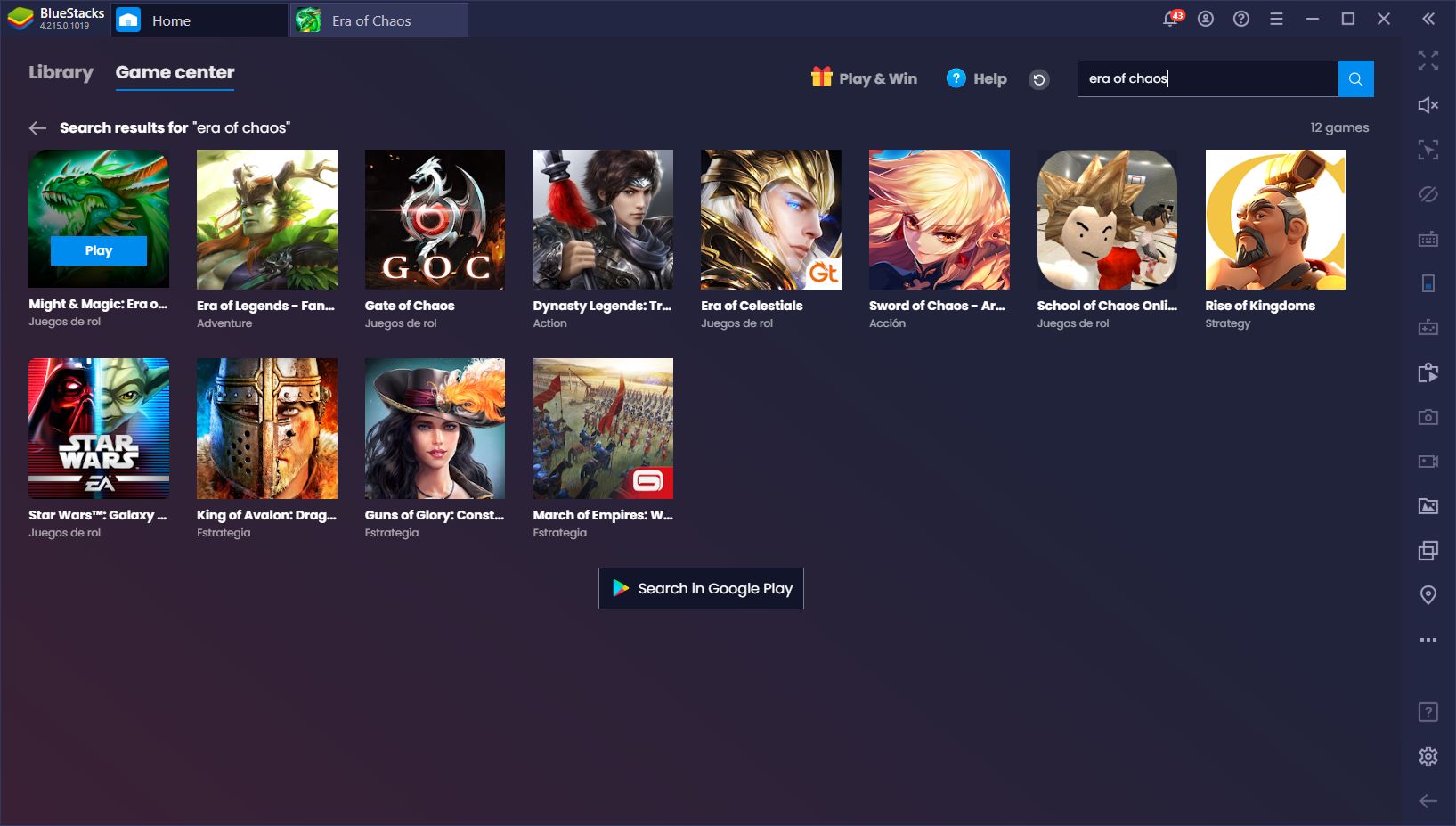 Download the latest version of BlueStacks from our website. Run the installer and wait until it finishes. Once done, the app player will launch automatically.
Using the text box in the BlueStacks home screen, search for Era of Chaos.
Click on the game in the search results and install it like you would any other phone game.
Launch your newly-installed app by clicking on its icon in the BlueStacks home screen.
Aside from offering you a much better experience by playing on a larger monitor, BlueStacks also offers other tools that can improve your performance in Era of Chaos.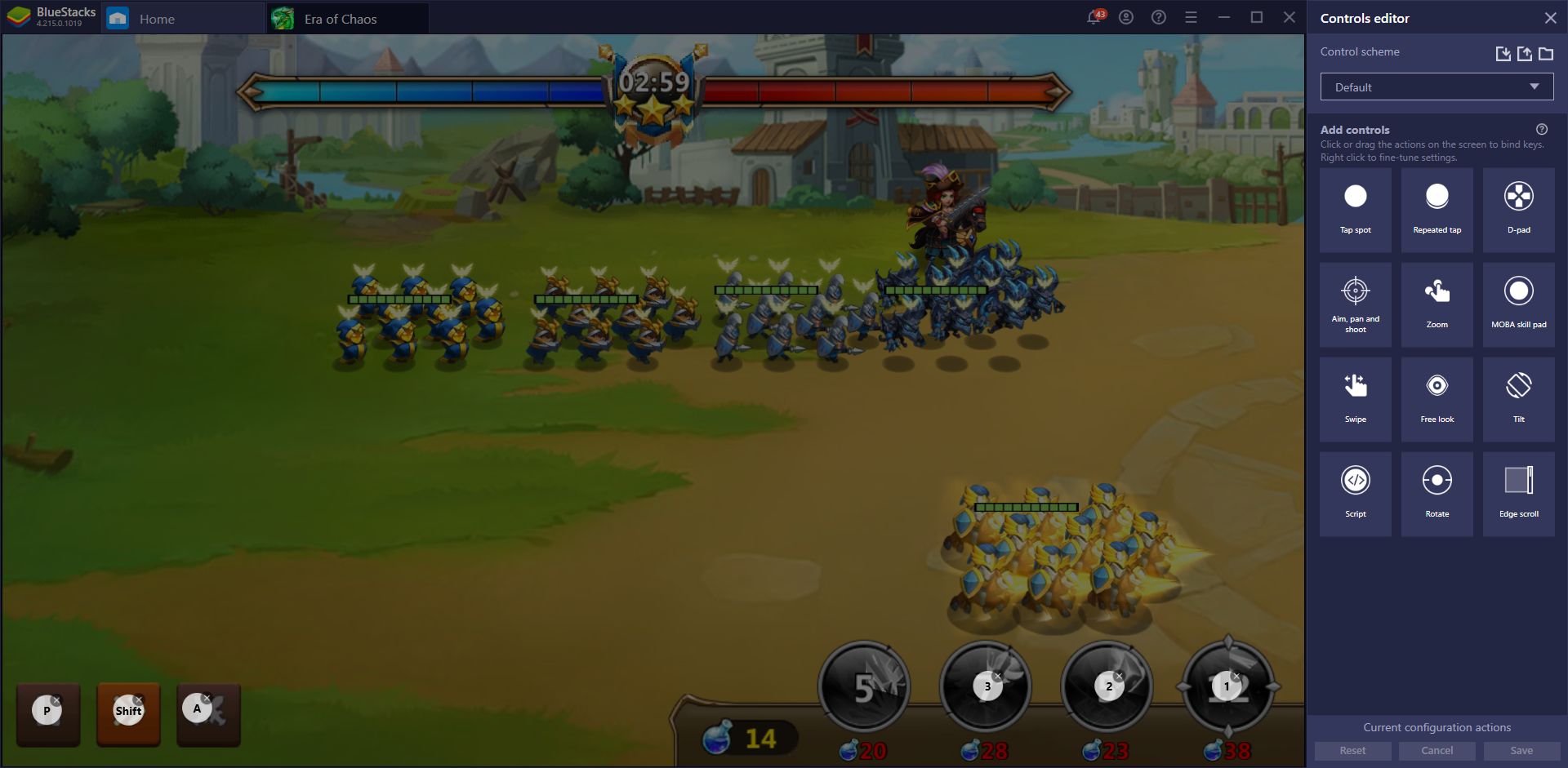 For starters, with the Keymapping Tool, you can create custom control schemes for Era of Chaos, which allows you to use many different keyboard shortcuts to control many aspects of the game. Whether it's for streamlining menu navigation, or for using your spells with greater speed and accuracy, these keyboard shortcuts will come in handy in a pinch.
The Macro Recorder, on the other hand, is quite important for automating certain challenges by recording yourself completing them once, and then having BlueStacks repeat your actions in all subsequent attempts with the press of a button. For example, once you have a good formation setup, you can record yourself completing the Dwarven Treasury challenge, and then use the macro to automate the other runs while you minimize BlueStacks to the background and focus on something else in your PC.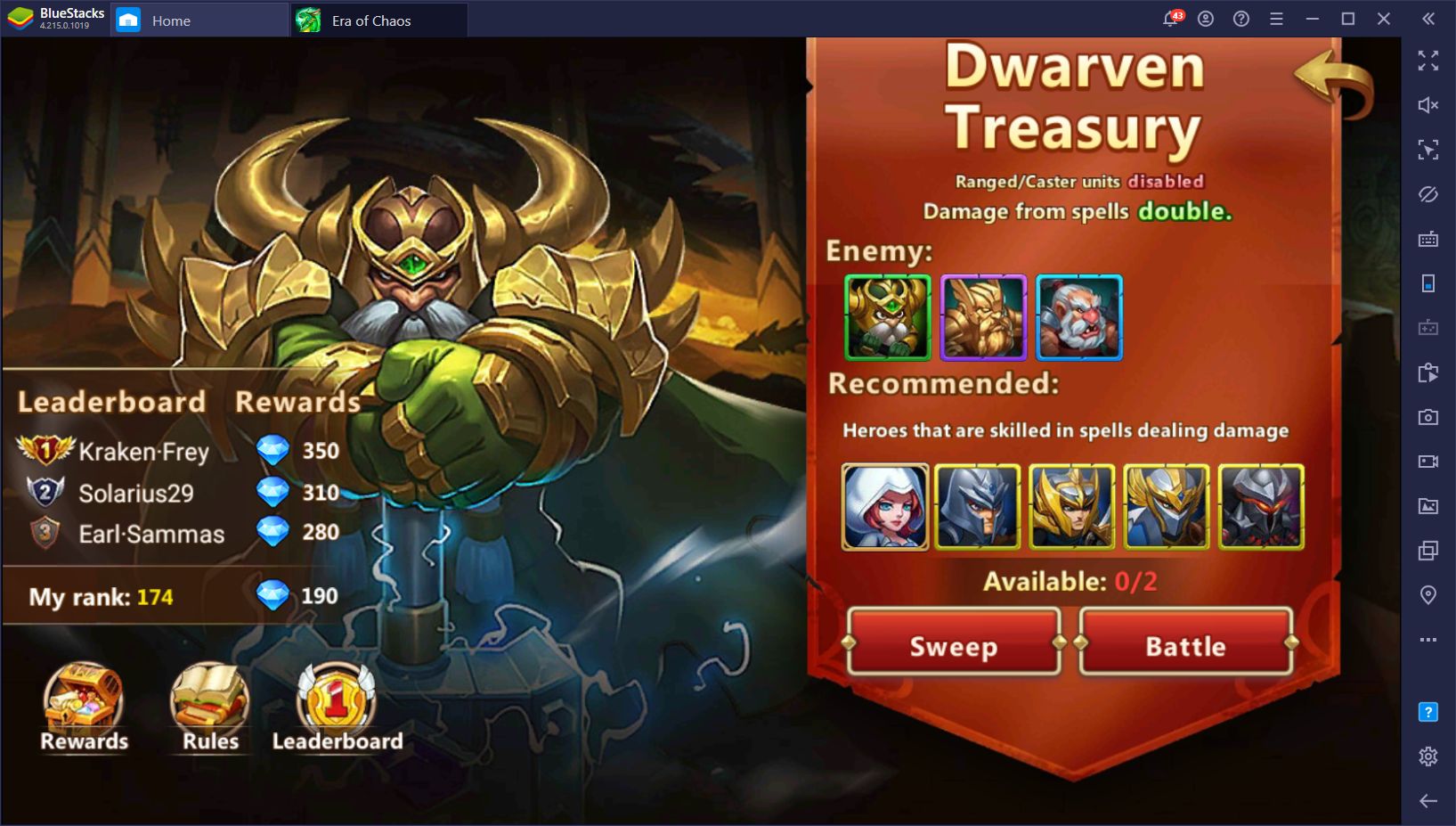 SSR Units are Strong, but SR and R are Best
A common misconception in gacha games is that the units of higher rarities are stronger than the rest. While this could be true in some cases, it's certainly not the case in Era of Chaos. Sure, SSR units are much stronger than others in their base form, but since they can't be easily upgraded like with SR and R units, they quickly fall behind in terms of lasting power.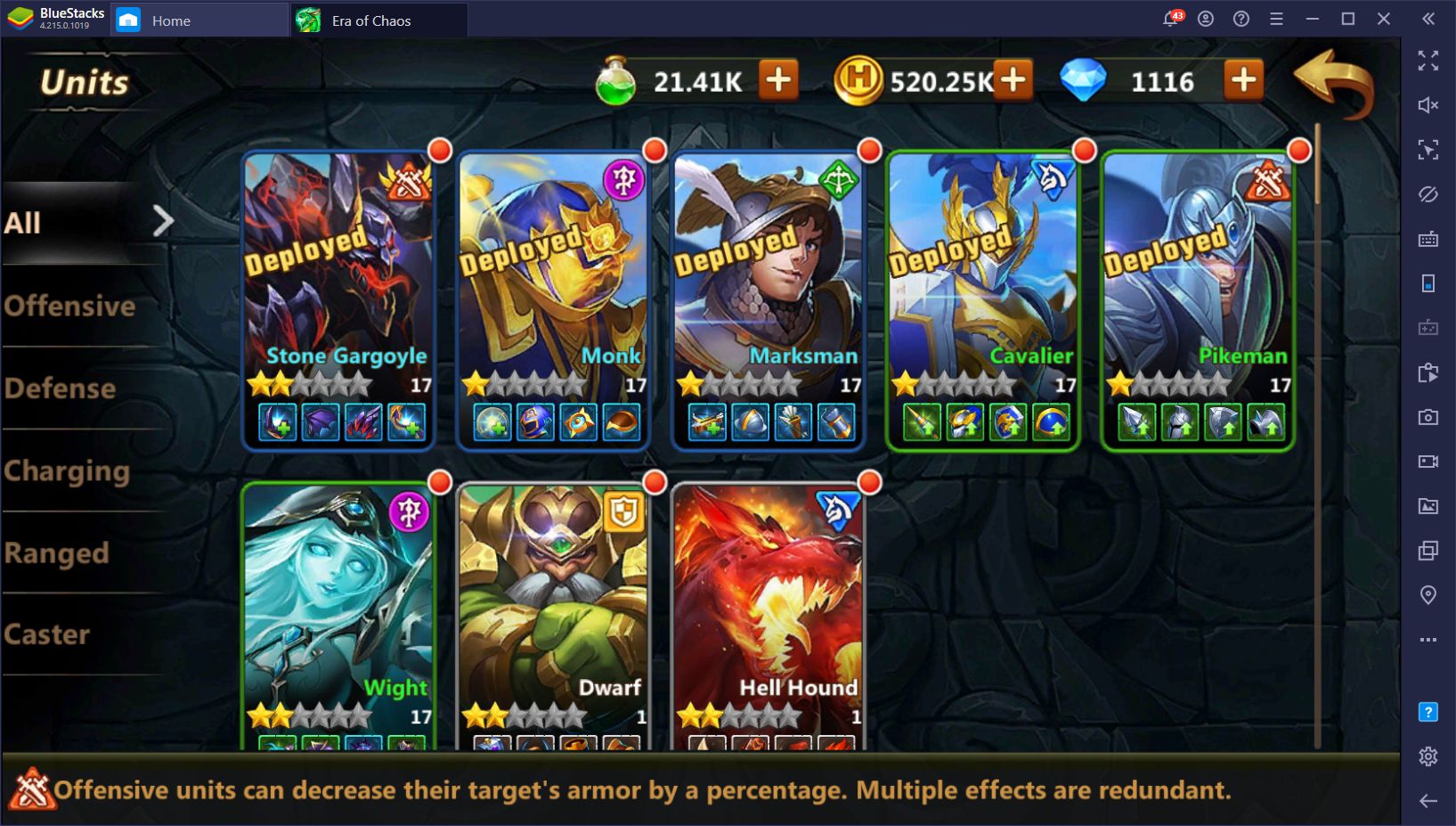 In Era of Chaos, you'd do better to focus on unlocking a few of the best SR and R units, and upgrading them ASAP. These units can be as strong as any other SSR characters in the game. Afterward, you can use whatever SSR units you have in your roster to support your stronger characters. Angels are a good choice for this since they can revive fallen allies, and deal heavy damage to the enemy.
Farm Those Materials and Fragments in the Underground
Shortly after beginning your adventure, you'll unlock the Underground feature, which is functionally similar to the regular story missions. These missions, however, are not related to the main story in Era of Chaos, and instead consist of various bonus levels that you can complete to earn many different rewards.
Each of these extra missions are marked with a specific icon that represents the main reward that they give upon completion. This is a good way to know which ones you'll need to farm in order to upgrade your current lineup of units. For instance, if you're working on upgrading your Marksmen, you're going to farm stage 2-1 as much as you can to earn those extra fragments that are required for ranking them up.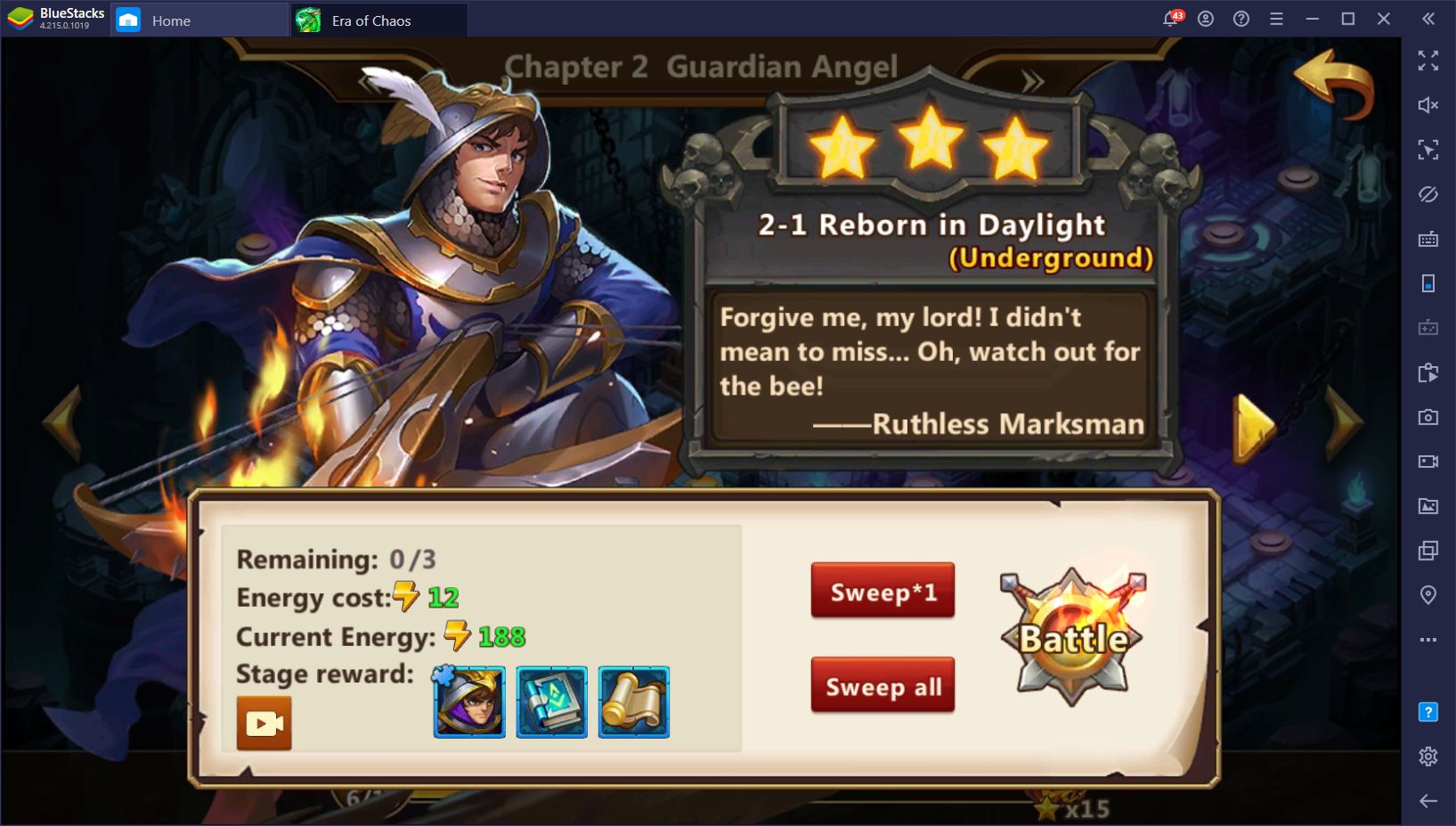 Be mindful of your stamina if you're farming the Underground. It costs quite a bit of stamina to sweep these stages, and you'll quickly run out if you're not paying attention.
Increase Your VIP Level for Those Sweet Rewards
One of the best methods of getting good at Era of Chaos, sadly, is by increasing your VIP level. The reason we say "sadly" is because the only way to increase your VIP level is by recharging diamonds from the store with real money. If you're going pure F2P, then this option will be out of the question for you.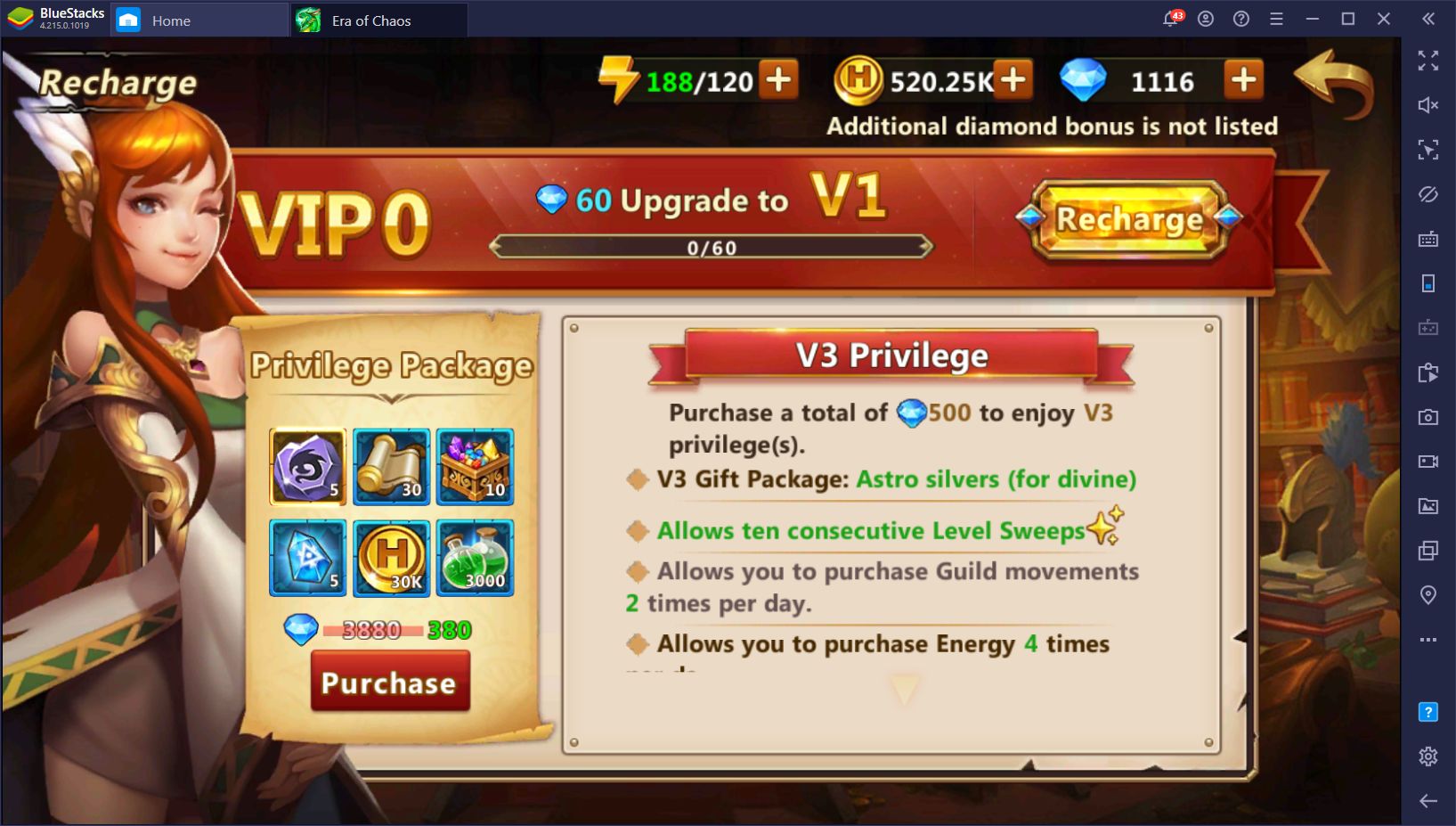 However, the generally agreed upon stopping point for VIP level is 3, which only costs 500 Diamonds, for a total of around $11. If you're serious on progressing in Era of Chaos, then this is the minimum you'll want to invest in order to unlock VIP 3 and all the benefits that come with it, including being able to sweep up to 10 consecutive times every day, being able to purchase more experience, gold, and energy per day, and having access to limited features (Duel of Champions, School of War, etc) more times every day.
Upgrade Your Best Heroes and Units
Even if you manage to summon the best units in Era of Chaos, these will be helpless as long as you don't upgrade them properly. Once you're happy with your current roster of units, it's time to invest some resources into upgrading them through various means:
Level Up: Use gathered experience to quickly boost the unit's level, increasing its stats.
Upgrade: Upgrade your unit's equipment level and even increase their equipment rank, which is represented by the color of their portrait.
Rank Up: Use unit fragments to unlock permanent bonuses for the unit in question.
Skill: Unlock and upgrade your unit's skills, increasing their effects when used on the field.
Like your units, your heroes can also be improved, increasing their stats and the power of their spells. An upgraded hero can often make the difference between victory and defeat, so swing by the hero screen often to dump your excess resources.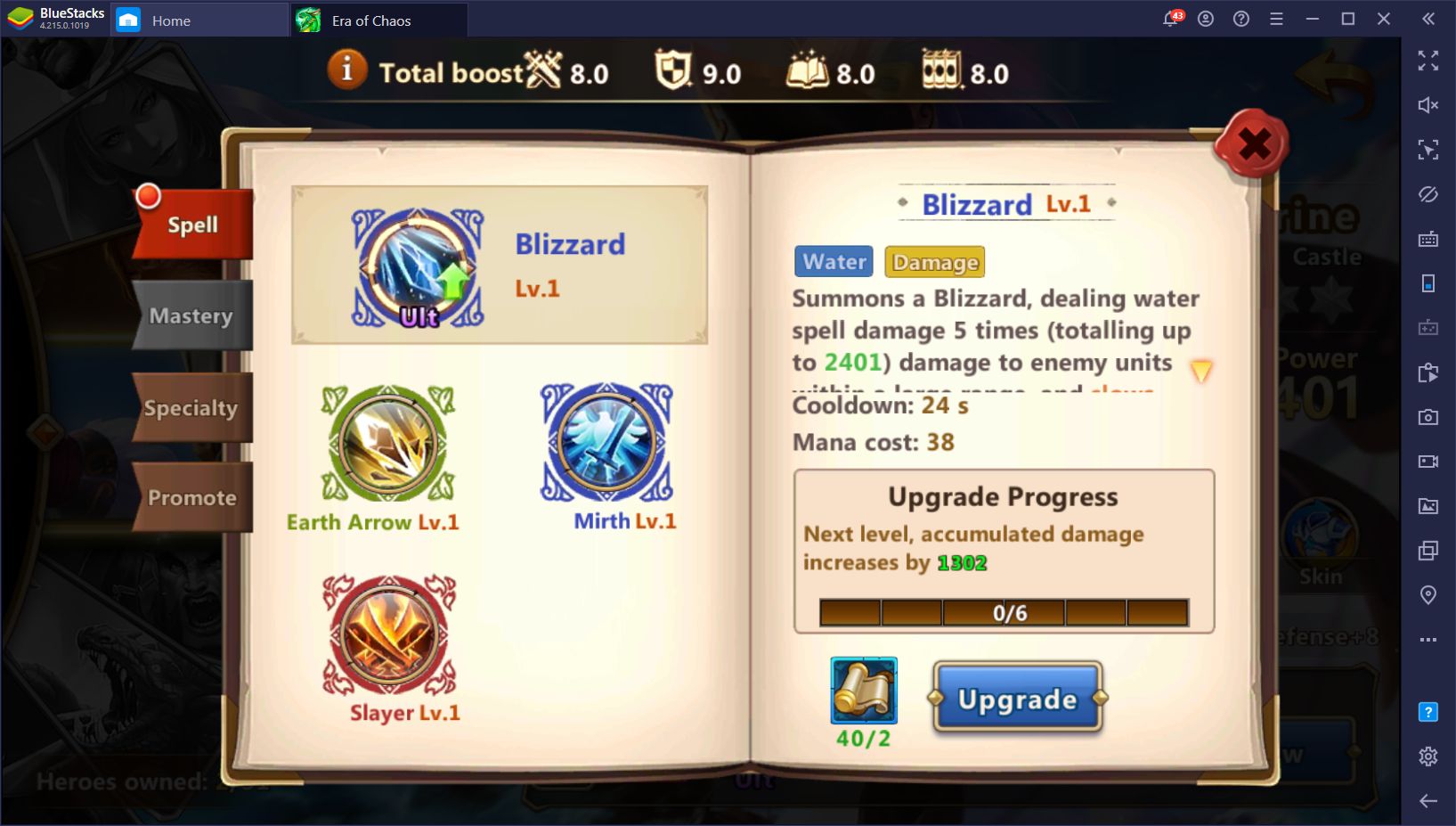 These are some of the best tips and tricks to get your started in Might & Magic: Era of Chaos. While they are a bit surface-level, we recommend swinging by our blog where you'll find more detailed guides on specific aspects of the game. Also, feel free to share your personal tips and strategies for this game in the comm