Game Guides
A Guide to Freebies and Resource Farming in Mirage Memorial Global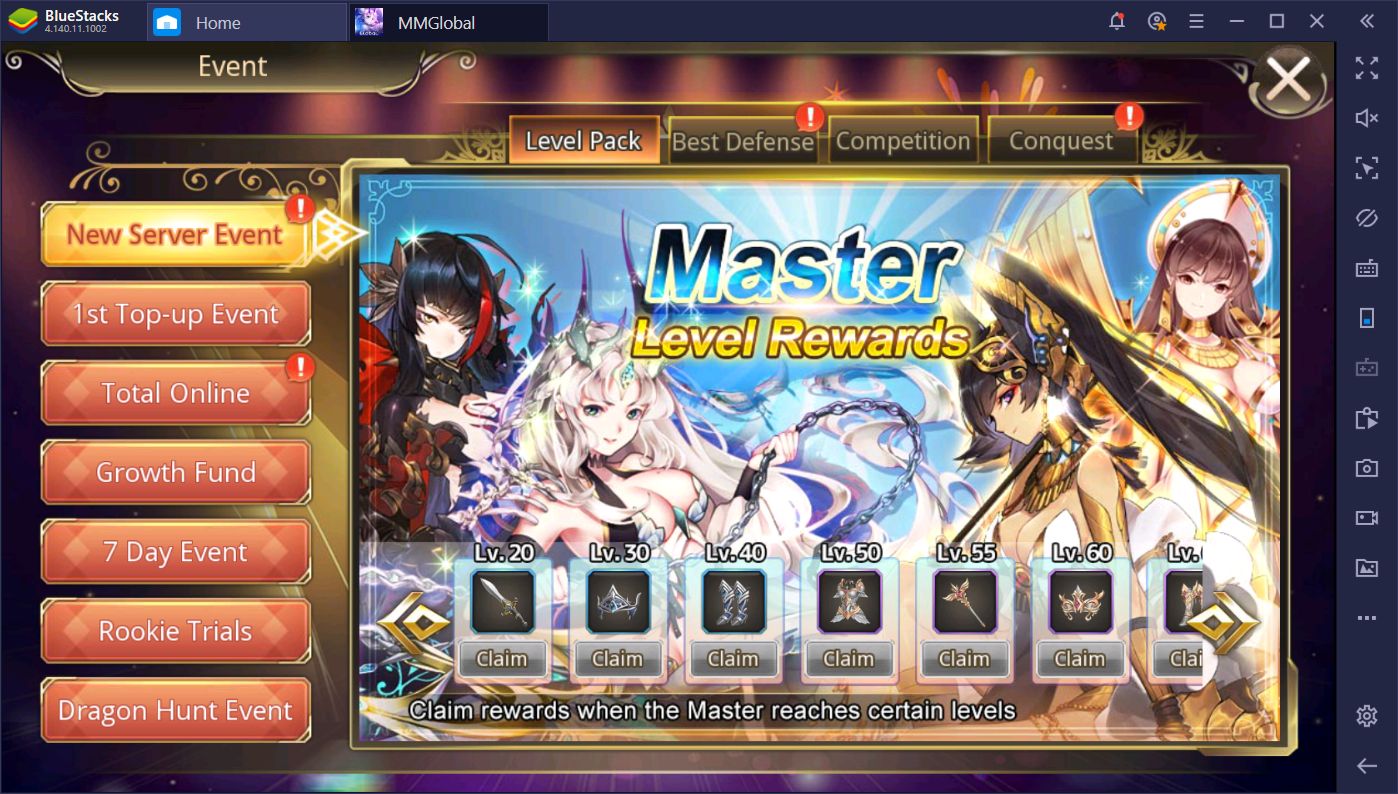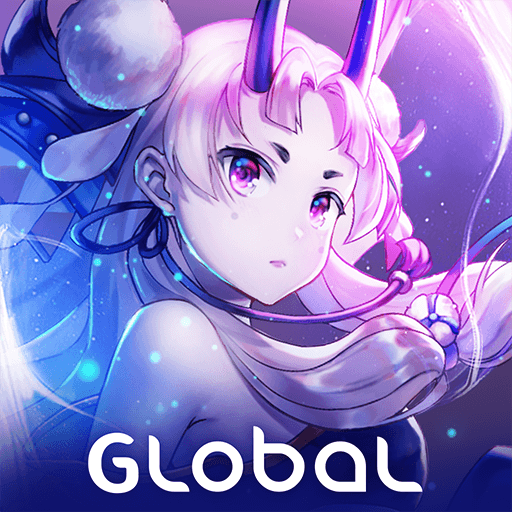 There are many gacha games like Mirage Memorial Global on the market, all of which share many aspects in common. While the basic premise and mechanics are similar in most of the games in the genre, every title has a different pacing, as well as a unique approach to handling summonings and upgrades. In this sense, if you're a gacha enthusiast, you will likely be able to pick up and play any of these games without any issues.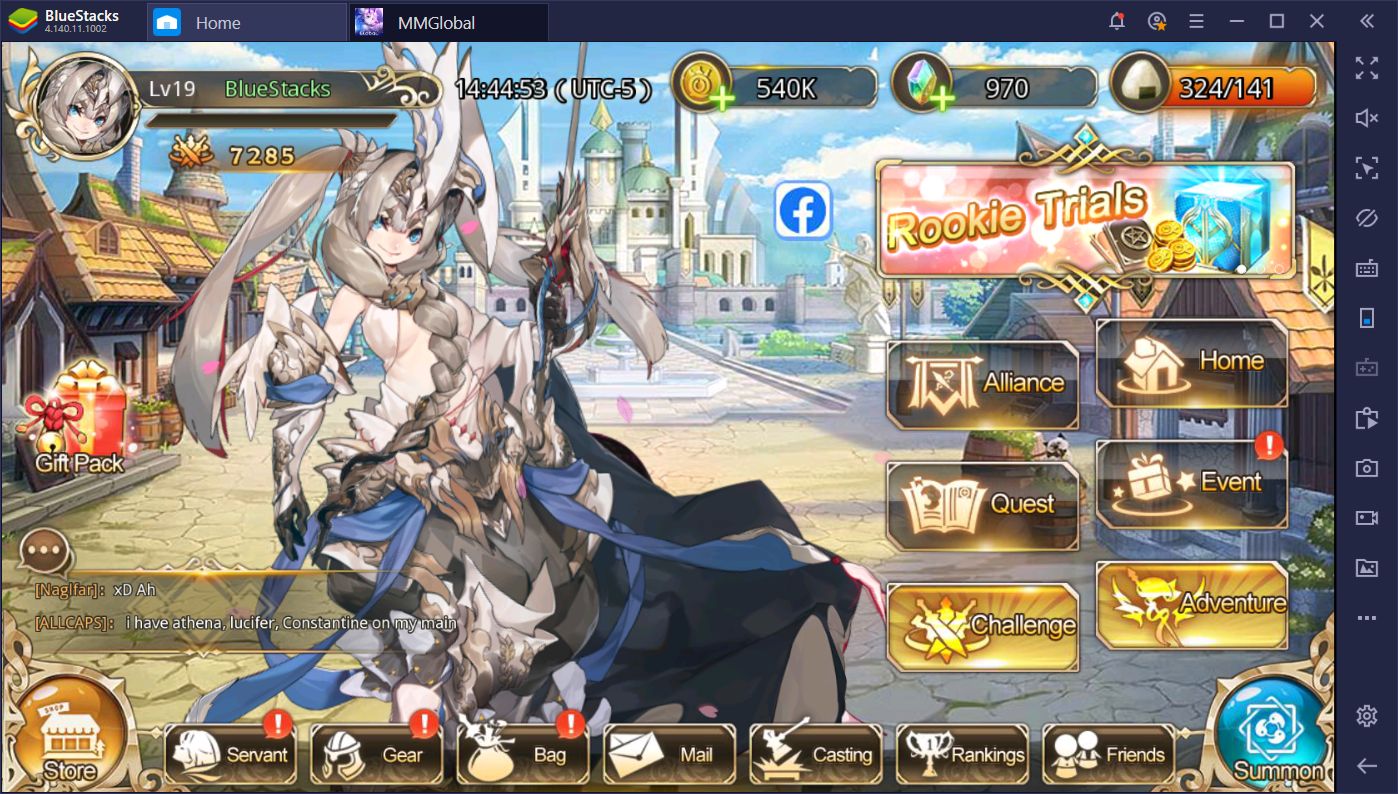 However, regardless of your experience with this genre, every game differs in certain aspects. Specifically, the way in which the players obtain and farm resources vary slightly from game to game. In this sense, farming in Epic Seven will never be the same as farming in King's Raid, for example. Similarly, if you want to optimize your progress in Mirage Memorial Global, you'll need to know exactly where to go to find the resources necessary for upgrading your team. Even the strongest characters in MMGlobal need a few upgrades before they're able to shine on the field.
Luckily, we've created this handy guide where we'll list the best ways for farming some of the most important resources in Mirage Memorial Global. If at any point you find yourself struggling to find resources to upgrade your characters, then take a look at this guide.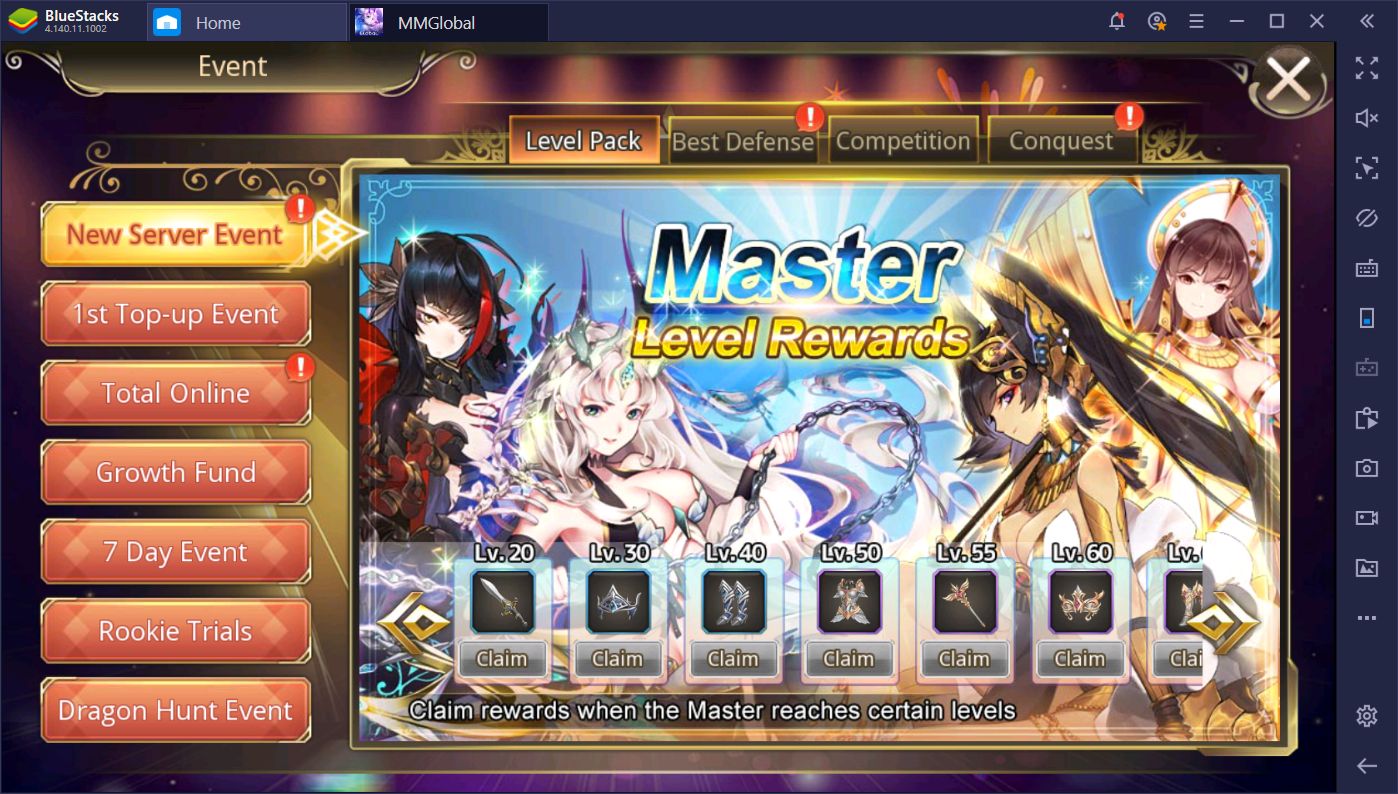 Claiming Free Rewards
An important part of speeding up your progress in Mirage Memorial, especially from the very beginning, is claiming all the freebies that the game throws at you. From regular rewards for logging in on the daily, to prizes for participating in the arena; there are lots of free stuff that you won't want to miss.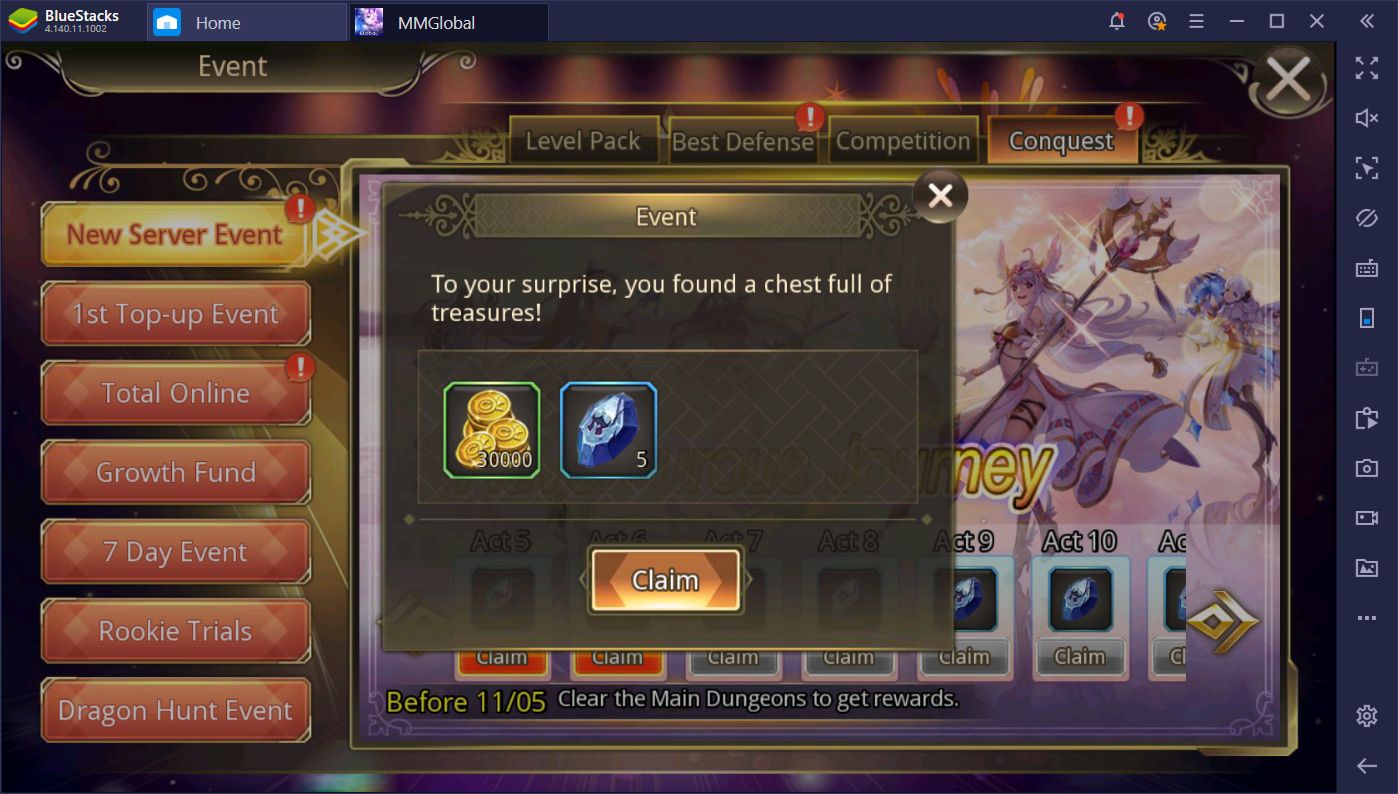 However, aside from the regular rewards we mentioned above, it's also important to visit the Events menu every day, as these present us with special tasks that you can complete in exchange for rare and limited prizes.
At the moment of writing, there are several active events that you won't want to miss out on. Specifically, the New Server Event is rewarding players for reaching certain milestones, including leveling up your account, reaching certain rankings in the arena, completing levels in Borderlands Defense, and even for completing chapters in the main story. Similarly, there are numerous different events active, all of which give you important rewards for little work, so remember to always take a peek whenever you have the time.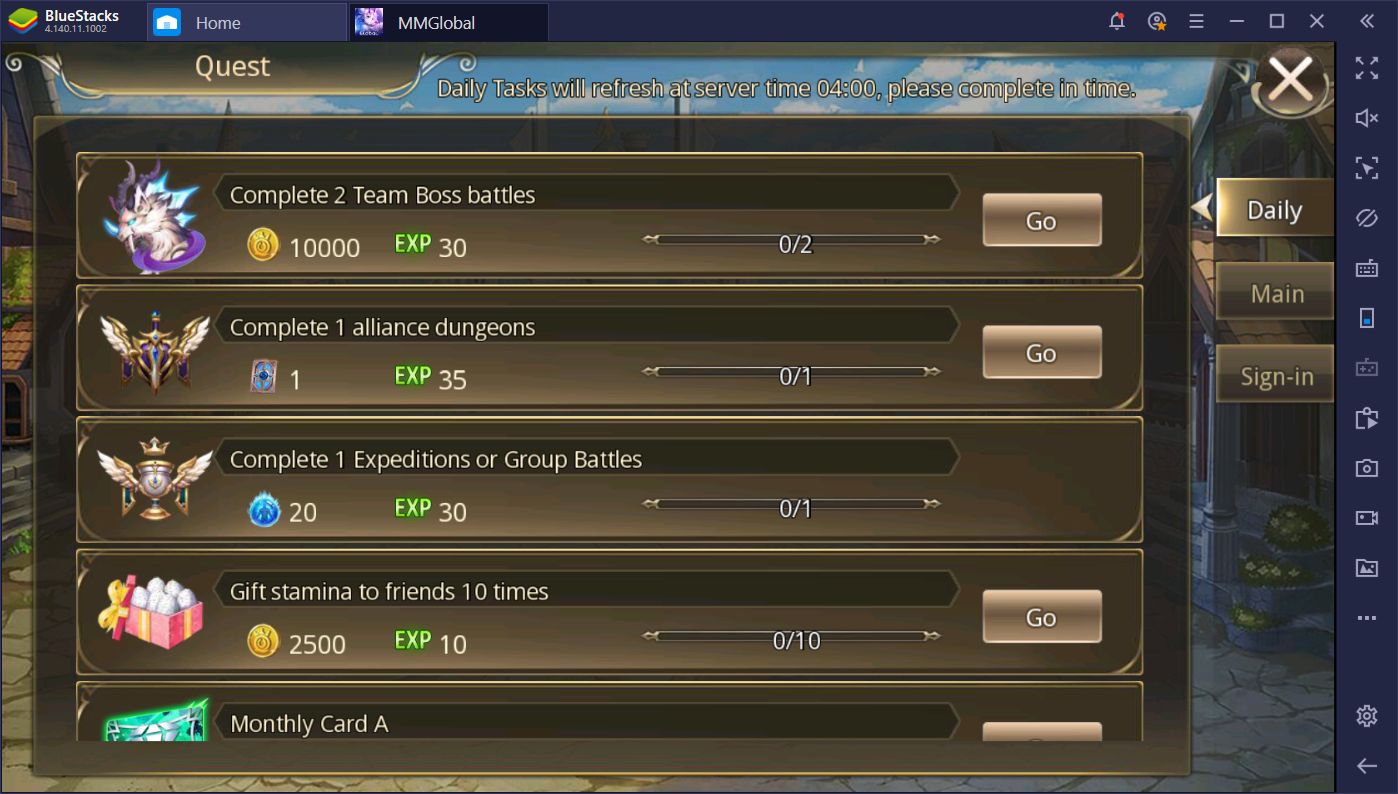 Farming for Important Resources
Remember your Daily and Main Quests
Before we talk about how to farm every important resource in Mirage Memorial Global, we need to stress the importance of completing your quests in this game. Through the fulfilment of these simple tasks, you can receive many different rewards, including gold, experience cards, skill cards, and even crystals.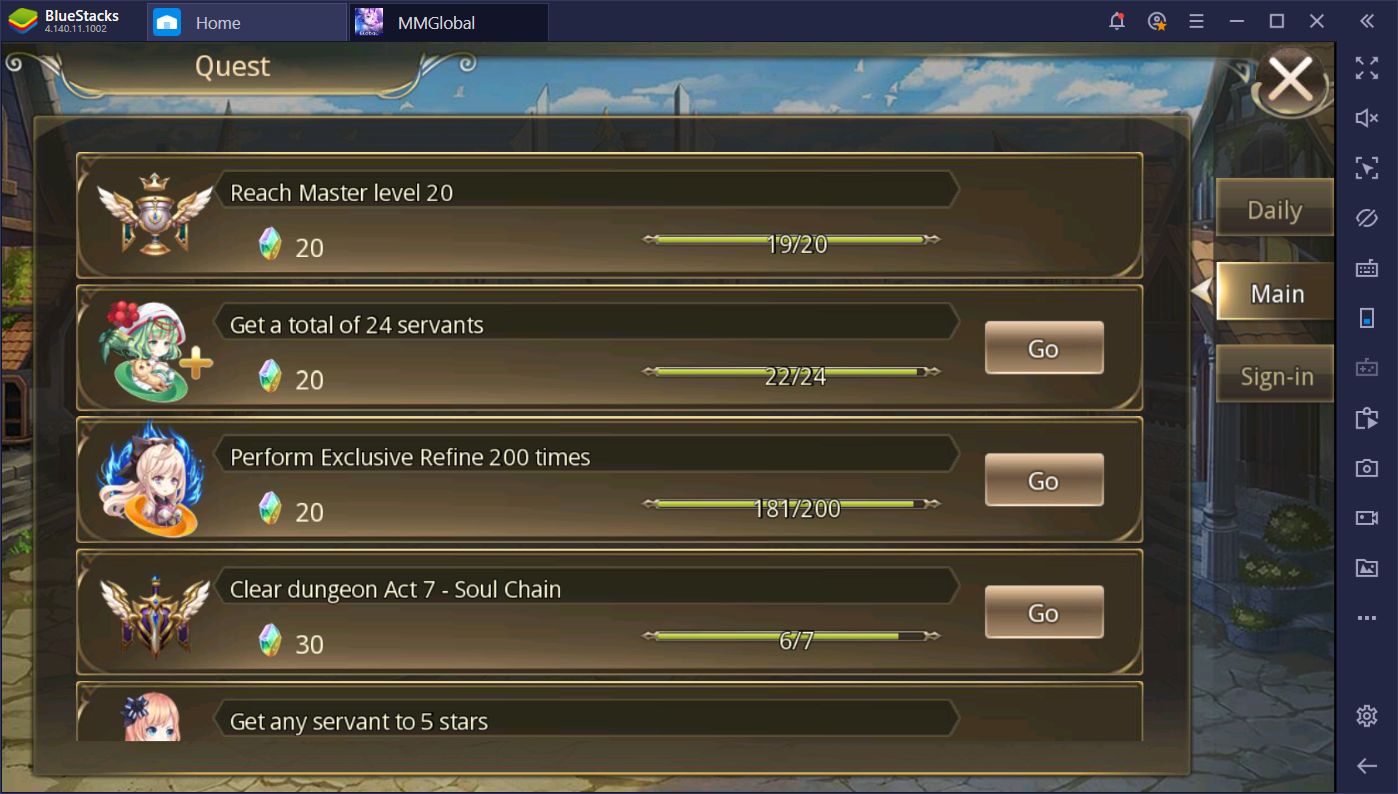 The daily quests involve tasks that refresh every 24 hours, and which consist of simple activities such as completing a number of story missions, upgrading a character a number of times, or even challenging other players in the arena. In order to complete these quests, however, you'll need to be deliberate as these tasks often require you to go out of your way to finish them.
In stark contrast to the daily quests, the main quests serve as an indicator of your overall progress in the game, and consist of missions that you will completely naturally as you progress through the story. These tasks offer one-time rewards for achieving certain milestones such as summoning a number of servants, reaching certain master levels, getting to specific levels in the Desert Shrine, or completing chapters in the story missions, among many others.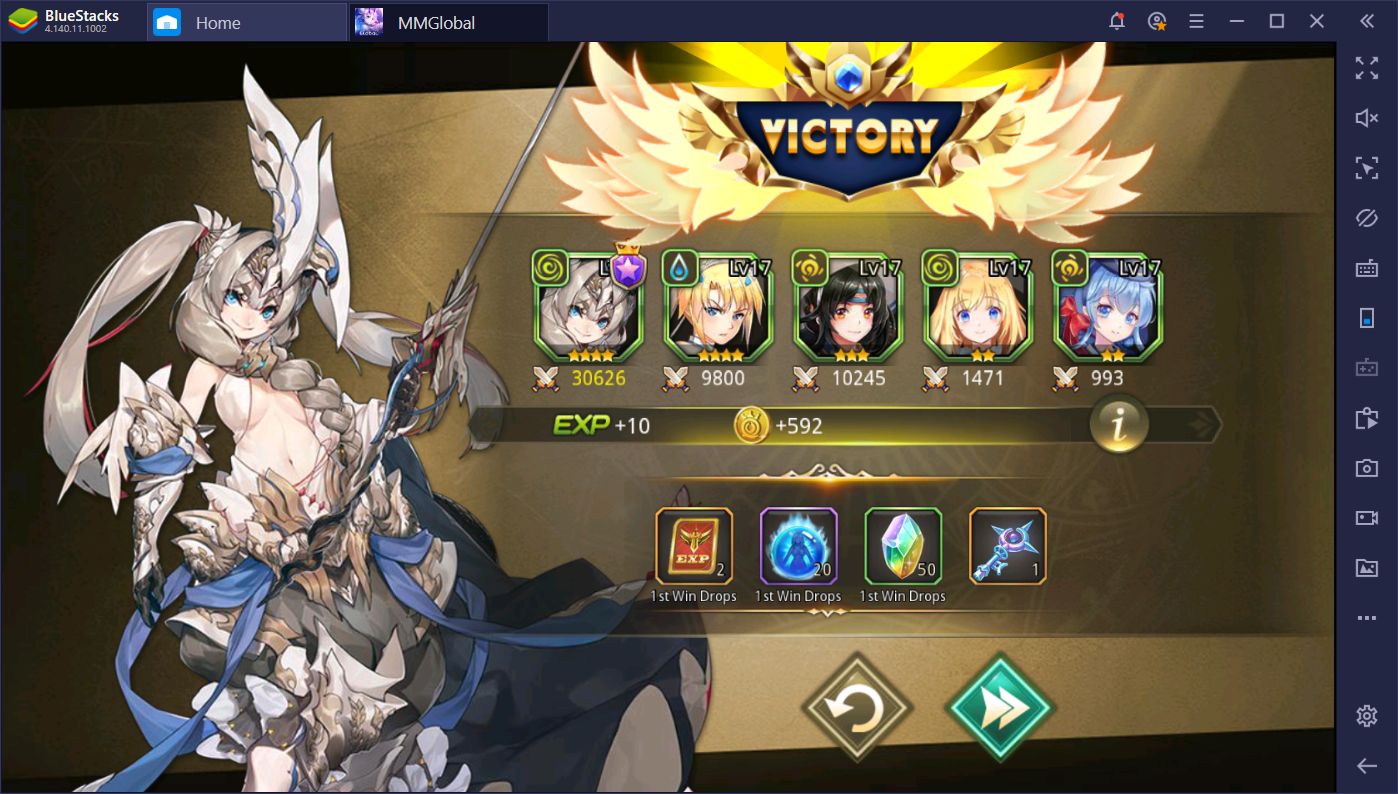 In a nutshell, don't worry too much about the main quests as you'll likely complete them automatically as you progress through the game. However, remember to visit the quest menu often to consult your daily quests, as well as to claim any pending rewards that you could use for upgrading your characters.
With that being said, let's take a look at how to farm some of the most important resources in Mirage Memorial Global:
Crystals
The premium currency in Mirage Memorial is, understandably, more difficult to farm than others. Luckily, this doesn't mean that there aren't more than a few methods to get a decent amount of crystals. The Main quests, in particular, are a great, albeit limited, source of crystals, which can help you to save up for those 10x summonings.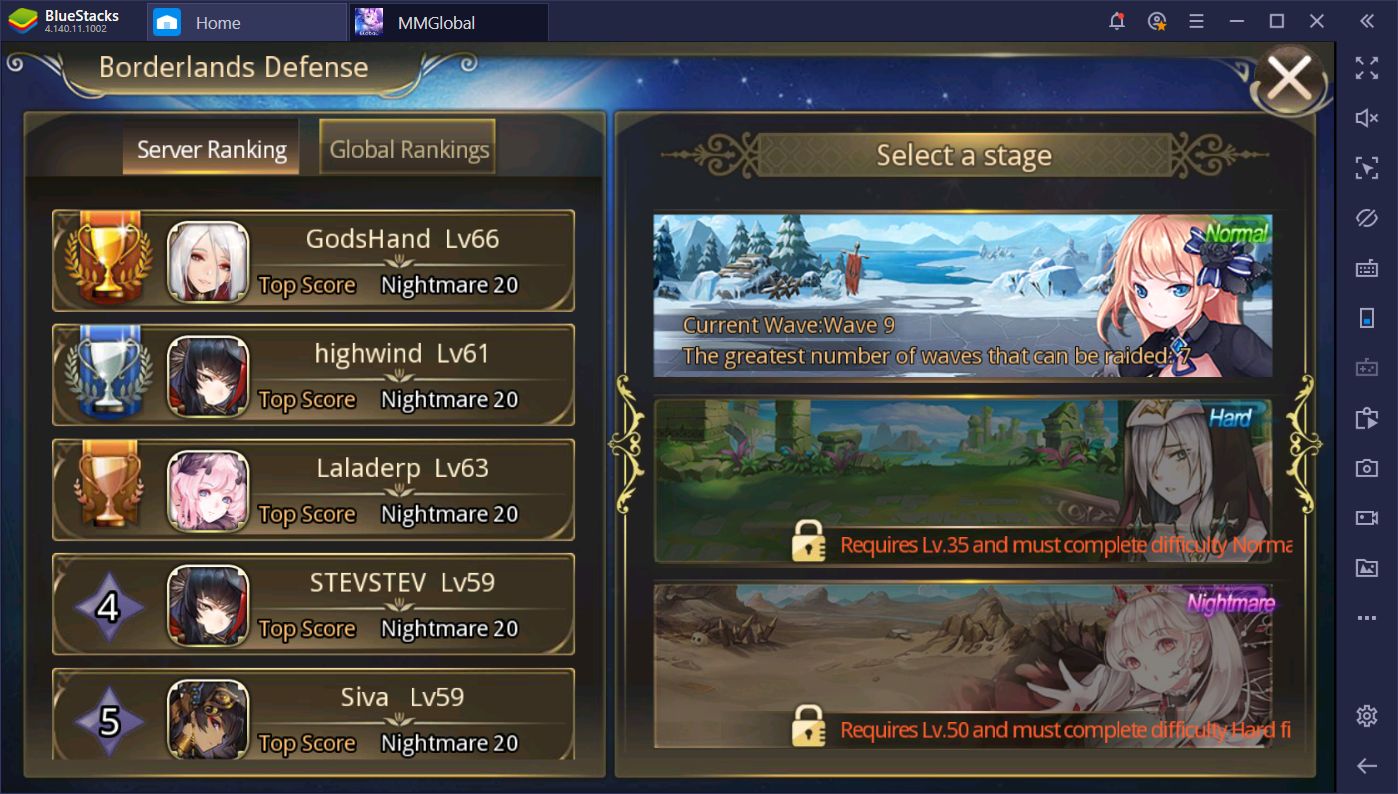 Aside from the main quests, you can also receive a small amount of crystals for clearing any level in the main campaign for the first time.
Experience and Skill Cards
Essential resources in Mirage Memorial Global, used for upgrading many aspects of your servants. Experience and skill cards are some of the most-used resources in the game, which means that you'll need to find a good source of them if you want to keep your characters performing admirably.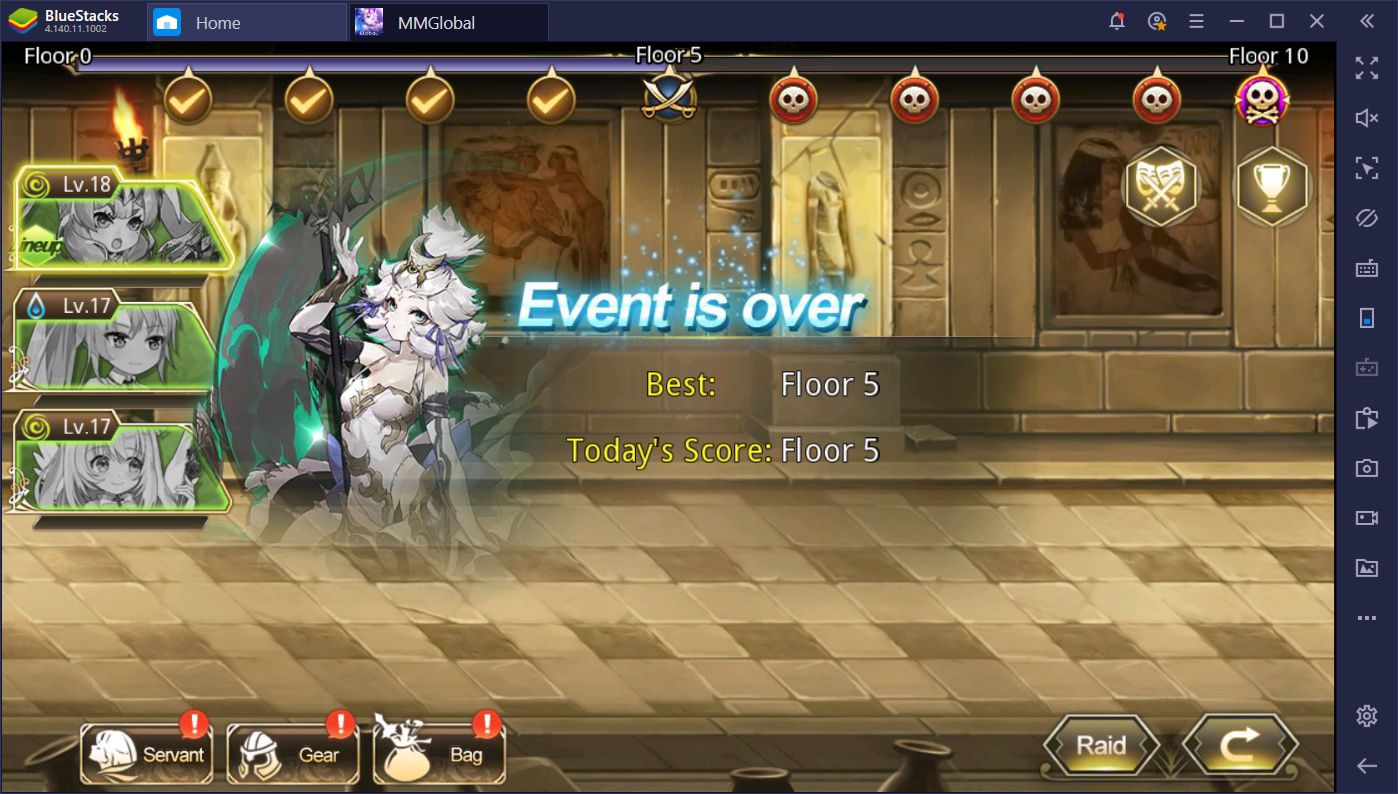 The absolute best way to farm for these two important resources is through the Borderlands Defense Battle mode, in which you must defeat waves upon waves of enemies. For every wave you clear, you'll receive a small amount of rewards, including the aforementioned cards. Try to get as far as possible in this mode every day so you can claim your well-fought prizes.
Refine Stones
Aside from leveling up and improving their skills, another way to power up your characters is through refining, a process that requires both refine stones and gold. While you can get the latter from basically anywhere, the former requires a bit more know-how as it can only be effectively farmed from the Desert Shrine.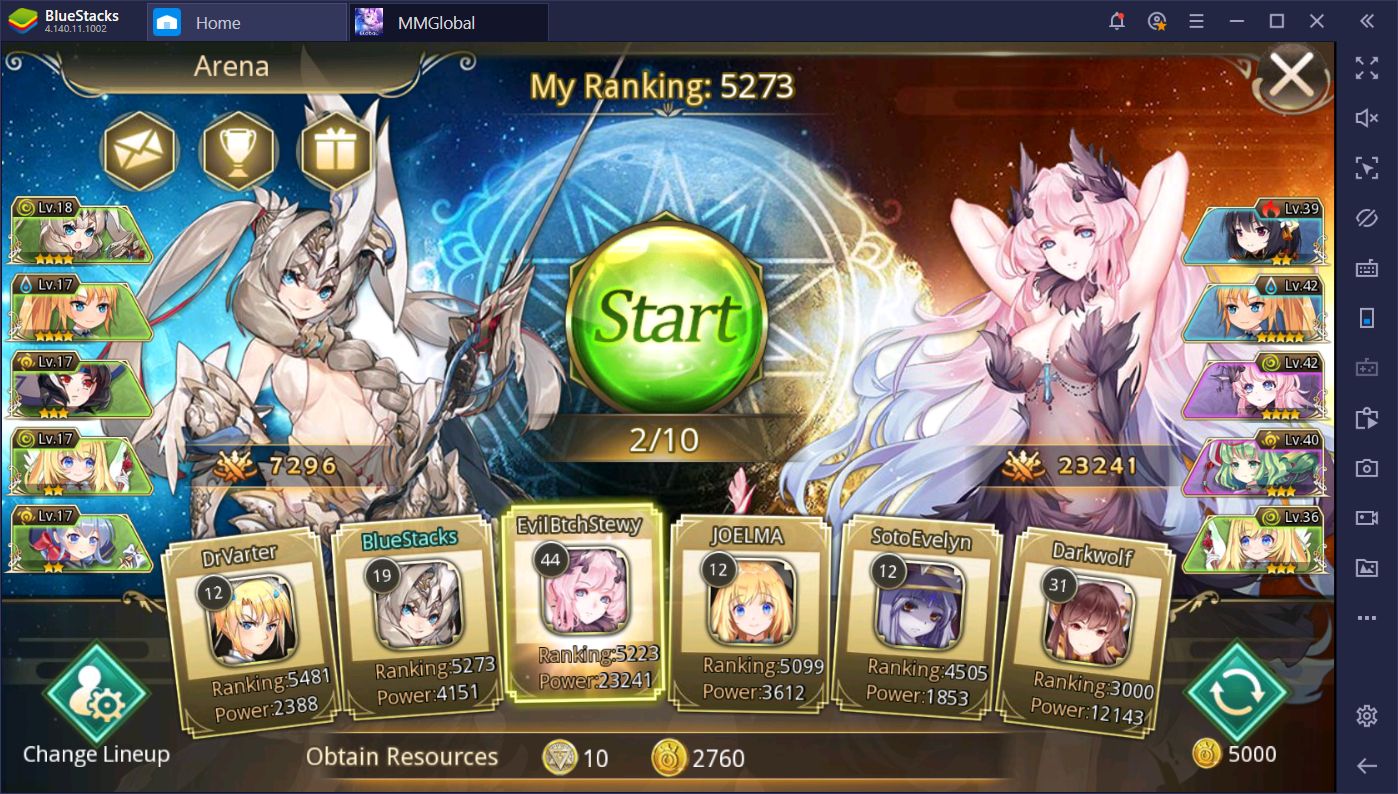 This challenge mode allows you to take three characters of your choosing, and set them against enemies in 1v1 battles. If one of your characters is defeated, another one will take its place. This goes on until you eventually fall in combat, or clear every level. However, beating every stage is tough, especially if you're just getting started in Mirage Memorial Global. Luckily, you get rewards for every level that you clear so, even if you fail, you won't leave empty-handed.
Tomes of Training
Used in the upgrading of your characters' mercenaries, training tomes are important since they indirectly upgrade the power of your servants. By having powerful mercenaries, your prowess in battle will increase.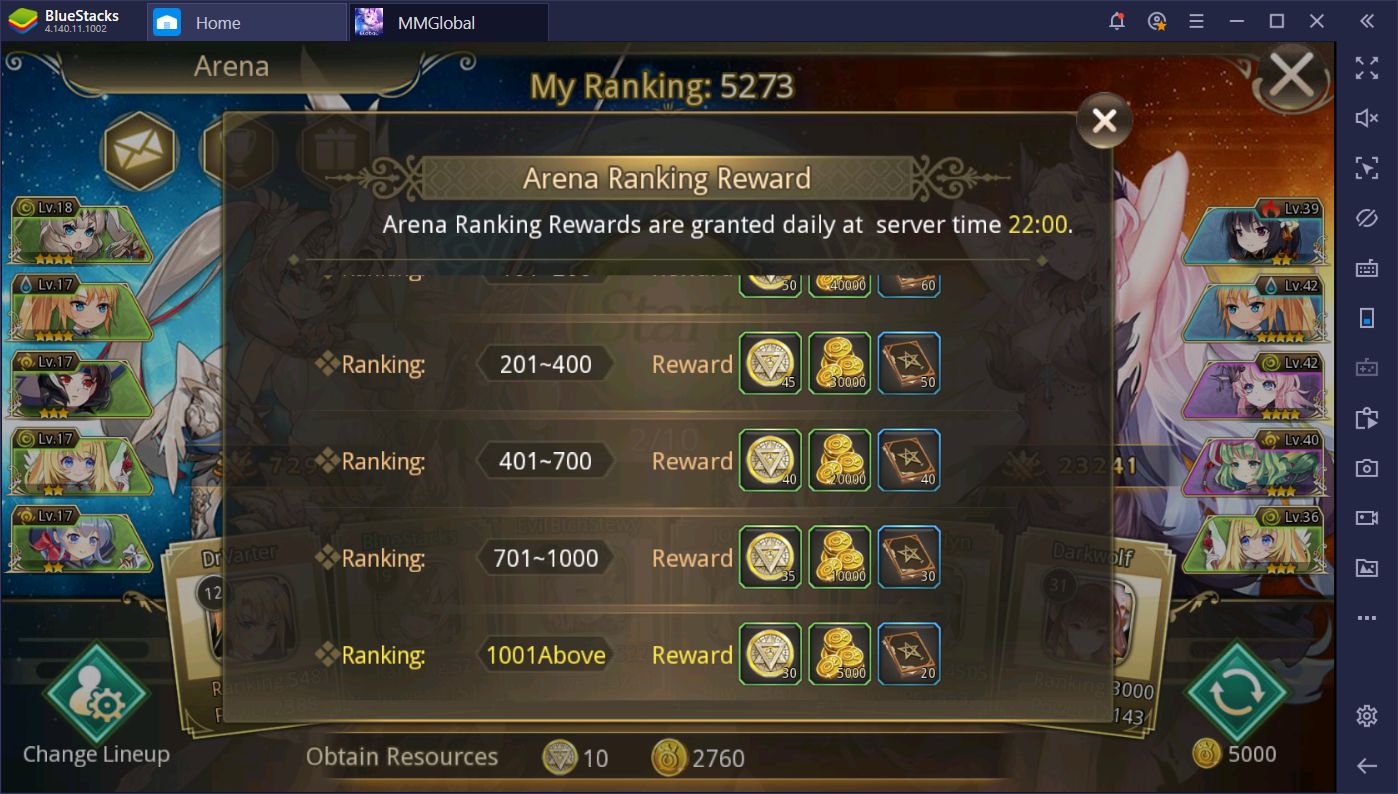 You can obtain a number of Tomes of Training every day as a reward for competing in the arena. All you have to do is to use your 10 daily allowances in the arena and, ideally, win all your matches. Regardless, you'll receive a number of rewards, including Tomes of Training, every day at 22:00 (server time) depending on your current arena ranking.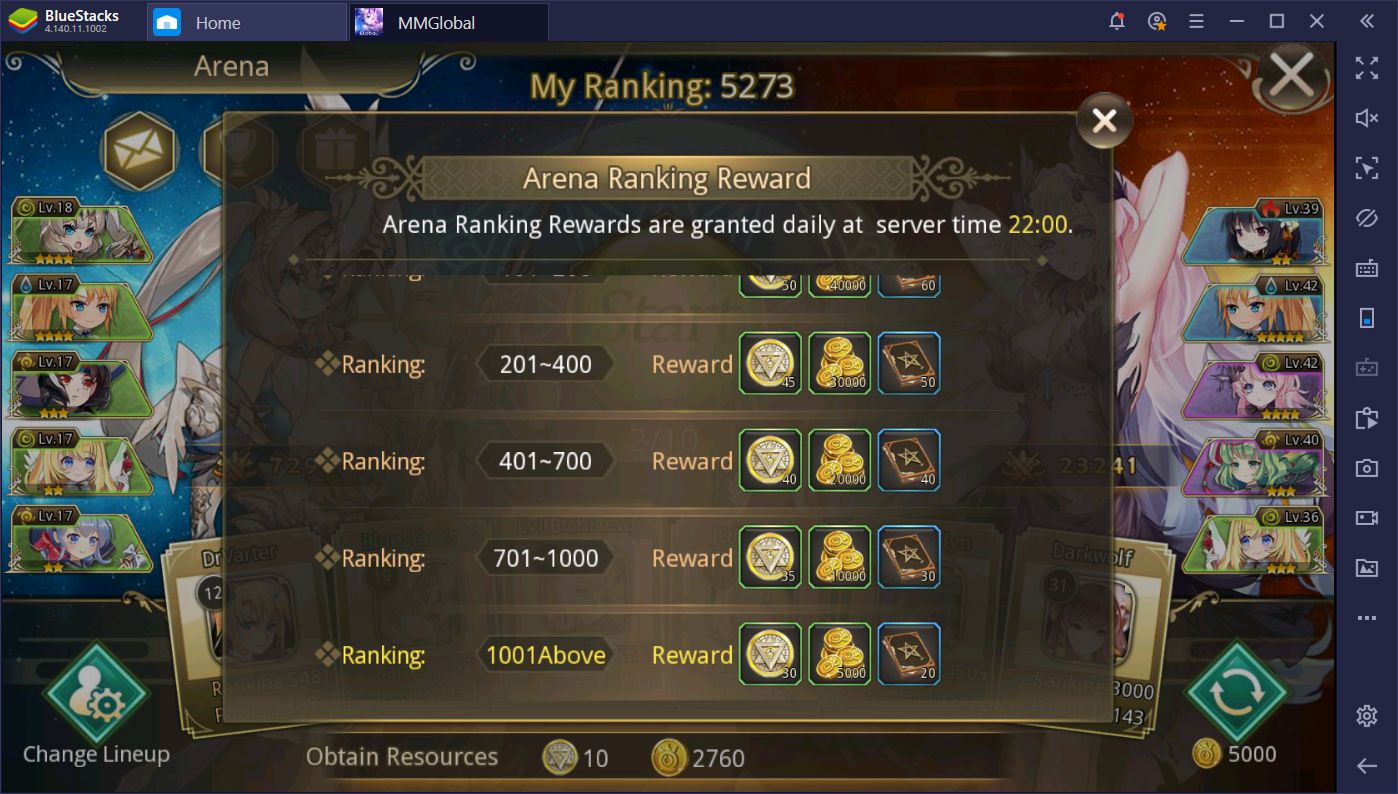 At one point or another, you'll need to start farming if you want to keep up with the challenges in Mirage Memorial Global. While the first few chapters of the story can be completed without much effort, especially if you rerolled and managed to pull a few good champions, you will undoubtedly need tons of resources to keep your team in top shape. Luckily, we've shared the best ways to farm for some of the most important resources in the game in this guide.
Did we miss any crucial elements in MMGlobal? Let us know in the comments so we can add them to this guide!