Game Guides
How to Install and Play MLB 9 Innings 23 on PC or Mac with BlueStacks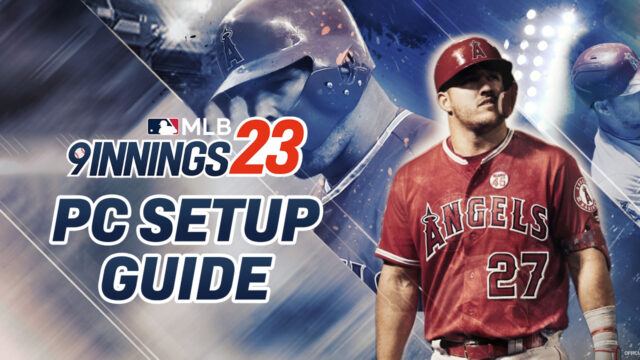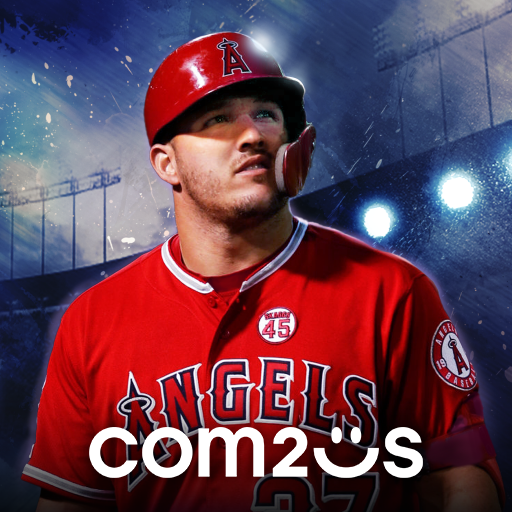 Major League Baseball is one of the biggest sports organizations in the world and consists of the American League and the National League. Get to experience being part of the MLB now when you play MLB 9 Innings 23 on your PC or Mac with BlueStacks. In the game, you get to manage your MLB team and provide the necessary lineups and training to ensure your team wins the championship.
Table of Contents
To get started with MLB 9 Innings 23, follow the steps below on how to install the game. If you have already installed it but do not know the fundamentals of baseball, then you can refer to this beginner's guide that not only teaches you baseball rules but also the basic mechanics of the game.
How to Install MLB 9 Innings 23
Download and Install BlueStacks

on your PC.

Complete Google Sign-in to access the Play Store or do it later.

Look for

MLB 9 Innings 23

in the search bar at the top-right corner.

Click to install

MLB 9 Innings 23

from the search results.

Complete Google Sign-in (if you skipped step 2) to install

MLB 9 Innings 23

.

Click the

MLB 9 Innings 23

icon on the home screen to start playing.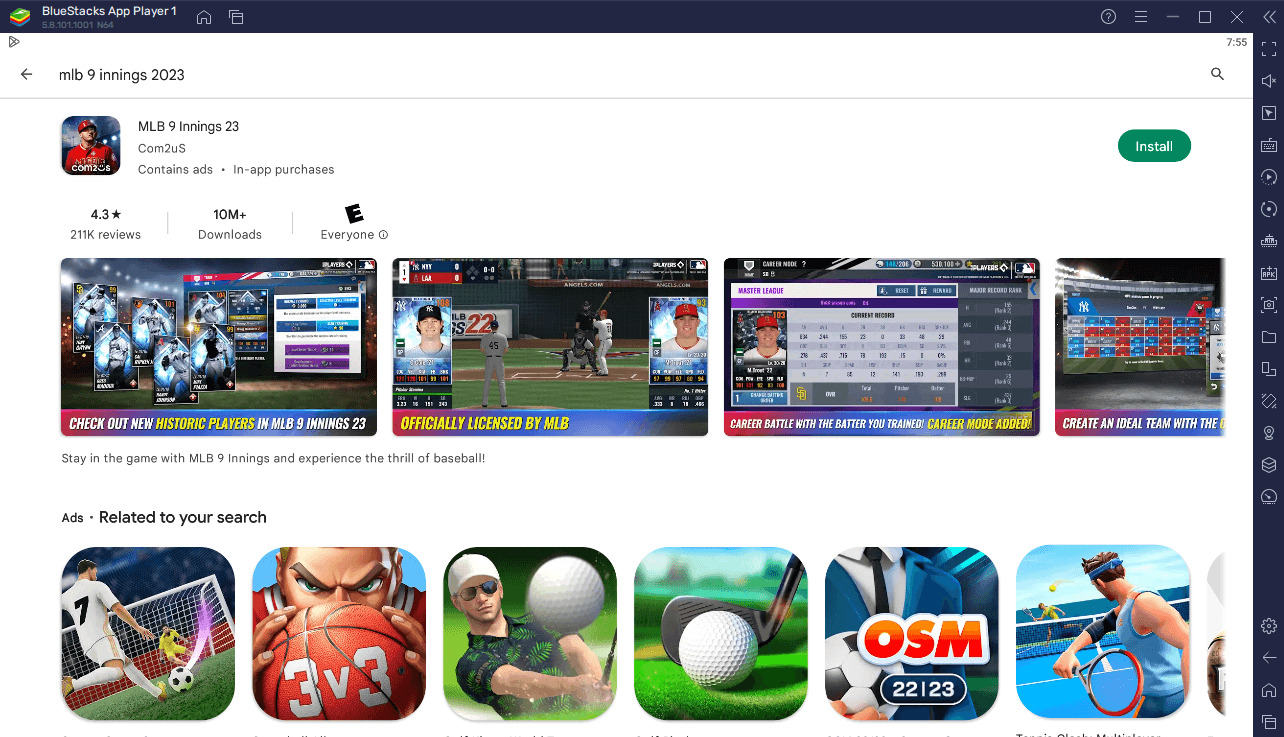 Manage Your Own MLB Team
Team names such as the New York Mets and the Los Angeles Dodgers are very familiar names even if you are not an avid baseball fan. In MLB 9 Innings 23, you get to manage an MLB team of your choice and customize them.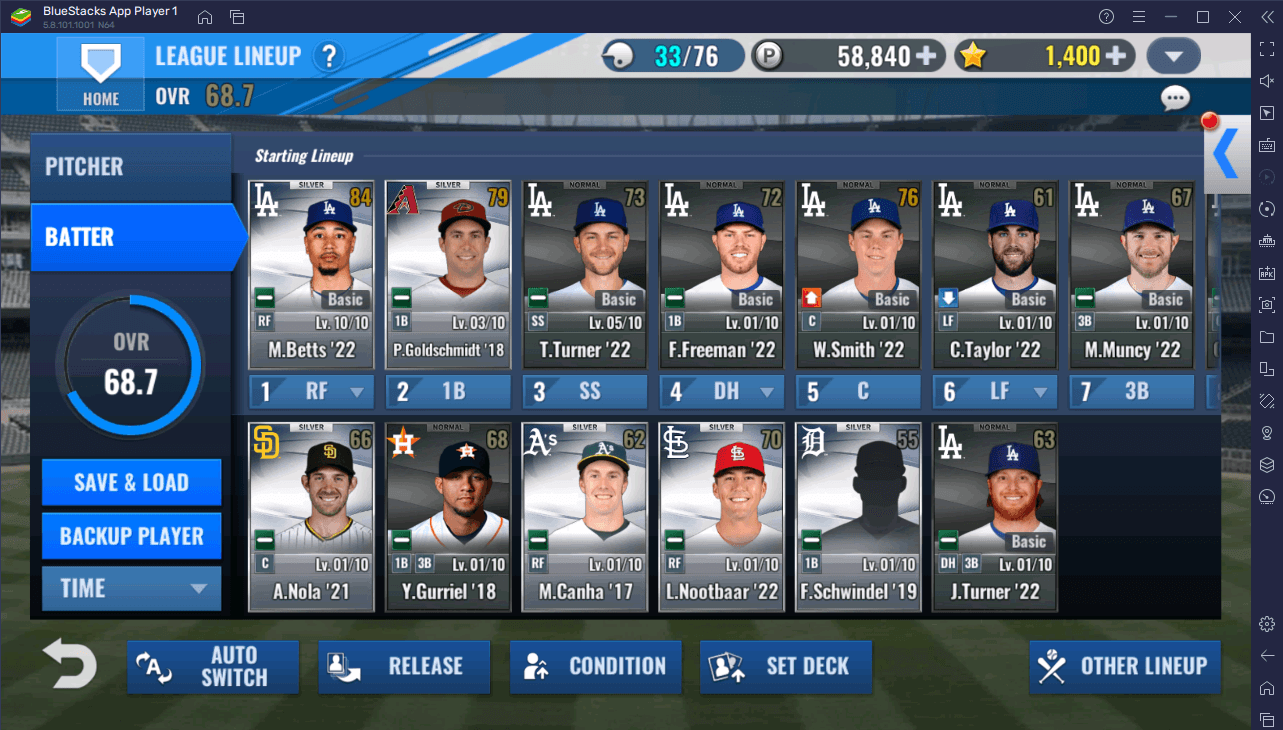 The game allows you to create three types of lineups: a league lineup, battle lineup, and club lineup. Each type of lineup is used for a different set of game modes. You can freely select who your pitchers and batters will be and arrange their order.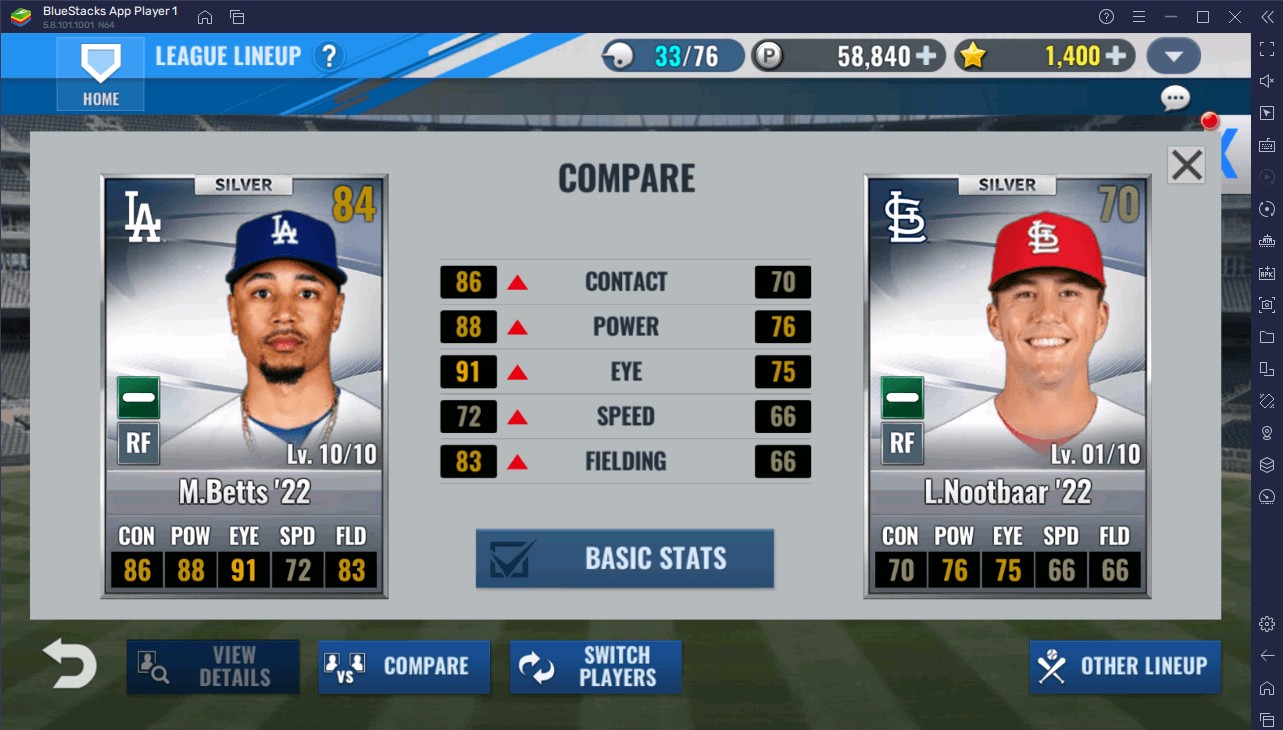 To help with your decision, you can view each player's cards to learn more details about them and you can even compare two cards together to put them side-by-side. If you don't feel like manually making a lineup, you can also let the game do it for you.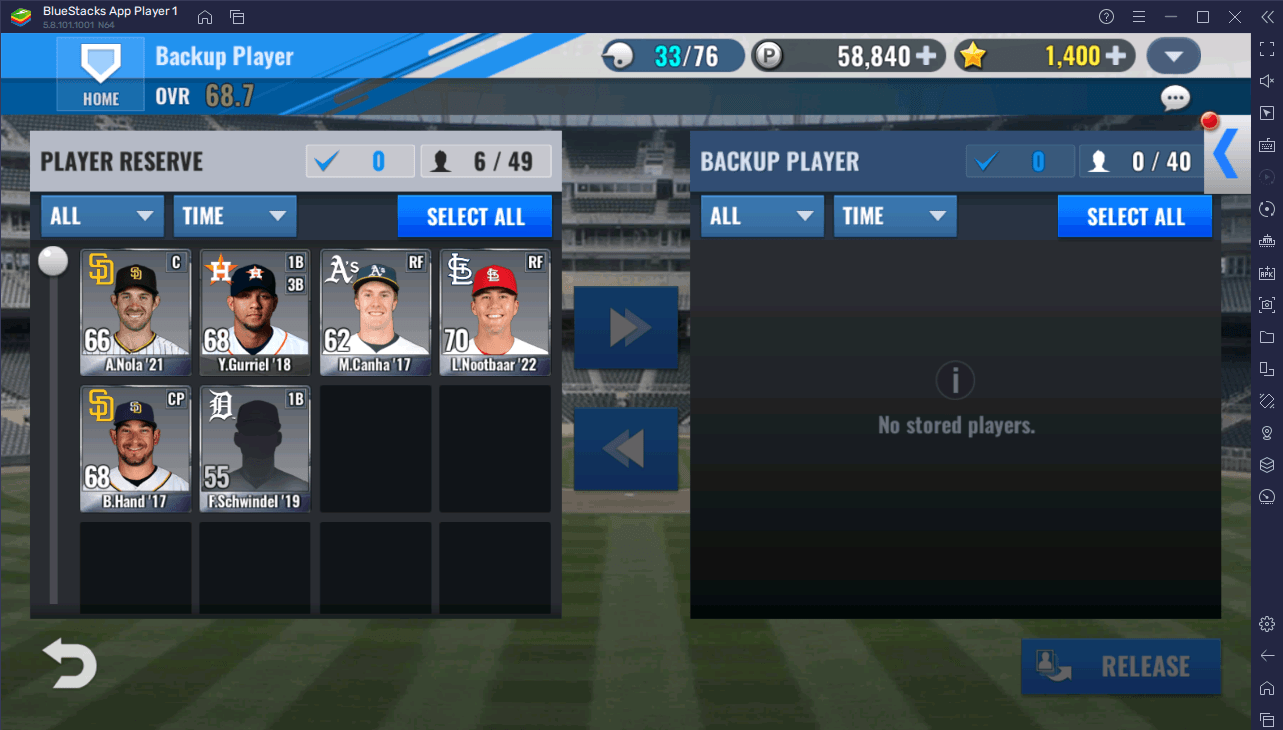 You can also create a reserve team in case some of your main lineup becomes unavailable. Backup players however cannot undergo training unlike their main lineup counterparts so it's best to place spare players here.
Recruit and Train Players
Players in MLB 9 Innings 23 come in the form of digital baseball cards. Each card contains various information about the player such as their team, stats, grade, and the like.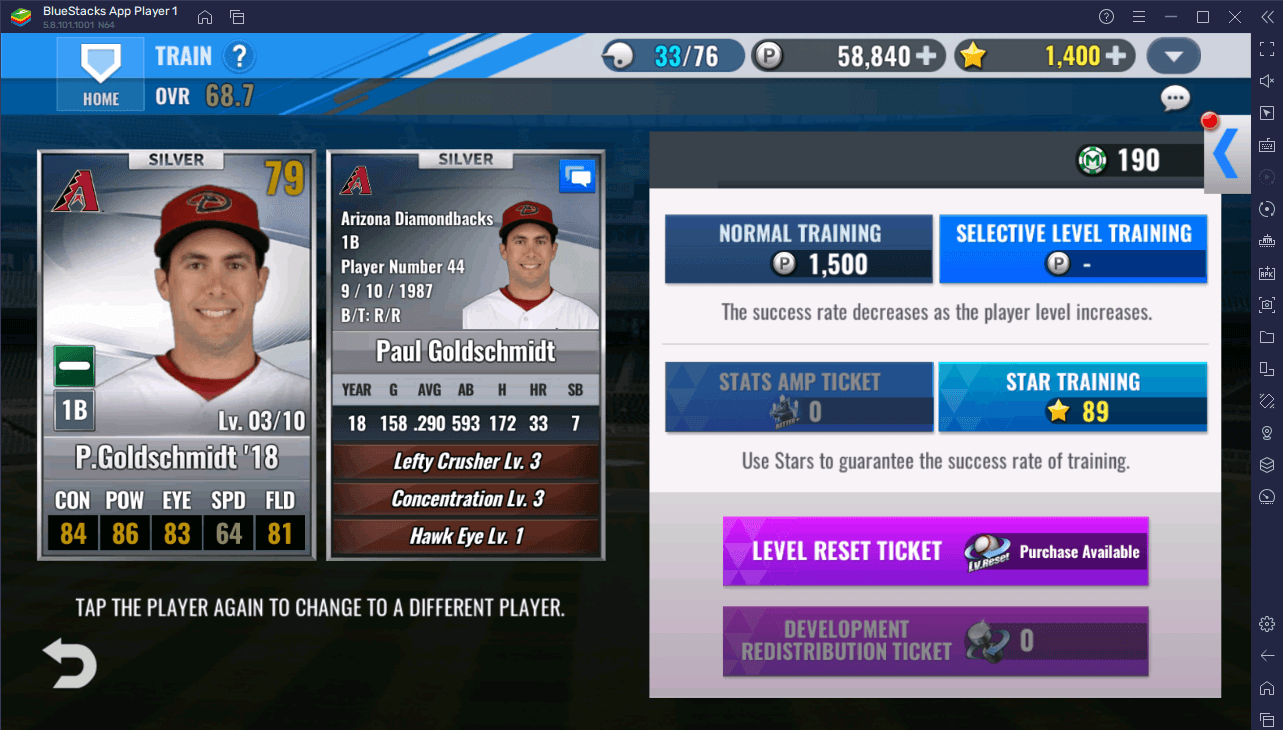 Players have 23 grades which can be categorized into Normal, Bronze, Silver, Gold, and Diamond tiers. Depending on the skill, a player can have more powerful stats or even special skills to help win the game easily. Additionally, players also have five primary stats that can be upgraded through training.
CON – chances of doing a successful batting.
POW – determines the distance the ball travels when successfully batted.
EYE – chance of hitting pitches.
SPD – running speed.
FLD – fielding (defensive) ability.
You can spend points to train players and eventually level them up to increase their primary stats. However, training a player progressively decreases the training success rate. This means that it becomes harder to train a player as their level gets higher. You may spend points for training only for it to be wasted because the training did not succeed. Because of this, you can use spend stars (premium) currency to always successfully train your players.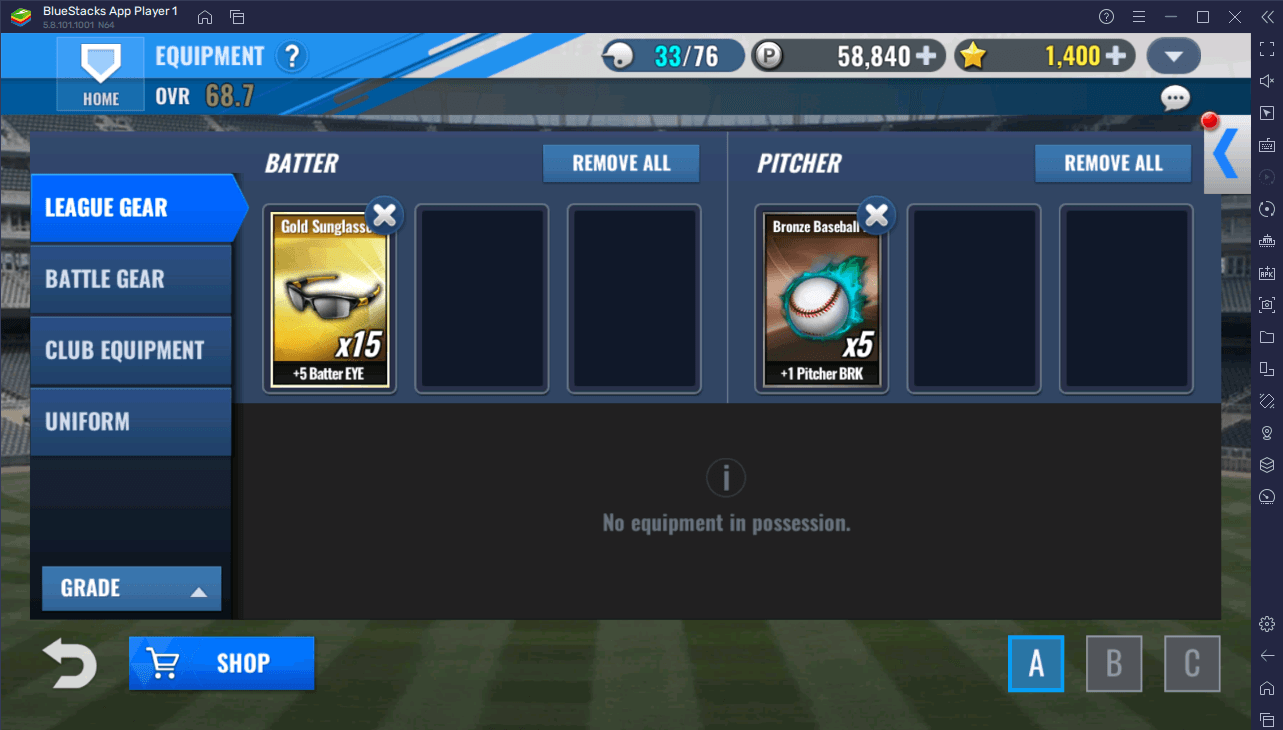 Aside from training, players can also wear special equipment to provide extra stat boosts. For instance, a player can equip sunglasses to increase their EYE stat while playing as a batter.. Gear also comes in various grades similar to players. The higher the grade the equipment has, the more bonus stats it can provide.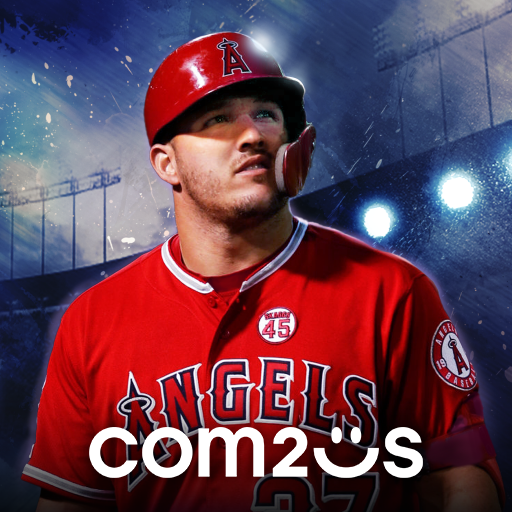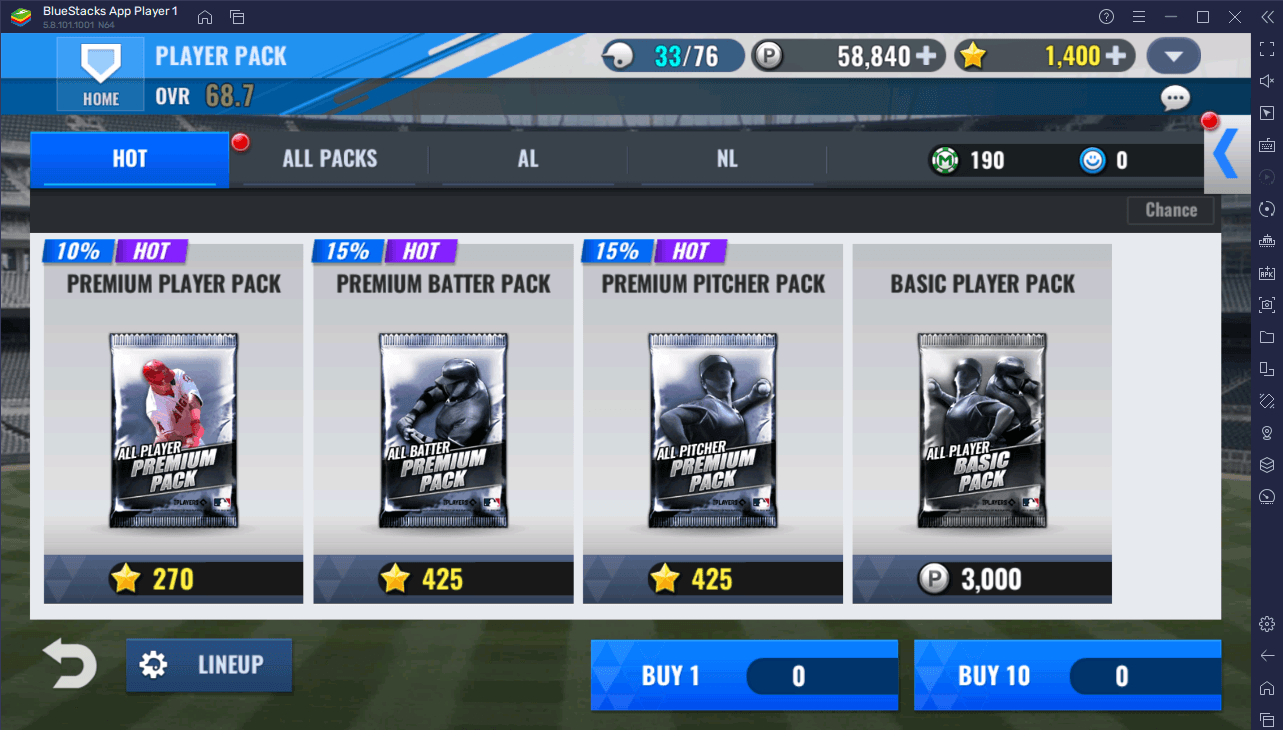 Recruiting new players is similar to collecting baseball cards in real life. You can purchase either points or stars to purchase player packs which grants you a random player upon purchasing. There are various packs out there that can grant you powerful players at a high cost. The game also gives you one free player pack every day so you constantly get new players. Additionally, you can also acquire players by signing free agents or participating in auctions and bidding for certain players.
Play Competitive Baseball
MLB 9 Innings 23 features plenty of baseball game modes. If you want a casual experience, you can play exhibition matches. You can also simulate an MLB season through the league mode where you play against various teams in a schedule. If you have a competitive itch, you can even play with other players in PvP games.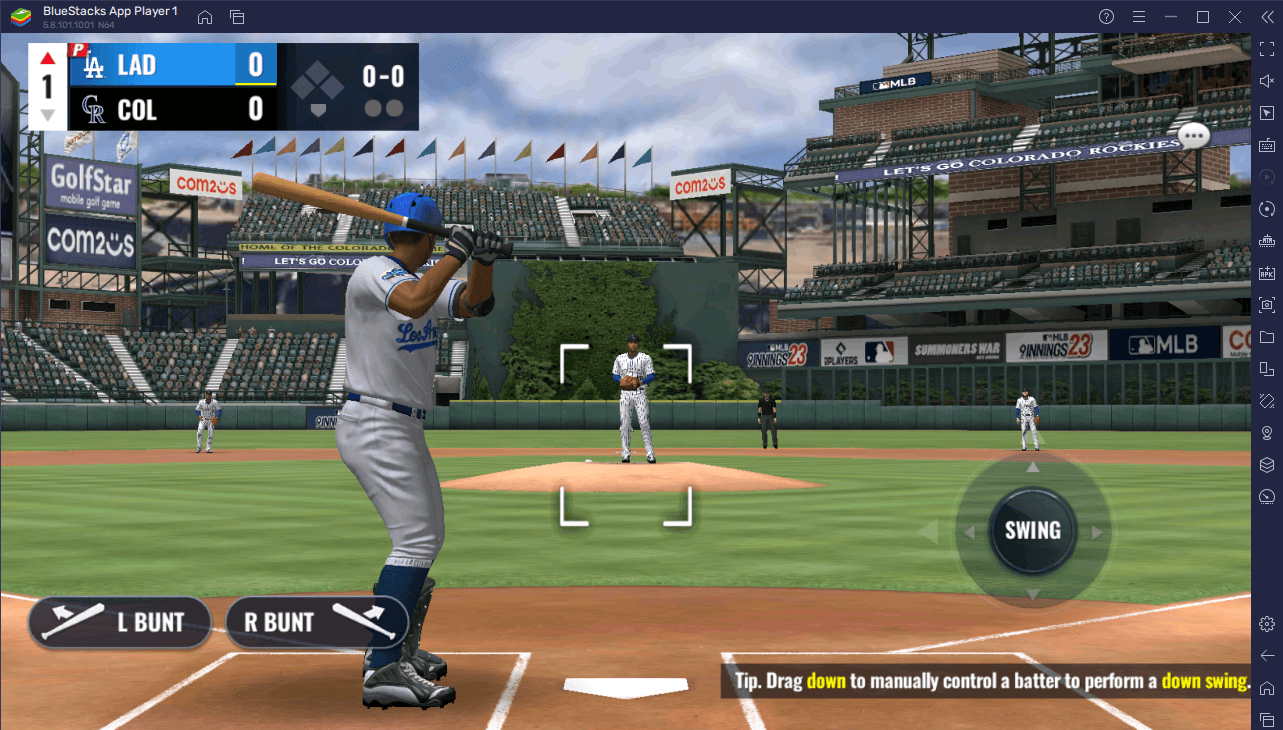 Regardless of the game mode, you play both sides in baseball. As the offensive side, you control the batting of the player. Clicking on the Swing button bats the baseball thrown by the pitcher. If your timing is perfect, the baseball can fly far distances and maybe hit a home run. You can also choose to bunt instead of swing and this can be useful in giving the defensive team a harder time and buying more time for players to run to the next bases.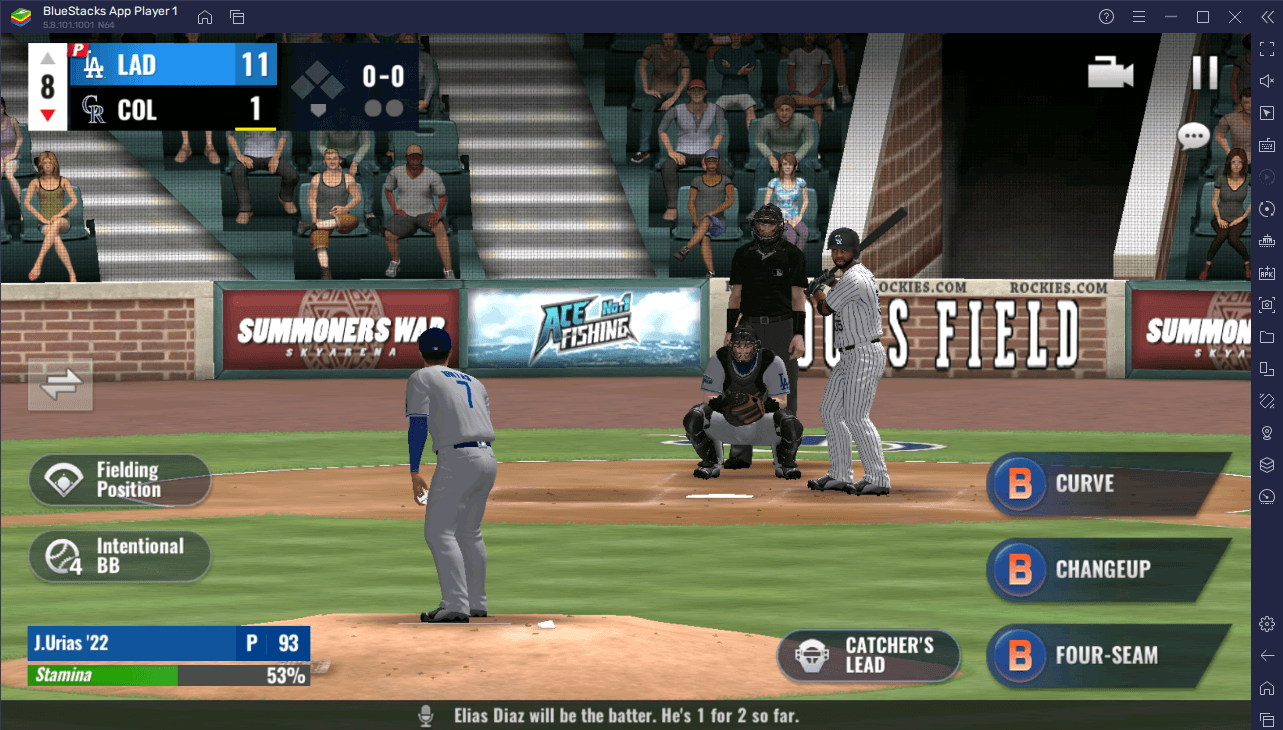 As the defensive side, you control the pitcher. The game provides you with various ways to throw the baseball such as Sinker, Cutter, Four-Seam, Slider, and the like. These are the same pitching methods that are used in real baseball games. The available pitching methods depend on the player that you are using. You can even opt to use Catcher's Lead which lets the game automatically do the pitching for you or opt for Intentional Base on Balls which refers to the act of intentionally letting the batter walk to first base for strategic purposes.
Be a Baseball Champion with BlueStacks
Live the MLB experience now by installing and playing MLB 9 Innings 23 on your PC or Mac with BlueStacks. You can utilize various BlueStacks features to either make your gameplay experience much more comfortable or use it to your advantage.
BlueStacks runs your games on a separate window that can run in the background. This makes it easy for you to go back into the game without going back and forth in suspending and relaunching the game. You can watch MLB games on your PC while also play MLB 9 Innings 23 on the same device at the same time.
Additionally, you can also take advantage of the UTC Time Converter to convert UTC time into your timezone and even set up calendar reminders for certain in-game events. MLB 9 Innings 23 contains plenty of time-based features such as League Mode and its schedules so this can be pretty useful.
Who is your favorite MLB player in the game? Let us know in the comments section below. If you like MLB 9 Innings 23, make sure to check out MLB Tap Sports Baseball which you can also play with BlueStacks.