Game Guides
How to Play Modern Ops: Gun Shooting Games on PC or Mac with BlueStacks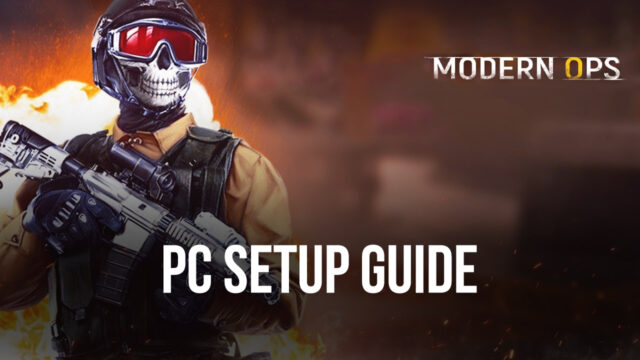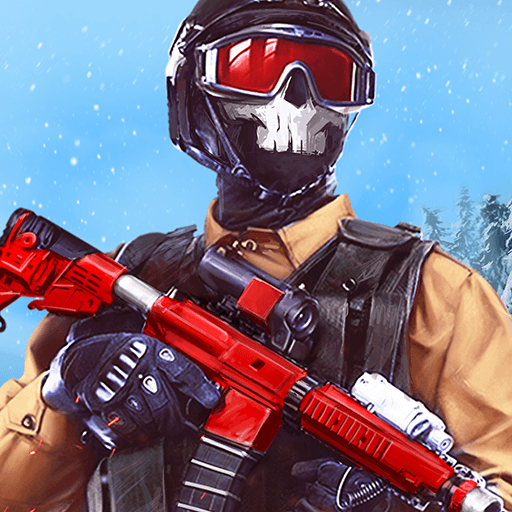 Show off your shooting skills and compete with other players when you play Modern Ops: Gun Shooting Games. Developed by Edkon Games, Modern Ops features multiple game modes and maps where you can unleash your fury with more than 30 guns to play with and buy attachments for. Become an expert marksman now by installing and playing Modern Ops: Gun Shooting Games on your PC or Mac with BlueStacks. Here's how to get started: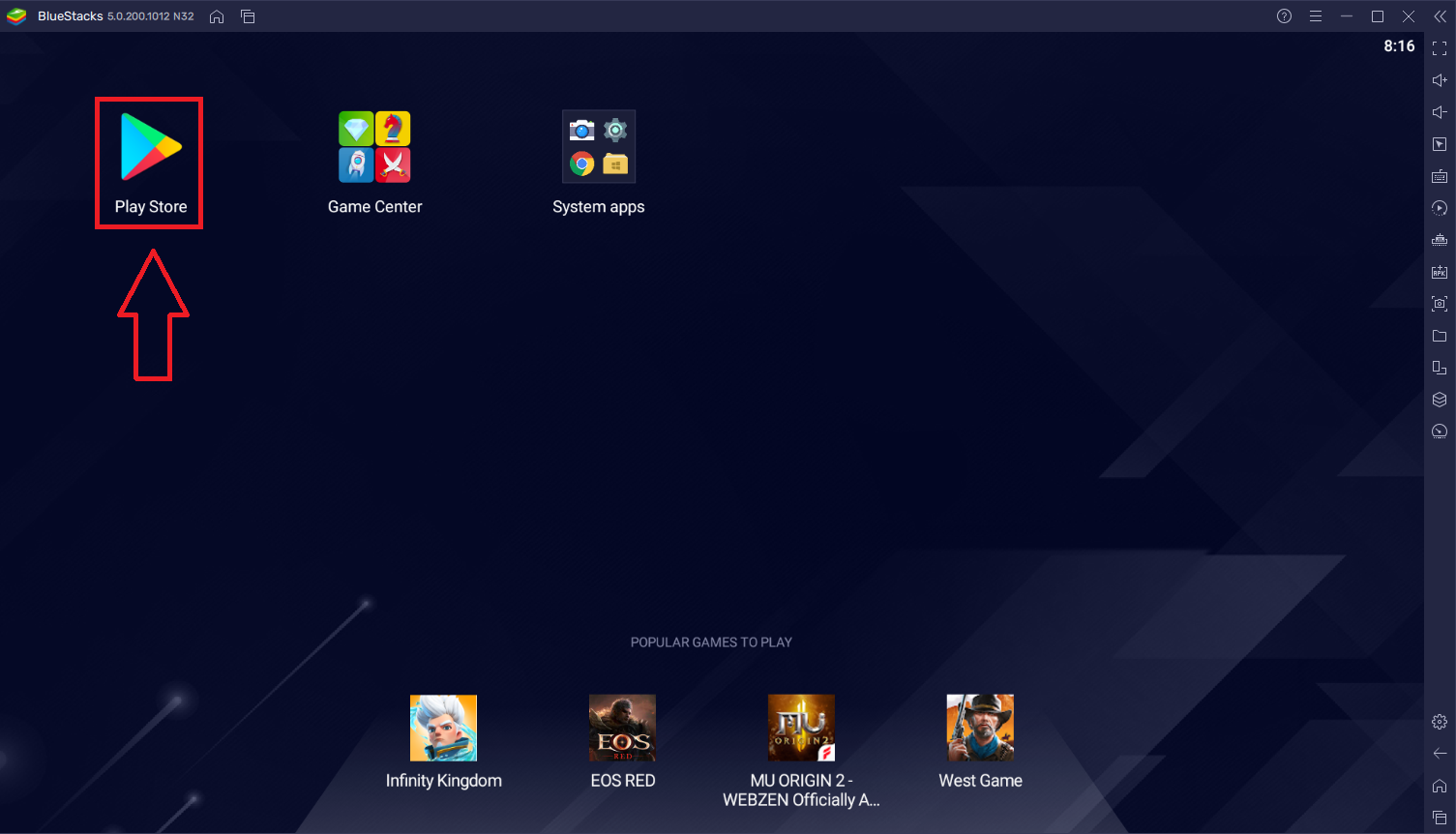 How to Install Modern Ops: Gun Shooting Games
On the BlueStacks website, search "Modern Ops: Gun Shooting Games" and click on the relevant result.

Click on the "Play Modern Ops: Gun Shooting Games on PC" link towards the top left of your screen.

Download and install BlueStacks on your PC.

Click on the "

Modern Ops: Gun Shooting Games"

icon at the bottom of your BlueStacks screen.

Complete Google Sign-in to install

Modern Ops: Gun Shooting Games

.

Click the "

Modern Ops: Gun Shooting Games"

icon on the home screen to start playing.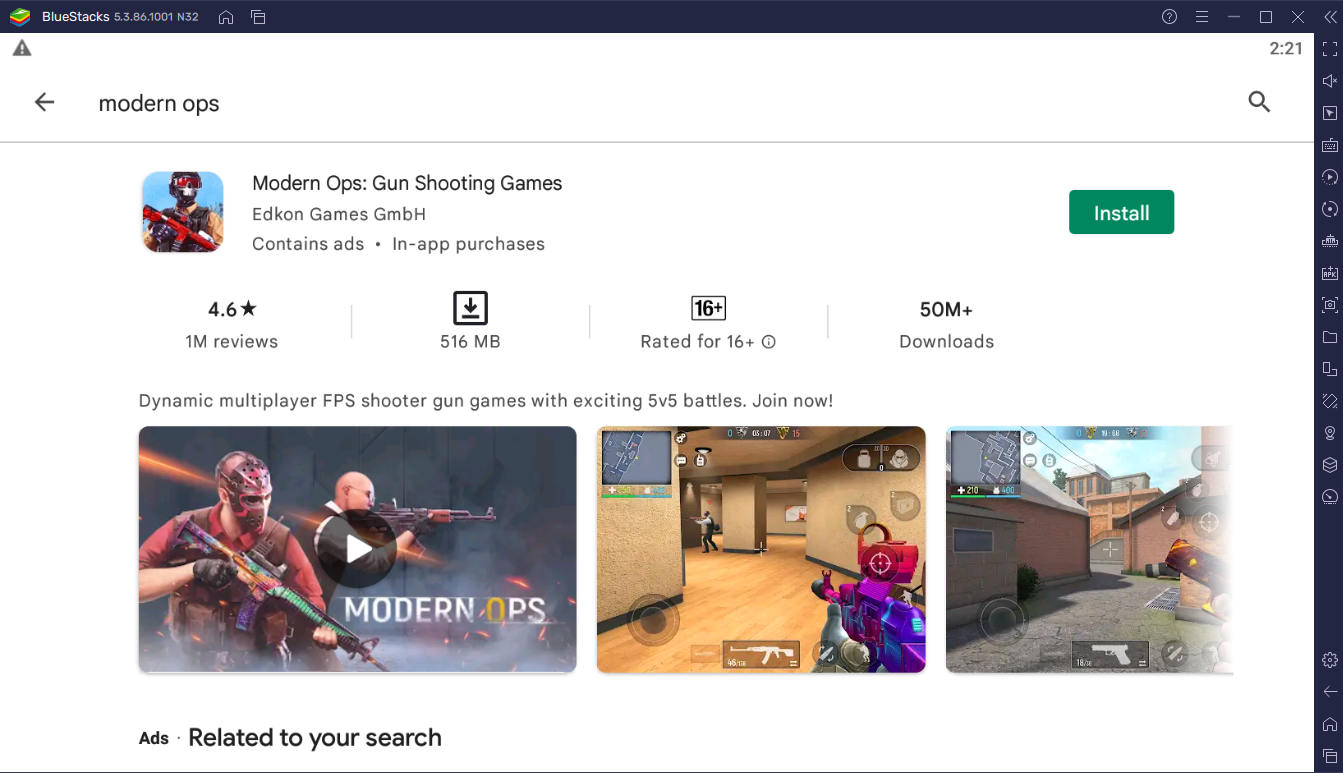 Competitive Game Modes
Modern Ops: Gun Shooting Games has up to six game modes where you can show off your shooting skills. Each game mode consists of a maximum of 10 players and depending on the mode, players are either divided into two teams – the counter-terrorists and terrorists – or tasked to fight against one another.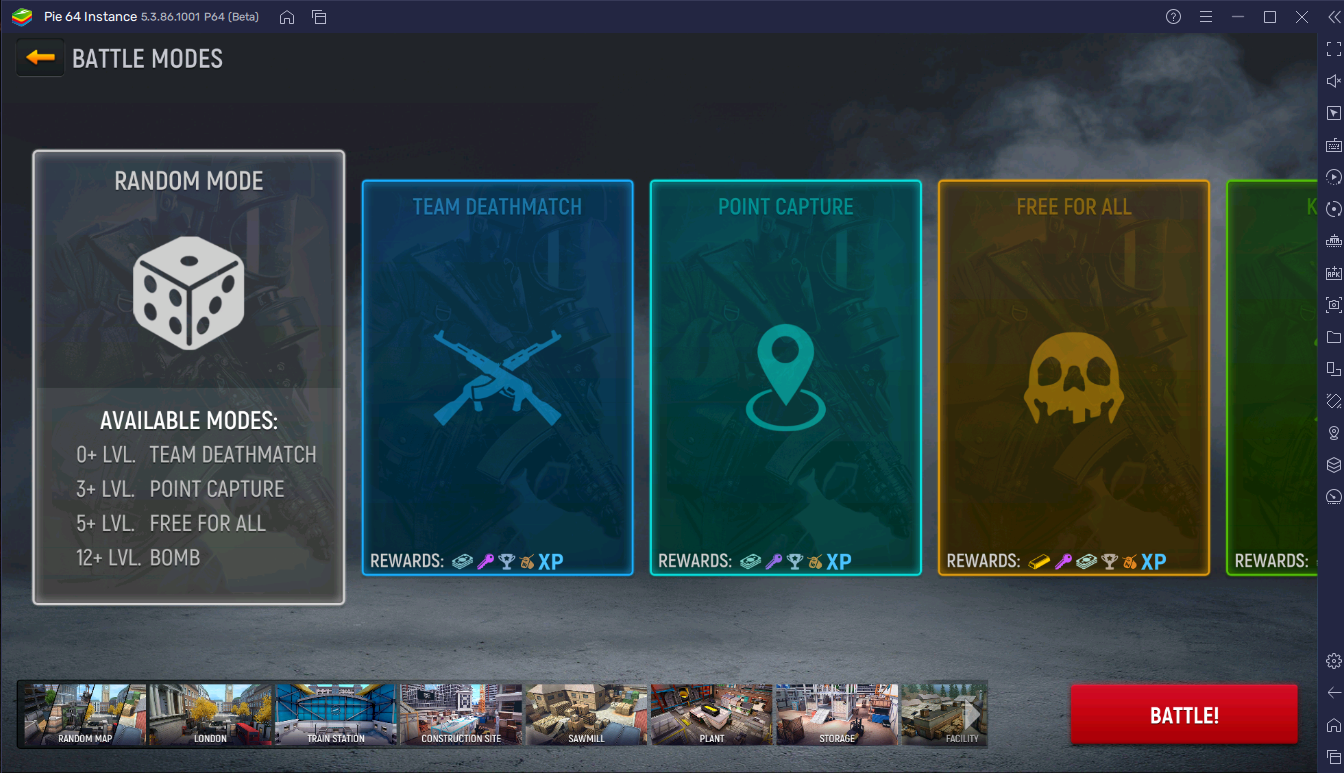 | | |
| --- | --- |
| Game Mode | Description |
| Team Deathmatch | Two teams (5 players each) collect points by eliminating members of the opposing team. The team with the most points after the timer expires wins. |
| Point Capture | Two teams fight to earn the most points by capturing and defending several points on the map. |
| Free for all | Up to 10 players engage in an all-out war against each other, collecting points for every kill. The player with the most points after the timer expires wins. |
| Knives Only | Up to 10 players fight in a free-for-all match but are only allowed to use knives. |
| Arms Race | Up to 10 players fight in a free-for-all match but for every two kills, a player levels up and switches to a different weapon. The first player to reach 15 levels and attain a knife kill wins. |
| Bomb | The terrorist team must plant a bomb in sites A or B and successfully detonate it. Meanwhile, the counter-terrorist team must either eliminate all terrorists before bomb detonation or defuse the planted bomb. |
Diverse Maps
Modern Ops: Gun Shooting Games features 10 unique maps as of writing. Maps also vary in size so there are small maps that best cater to fast-paced gameplay and there are also large maps that best cater to objective game modes such as Point Capture and Bomb.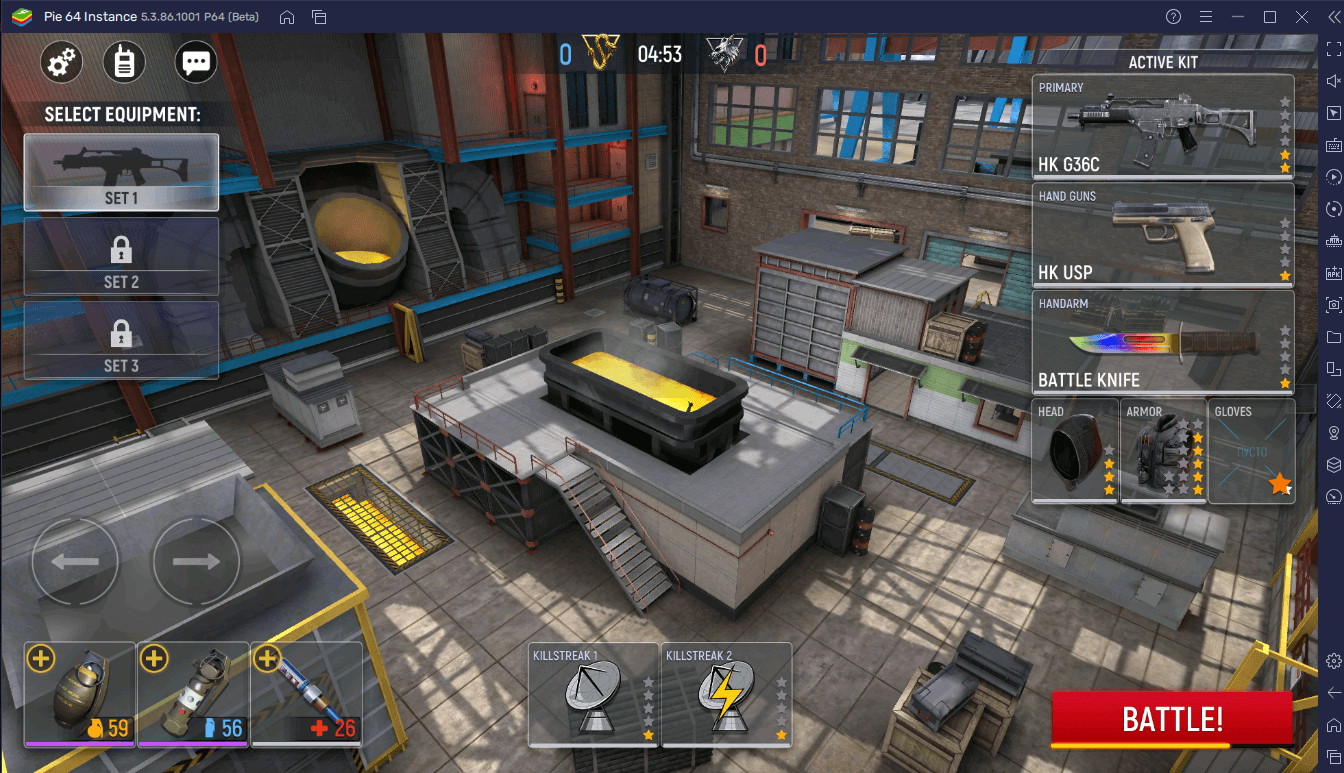 Not all maps are unlocked immediately as you would need to unlock them by leveling up. The maps of Modern Ops are:
London

Train Station

Construction Site

Sawmill

Plant

Storage

Facility

Distiller

Radar-23

Factory
Weapon and Character Customization
Modern Ops features more than 30 modern weapons and each of those weapons can be upgraded with attachments that make it more powerful as well as skins and trinkets to make it more personalized.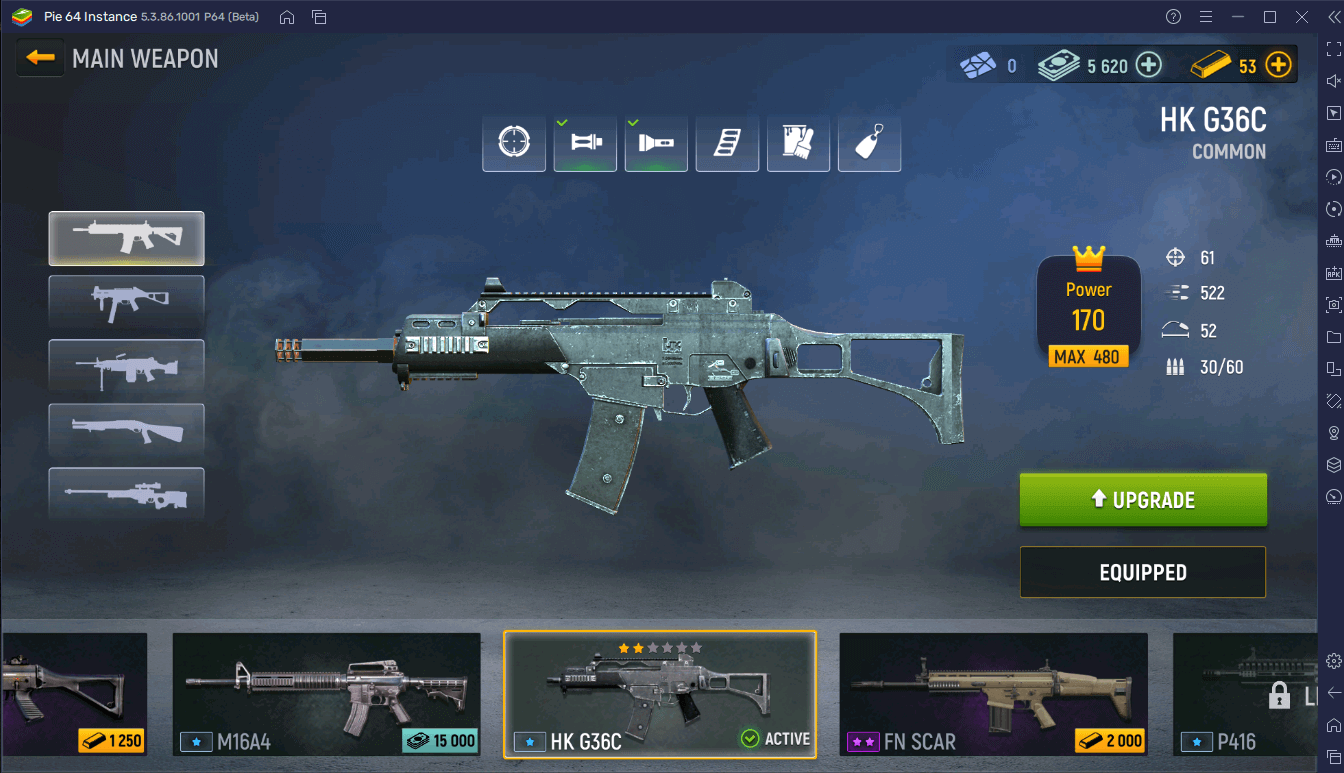 Weapons are divided into five classes and each class caters to different play styles.
| | | |
| --- | --- | --- |
| Class | Description | Examples |
| Assault Rifles | Balanced weapons that have moderate damage, accuracy, and ammo capacity. Very good to use when you're a beginner. | AK-47, Famas F1, SIG SG 556, M16A4, HK G36C, FN SCAR, P416, Steyr AUG A3, M4A1, Remington ACR, Scar Special, SHAK-12, AK-47 Pro, AS VAL |
| Sub Machine Guns (SMG) | Small but reliable guns that can be deadly at close to medium ranges. | Steyr TMP, FN P90, PP-19 Bizon, UMP-45, Kriss Vector, AKS-74U, MP7, Mac-10 |
| Light Machine Guns | Heavy weapons with large amounts of ammo. Best used for suppressing enemies. | FN MAG, RPK, M249 SAW, L86 LSW, KAC Stoner LMG, HKG 36 |
| Shotguns | Powerful guns that can kill enemies in one shot at close range. | Remington Model 870, Benelli Nova, SAGA-12, Spas-12, Remington Special, Fostech Origin 12 |
| Sniper Rifles | Highly accurate guns can kill enemies instantly with one headshot. Best used at long ranges. | SVD Dragunov, Steyr Scout, VSS Vintorez, Barnett Wildcat C5, HK417, AWP, Cheytac 200 |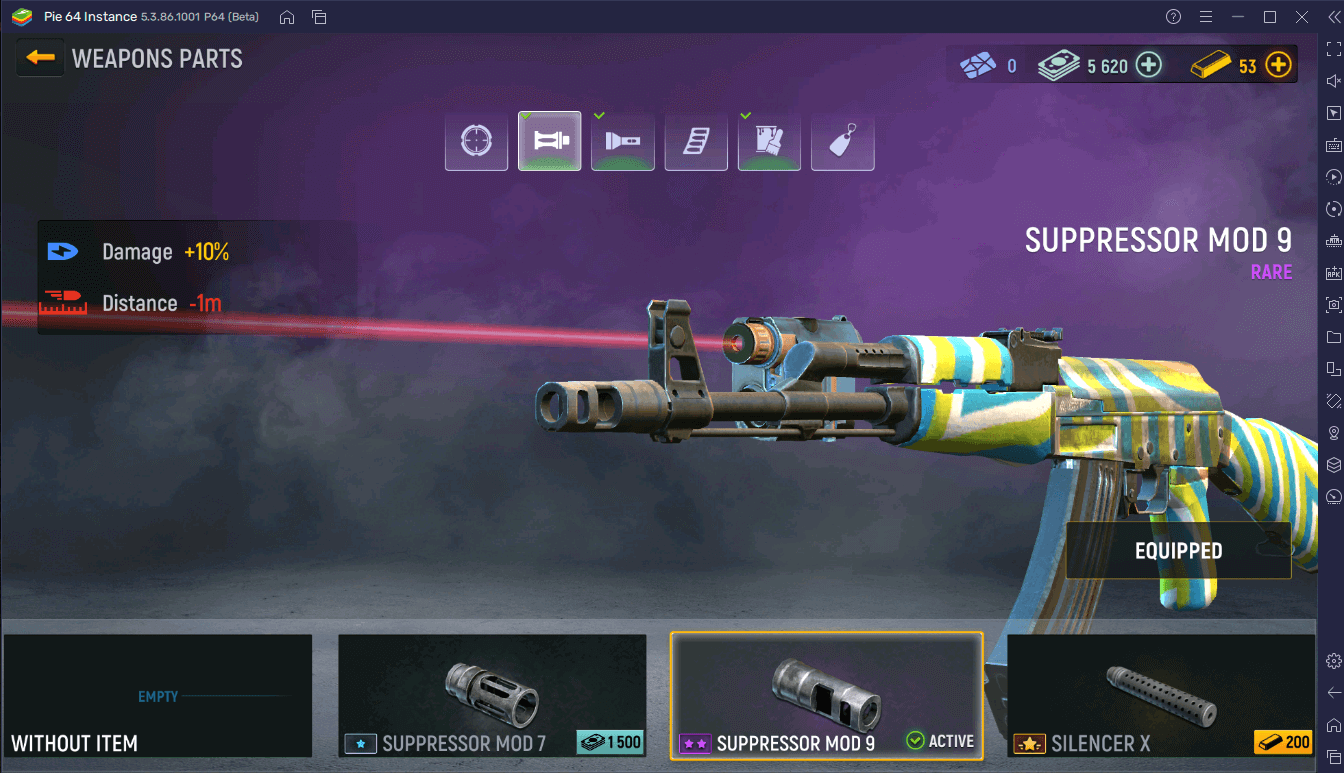 Up to four attachments can be bought for each weapon such as sights, muzzle attachments, upgraded magazines, and on-rail attachments (i.e., flashlight, laser sight). These attachments upgrade a gun's attributes like damage, accuracy, and the like so it is highly recommended to invest in them.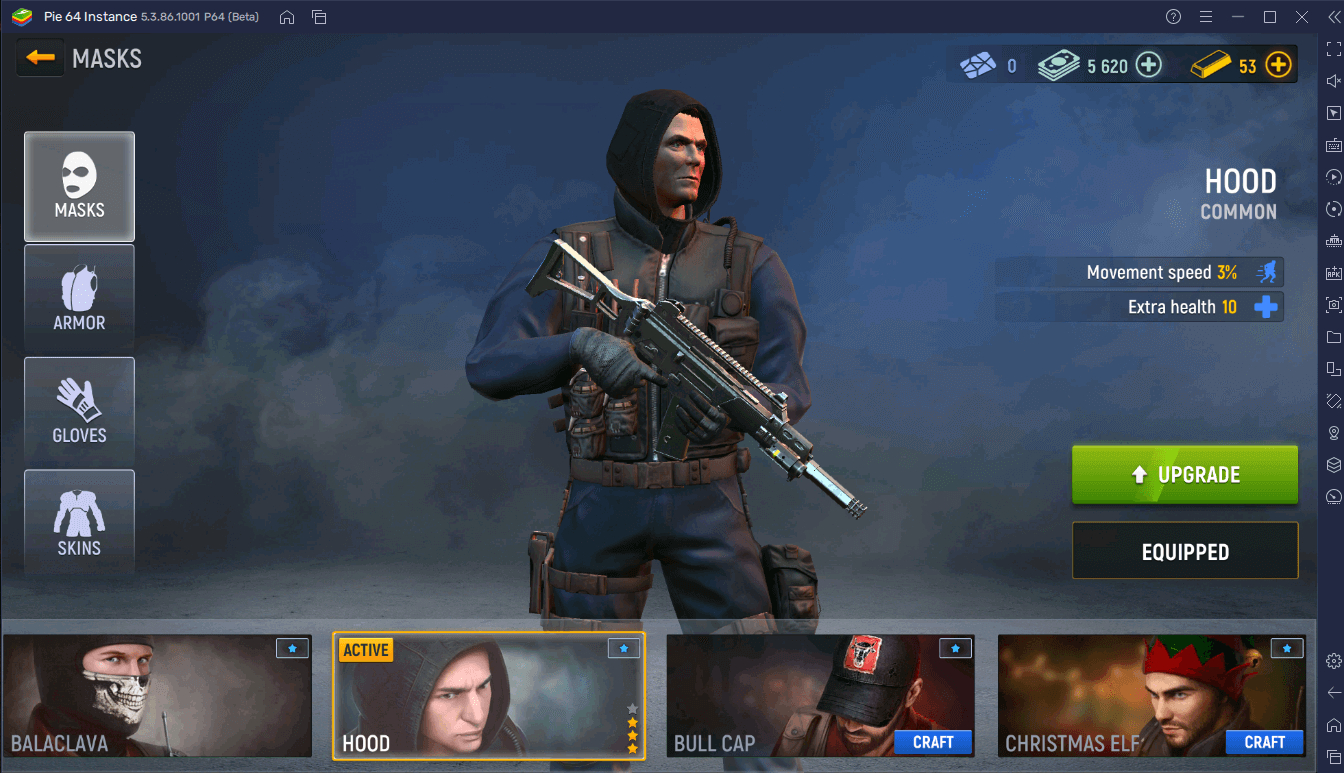 Aside from weapons, equipment can also be purchased and upgraded for your character. Your character can wear a helmet, armor, and gloves, which help in making your character live longer during shootouts.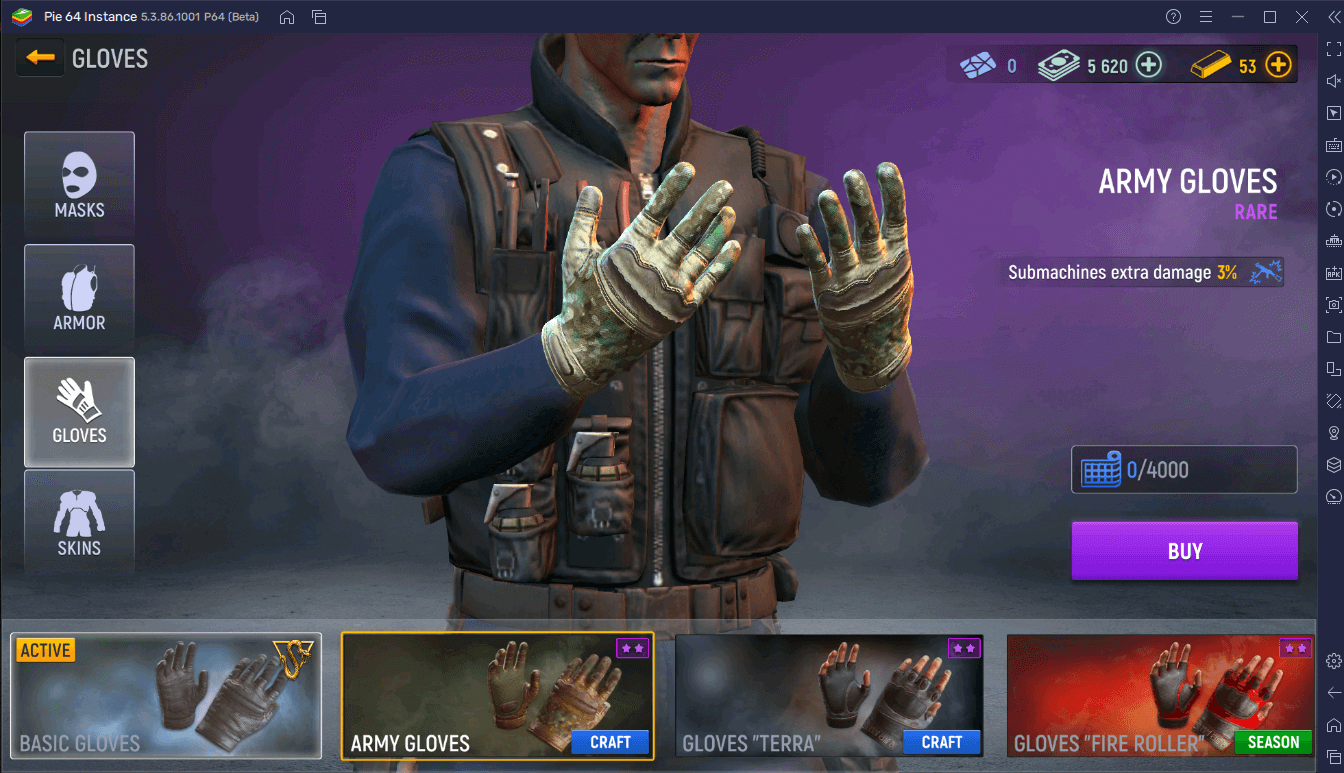 Many weapons and equipment in Modern Ops can be acquired via crafting. To craft items, you would need a certain number of blueprints for that item. Blueprints for random items can be acquired through supply drops.
Ranking System
Want to show off your rank? Modern Ops has you covered with its ranking system called "Way to Glory".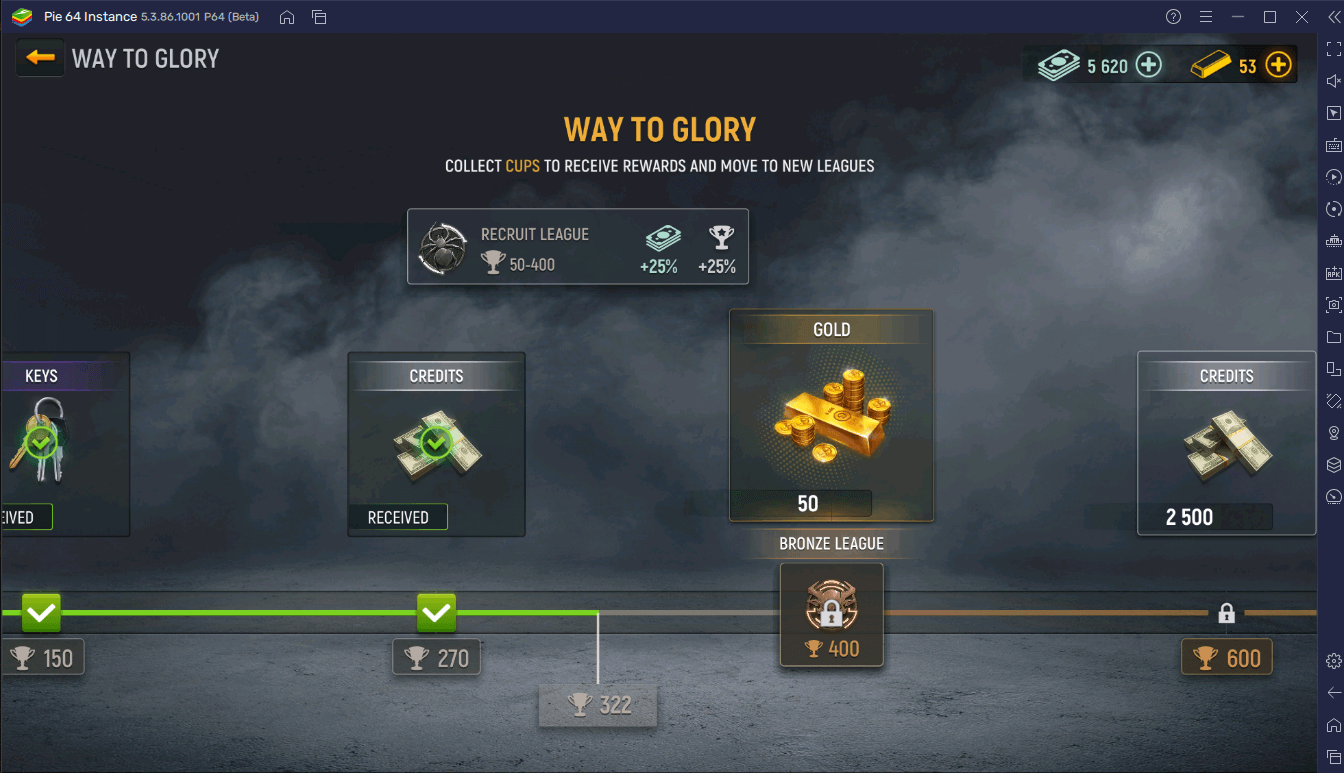 In Way to Glory, you must keep earning cups to continuously progress to the succeeding leagues. Cups can be earned by simply playing the game. Every time you get promoted to a new league, you also receive a permanent raise in the amount of credits and cups that you earn in-game. You also earn congratulatory awards for reaching certain parts of a league.
Become More Competitive with BlueStacks
Start being a skilled marksman now by installing and playing Modern Ops: Gun Shooting Games on BlueStacks.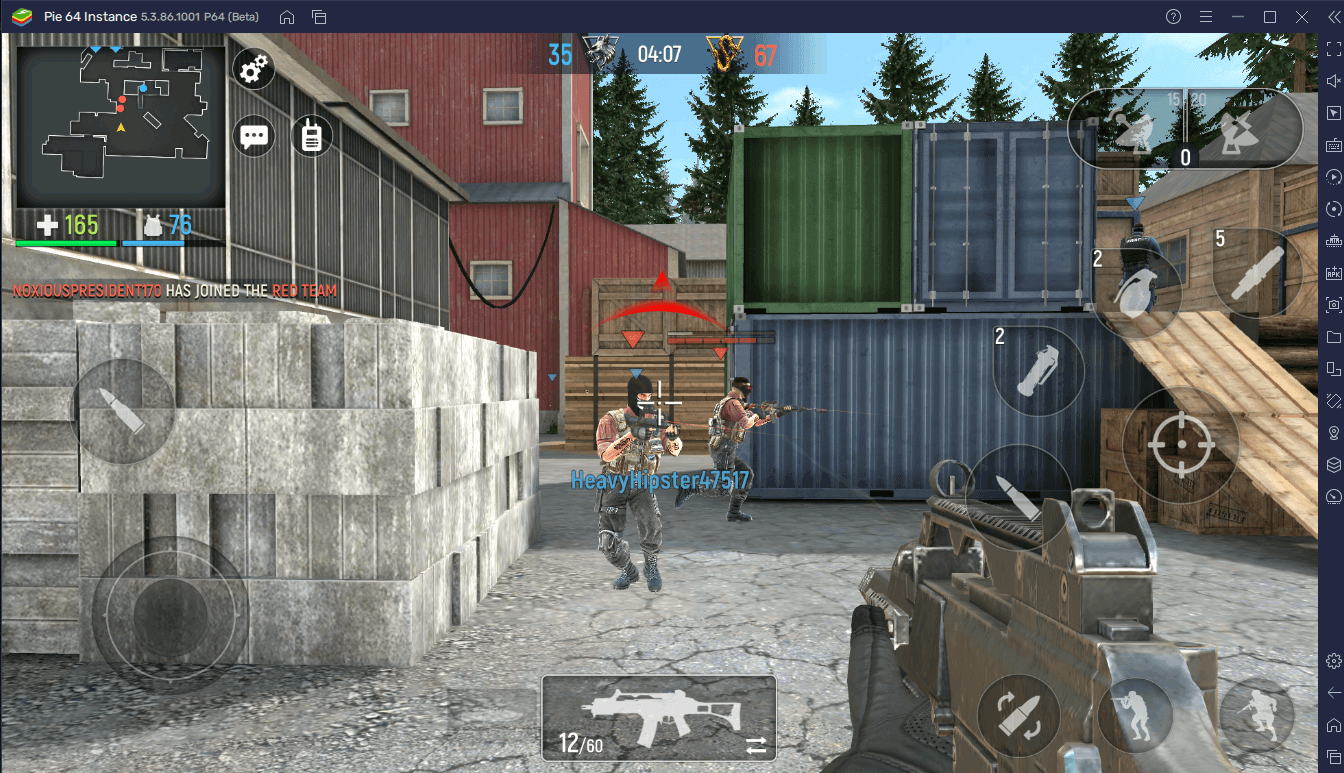 The primary advantage that you have with BlueStacks is the emulator's Shooting Mode which allows you to control the camera with your mouse. This allows you to effortlessly pull accurate shots and easily dominate the scoreboards. You can also take advantage of BlueStacks' Controls Editor to edit the game controls any way you see fit.
Climb up the leaderboards now. What is your favorite gun and map in Modern Ops: Gun Shooting Games so far? Let us know in the comments below.