Game Guides
Upgrade Guide – How to Strengthen Your Yabi in Monster Quest: Seven Sins on PC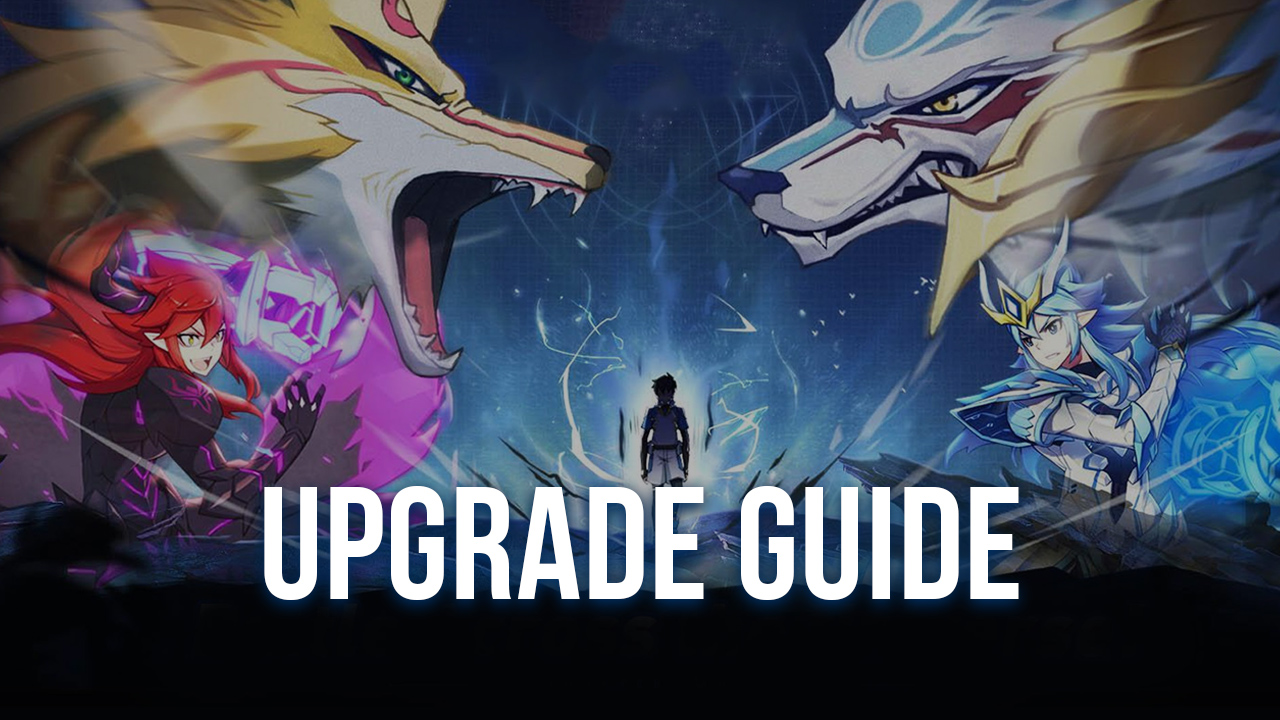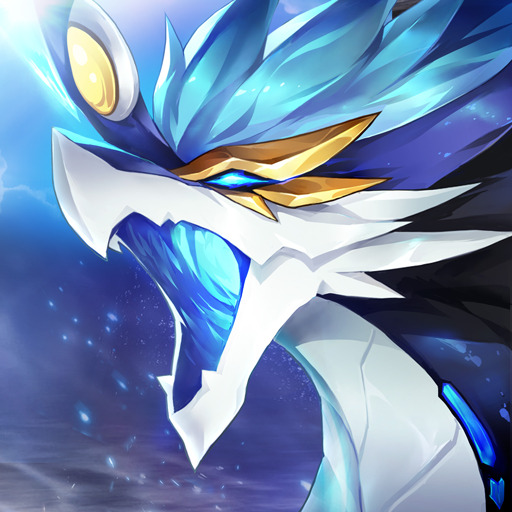 Throughout your journey in Monster Quest: Seven Sins, you will encounter and be able to capture plenty of Yabis across multiple areas of the game's map. You can then assign up to four of said Yabi to serve as the main combatants in your lineup who will fight against opponents who stand in your way. Enemies will only become stronger as you progress through the game's quests. With this, it is paramount that you individually and constantly upgrade your Yabis to remain powerful enough to annihilate enemies in the battlefield.
In this article, we'll show you how to give enhancements to your Yabi through multiple mediums such as increasing their level, strengthening their genes, and the like. But before spending resources on upgrading your Yabi, you must know basic information about them.
Getting to Know and Levelling Up Your Yabi
You can upgrade your Yabis by clicking the "Yabi" button located on the lower-right side of the screen. This will bring you to a menu where all of the things you need for Yabi-related matters are located such as upgrading and assigning Yabis to either your main lineup or reserve.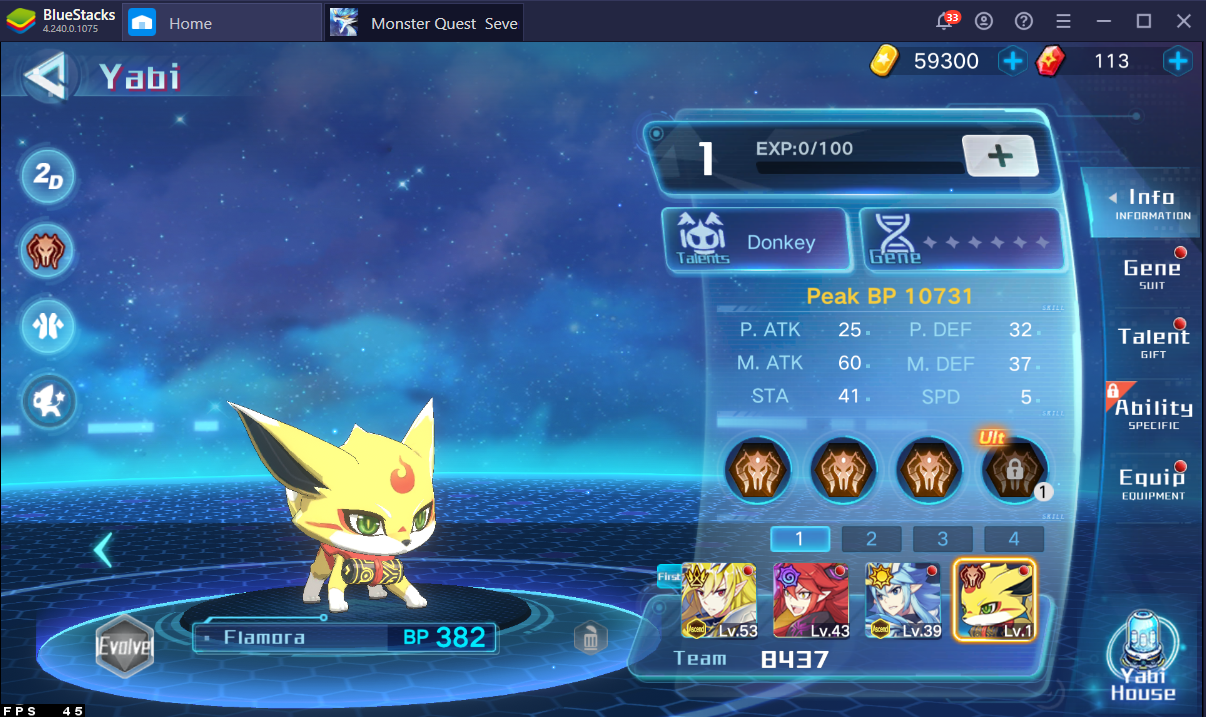 The first tab will show you basic information about the selected Yabi. Here, you can see their current level, BP rating (a measure of their overall power), peak BP (limit of their BP), as well as set of attacks that they can during battle.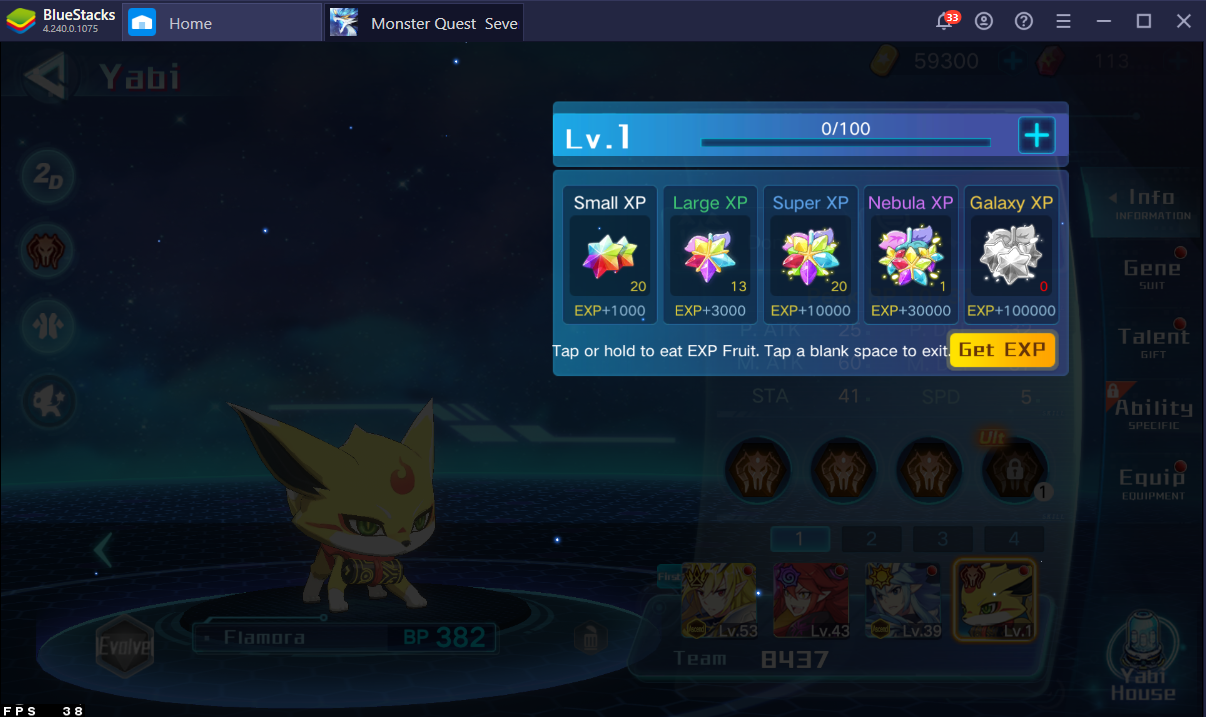 One of the most important things that you can do in this sub-menu is feeding your Yabi with EXP Fruit. By clicking on the "+" icon located beside the level bar, you can feed your Yabi with various EXP Fruits which will instantly give a certain amount of XP to your Yabi depending on the type of fruit you give. Feeding EXP Fruits to your Yabi is ideal for quickly aggrandizing its level and it's most especially useful for newly captured Level 1 Yabis.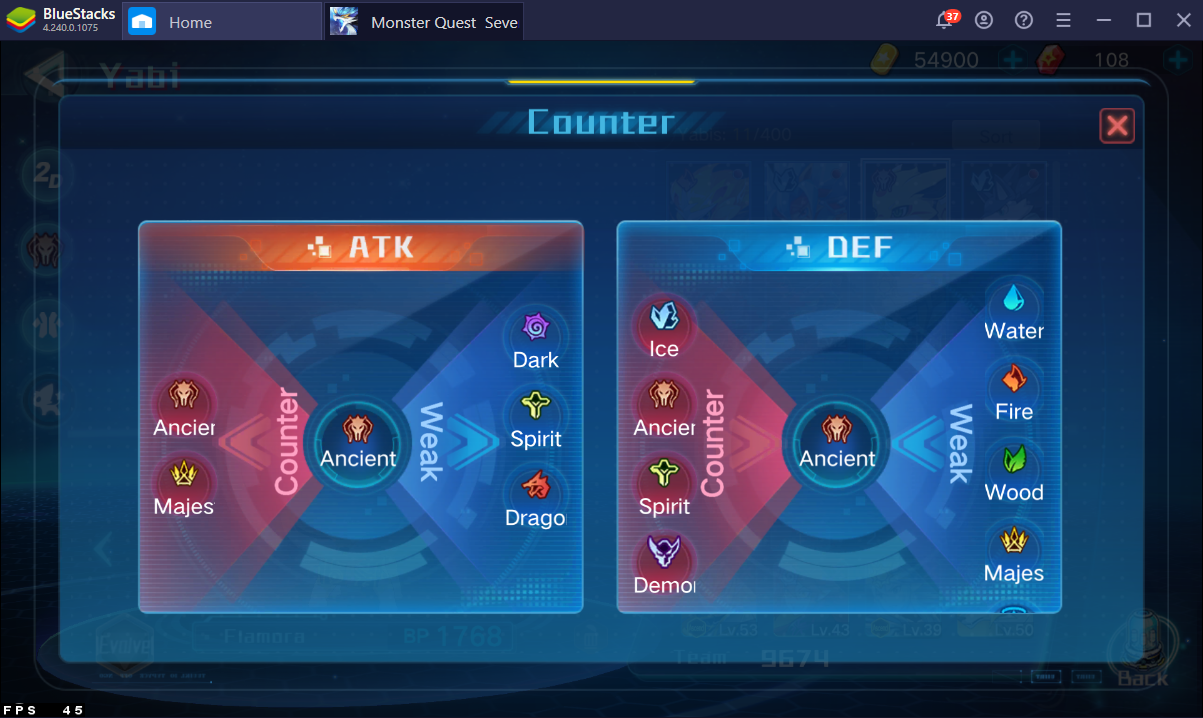 Another important piece of information is the category of your Yabi and the complete list of categories it is strong or weak against. You can access this by clicking the icon under the button labelled "2D". This information is imperative and very useful for analyzing your enemy before battling it since this will help you ensure that you're using the appropriate Yabis for the job. For more on how to win battles in Monster Quest: Seven Sins, you can read this guide here.
Lastly, your Yabi's stats such as HP, ATK, and DEF numbers are the factors that can make or break their combat effectiveness. Aside from leveling up, you can upgrade their stats by improving their gene.
Improving Their Gene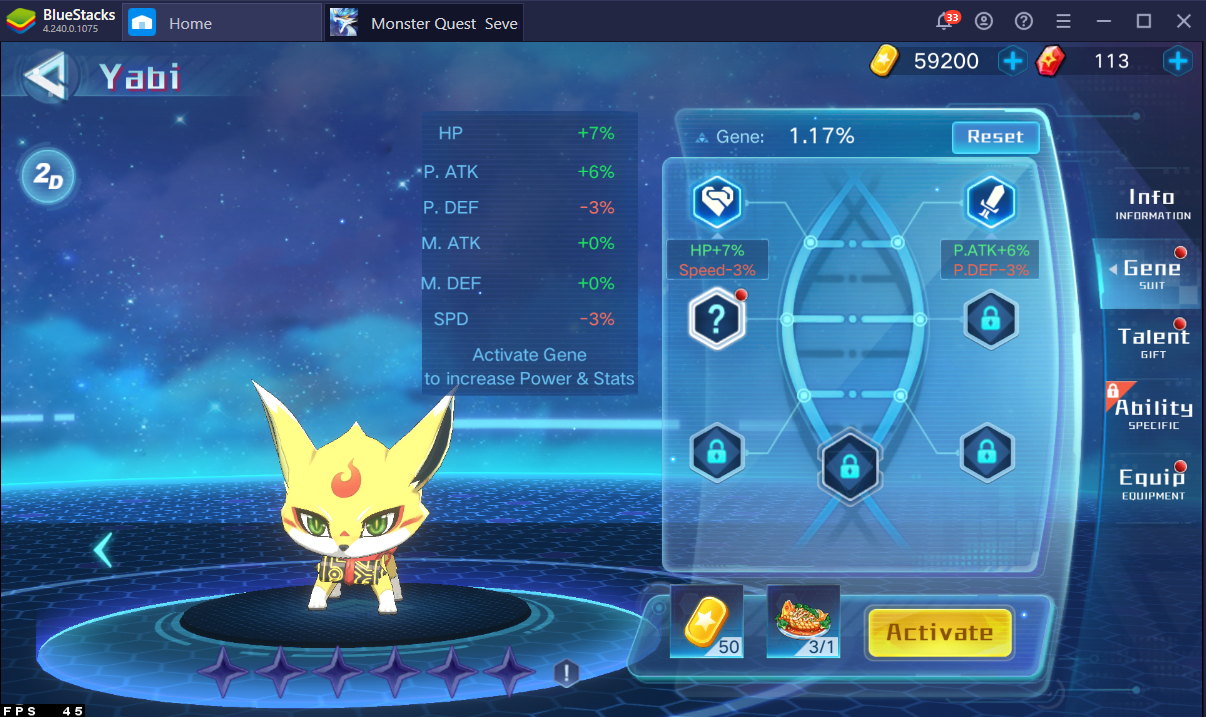 Enhancing your Yabi's gene will improve their stats according to percentage. The requirements for improving their genes are a very small amount of gold and a certain amount of their preferred food. Assuming these requirements are met, you can upgrade their six stats until their "relationship" (represented by six purple stars) transcends to a new level. Keep in mind that upgrades are strictly done in this order:
HP > P. ATK > P. DEF > M.ATK > M.DEF > SPD
Note: P. ATK and M. ATK stand for Physical Attack and Magical Attack respectively. On the other hand, P. DEF and M. DEF stand for Physical Defense and Magical Defense respectively. Your Yabi's basic info will tell you whether or not their abilities are physical or magical.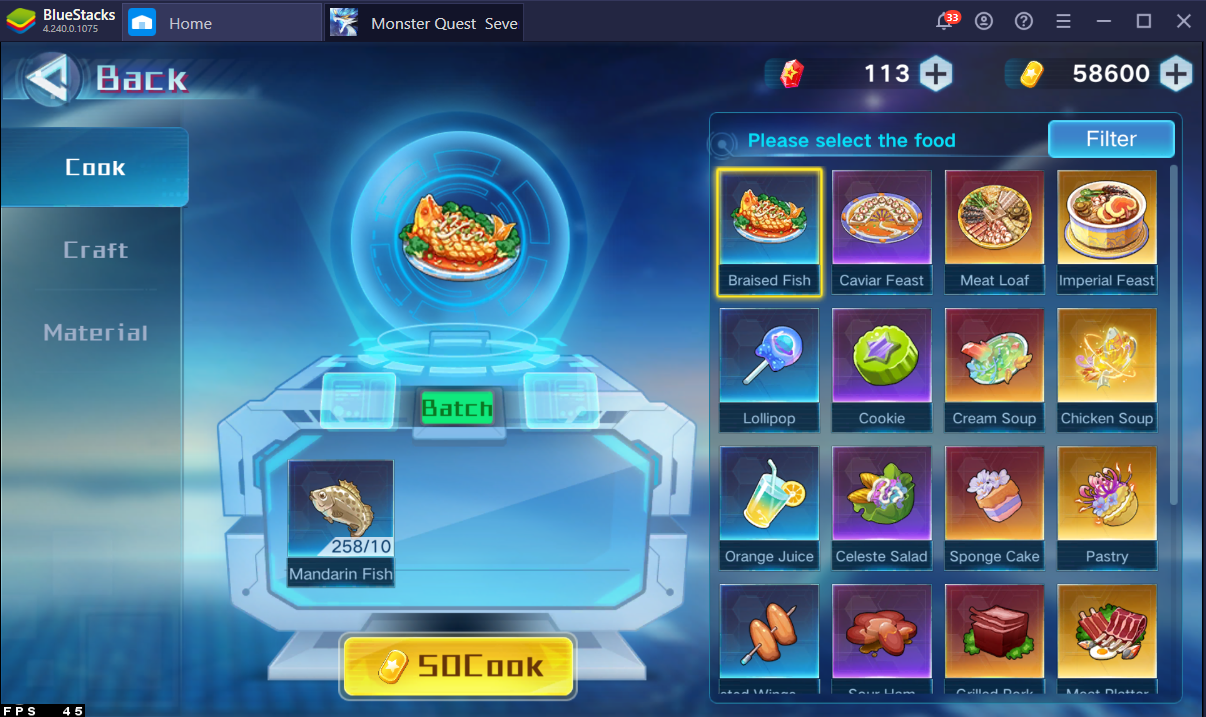 You can cook the food required for upgrading their genes given that you have the sufficient ingredients needed for it. Ingredients can be garnered by completing quests, collecting them from certain areas, or dispatching spare Yabis to scavenge for some.
Increasing Talent Ability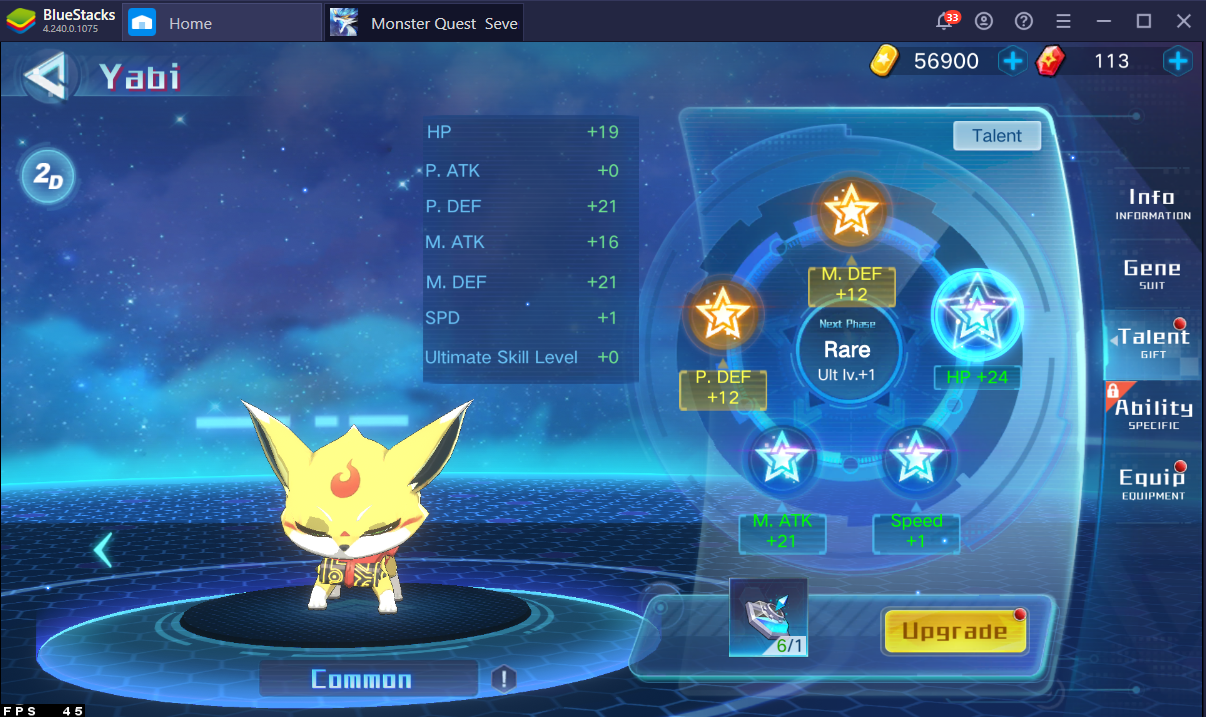 Other than gene-upgrading, you can increase your Yabi's stats with fixed amounts by upgrading their Talent. Similar to upgrading their gene, you can upgrade their Talent six times until it levels up. Moreover, it also follows the same order.
You will unlock your Yabi's ultimate (a very powerful attack) after going past the first level. Afterwards, the subsequent levels will just add to their ultimate's power.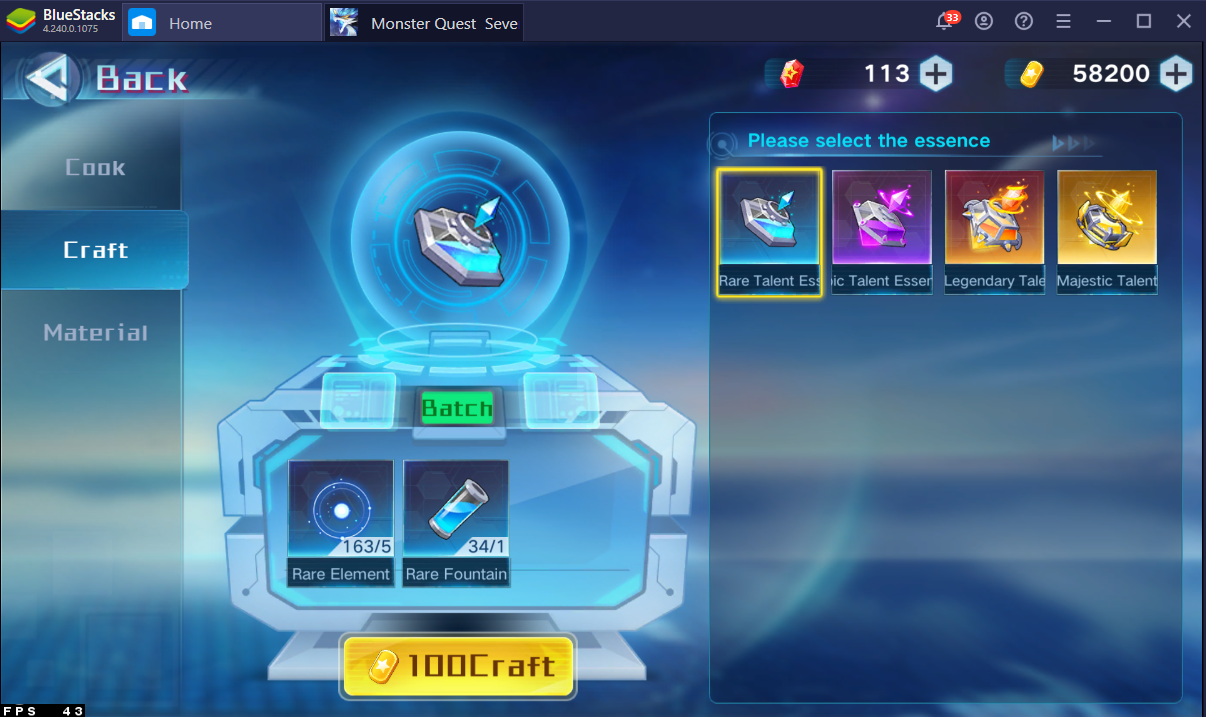 Talent is upgraded with Talent Essence, which can be crafted with materials like Rare Element. Materials for essence-crafting can be collected by clearing the floors of the Tower of Paragon or by defeating the angels of the Hello clan.
Evolving and Ascending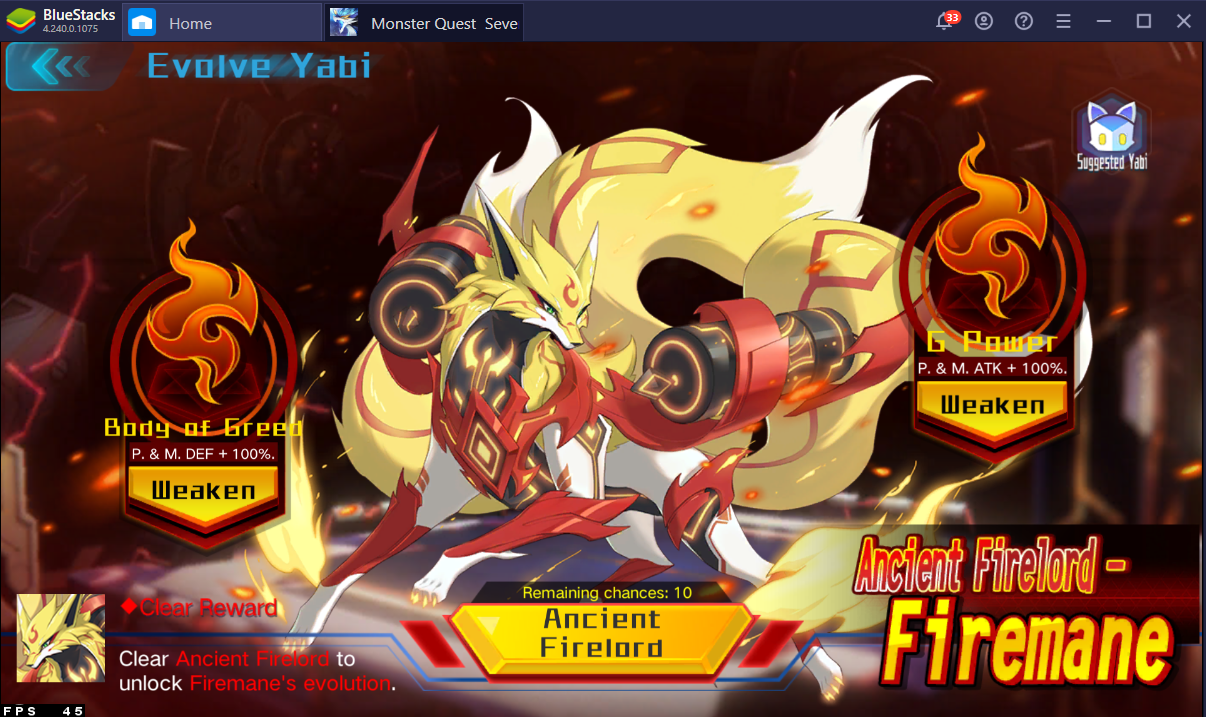 Similar to the Pokémon franchise, your Yabi can physically evolve into a stronger variant of itself. Each Yabi has a different condition for evolving. Some Yabi will only need to reach a specific level to evolve; meanwhile, powerful Yabi like Firemane require you to beat a challenge before they can be evolved. The challenge usually involves fighting and defeating the evolved version of said Yabi. This can be quite difficult and you have limited chances of fighting them. Fortunately, the game sometimes gives you the opportunity to weaken their abilities by defeating mini-bosses.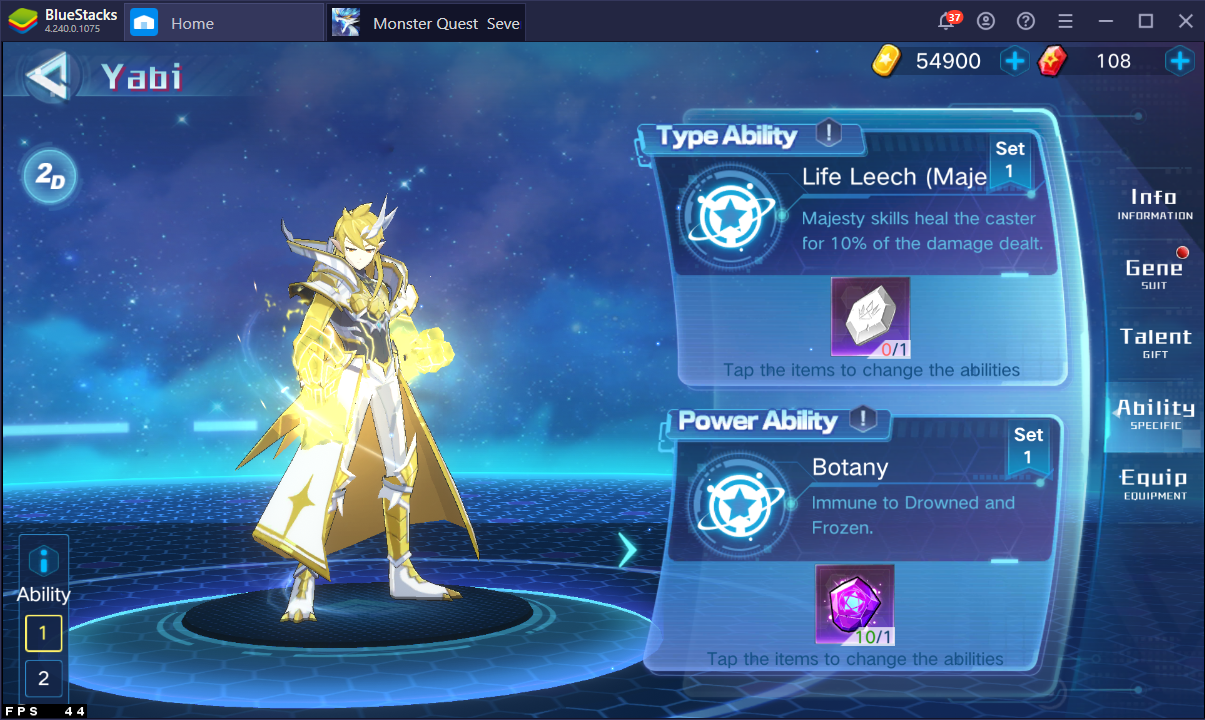 After evolving, your Yabi will unlock a Type Ability which is essentially a passive ability that is useful in combat. You can exchange this for a different Type Ability (chosen randomly) by spending Majestic Stones.
The next step to evolving is ascending. The conditions for ascending are more or less the same as evolving. Finally ascending your Yabi will unlock their Power Ability which are akin to Type Abilities except that they can be exchanged with Ability Stones instead of Majestic ones. Moreover, there are more Power Abilities that the game can choose from compared to Type ones.
Gearing Up with Equipment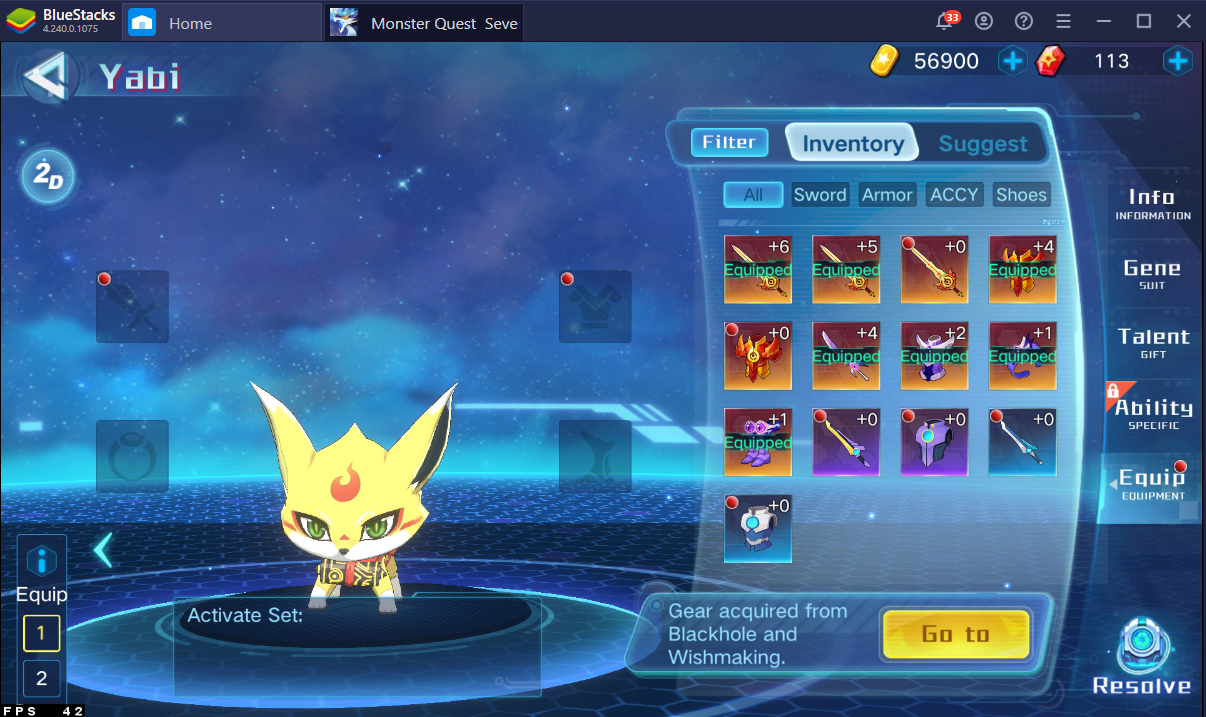 You can equip your Yabi with swords, armor, accessories, and shoes to specifically improve certain stats. Swords will increase P.ATK and M.ATK. Armor will increase P.DEF and M.DEF. Accessories will increase Stamina. And shoes will increase Speed (which determines who will strike first in battle).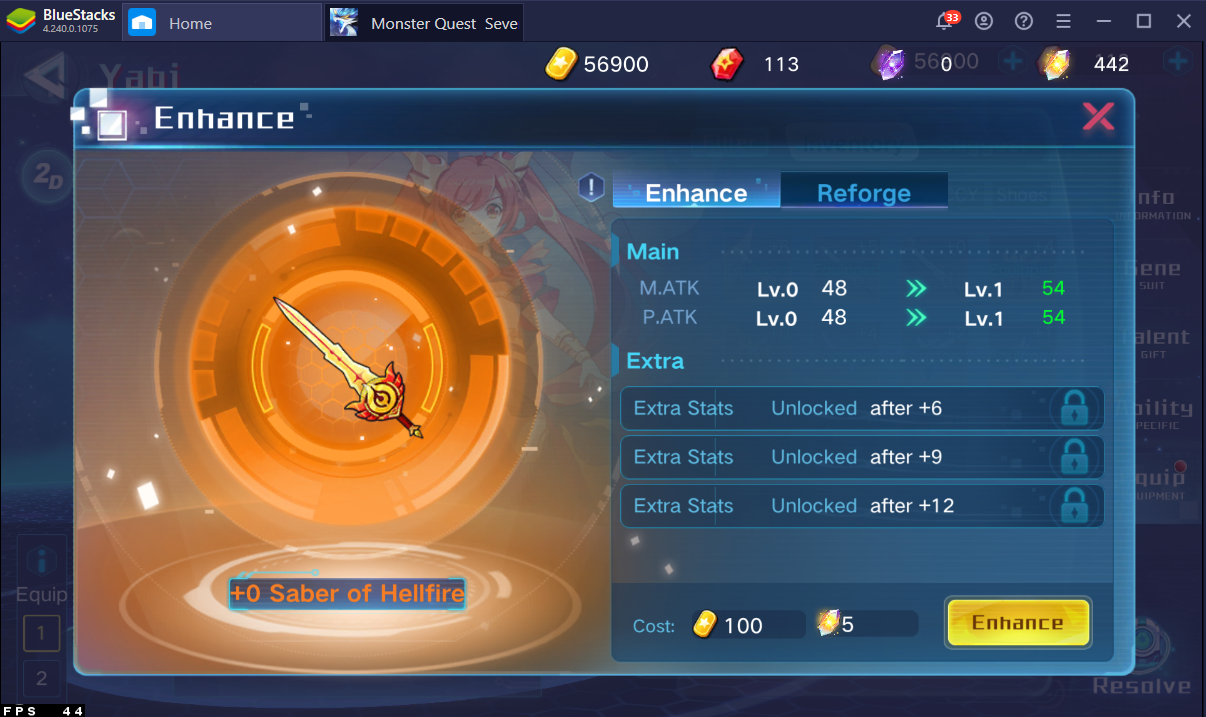 Gear can be individually "fostered" or, in other words, upgraded. Gold and Star Force is required to enhance gear. What you need to take note of is that enhancements are not continuously successful. Some enhancements will randomly fail and will take away your spent gold and Star Force along with it. However, the game will increase the success rate by 5-15% for every failed enhancement.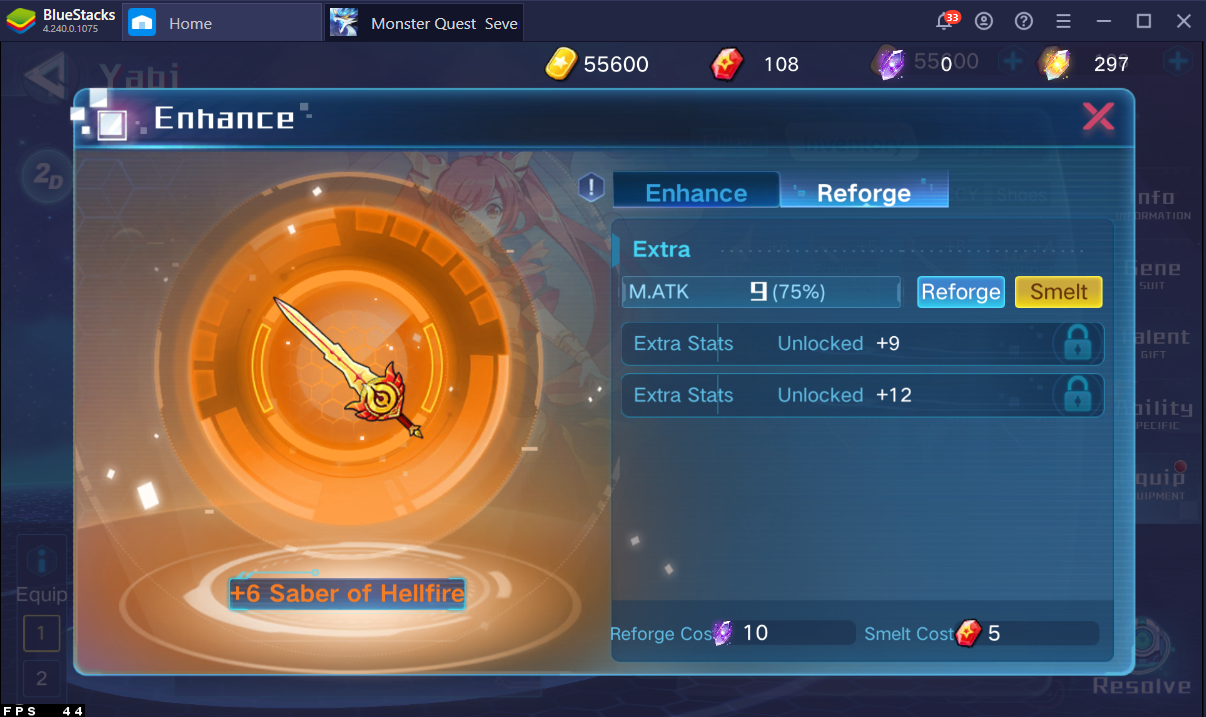 Moreover, gear can be reforged or smelted. Reforging will basically change the stat boost of your gear. For example, a sword boosting M.ATK can instead be reforged to boost P.ATK. This is done at the cost of Star Essence, which is quite a rare resource. Smelting will improve the current stat boost of your gear by spending Star Coins.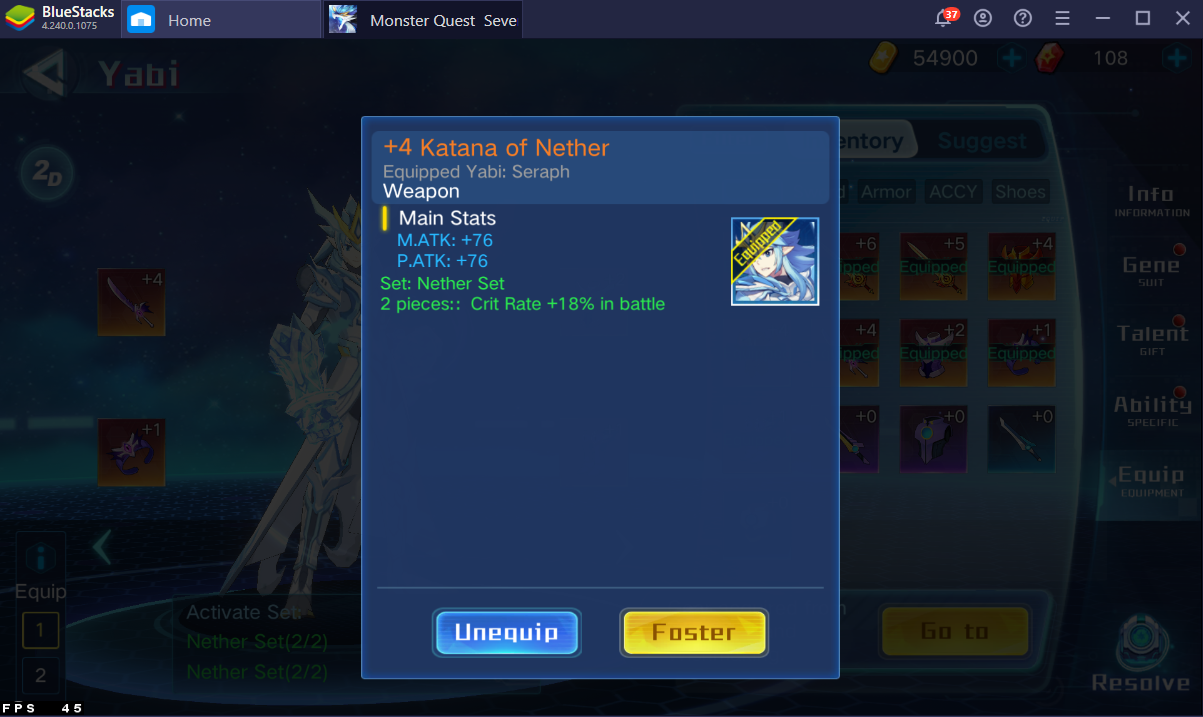 Some gears come in sets and equipping the full set will give your Yabi further boosts to a particular stat. For instance, equipping two pieces of gear from the Nether Set will give a Yabi an additional Critical Rate of 18% in battle. Keep an eye out for gear sets and equip them on your best Yabis.