Game Guides
MU Origin 2: How to Increase Your Character's CP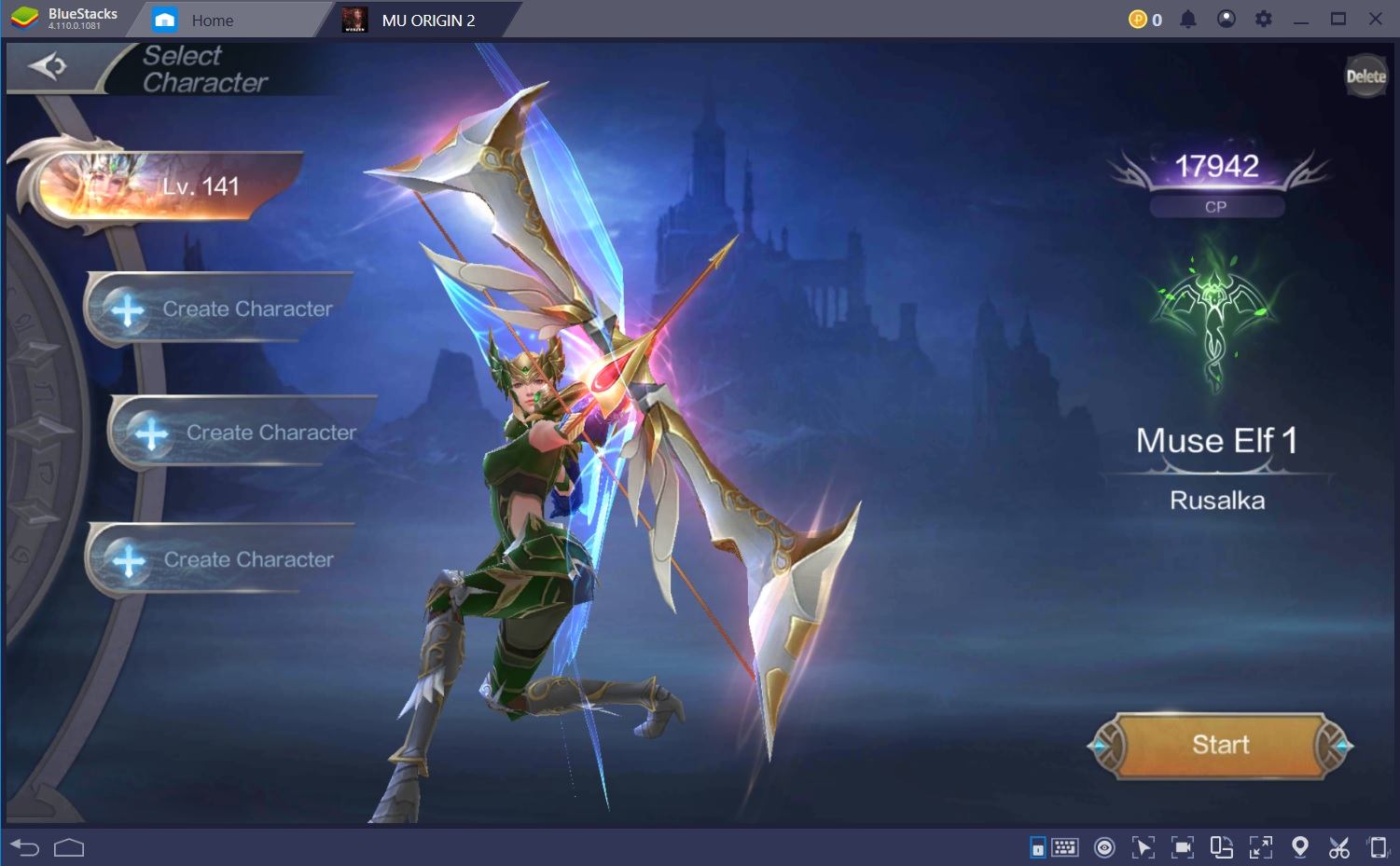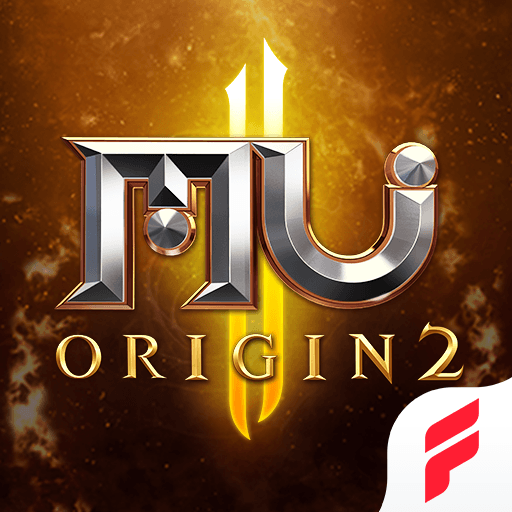 Nobody will pick on you in MU Origin 2 if your character's CP ranges in the tens of thousands. Enemy monsters will simply melt before you and enemy players will flee from your sight in PvP matches. You'll top the DPS charts in any raid or multiplayer dungeon and your rewards will suit your accomplishments. Pretty cool!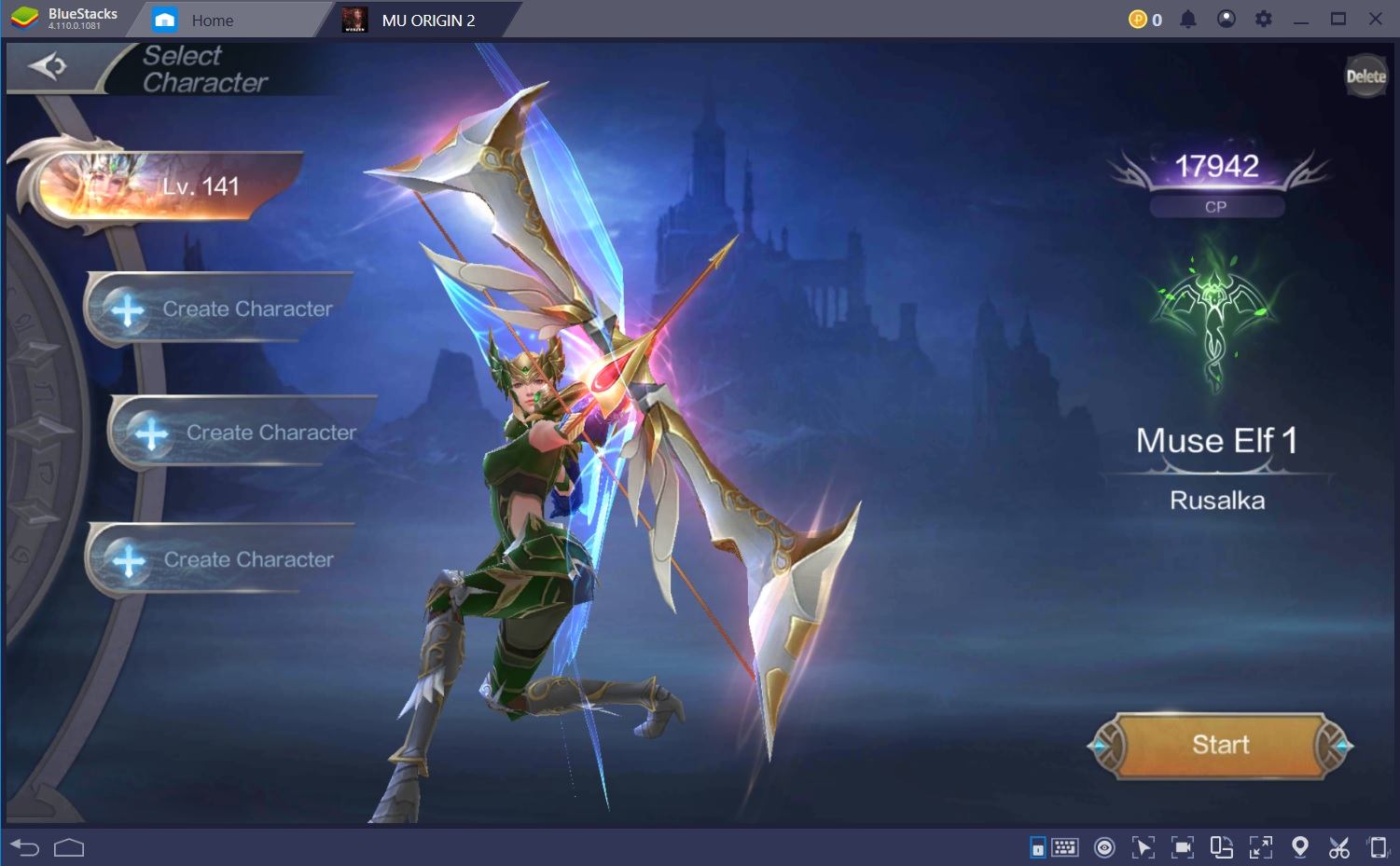 We dream of the day our character will be a decent match against the best players in the realm. If you're serious about your gaming, you probably do too. We might not be there quite yet, but we know exactly what we have to do to achieve our goal; and so should you. To help you out, we've put together a list of all the ways you can increase your CP in MU Origin 2. Let's get to it.
A Higher Level with Better Skills
One of the most steadfast ways to increase a character's CP in this MMORPG is to level up. The difference in power might not be tremendous from one level to the next, but when you add a couple of hundred boosts together, the result is impressive. There are other incentives, too.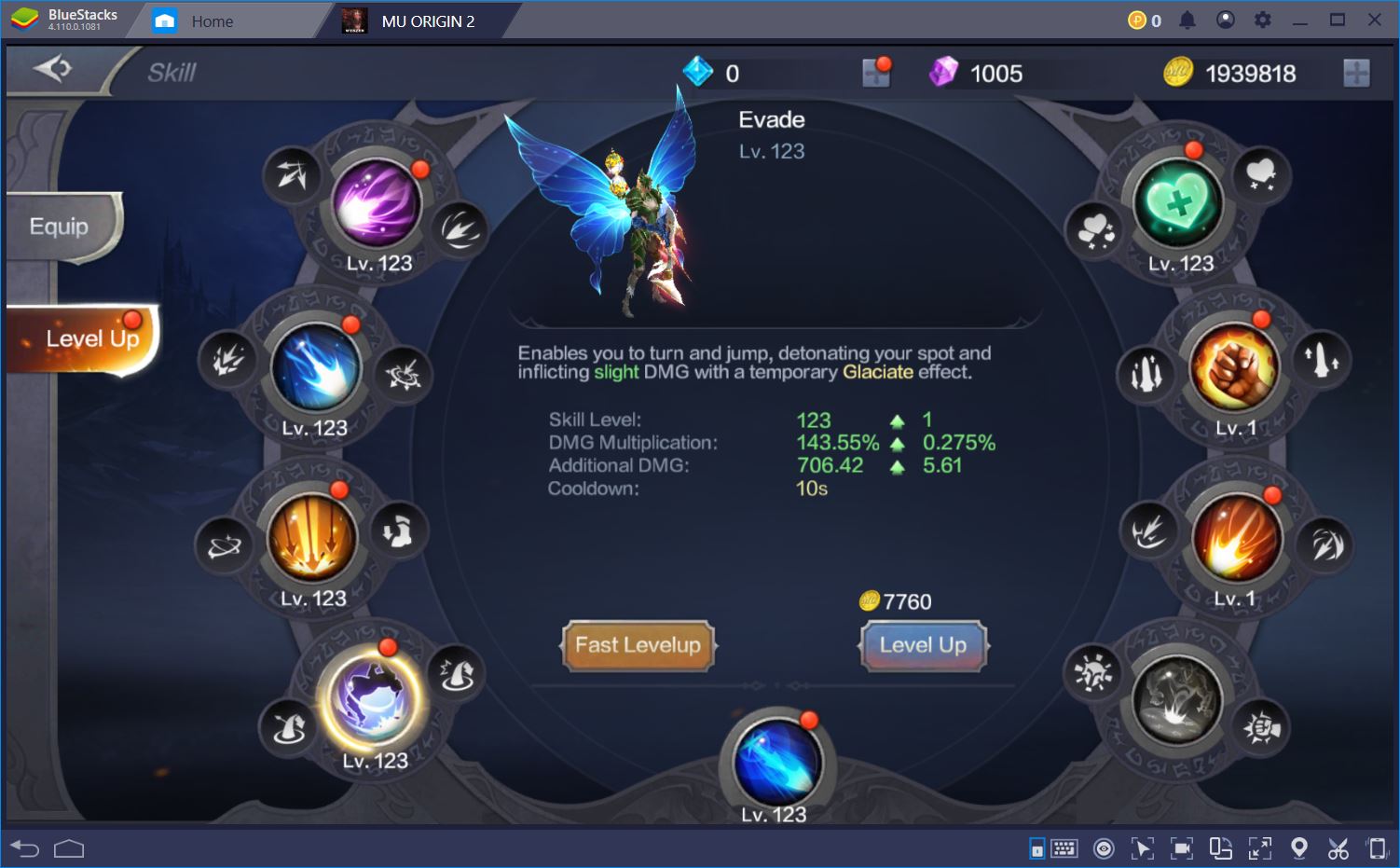 For one, every time you level up, you can upgrade your character's skills (provided you have tons of Zen, of course), which further boosts your total CP. In addition, not all hero improvement methods are available as soon as you start playing. Many features – such as wings, pets, mounts, specializations, ascension, and others – only become available as you increase your character's level.
In short, the faster you level up, the better for your overall CP. If you're wondering how you might proceed to increase your character's level without spending real currency, you can always check out our BlueStacks daily must-do checklist for all manner of activities that grant high amounts of EXP.
Wearing the Right Equipment
Even more important than your level is the equipment you wear. These items are probably the most significant contributors to your character's CP so, as soon as you have the resources, it's time to invest in gear. Better weapons will allow you to obliterate your enemies, while better armor will make you more durable in long engagements with players of similar strength.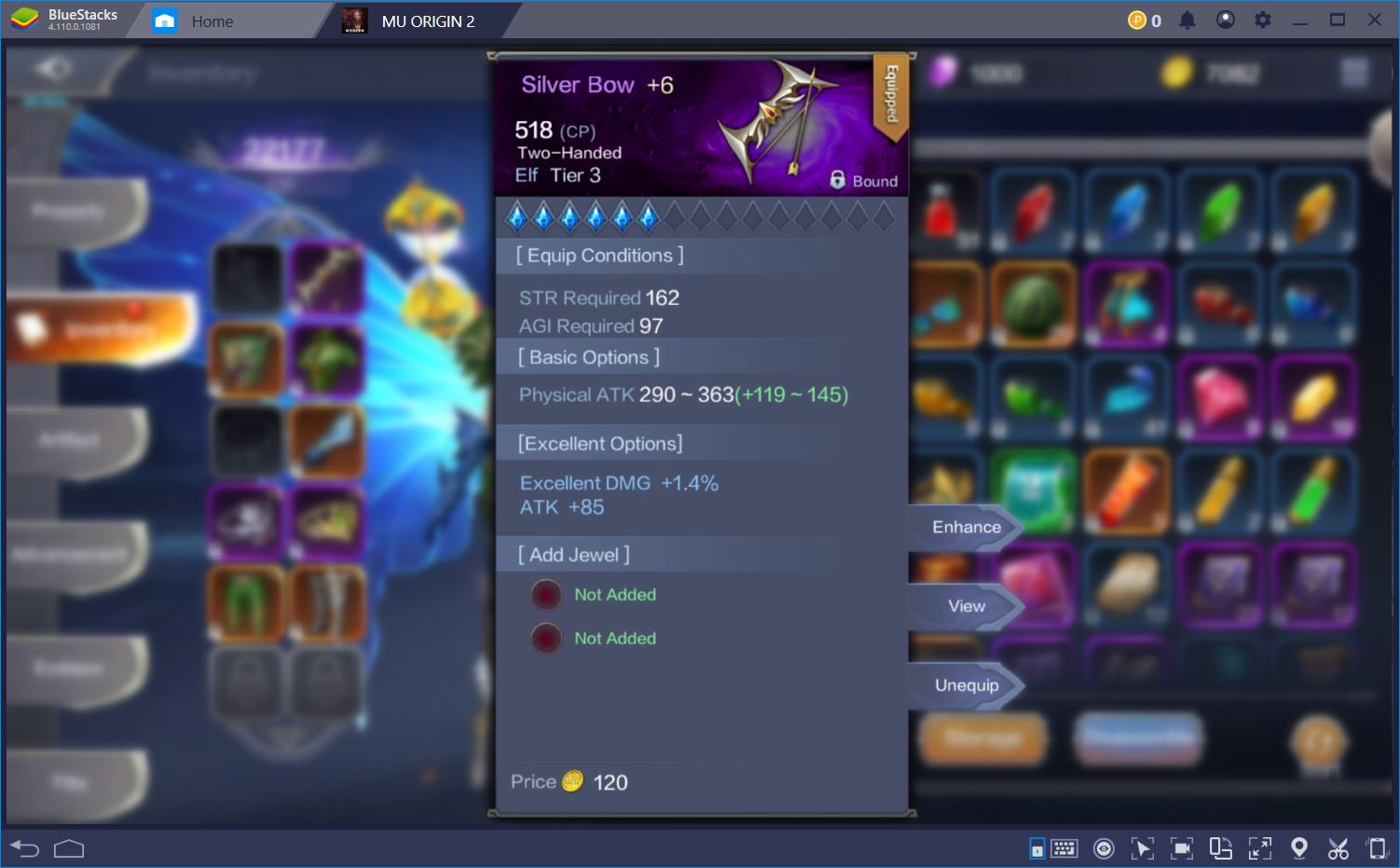 Selecting the right equipment is easy – at first. Whenever you see an item of better quality or rarity, it is likely worth equipping, regardless of its stats. Once your character hits level 200, though, you'll have to more carefully consider your choices. To begin with, you should fit your gear to match the specific class and requirements of your hero.
What's more, players can opt for different playstyles even while using the same class. The itemization of your character should reflect this fact by prioritizing certain stats as opposed to smushing together a bit of everything.
Powering Up Your Artifact and Emblem
When unlocked, the Artifact is a shape that floats around your character. It doesn't actively do anything during combat, but it does directly increase your stats and CP. Upgrading the artifact is simple and even necessary. You can access it in the correct tab on the "Character" menu, where you can destroy gear you no longer need to boost its level and clear your bags.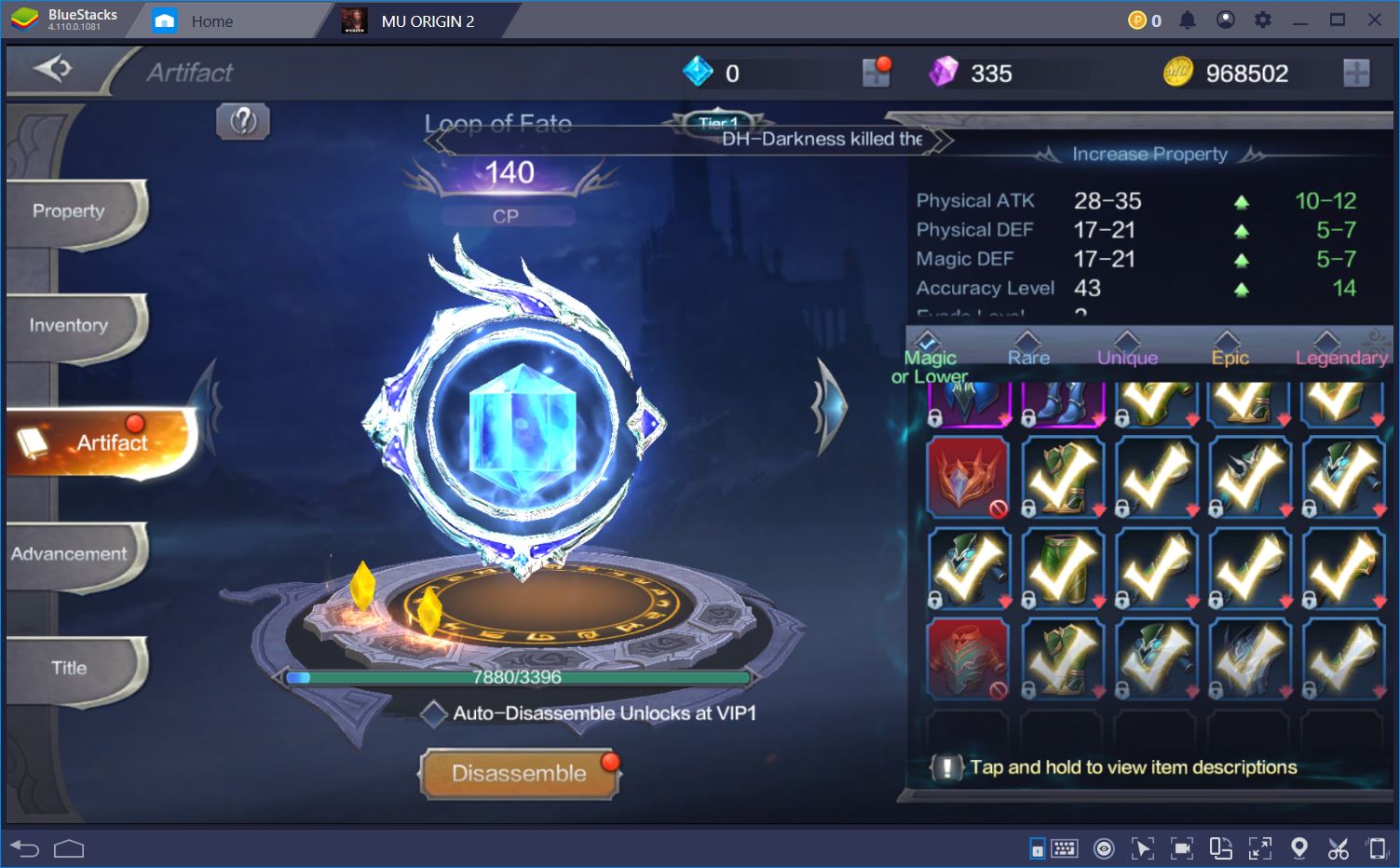 The Emblem works similarly in the sense that it provides a straightforward stats and CP boost. However, in order to upgrade your Emblem, you will need Fame points, which you can obtain from some quests and, most prominently, from the Harmatium. Several times per day, the Harmatium is open to battles of 5v5 where players fight one another to get the most damage done to a boss and earn the most Fame.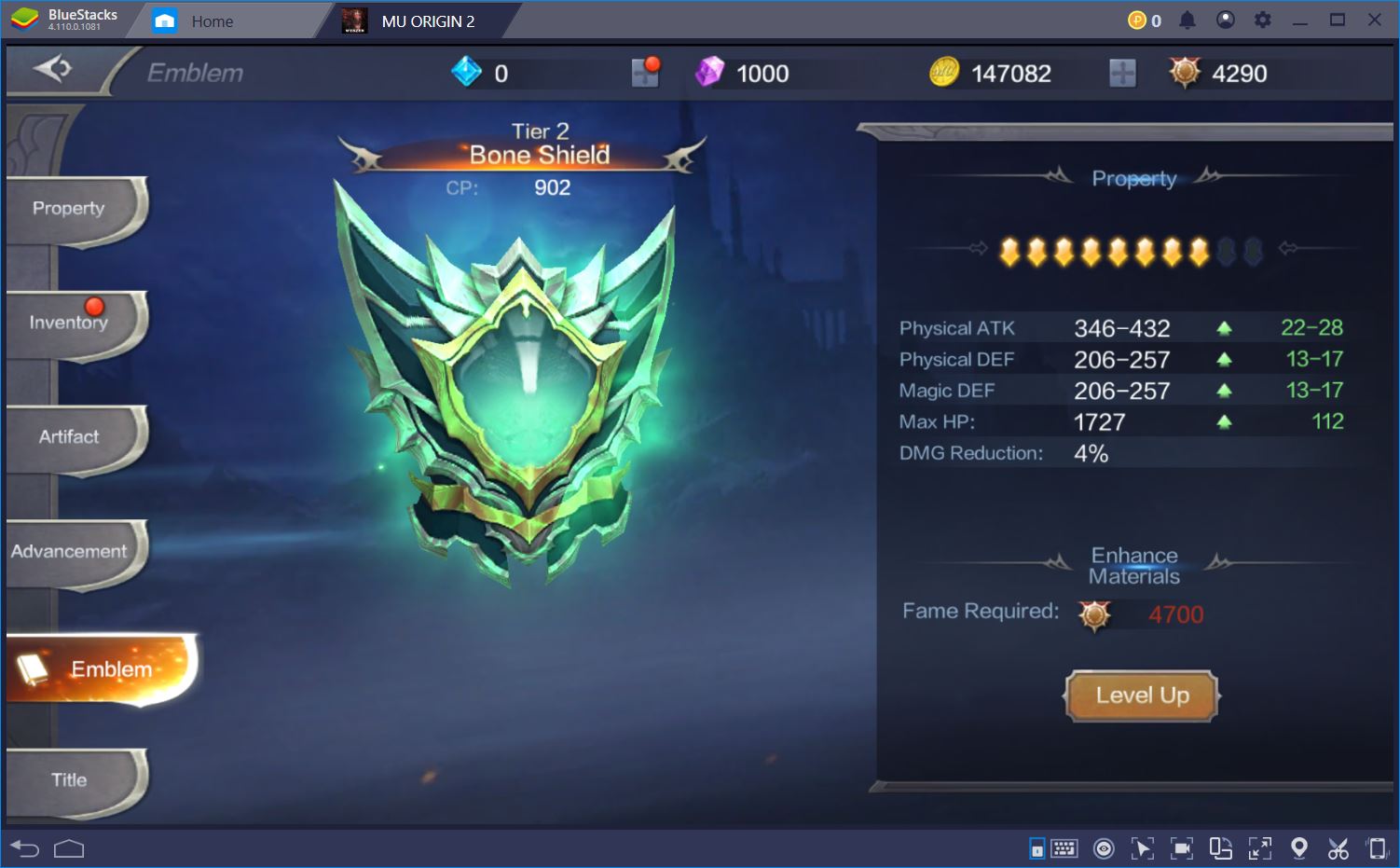 Upgrading Your Wings
Wings are a veritable staple in most mobile MMORPGs nowadays and MU Origin 2 is no exception. You can unlock your wings fairly early in the development of your character and upgrade them right away using materials from the Infinite Tower.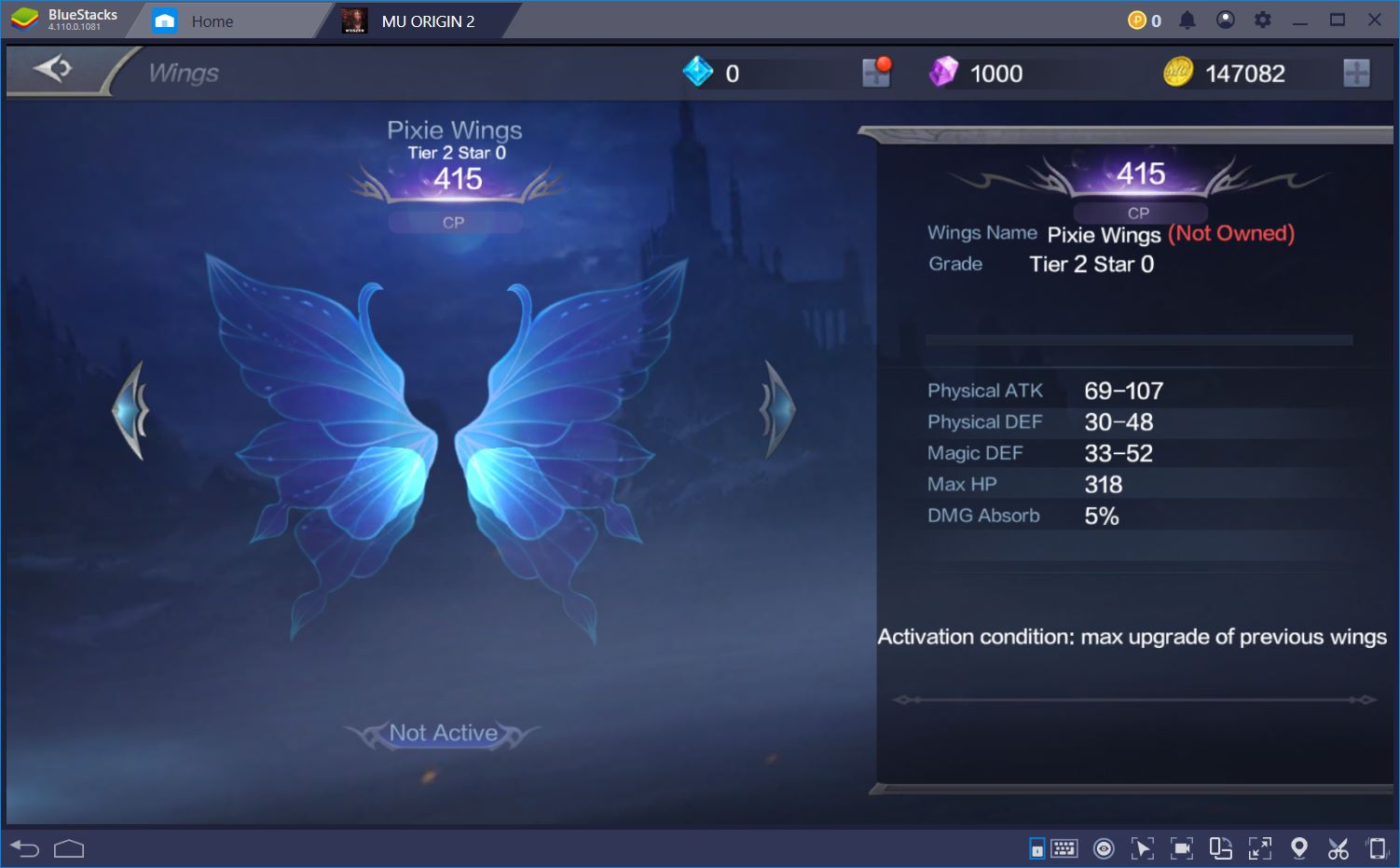 You should increase the level of your wings whenever this is possible – not just because they look awesome, but because they offer a significant CP boost by enhancing most of your character's stats. You can do this by using Feathers to give your wings more stars and using Condor Flames to evolve them from one tier to the next upon reaching 10 stars.
Upgrading Your Mount and Pet
Mounts and pets are also familiar companions for MMORPG fans, but unlike with other mobile games, MU Origin 2 allows you to equip up to four different pets at a time! Your main pet can even join you in battle and cast its active abilities, while the remaining three provide CP boosts in the background. Of course, they all look equally adorable – from tiny dogs to mighty phoenixes.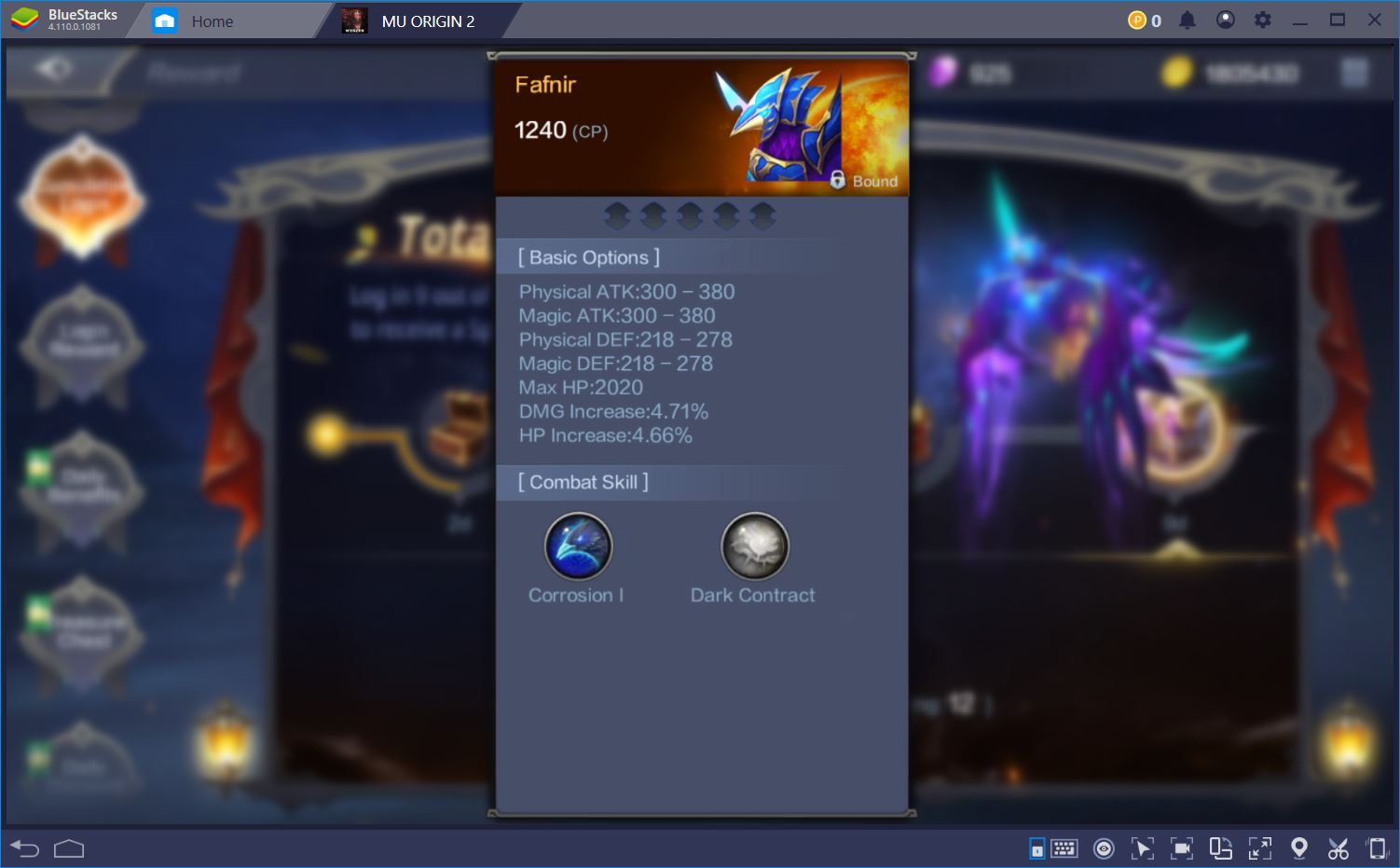 You can only equip one mount at a time (because, seriously, what would you do with more than one?), but these convenient companions can wear gear of their own, which ultimately increases your CP even further. While pets and pet upgrade materials can be found in Guardian Pet Ruins, Dragonlord's Treasure, and quests, mounts are rarer and so is their gear. Progressing through the main storyline is a good way to unlock your first mount, while Devil's Square is great to discover gear.
Advancing to a Higher Class
Class advancement is one of the best ways to considerably and permanently boost your character's CP, as well as yet another benefit of leveling your hero quickly. At certain level thresholds, your character can become a more powerful version of themselves through class advancement. This does not alter their abilities in any way, but it does increase their stats more than any other single upgrade.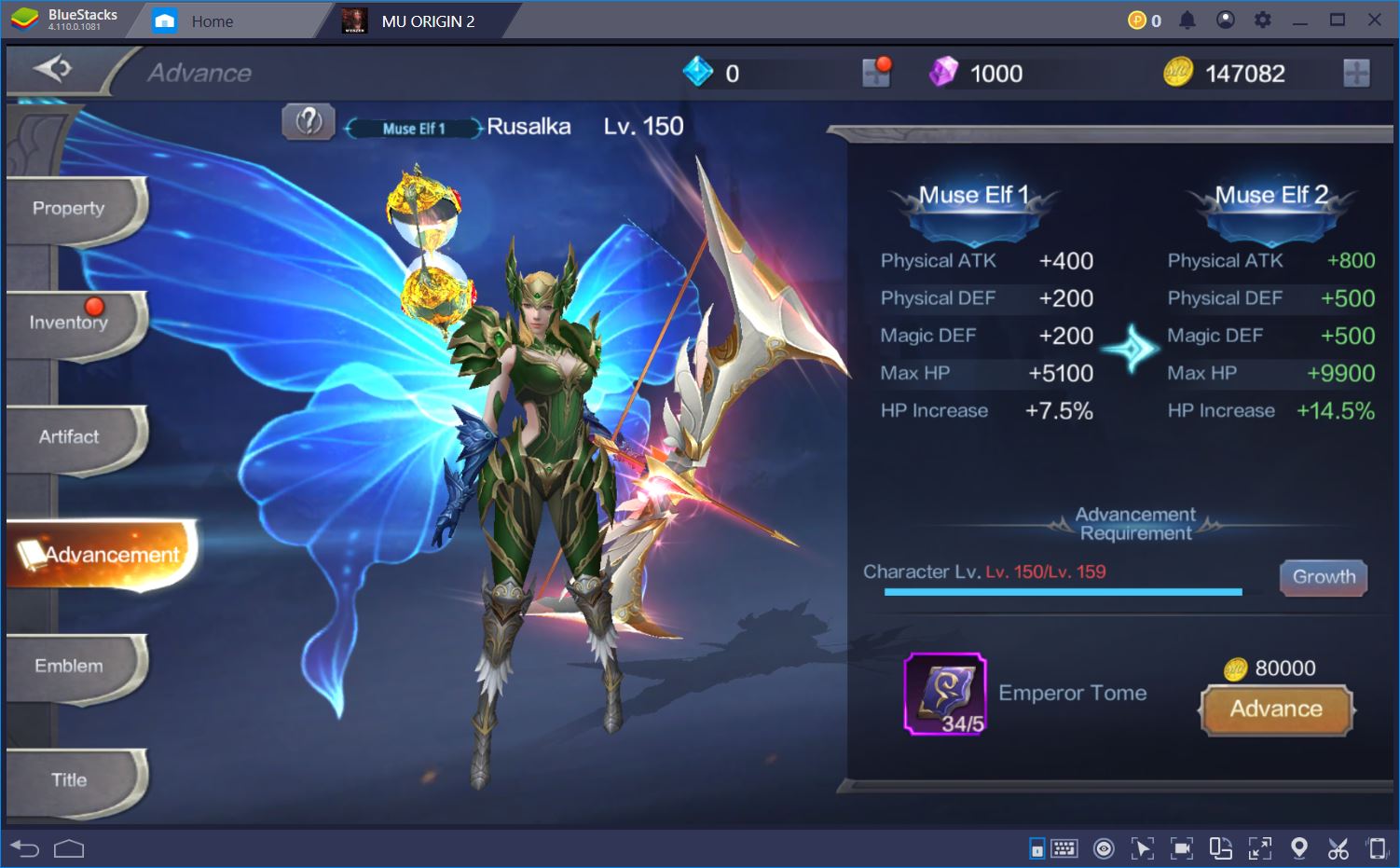 To advance your character's class, you must fulfill two conditions – the level requirement and gathering the necessary amount of Emperor Tomes. Once this is done, you can access the "Advancement" tab from the "Character" menu and spend a fair amount of Zen on the upgrade. That's it! Enjoy a much more powerful you.
It can take some time to achieve a high CP, especially if you're an F2P player trying to compete against those who don't mind investing real currency in the game. One ace up your sleeve, though, is the fact that you are playing MU Origin 2 on BlueStacks and can, therefore, use a number of tools to make all of your grinding faster and easier.
What's that? You haven't installed the game on BlueStacks yet? Well, what are you waiting for?