Game Guides
How to Install and Play One Punch Man: Road to Hero 2.0 on PC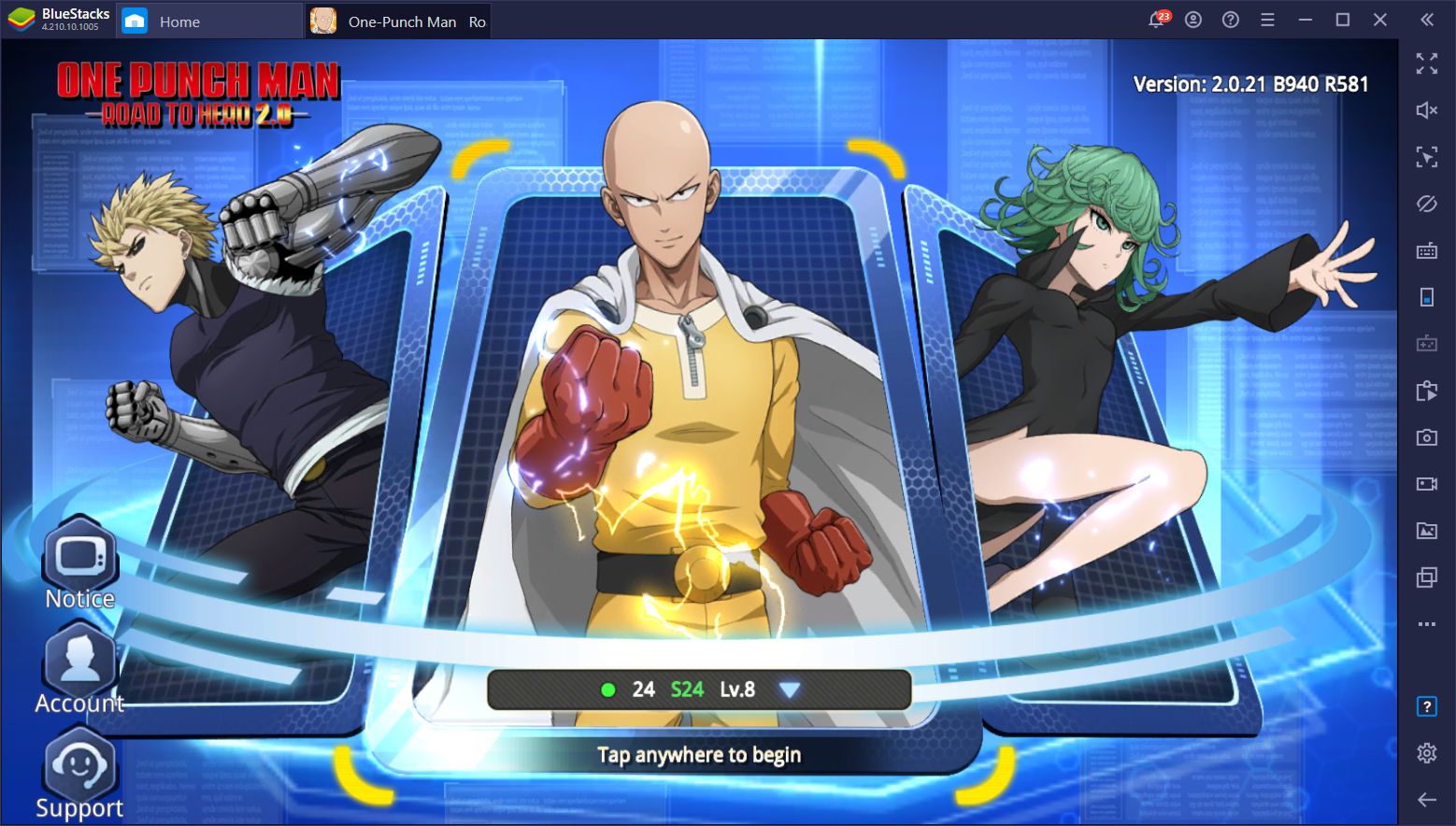 Another gacha game based on a popular anime show has landed! This time, it's One Punch Man: Road to Hero 2.0, based on the eponymous show that revolves around the adventures of Saitama, our protagonist, as he patiently waits for a worthy adversary that can survive more than just one of his punches. The show features lots of cool action scenes whenever Saitama's friends are fighting the bad guys, mixed with lots of comedy as our hero can completely destroy anyone in a single punch, and then cry in regret since his opponent wasn't capable of surviving the attack.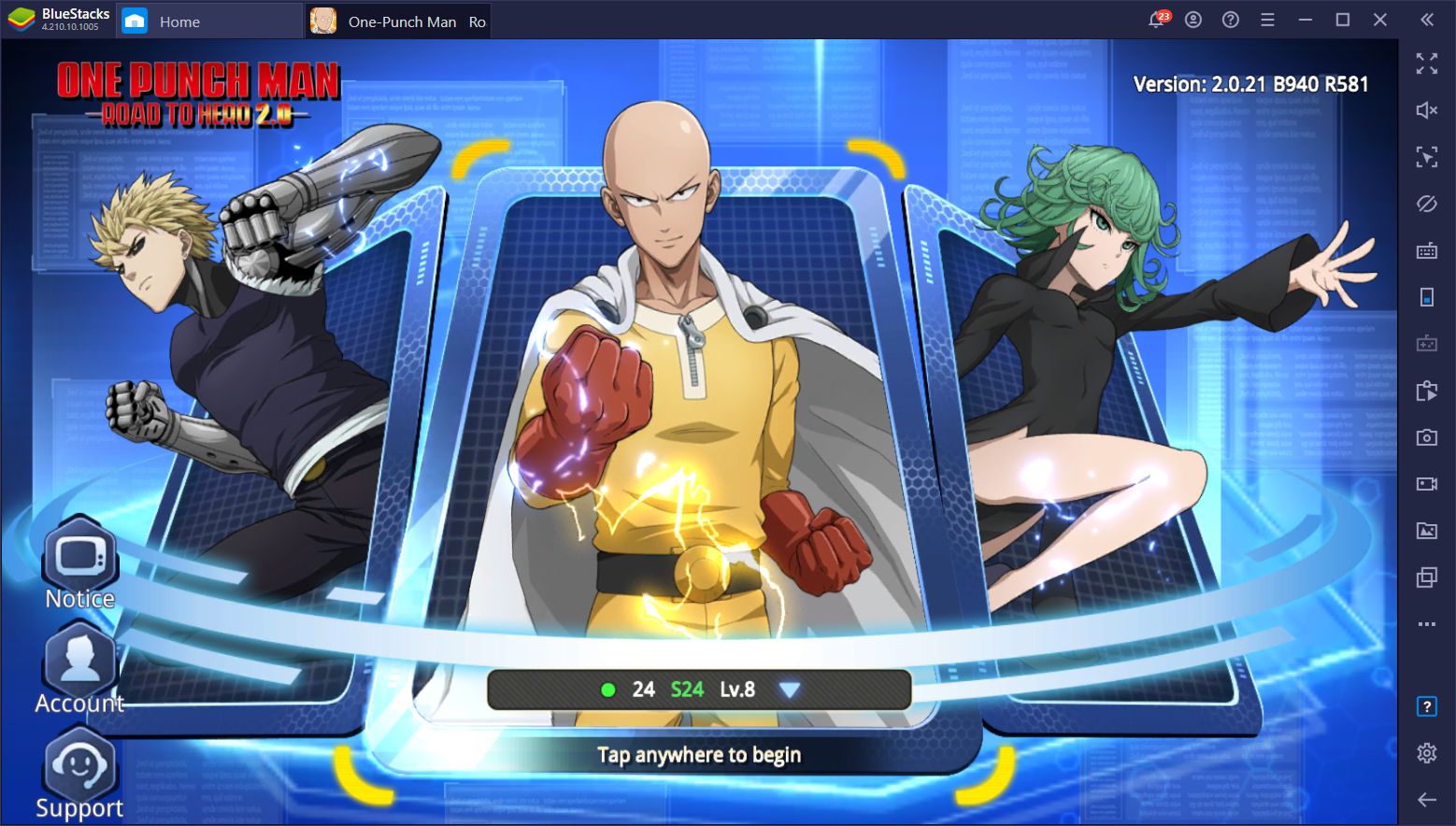 This is a direct parody of other Shonen animes with protagonists that can power up to absurd levels and fight against their enemies in a flashy show of energy beams and flurries of hits. Saitama, instead, simply punches his enemies once and completely destroys them with no fanfare or flashy moves.
In this sense, you might be thinking about how can a character that destroys everything with a single punch translate to a good and challenging game? Well, it's simple; while Saitama makes many appearances in the game, you will create teams of secondary characters and other supporting heroes and use them to keep the city safe.
However, before you do so, you must learn how to install One Punch Man: Road to Hero 2.0 on PC so that you can enjoy the game with all the benefits from playing it on your computer.
Installing One Punch Man: Road to Hero 2.0 on PC
Installing mobile games on PC is made easy with BlueStacks since you can easily find them using the search function and download them with a few clicks.
To download OPM 2.0 on PC, follow these easy steps:
Download the latest version of BlueStacks from our website and install it.
On the BlueStacks home screen, search for the game by typing its name into the search field.
Click on the game in the search results and install it as you would any other mobile game on your phone.
You're now ready to enjoy OPM 2.0 on PC! Click on its icon on the home screen to launch the game and get started.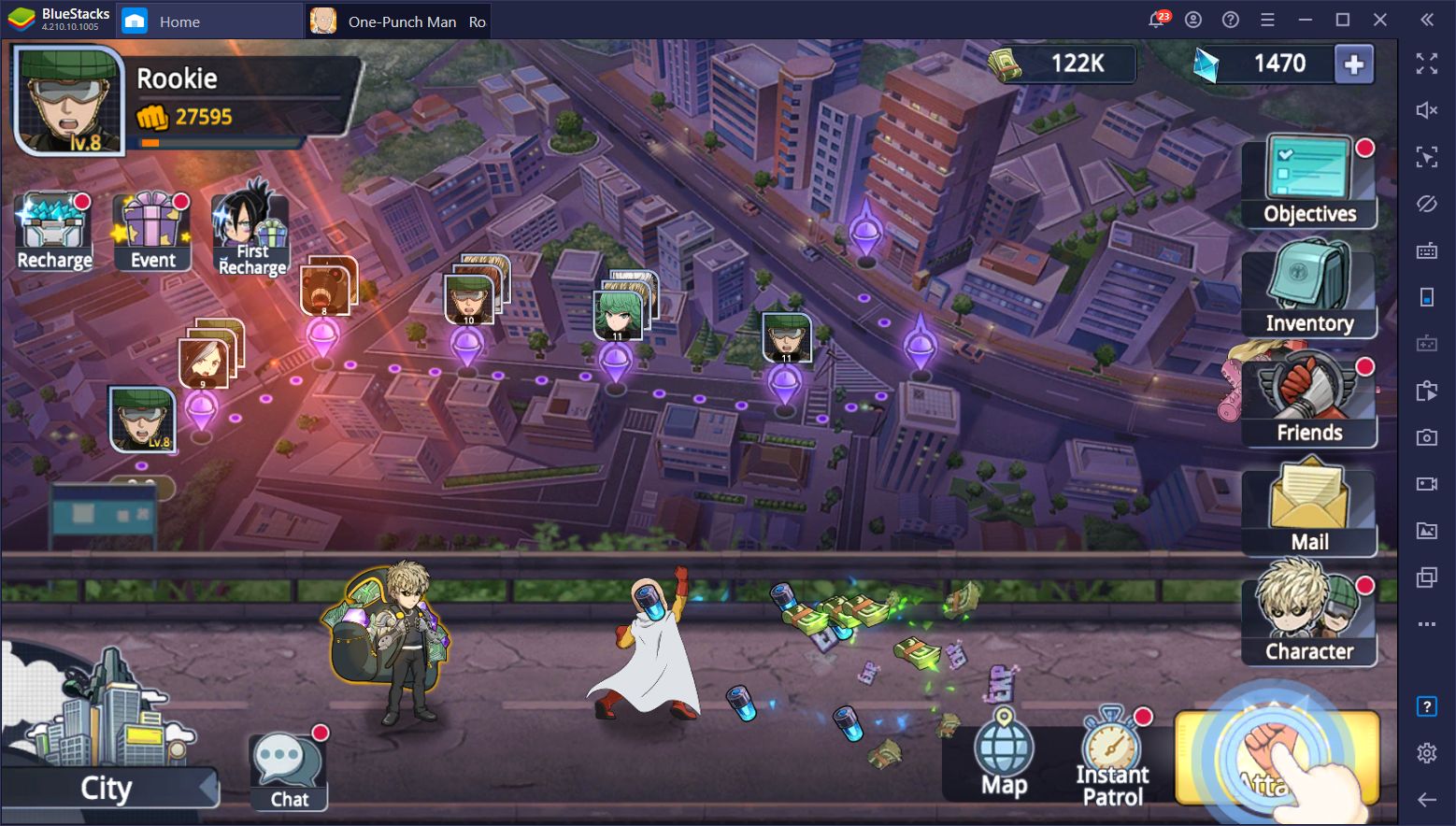 In most cases, all it takes to download your favorite mobile games to your PC is to simply search for them on the BlueStacks App Center by following the above steps. With OPM, however, you might need to take some extra steps.
Here's a step-by-step guide on how to install the OPM 2.0 APK on your PC if you can't find it on the Play Store: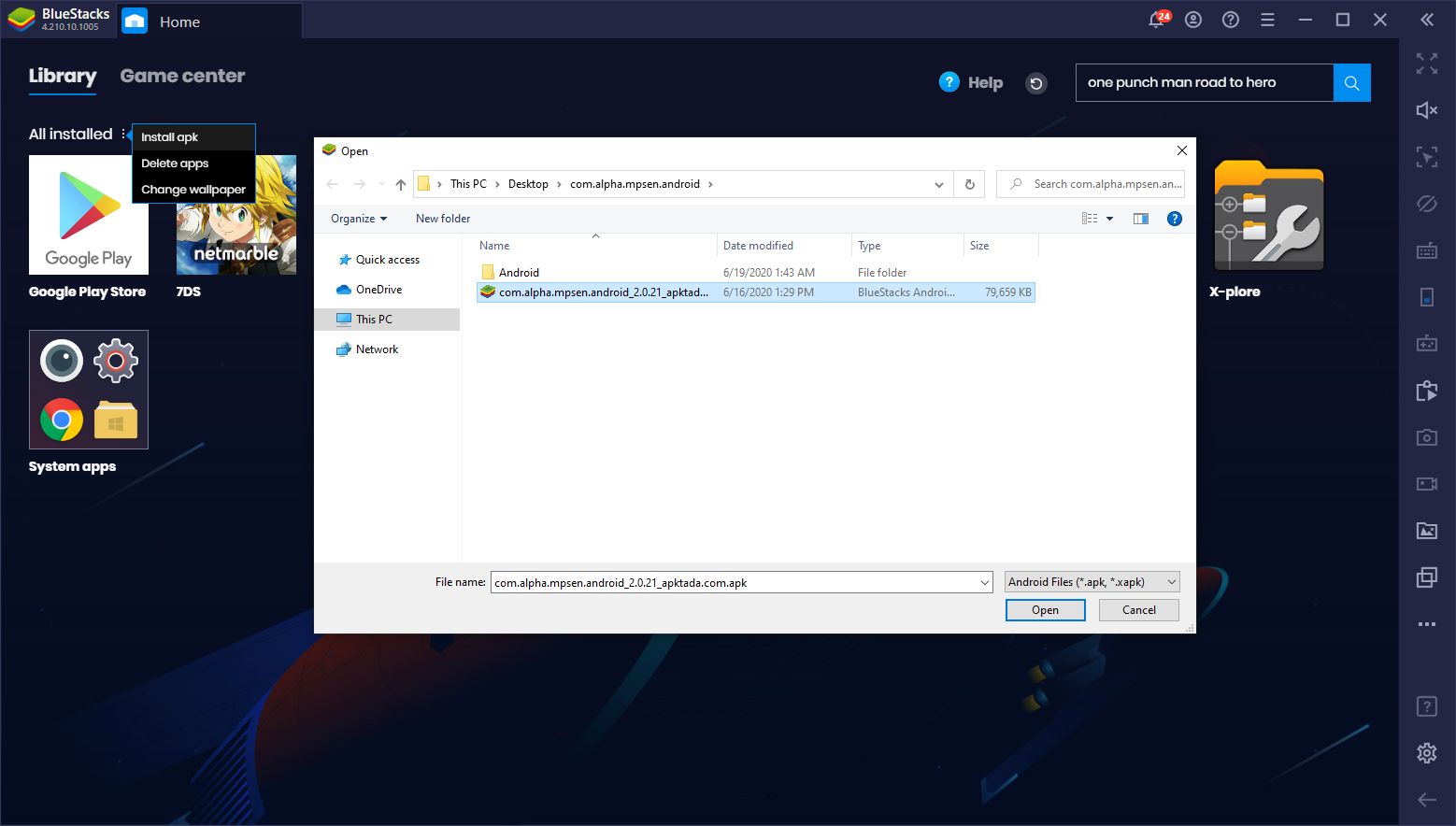 Search for the One Punch Man: Road to Hero 2.0 APK + obb files on the internet. A simple Google search will suffice.
Install the APK by clicking on the three dots in the BS home screen and then on "Install APK". Browse for the file you just downloaded and click on it to install it.
Download a file manager app such as Xplore File Manager and launch it.
In the file manager, go to sdcard > android > obb and place the obb file you downloaded inside the com.alpha.mpsen.android directory.
Launch OPM 2.0 and start playing!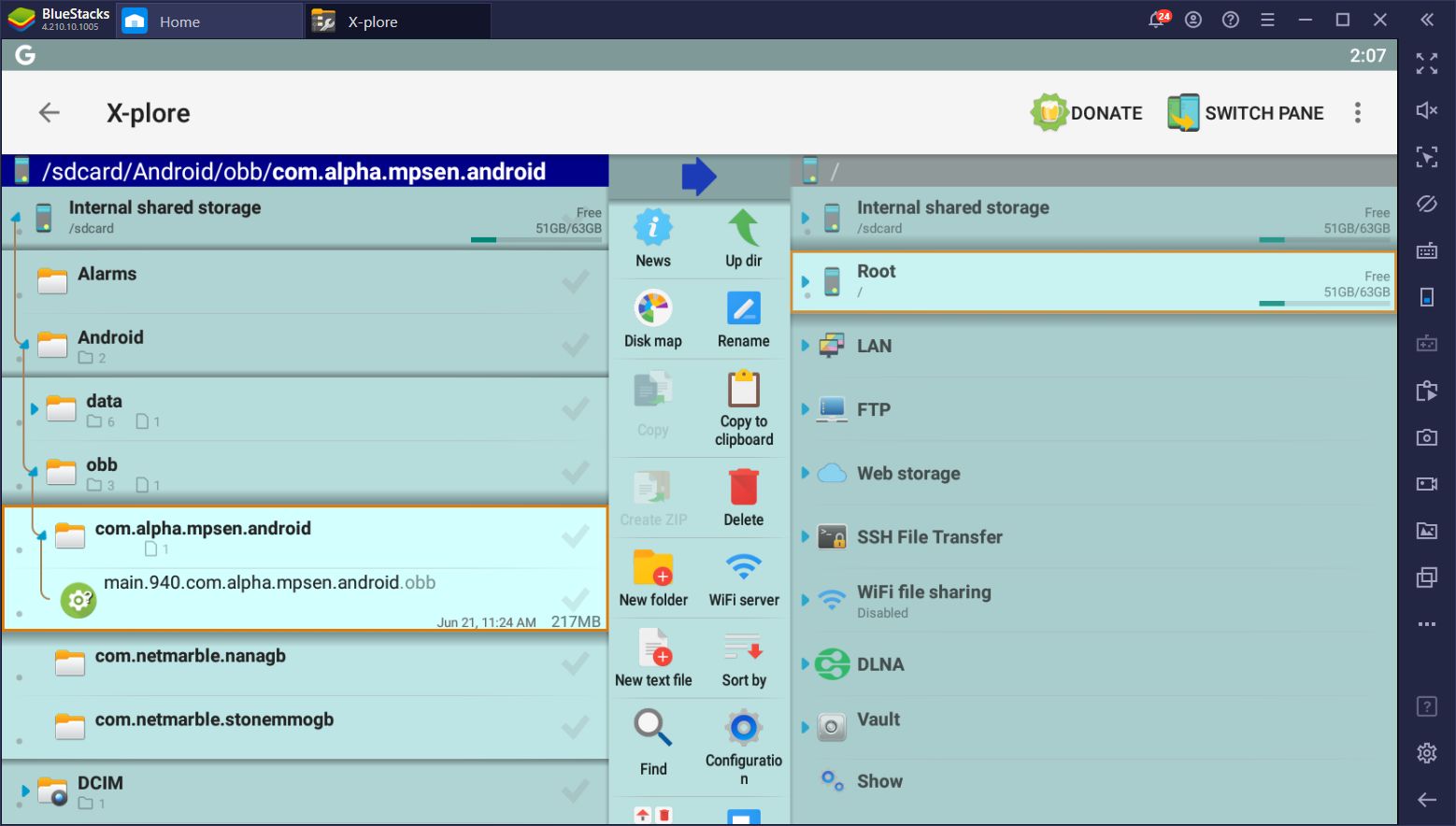 After following these simple steps, you're now set to enjoy your awesome mobile game on your computer, on your large monitor, mouse and keyboard support, and all the other perks that come from gaming on PC.
Optimizing One Punch Man: Road to Hero 2.0 for BlueStacks
If the ability to play One Punch Man on PC wasn't enough already, BlueStacks can help to optimize and streamline your experience with this game through its many tools and features, among which we can find the Keymapping Tool, the Instance Manager, and the Multi-Instance Sync features, among others.
The first of these, the Keymapping Tool, can be used for creating comfortable control schemes, allowing you to add bindings to the screen and control every aspect of your game with your keyboard. Instead of having to click everywhere, you can simply add shortcuts to certain parts of the screen and press the corresponding key to activate the function. For instance, if you're fighting in combat manually, you can add shortcuts to all your characters' skills and activate them with a button on your keyboard.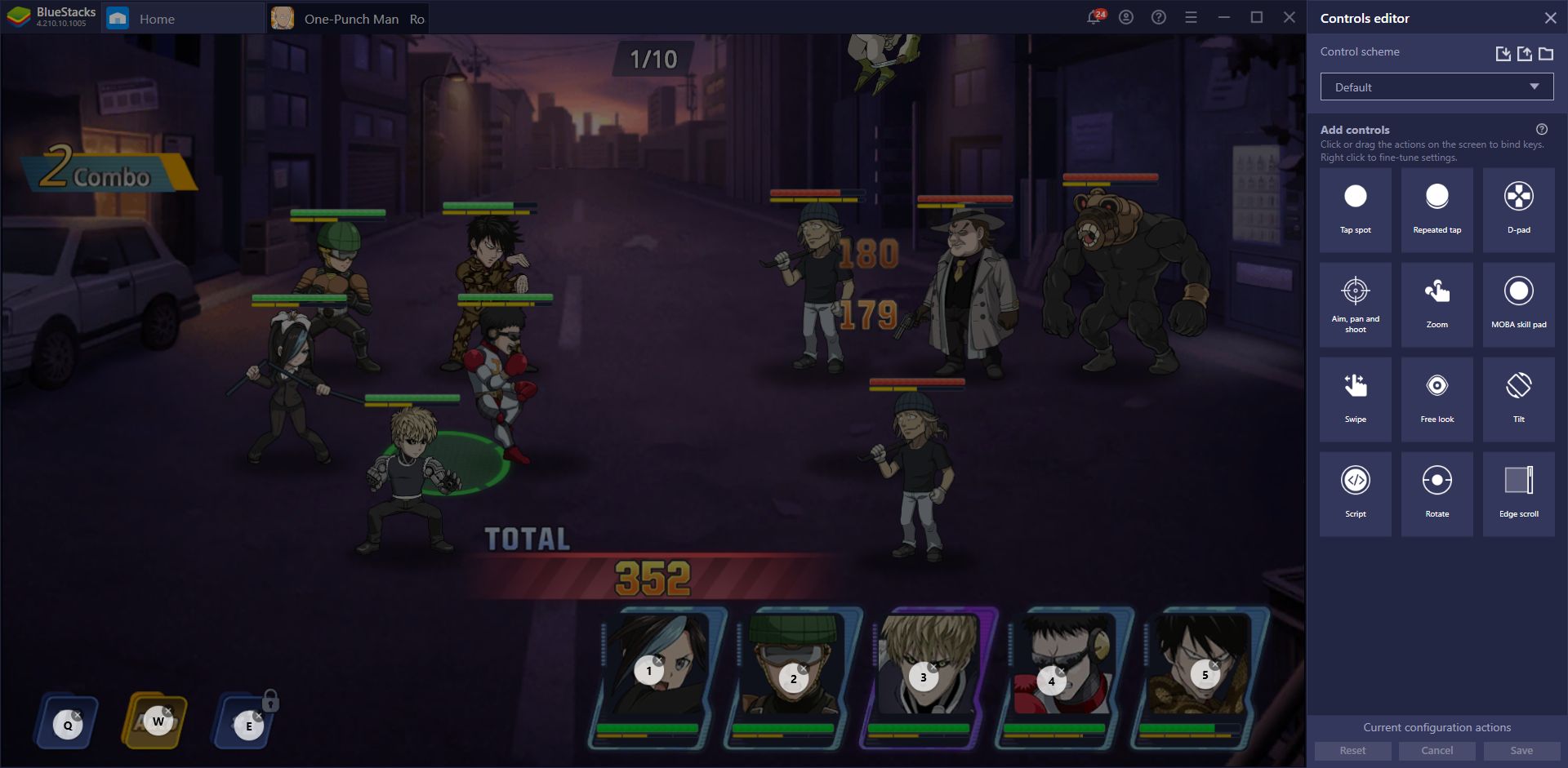 The Instance Manager, on the other hand, is a valuable tool for gacha RPGs like this one since it significantly optimizes the reroll process. While this tool isn't important if you don't care about rerolling, it will significantly help those who want to summon the strongest characters as early as possible.
In essence, the Instance Manager allows you to create multiple instances of BlueStacks and access the same game in each. In the case of OPM 2.0, you can create as many instances as your PC can handle, and use them to summon in each of them simultaneously. In this sense, instead of just one summoning, you can roll many characters at the same time.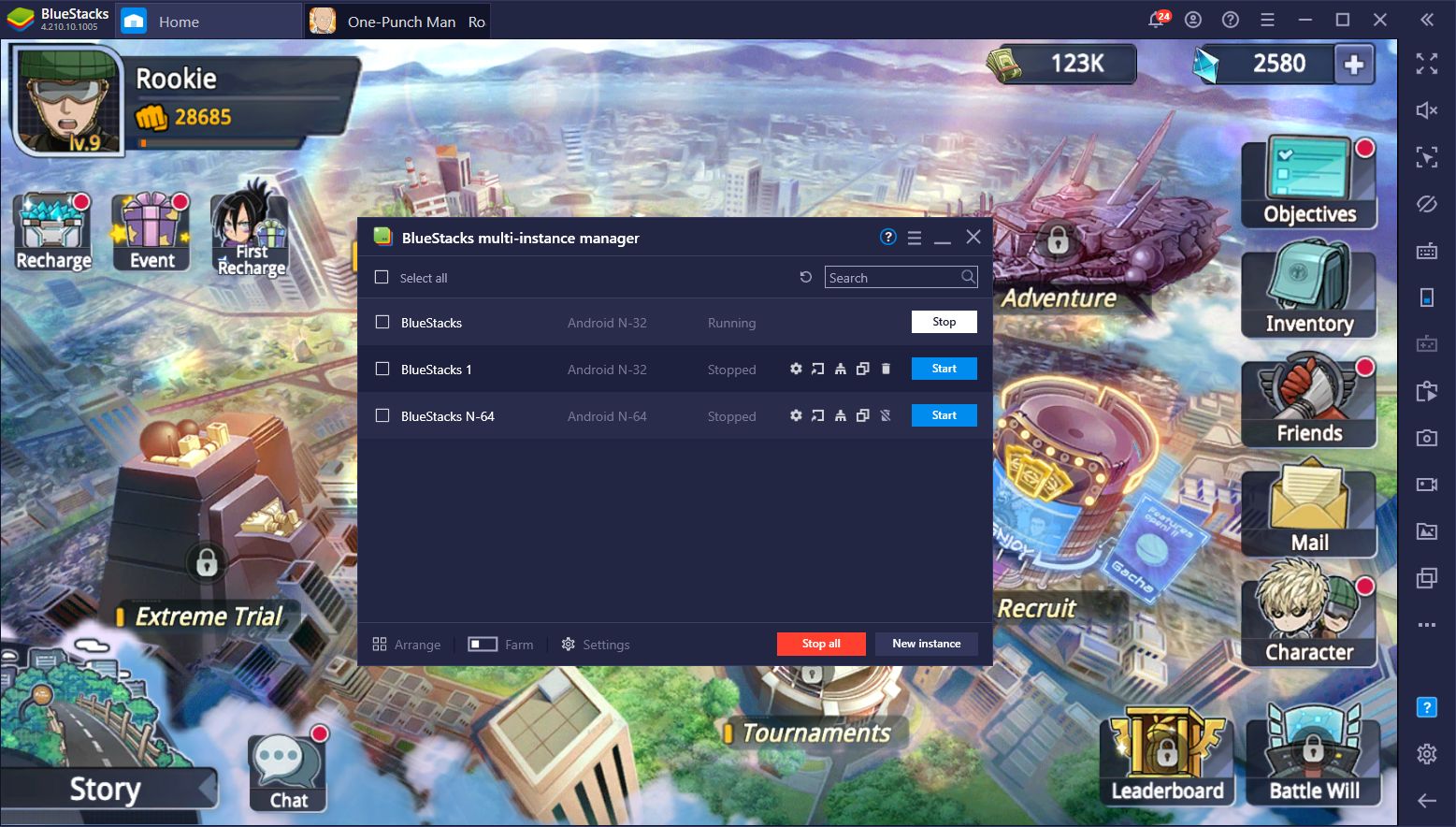 The Multi-Instance Sync tool takes this even further as it allows you to control all your active BlueStacks instances by playing on your main account. This tool mirrors the actions that you perform on your main instance across all the other BlueStacks windows. In this sense, when you start a new game on every instance and activate the Sync feature, you can progress on each simply by playing on one of them as you normally would.
While rerolling with multiple accounts won't increase your odds of getting the strongest characters, the fact that you can summon on multiple accounts simultaneously will definitely help speed things up.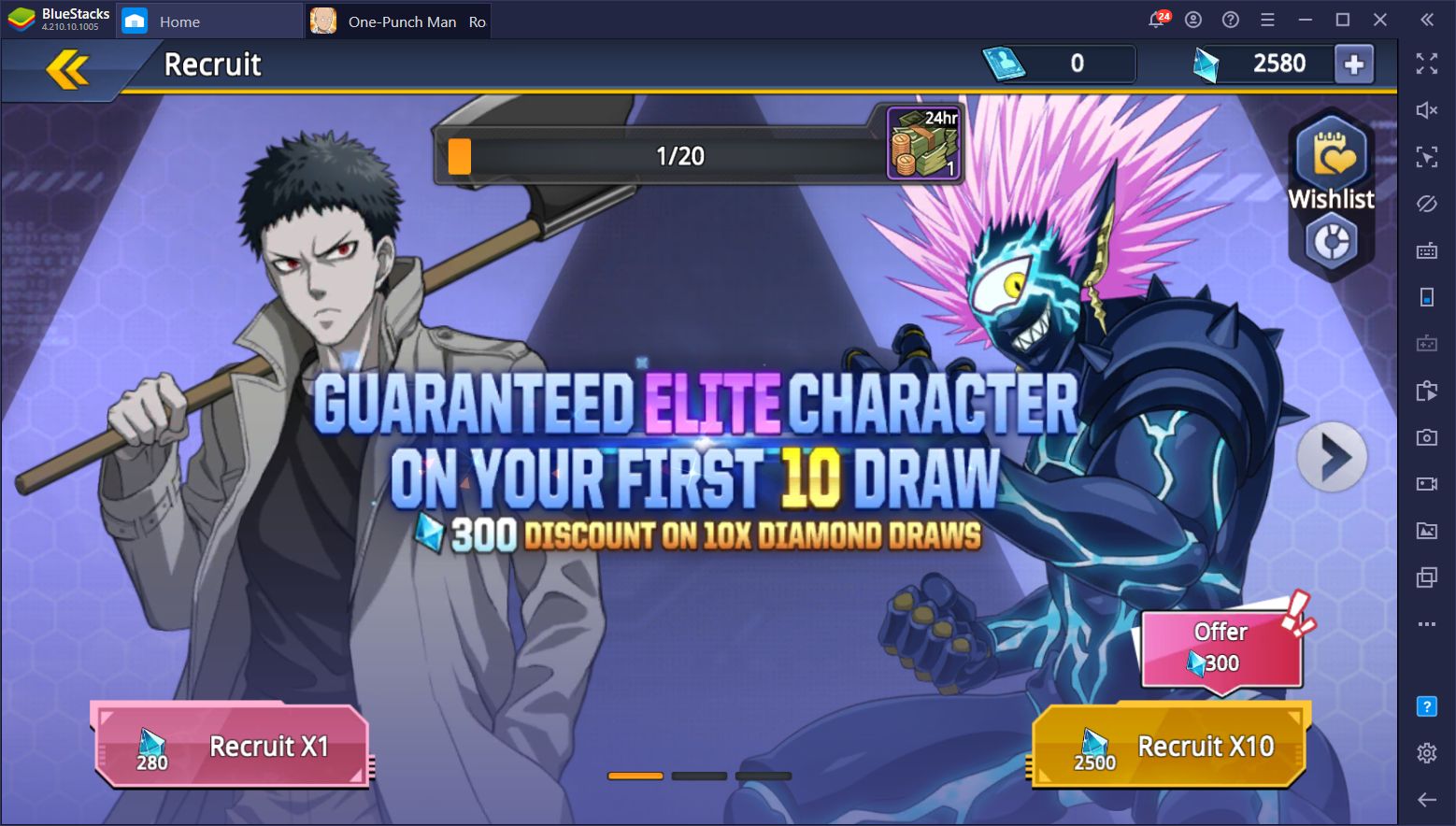 With BlueStacks, you will be able to thoroughly enjoy OPM: Road to Hero 2.0. Not only will you enjoy playing the game on your large monitor and with much better performance than on your phone, but you will also have access to many tools to improve your experience. And if you want to read more guides on this awesome game, feel free to swing by our blog!