Game Guides
How to Play Puzzles & Conquest on PC with BlueStacks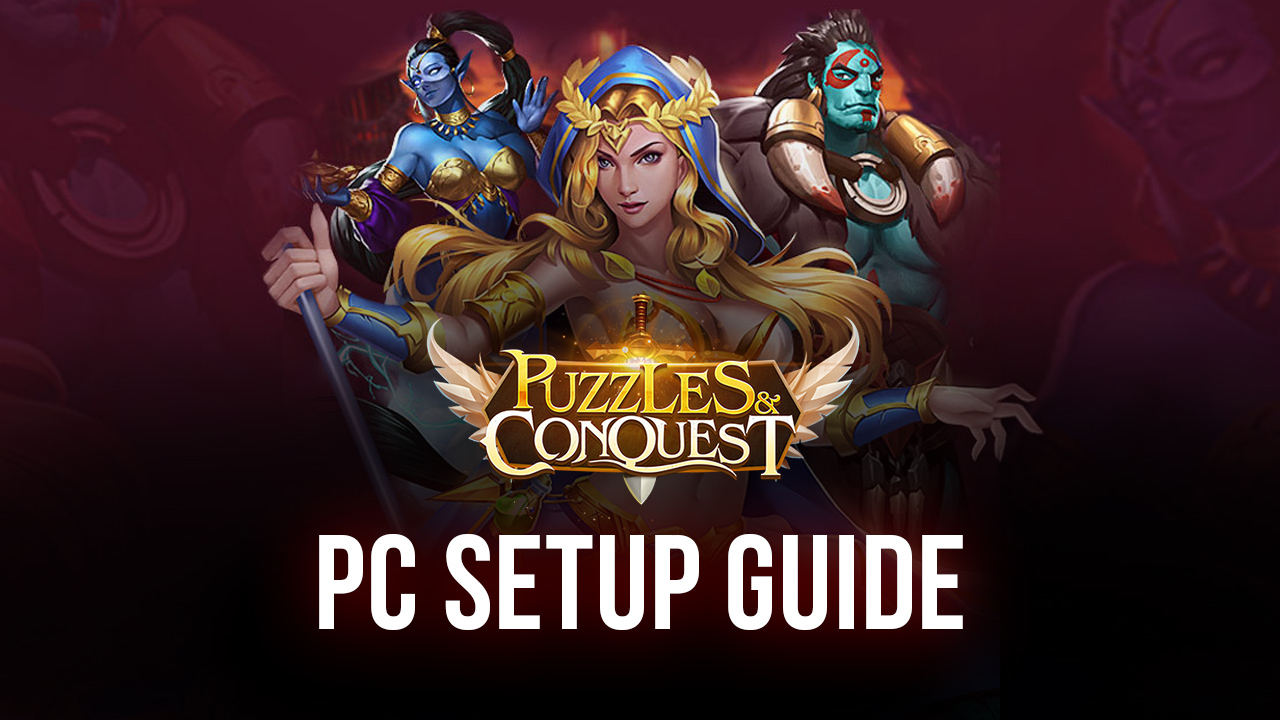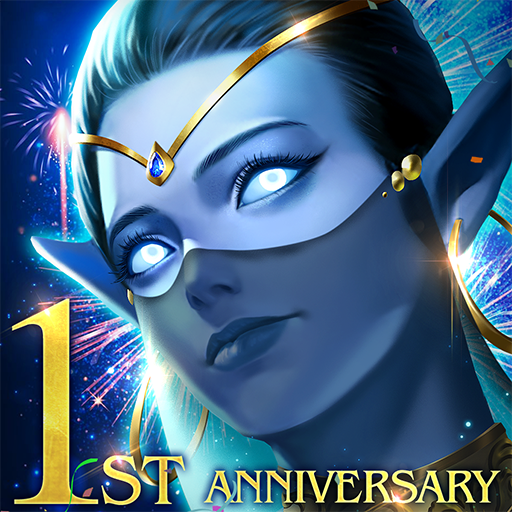 There are very few games out there that manage to perfectly meld different gaming genres together. Puzzles & Conquest, however, does just that. With a Bejewelled style swiping campaign to engaging city-building dynamics, this is a game that really has something for everyone. And, with a rich storyline to boot, you'll want to get on with saving the land of Saurland right away.
Getting started with BlueStacks
In order to play Puzzles & Conquest on pc with BlueStacks, you're going to have to actually get BlueStacks first, assuming you don't already have it installed. Here's how you get yourself set up to play –
Download and install BlueStacks on your PC.
Complete Google Sign-in to access the Play Store, or do it later.
Look for Puzzles & Conquest in the search bar at the top-right corner.
Click to install Puzzles & Conquest from the search results.
Complete Google Sign-in (if you skipped step 2) to install Puzzles & Conquest.
Click the Puzzles & Conquest icon on the home screen to start playing.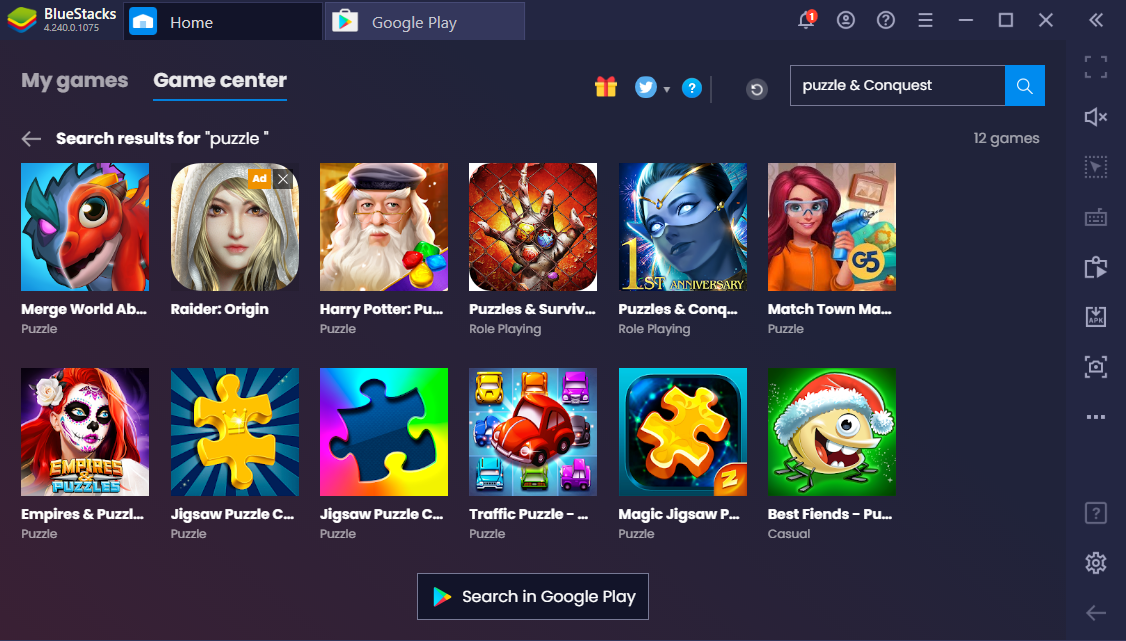 Learning the ropes in Puzzles & Conquest
Puzzles & Conquest is a game of my faces, with so much to do that it is almost impossible for you to ever be bored. However, being able to do all of that exciting stuff does require a fairly lengthy tutorial, which is precisely what you get.
Using the familiar strategy of restricting player clicks in order to dictate what they see and learn, Puzzles & Conquest begins by guiding almost every move you make, before slowly easing up on the reigns. New bits of the tutorial will spring up here and there for a while during gameplay, but they become less and less as you move through the game, establishing your kingdom and your might.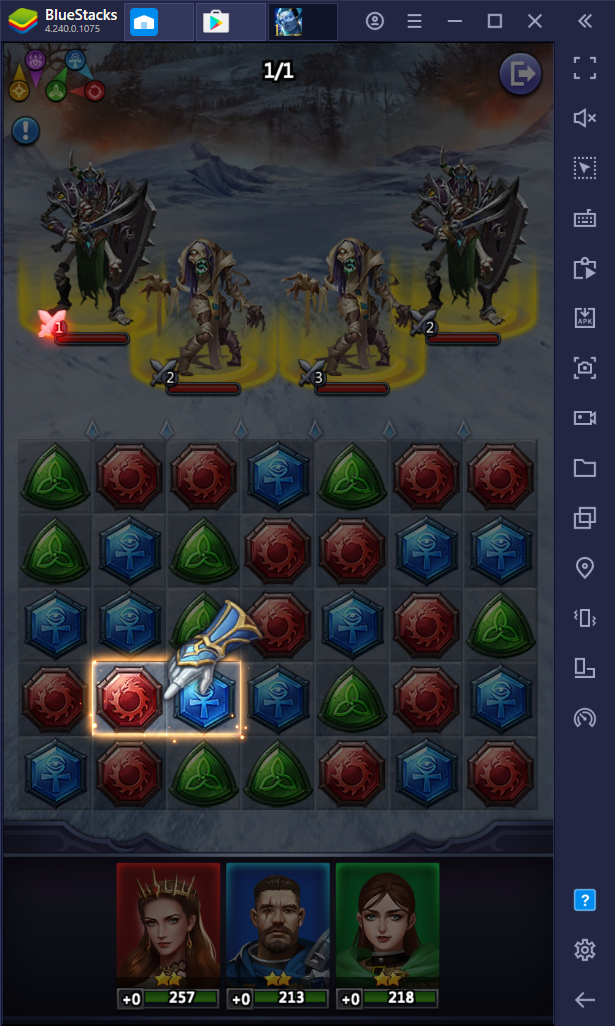 However, do make sure to read what the various characters and text boxes have to say, as much of the information they give you is very important and, crucially, not that easy to find once you have finished the tutorial. Sure, you could work most of it out for yourself, and there are various help buttons dotted around, but why go to all that effort when you could just let yourself be told first time around?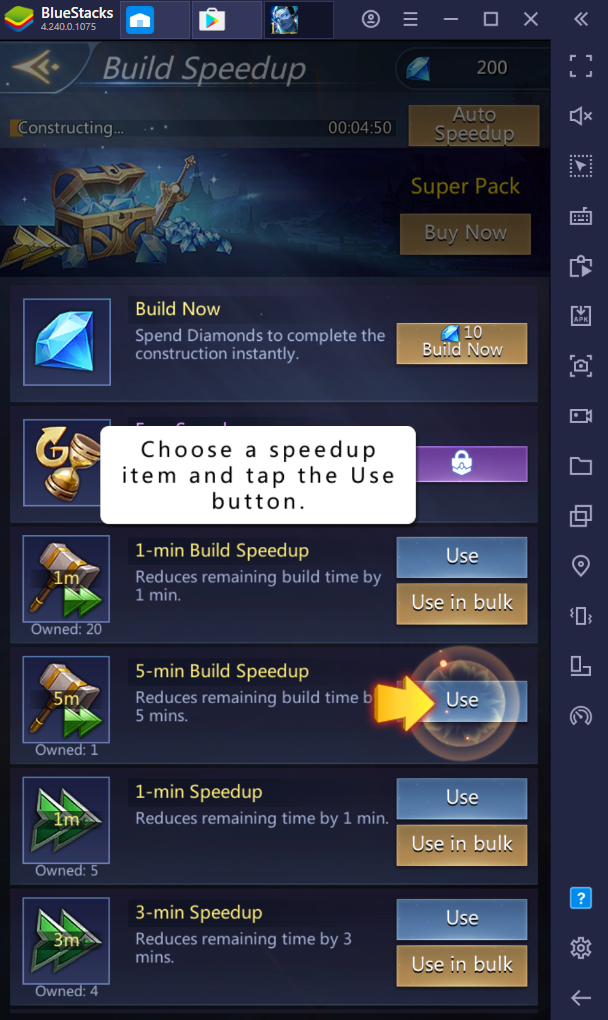 Match and Battle
The first part of the game that you will be introduced to is the battling element. You lead your team of heroes against the invading masses of undead who have overrun Saurland, matching gems on the board from the same color, or element, to deliver devastating attacks.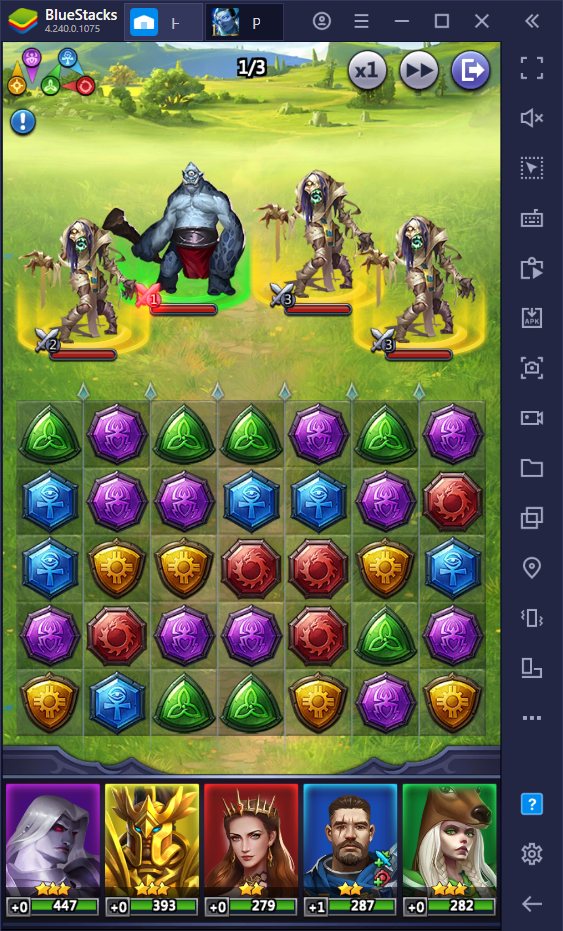 As with many games of this kind, a group of three same coloured gems makes a simple match, whilst groups of 4 or 5 deliver more damage and create special gems that can be tapped to unleased special attacks. Once gems have been matched, the empty space is refilled and any further matches that result create increasingly powerful combo attacks.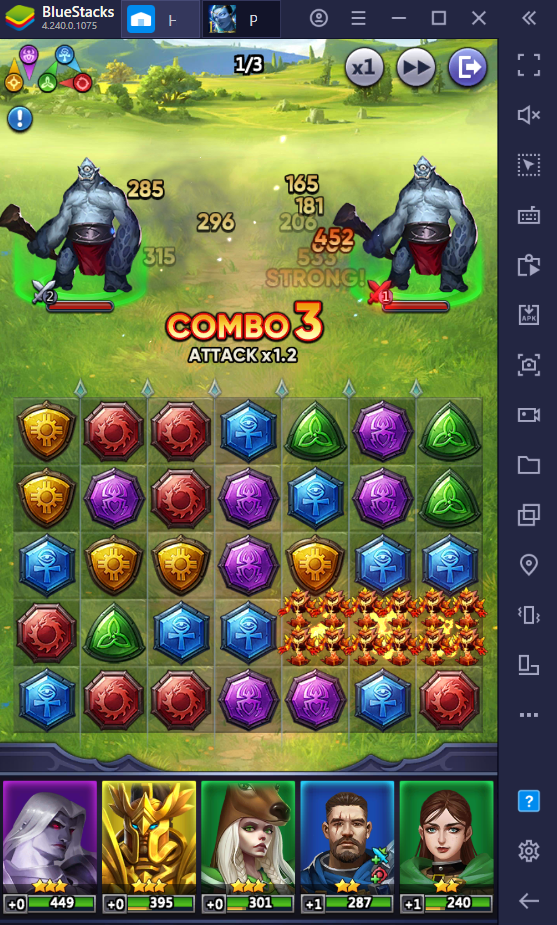 Unlike some other games, however, the location of gems does matter in relation to the enemies which they attack. When matches are made, armies are released to deliver the attack, traveling straight up to whichever enemy is in front of them. If there is no enemy in line to hit, the soldiers just disappear off the screen without having done any damage. This is made even more important by the fact that the colours of the gems and the damage matter too, as certain enemies will be resistant or susceptible to certain types of element.

So, plan your matches wisely, not just for maximum effect, but also for placement and your desired target.
Kingdom Building
Another important part of Puzzles & Conquest on PC is the kingdom building aspect of the game. Moving into a completely different genre of play, you will need to manage your resources, build structures, train armies, and defend your home, all the while still fighting the undead.
The battles described above are part of the campaign section of the game, which can actually be accessed through a shining blue portal that stands within the walls of your kingdom.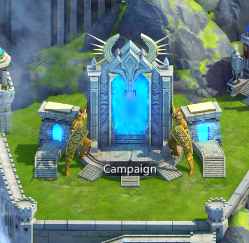 There are plenty of other buildings to investigate besides the campaign portal, including Hero Hall, the Wall, the Arena, the all-important Castle and many, many more. Some of these buildings will be accessible as soon as you arrive in your kingdom, however others unlock over time, so you won't ever need to worry about not having something brand new to experience.
In addition to the structures that are already built, you will also need to get to work expanding your Saurland kingdom through the construction of things like farms and moon wells, both of which produce valuable resources, food and soulstones, respectively.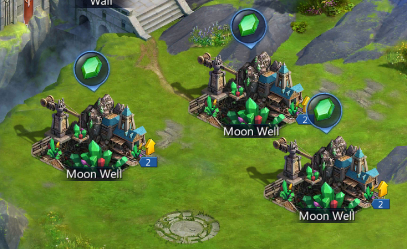 Every resource has a role. Soulstones are used to upgrade heroes, food is used to feed your armies and wood is used to construct and upgrade buildings, so make sure to keep an eye on all of your resource levels as you play.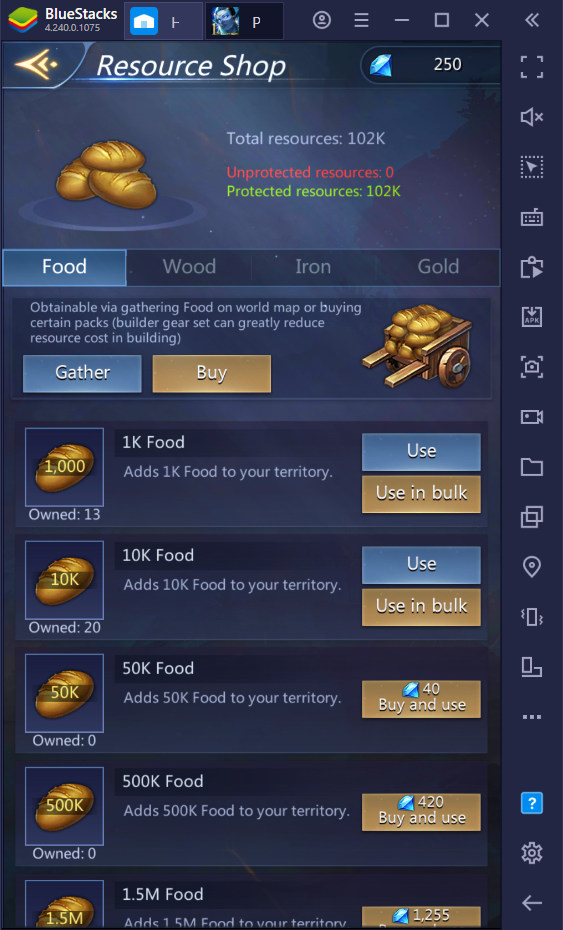 Many quest objectives will involve building in and adding to your kingdom, so however much you may want to just get on with fighting, try to make time to manage your fortress. After all, a healthy kingdom makes for healthy armies and powerful heroes.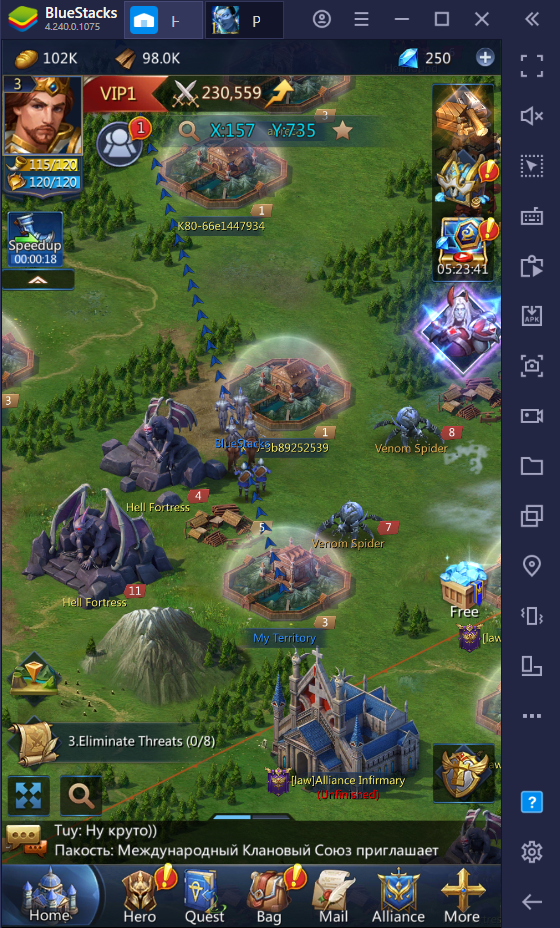 There is also a world map, on which you can engage in battle with monsters and other players, occupy land, or loot resources. These battles are carried out without the need for gem matching and are instead decided simply based on stats. That doesn't make victory any less sweet though!