Game Guides
The BlueStacks Guide to Upgrading Your Character in Rage of Dragons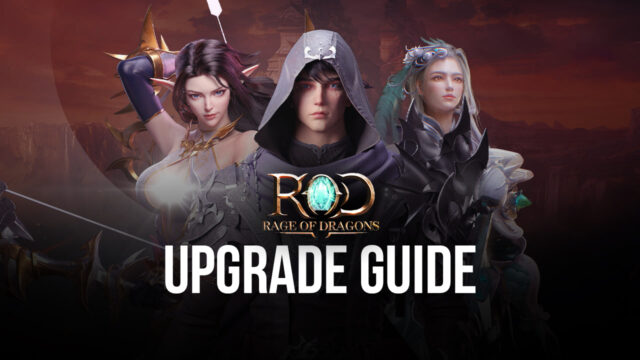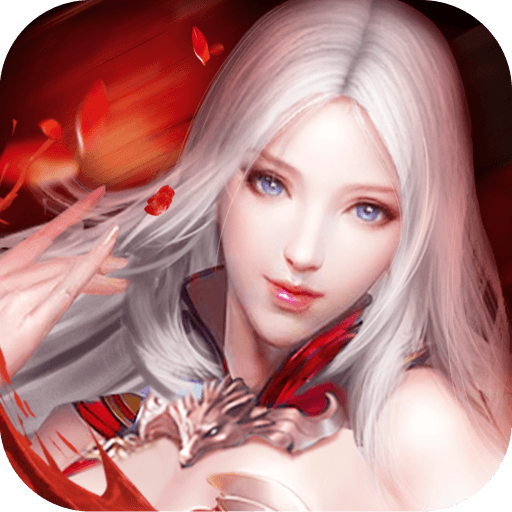 There are plenty of dangerous enemies in the world of Rage of Dragons and with that, it is critical that your character gains enough strength to combat them. In this guide, we'll show you ways of upgrading your character through various features such as gear enhancement.
Garner More Skills
In Rage of Dragons, your character has active and passive skills. The active skills are special moves that deal a greater amount of damage to enemies compared to basic attacks. By default, you can, executing the active skills is assigned to the 1,2,3,4 keys. Active skills can be executed infinitely however a skill will undergo a brief cooldown period after each execution.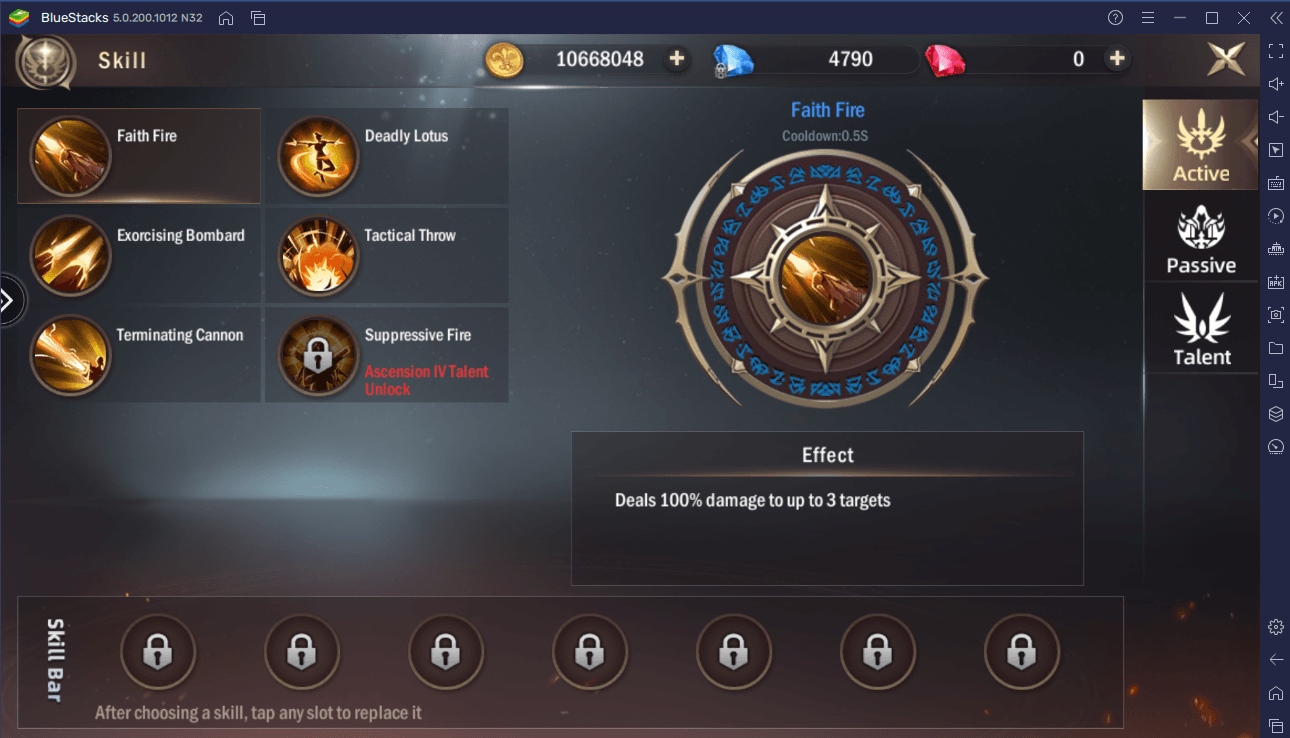 Your character has a maximum of four skill slots. Upon starting the game, you won't have those four slots filled immediately. A new active skill is added to your character once they reach a certain level, so you essentially need to keep leveling up until you fill up all four slots. To know more about how to gain EXP for leveling up in the game, check out this guide here.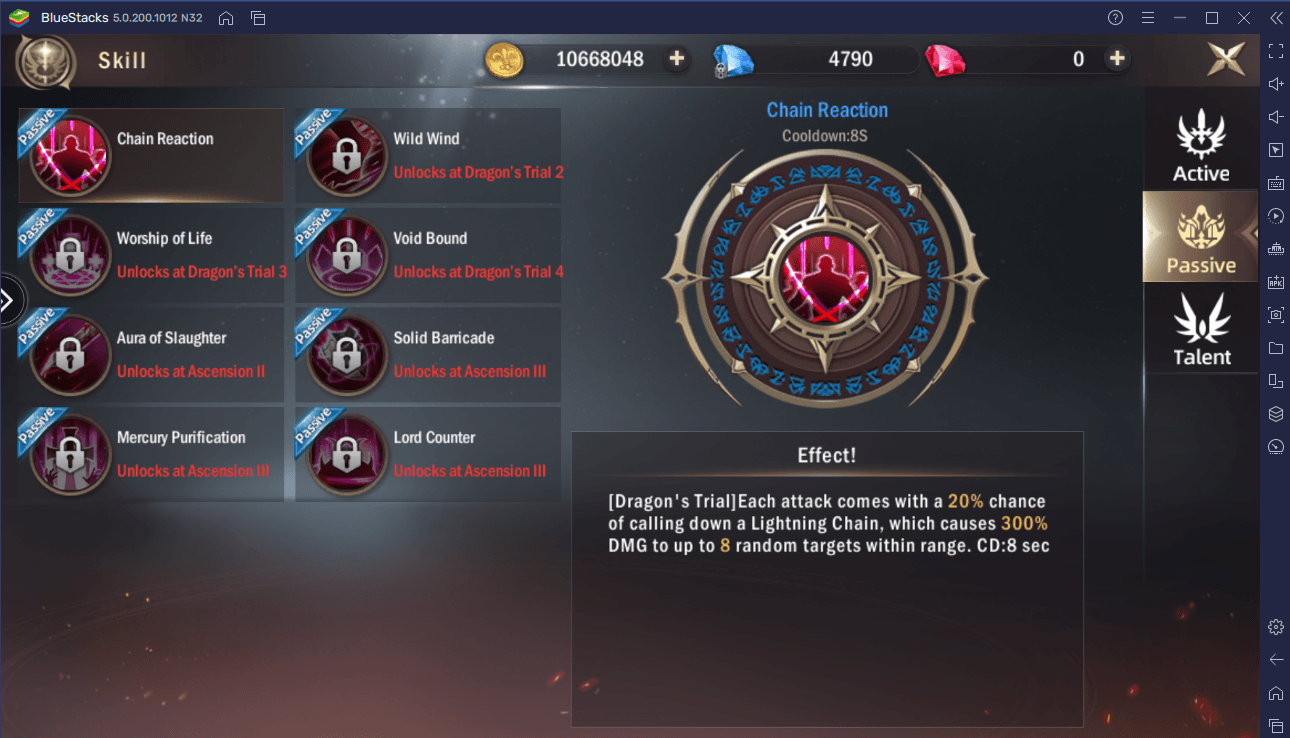 Each character in the game has their own set of active skills. If there is one thing that they all have in common, it is the set of passive skills. Unlike active skills, the passive ones need not be executed manually through a button press as they are perpetually activated. These skills are extremely useful for your character as they add bonus capabilities that make your character stronger.
Passive skills can be unlocked by completing Dragon's Trials as well as achieving a specific Ascencion level. As of writing, the passive skills in the game are as follows:
| | | |
| --- | --- | --- |
| Passive Skill | Description | How to Unlock |
| Chain Reaction | Each attack comes with a 20% chance of calling down a Lighting Chain, which causes 300% DMG to 8 random targets within range. Cooldown: 8 seconds. | Complete Dragon's Trial 1 |
| Wild Wind | Increases the movement speed by 20% | Complete Dragon's Trial 2 |
| Worship of Life | Restores 5% HP every 10 seconds | Complete Dragon's Trial 3 |
| Void Bound | Each attack comes with a 10% chance of causing a 40% reduction in movement speed for 3 seconds | Complete Dragon's Trial 4 |
| Aura of Slaughter | Increases DMG by 10% for allies within a certain distance | Attain Ascension II |
| Solid Barricade | Reduces DMG received by 8% and 8% more is reduced if the DMG is from a player's attacks | Attain Ascension III |
| Mercury Purification | Removes any abnormal status effect every 40 seconds | Attain Ascencion III |
| Lord Counter | Increases DMG to wild bosses by 10% | Attain Ascension III |
Gear Enhancement
Your character's gear plays a critical role in increasing their strength. In Rage of Dragons, power is a number that summarizes your character's overall strength. The value of power changes immediately depending on the value of your character's stats (i.e., P.ATK). Equipping gear is the most direct way of increasing power as it increases certain stats.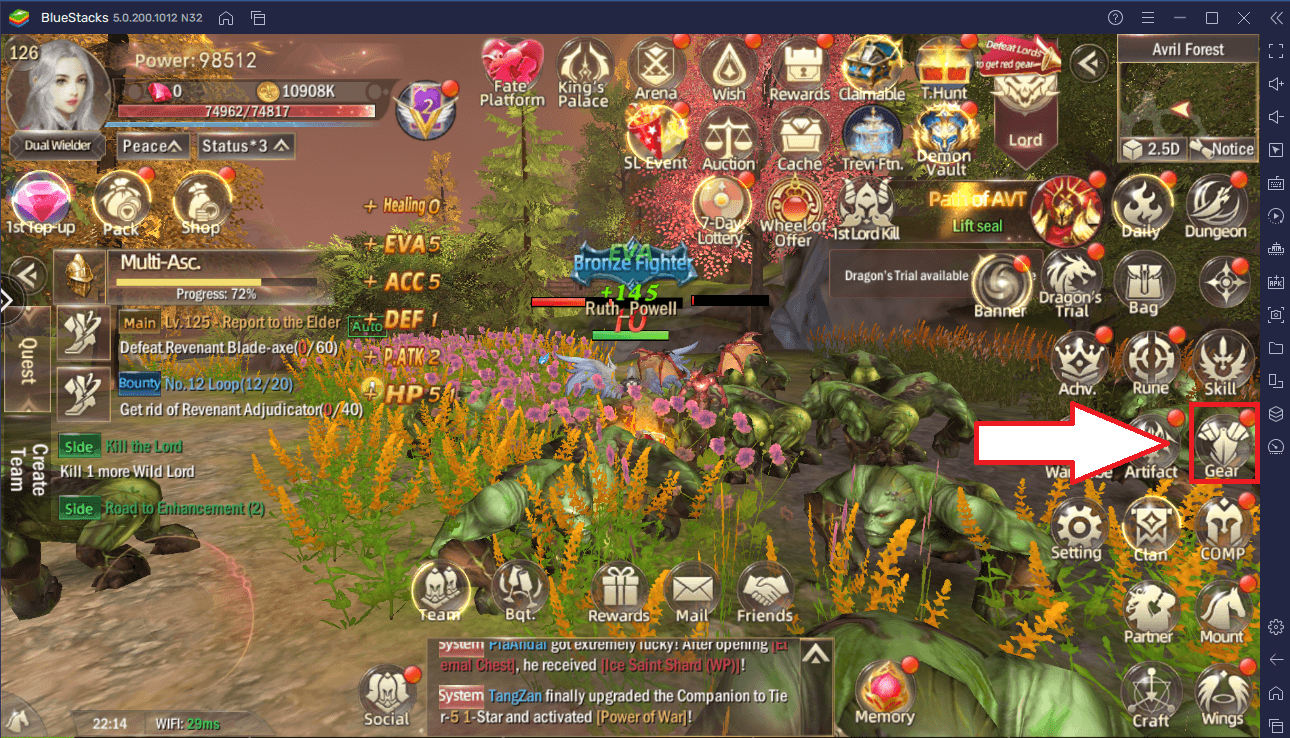 Generally, you can unlock better gear by killing enemies and garnering their loot but that can take plenty of time. What you can do instead is upgrade your existing gear. To do so, click on the 'Gear' icon. If you don't see the icon, then you need to click on the cross icon to display more buttons on the interface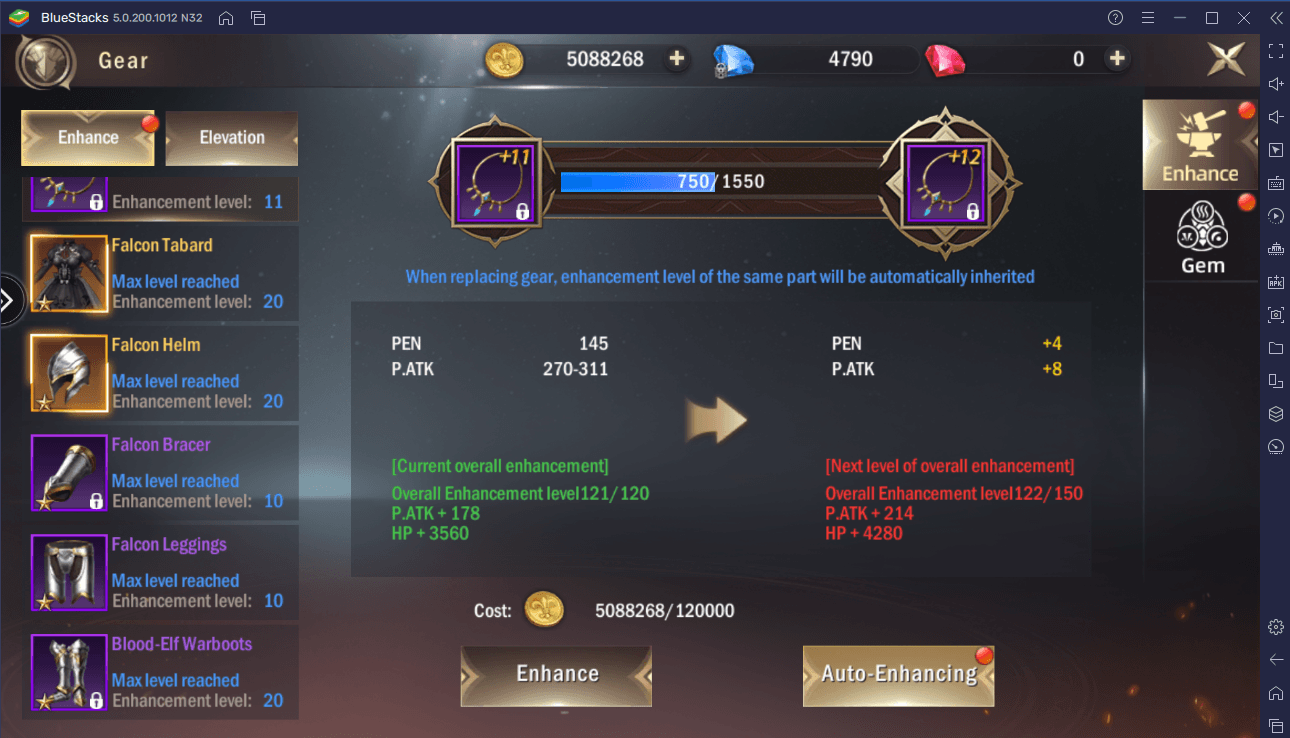 In the 'Gear' menu, you can select any gear and enhance them by spending a certain amount of gold. Enhancing gear gives points to said gear's enhancement level and once the bar is filled, the gear is levelled up. You can enhance the gear as much as you want until it reaches its level limit but do note that enhancements become more expensive as the level increases.
It is best to enhance all your gear equally (they have the same level) for the sake of properly balancing your character.
The best feature of gear enhancement is that new gear will automatically inherit the enhancement level of the gear that they are replacing. For example, if you have an armor piece that is Level 5 and you eventually unlock a better piece, then that new piece will automatically be Level 5 and you can continue the lineage of the enhancement level from there.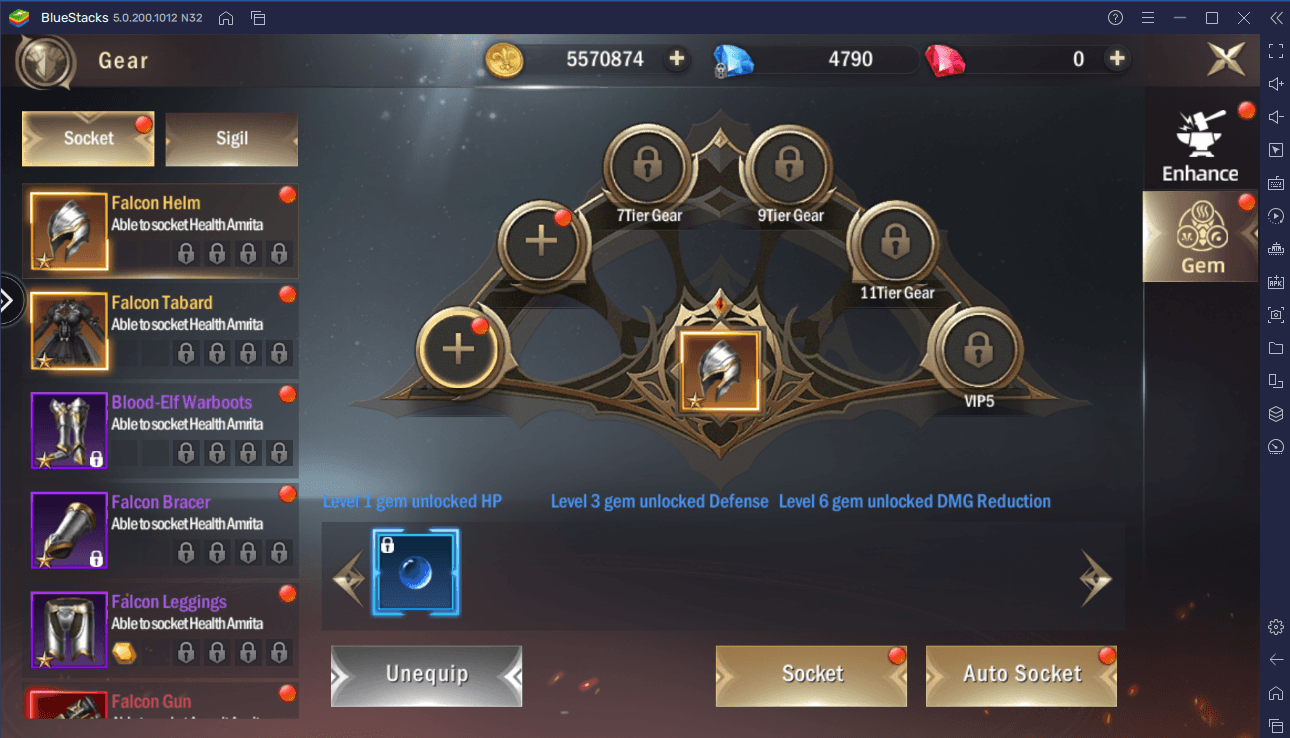 Another way to upgrade your gear items is by inserting gems into them. There are two gems in the game called Assault Amrita and HP Amrita. The Assault Amrita can only be inserted in gear items that deal damage to enemies such as your character's weapon. On the other hand, the HP Amrita can only be inserted in defensive gear such as armor.
Note that the Amritas have varying levels and higher-level Amritas can give better buffs. Amritas are generally procured from the in-game shop, Sacred Treasure, Level Rewards, and the like.
Upgrading the Companion
The companion actively helps your character in eliminating enemies. Like your character, their companion also has their own stats and these can be upgraded. There are actually two ways to upgrade the companion.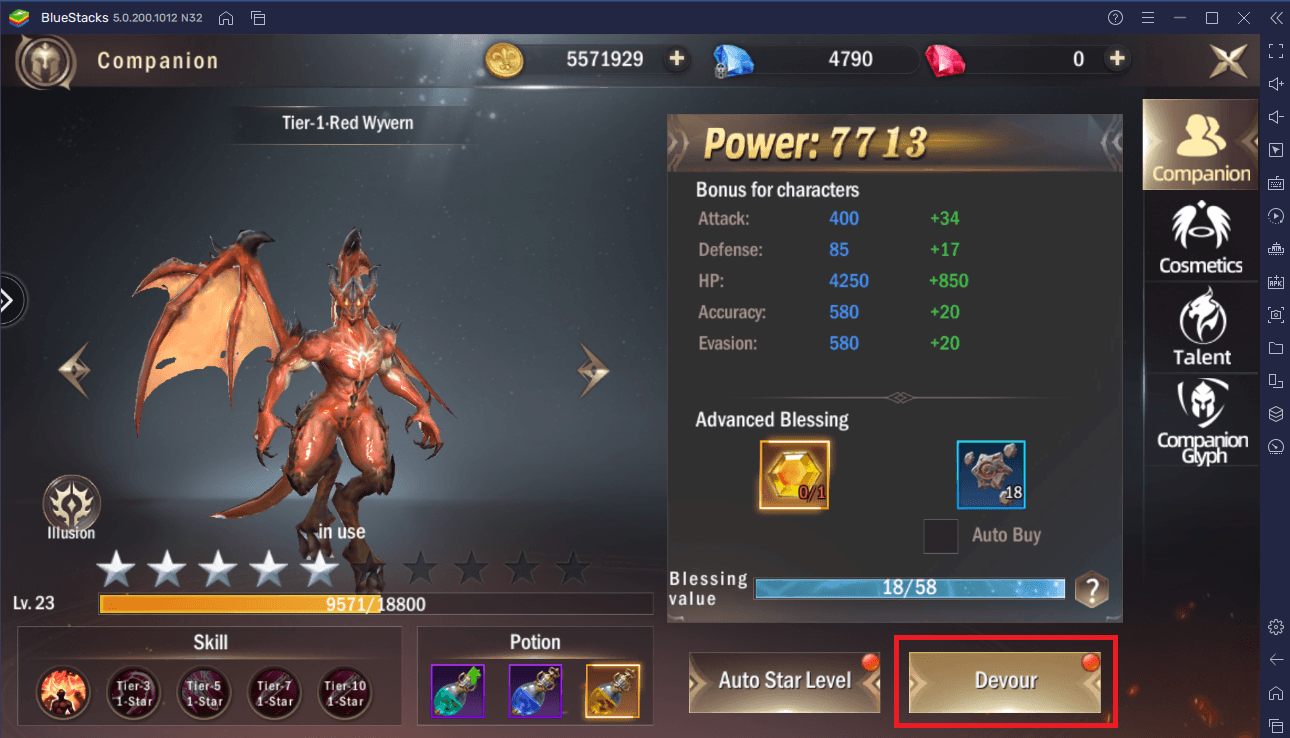 The first way is the simple leveling up. The companion can be leveled up with Companion EXP and that can be garnered by devouring gear – in other words, the companion can consume excess and unused gear in your inventory in exchange for EXP. To devour gear, click on the 'Devour' button.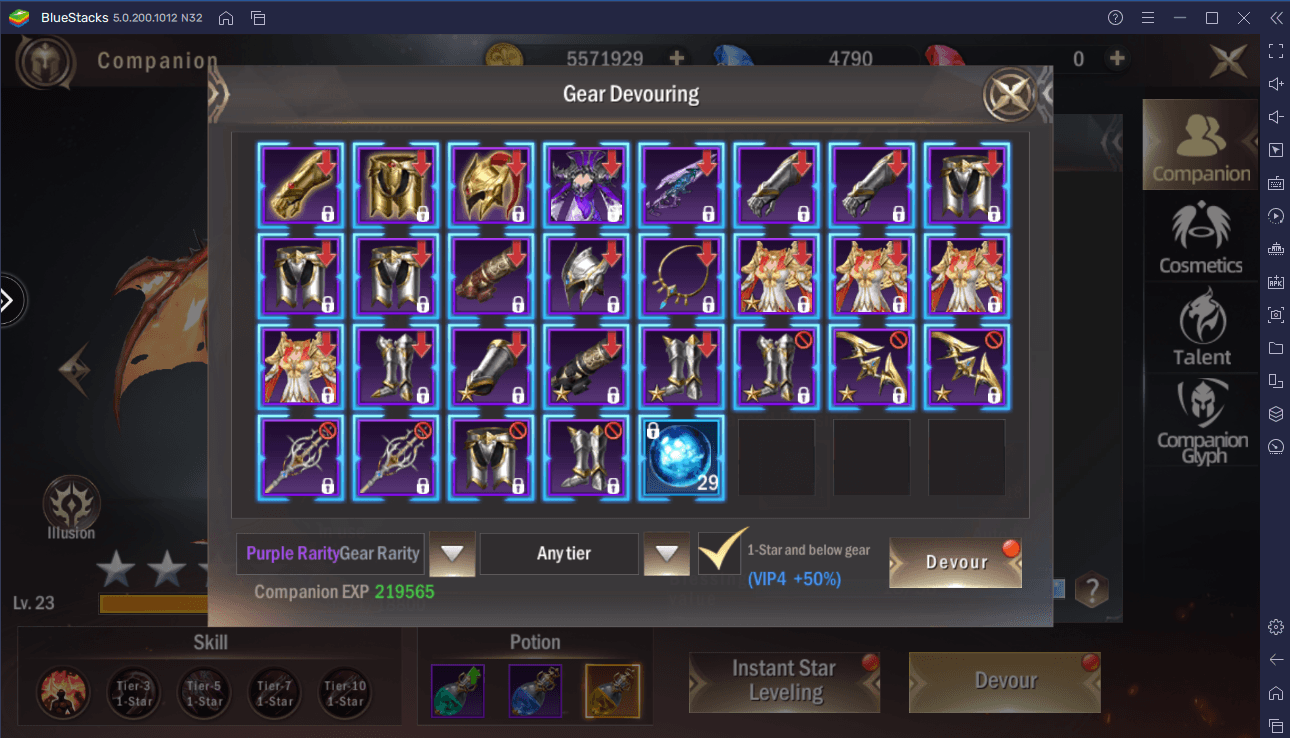 In the 'Gear Devouring' menu, you can select which gear you want to have devoured. Note that each gear item has a different amount of EXP that they give out once devoured.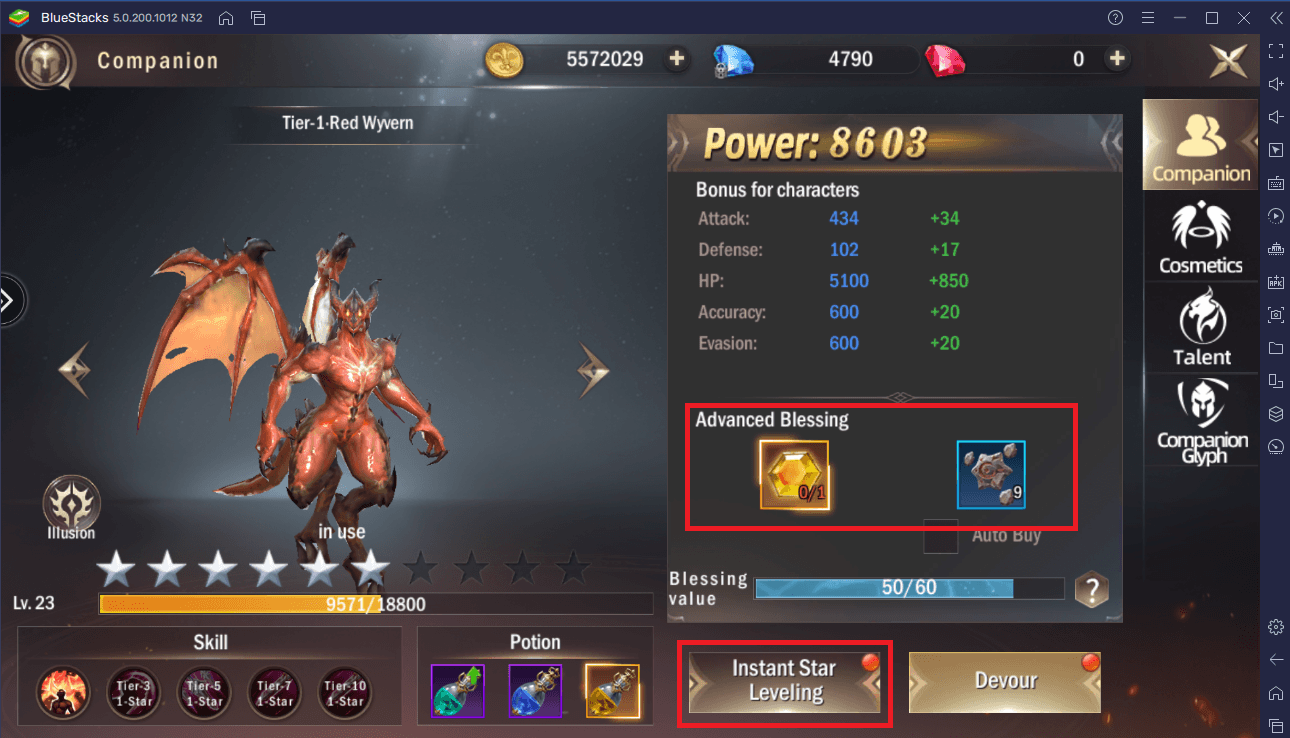 The other way of upgrading your companion is through Blessing. Increasing your companion's Blessing can be done by consuming an item called Brimstone. There are two types of Brimstone: Companion Brimstone (increases Blessing by 10) and Blessing Brimstone (increases Blessing by 150). Completely filling up the companion's Blessing grants them with one star. Once all ten stars are obtained, the companion advances to the next tier and they acquire new moves to deal damage to enemies.
Upgrading the Haste Artifact
The Haste Artifact is an item that aids your character with regards to defensive capabilities (e.g., Defense, HP, Evasion). Like the companion, the Artifact also has its own level.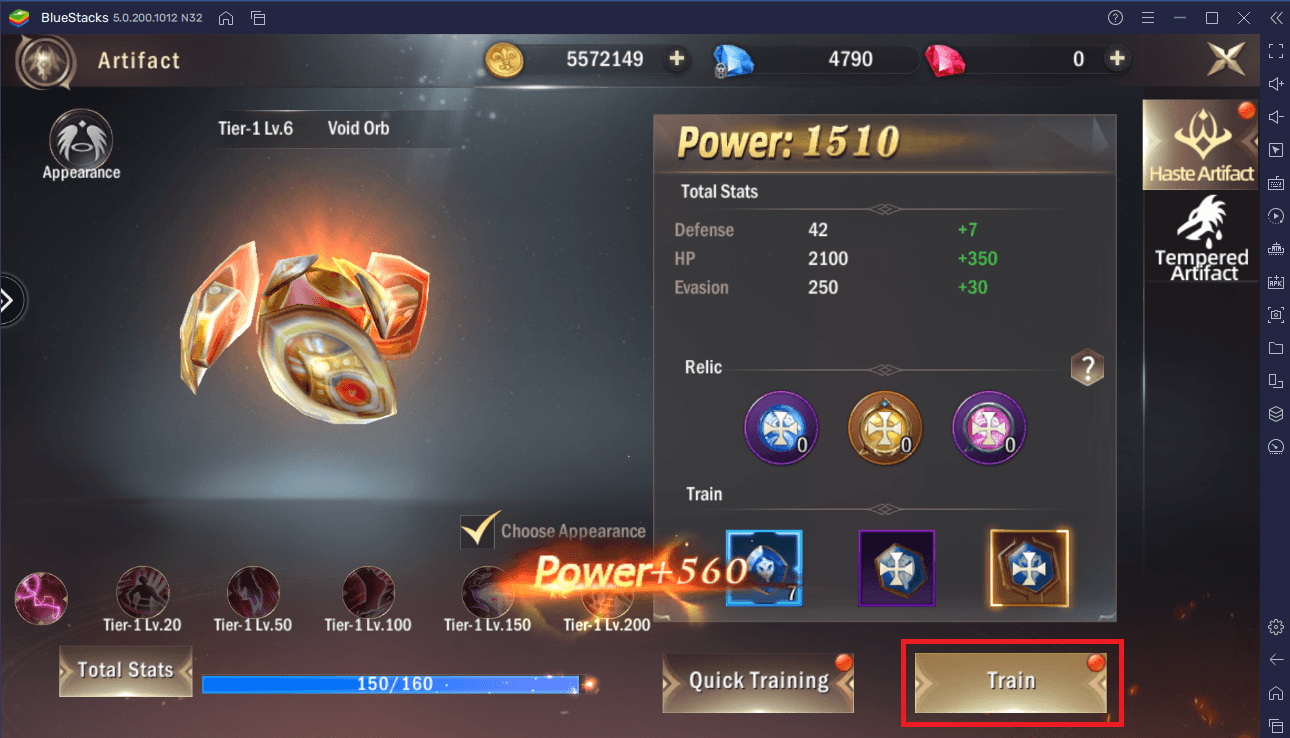 The Haste Artifact's level bar can be filled up by consuming an item called a Haste Holystone. There is a blue, purple, and gold Holystone. The blue one gives the least amount of EXP, the purple one gives a moderate amount, and the gold one gives the most EXP out of the three. Once the Artifact levels up, its stats are immediately increased.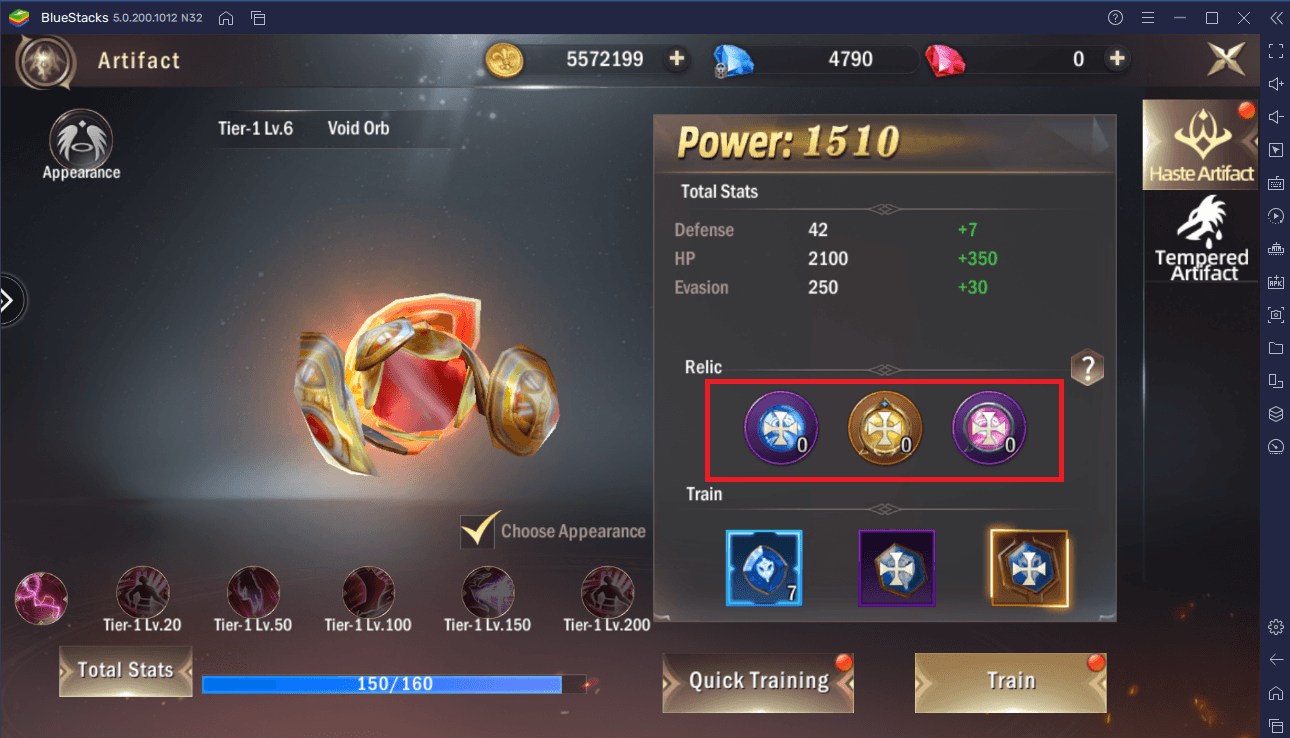 Aside from Holystone, items called Relics can also be consumed. What makes them distinct from Holystones is that they significantly increase the stats of the artifact. The Deftness Engram relic increases the evasion stat by 800 points; the Speed Engram increases HP by 1600 points, and the Haste Engram gives the benefits of the previous Engrams but additionally gives a 2% overall increase to all your character's stats.
Upgrading the Wings
The Wings are functionally very similar to the Haste Artifact. It boosts your character's Defense, HP, and Evasion stats too but it also boosts the Attack stats.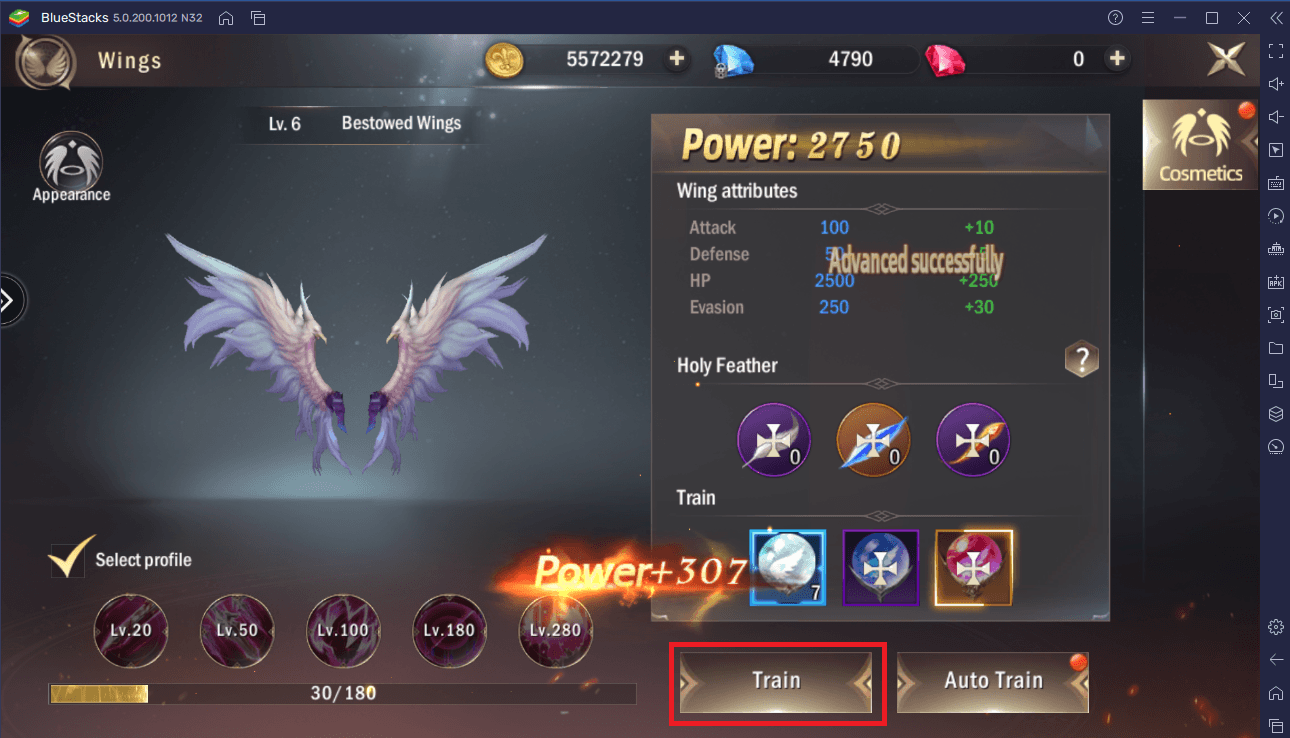 The Wings has its own level and it can be leveled up by consuming Wing Essence. Like the Holystones of the Haste Artifact, there is also a blue, purple, and gold Wing Essence. The blue gives the least amount of EXP, the purple gives a moderate one, and the gold gives the most one. Note that leveling up the Wings to a certain level unlocks a new skill for it.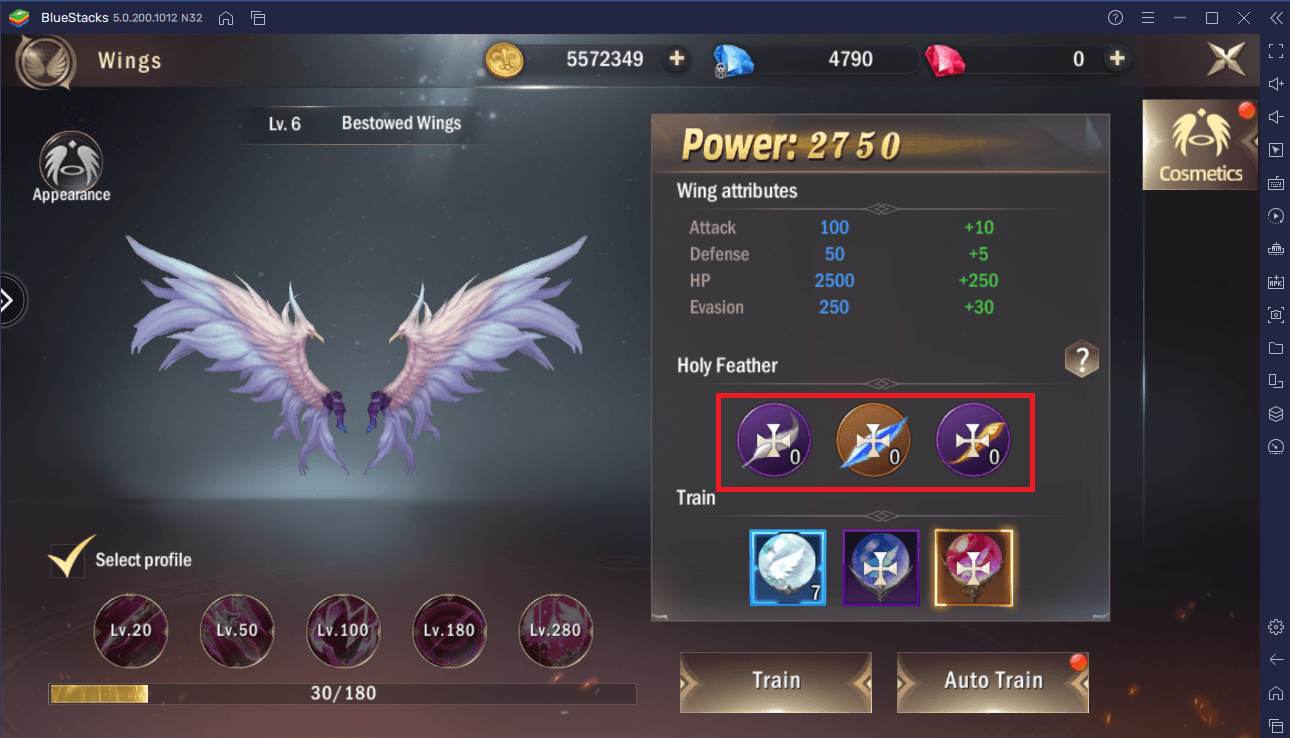 Holy Feathers can also be consumed to exponentially increase the wing's stats. The Plume of Phoenix boosts ATK by 80 points and Power by 800 points; the Plume of Lure boosts HP by 2000 points and Power by 800 points; and lastly, the Plume of Judgement gives all the benefits of the previous Plumes, adds a 2% buff to all stats, and gives a minimum boost of 1600 points to Power.