Game Guides
A Beginner Guide to Rebirth of Chaos: Eternal Saga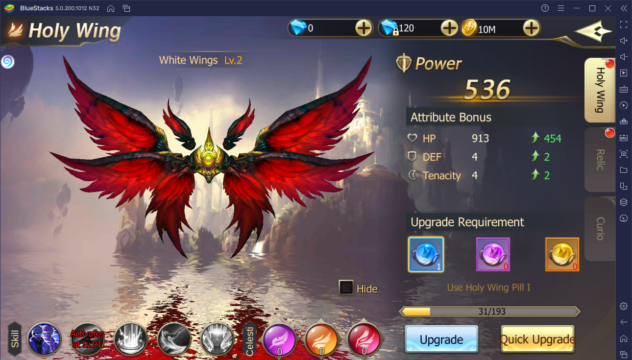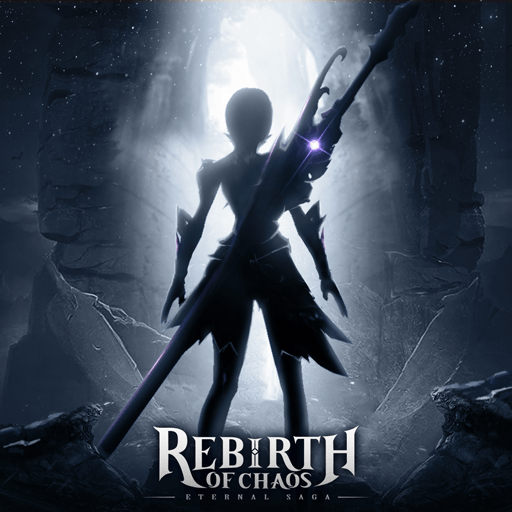 Rebirth of Chaos: Eternal Saga is an action-packed RPG by 9RING and it does not disappoint when it comes to providing a multitude of content. At its very core, Rebirth of Chaos is all about constantly upgrading your character until they become the very best in the entire world. There are plenty of ways to make your character stronger and you unlock more of these ways as you progress through the game.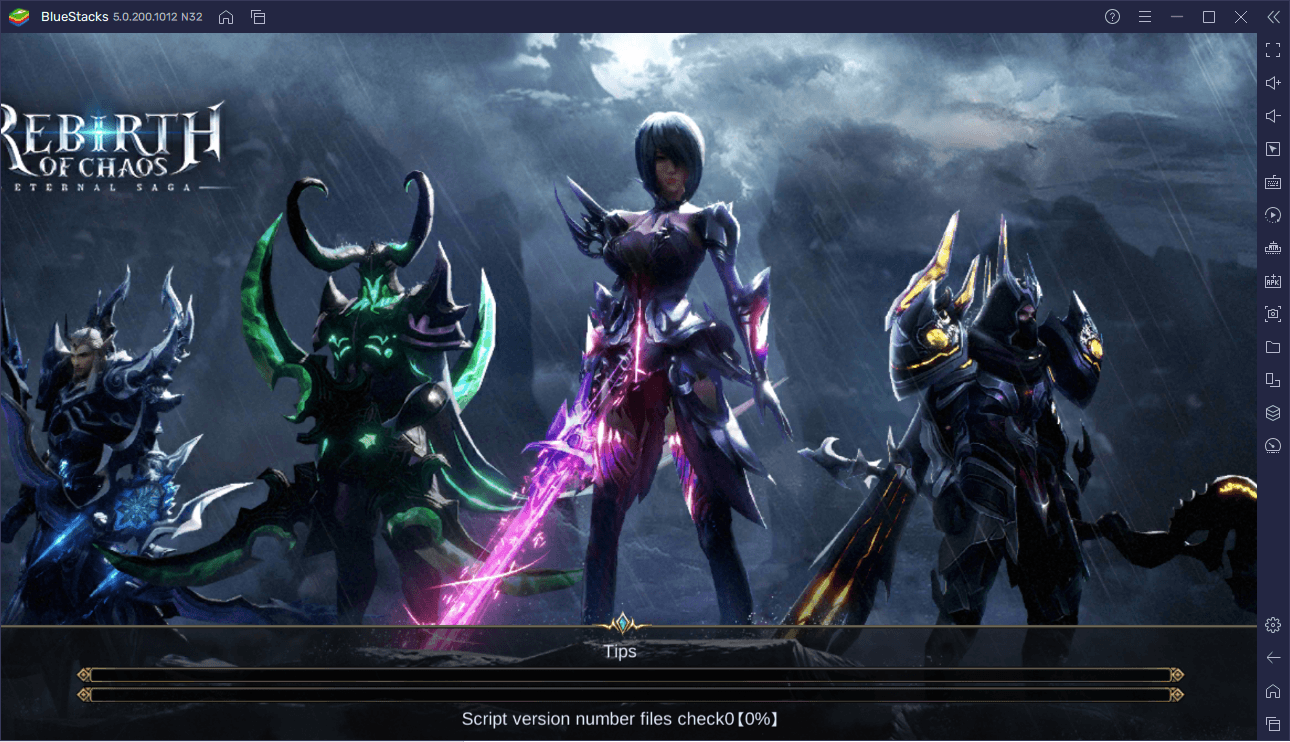 The game can become increasingly complex as your character ranks up. In fact, the game can be quite complicated right at the very start. However, this beginner's guide will help you get around the early stages of the game.
Selecting Your Class
An RPG is never complete without the liberty to choose your character class. As of writing, there are six classes to choose from (two of them are new but are not available right away) and each of them has their own unique base characteristics.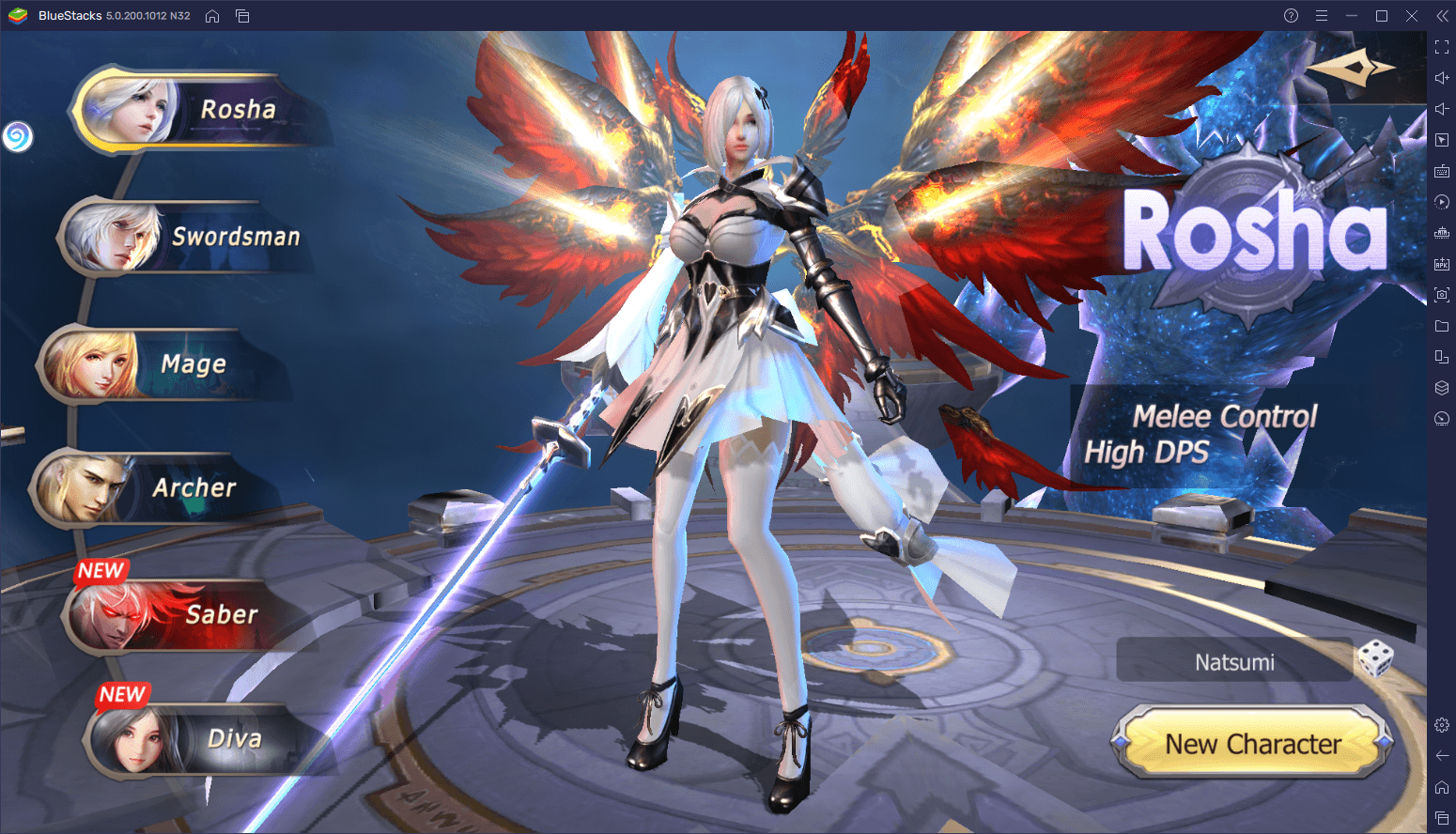 | | |
| --- | --- |
| Class Name | Characteristics |
| Rosha | Melee Control, High DPS |
| Swordsman | Super Tank, ATK & DEF |
| Mage | Powerful Control, Magic DPS |
| Archer | DMG Over Time, Ranged DPS |
| Saber | Demonic Warfighter, Born for War |
| Diva | Celestial Rider, Valkyrie |
Basic Combat
The combat system of Rebirth of Chaos is straightforward. If you are familiar with the combat system of Mobile Legends: Bang Bang, then Rebirth of Chaos will be a walk in the park for you because the two games' combat systems are functionally similar.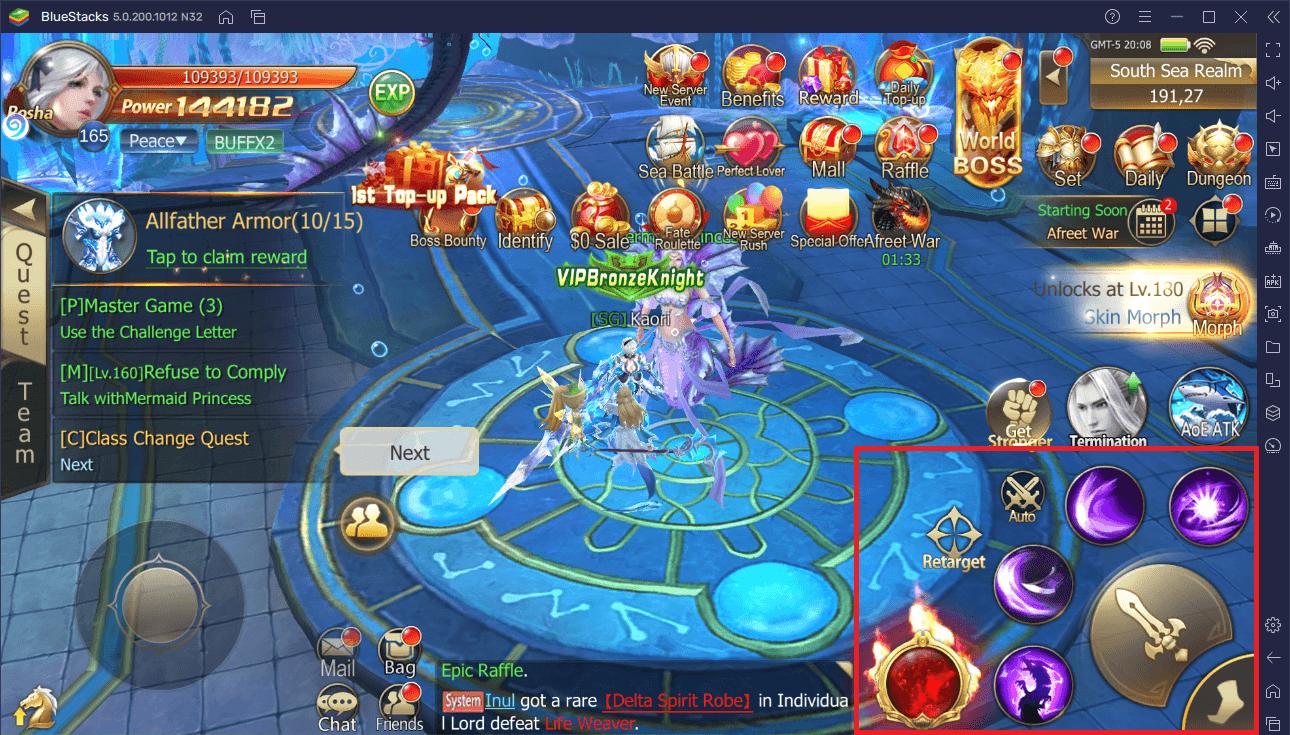 Active Skills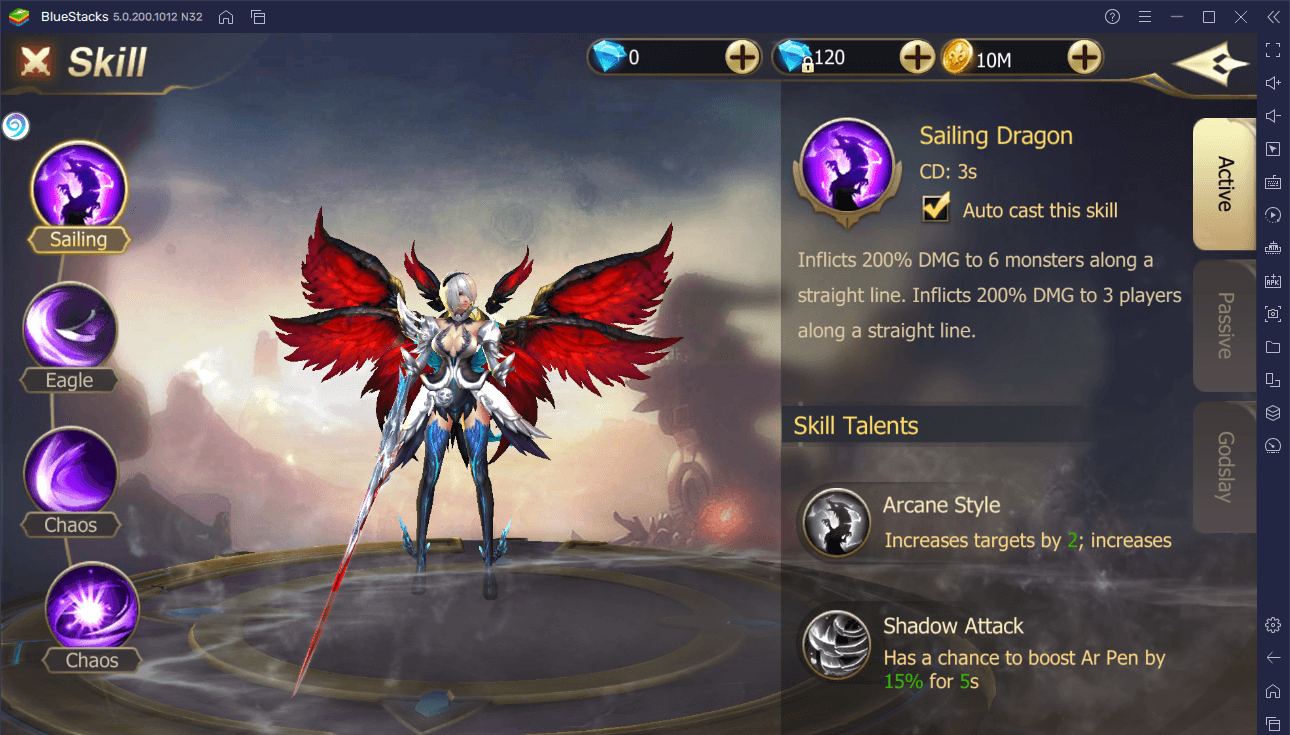 Your character has access to four active skills which make up their basic combat moves. All four skills won't unlock immediately once you start the game. You will need to reach a certain level to unlock a certain skill but don't worry because levelling up is very fast in the early stages of the game.
These active skills are what the game's auto-combat system will take into account. If there is one active skill that you don't want auto-combat to use, you can uncheck 'Auto cast this skill'.
Passive Skills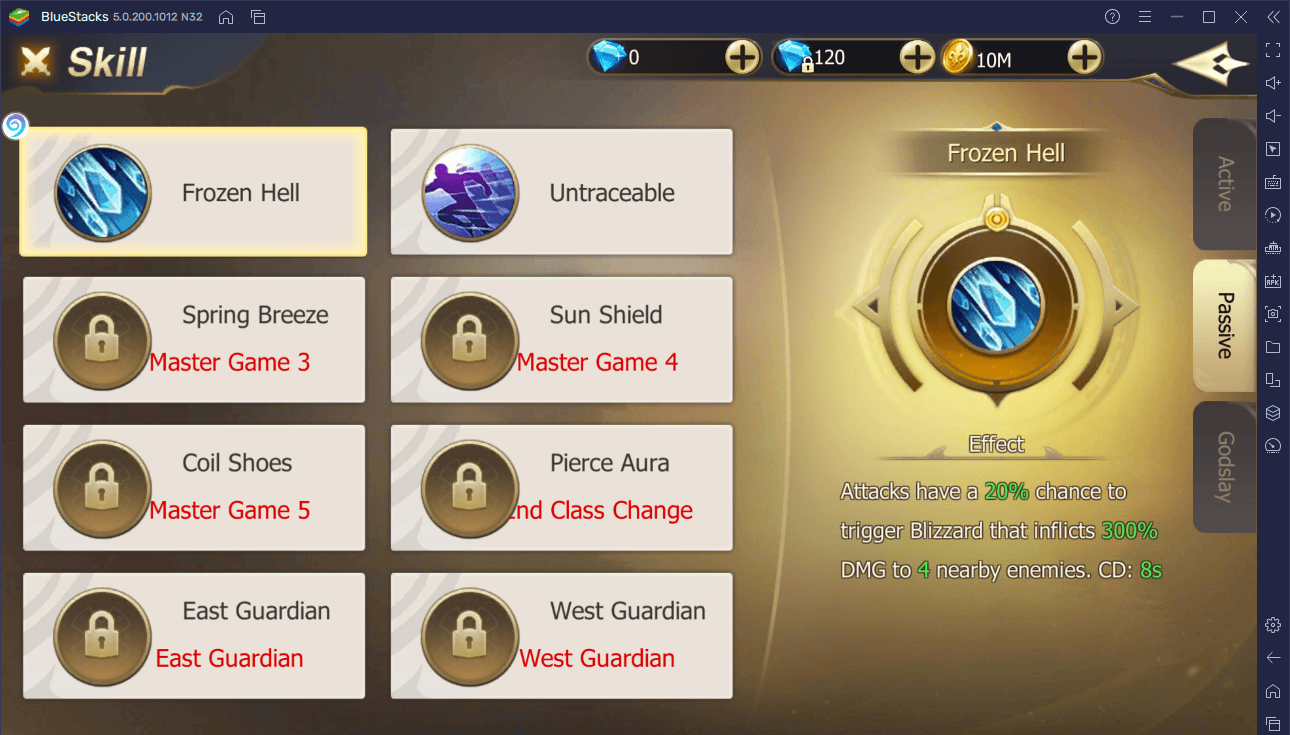 As the name suggests, passive skills are skills that passively activate – meaning that they permanently run in the background. You can unlock more passive skills by attaining major achievements in the game such as completing a Guardian Bloodline.
Godslay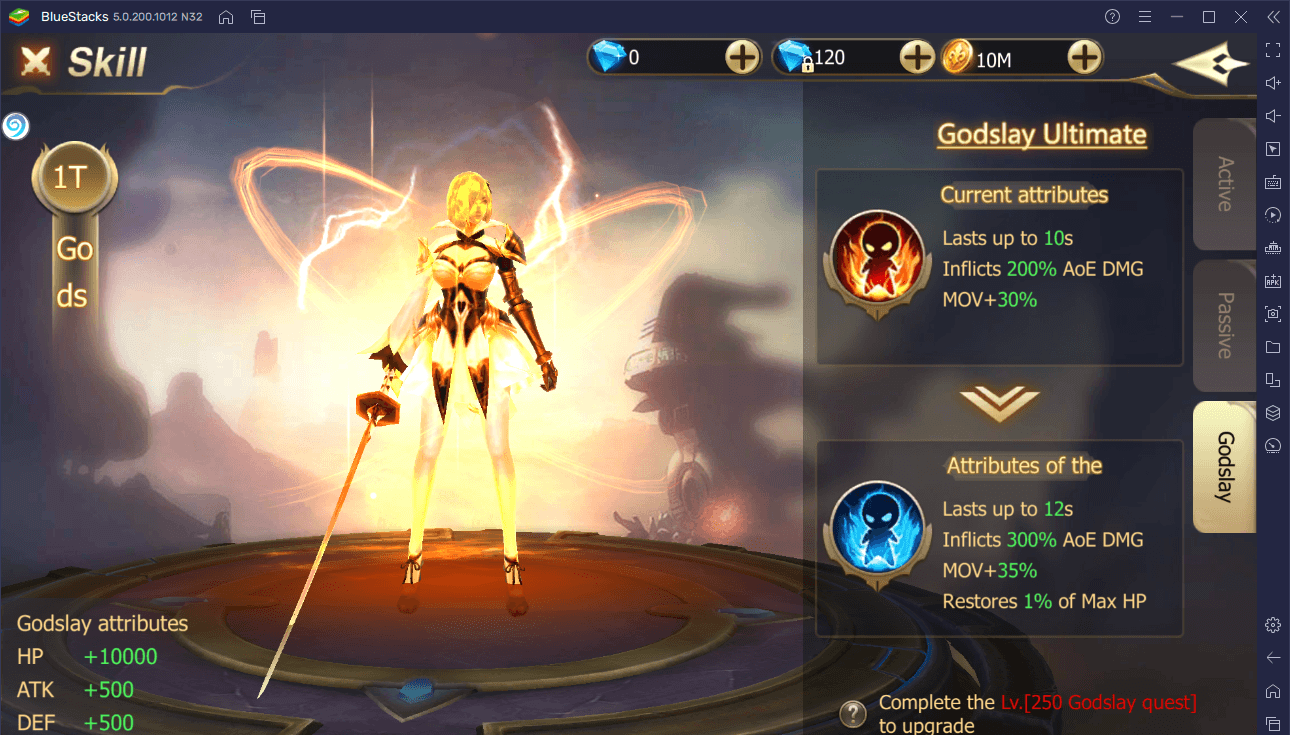 Godslay is your character's ultimate move and it deals an insane amount of damage to enemies. Because of this, it is best to use Godslay when fighting high-HP bosses.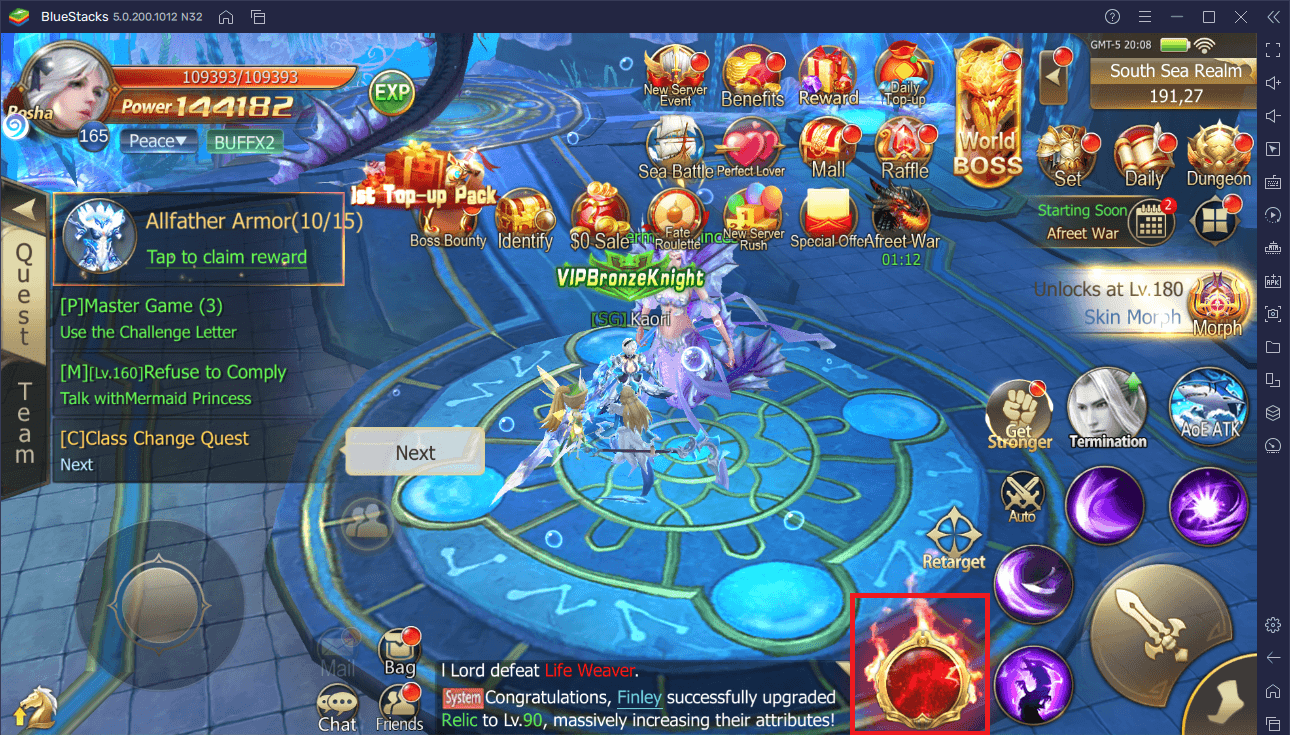 Unlike active skills, Godslay cannot be activated automatically via auto-combat. This means that if you want to activate Godslay, you will need to manually press the Godslay button. But before that, you must ensure that you have the enough Rage to be able to use Godslay in the first place. Killing enemies will fill up the Rage meter and once the meter fills up (flames will appear on the outline), you can then finally use Godslay.
Dodge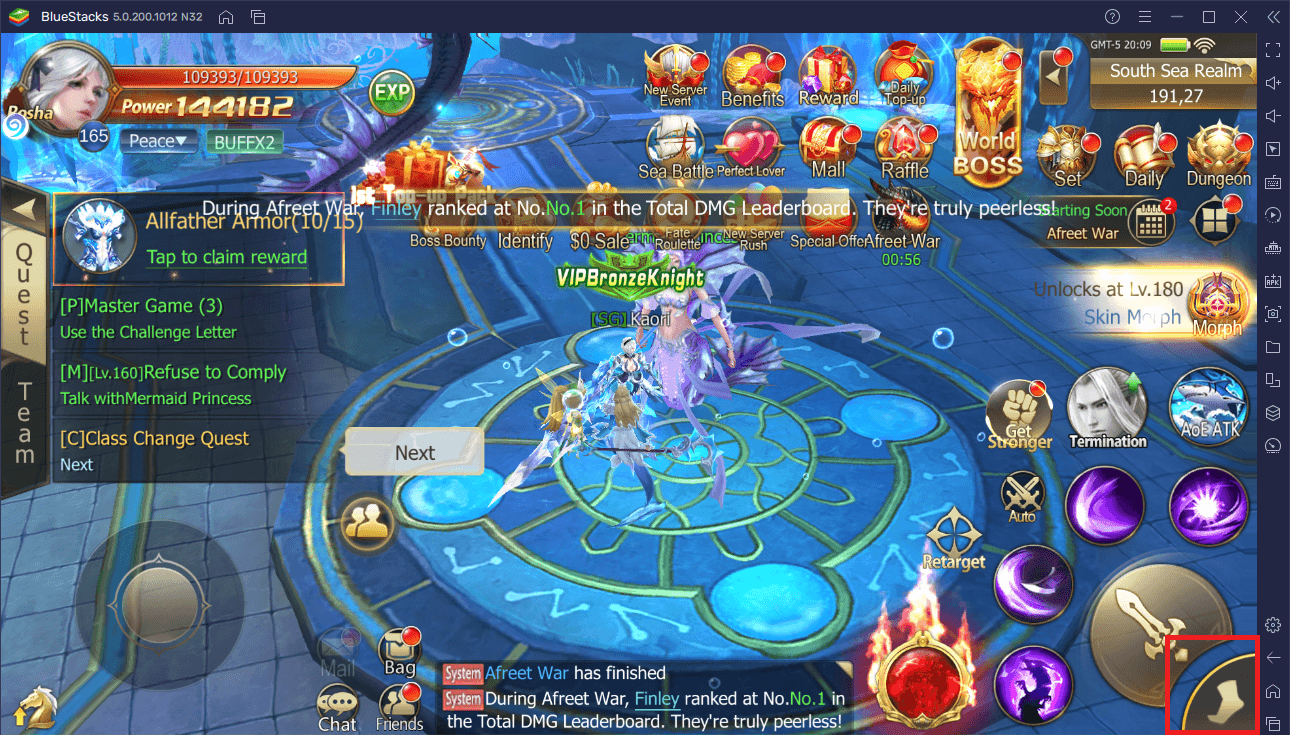 Sometimes, you will need to stray away from a boss's attacks and dodging is the only way to do so. Dodging is not unlimited however, so you need to monitor the dodge's energy meter.
Character Gear
Gear is a very important aspect in strengthening your character as it is the major contributor to their stats (i.e., ATK, DEF, HP).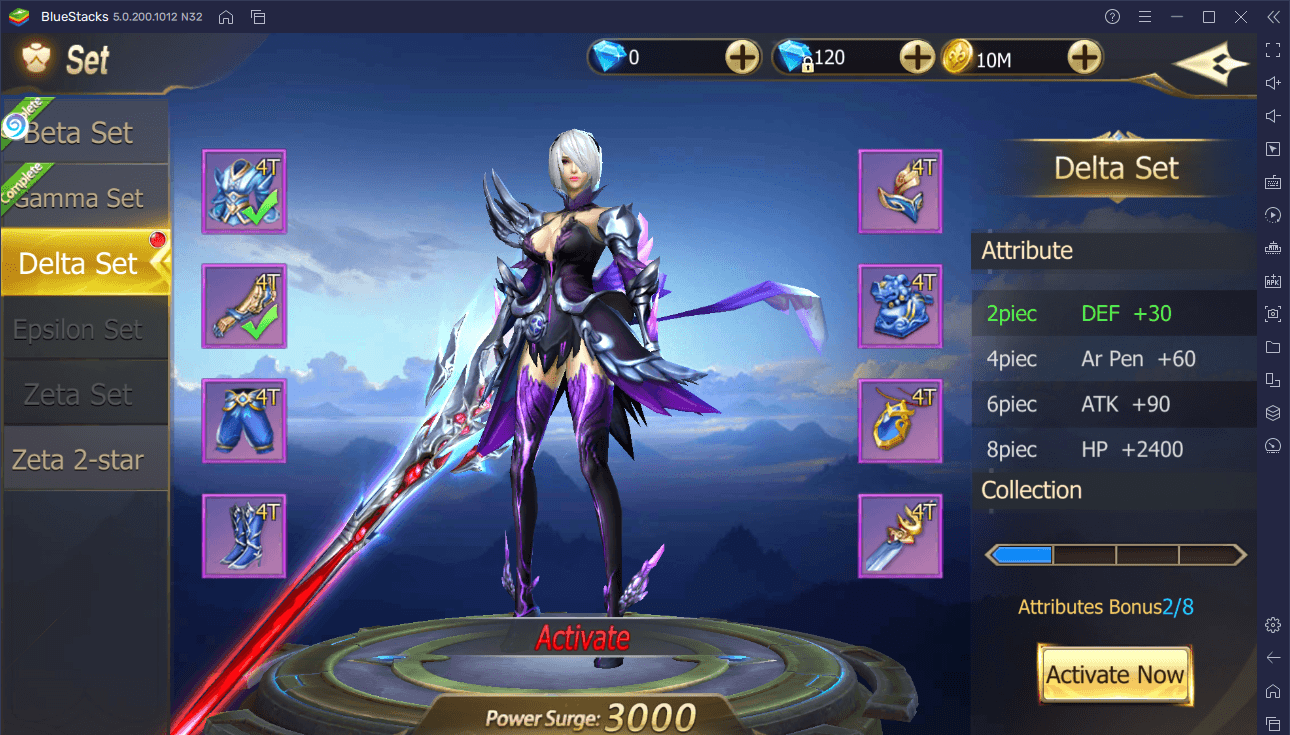 There is a vast set of equipment that your character can wear and each of these equipment can be upgraded with Gold, the game's main currency. As you keep playing, collecting new gear items will become part and parcel of the game and those moments matter.
Gear in Rebirth of Chaos is in and of itself a complex topic. Read more about gear in the in-depth guide that exclusively talks about not only how to upgrade gear but also where to obtain more in the game.
Companions
You are not alone in the adventure. There are at most three unique companions that your character can have alongside them. Each companion actively helps your character in achieving their goals and each can have their stats upgraded.
Mount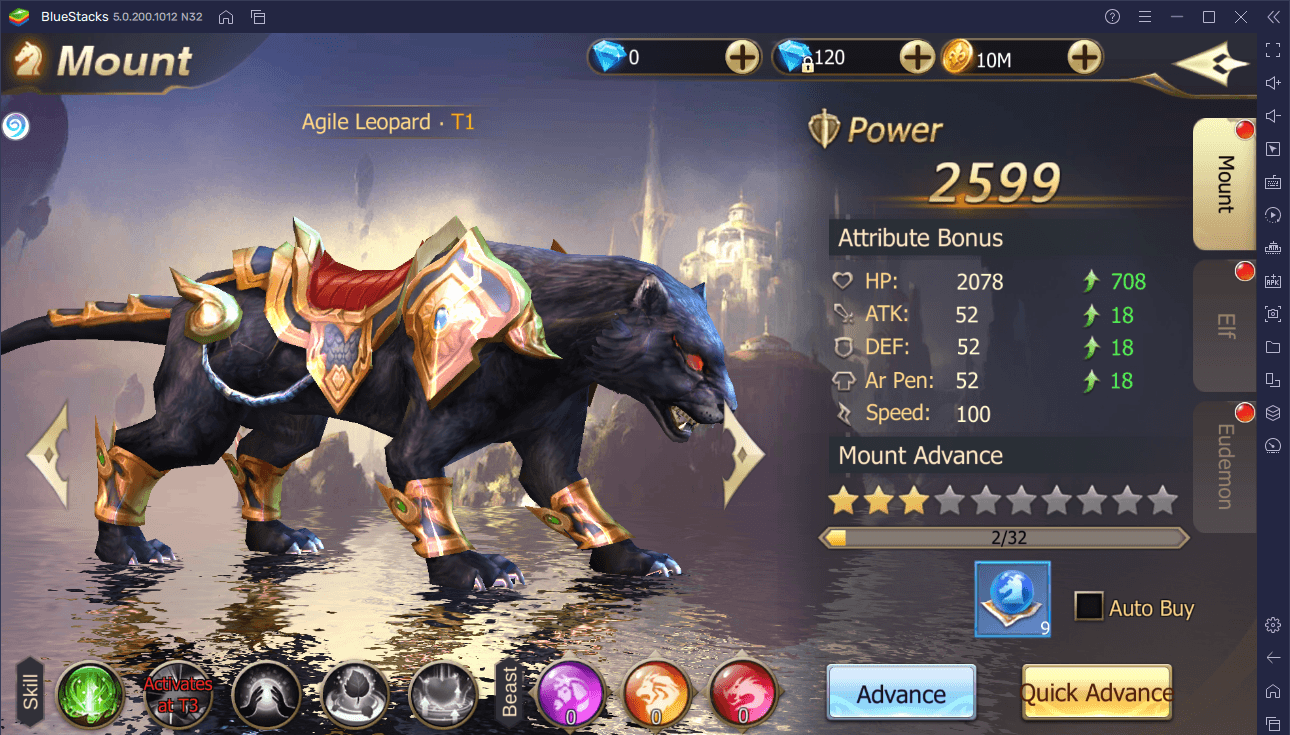 The Mount is used by your character to traverse through the game's large map. It can be upgraded with the Mount Advance Pill, which can be acquired from the Mall (in-game shop) or by beating Individual Lords. You can also earn pills by reaching a certain level (i.e., Lv.140, Lv.200) and subsequently redeem it through the Achievements tab. This can be accessed by clicking on Bag (lower side of the screen) and then clicking on Achievement.
Elf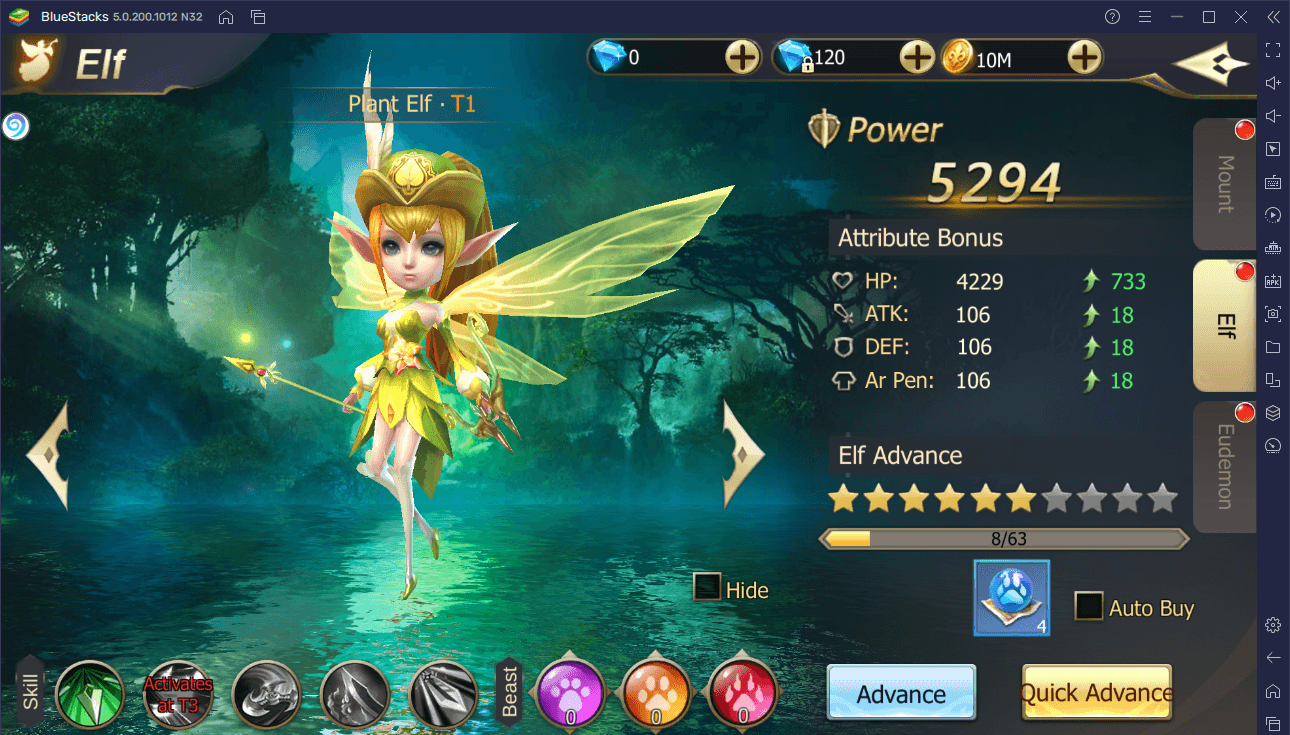 The elf provides combat assistance by dealing damage to enemies. They can be upgraded with the Elf Advance Pill, which can only be obtained by completing Daily Events.
Eudemon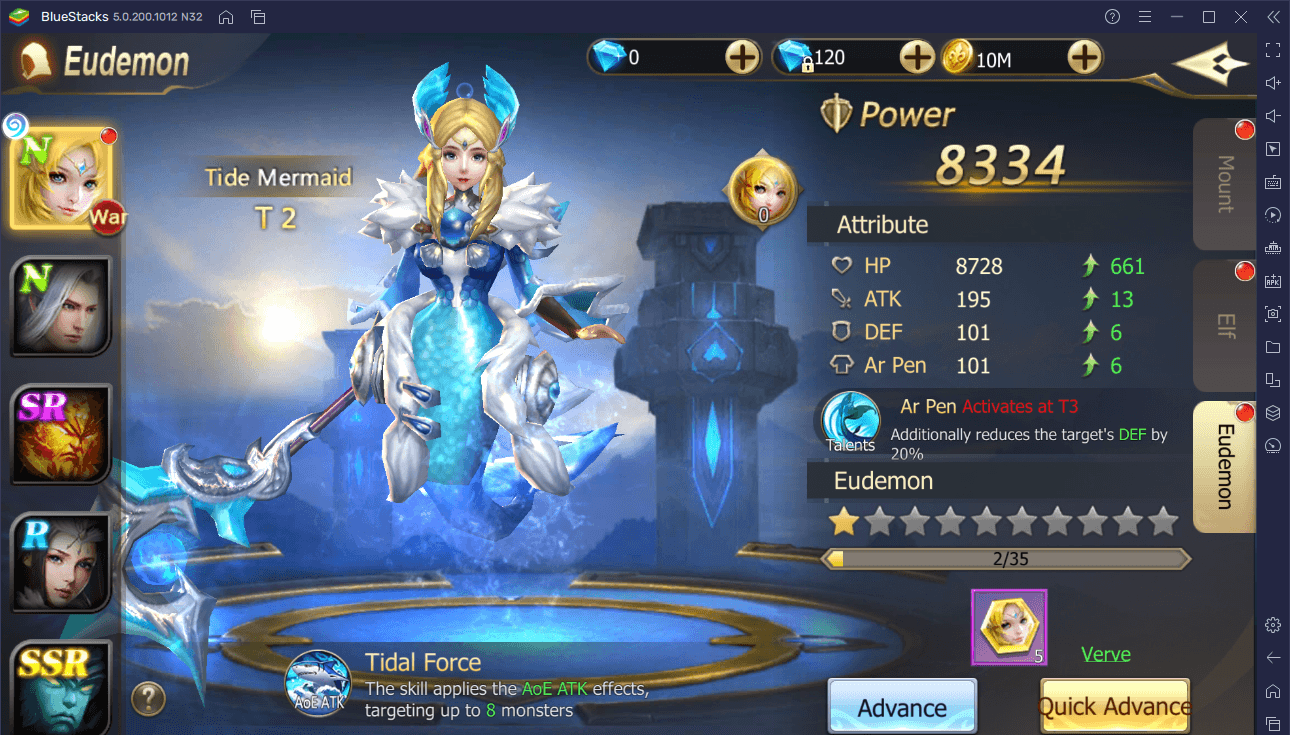 The Eudemon is functionally similar to the Elf. They can be upgraded with shards (each shard's name is different depending on the Eudemon but they are still called shards) and these can be obtained by completing Eudemon Dungeons, from the Honor Mall, or through Verve Exchange.
Upgrading a companion will fill up their level bar and once that is filled, they will gain a star. Each companion has a total of 10 stars and once all 10 are attained, they advance to the next tier. Advancing to the next tier will give your companion more skills and moves that they can use during battle (i.e., additional 300% damage within 500 range).
Artifacts
Artifacts are additional items that your character can equip to gain bonus stat boosts.
Holy Wing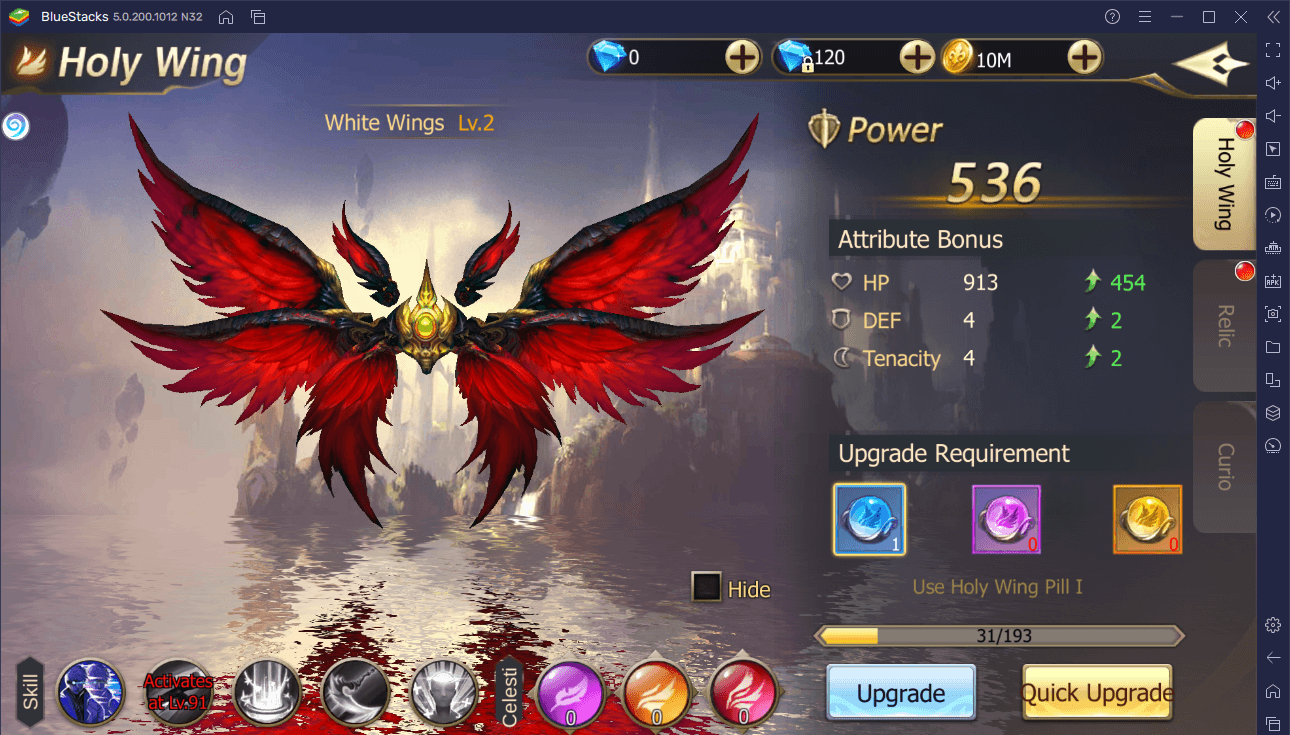 The Holy Wing grants additional HP, DEF, and Tenacity to your character. It can be upgraded with the Holy Wing Pill. The pill comes in three different versions.
Holy Wing Pill I – adds 100 Holy Wing XP. More can be earned by having the wing reach a certain level (can be redeemed through Achievements) as well as through Daily Events.

Holy Wing Pill II – adds 600 Holy Wing XP. More can be earned from Events.

Holy Wing Pill III – adds 3000 Holy Wing XP. More can be earned from Events or can be bought during the game's weekly sale.
Relic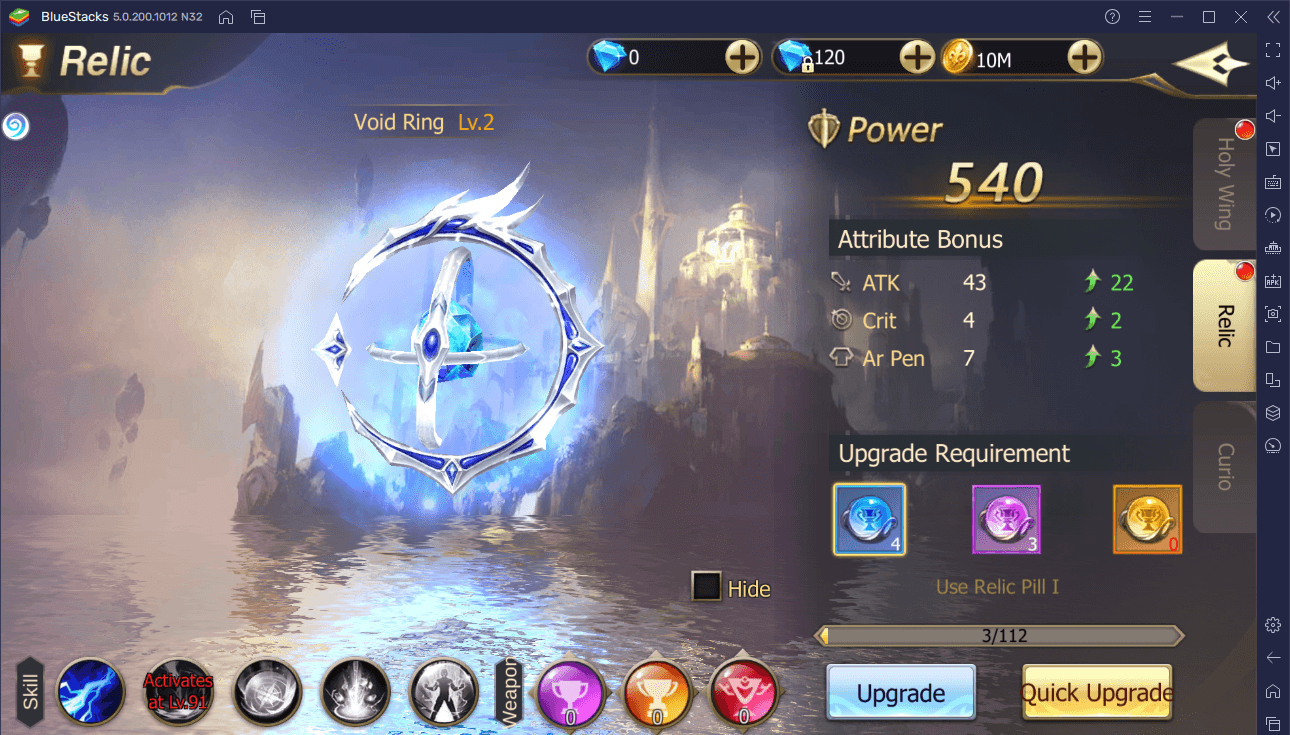 The Relic adds bonus ATK, Crit, and AR Pen. It can be upgraded with the Relic Pill and like the Holy Wing Pill, it also has three different versions that can be obtained through similar means.
Relic Pill I – adds 50 Relic XP. More can be earned through Achievements and Daily Events.

Relic Pill II – adds 300 Relic XP. More can be earned from Events.

Relic Pill III – adds 1500 Relic XP. More can be earned from Events or can be bought during the game's weekly sale.
Curio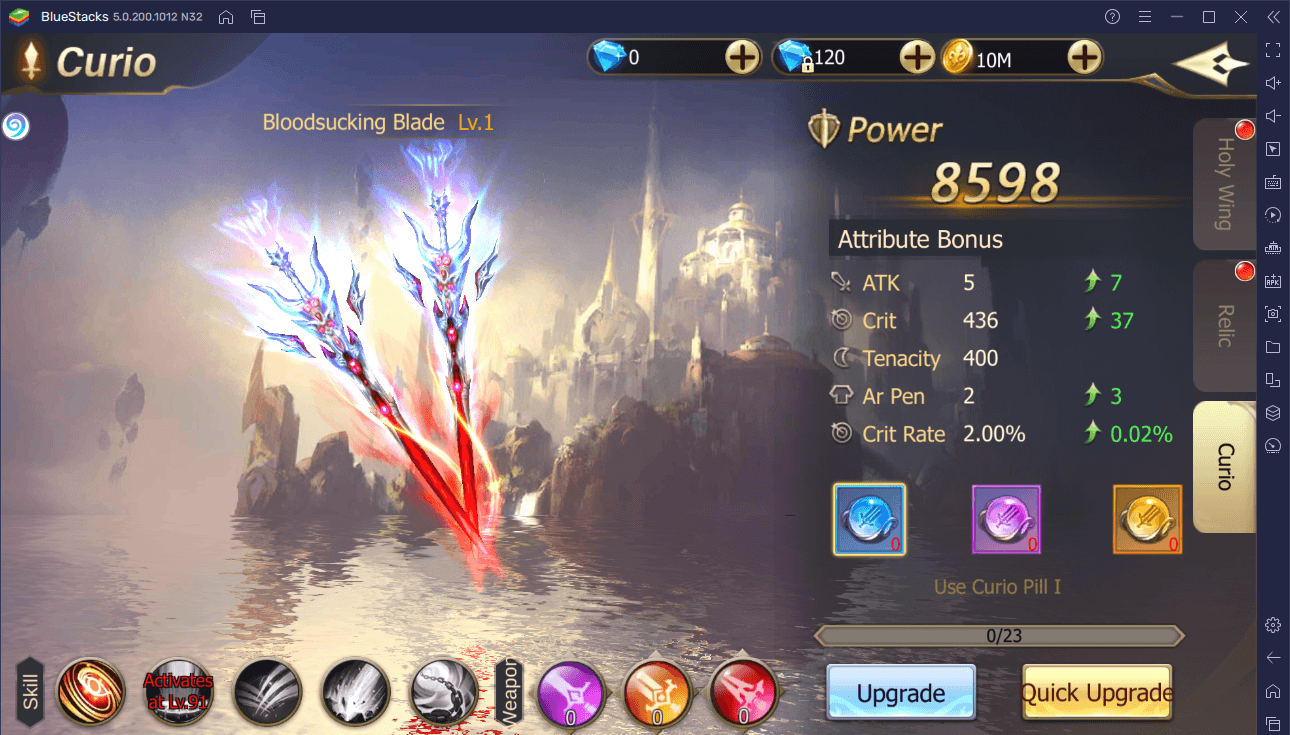 The Curio is a combination of both the Holy Wing and the Relic in terms of the bonuses that it gives out. It can be upgraded with the Curio Pill (also has three versions) and these can be obtained from Top-Up Rewards, which requires diamonds (the game's premium currency).
Runes
Inlaying Runes is another way of applying bonus stat boosts to your character.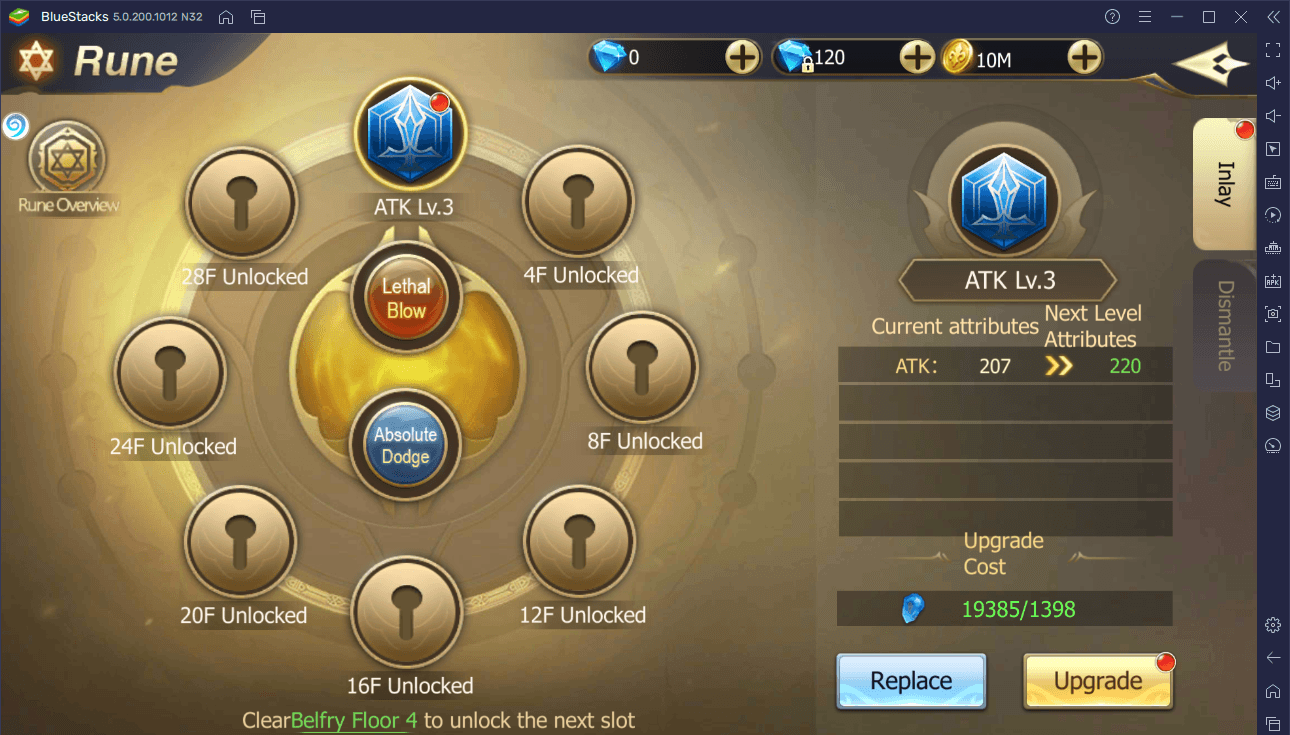 Each rune applies a different stat boost and can also be upgraded with Rune Essence.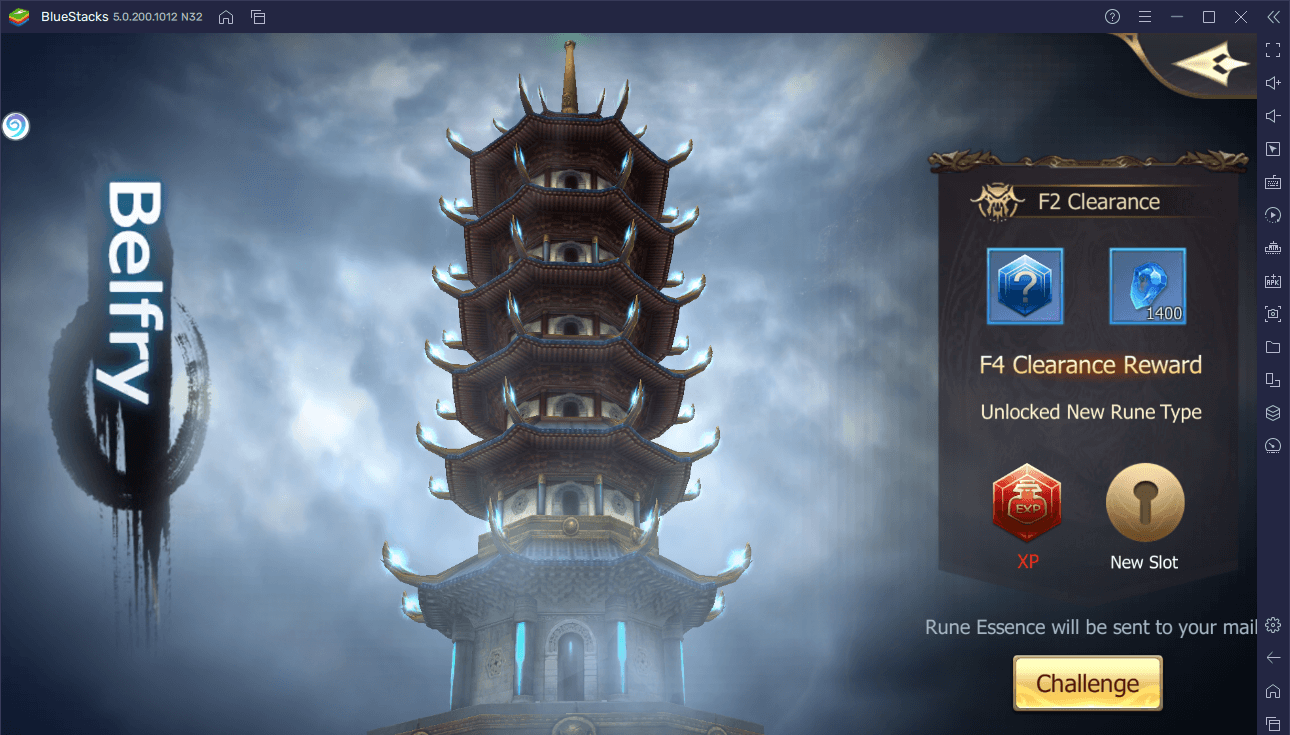 The main method of acquiring Runes, as well as Rune Essence, is by clearing floors of the Belfry (found in Dungeons). Clearing a particular floor of the Belfry will also unlock an additional Rune Slot.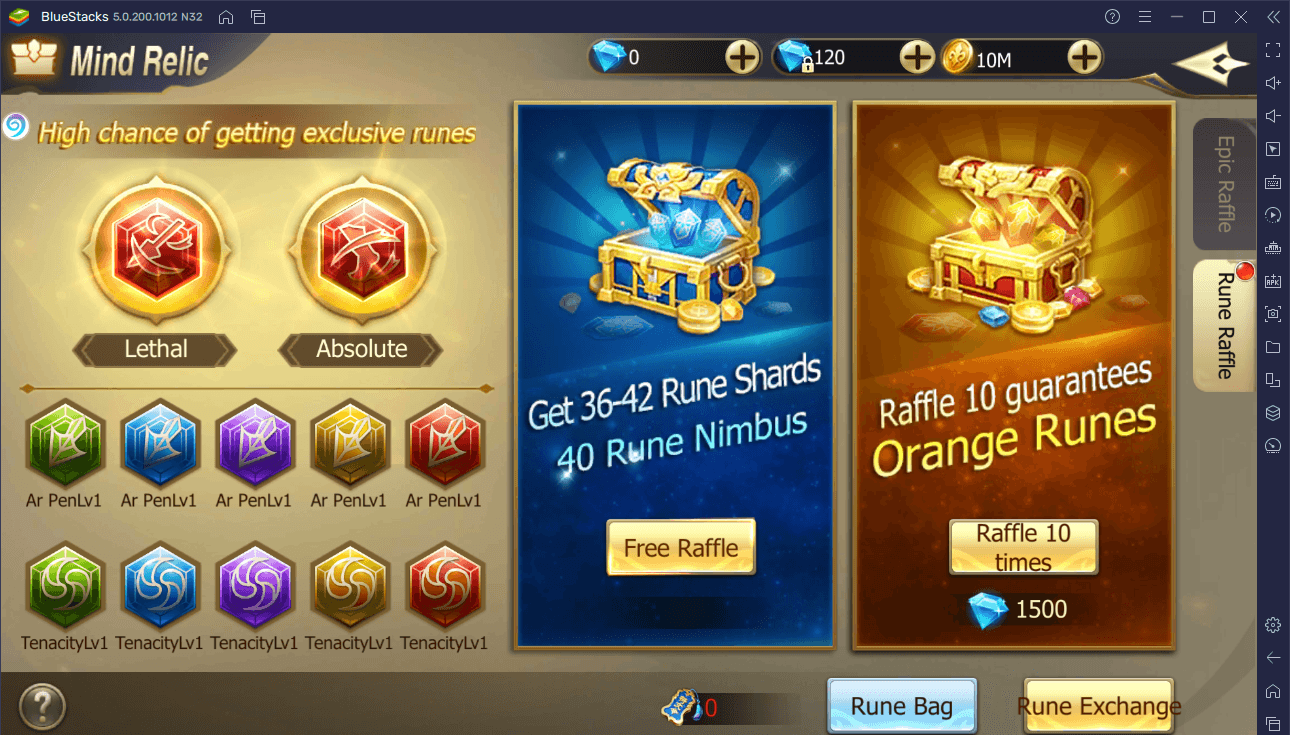 Aside from the Belfry, you can also obtain Runes from the Rune Raffle; however, this entails that you have plenty of spare diamonds that you can spend. You will need to expend 150 diamonds for one raffle draw or 1500 for 10 draws. Fortunately, you are given one free draw each day.