Game Guides
A Guide to Gear in Rebirth of Chaos: Eternal Saga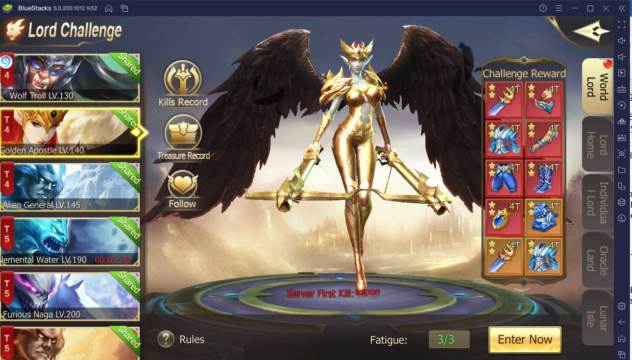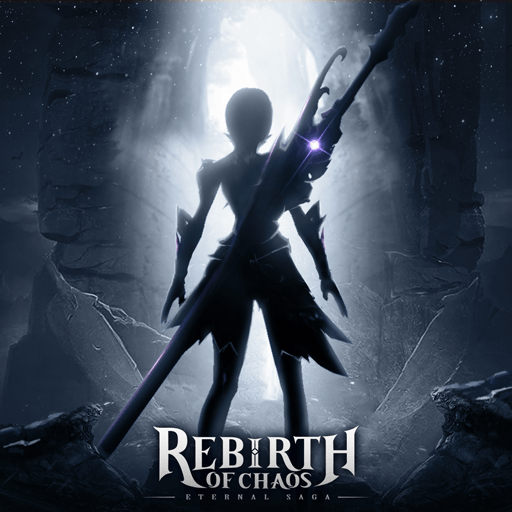 Gear is an integral part of Rebirth of Chaos: Eternal as it is the primary contributor to character upgrades. Throughout your journey, you will obtain plenty of gear items such as a new weapon, armor, and the like. These newly acquired items often have statistically better base stats, but they can be made even better with some methods that will be this discussed in this guide.
Additionally, we will also be looking at the other ways of acquiring new gear for your character. First off, let us talk about the gear itself and how they can be upgraded – or rather enhanced.
Enhancing Gear with Gold
Your character can equip up to six gear items and each item is responsible for boosting particular character stat. The names of the items can vary but generally these are the six categories of gear items available: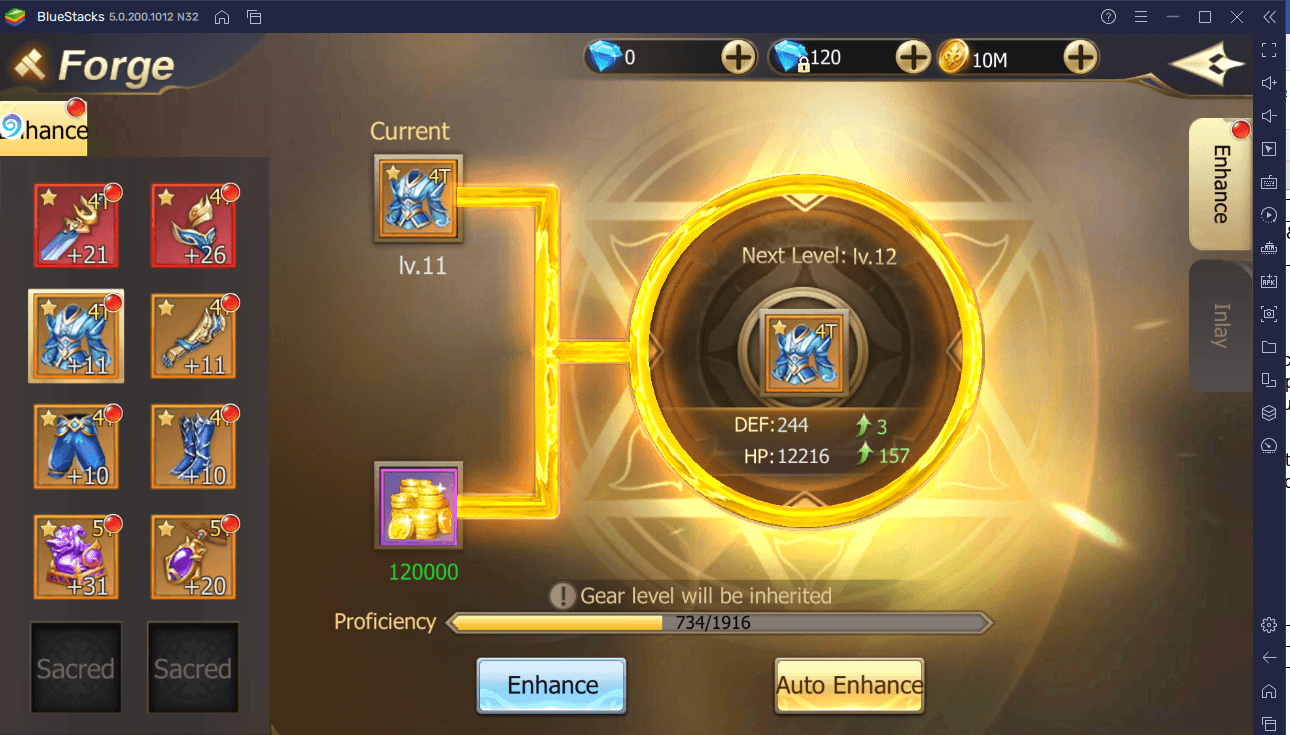 | | | |
| --- | --- | --- |
| Gear Item | Example | Bonus Stats |
| Weapon | Delta Illusion Dagger | ATK, AR Pen |
| Headwear | Delta Spirit Helmet | DEF, HP |
| Upper Armor | Delta Spirit Robe | DEF, HP |
| Bracers | Delta Spirit Bracers | DEF, HP |
| Lower Armor | Delta Spirit Cuisses | DEF, HP |
| Footwear | Delta Spirit Boots | DEF, HP |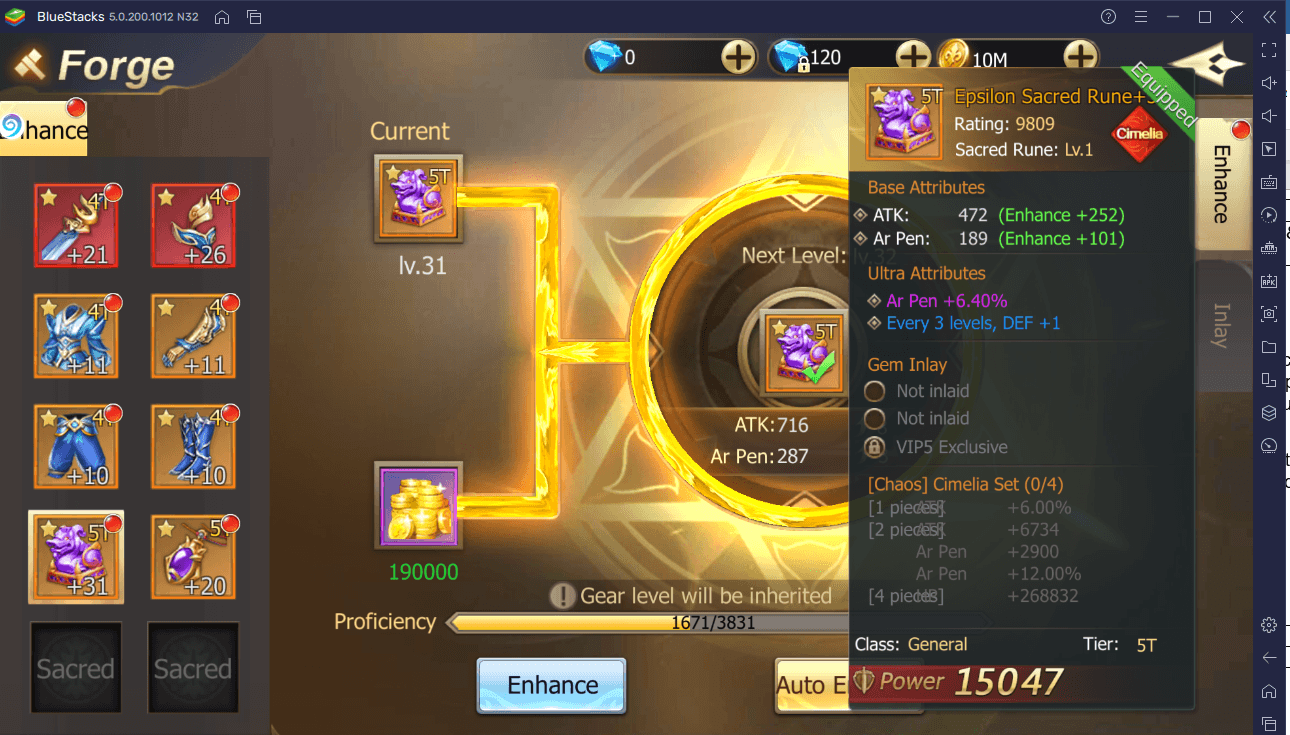 There is also an additional set of gear called sacred items. Examples of these items are the Sacred Rune and the Sacred Pendant. Like the weapon, they boost your character's ATK and AR Pen stats.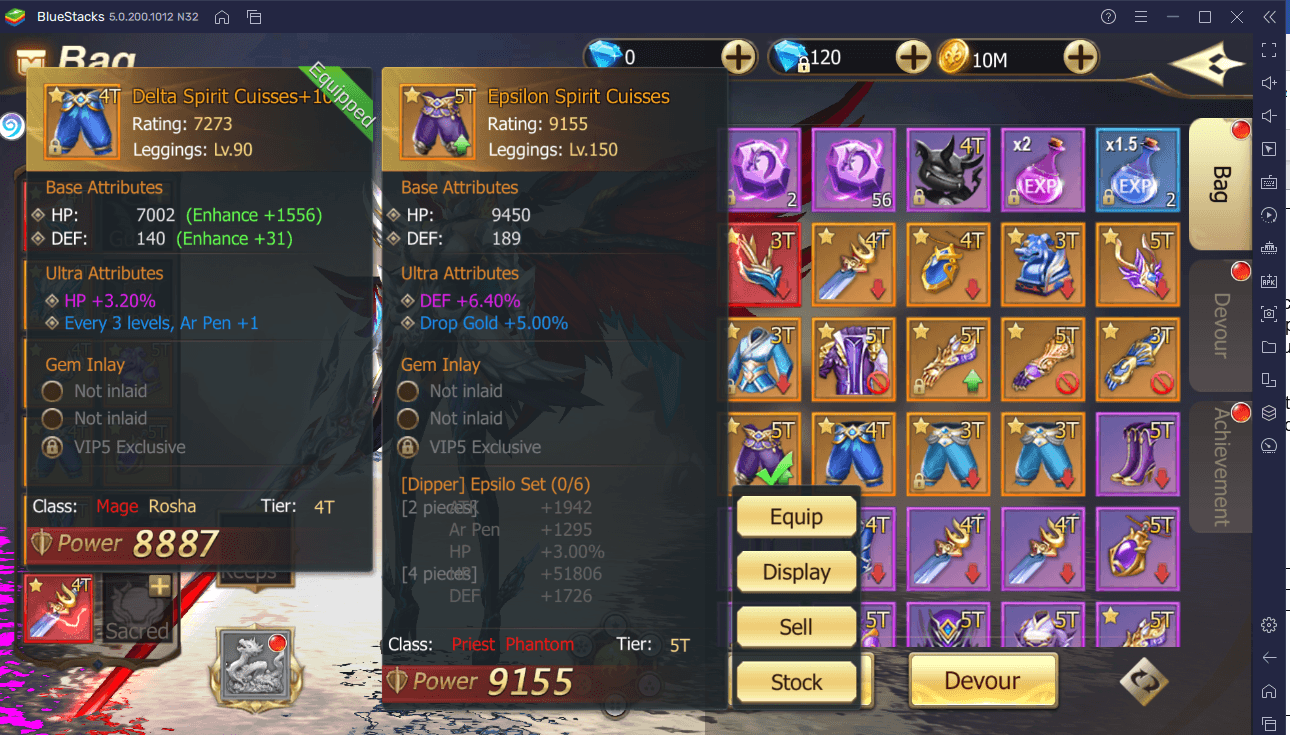 Not every gear that you unlock in the game can be equipped by your character. You have to make sure that the gear item is compatible with your character. To know if it's compatible, click on Bag, click on a gear item, and then look for the 'Class' at the bottom of the info page. If the class matches your character, then it is compatible with them; otherwise, they are prohibited from using it.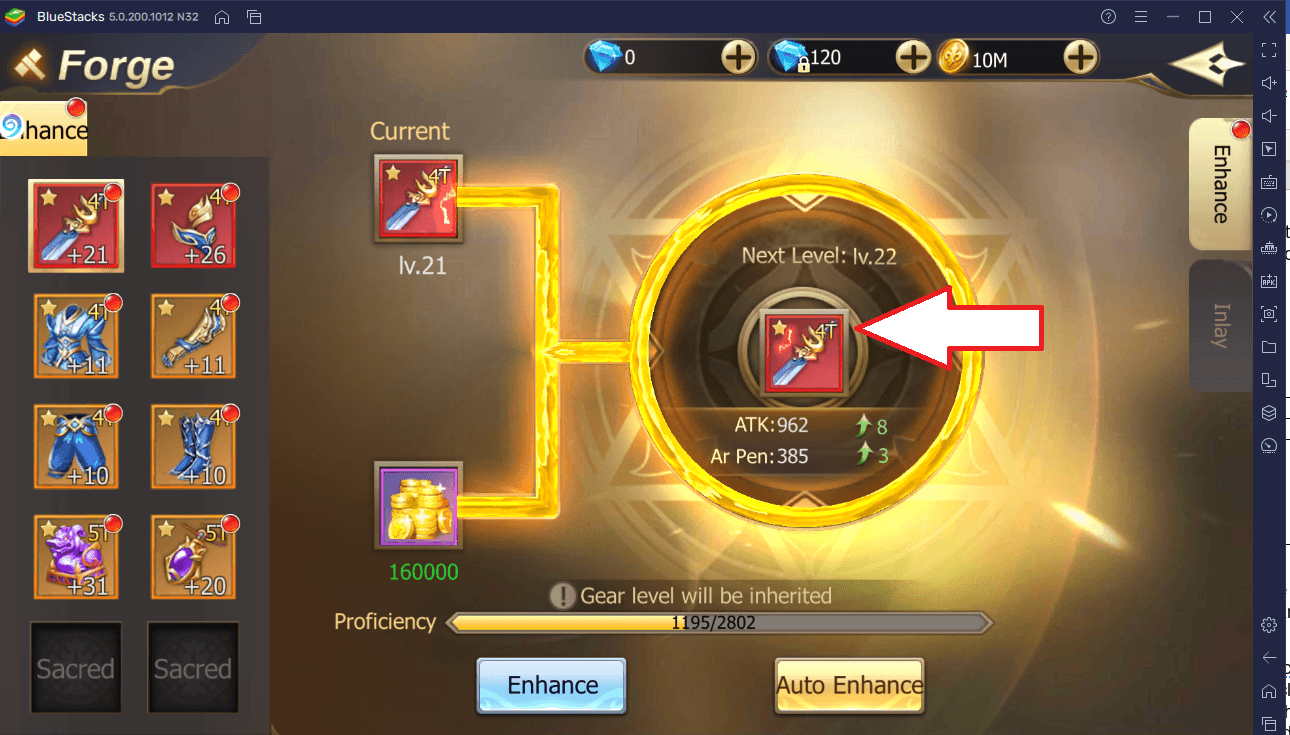 An important thing to note about gear is that they come in different tiers. The tier of a gear item is indicated on the top-right side of their icon. For instance, the Delta Illusion Dagger in the image above has a tier of 4T (or simply Tier 4). In general, a higher tier means that that particular gear item has significantly better base stats than lower-tier ones. These better base stats will be compounded when you enhance the said gear items.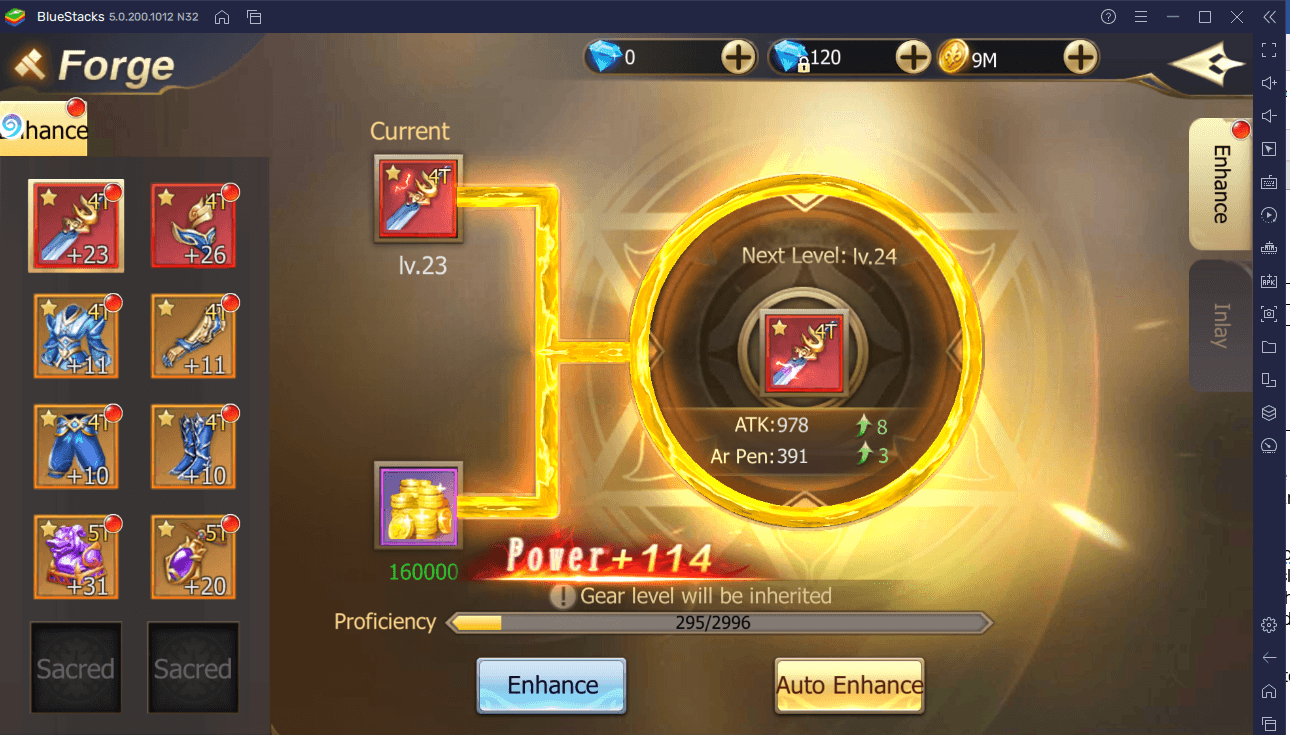 Enhancing is the simple way of incrementing the stats of the gear item. Gold is used to enhance an item and more gold is required as you keep enhancing the item to higher levels. Do note that the tier of the gear item dictates its level cap. For instance, 3T items can only be levelled up until Level 10.
Inlaying
Upgrading gear is not only limited to spending gold on enhancements. You can further give bonuses to your gear items by inlaying them with gems.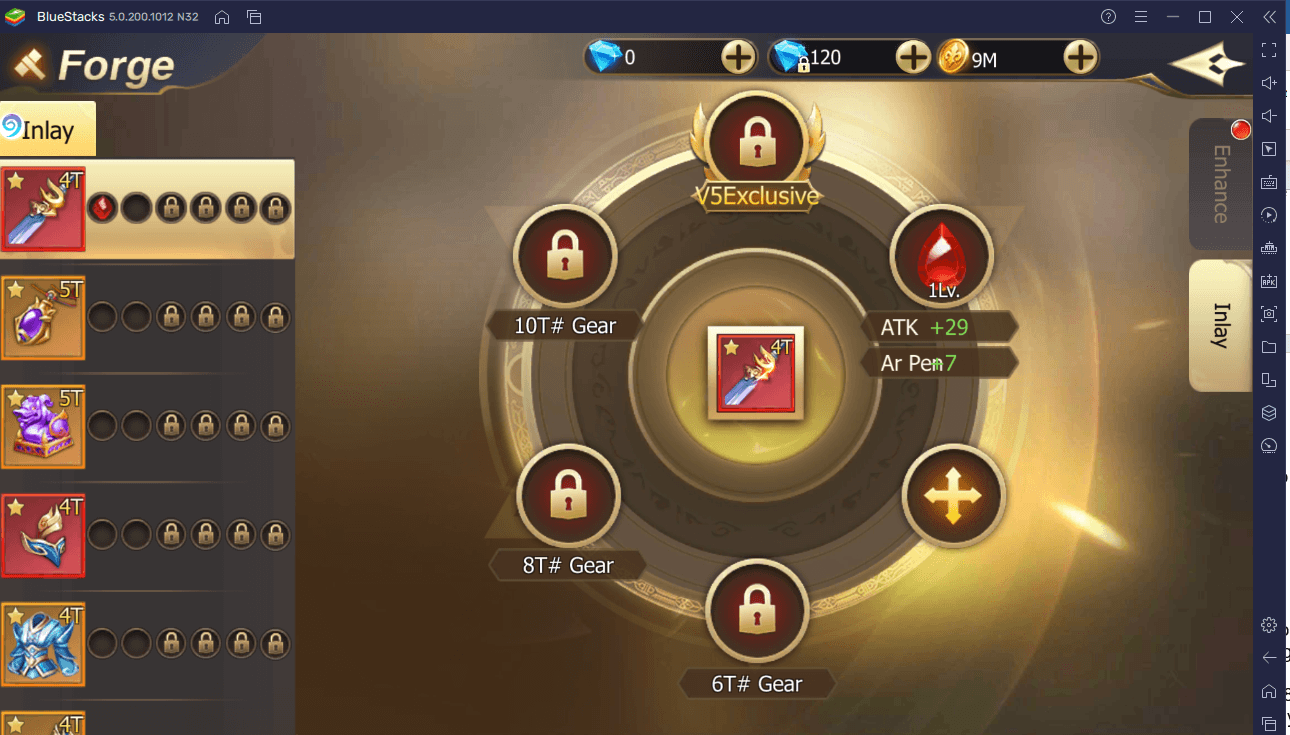 Gear items that bolster ATK and AR Pen stats only accept red rubies while the ones that bolster DEF and HP stats only accept blue sapphires. The amount of gems that you can inlay in a gear item depends on the its tier. To unlock a second gem slot, the gear item needs to be 4T; to unlock a third slot, the item needs to be 6T; to unlock the fourth slot, the items needs to be 8T, to unlock the fifth slot, the item needs to be 10T; and lastly, the sixth slot can be acquired if you have V5Exclusive.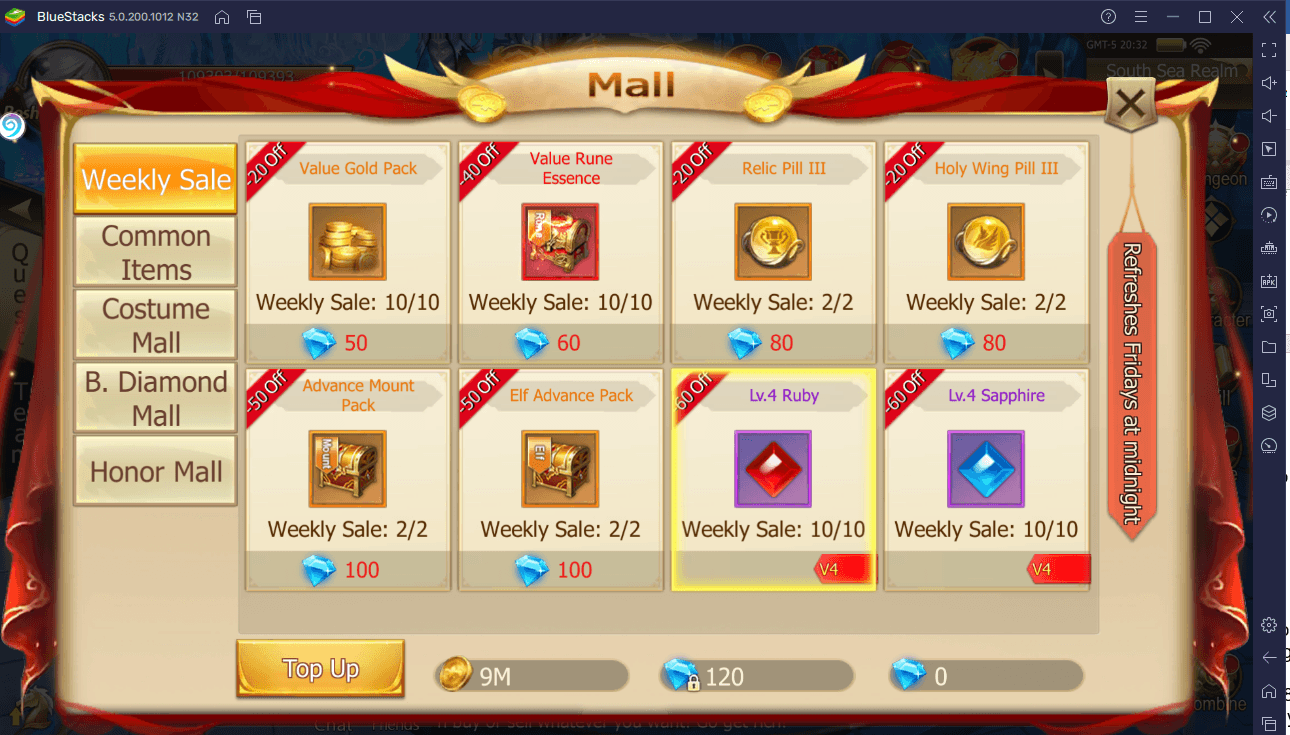 Gems can be acquired by purchasing them in the Mall (in-game shop) with diamonds. Level 1 gems cost 20 diamonds, Level 2 gems cost 60 diamonds, and Level 3 gems cost 180 diamonds.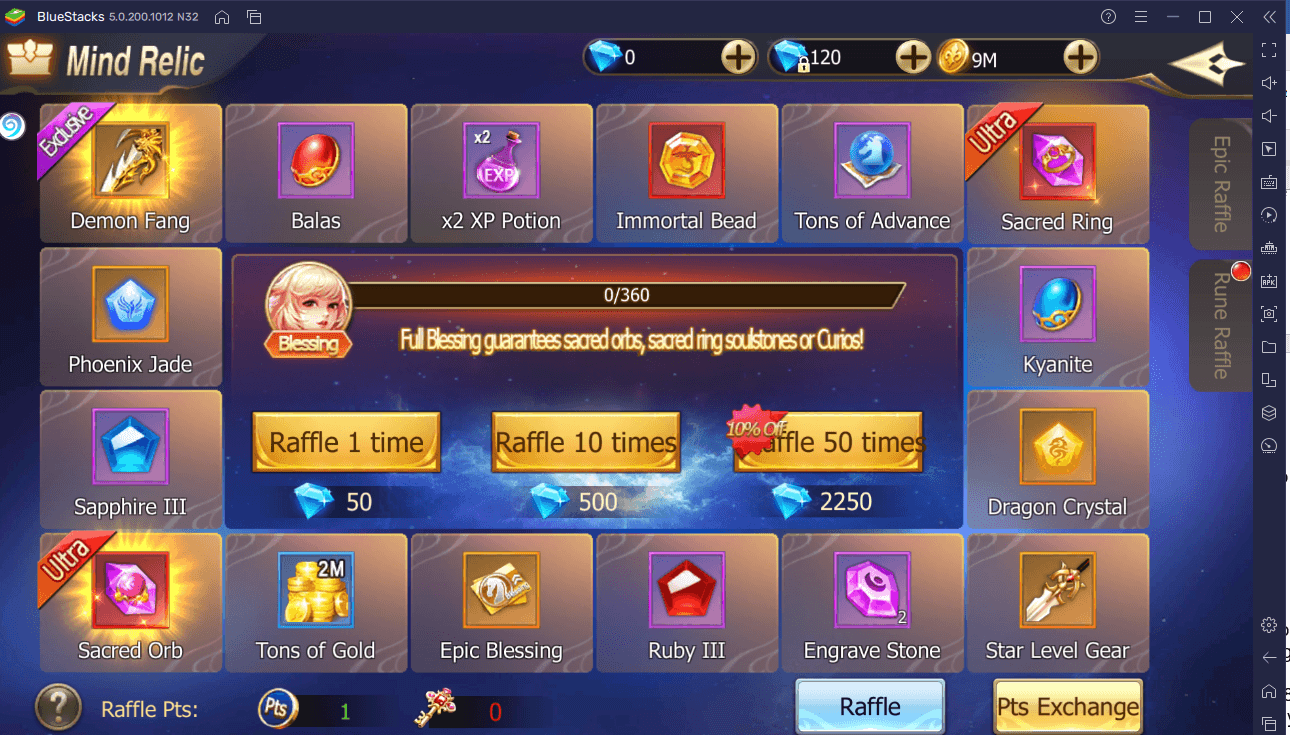 Alternatively, you can also obtain them from the Epic Raffle. One raffle draw costs 20 diamonds, 10 draws cost 200 diamonds, and 50 draws cost 900. All of the winnings from the raffle will be transferred to the raffle warehouse and you must withdraw them first before leaving the raffle.
Gear Sets
Gear items are not just items in and of themselves. They can actually be parts of a gear set.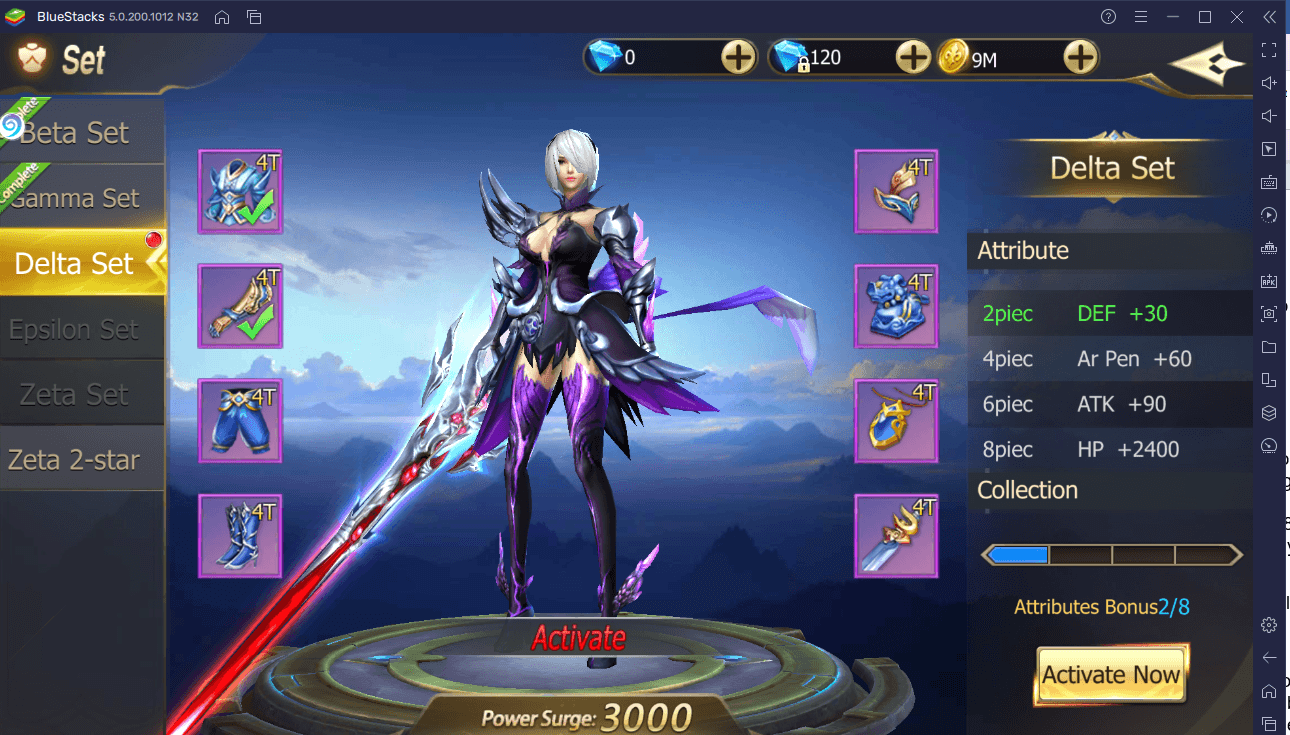 Equipping a certain number of gear items – with the same prefixed name – allows you to activate an attribute bonus. For instance, equipping two gear items belong to the Delta Set (these are items with the prefixed name 'Delta Spirit') will give an additional 30 points to DEF. Equipping four items will increment 60 points to AR Pen. Note that the attribute bonuses are not automatic as you will need to click 'Activate Now' to initiate the bonuses.
Once you complete a gear set, the next set will automatically be unlocked and the process repeats.
Where to Obtain More Gear
You can obtain new gear from loot drops gained by eliminating enemies while idling. The only problem with this is that the drops have a very low chance of occurring, so it becomes very inefficient and unreliable at the end of the day. There are much better and faster ways to gain new gear:
Challenging World Lords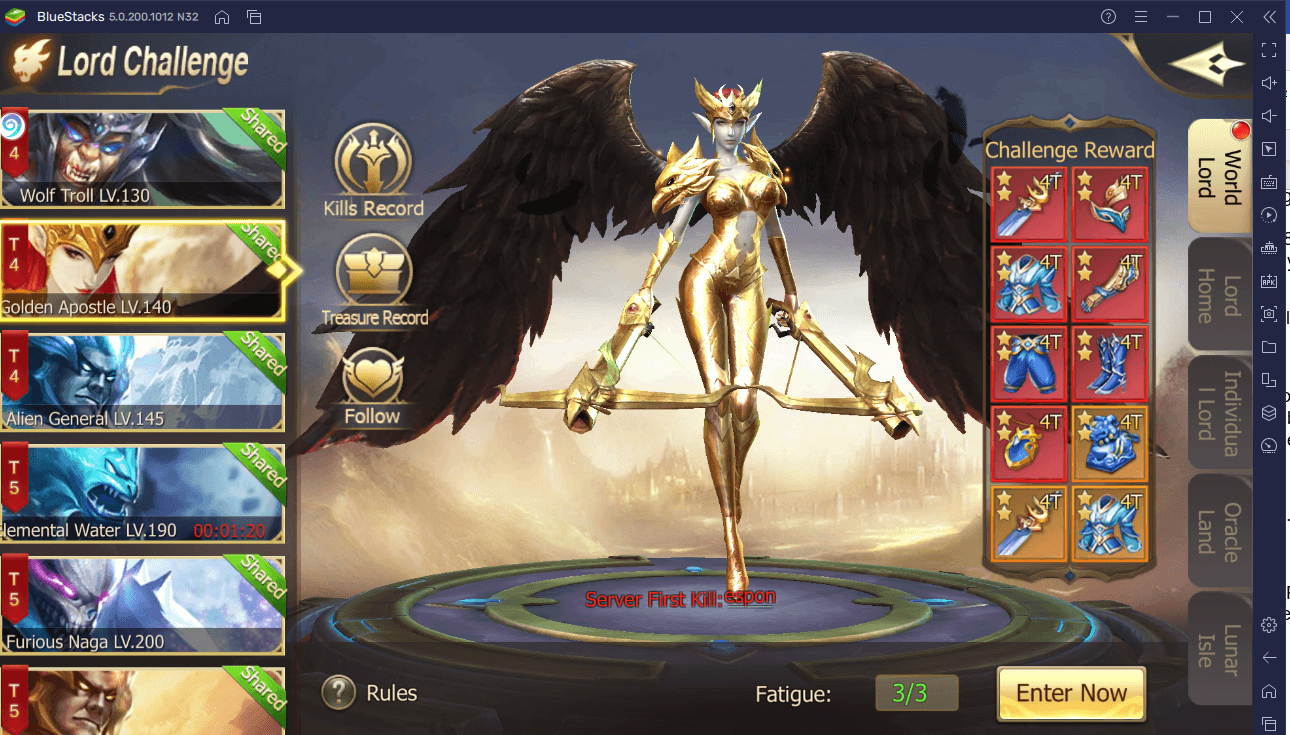 World Lords are very tough and intimidating bosses that can take a long time to kill, especially when you are fighting them alone. You have three chances to fight them (each chance is called 'fatigues'). Other players can also fight the same boss which will make the fight itself shorter and easier; however, this increases the competition. The player who deals the most damage to the boss wins all of the rewards so you have to make sure that you are the strongest of the bunch.
Blood Array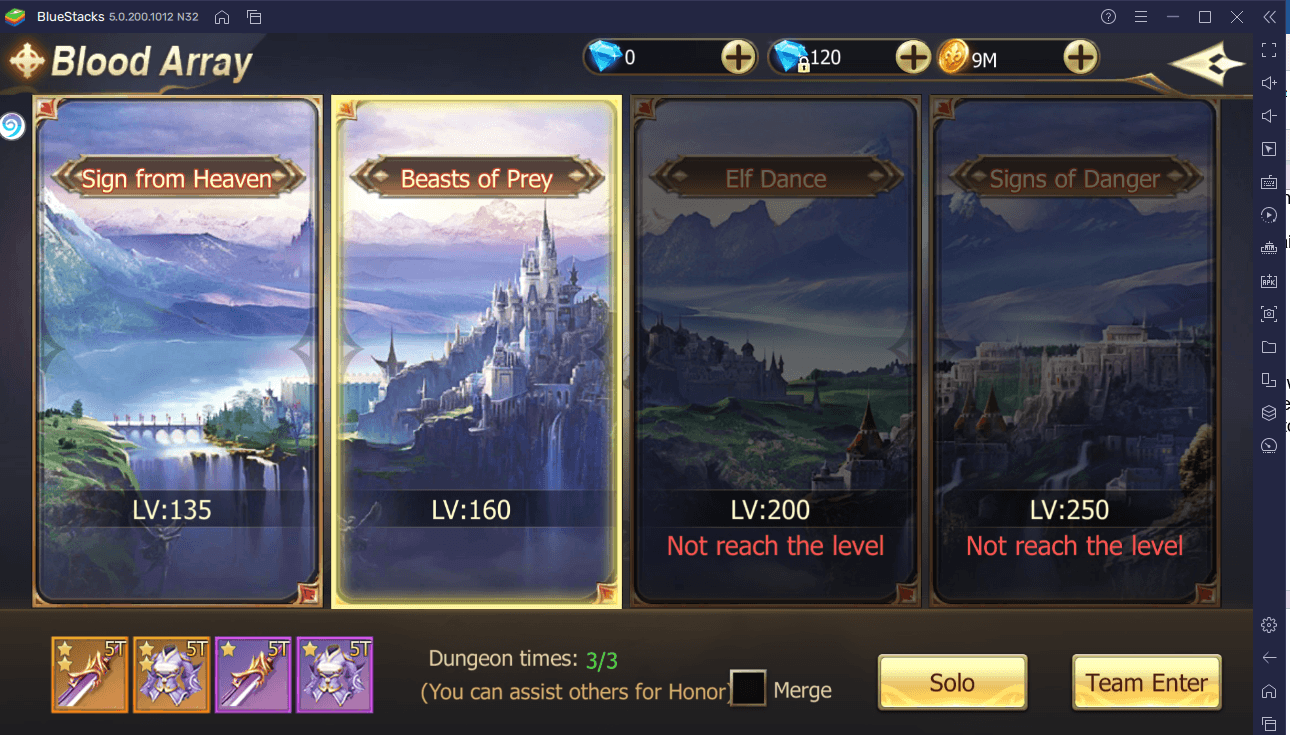 In Blood Array, you are given 30 minutes to defeat several waves of enemies and eventually fight a boss at the end. Like World Lords, you are also given three chances to fight in the Blood Array. You unlock more Blood Array stages as you level up.
Level Rush Reward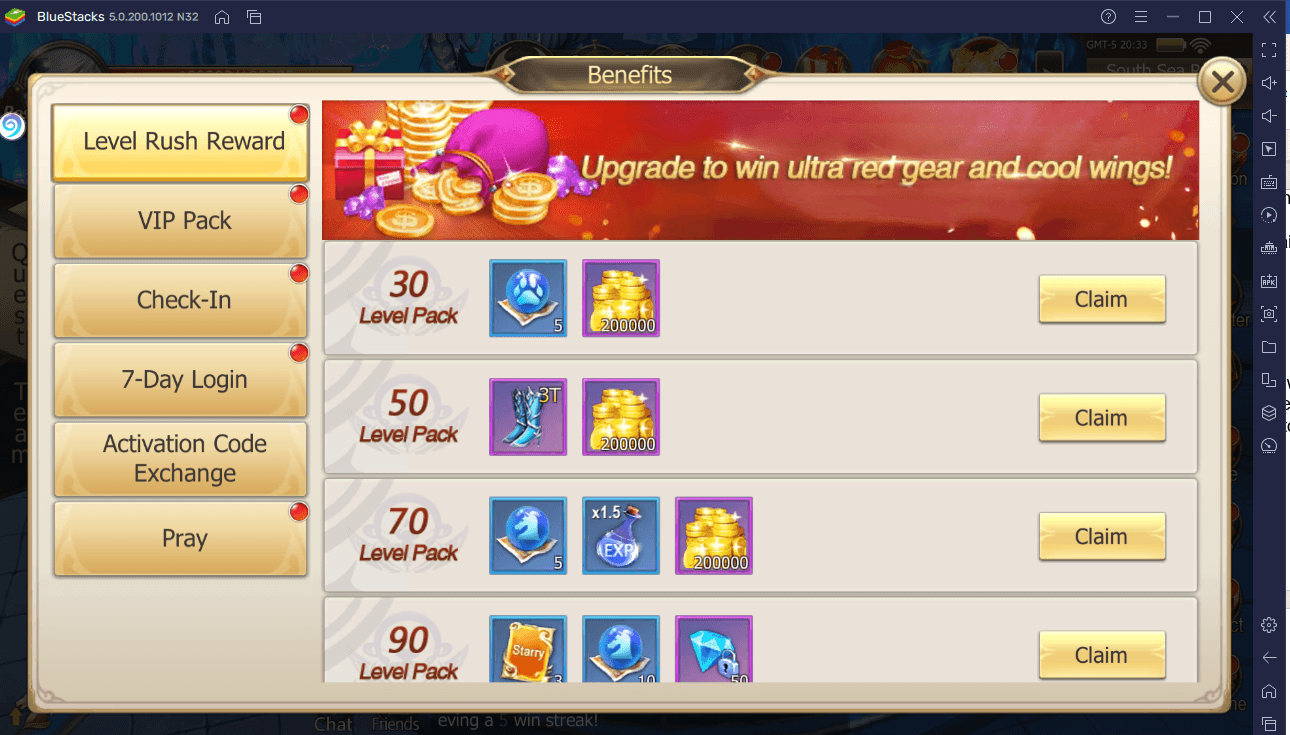 The game rewards you whenever your character reaches a certain level and some of these rewards can include gear items. You can claim these rewards by clicking on 'Benefits' and then clicking the 'Level Rush Reward' tab.
Beast Bloodline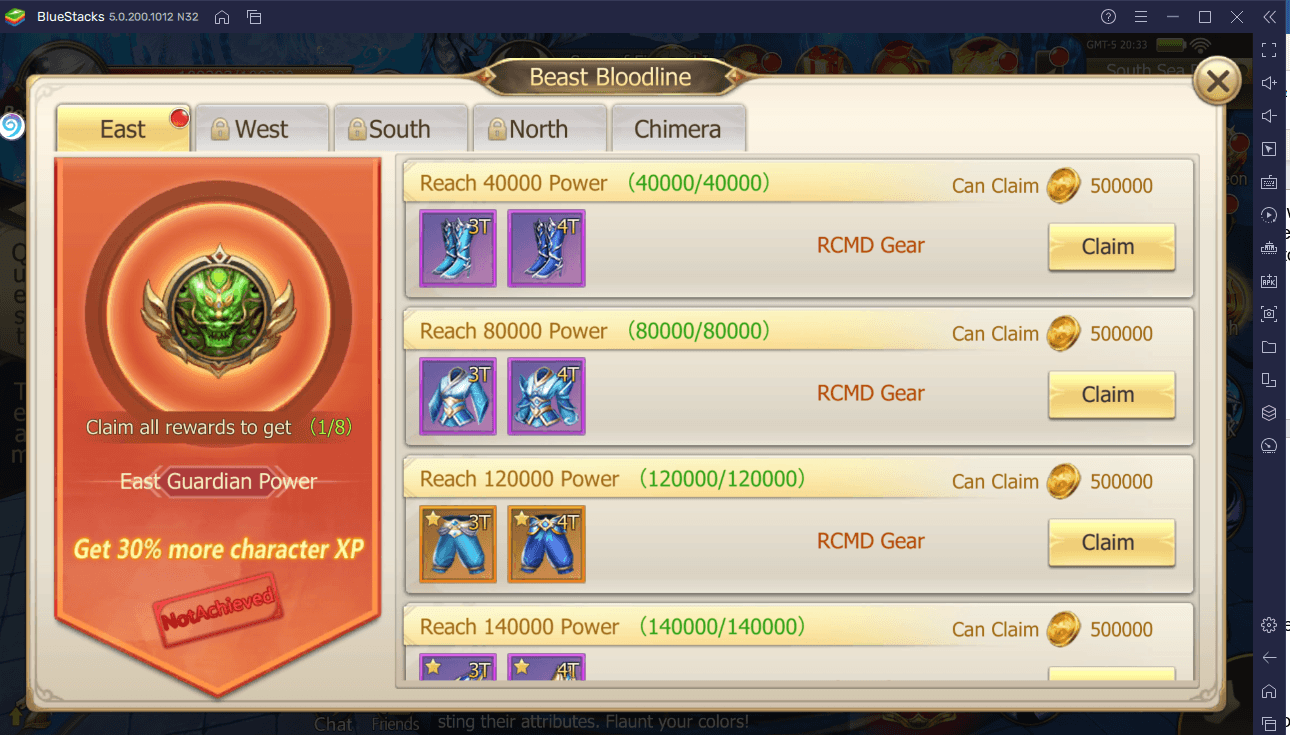 Similar to Level Rush Reward, the game rewards you when your character's power reaches a specific amount. Power is essentially a large number that generalizes your character's strength based on the gear that they are equipping and the like.
Upon reaching a certain amount of power and claiming the reward associated with it, you progress through the Beast Bloodline. When you complete all of the objectives of the bloodline, you not only advance to the next but you also gain a boost such as 30% EXP boost and 20% DMG.