Game Guides
Rise of Kingdoms – Common Account Issues When Playing on Multiple Devices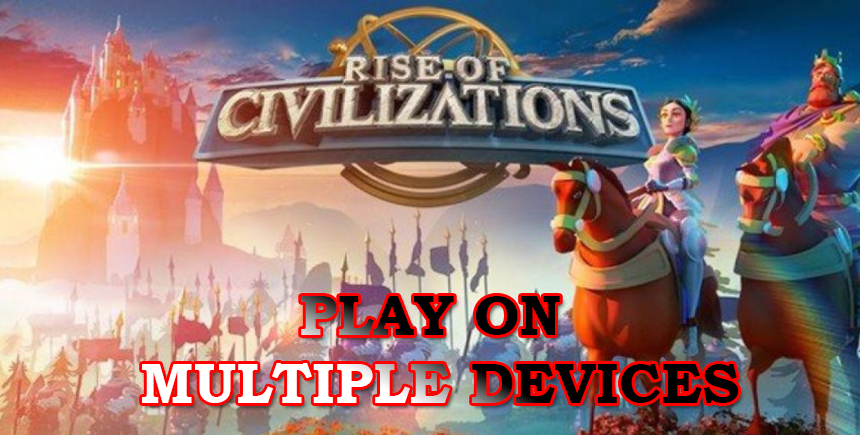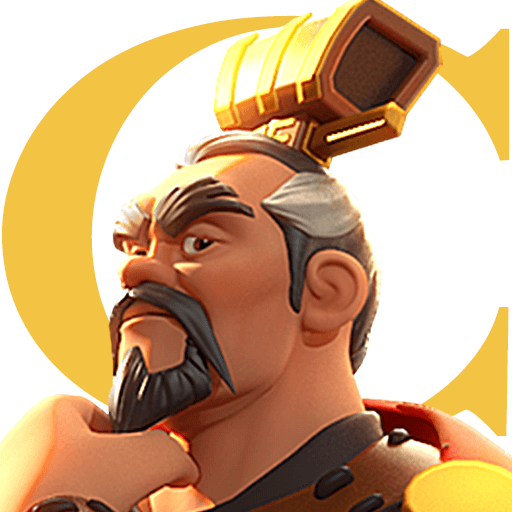 We've already addressed multiple times how playing your favorite mobile games is much better on BlueStacks than on your phone. Not only do you get to enjoy these titles on PC with much better hardware, but you also have access to a number of tools such as the Keymapping Tool, the Macro Recorder, and the Instance Manager, among others, all of which are designed to greatly improve your gaming experience.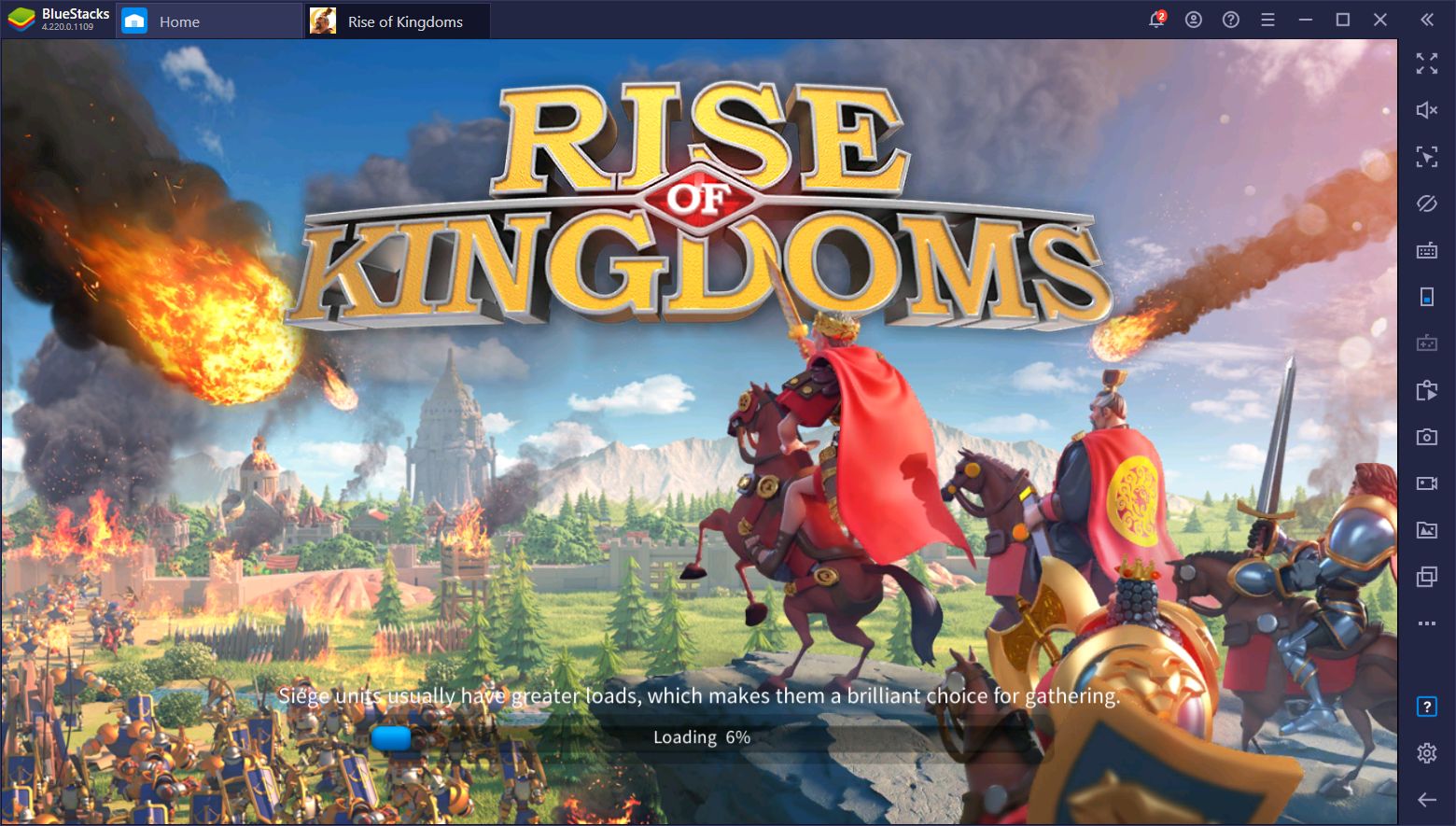 However we can't deny that your phone still reigns supreme when it comes to convenience and portability. Nothing comes quite as close to phones when you want to game on-the-go while out and about. Maybe you have some downtime at work and want a quick match of Free Fire. Or maybe you're in the middle of a war in Rise of Kingdoms and need to constantly check your town in case you're attacked. Many situations demand your attention at odd moments in which you don't have access to your PC, and this is when your phone comes in handy.
However, when it comes to Rise of Kingdoms, gaming on both BlueStacks and on your phone simultaneously means that you have to learn how to manage your Google accounts in order to access the same town and synchronize your progress across both platforms. While this process is fairly straightforward, here are some of the most common issues that users run into when playing RoK on both BlueStacks and PC at the same time.
How to open the same RoK account in BlueStacks if I have an Android phone?
If you've been playing on your Android phone and want to switch to playing on BlueStacks, you just need to follow a few simple steps.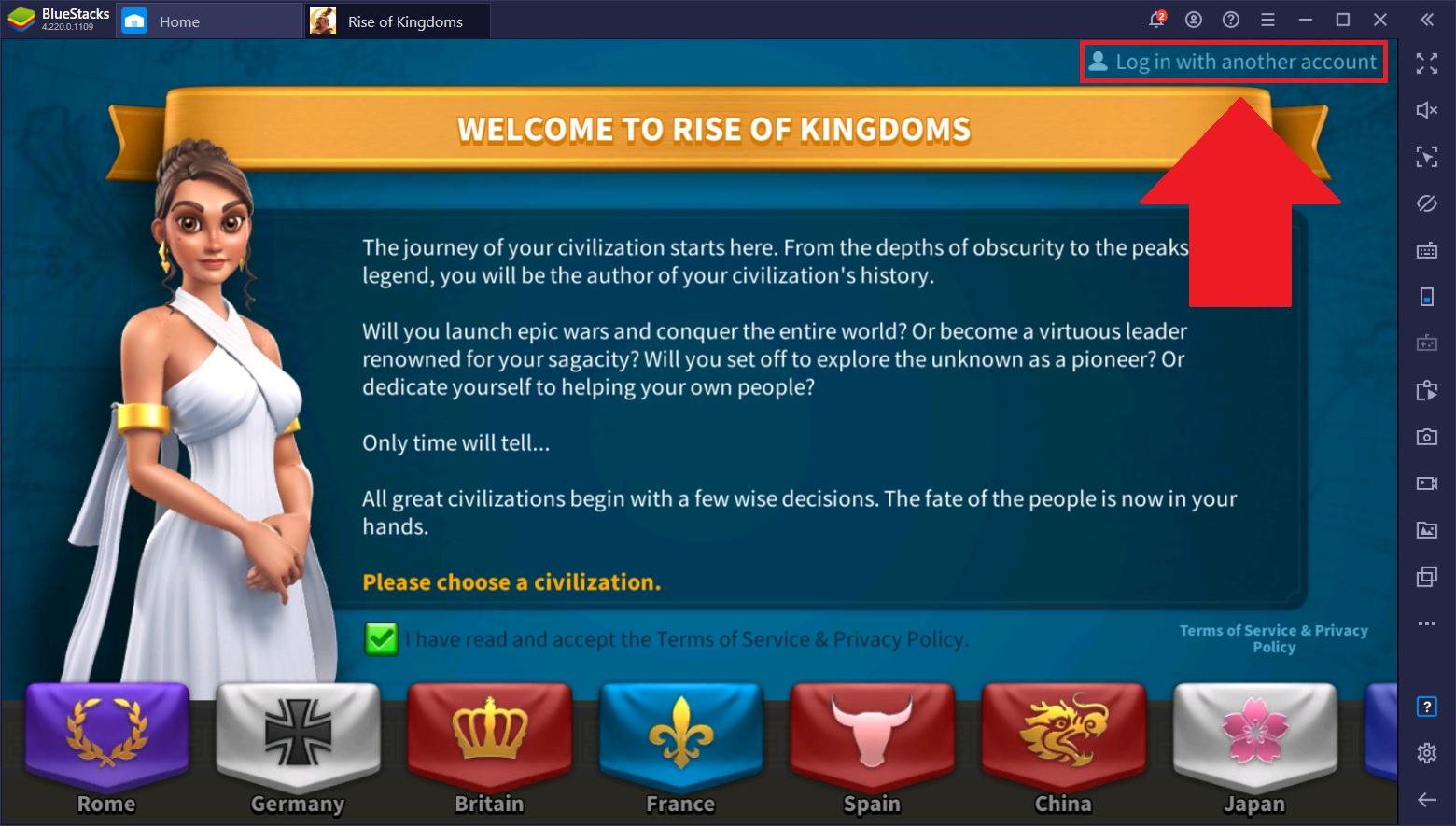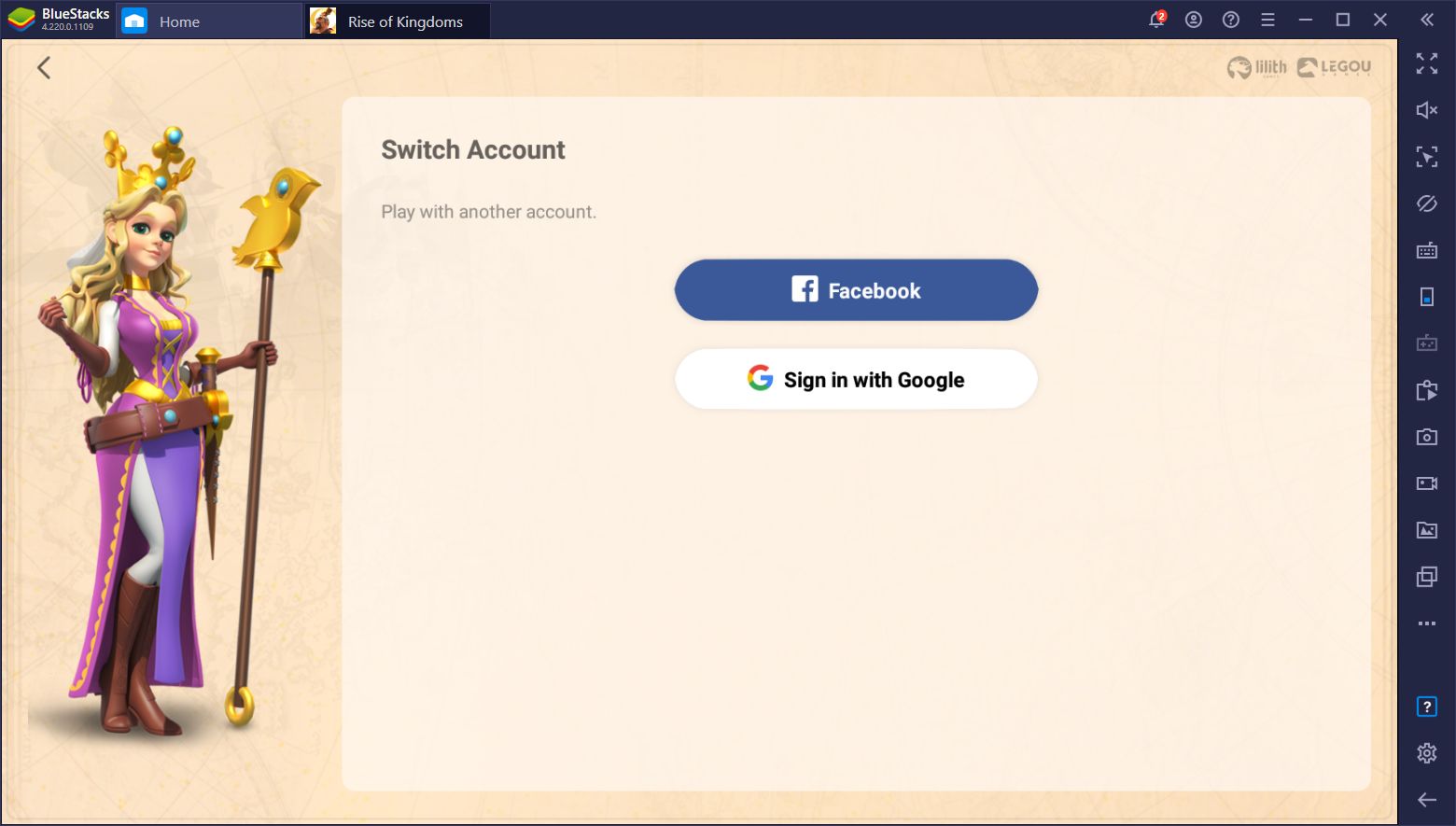 When you first boot up the game on BlueStacks, you'll likely find the intro screen where you choose your Civilization. If you already have an account on your phone, you can simply click on the text on the upper right corner to skip all the introductions and directly log into the game with your existing account. In this manner, all the process you've achieved on your phone will be synced onto your BlueStacks, and you'll be able to continue playing there.
How to switch accounts if I have multiple different Google Play accounts?
It might be the case that you play Rise of Kingdoms on multiple accounts. Maybe you have a few farm towns or are so good at the game that you can successfully manage multiple cities at the same time. However, this means that you'll have to alternate back and forth between all your Google accounts to access all your different towns.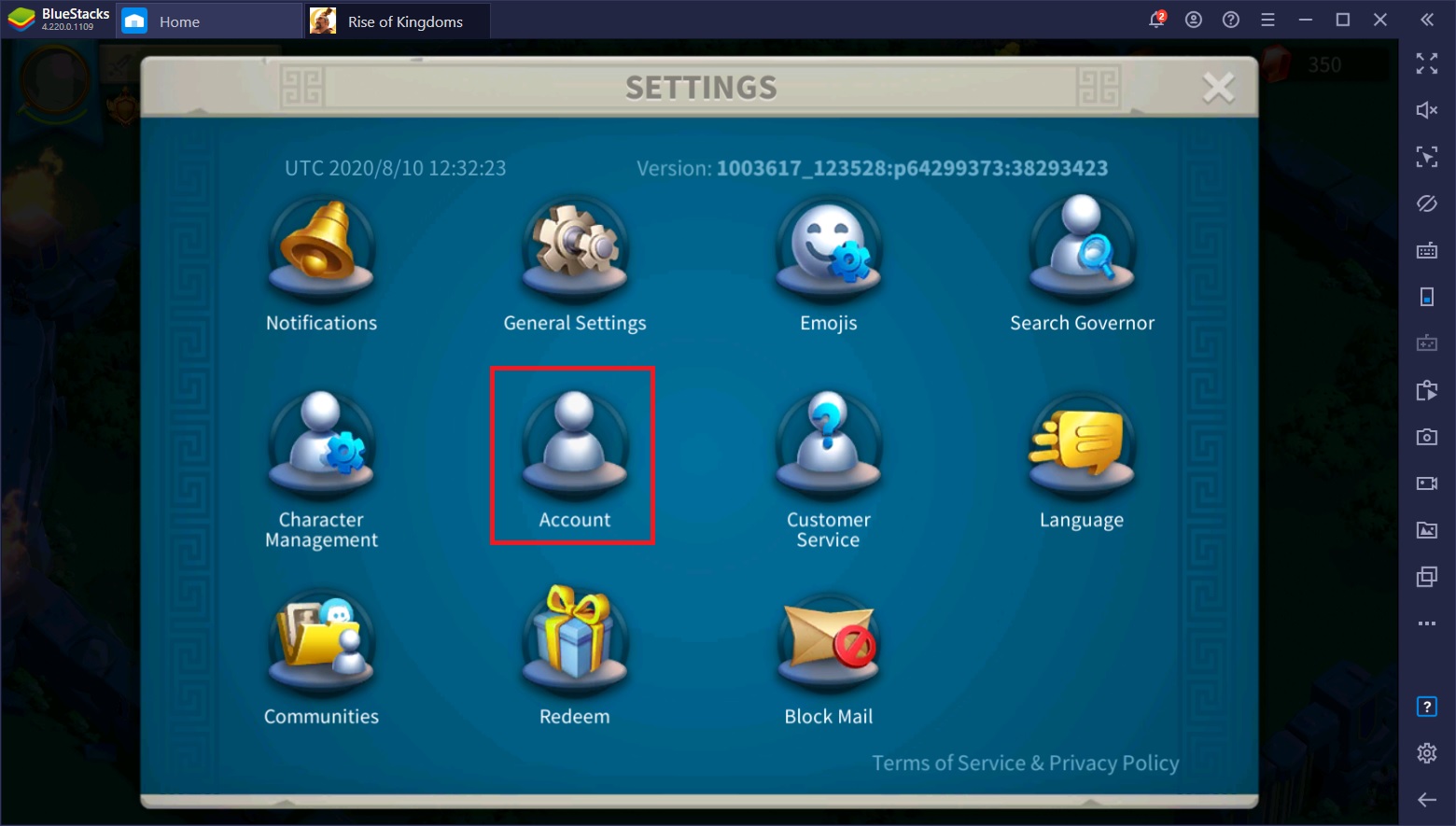 You can switch accounts in Rise of Kingdoms through the in-game settings menu. In this screen, you must choose the "Account" option, in which you will find the button for switching your currently active Google account to another one. Keep in mind that the account you want to switch to must first be registered on your BlueStacks client. You can register new Google accounts to your BlueStacks through the Android settings menu in the home screen, which we'll explain further down in question #4.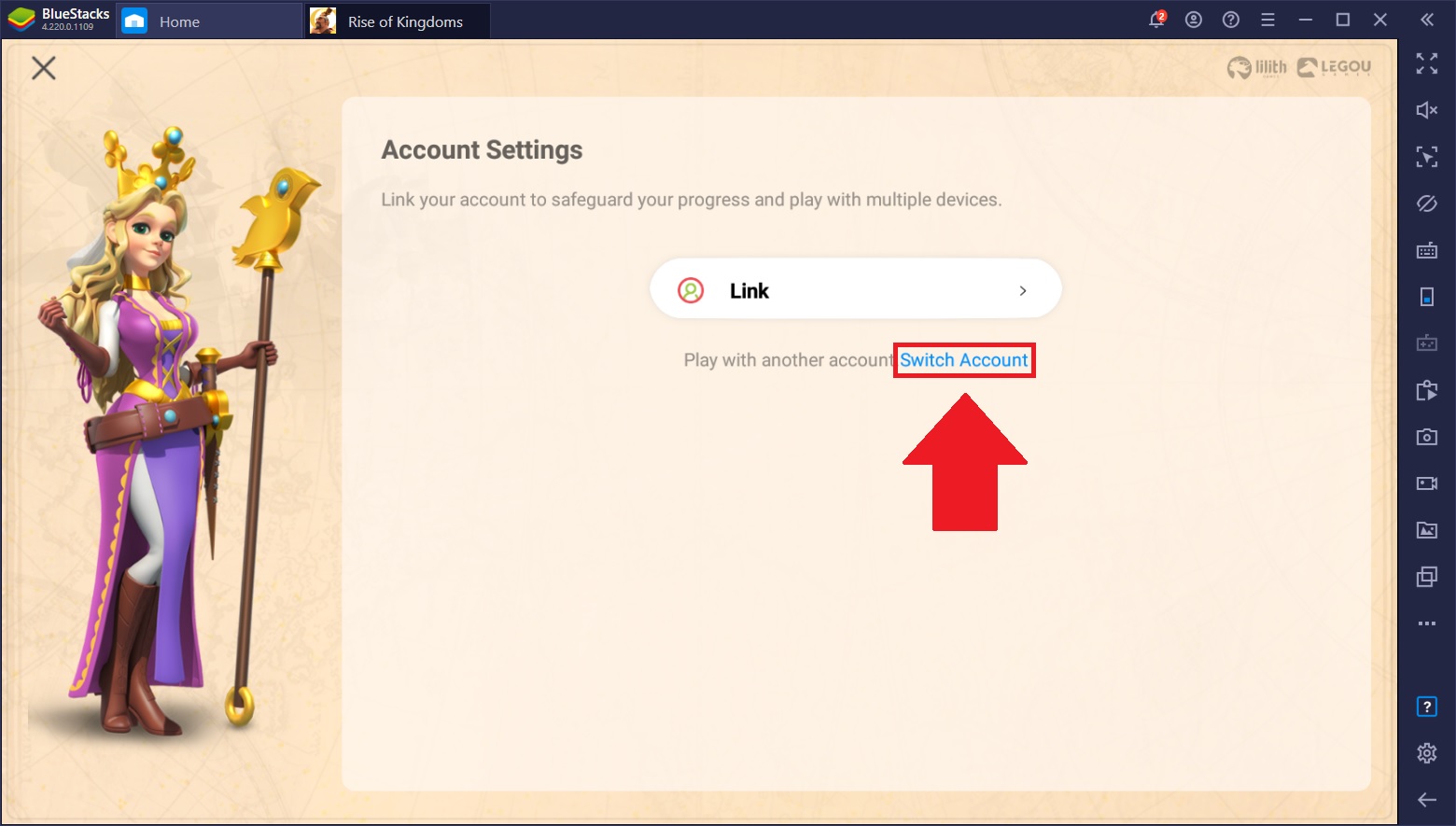 Alternatively, if you're playing Rise of Kingdoms on PC with BlueStacks, there's really no need to switch between your different accounts since you can simply open multiple instances and have all your different cities on screen at the same time.
To do this, all you need to do is open the Instance Manager and create several new instances. Afterward, you will need to synchronize each instance with your different Google accounts, download Rise of Kingdoms from the Play Store in each, and voilá; all your Rise of Kingdoms account open at the same time on one screen, allowing you to play on all of them without ever having to switch accounts again. You can even activate Farm Mode in the Instance Manager to reduce resource consumption while allowing you to have multiple instances open simultaneously.
How to play on BlueStacks if I usually play on iPhone?
If you're playing on an Apple device such as an iPad or iPhone, but have a regular PC, you'll likely run into issues when trying to sync your account since BlueStacks typically only has access to the Play Store. However, if this is the case, you'll want to synchronize your progress on your iPhone to Facebook instead of Apple's service, which will allow you to access your account on any type of device, including BlueStacks.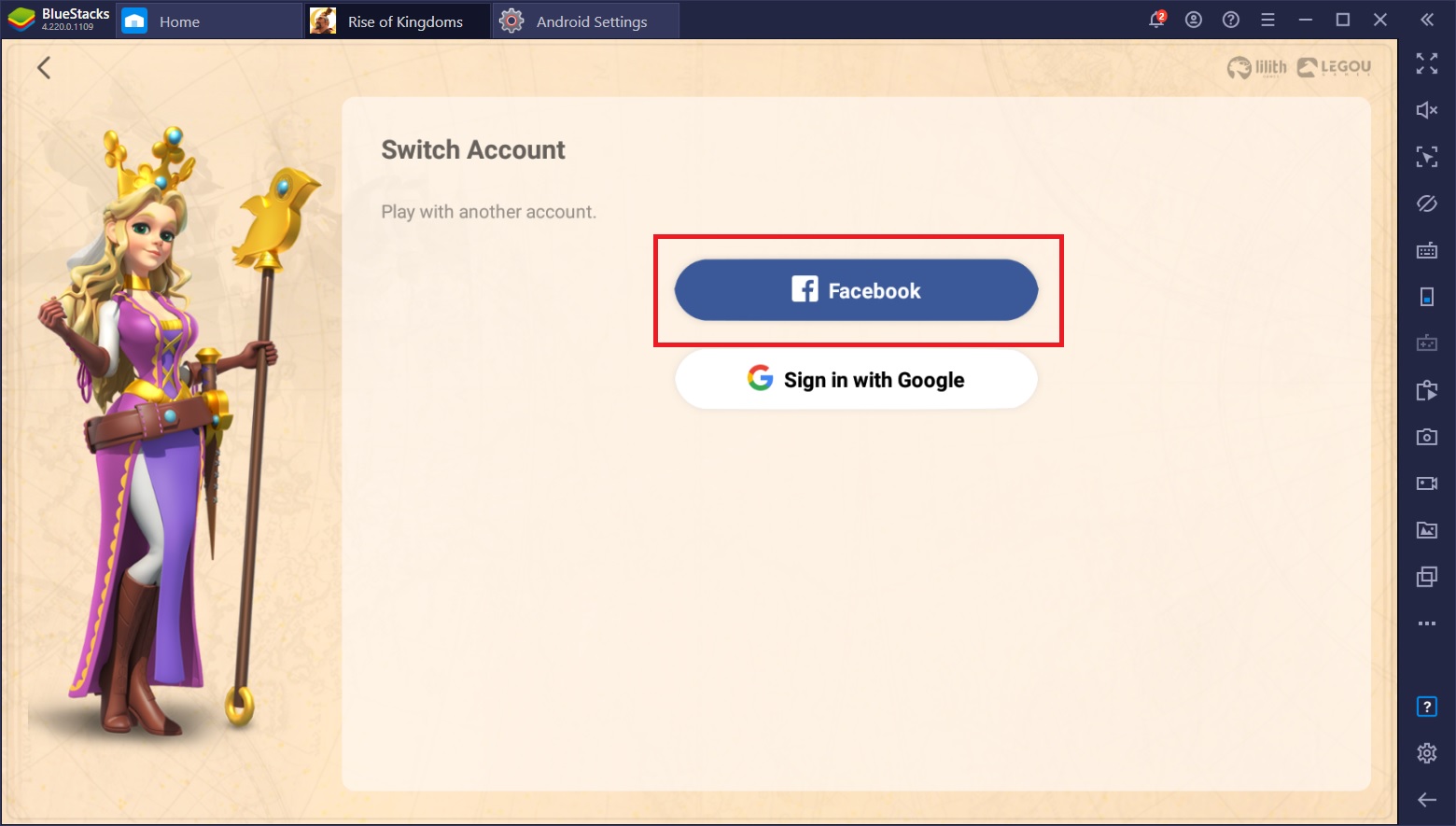 To load your Rise of Kingdoms town from your linked Facebook account, you simply need to follow the same steps as question #1, only instead of loading your progress from Google Play, you must choose Facebook and log into the game with the corresponding credentials.
Can't join the old account of RoK while using BlueStacks for the first time.
A common issue when trying to log into Rise of Kingdoms with an existing Google Play account is that the account in question simply doesn't show up in the dropdown menu when choosing to load your progress. In most cases, this is because you didn't use the correct account in BlueStacks and your progress is saved to a different one. If this is the case, you'll either be prompted to begin a new game or log into a completely different town than what you expected.
In order to correct this issue, you need to add the correct Google account to your BlueStacks client, which is done via the Android settings menu in the home screen.
To access this screen you must click on the "System Apps" container in the home screen, and then on "Android Settings". In this menu, navigate to "Accounts, and then click on "Add account". There, you simply need to add your Google credentials to add the account, and complete the security verification if you have 2-step authentication enabled.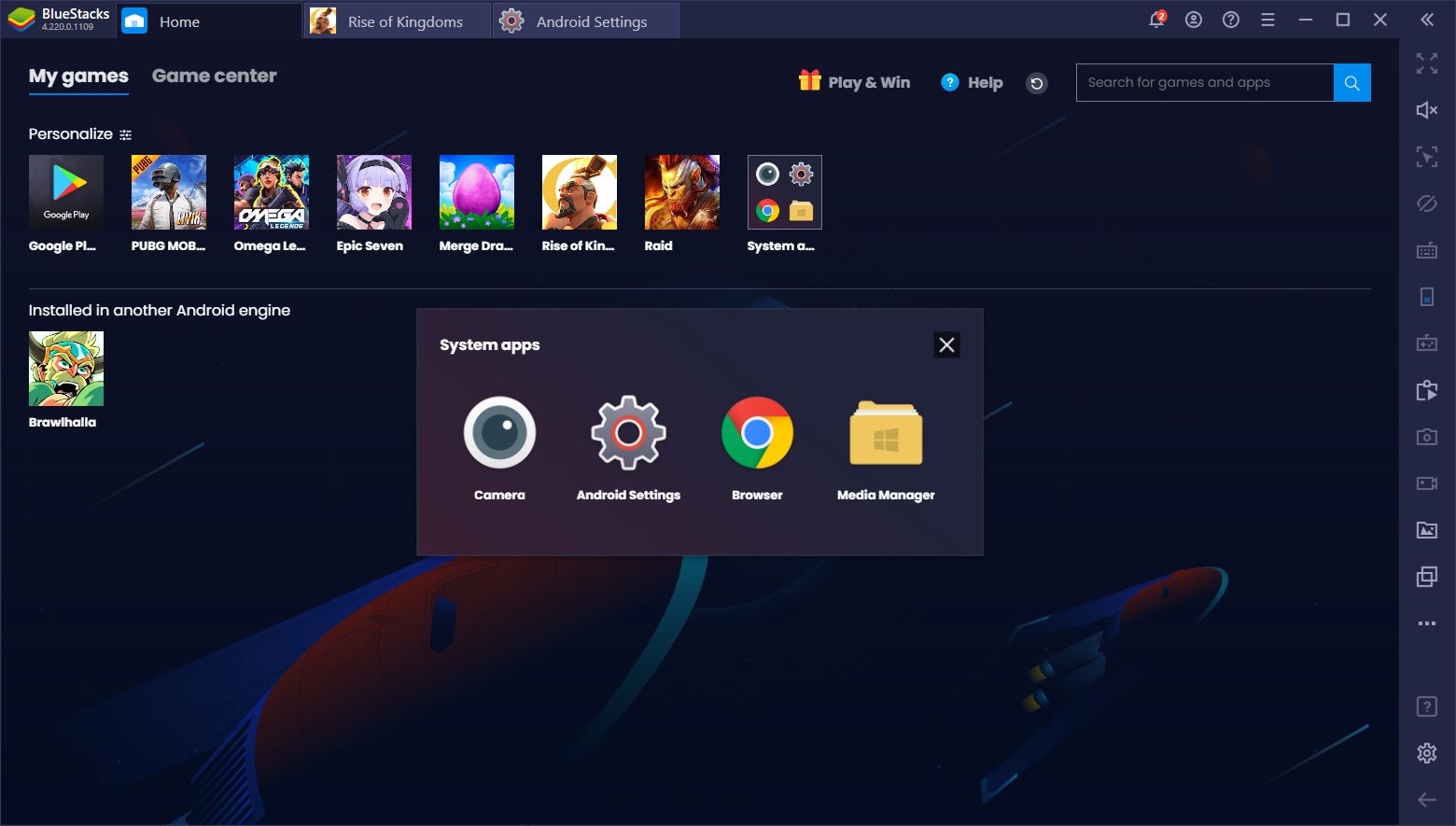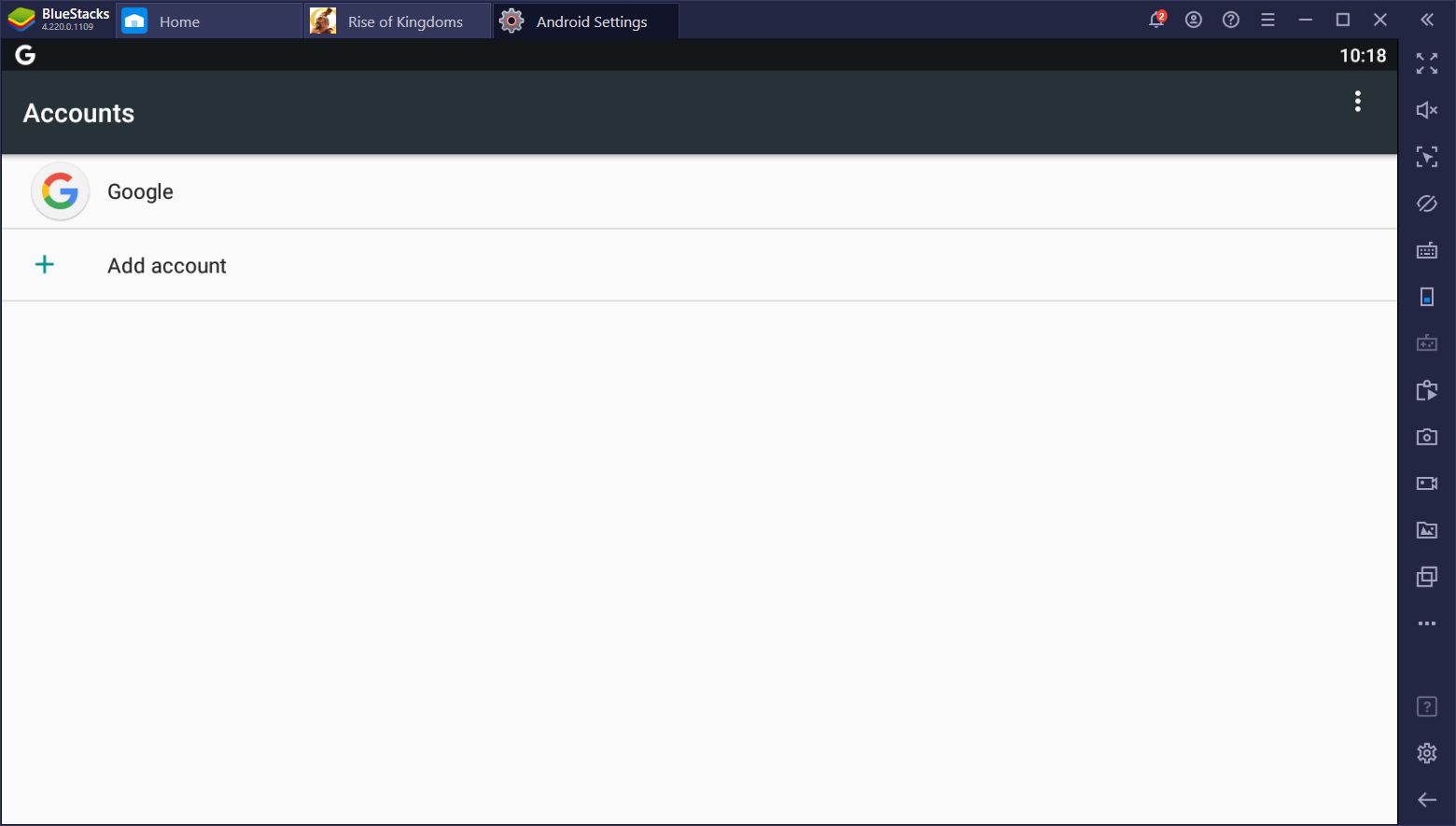 Once your Google account has been added, simply follow the steps on question #2 to load your saved progress. '
This game is now available on now.gg. Play Rise of Kingdoms online on the cloud now.