Game Guides
Rumble Stars Match Guide: Tips, Tricks, And Best Rumblers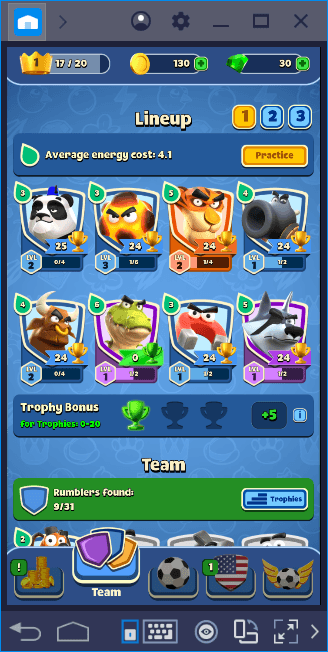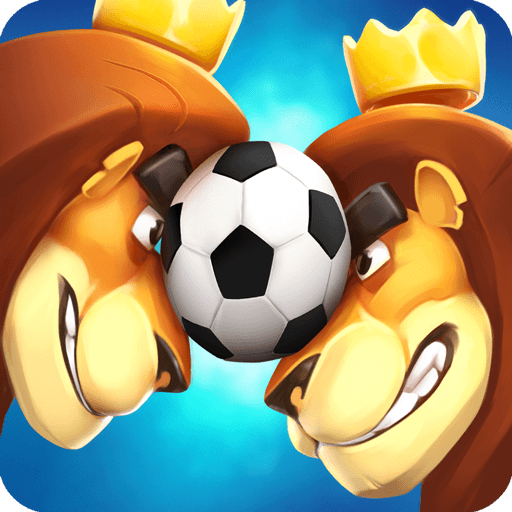 As we mentioned in our review, the match system of Rumble Stars is quite complex – in order to score goals, you must build a team of rumblers that have complementary skills. And this is not an easy job – there are 32 characters to collect and each one has a different skillset. Well, you don't need to check them all one by one anymore: In this guide, you can find information about best rumbler combinations and lots of tips & tricks that will help you to increase your league rank. Let's start playing!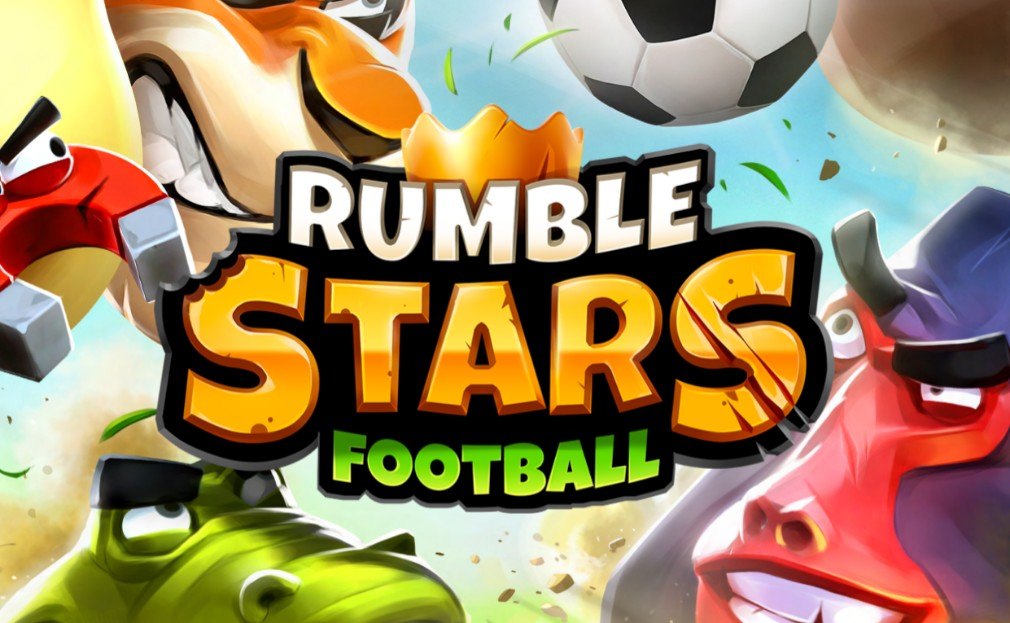 Team Building Basics
Your lineup can contain eight rumblers at a time. During a match, four of them can be used anytime. However, this is like a card system: Once you use a rumbler, the next one in line comes into play. In other words, you get to use all eight rumblers in a match, four at a time.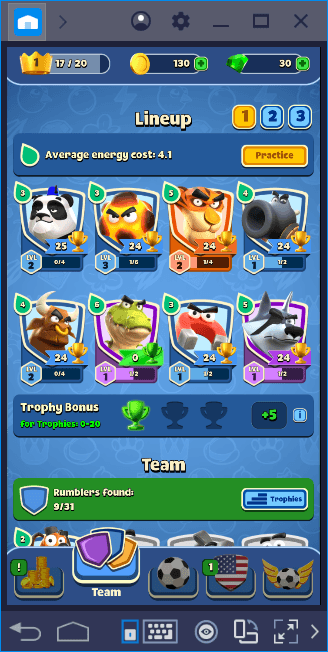 Your lineup – all of these rumblers can be used in a match.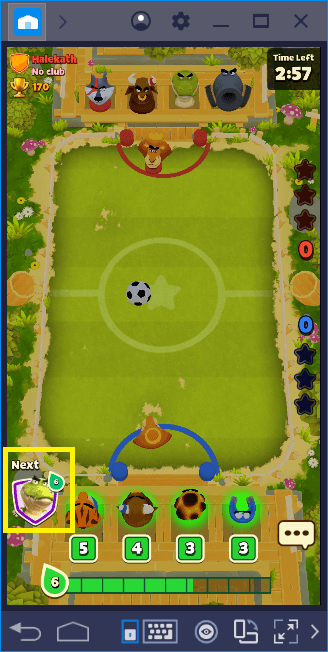 The marked section shows which rumbler will join the match next.
Each of your rumblers requires a certain amount of energy points. Your energy bar at the bottom shows how much energy you have left. You start a match with 5 energy and gain 1 point every second. So, in order to use "Cannonball", for example, you spend 4 energy and must wait to gain 4 more to use the same rumbler again. Energy management is an important part of the game: If you spend it fast, you cannot place new rumblers on the field until it generates again. As a general rule, the stronger a rumbler is, the more energy it will use. Always start with a "low-energy" rumbler and save your big hitters for goal opportunities.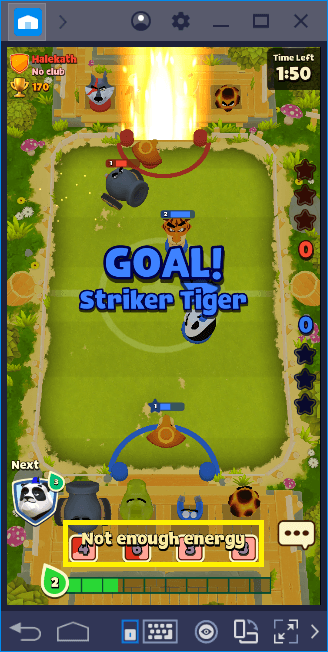 We spent all of our energy – yes, we scored a goal but we are defenseless now, until our energy bar replenishes itself. The green teardrops next to the rumbler portraits show how much energy that rumbler needs.
So, believe it or not, you don't want to create the "perfect" team in Rumble Stars. If your lineup consists of only strong rumblers, the overall energy requirement will be quite high. This means after placing a single unit, you will be left defenseless for a long while. Your lineup should always include "simple" units too, that have low energy requirements. This way, you can always keep a unit on the field.
Best Rumblers For Beginners
As mentioned before, every rumbler has a different skill set and you should experiment with them all, in order to find the best lineup that suits your gameplay. However, we recommend the following rumblers for beginners, as they have quite a good synergy especially at the beginning of the game. Some of these rumblers will be available right from the start, and you need to find others from loot boxes.
Fire: Creates an explosion at the targeted place. Perfect for destroying the goalkeeper and/or crowds. Cannot score a goal – use only for big explosions.
Cannonman: Attacks rival rumblers and cannot score a goal. However, place one of them in the middle of the field and watch the carnage – perfect for clearing crowds. Also, counters "Lazy Panda" pretty well.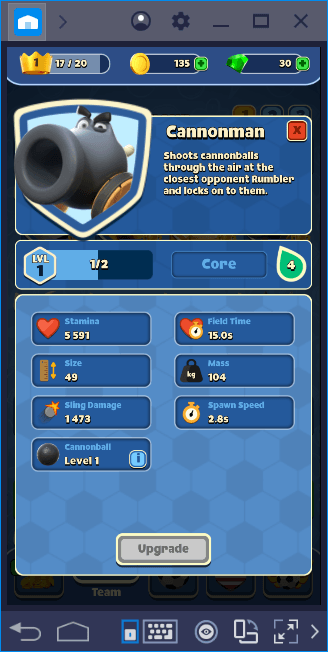 Magnetman: Again, this one cannot score a goal too. However, it "locks" the nearest rival player and stops it from moving. If you cleared the field, place this next to the rival goalkeeper and get a clear shot.
Raging Bull: This unit can do only one thing: Annihilate the rival players on its path. If the enemy team is close to your base and about to score a goal, unleash a Raging Bull and enjoy an empty field.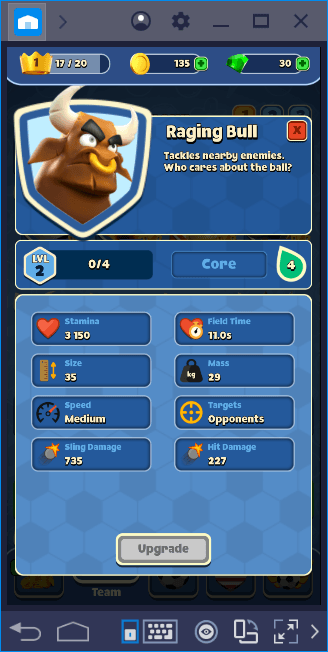 Striker Tiger: Well, we need someone that can score a goal too, and Striker Tiger is a very good option. As long as the field is clear, it can be a true hero: Keep it away from the crowds and use only for kicking the ball.
Sniper Wolf: Another rumbler that can score a goal – and it can do this from anywhere on the field. Wait for the perfect opportunity and a clear line, then place a Sniper Wolf: It will kick the ball like there is no tomorrow.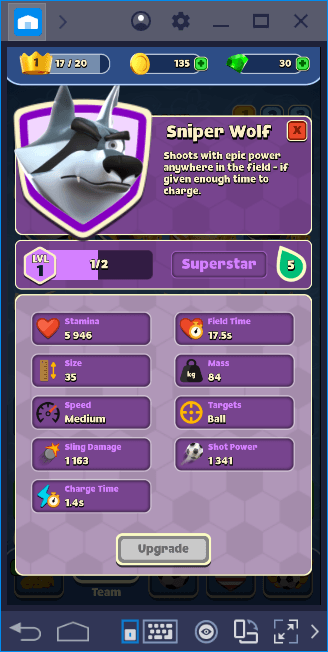 In short, we recommend two shooters and six support rumblers. Your support units will clear the field from enemy players and your shooters will score the goal. You can pick other rumblers that can take the same roles, but this is the overall setup we recommend to beginners. Take a look at our BlueStacks setup guide too, as it contains combo examples that will help you to score the perfect goal. Now, without wasting any more time, join us on BlueStacks and let's kick this ball together!