Game Guides
Saint Seiya Awakening on PC: Best Saints for PvP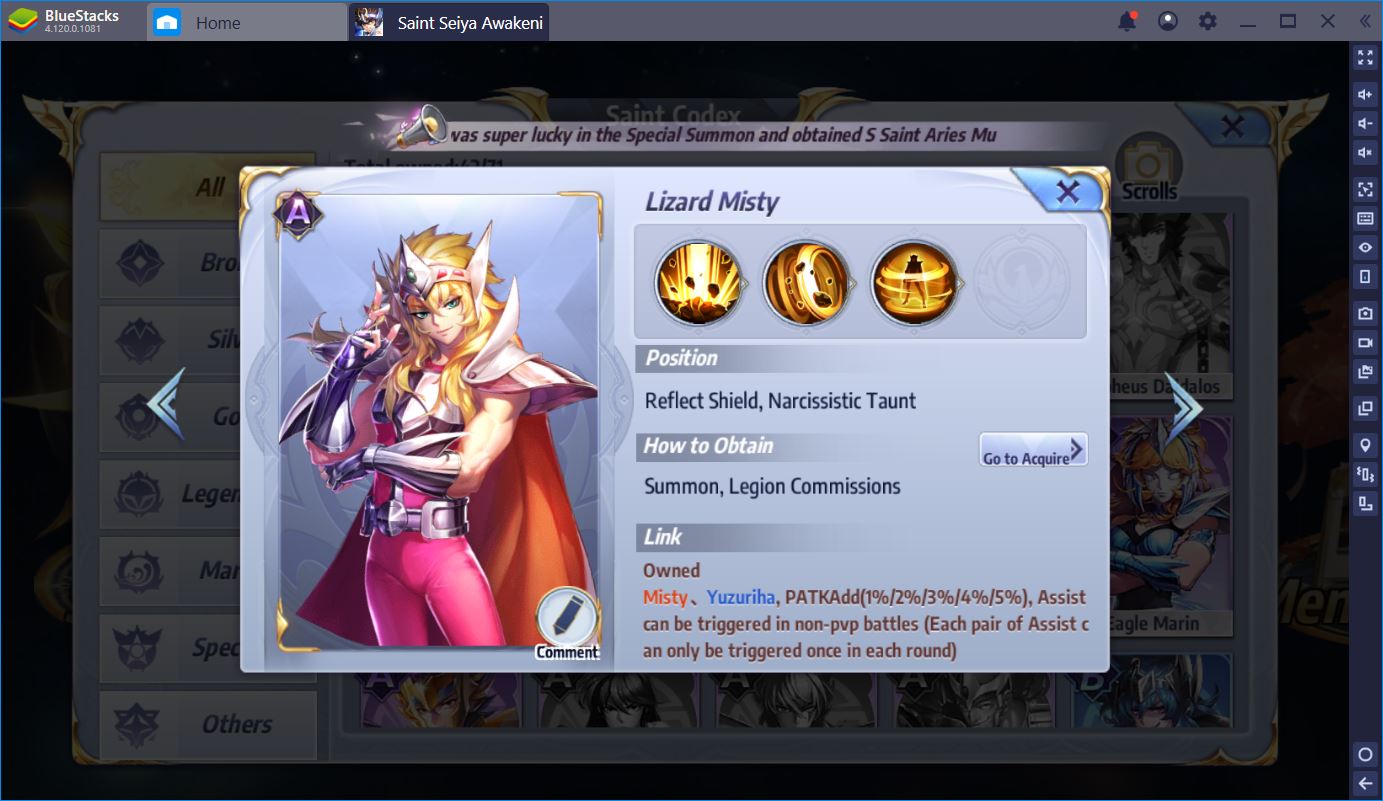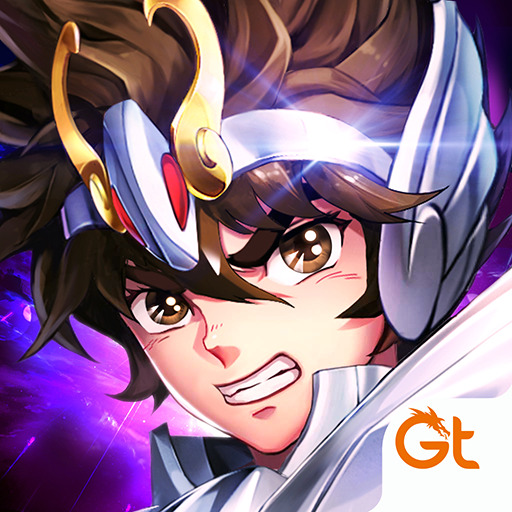 Many players feel strongly towards the PvE vs PvP competition. Although we enjoy both sides, we've met our fair share of individuals who refuse to play anything that does not feature combat with other people. At the same time, the majority of our own team members prefer to play versus bosses – either alone or in co-op mode.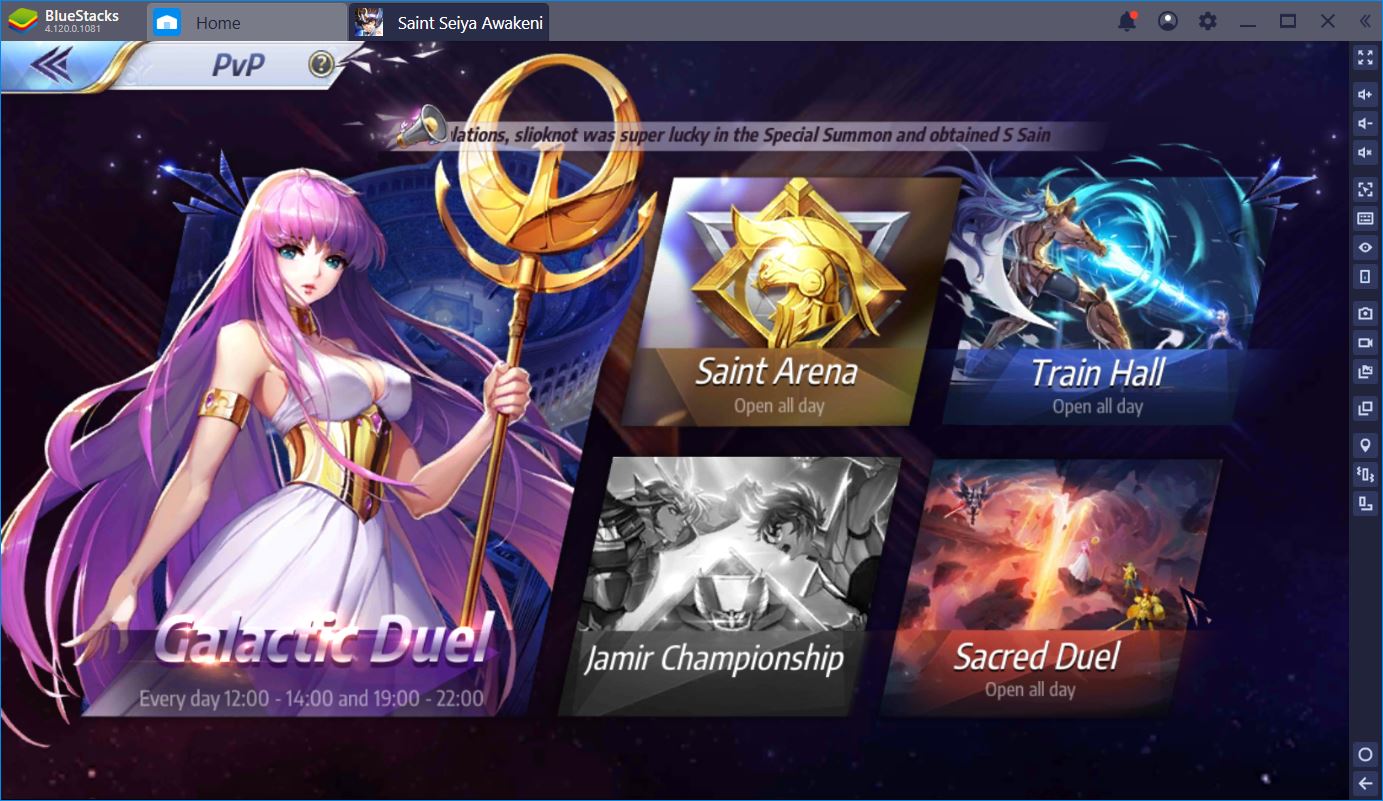 Luckily, Saint Seiya Awakening is a game that features plenty of both. When it comes to the PvP game mode, however, you have no less than 5 different arenas where you can test your strength. These are: the Galactic Duel, the Saint Arena, the Train Hall, the Sacred Duel, and the JAMIR championship.
Saint Seiya PvP Game Modes Explained
Given how intricate each of these game modes is, we figured that briefly explaining how each of them works will help everyone know what they're about. Needless to say that playing Saint Seiya on BlueStacks will give you a tactical advantage when you're up against other individuals in any format.
The Galactic Duel
This is a timed event, meaning that it happens every day between 12:00 and 14:00, in the afternoon, and from 19:00 to 22:00, in the evening (for European servers). The specific hour(s) also depend on your timezone. The constant is that you can only join the GD in these two timeframes. Once you hit the Start Matchmaking button, the game will try to find an opponent that is as close to your strength as possible.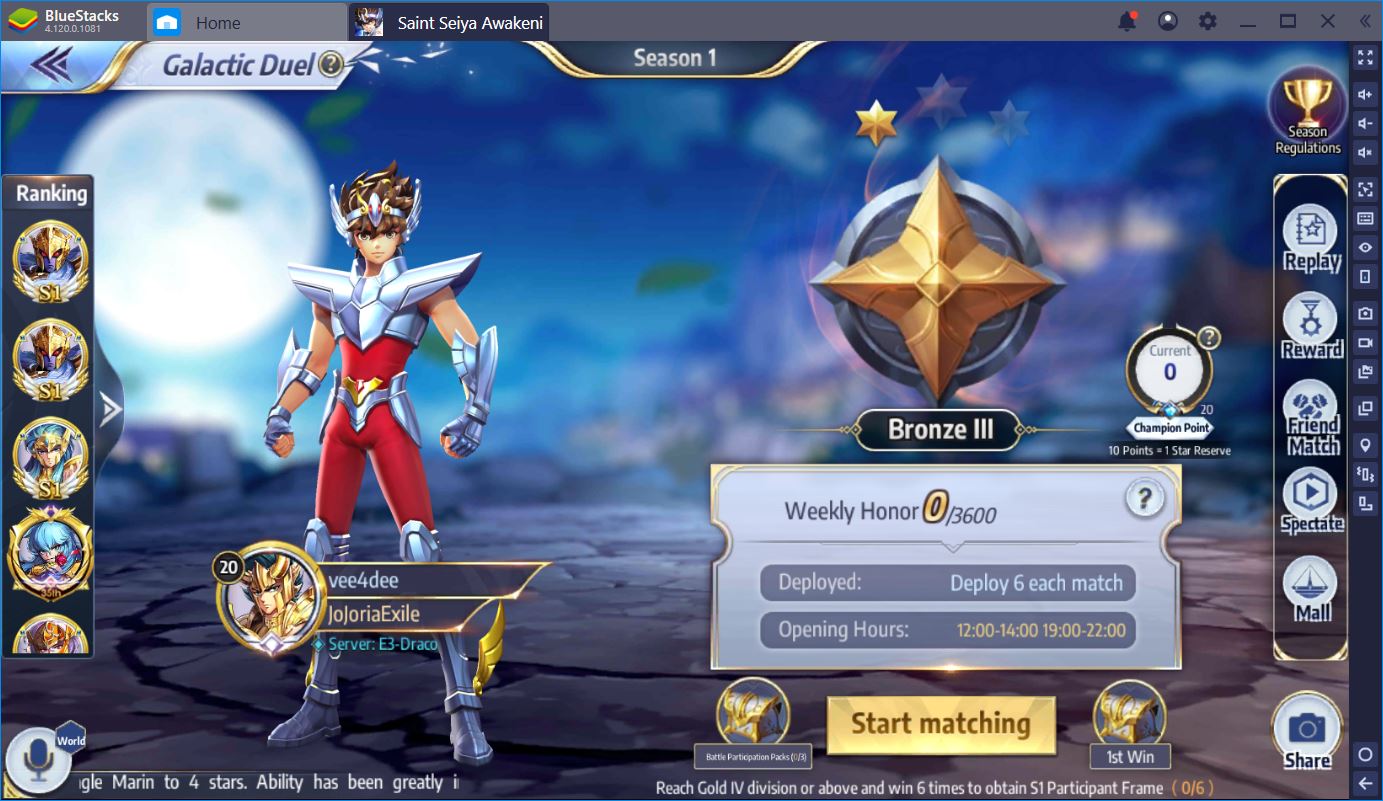 To make things more interesting the damage of both parties increase by 15% after each round. Both opponents are fighting one another in live mode, which means you won't be faced with any AI in the GD MM system. You can run the battle on auto, but the game is not that smart, so we don't advise you do it.
Whenever you do a battle in the GD mode, you get Champion Points, aside from Honor and a chest. The amount of CP you get is based on how you perform, how fast you beat your opponent, how many Saints you still have left standing, whether there is a major gap between your two lineups, and whether you're on a win streak. Once you get enough CPs, both your Star Reserve and your Star effect will be guaranteed.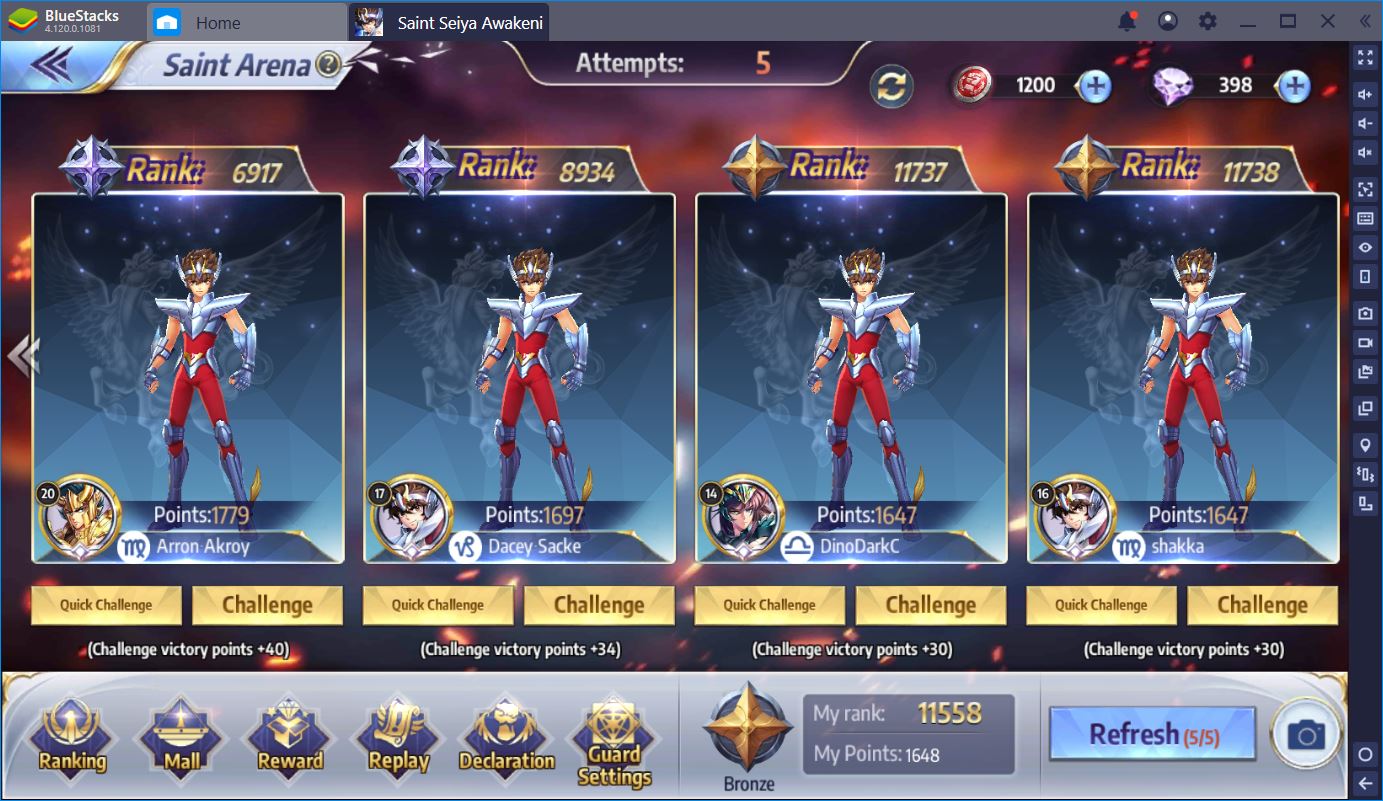 The Saint Arena
This is the usual PvP mode where you can challenge other line-ups (AI controlled) and play against them. You can use the quick challenge button to severely speed things up. We wouldn't fast-forward any battle here, though. We did so several times and we lost against weaker opponents.
The Train Hall
This is where you get to learn combat strategies to overcome various types of opponents. Veteran players might not be that excited to go through yet another tutorial, but completing each stage gives diamond rewards. Then, you can move on to the Elite stages where even harder challenges and better loot await. You can also challenge other players here.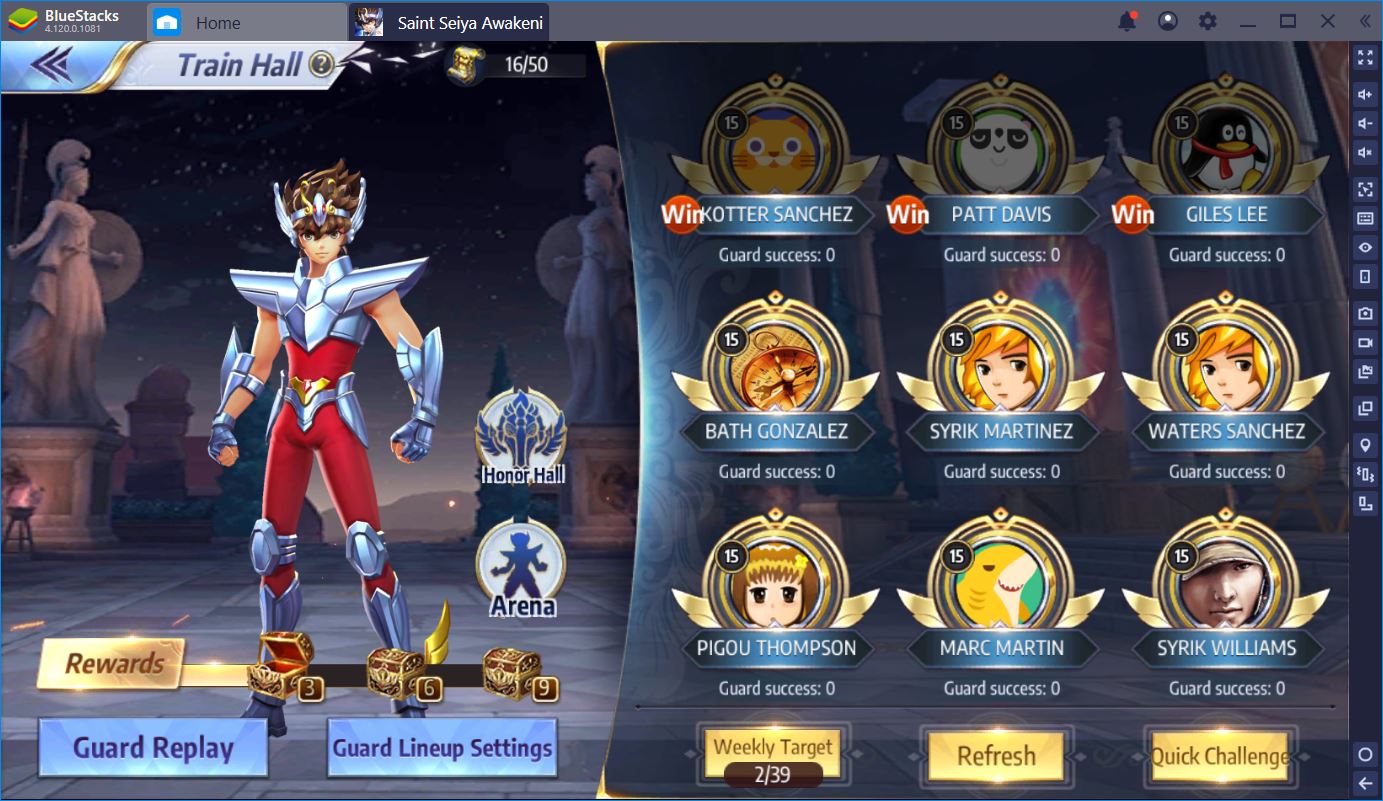 The Sacred Duel
This is quite an interesting battle mode. It's available all day long and your Saints' attributes are all set to the same standard. In a way, it's a great place to test your PvP strategy with lower level units. Rewards for progression include gold, common summoning gems and hero shards.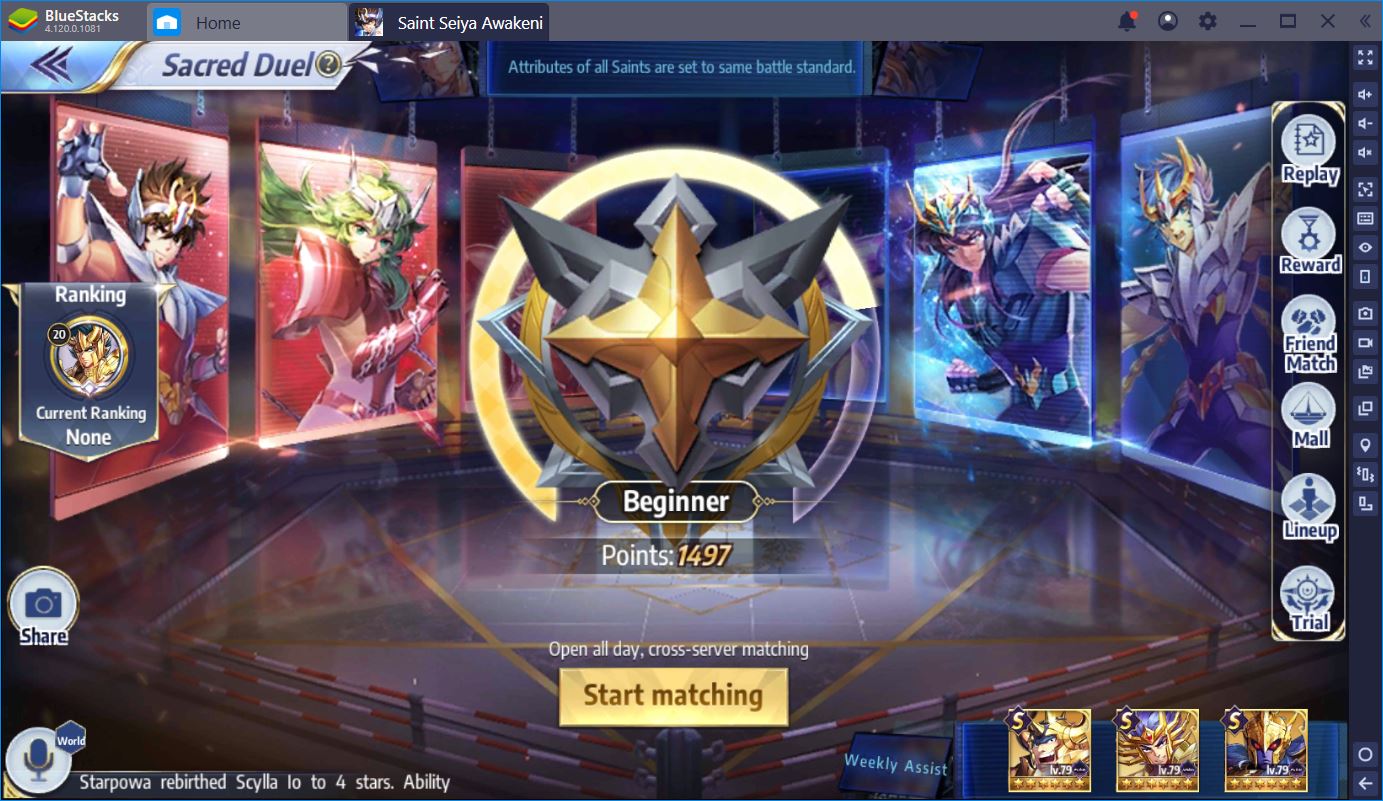 Jamir
This is the ultimate PvP tournament where players can enroll in an elimination-based championship. Everyone can compete, whereas spectators can make predictions about who will win the grand prize.
Who to Use in PvP
We already wrote about the best Saints for PvE, so now it's high time we keep to our promise and deliver the best characters of PvP. The following are our top picks:
SS quality: Poseidon, Kanon, Dohko, Saori, Shaka, and Shaka Arayashiki.
S quality: Shion, Pope, Mu, Kanon, Saori.
As and Bs: Moses, Shun, Misty, Marin, Luna, Kiki, June, Daidalos, Io, Hyoga.
Don't necessarily look towards quality when you're designing line-ups, because that's not what matters the most. Marin, Luna, Kiki, and June, who we've talked about before (hyperlink to: "Saint Seiya Awakening: Cosmo Setups for the Best Saints and their Skill Priorities") are commonly considered to be better than most other units. Their only problem is that they don't really damage anything, although Luna will empower any of your DPS characters.
For some much-needed variation, we'll briefly discuss some of the lower quality PvP Saints we did not get a chance to examine in any of our other guides.
Kaitos Moses. He might be a B quality unit, but he is a Greek God in PvP. His Giant Cetus passive, which you can unlock by levelling his 7th sense, is what you really want from him. At level 1, the Cetus has a 15% chance to stun the enemy unit for a full turn. If you also use the Cetus Vortex skill, your odds of CCing an enemy while also doing some good damage to them is quite high.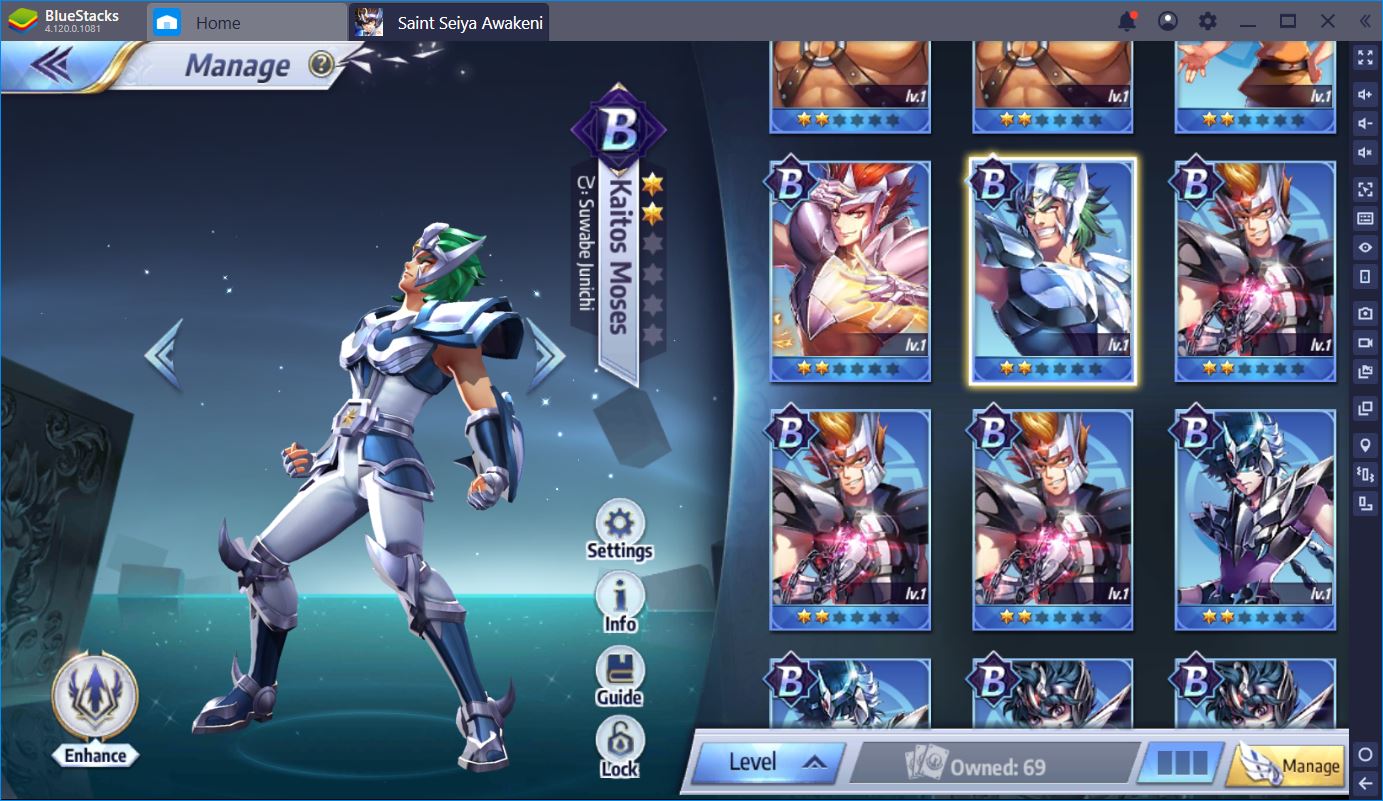 Lizard Misty
Another dominating character that seems to have appeared out of nowhere at JAMIR tournaments. His awesome PvP mechanic relies on reflecting damage through his Wind Shield. If properly levelled, you can eventually end up reflecting 100% of incoming damage back to the attacker. The best part is that every time he gets attacked there's an 80% chance he'll also Wind Shield two allies. Is he not the best?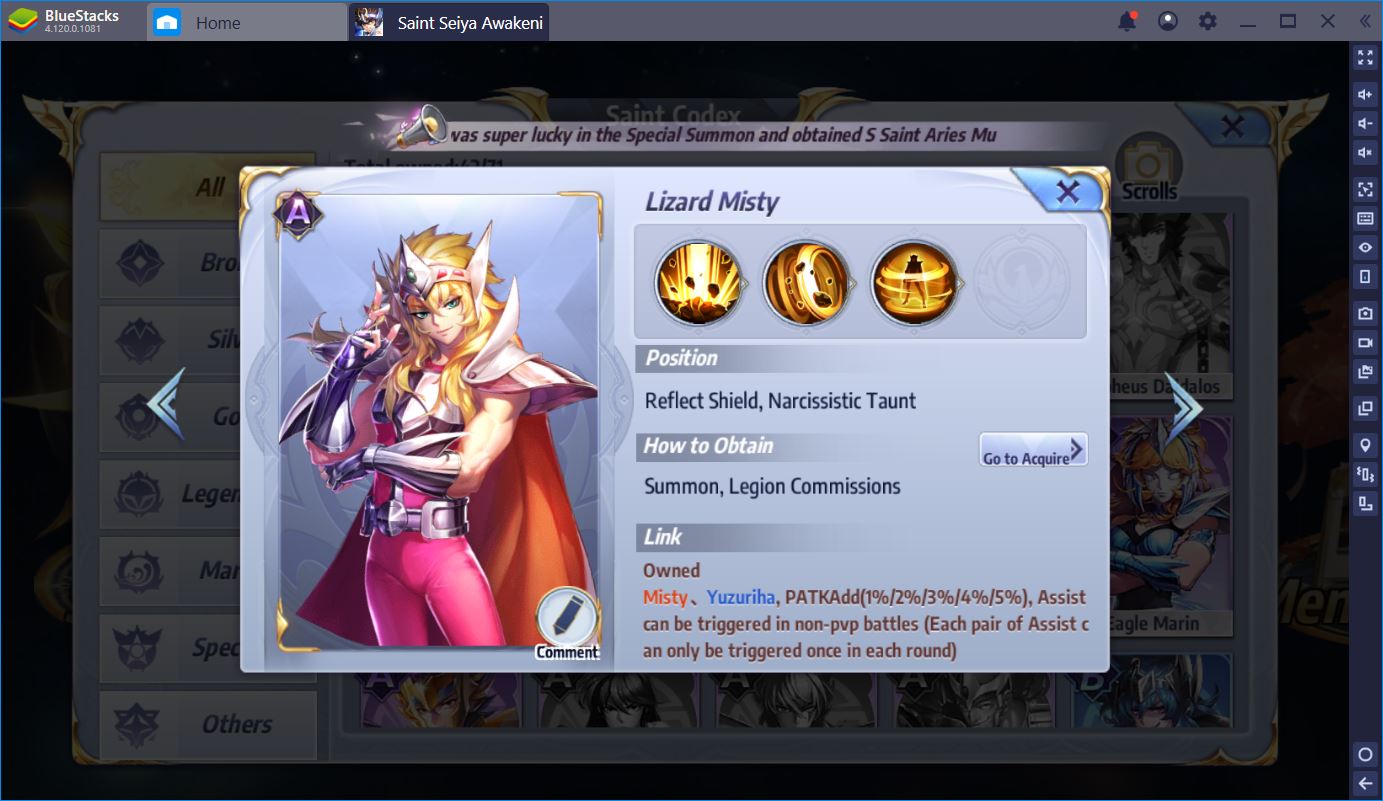 Andromeda Shun
Yet another affordable PvP master is Shun. His CC, Angled Chain Thunder Wave, is a bit awkward, since it also restricts the caster. Nevertheless, you can target a character that attacks early on, have them skip their turn, and then use Shun for something better. It's not ideal, but it can potentially spare you from taking a bucket-load of damage.
Cygnus Hyoga
Although not as reliable as the ones above, Hyoga's Ice Seals can easily end up turning the tides in your favor. With his Restrictive Ice Crystal and the active you can unlock via the 7th sense mechanic, Diamond Dust, you can really AoE freeze up to 3 enemies, not to mention slow them down. Of course, this also means Hyoga has to stay alive for a couple of turns, which is always easier said than done.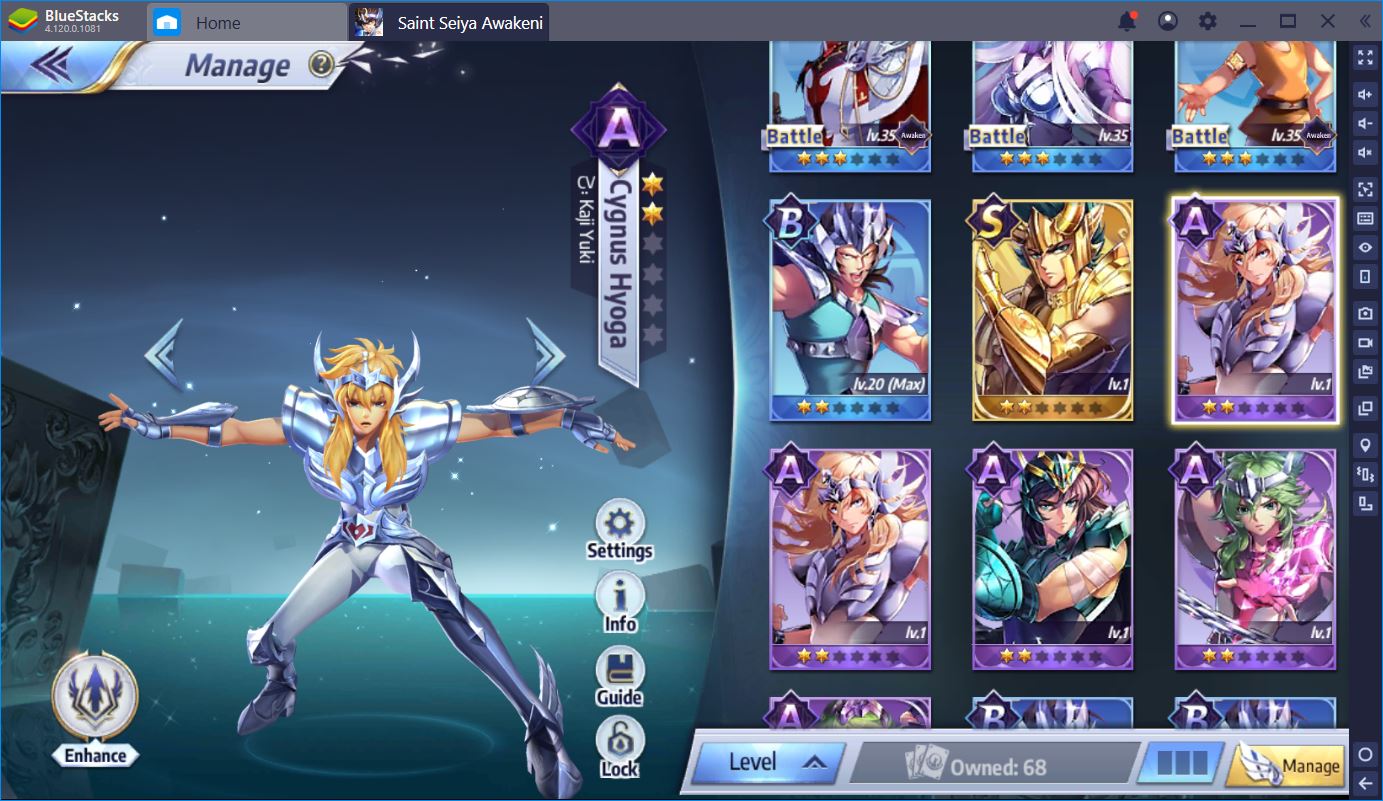 Now you are ready to play Saint Seiya Awakening on BlueStacks and climb those PvP leaderboards. The best part about this game is that you don't necessarily need the highest quality characters to push through – good CC and survivability can lock an opposing team down for your average DPS to make long work of them. Of course, this does mean you have to be patient, but, then again, slow and steady wins the race… Right?