Game Guides
Buildings Of Sea Fortress: You Also Have A Base To Take Care Of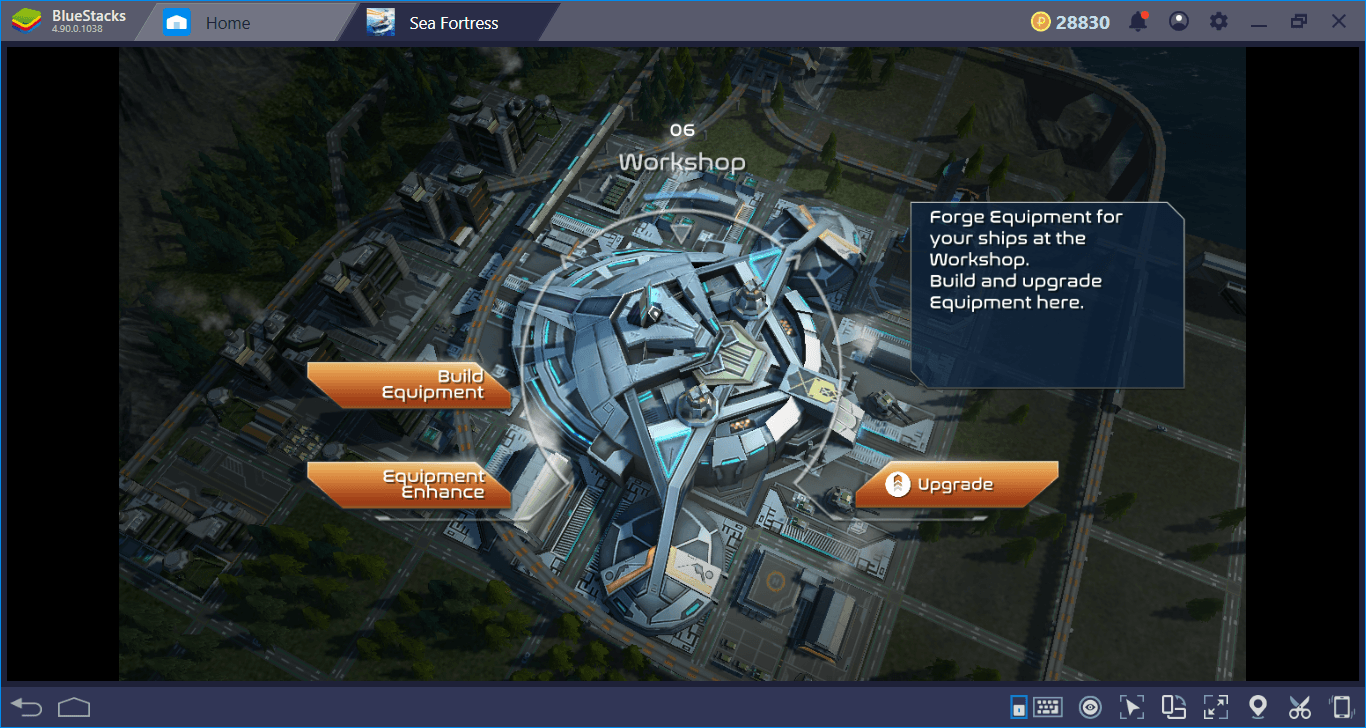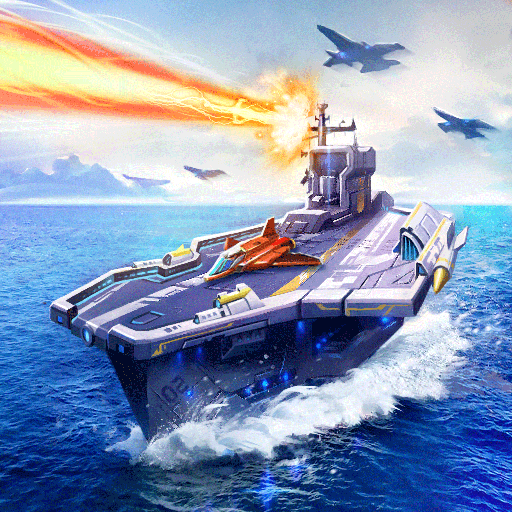 Using robot ships to attack targets sounds fun, but you should remember that you are also the commander of a base, not only a fleet. And that base is more important than you think: If you cannot generate resources and make research, you won't be able to produce any ships. Your base can host lots of buildings, and each one is important: You need to construct them, upgrade them, and protect them. And in this guide, we will show you how you can do all of these and more.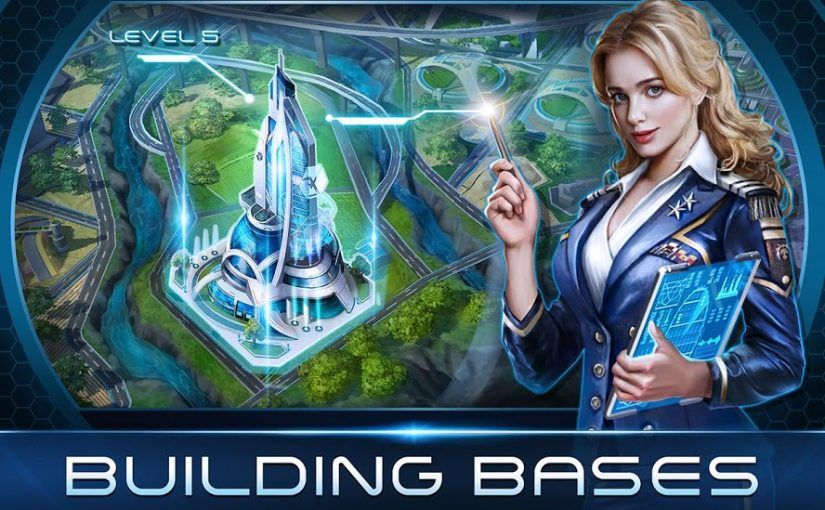 Basic Information
Each building on your base can be upgraded to level 30. Constructing an upgrading a building will give you might points, which will increase the power of your naval base. In addition, the functions/features of that building will increase. For example, upgrading the "Farm" building will increase your food production and storage rates.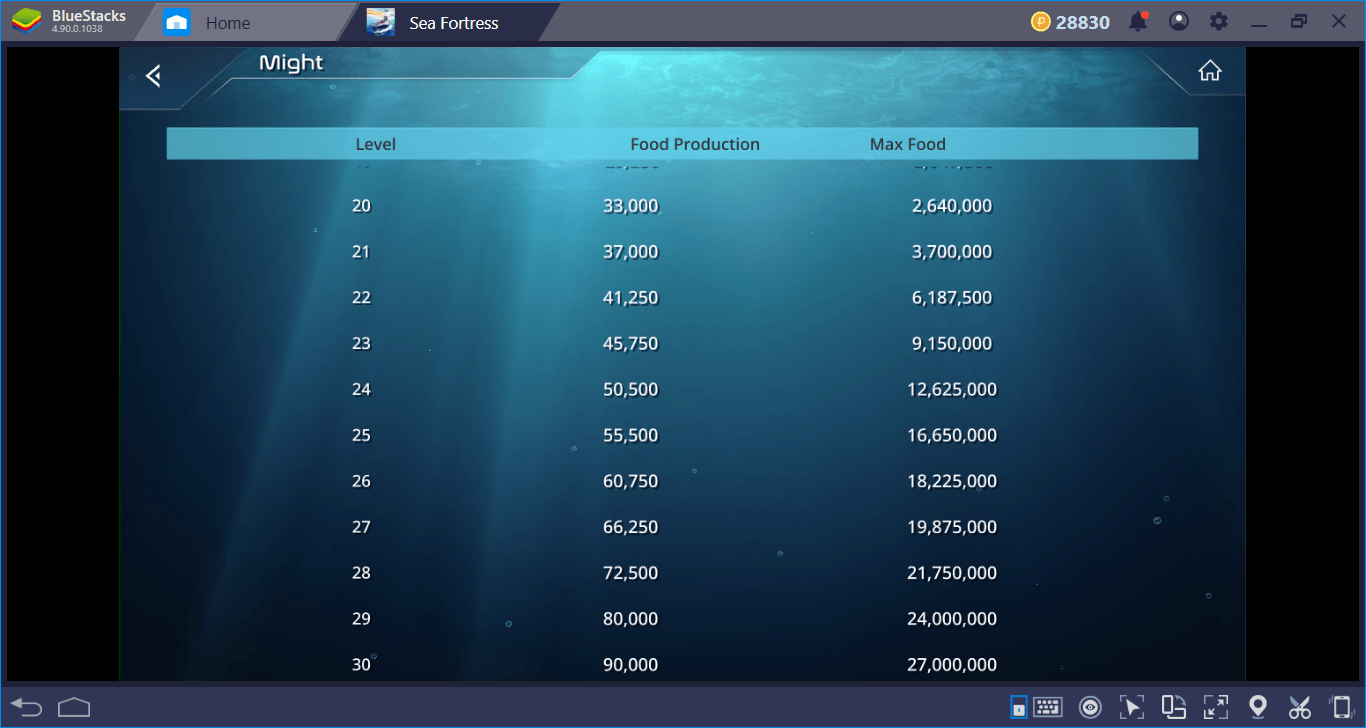 The plots required to construct your buildings are not directly available from the start. You need to complete skirmish stages to unlock them. In the beginning, you only have access to basic building types, and by progressing on the main campaign, you will be able to unlock more building types & plots. In this regard, your most important building is the headquarters. You need to upgrade it first, in order to unlock more buildings.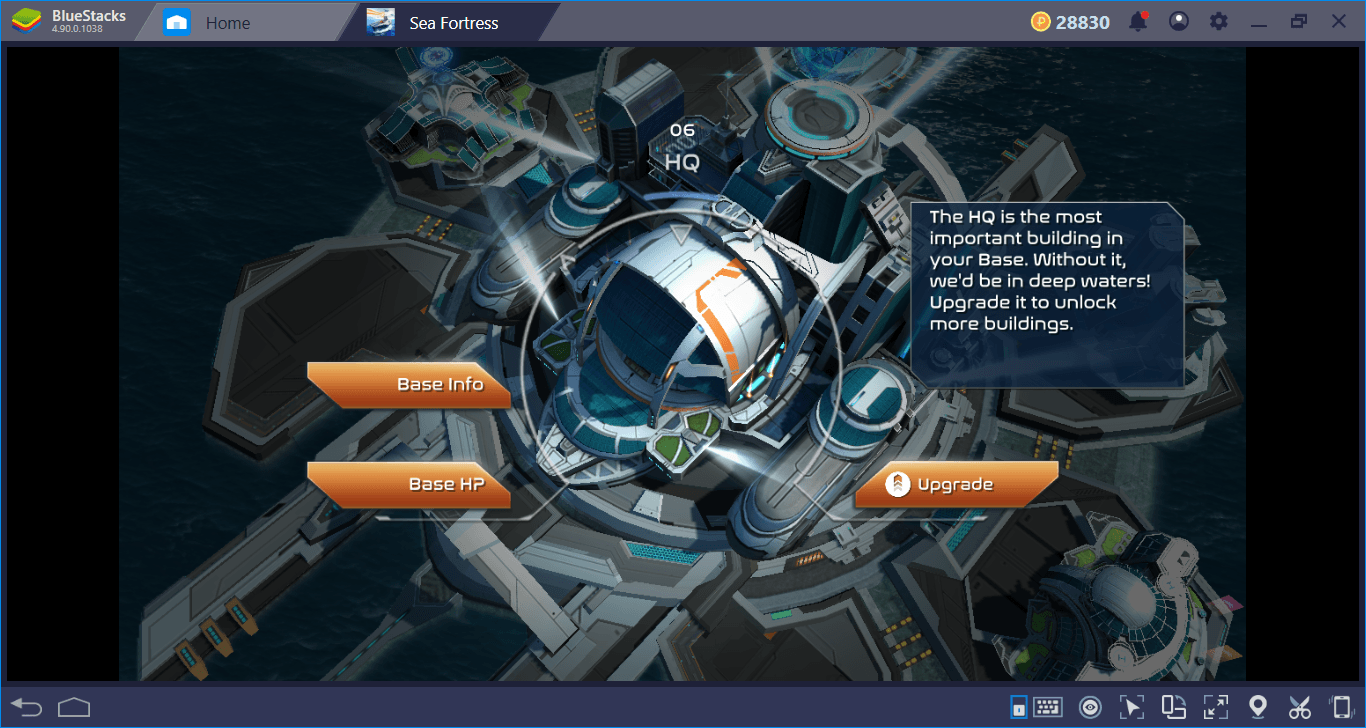 The upgrade process will require all four types of resources and will take a long time. Make sure that you have enough resources (and free time) before starting an upgrade. Don't forget that you can ask for help from your guild members to decrease construction/upgrade times.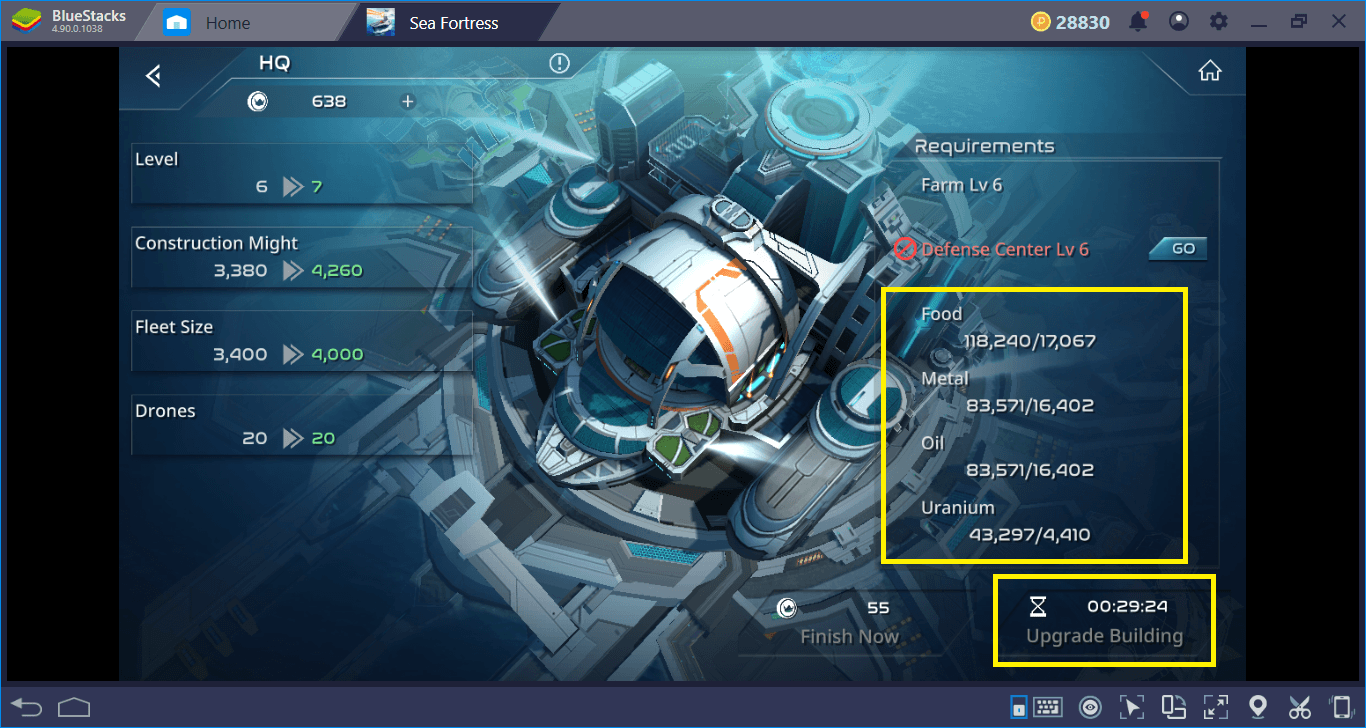 Production Buildings
As we mentioned in our review, there are four resource types in Sea Fortress: food, metal, uranium, and oil. You need to build four different buildings and fully upgrade them in order to generate a health resource flow. The table below shows the production rates of these buildings when they are upgraded to level 30.
| | | | |
| --- | --- | --- | --- |
| NAME | RESOURCE | PRODUCTION | MAXIMUM |
| Farm | Food | 90.000 | 27.000.000 |
| Foundry | Metal | 72.000 | 21.600.000 |
| Mine | Uranium | 22.500 | 24.750.000 |
| Oil Platform | Oil | 72.000 | 21.600.000 |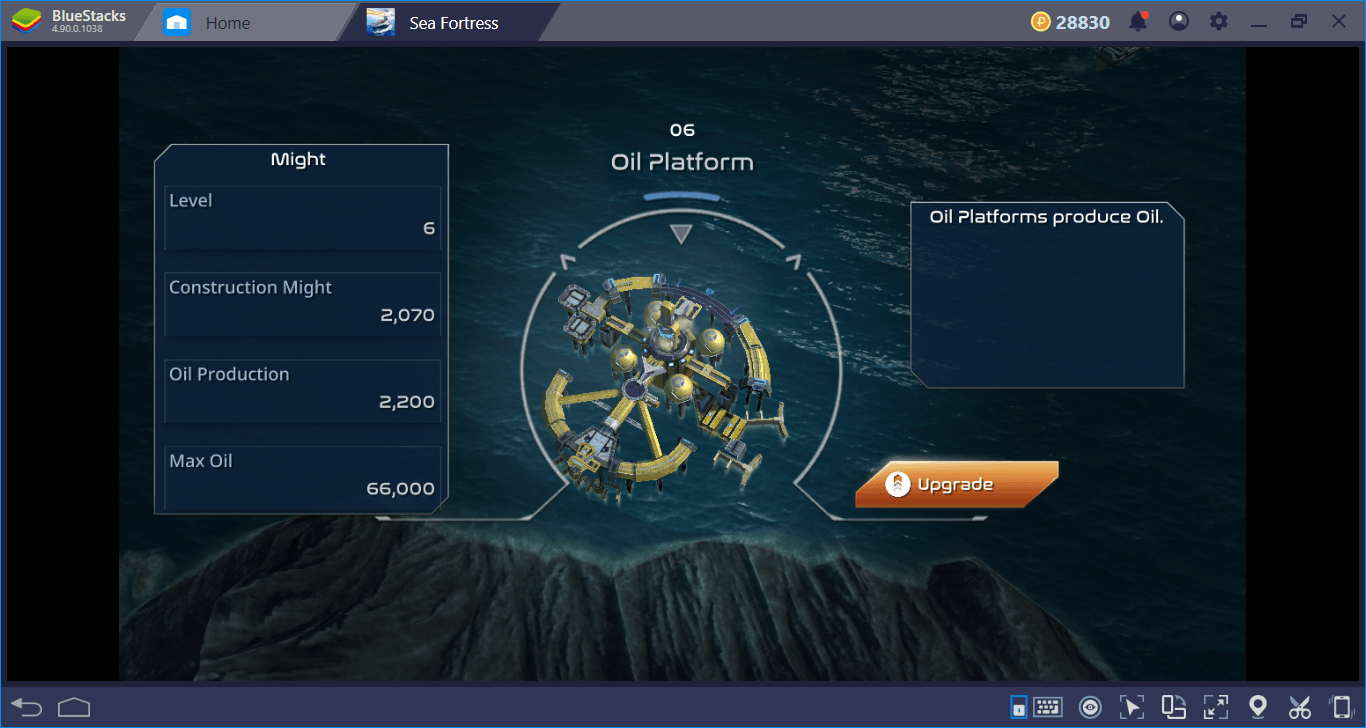 Uranium will be the most important resource at later levels and you will always need more of them. For this reason, we recommend upgrading it first: You will thank us once you reach the end-game phase. If you are in immediate need of a particular resource, you can always scout the world map and find out empty resource spots. Lastly, you can purchase production speed-up scrolls from the guild store too.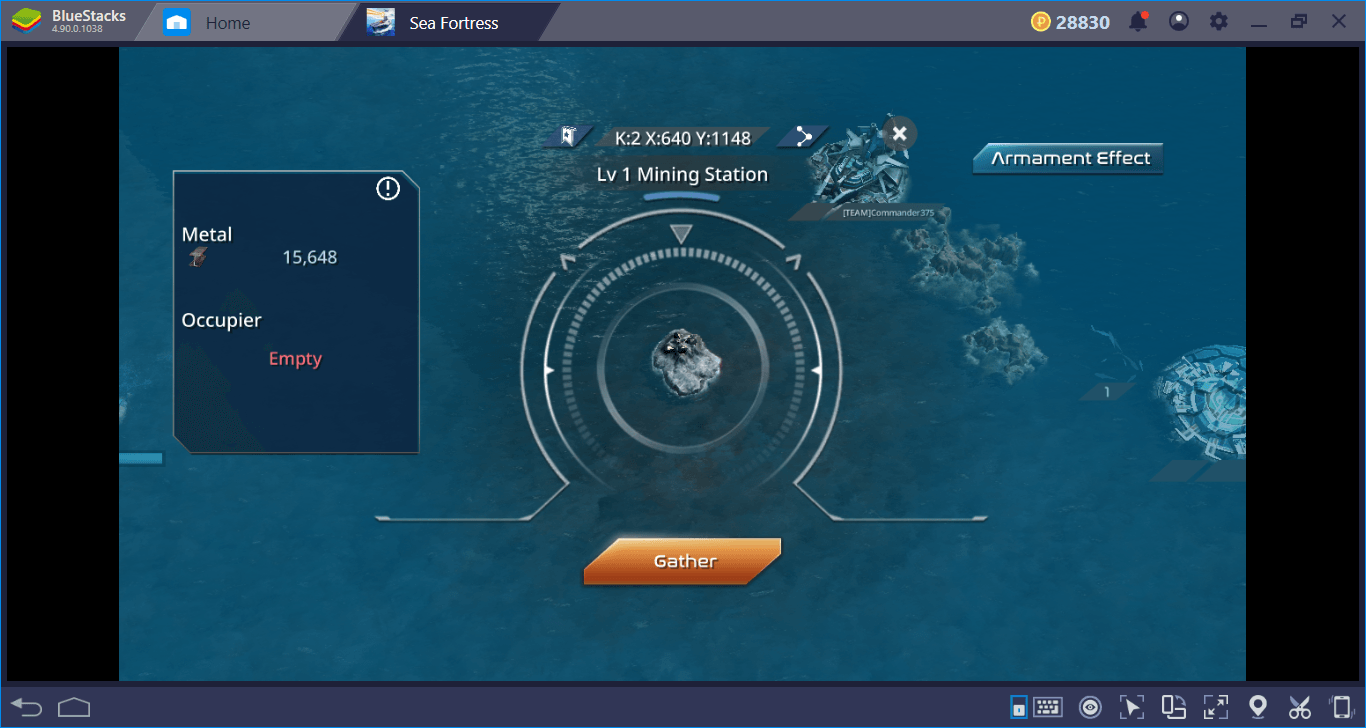 An empty spot on the world map.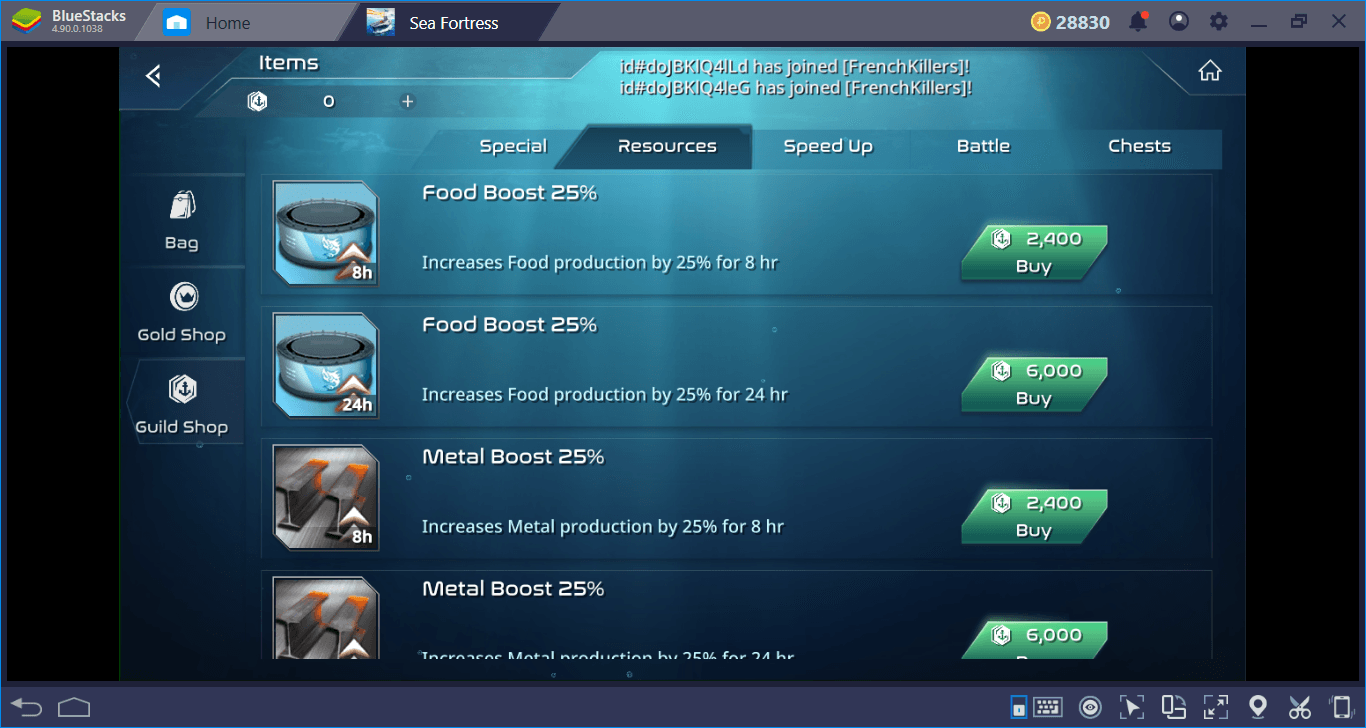 Guild store – you can boost your production rate by 25% for 24 hours.
Military Buildings
There are three important military buildings that are available right from the start. The most important one is the Shipyard, as can be guessed: You will produce new ships in here. This building will also allow you to upgrade ships themselves. A fully upgraded shipyard increases your building capacity to 3.000. Plus, it gives you a 10% ship defense boost.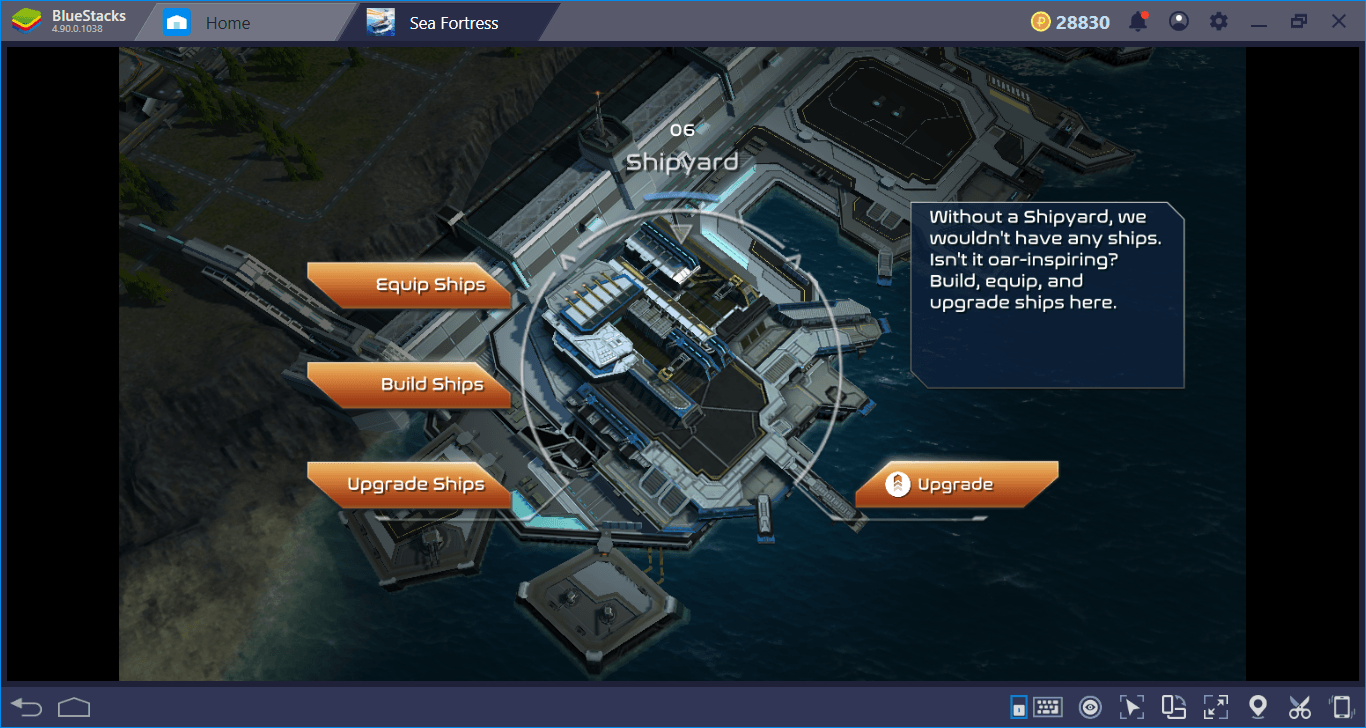 The second most important one is the Workshop. It will increase the HP of your ships up to 20%, but more importantly, it will allow you to build equipment for your ships and enhance them. Simply put, it makes your fleet much more powerful without producing more ships. We explained this process in another guide, so we recommend checking it out too.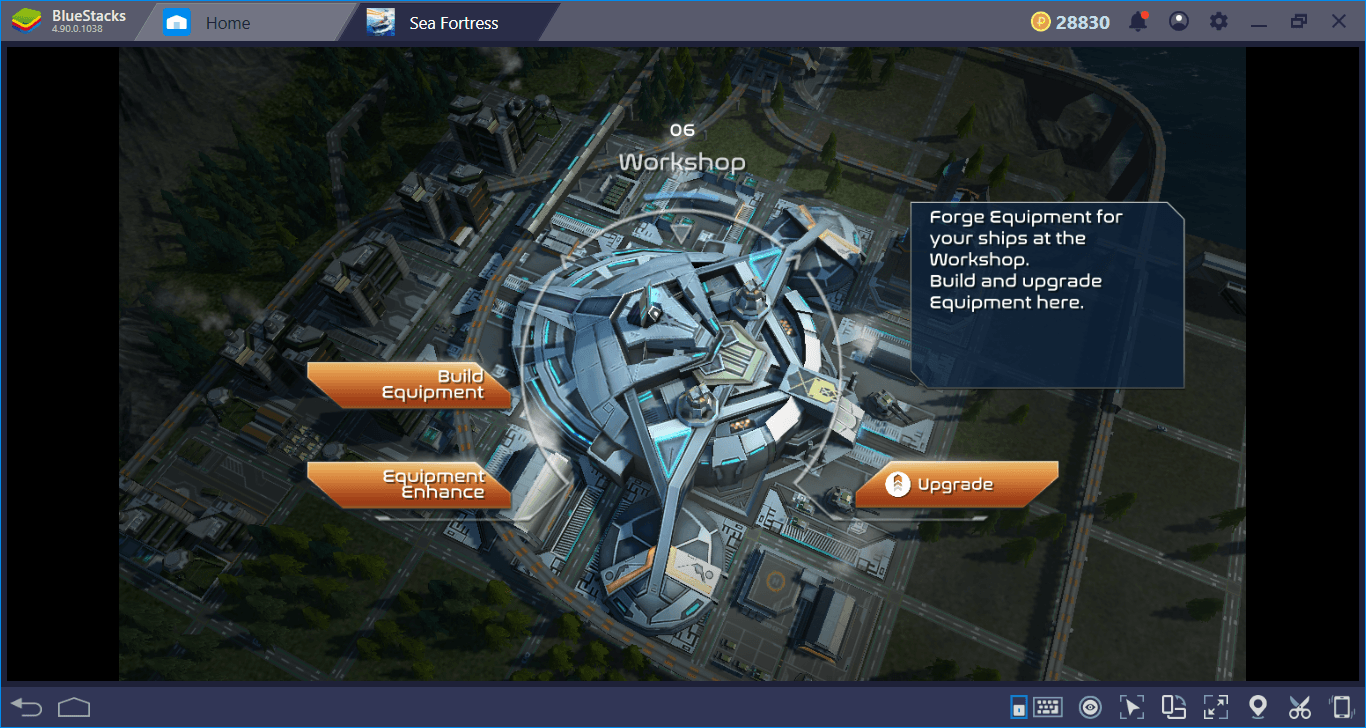 Lastly, you have a Repair Yard. While not critical, every base should have one due to a simple fact: This building repairs your ships. So instead of producing new ones, you can simply repair your fleet and save time & resources. Plus, a fully upgraded Repair Yard will boost the HP of your fleet by an additional 3%.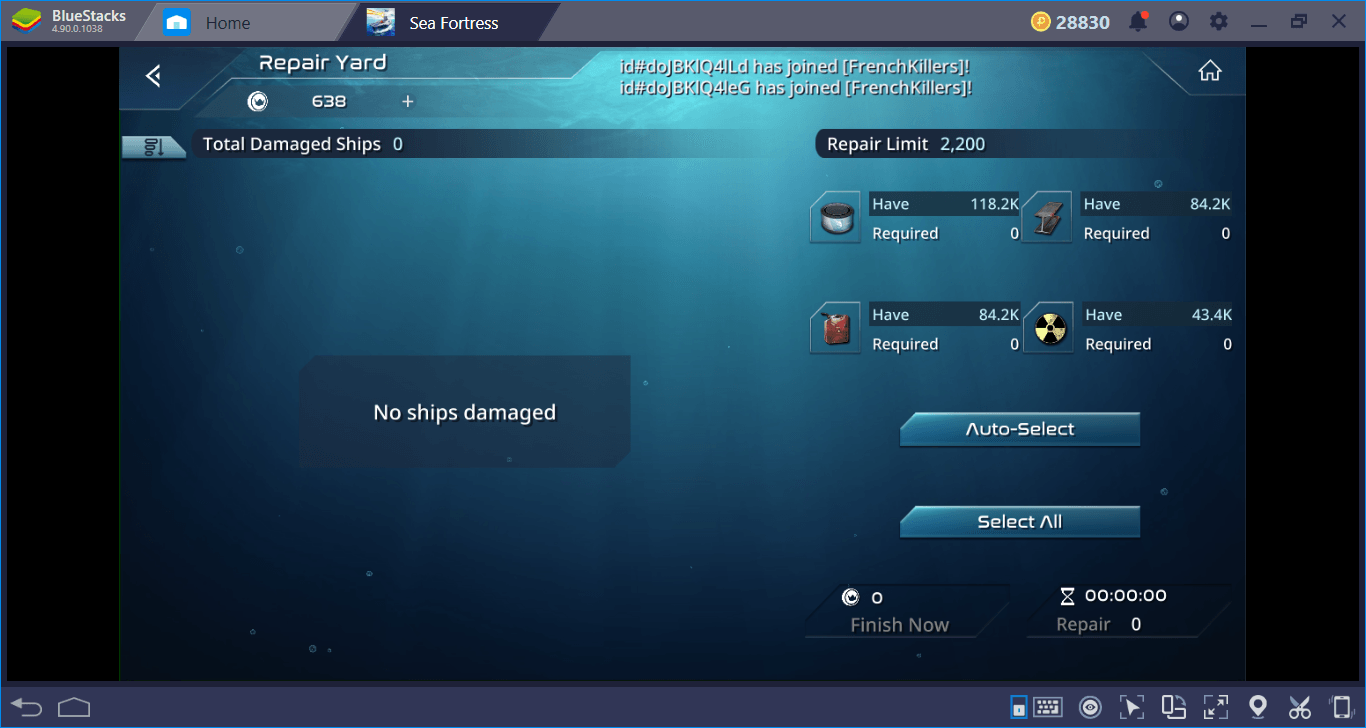 Other Important Buildings
There are two more important buildings in Sea Fortress: The first one is the Research Center, which you can research economy, defense, military, and patrol projects. Each of these projects will give you a different boost, and some of them will unlock new ship types. We recommend starting with the Military category and completing the "Quick Production" research. Then, you should focus on Economy projects and finish the "Architecture" project first.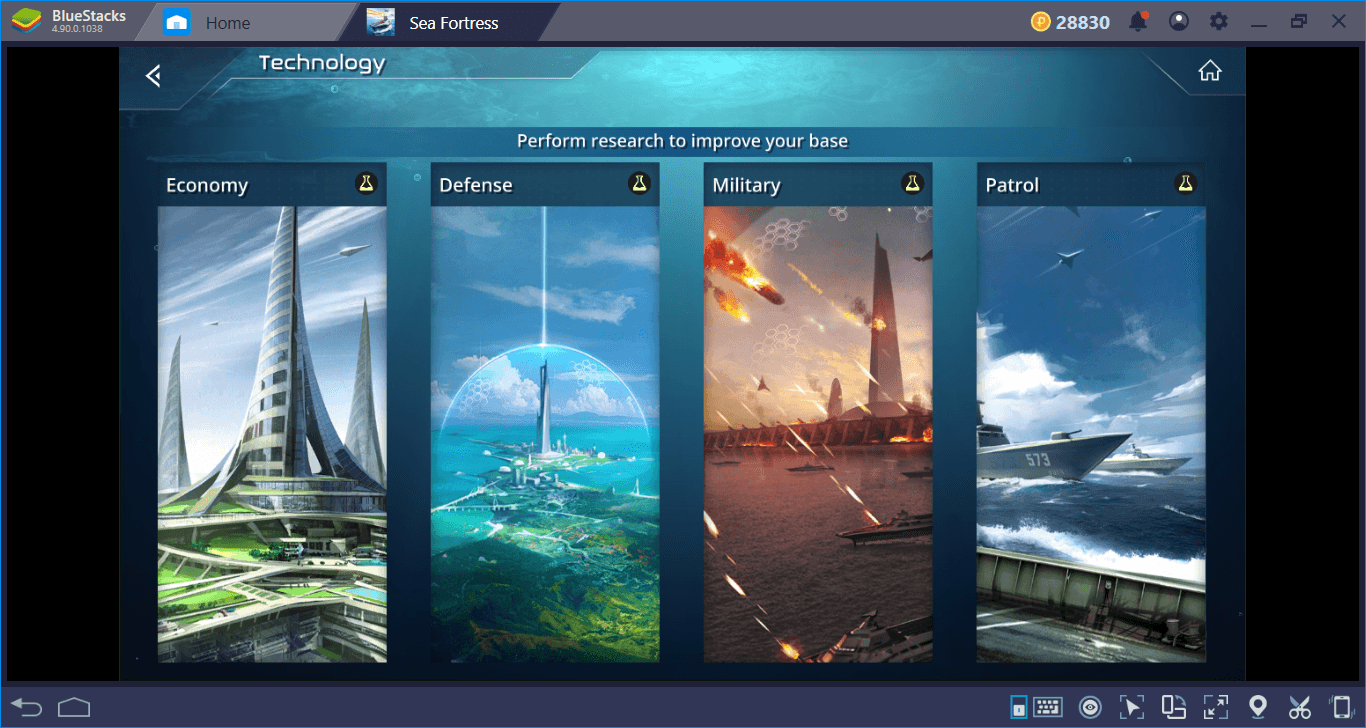 The other building is the Embassy. Most players will forget about its existence but it is pretty important: The Embassy holds the reinforcements sent by your guild members, and upgrading it will increase the capacity of these troops, up to 999.000. Plus, a fully upgraded Embassy will give a 10% defense boost to your army. You will need reinforcements once your peace shield drops, even if you are not interested in PvP. So this should be one of the first buildings to upgrade.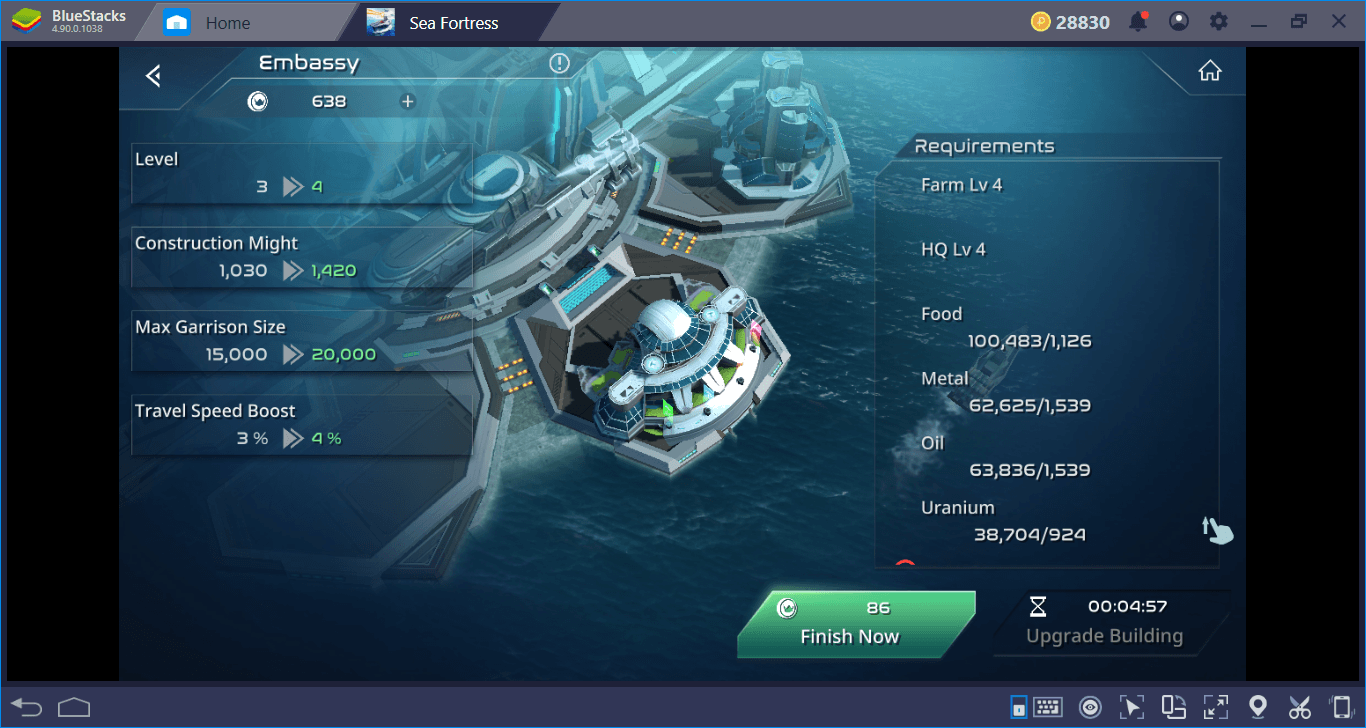 Now, you know which buildings are important and which ones should be upgraded first: The rest is up to you, commander. Build your base, make sure it is protected, and start to gather your fleet. If you need more help, don't forget that we have lots of other Sea Fortress guides to read. Good luck out there!