Game Guides
A Beginner's Guide to Becoming a Lord in Sengoku Fubu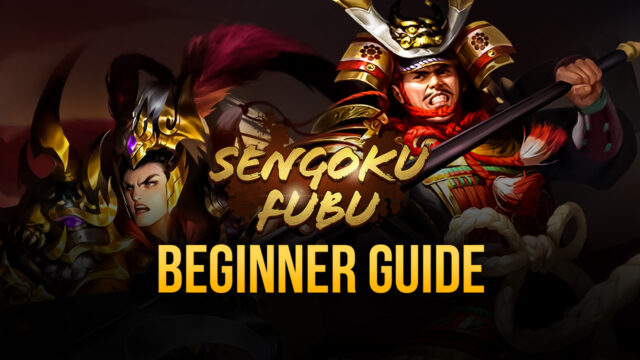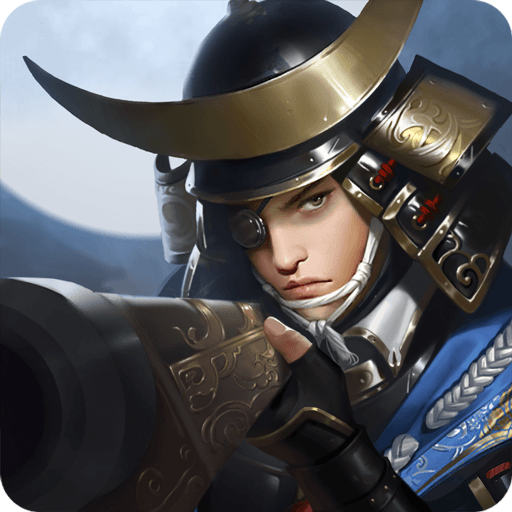 In an alternate world where the central power of the Emperor of Japan has significantly downsized, Japan becomes a playground for every aspiring lord in the empire. Sengoku Fubu allows you to play as a regional lord who is willing to take advantage of the emperor's downfall to take over as much territory possible and emerge as the new power.
Sengoku Fubu is a game about territorial control that incorporates strategically planned battles to achieve that goal. There is much to learn about becoming nourishing your power as a regional lord in Ancient Japan and this beginner's guide is here to help you familiarize yourself with the fundamentals of Sengoku Fubu.
Mechanics and Goals
The main goal of Sengoku Fubu is to take over as many castles as you can before the in-game year reached 1615 AD. One hour in the real world corresponds to one year in the game. Once the game reaches 1615 AD, the entire game will reset, and the cycle of conquests will continue.
There is a myriad of castles that you can take over with military force. However, you are not alone in the quest for territorial power because there are also other players who also want to capture as many castles as they can. This means that once you occupy a castle, there is a propensity for other players to take away that castle from you. Conversely, you can also capture (or recapture) the castles of other players. Sengoku Fubu is a game of dominance and aggression!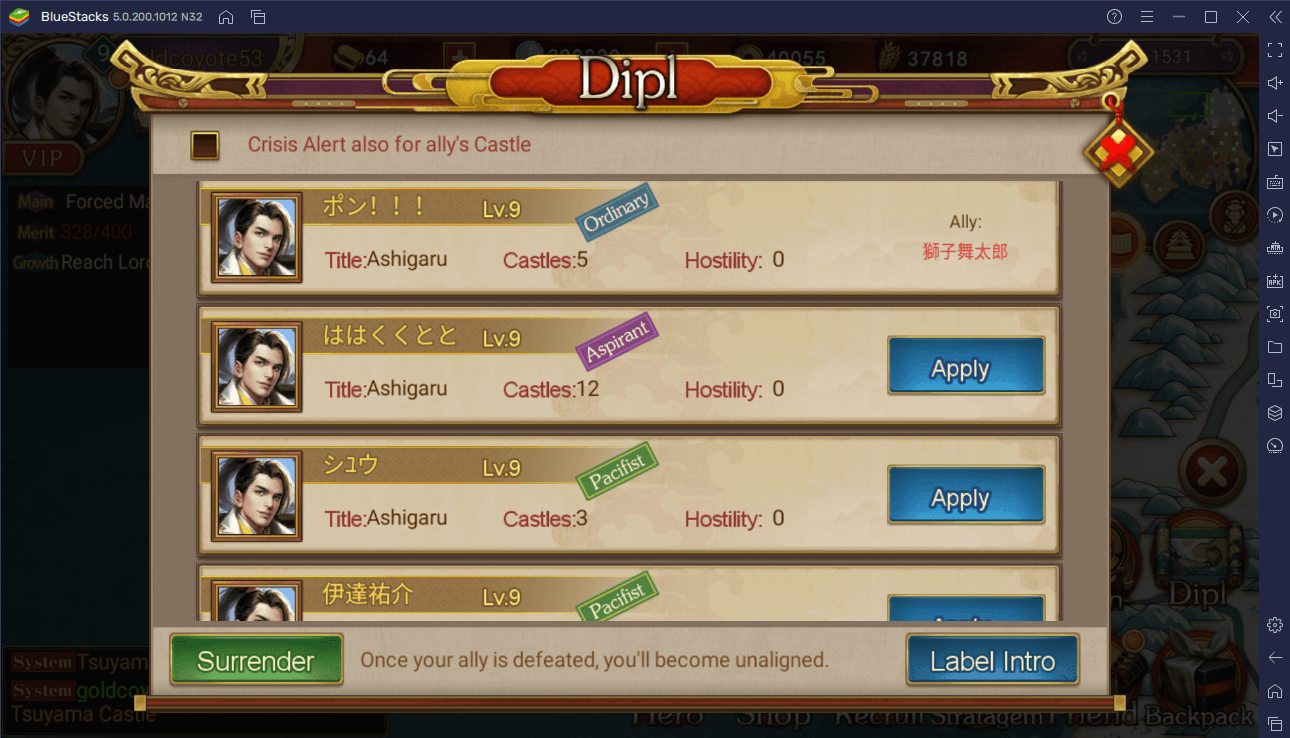 You do not always have to be alone. In the game, you can a join clan (officially called a Dipl) and you can actually win – or more specifically, achieve "unification" — the game if your clan manages to occupy the most castles by 1615 AD. One player who does not belong to a clan is considered as one clan. Generally, joining a clan in Sengoku Fubu is significantly great advantage insofar as it will be easier to dominate the map's castles.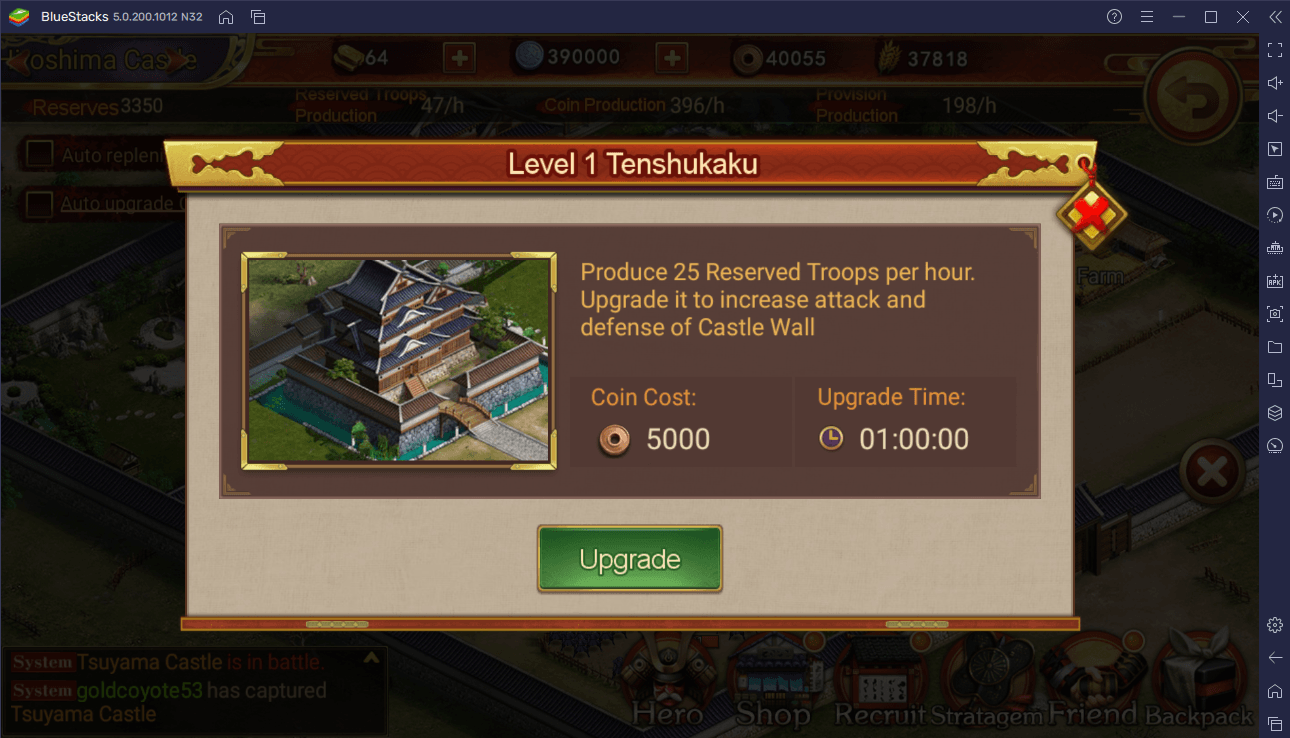 If you want to defend your occupied castles, you need to invest resources on the castles Tenshukaku – the headquarters. Upgrading the Tenshukaku by spending coins will reinforce the castle's defensive capabilities, meaning that it will be tougher for enemies to successfully capture.
The capturing of castles can be initiated by selecting an occupied castle and then deploying the army residing there. Your army is very paramount in expanding your power across the map.
Building Your Army
Your army in Sengoku Fubu is composed of two components: the troops and the heroes. These two components work in tandem to defeat any enemy forces who are defending a castle that you must capture.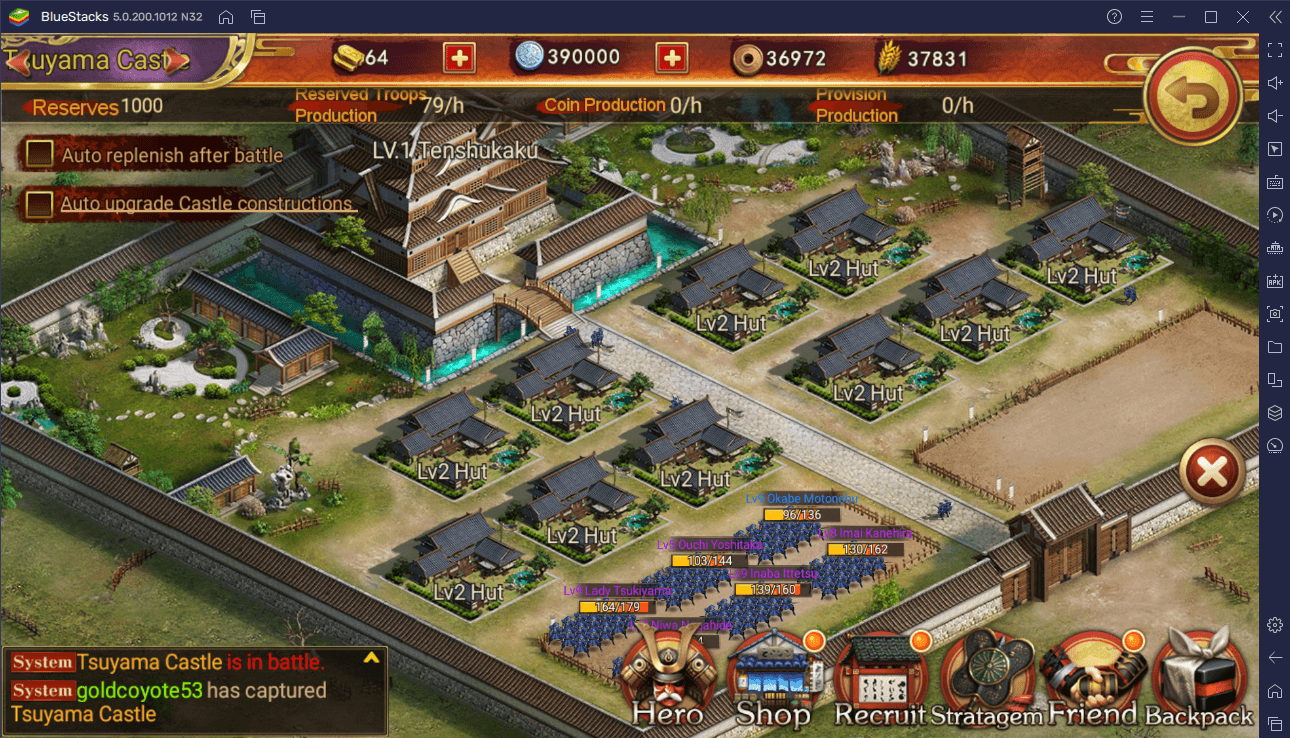 Troops are the regular soldiers who can be assigned to heroes in large numbers. Primarily, they are produced in moderate quantities from the castle's Tenshukaku on an hourly basis. Upgrading the Tenshukaku increases troop production. For instance, a Level 1 Tenshukaku will produce 25 troops every hour; and once you upgrade it to Level 2, it will then produce 35 troops every hour.
The Tenshukaku's production rate can be supplemented by a castle building known as a hut. The hut also produces troops every hour albeit in substantially lower amounts. However, this downside can be compensated by the fact that you can build at most 10 huts in a single castle. Additionally, the hut can also be upgraded to increase the production rate.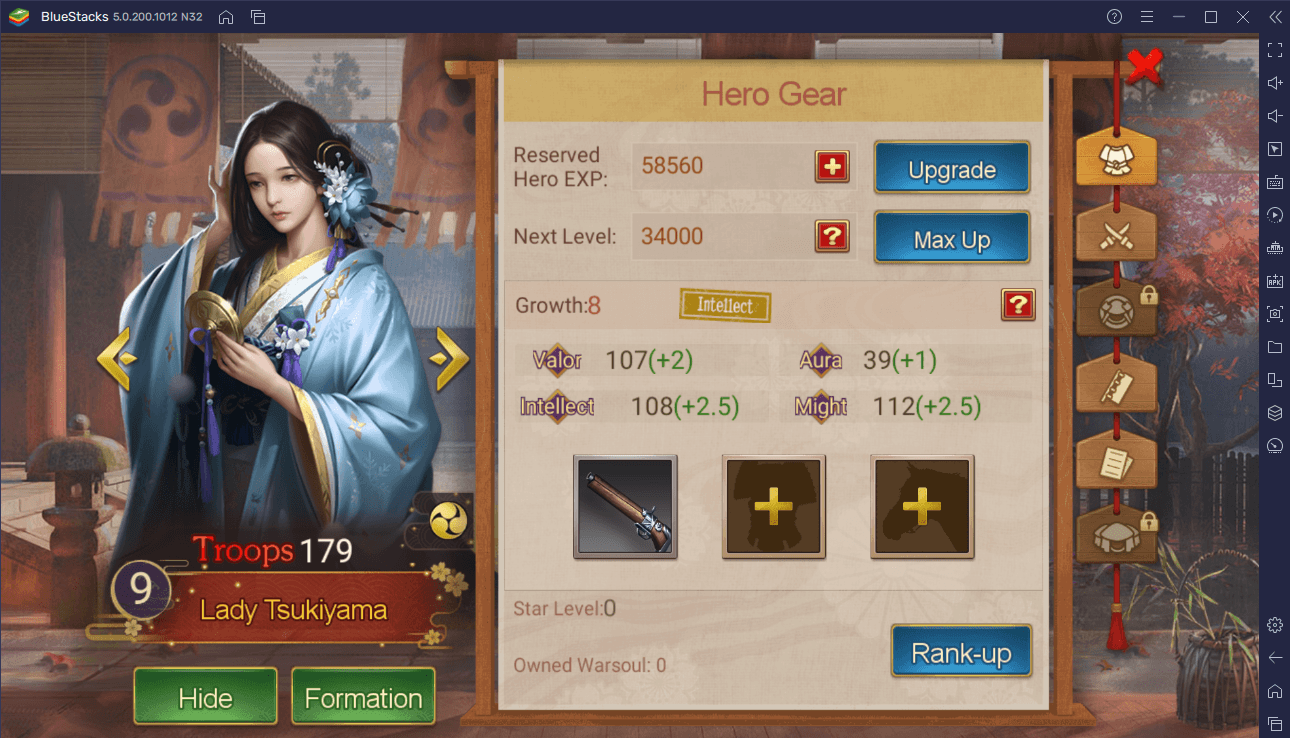 Heroes can be perceived as the captains of the troops. They are exponentially greater than the regular troops and they also have their own stats and special attributes.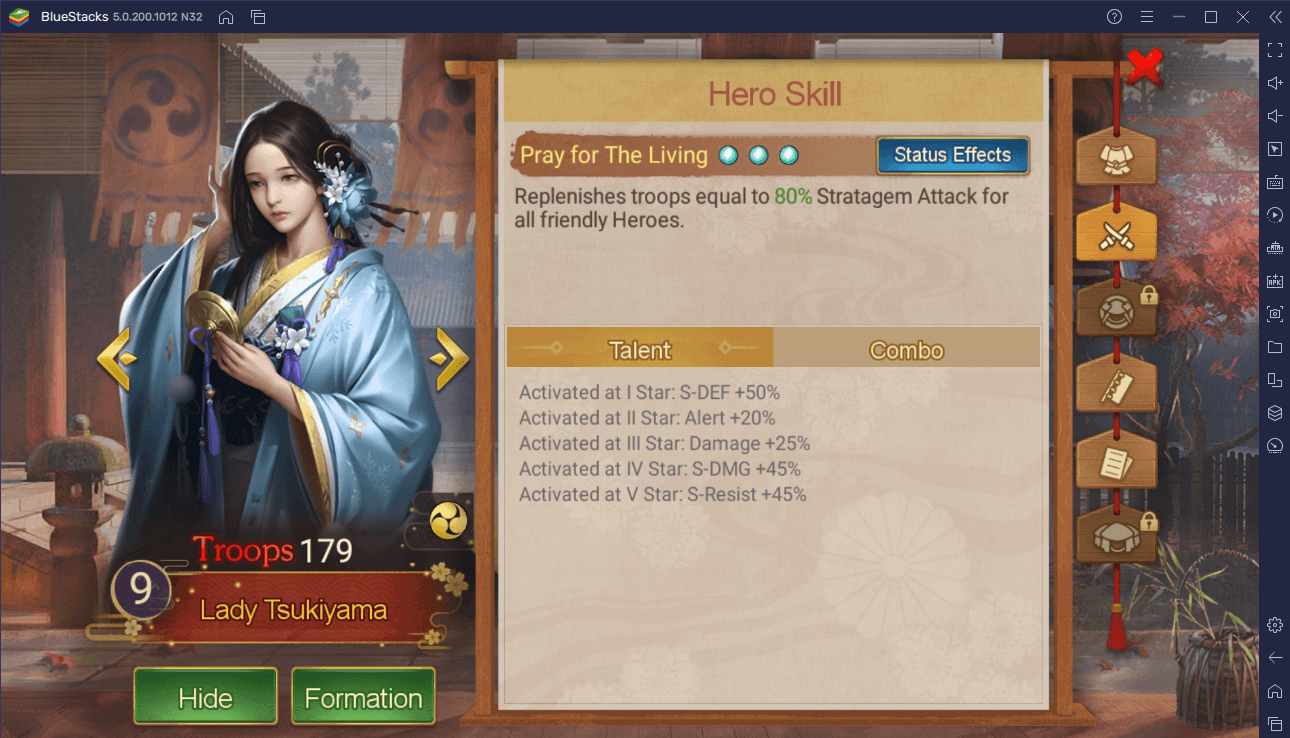 Heroes have access to status effect skills which can include buffs to help your troops in combat (i.e., increased damage, health replenishment) or debuffs to the enemy team (i.e., reduced damage).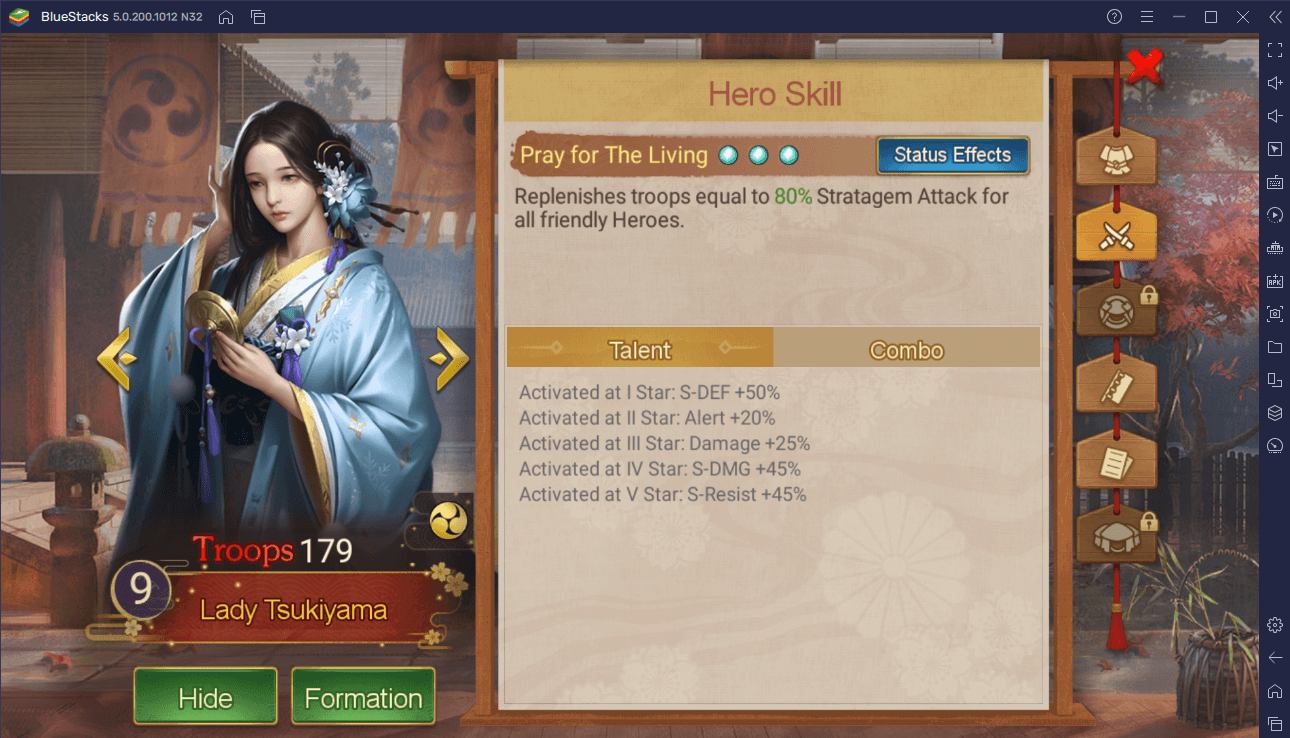 They also have talents that are essentially boosts to their own stats that can be activated when the hero reaches a particular rank. Heroes can be ranked up with Warsouls as well as sacred items.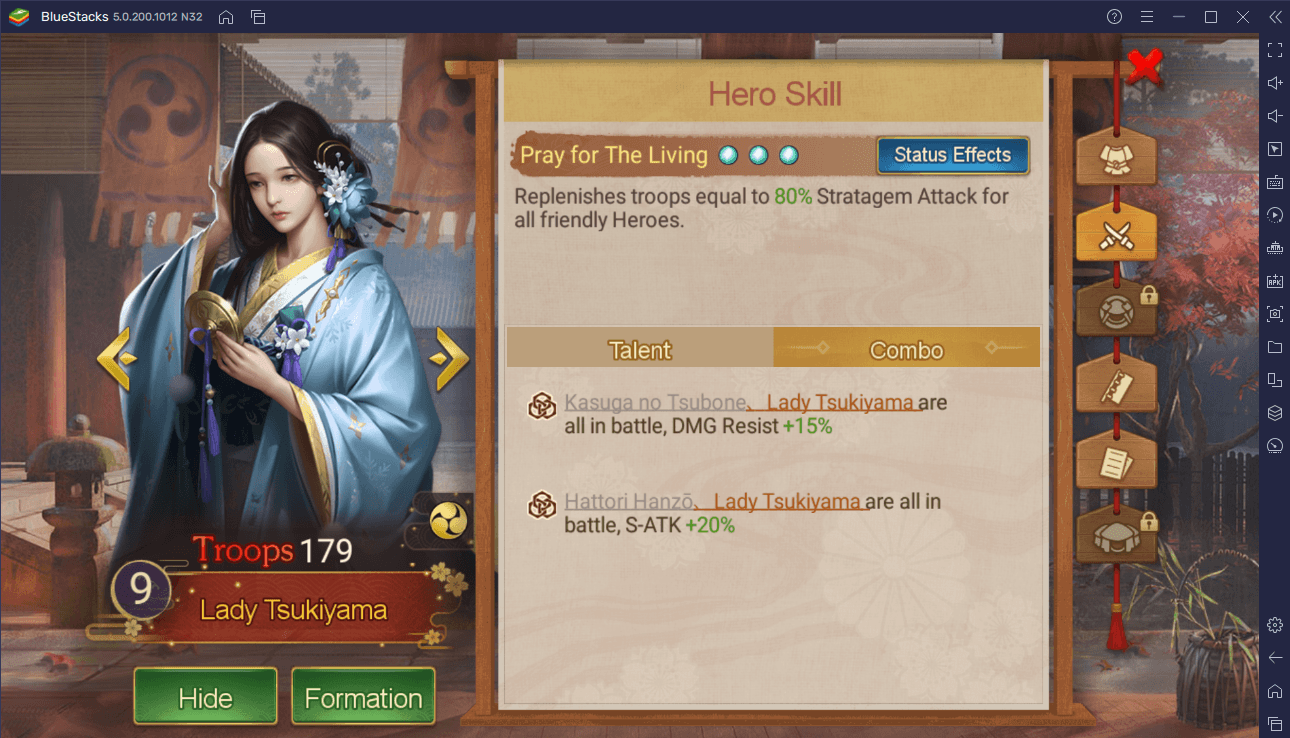 Having a specific combination of heroes in a battle can also be quite useful. Heroes have combo abilities which are only activated if and only if there are specific heroes that are present alongside them during battle. This is an important consideration whenever you are strategizing your battles.
To know more about building an army in Sengoku Fubu, read this army-building guide here.
Conquering Castles
Once you have recruited enough troops as well as have enough heroes, you can start deploying them to the target castle.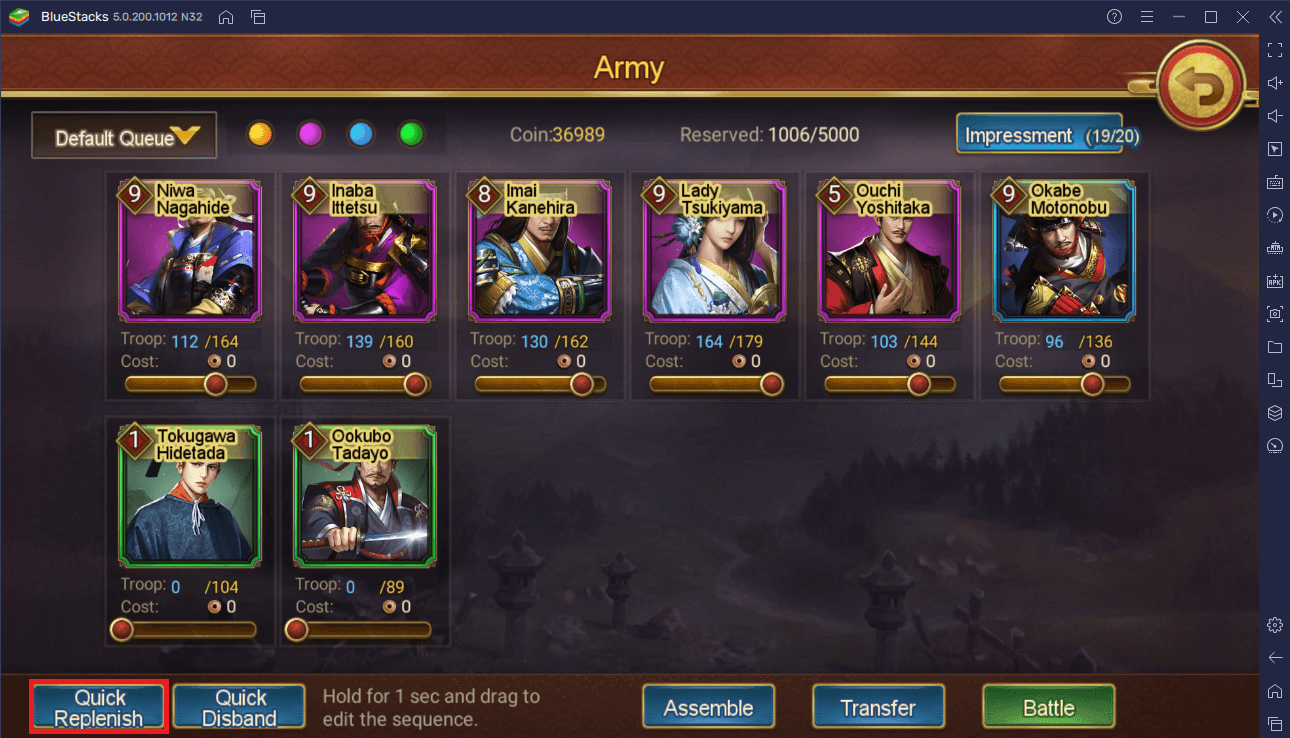 To deploy them, you must select an occupied castle and then select 'Troop'. Afterwards, begin allocating the troops to the heroes. Each hero can only lead a limited number of troops but as much as possible, always ensure that the max capacity is reached. This process can easily be done by clicking on 'Quick Replenish'.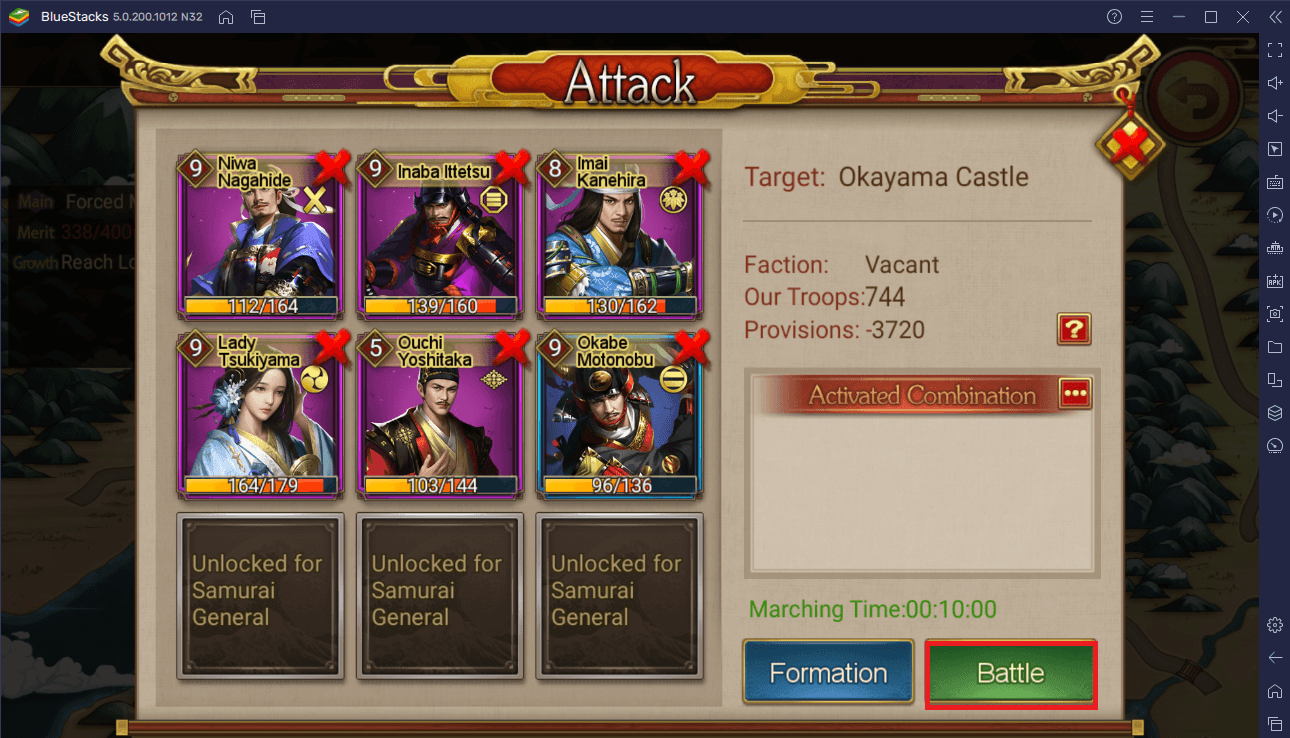 Finally, select the heroes that you want to use for the capture and then click 'Battle'!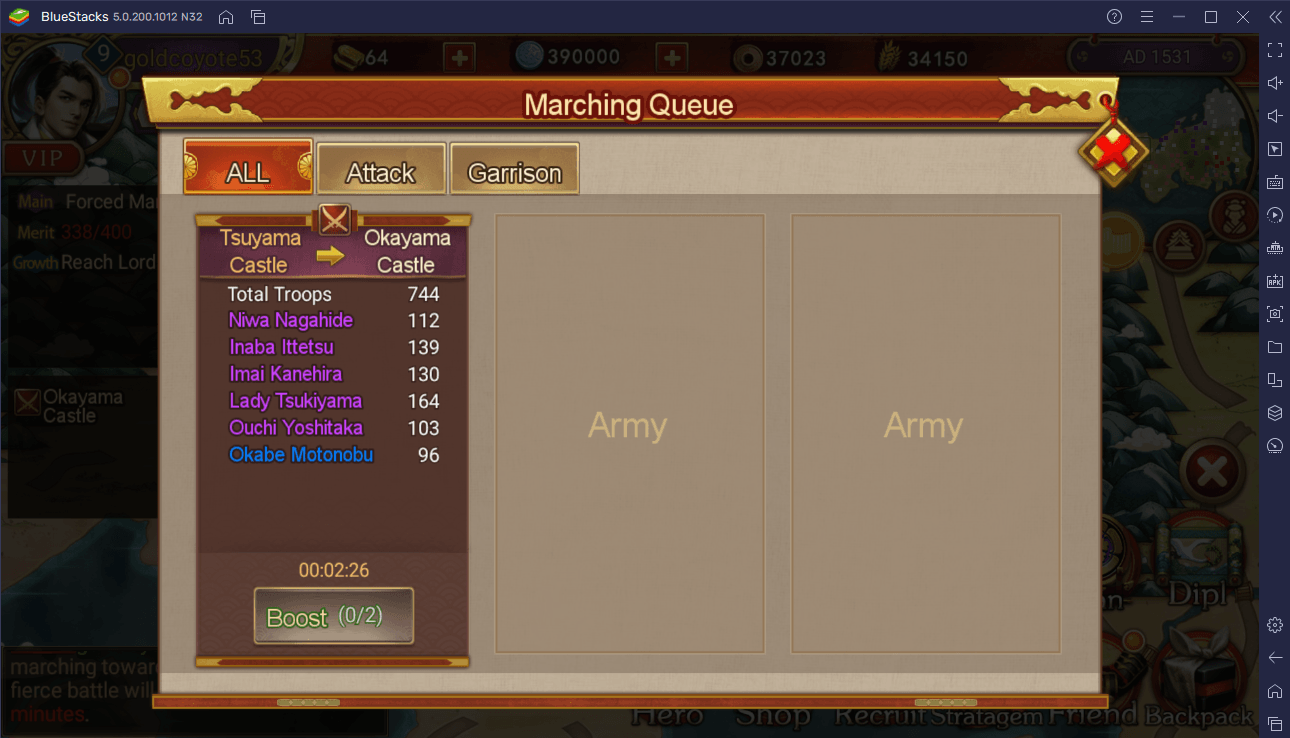 Your army will not instantly teleport to the target castle as they will need to march to get there. The marching time is dependent on the distance between the home castle and the destination castle. To shorten the marching time, you can use an item called a Forced March which cuts the marching time in half. You can use a maximum of two Forced Marches.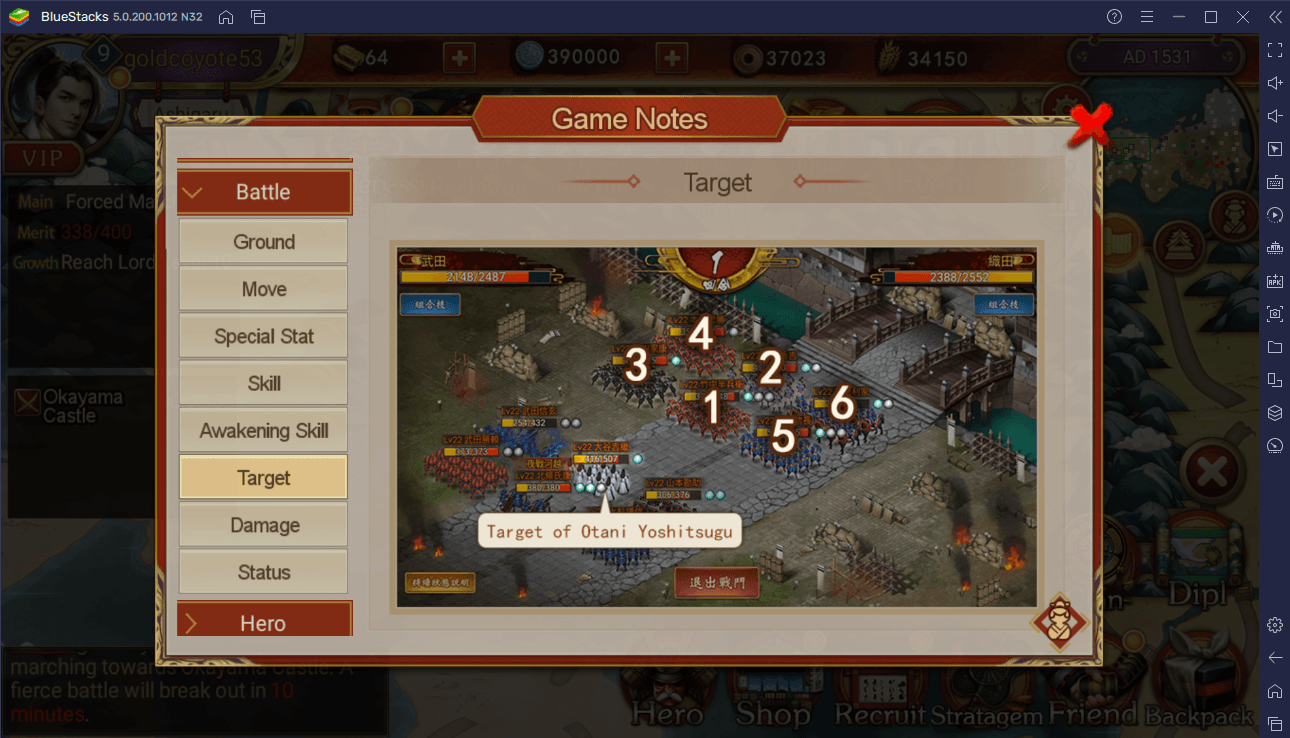 Once your army reaches the target castle, the battle begins, and it is operationalized through a turn-based system. More specifically, your troops will attack the enemy troops in this order.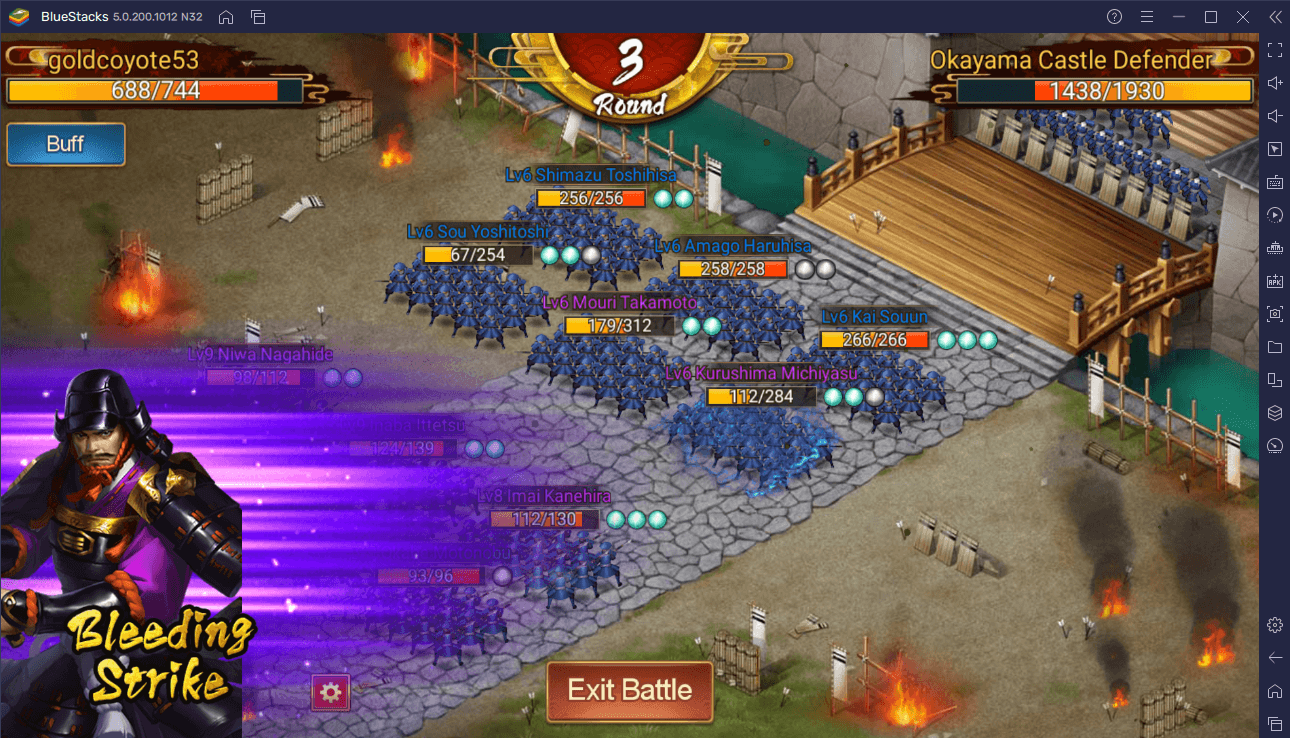 During the battle, your heroes can do either of two moves: a common move or a special move. A common move can be a simple attack but can also be a skill cast. In order for a skill to be cast, a certain number of an item called Ougi is required first.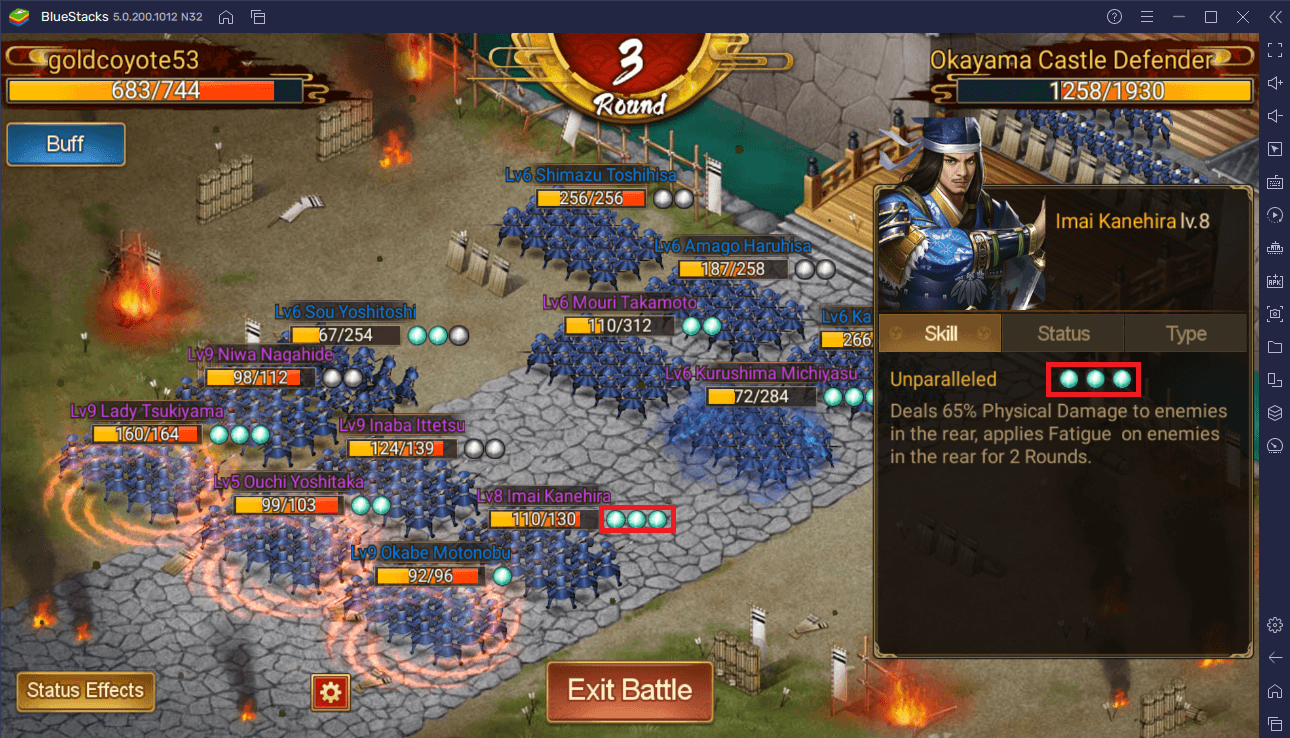 The number of Ougi a hero has earned during battle is indicated by the several orbs near the troops' health bar. One Ougi is earned when they successfully attack enemy troops. Once all orbs are filled, the hero will activate their skill in the next turn.
Castle Development
Once you occupy a castle, you have the liberty to build a maximum of 10 buildings within the castle walls.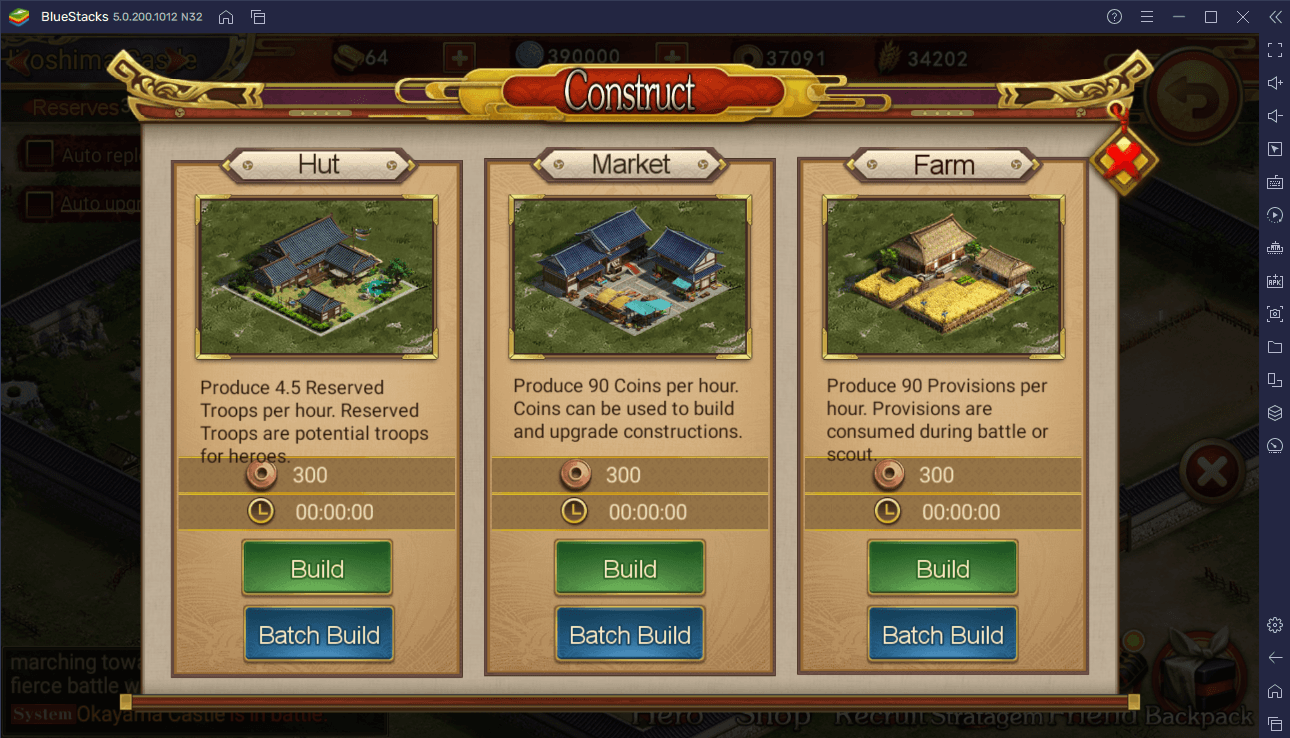 Upon selecting a vacant lot, you can choose of three buildings to construct:
Hut – as mentioned earlier, the hut produces troops every hour and acts as a supplement to the production capabilities of the Tenshukaku.

Market – produces coins, which are required for constructing more castle buildings as well as upgrading them.

Farm – produces provisions, which are needed by your army to march to other castles.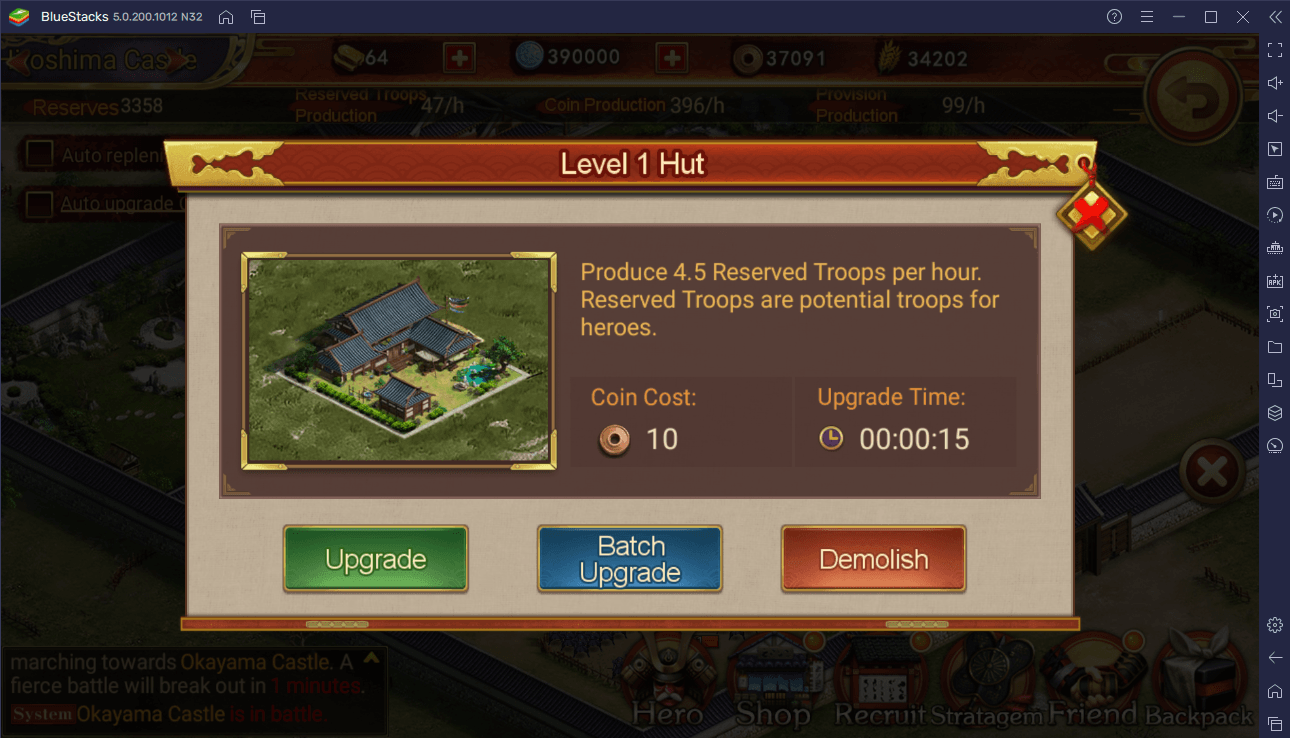 All buildings in the castle can be upgraded with coins as well as patience. The latter is quite important because as buildings level up, the time it takes for construction to finish increases. Additionally, it will also cost more.
If you want to know more about how to acquire the resource necessary to continue your castle infrastructure development, you can refer to this guide here.
Stratagems
Earlier in the guide, an item called Forced March, which reduces marching time by half, was mentioned. Forced March is one of many special items called Stratagems and they are essentially consumables that can make things easier in Sengoku Fubu.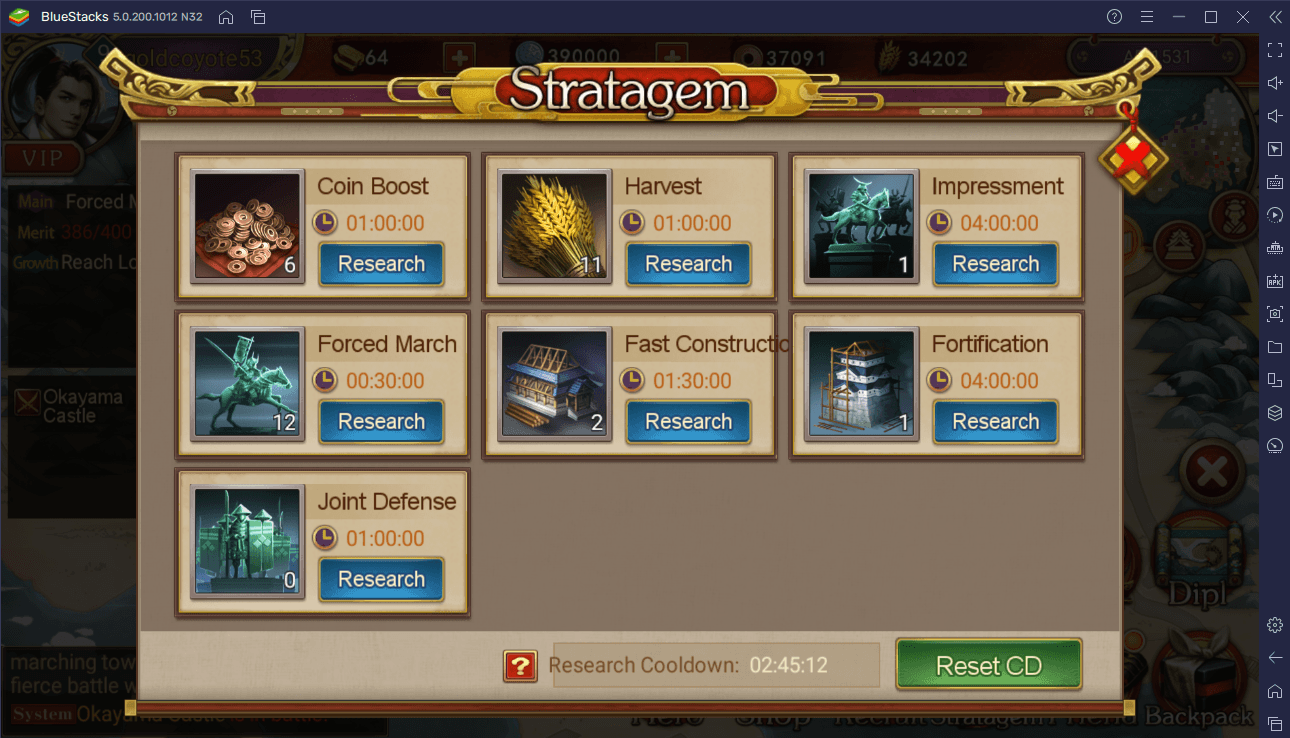 What is interesting about stratagems is that they do not cost anything except time. They can be manufactured through the game's research system. Each stratagem takes a certain amount of time to research. You can research more than one stratagem at a time, but the caveat is that the aggregate manufacturing time cannot exceed 10 hours.
For example, the Fortification stratagem takes four real-time hours to research. According to the research system, you can only research a maximum of two Fortification stratagems in a single sitting because the system cannot accommodate researching three of them (that would take 16 hours but the system only allows a maximum of 10 hours).
As of writing, there are seven Stratagems in the game:
Coin Boost – gain 8,000 coins instantly.

Harvest – gain 8,000 provisions instantly.

Impressment – gives you 1,000 troops instantly.

Forced March – cuts the marching time in half.

Fast Construction – instantly completes construction time (except Tenshukaku)

Fortification – instantly completes Tenshukaku construction.

Join Defense – use to deploy an army to an occupied castle.