Game Guides
A Resource Guide for Developing Your Castles in Sengoku Fubu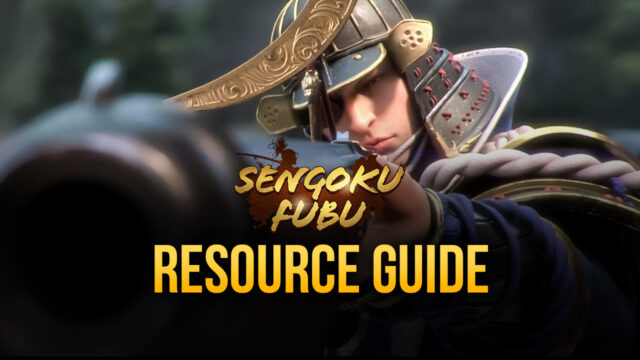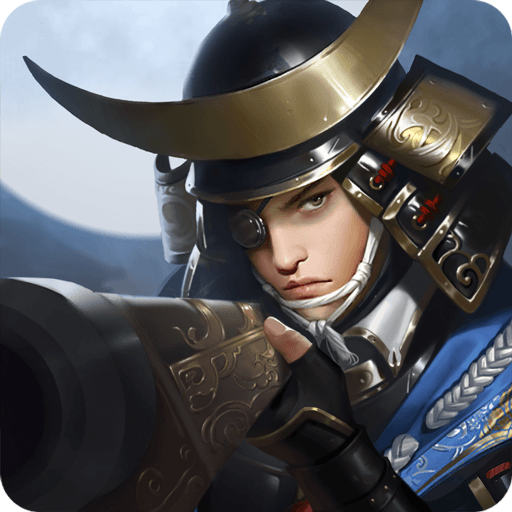 There are several resources in Sengoku Fubu that are essential in strengthening your army as well as developing your occupied castles in terms of economic and defensive capabilities. Primarily, you will be dealing with three major resources: troops, coins, and provisions. These resources are used for taking over other castles, building facilities, and marching from one castle to another, respectively. Additionally, you also have premium resources such as Koban and Silver Chogin which are mainly used to purchase heroes as well as gear items for said heroes.
Expending these resources is part and parcel of your quest for power in Sengoku Fubu so it is imperative to have plenty of them in stock to preserve the continuous flow of progress. To make things easier and more efficient, this guide will help you in learning all of the possible ways to acquire resources – whether it'd be basic ones like provisions or premiums like Koban – so that you immediately know where to look and not waste time.
The Three Castle Buildings
Let us start with the basic resources first: troops, coins, and provisions. There are three buildings that you can build within the castle walls that can produce these resources.
Hut – produces reserved troops. They eventually transition from reserved to active troops once they are assigned to a hero and deployed into battle.

Market – produces coins. Coins are used construct more buildings in current or future castles and or be used for upgrading said buildings.

Farm – produces provisions. Provisions are consumed by troops and heroes to march from one castle to another.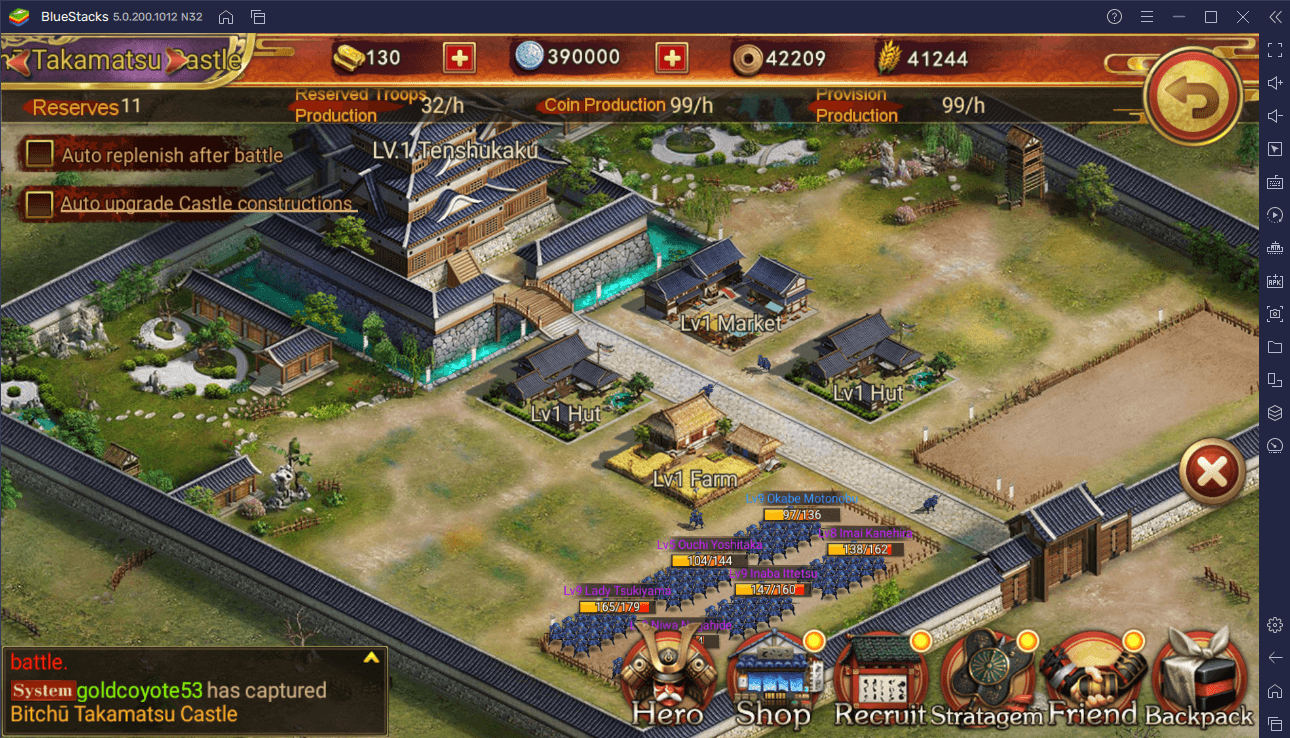 Each castle has a maximum of 10 vacant lots on which you can construct one of the three buildings. Depending on what resource you are aiming to produce more of, you can have one castle exclusively contain the building that produces the resource you want. So, for example, if you want to stock up more provisions, you can construct 10 farms in one or more castles.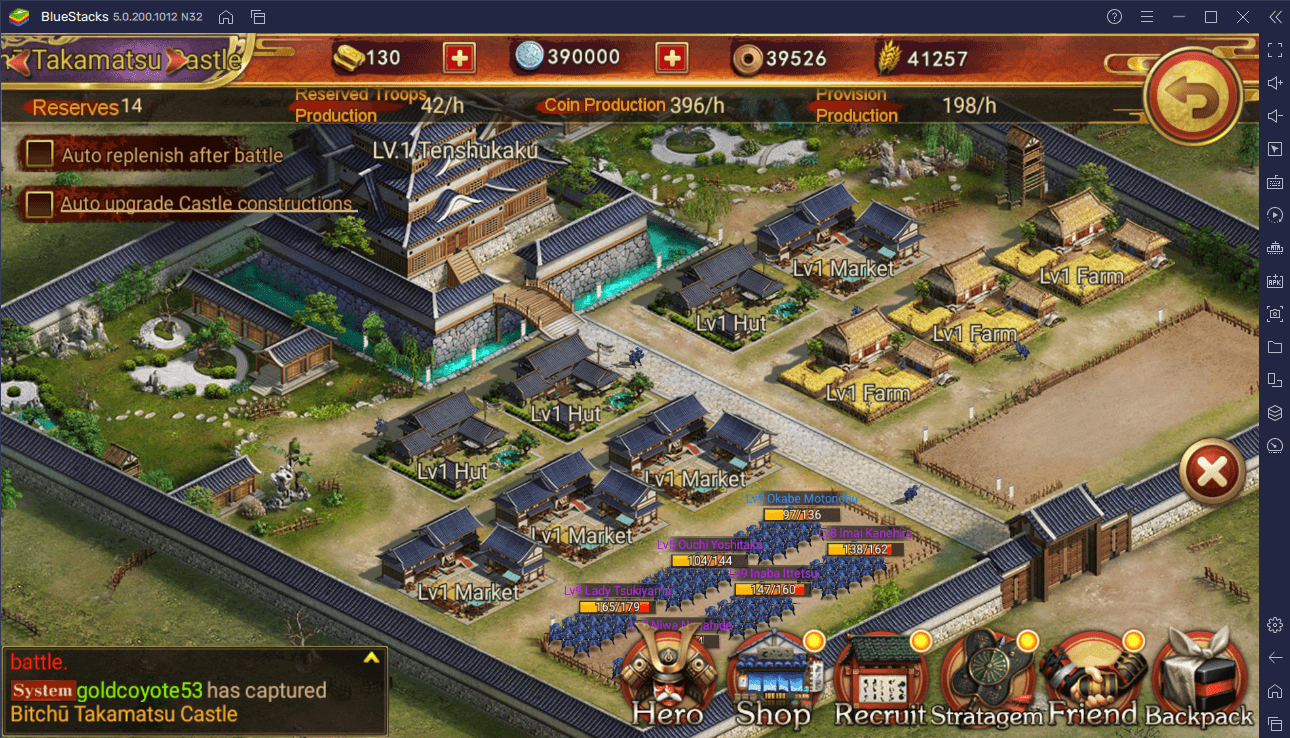 But in general, it is best to balance out the number of buildings in your castle. It is recommended recommend four huts, three markets, and three farms.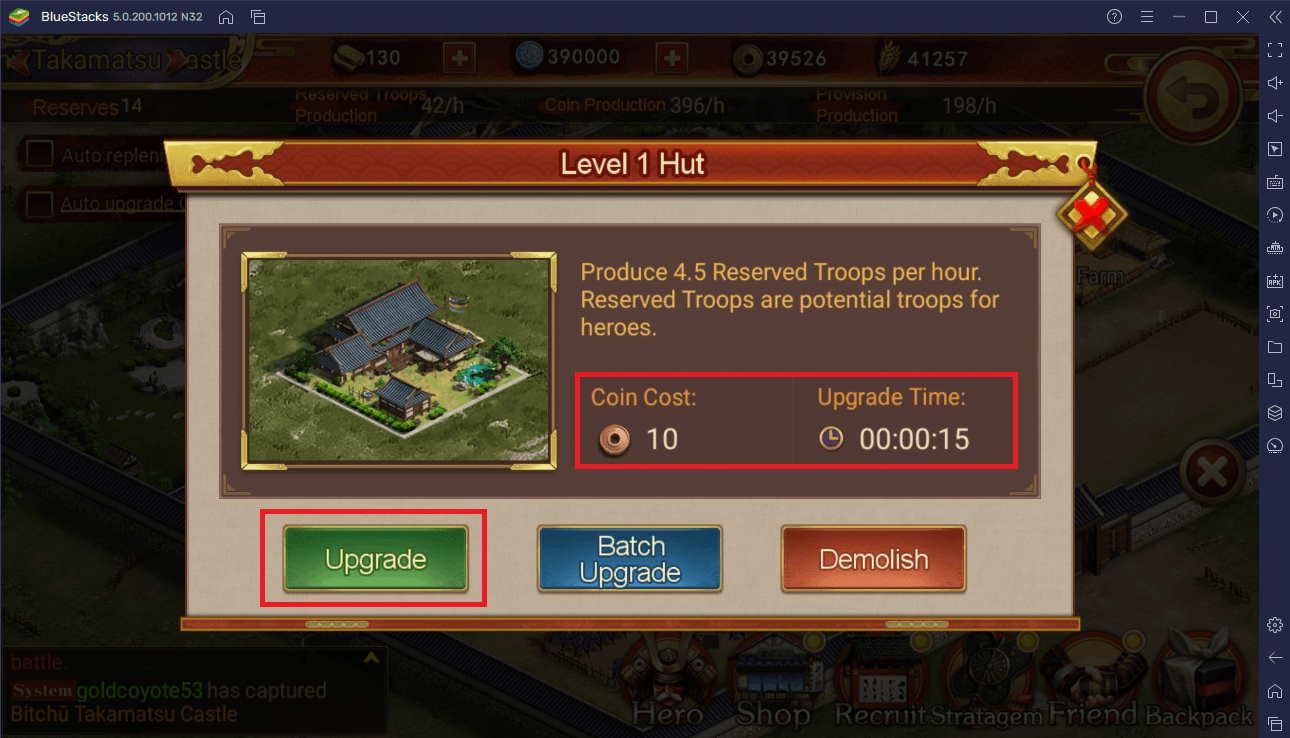 The buildings can be upgraded to increase the production capacity of their respective resource. Coins are required to upgrade and level up a building. Upgrades become more expensive and take longer to finish as the building's level becomes higher.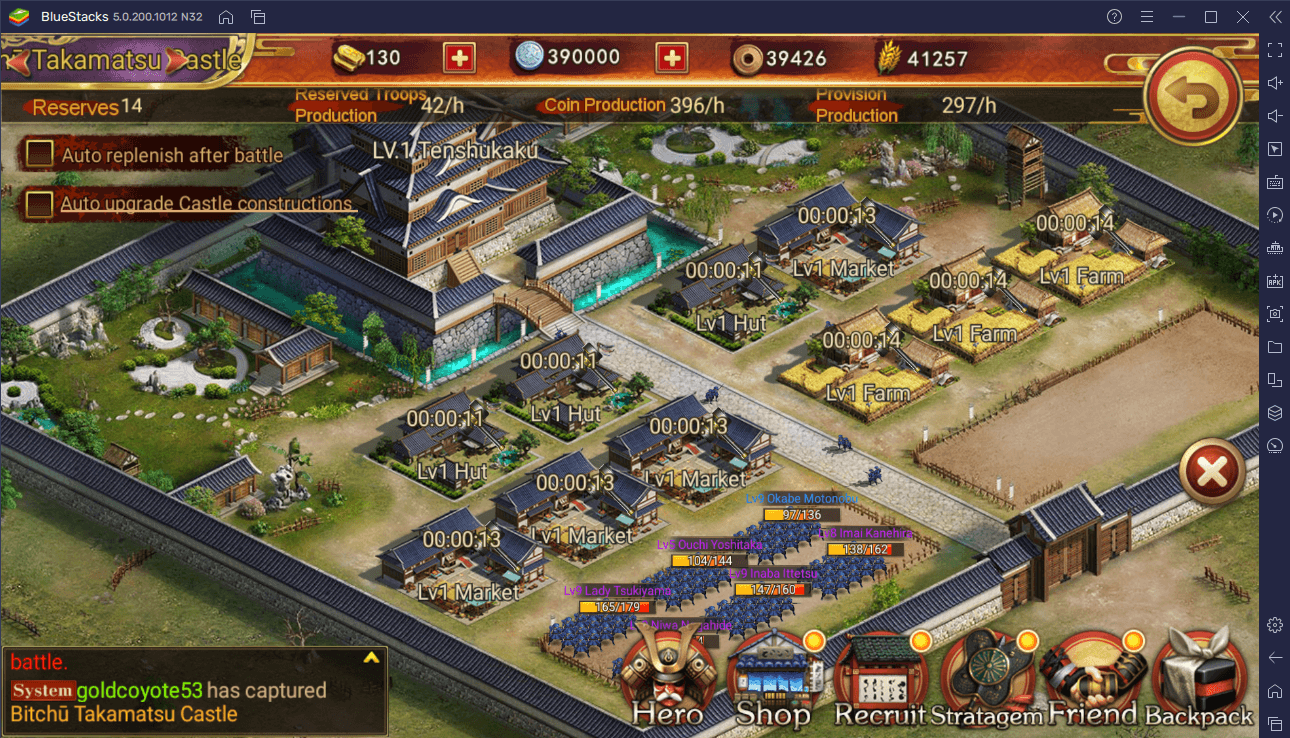 It is best to upgrade all buildings at the same time by clicking on 'Batch Upgrade' to make things more efficient.
Completing Merit Quests
Merit quests are optional quests that reward you with rare resources. These quests refresh every 24 hours.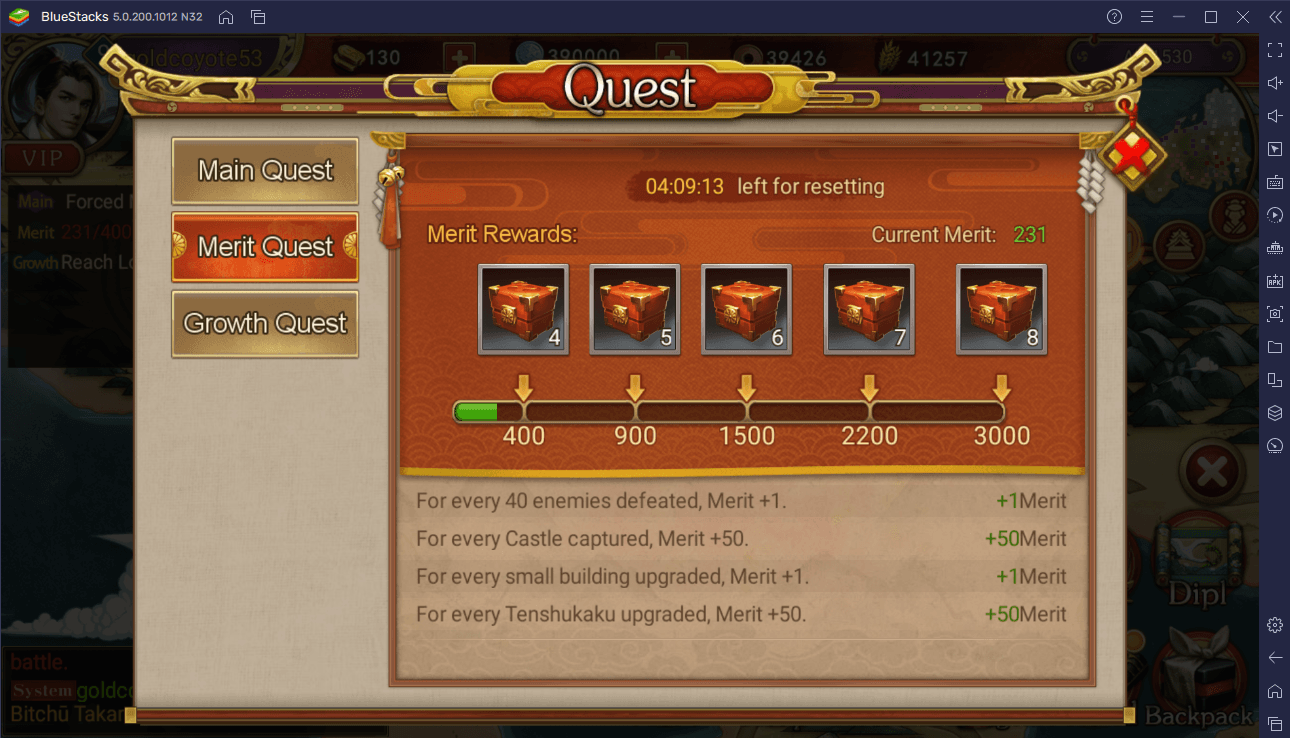 In merit quests, you are tasked to complete several objectives in order to garner merit points. Once your merit points reach a certain amount, you gain a merit chest. The chest can contain Silver Chogin, a resource that can be used to purchase gear for your heroes; and it can also contain Warsouls, which can be used to rank up heroes. Furthermore, you can also acquire recruit tokens from merit quests, and you can use these to add more basic heroes to your army.
Using Stratagems
Stratagems are items that you can use to make things in Sengoku Fubu much easier and more convenient and this includes the procurement of basic resources.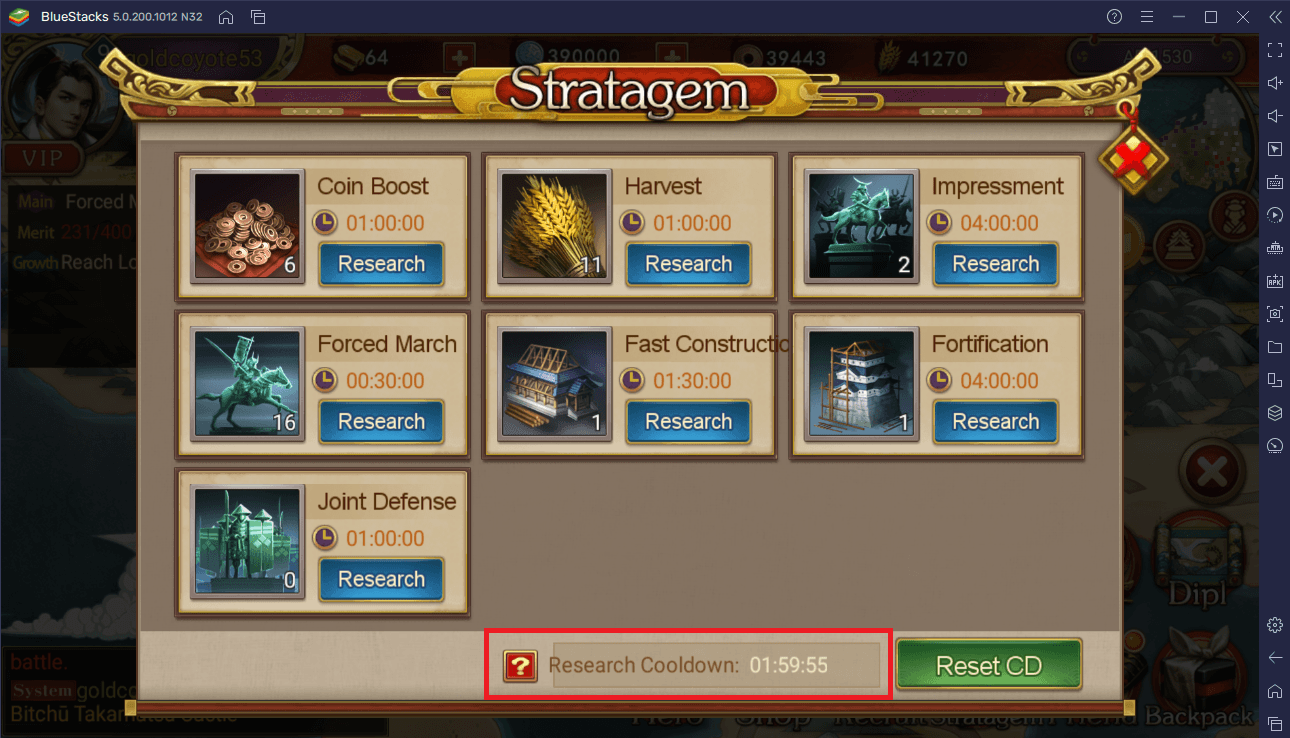 Keep in mind that researching stratagems have no cost aside from time. They are manufactured through the game's research system. Each stratagem takes a certain amount of time to research. You can make more than one stratagem at a time, but the aggregate manufacturing time cannot exceed 10 hours; otherwise, you will need to spend Koban to refresh the cooldown time.
The Coin Boost and Harvest stratagems instantly grant you 8,000 coins and provisions respectively. Each only takes 1 hour to research, which means that you can research up to 10 stratagems in 10 hours. With 10 stratagems, you can have 80,000 coins or provisions instantly, depending on what stratagem you have researched.
Fast Construction is also a useful stratagem because it instantly completes the construction of the castle buildings mentioned earlier. This allows you to immediately upgrade a building's production capacity. It takes 90 minutes to research this stratagem.
Events
Participating in in-game events rewards you with either basic or premium resources depending on the event. When you constantly play Sengoku Fubu, participating and completing these challenges is worth the time investment.
Daily Login
Logging in consecutively grants you with premium resources such as Silver Chogin and Koban (used to recruit advanced heroes), depending on the day you log in. On some days, you can even acquire actual heroes from a specific rarity. The Daily Login rewards are too good to be missed out on so always log into the game every day.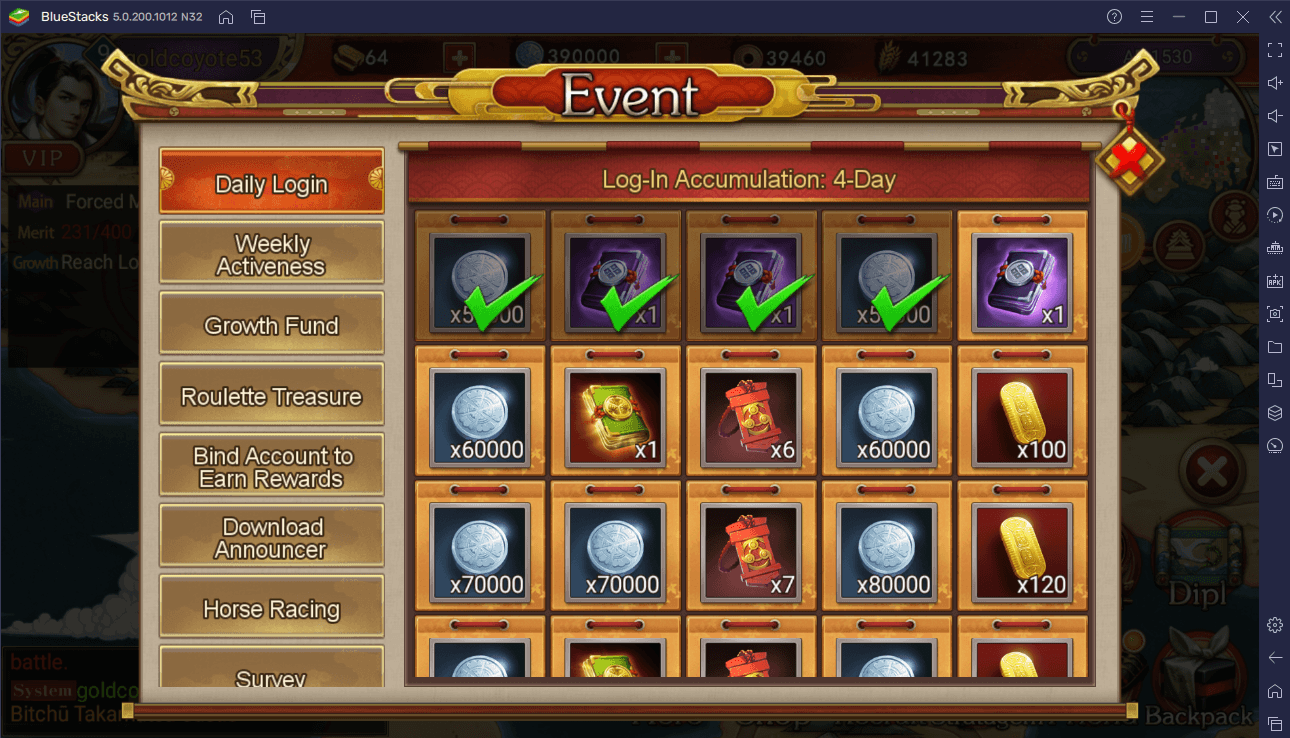 Weekly Activeness
Weekly Activeness quests are functionally like merit quests. There are a set of tasks that grant you points called activeness upon completion. Completing the harder tasks gives the most activeness. Reaching a certain amount of activeness rewards you with Silver Chogin, Kobam, and Warsoul. The Weekly Activeness refreshes every 4:00 (UTC+8:00) Monday, server time.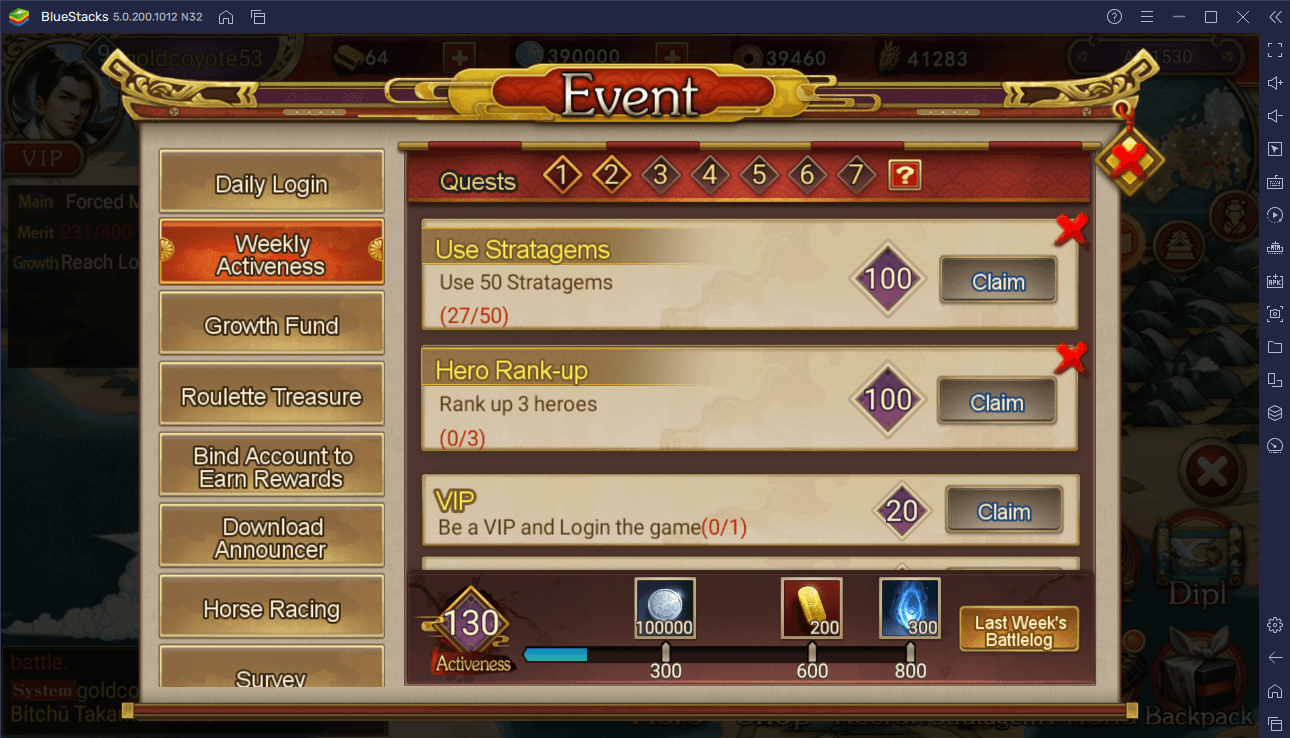 Bind Account
This is the easiest event to accomplish. All you need to do for this one is to link an account – whether it would be a social media account or your Google Play account – to Sengoku Fubu and you can instantly receive 10 merit chests and 10 stratagem packs. If you have not done so already, link you account now not only so that you can redeem the rewards but also to cloud-save your progress in the game.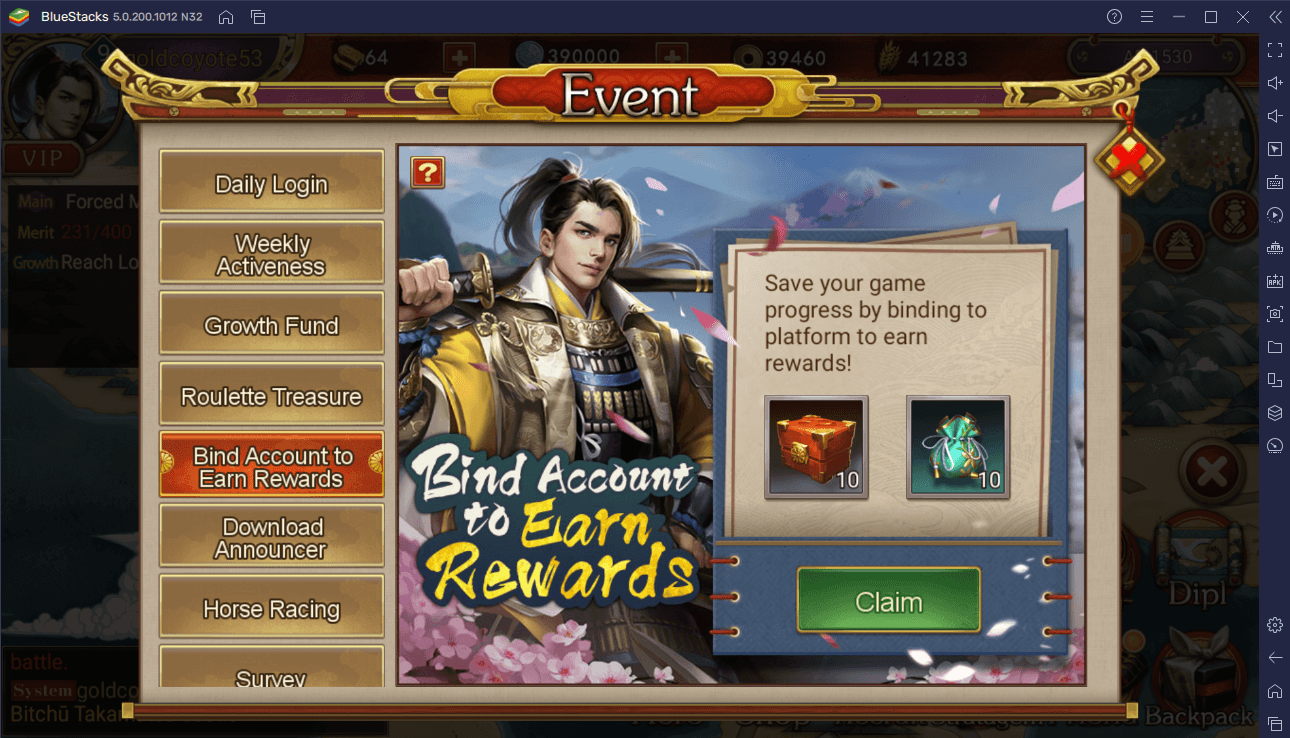 Note that you can only redeem the rewards once. Even after binding another account, you cannot claim the rewards again.
Growth Fund
The Growth Fund is an event that rewards you for achieving a new title as a lord. You are rewarded with plenty of Koban upon achievement. A new lord title can be attained whenever you level up as a lord. You can level up with Lord XP, which is earned after the game completes its cycle (when the in-game year reaches 1615). Once you attain the title of Ashigaru General, you can start earning more Lord XP by completing Lord quests or by defeating other players.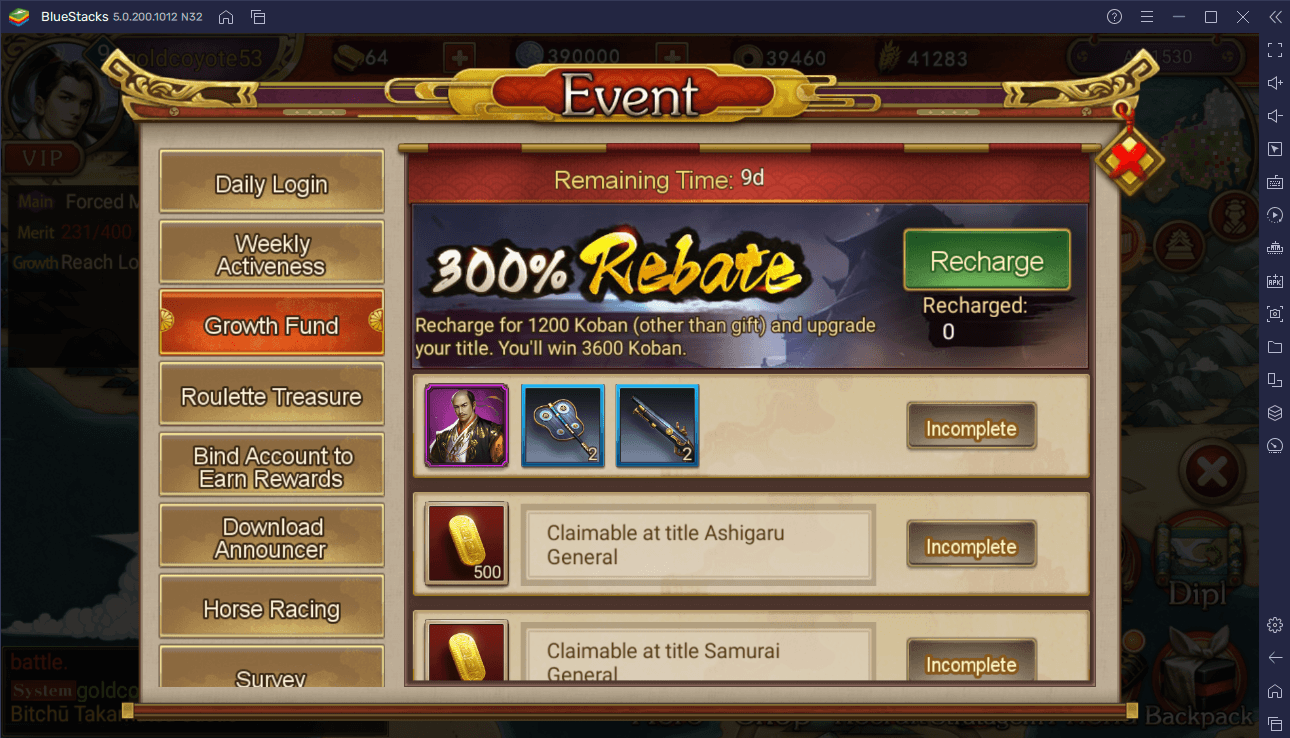 Download the Announcer
Just like with binding an account, you can earn 10 merit chests and 10 stratagem packs by downloading an announcer. The announcer requires 67.71MB of space.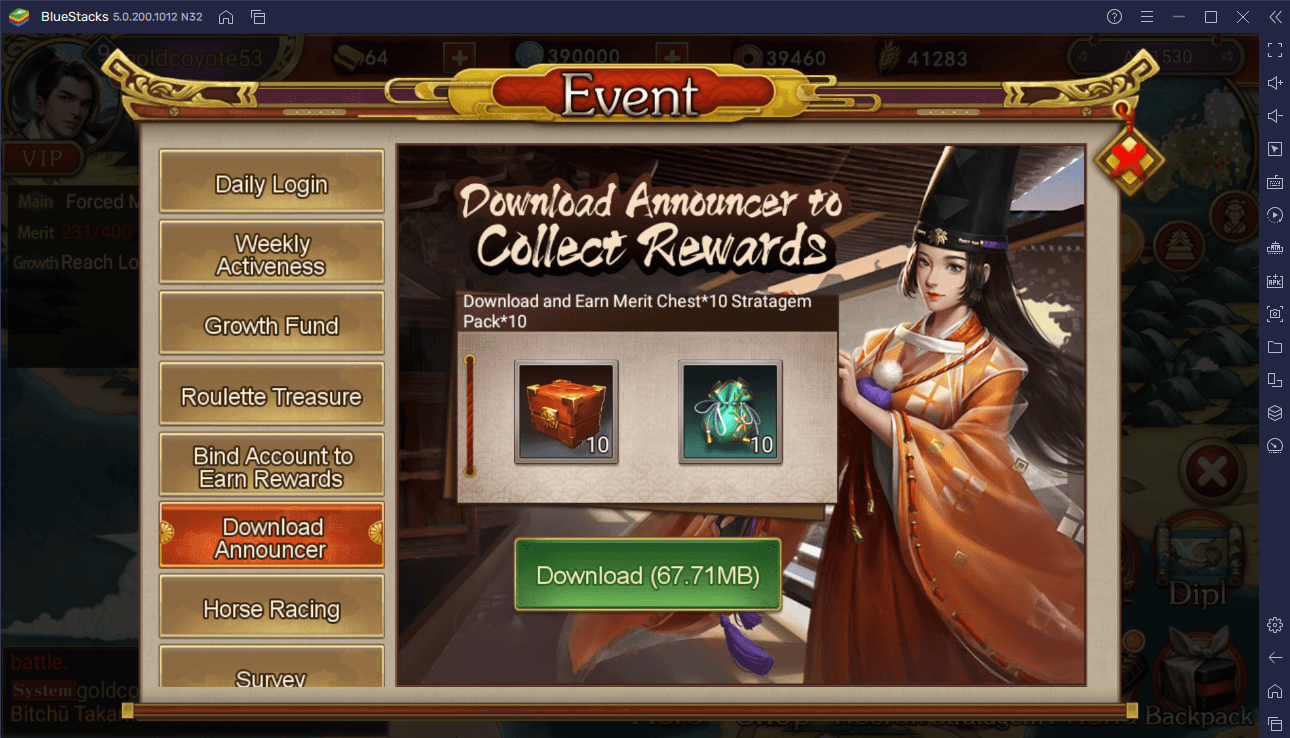 Taking a Survey
By taking a survey, the game generously rewards you with 200 Koban, two Advanced Recruit tokens, 200,000 Silver Chogin, and 20 stratagem packs.