Game Guides
How to Enhance Your Experience With Seven Mortal Sins X-TASY on PC Using BlueStacks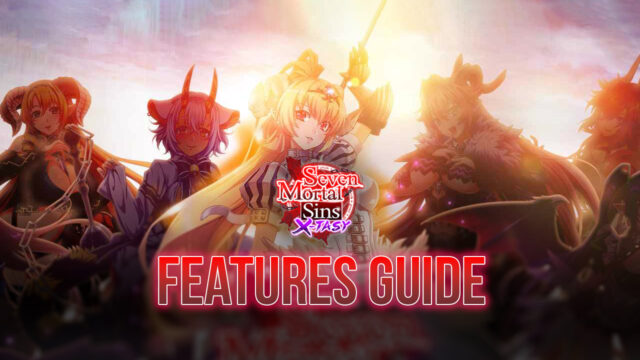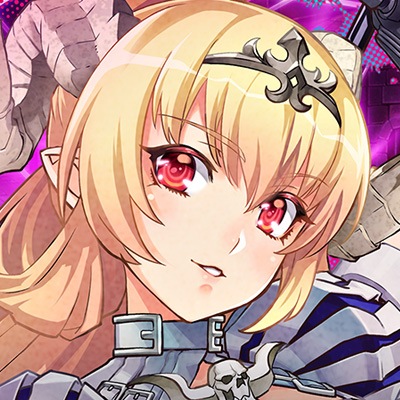 Seven Mortal Sins X-TASY has just been released to the worldwide mobile market, and players can now download and start enjoying everything that the game has to offer to all the gacha fans out there. This gacha RPG offers much of the same formula that we've come to know and love in this genre, but also innovates with an ambitious storyline centered around the war between heaven and hell, as our protagonist, the fallen angel Lucifer, struggles to win over new human followers to worship her, and grow her power and influence in the ongoing conflict.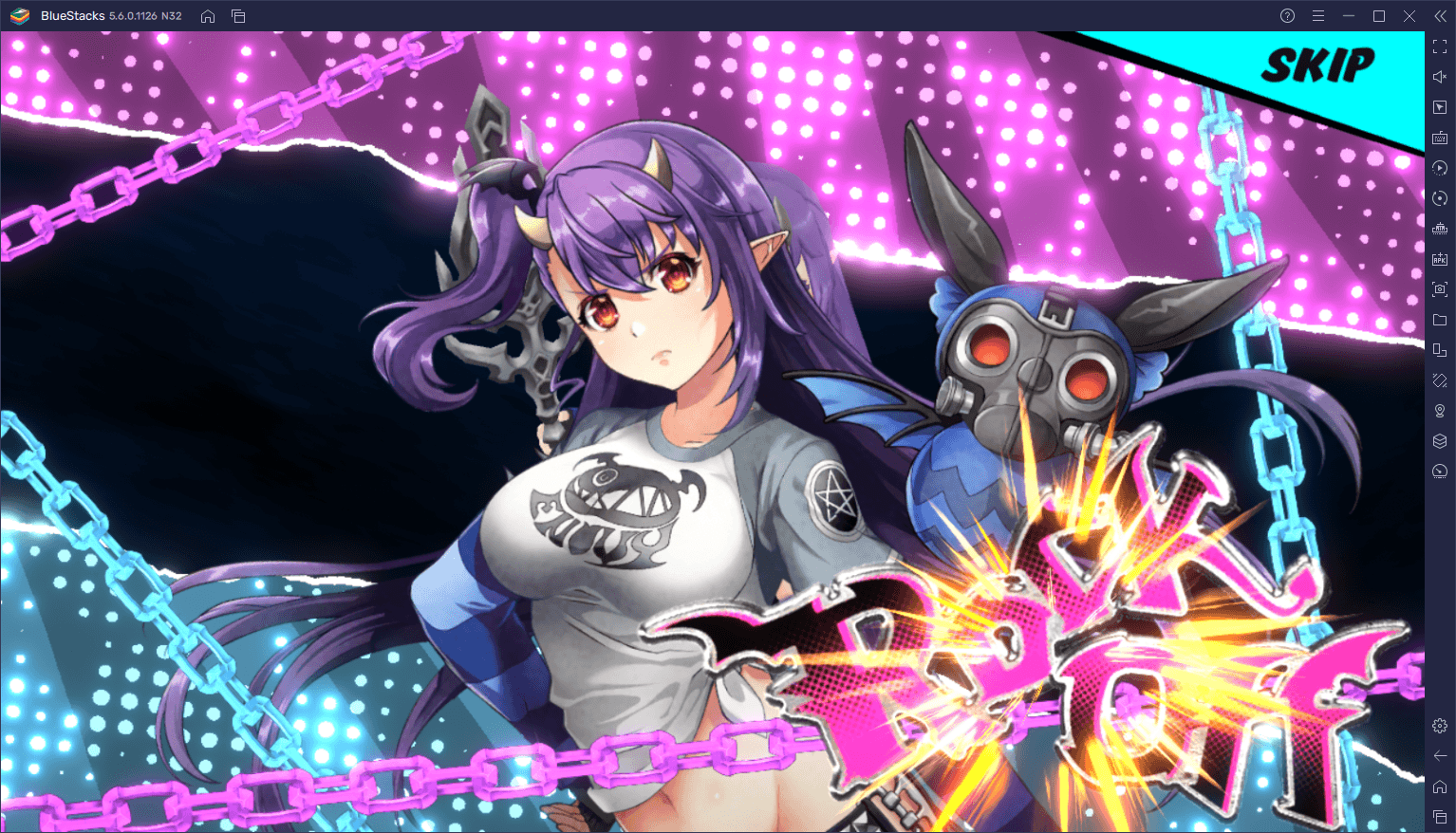 However, Seven Mortal Sins also spices things up by offering tons of eye candy and visual appeal, in the form of a wide variety of sultry and lewd characters that you can unlock and add to your team. And this isn't us just objectifying the characters in the game, mind you—the devs themselves state it on their official website that "The Demonlord Lucifer, together with her retinue of sexy Demons of Sin, shall return to the world of man to rouse a new tide of demon worship as they go on their bizarre and wacky adventure". With a premise like this, you can expect this title to be riddled with waifus and other sexy characters to unlock, collect, and upgrade.
Aside from its compelling narrative, this game also has tons of visual appeal in combat, with characters unleashing a plethora of flashy attacks. Especially if you play Seven Mortal Sins X-TASY on PC with BlueStacks, you can get the absolute best graphics and performance, while displaying it on your large computer monitor instead of playing it all cramped on your phone's touchscreen. And this is without mentioning that our Android App player also has a variety of different tools and features that can help to streamline your experience with this game even further.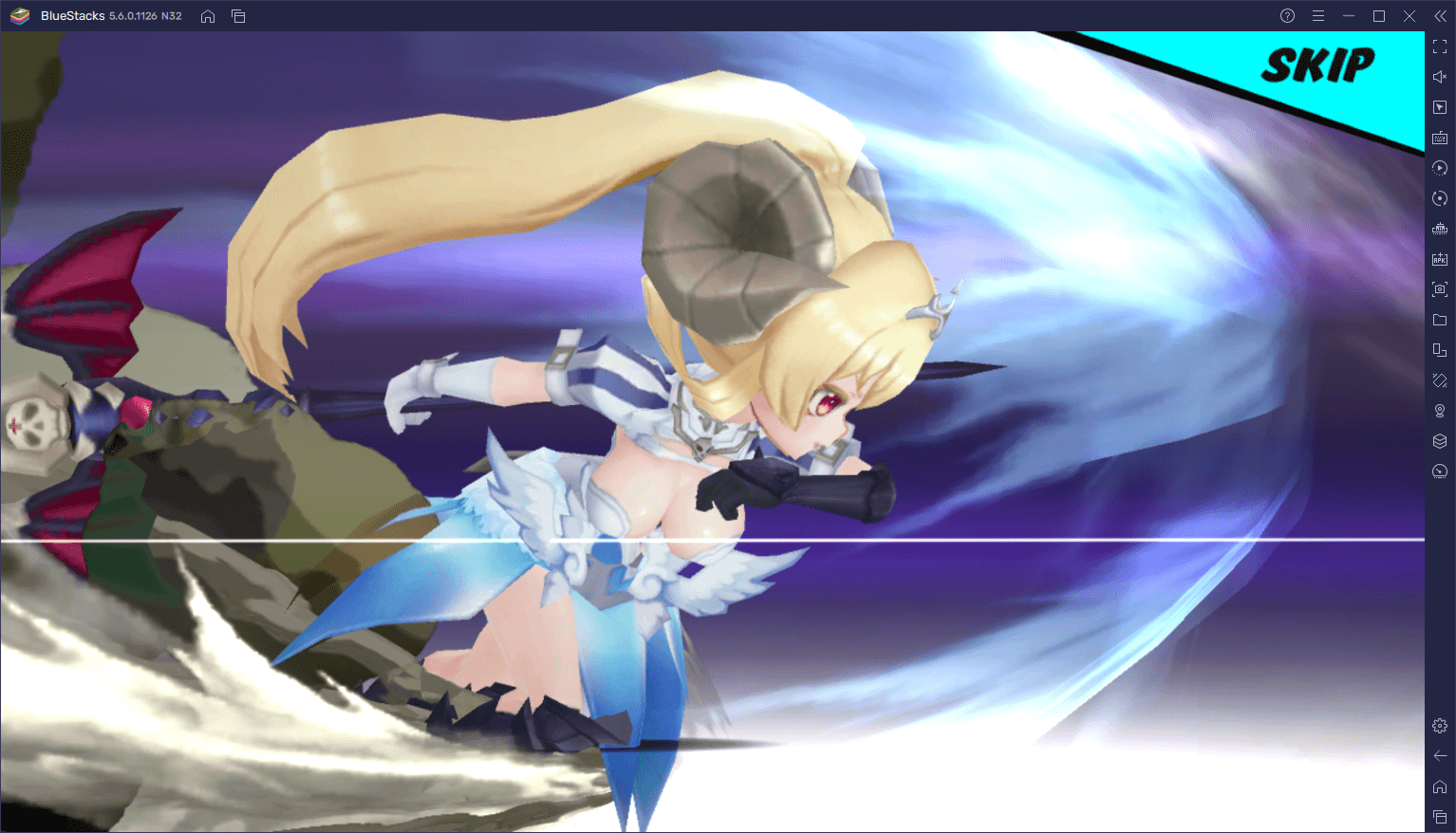 In this guide, we'll be showing you exactly how to use our BlueStacks tools to enhance your enjoyment when playing Seven Mortal Sins on PC.
Getting the Best Performance and Graphics
Usually, good graphics come at the cost of performance. In other words, if you want your games to look good, you usually need a powerful phone to be able to play with the best graphics while maintaining a decent frame rate. Alternatively, if you play Seven Mortal Sins on BlueStacks, you can easily choose the best of both worlds, and play with the best visuals and performance, since our Android App player is lighter and faster than even the most expensive phones on the market.
As long as your PC meets our very accessible recommended requirements to run BlueStacks, you can easily crank the graphics of this game to the max without having to worry about your performance. However, in some cases, you might need to tweak a few settings both in your emulator, as well as in-game. Here's a quick step-by-step breakdown on how to proceed: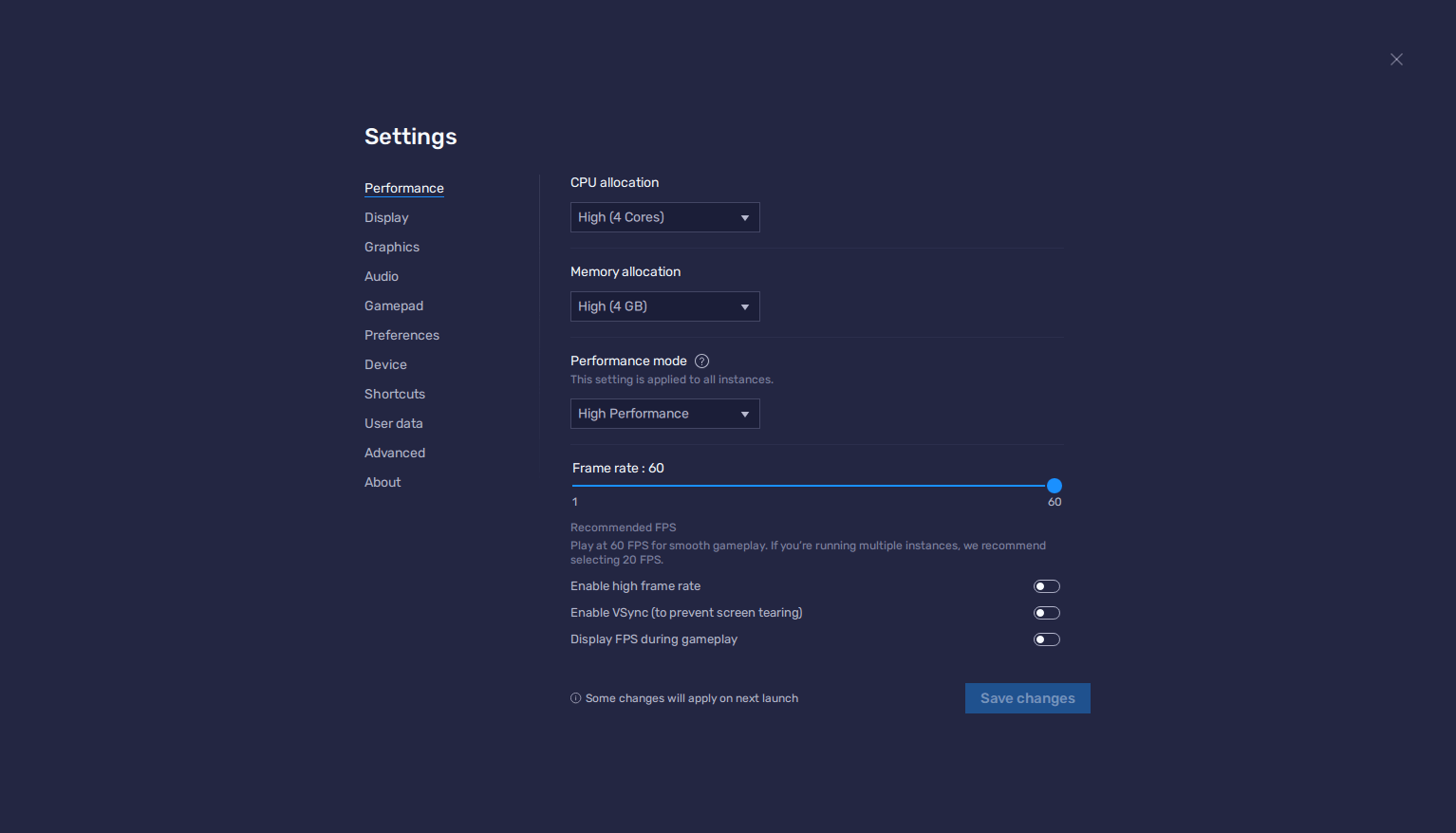 Go to your BlueStacks settings by clicking on the burger icon on the top right of your emulator window, and go to the Performance section.

In this screen, assign 4 CPU cores and 4 GB of RAM to your emulator, and set the Performance mode to "High performance". Further down below, make sure to set the FPS slider to at least 60. Finish by clicking on "Save changes".

Launch Seven Mortal Sins X-TASY and go to the in-game settings by clicking on the System gear icon on the main screen.

In the Graphics section, set your Frame Rate to 60 FPS, and your Optimization Priority to "Quality".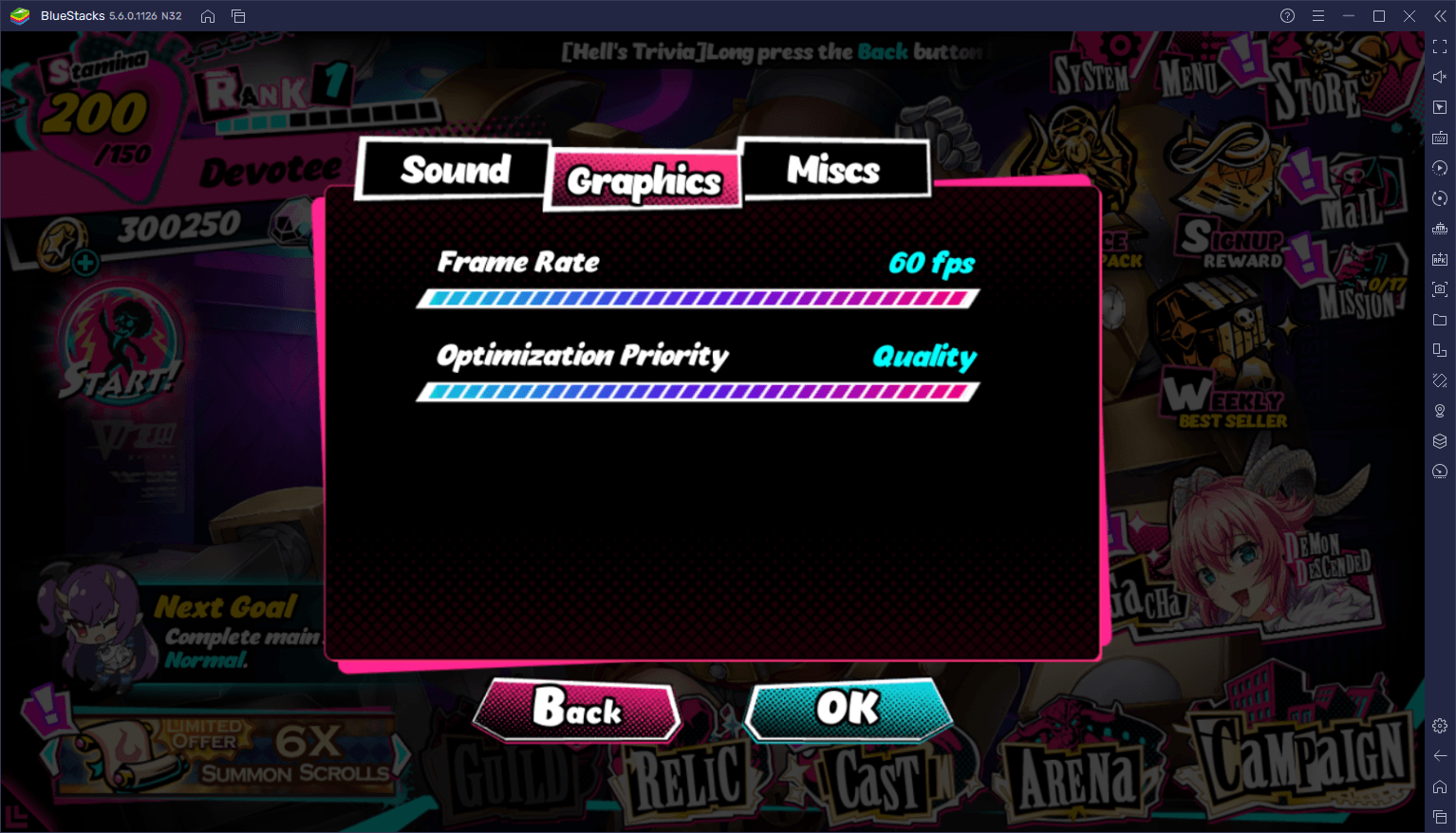 With these settings, not only will your game look crisp and vibrant, but it'll also be running at the smoothest possible frame rate, without you having to spend tons of money on a powerful phone that can run it—BlueStacks works on virtually any modern computer.
Streamline Rerolling by Doing it on Multiple Accounts Simultaneously
The characters in Seven Mortal Sins are more than just eye-candy on your screen; they're the ones that will go out to the field and fight in your name. As such, if you want to progress through the main campaign and complete all your challenges with ease, you'll need a few good units in your squad.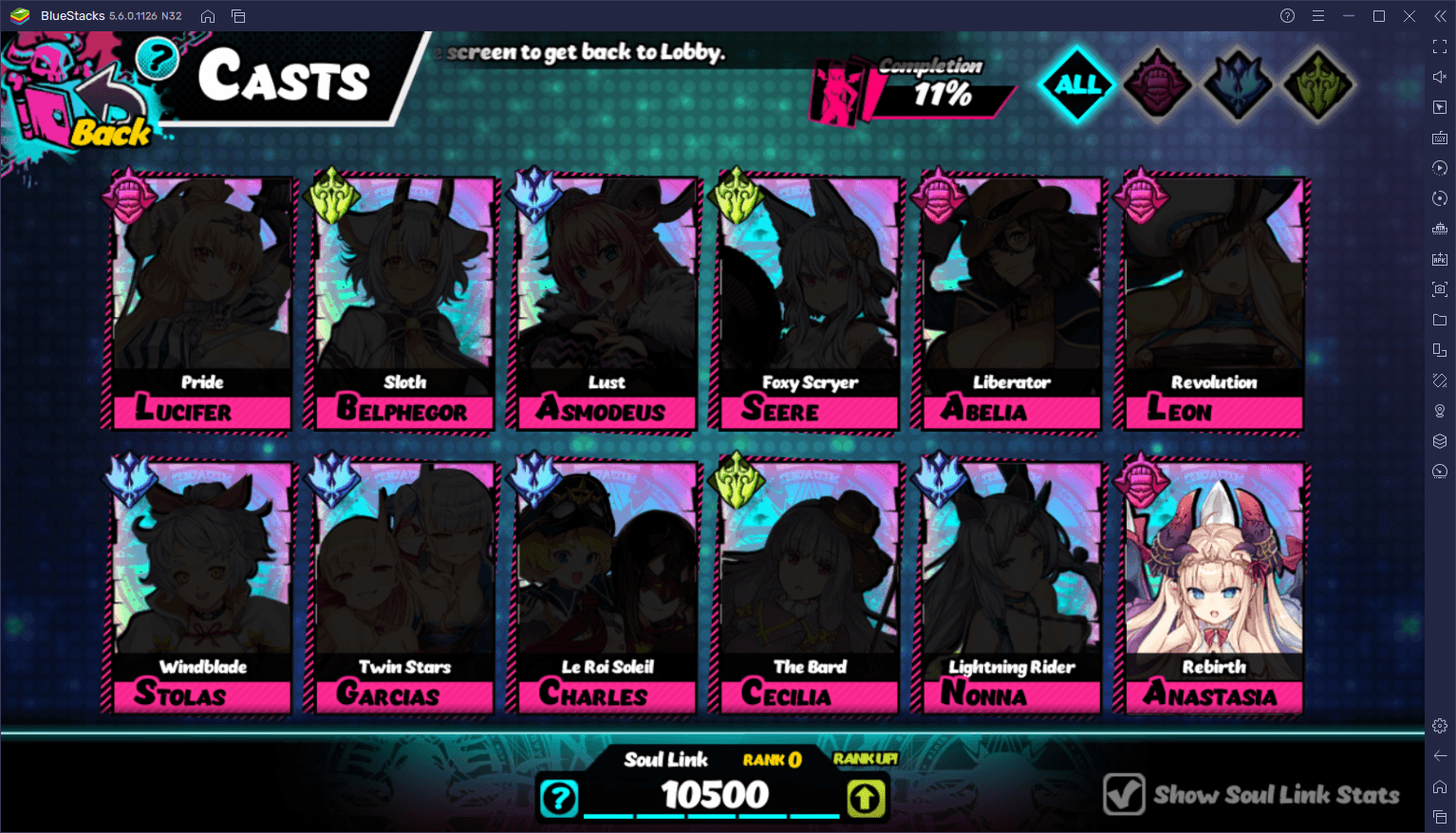 Fortunately, Seven Mortal Sins is very flexible when it comes to your first 10X summoning, as it lets you repeat it as many times as you want until you get one of the three UR 5-star characters available in the pool. However, if you want more good units, you'll need to pull them from the gacha yourself, which is where rerolling comes in.
By playing on BlueStacks, you can use the Instance Manager to create multiple instances of our emulator and run them all at the same time. Furthermore, by linking unique Google accounts to each, you can download and install Seven Mortal Sins on each of them, and play on all your different instances simultaneously. This essentially lets you reroll on multiple accounts at the same time, effectively decreasing the time and number of runs it'll take to unlock the best characters from the very beginning, and giving you a much-needed power boost early on.
To use the Instance Manager, you simply need to press Ctrl + Shift + 8 at any moment, which will bring up the main panel of this feature. On this panel, you can find a list of your current instances, and also launch, close, or delete them, and even modify their settings. Furthermore, by clicking on the "+ Instance" button, you can create as many instances as your PC can handle, and then use them to access Seven Mortal Sins on multiple accounts at the same time.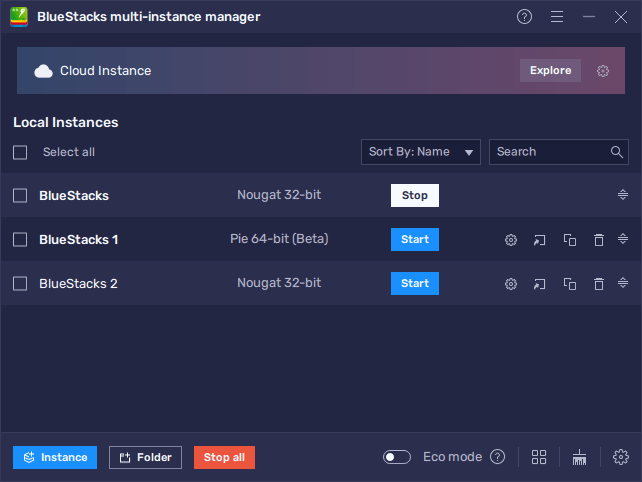 For those who are unaware, rerolling is a process used in gacha games in order to "game" the system and obtain good characters from the beginning. This method involves using the first summonings of the game, which are usually free, and restarting as many times as necessary until you get your target units. And while Seven Mortal Sins gives you a free infinite 10X summoning, it also gives you plenty of scrolls to summon more characters as part of the pre-registration and launch rewards. This makes the game a prime candidate for rerolling. Feel free to read our rerolling guide for Seven Mortal Sins to learn more about it.
BlueStacks is here to not only give you a competitive edge by letting you play your favorite mobile games on PC, but also to streamline and enhance your experience even further than what you could achieve by playing on your phone.