Game Guides
Standoff 2 with BlueStacks: A Weapon Guide for PC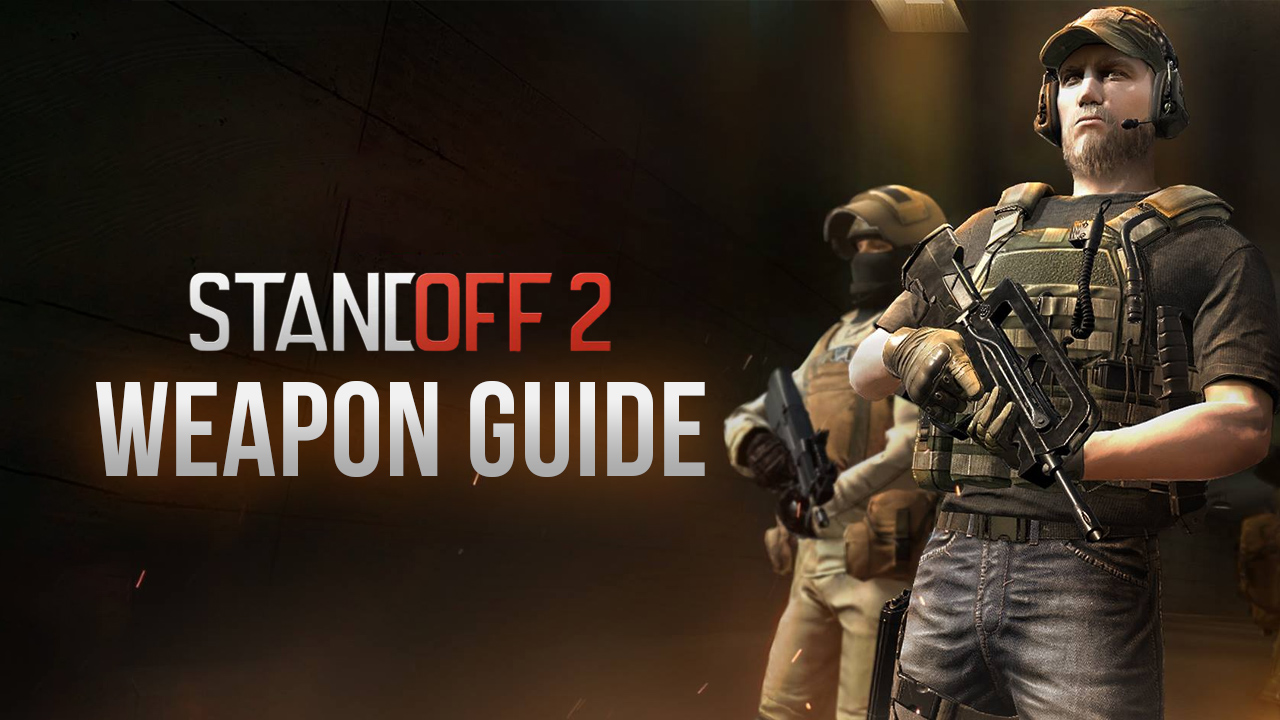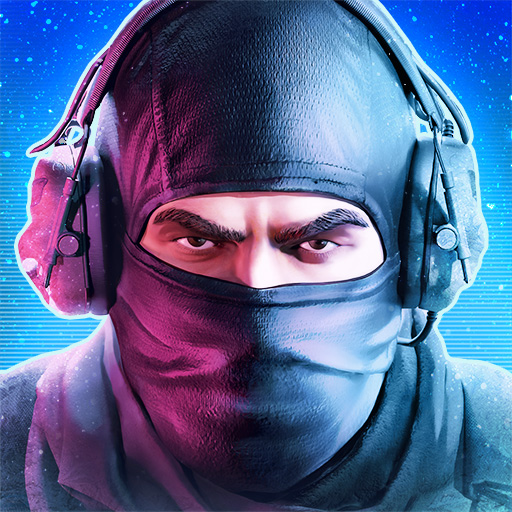 Being a competitive first-person shooter, guns, throwables, and types of equipment are an important part of the game. Every choice, small and big, determines the result of a match in Standoff 2. Deciding on what to buy every round is an important decision that every player has to make. The choice is based on which round it is, what the economy is, which gun you are good with, and what the enemy might buy. Here is everything you need to know when deciding on what to buy.
Pistols
G22 – Being the default gun for terrorists, this is the most basic choice of pistol. With a clip of 20 bullets, it is good for spamming on the enemy. Although with low damage, this gun is not as practical as others.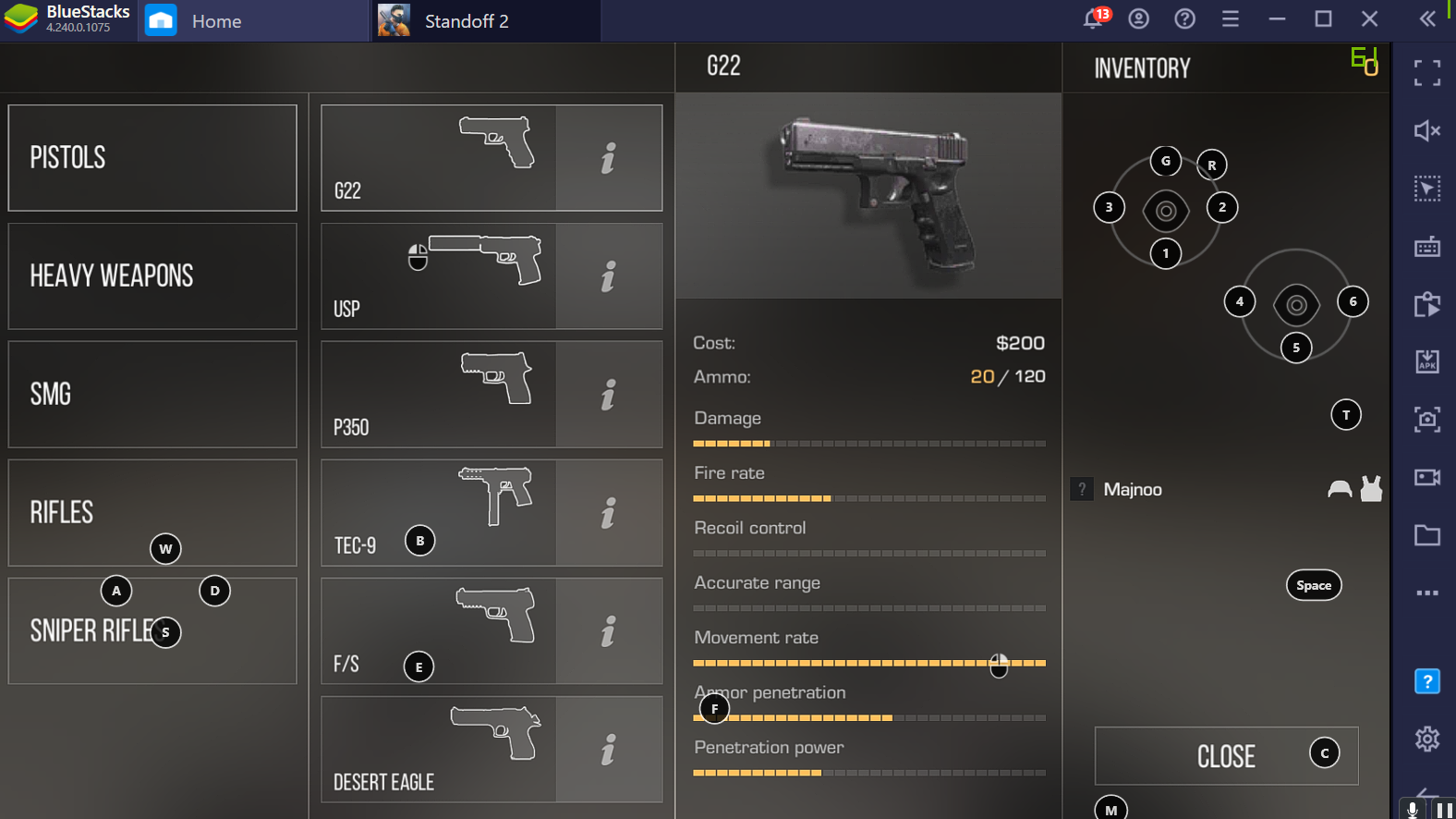 USP – The counterpart for the G22 for the counter-terrorists, this gun is hailed for its accuracy. But with a low rate of fire, it becomes disadvantageous in close-quarter combat. Going for headshots with this pistol is recommended due to its smaller clip and high damage.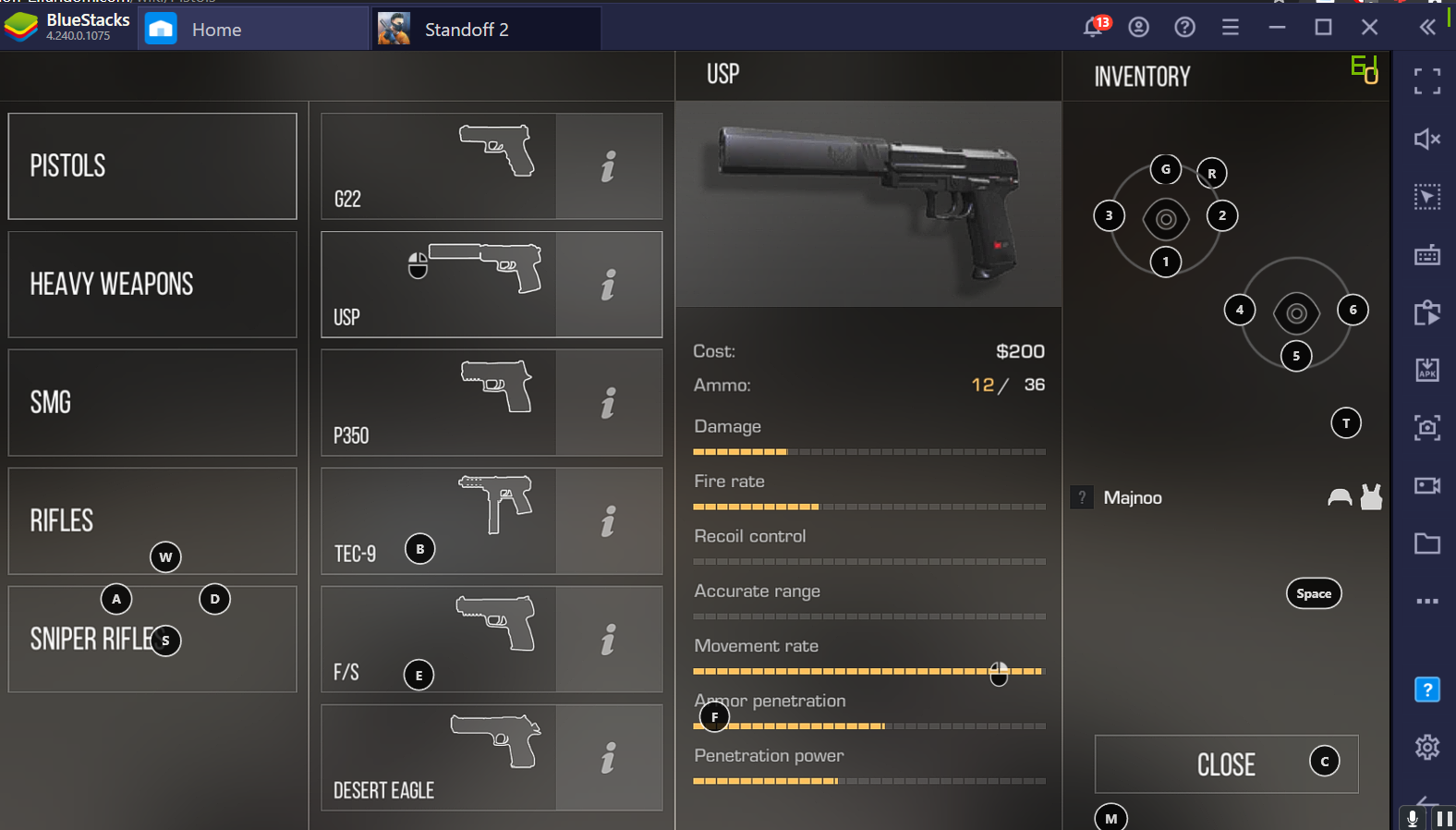 P350 – For both terrorists and counter-terrorists, this pistol is less cost-efficient but very loved among players due to its high armor penetration. It has higher damage on body shots and does more damage than other pistols if the enemy is wearing kevlar. The recoil pattern is similar to G22's. Buying this gun on a round that you want to lurk and go for stealth kills is a good option when you are low on money.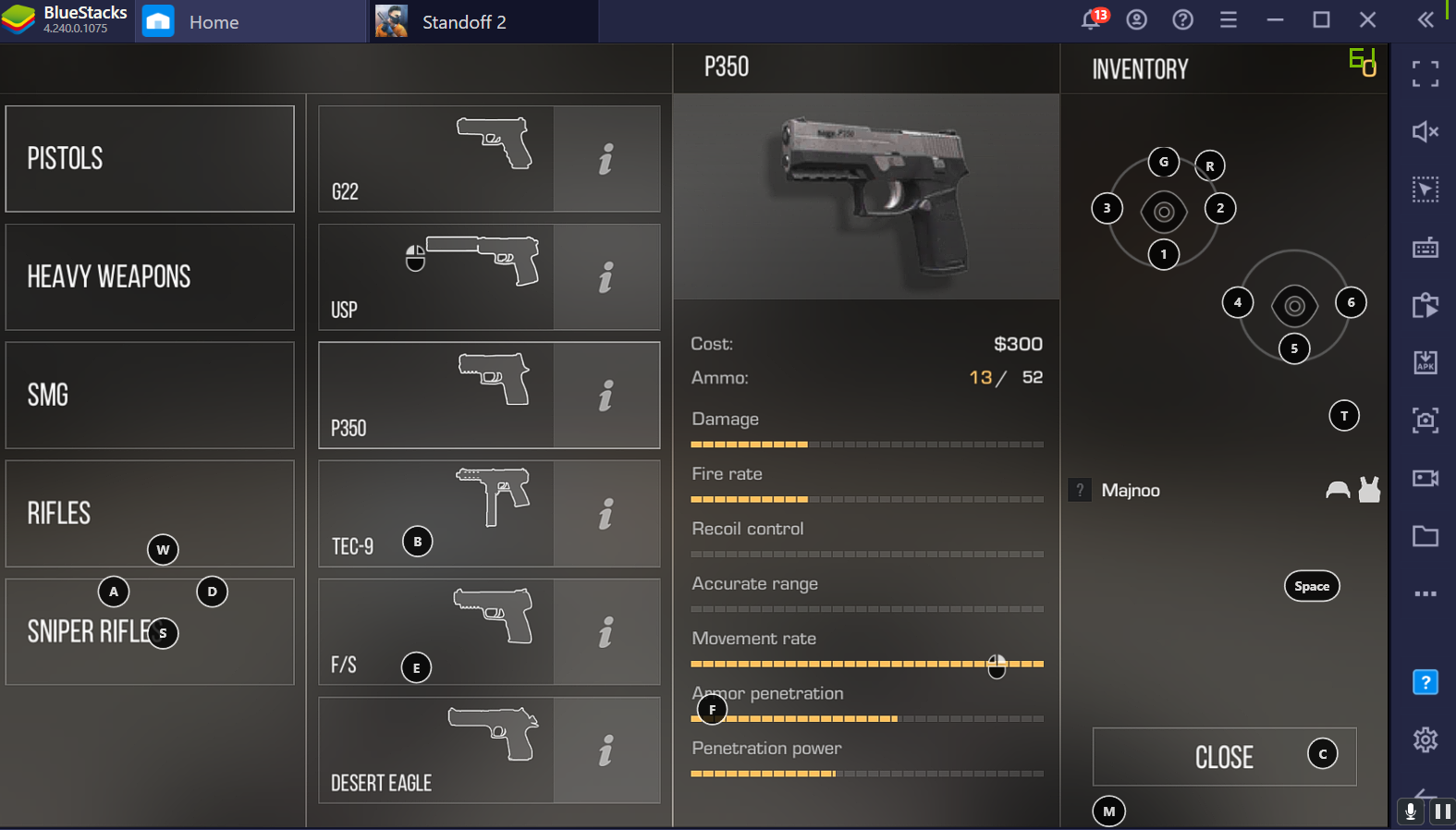 Five Seven – This weapon is highly bought because it has the highest armor penetration. Though it does less damage than the other pistols, the fire rate is higher, compensating for the low damage. The recoil pattern is easy to control too. This is fairly costly and would be a good option for a sidearm, but would not be recommended in rounds that are not eco/pistol rounds.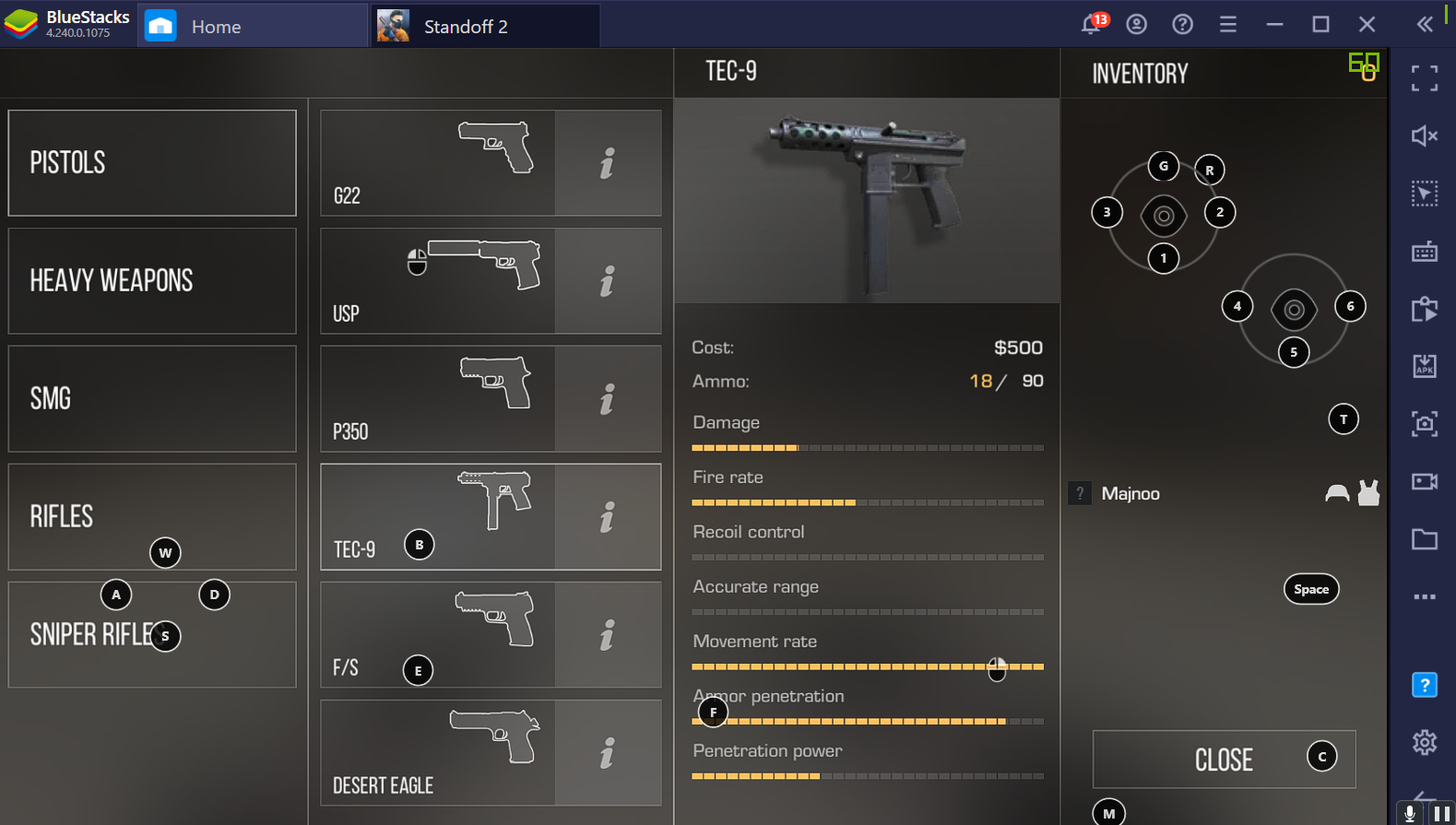 Tec 9 – This gun is the best option for the players that can confidently go for headshots. The first shot of this gun is highly accurate, killing the enemy with one headshot. However, the rest of the shots will be inaccurate due to the high recoil and high fire rate. Avoid spamming bullets with this pistol, instead, try to fire in bursts.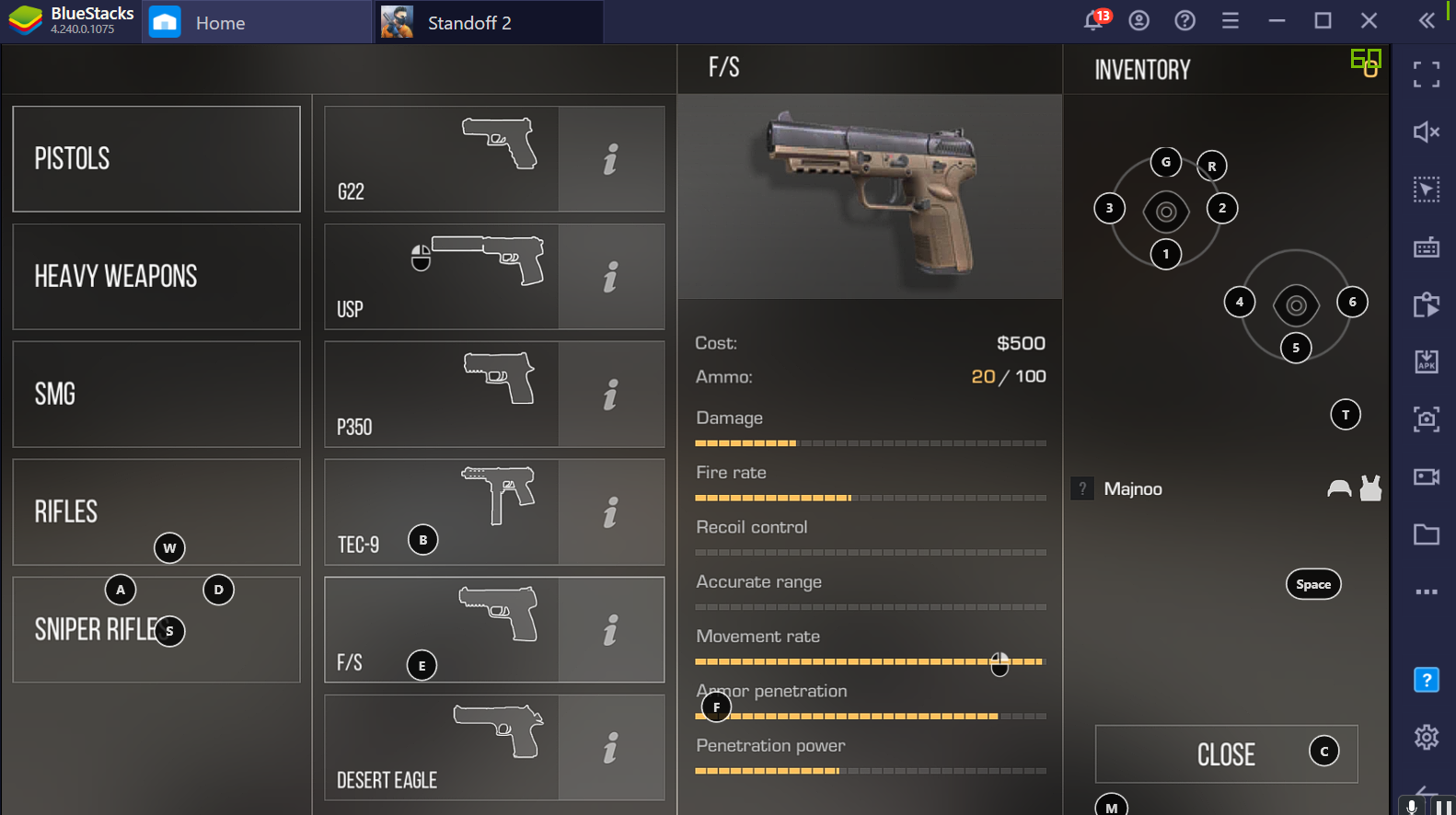 Desert Eagle – With the highest damage and the highest recoil, this gun is an extremely good option when you are confident about your recoil control or hitting headshot with the first bullet. Instantly killing an enemy with one bullet to the head, and two to three shots to the body for the kill makes this gun viable in close and long-range gunfights.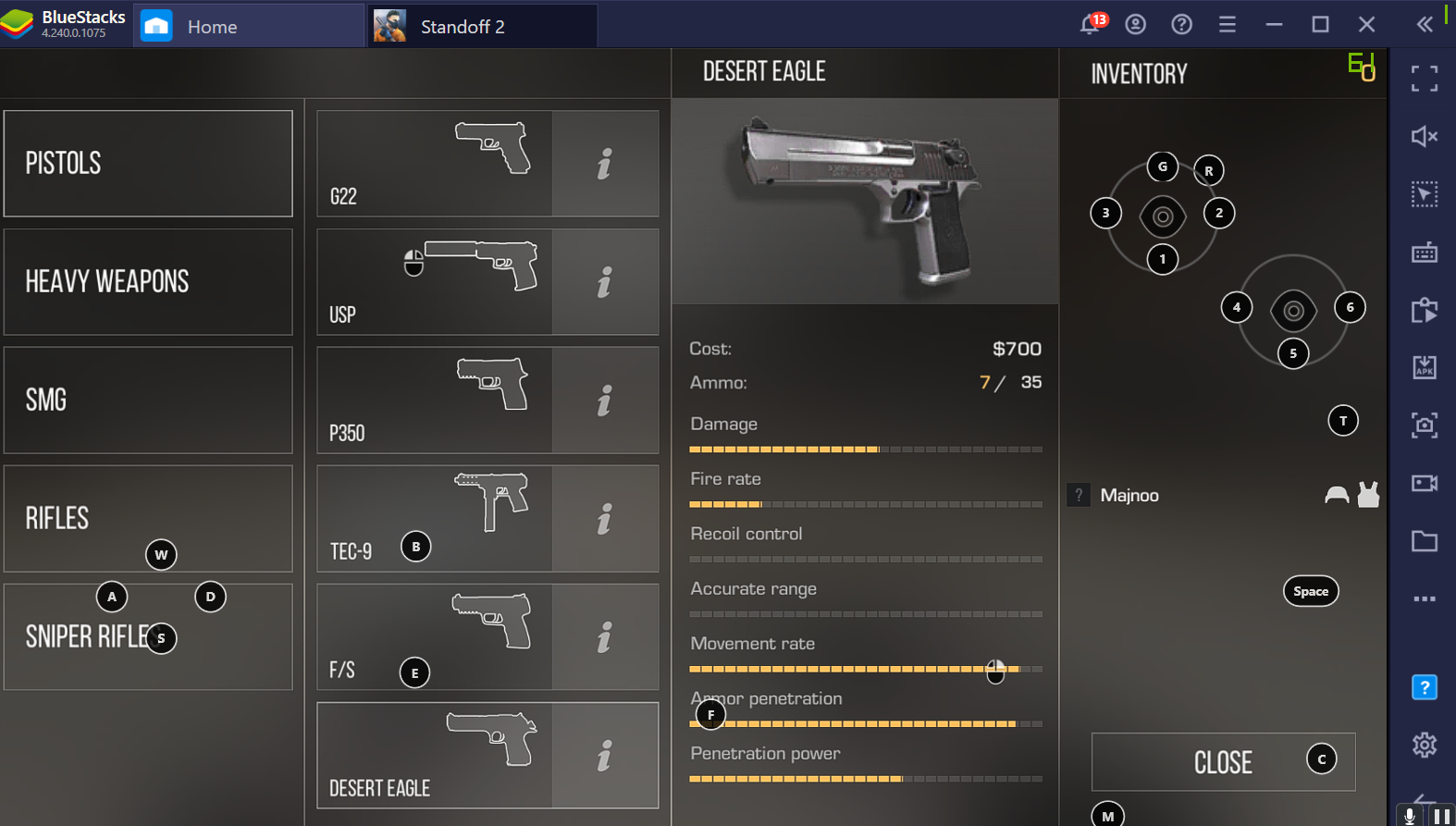 Heavy
FABM – A pump-action shotgun for both sides, the FABM has a slow fire rate but wields deadly damage in close range. Perfectly timed shots with this gun at close range are the best strategy when holding this shotgun.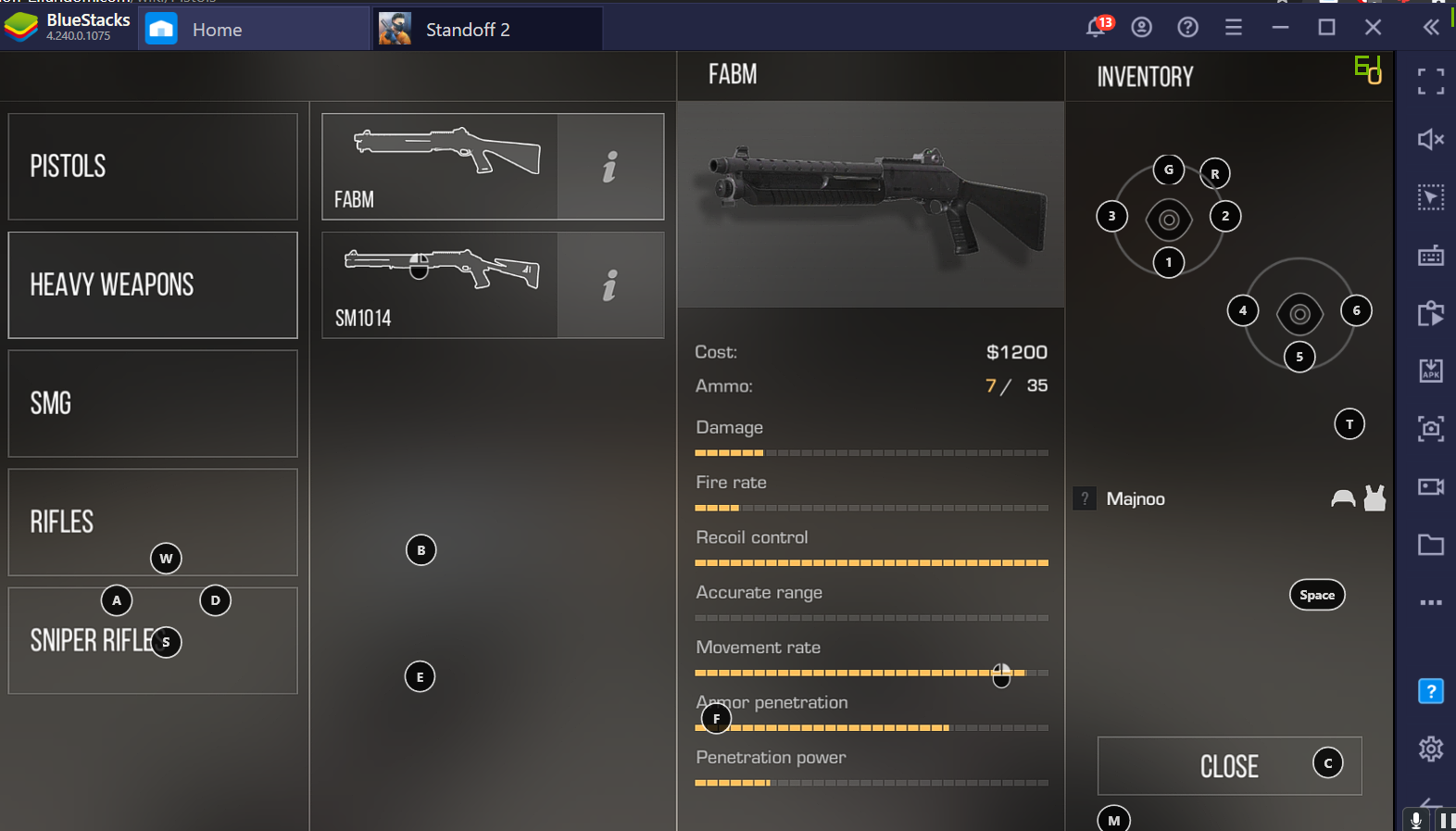 SM1014 – Being an automatic shotgun, it has a very high fire rate, even for a shotgun. Although it has similar damage to the FABM, it has the same number of shells in a clip. You will run out of 8 shells much faster when using this shotgun, being disadvantageous in a fight with multiple enemies or when you miss shots.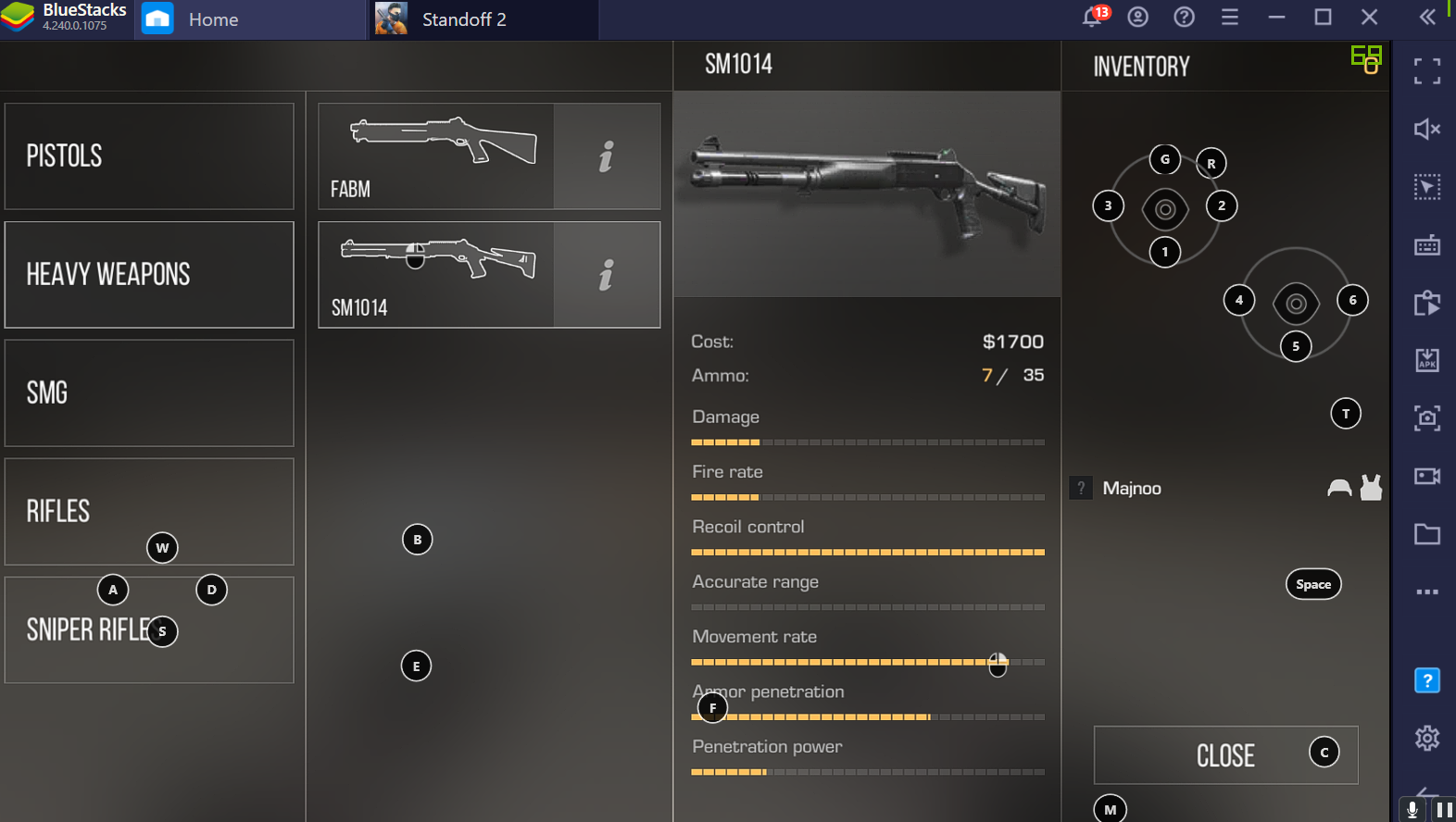 SMG
UMP45 – Being the cheapest SMG in the game, the UMP45 is still an amazing option when you don't have enough money to buy a rifle. The recoil is easy to control with a decent fire rate. Although the damage and bullets in a clip are the lowest among all SMGs, it seems like a fair deal given the cost.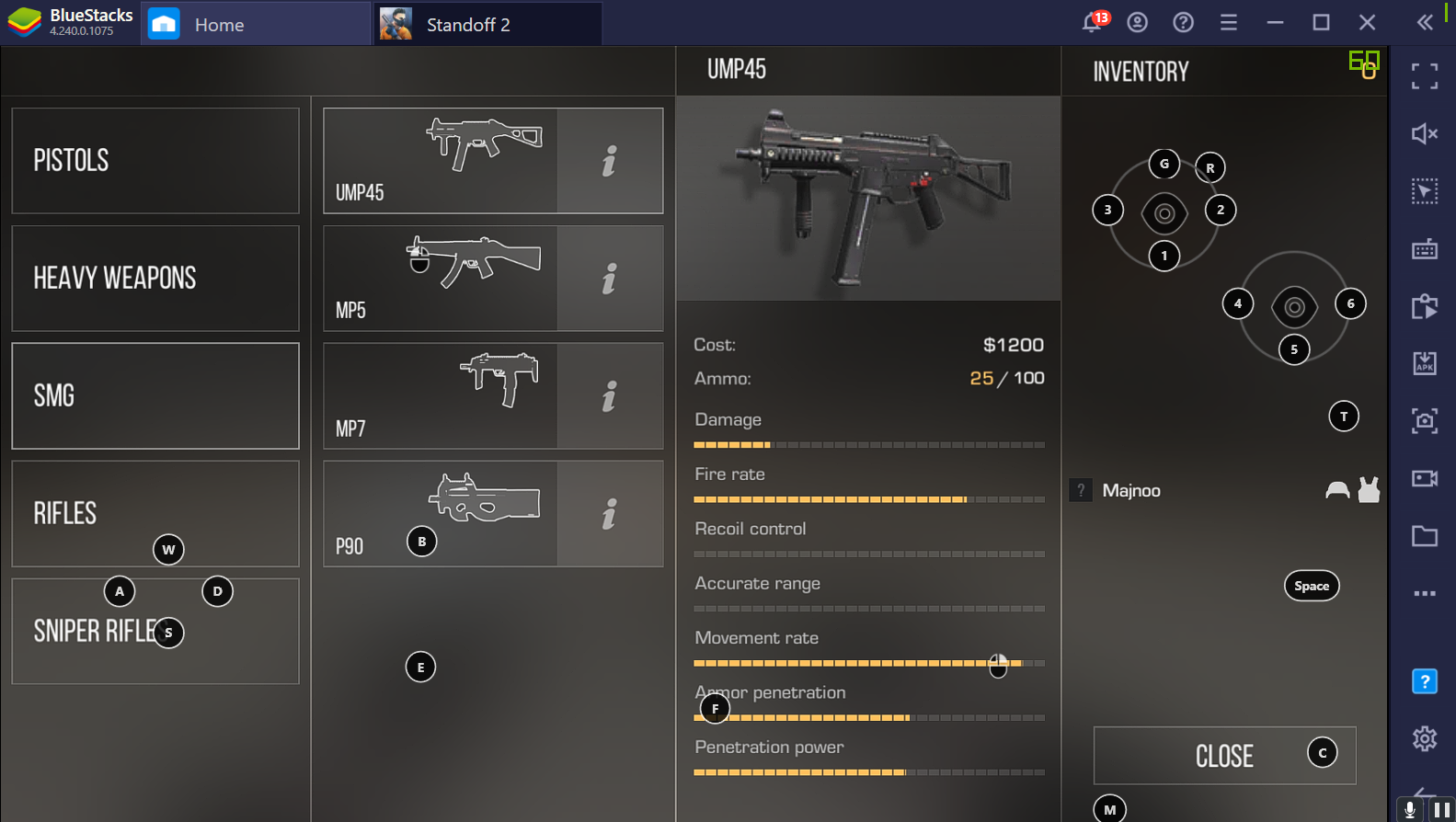 MP7 – Buying this SMG is a good idea when dealing with enemies at close-range. The recoil and damage on this gun are ridiculous for long range and is definitely not recommended. At close-range, the MP7's spray is minimal, dealing high damage to the enemies making it a good substitute for a rifle.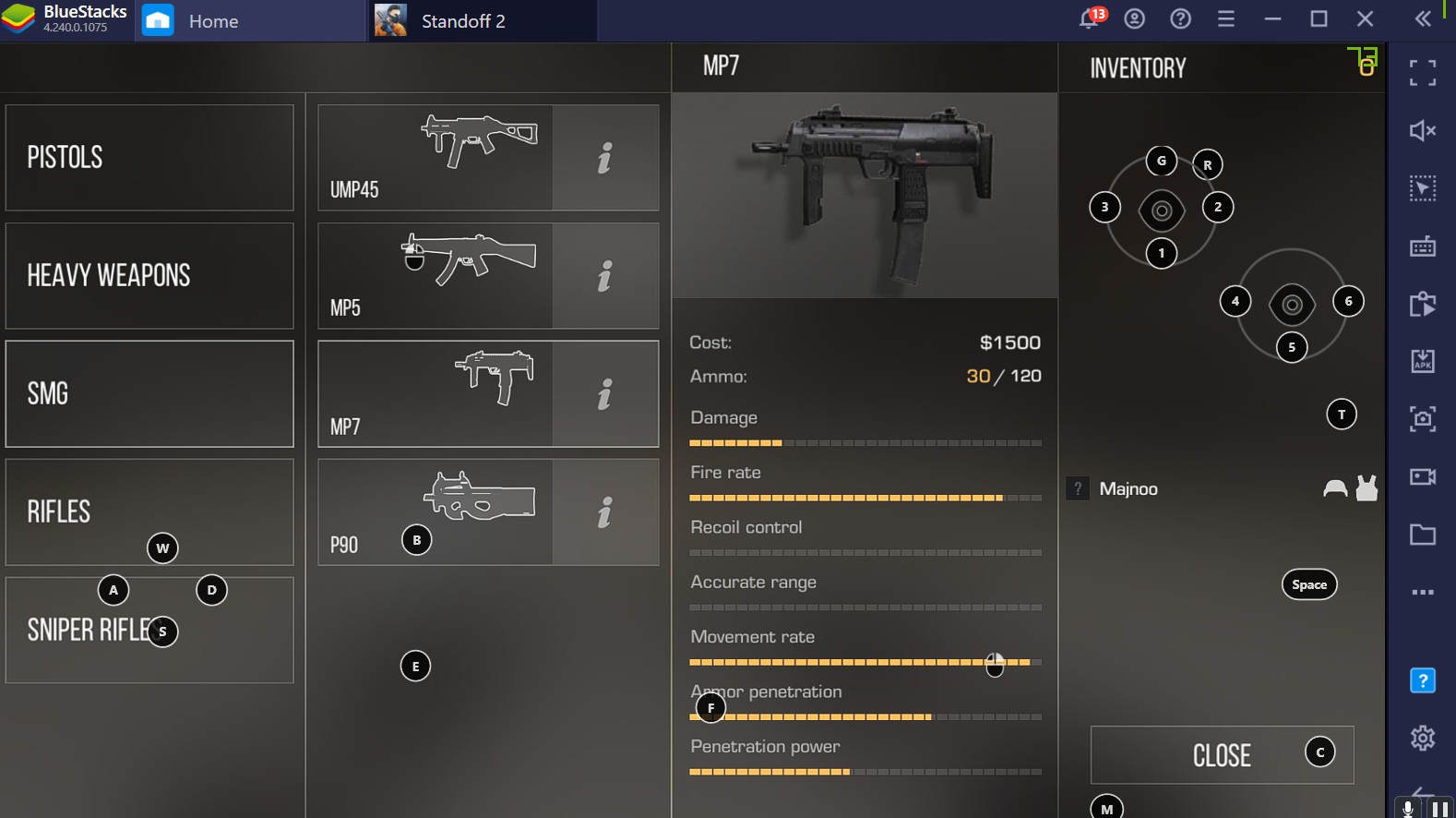 MP5 – The recoil on this gun is fairly easier to control with decent damage making it a good option to use in long-range gunfights. The fire rate is lower and that makes it feel a bit slower at close range.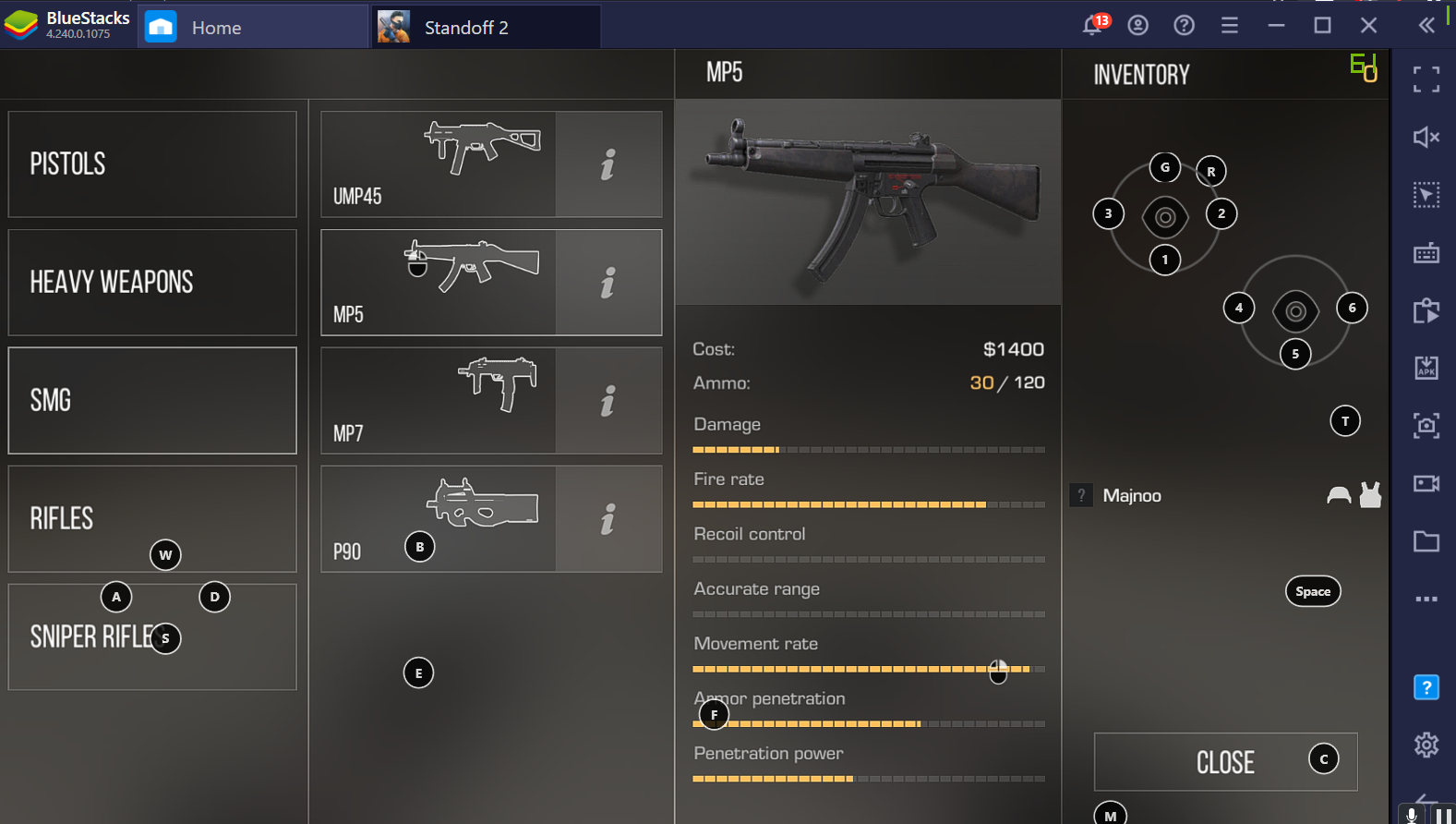 P90 – Without a doubt, this is the best SMG in the lot given the easy to control recoil pattern, extremely high fire rate, and a clip of 50 bullets so you won't run out of bullets anytime soon. But with the high cost of the gun, it becomes almost as costly as rifles. This gun is recommended for players who face trouble controlling a gun's recoil and need to practice their spray.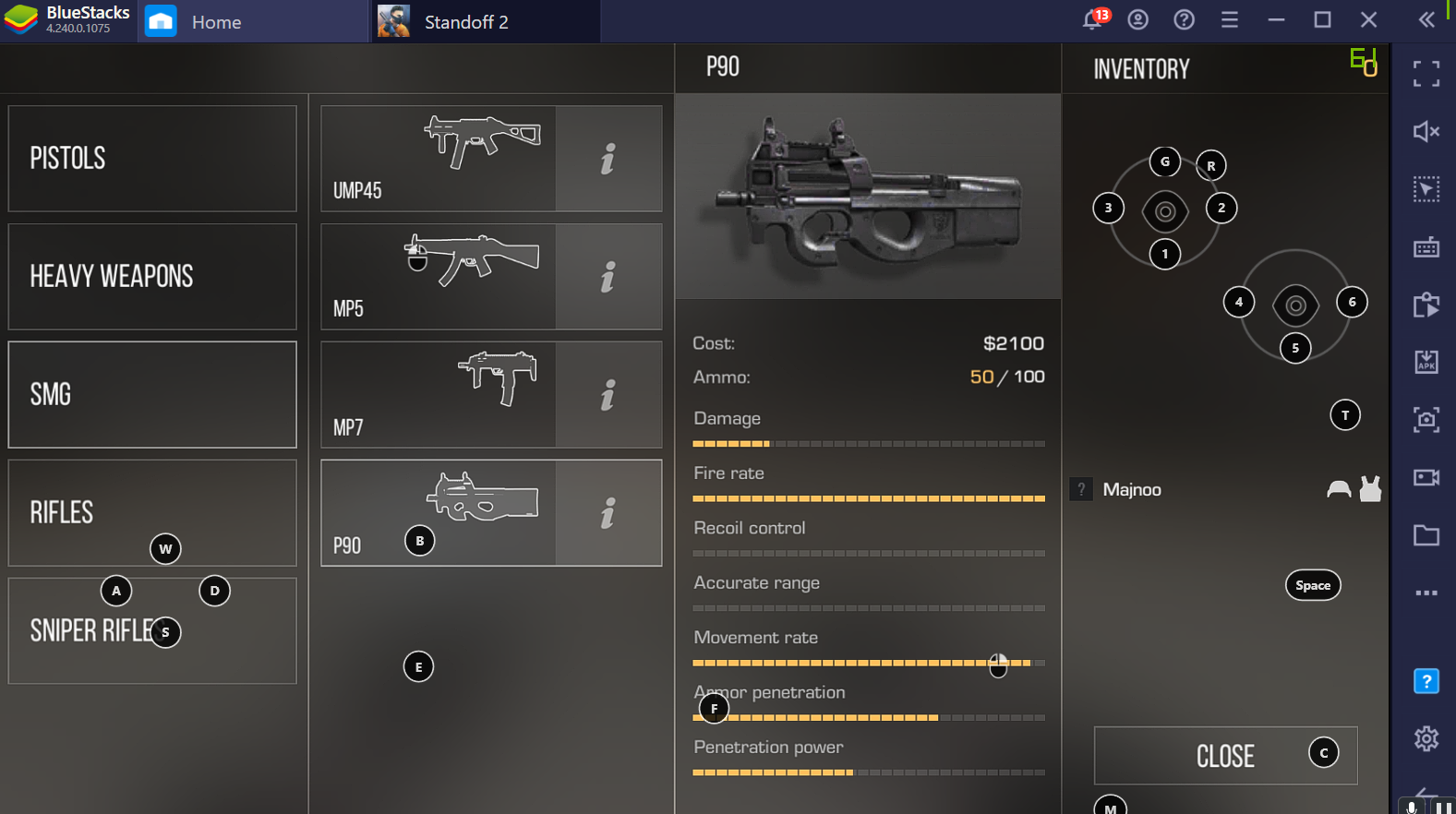 Sniper Rifles
M40 – This is a scout type sniper rifle. This means that it has high mobility, considering it is a sniper rifle and offers decent damage. A headshot is a kill with this, however, two body shots are the minimum requirement for a kill. Using a sniper with low mobility makes you vulnerable to counter fire, but with the M40, you can move away fast after firing. In case you don't hit a headshot, the enemy will know that you will probably come for a second shot and that puts you in danger. This gun is also very hard to use at close range so always avoid getting close to the enemy when using it.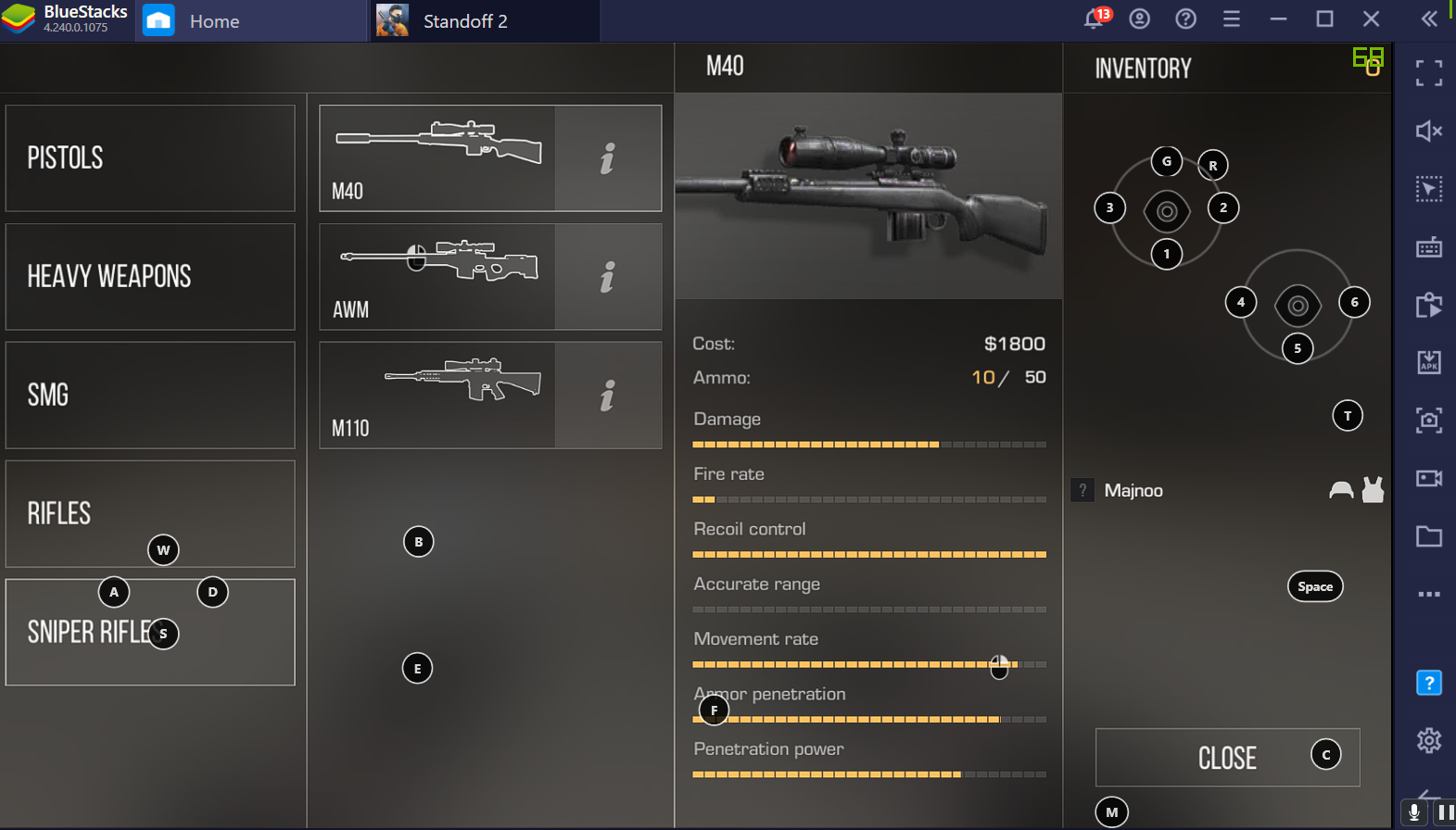 AWM – Being very costly, players must think carefully before buying this gun. Using it is a piece of cake as you only have to hit the enemy. It doesn't matter whether you hit the head or the body, it is a confirmed kill. However, hitting a shot on the foot gives only 86 damage. Use a pistol to deal with the small amount of damage to finish off the enemy. A kill will only get you $100, so avoid dying, or it will make your economy very unstable.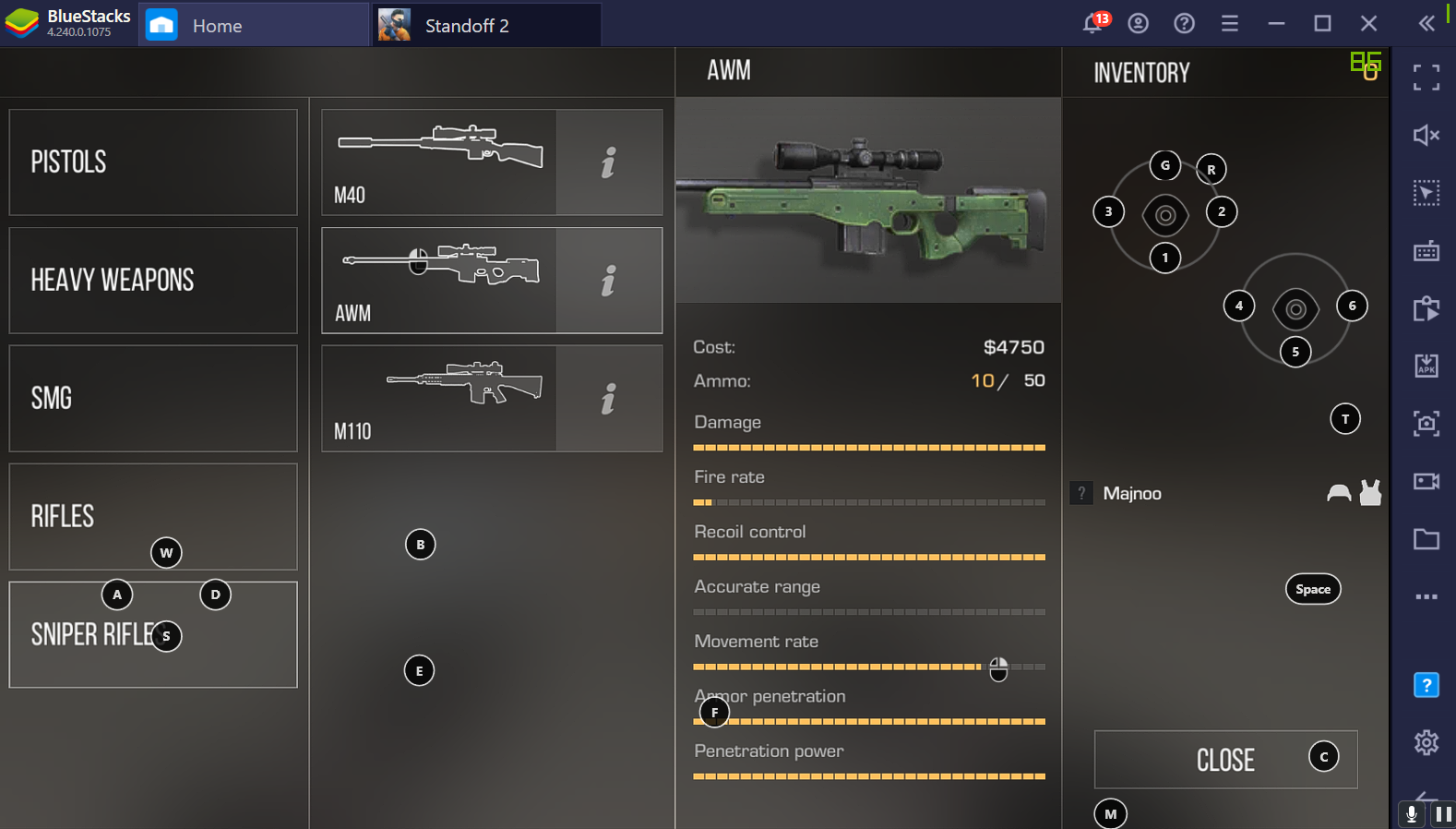 M110 – A semi-automatic sniper rifle seems like overkill. But being the costliest gun in the game, having a high recoil and low mobility cancels out the advantage. Two body shots or one headshot is needed for a kill. You can use it in close, medium, or long-range fights, with and without the scope. Avoid getting killed because it will be impractical to spend a lot of money on this gun again and again.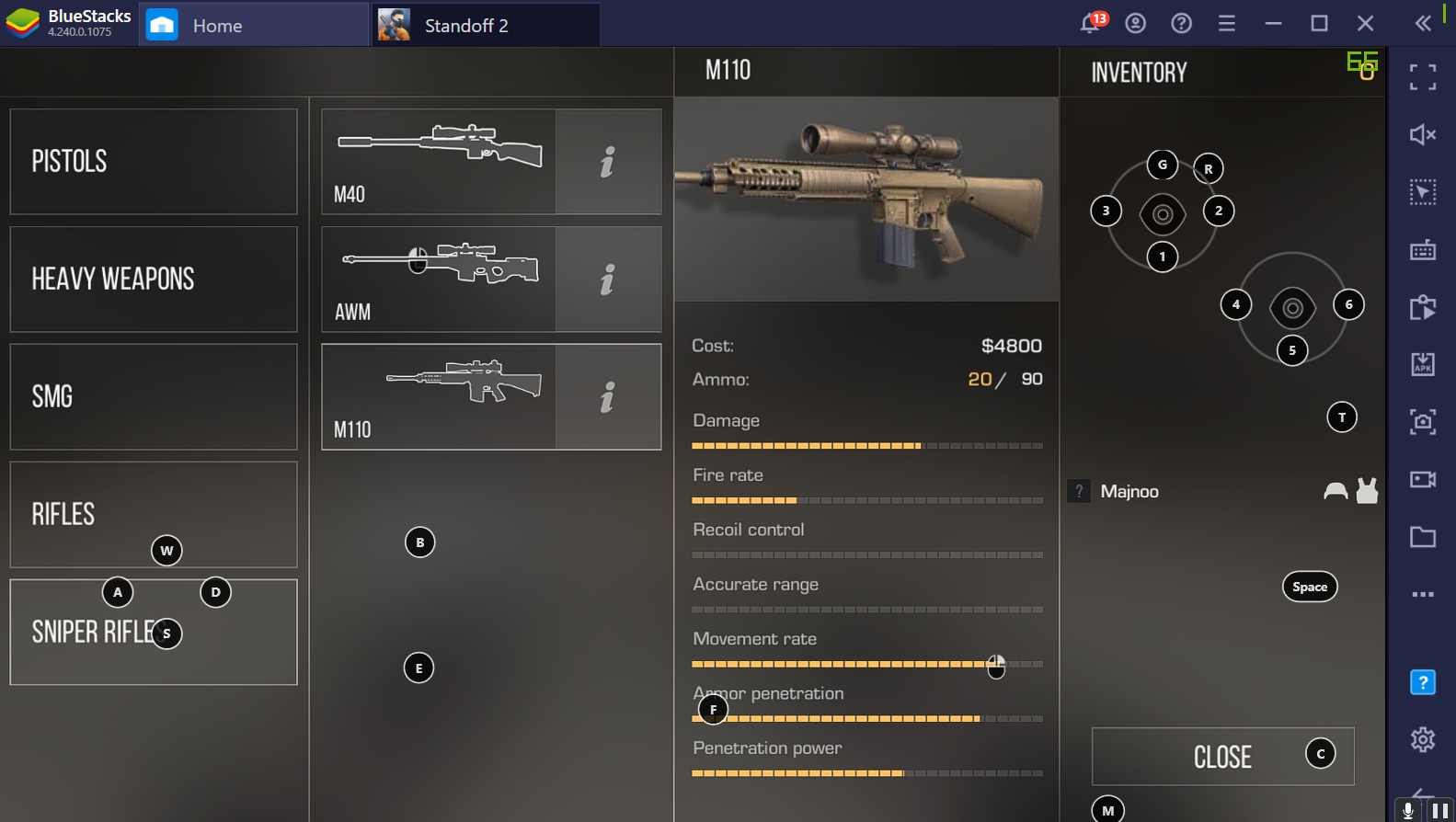 Rifles
FNFAL – This gun is exclusively for the terrorists, but with high recoil and long reload time, this gun must be used carefully. Running out of bullets in a close range fight and then reloading will put you at a disadvantage because the enemy can approach you while you reload. But the gun has enough bullets in the chamber to last a fight. Using this gun cautiously is recommended instead of spamming bullets.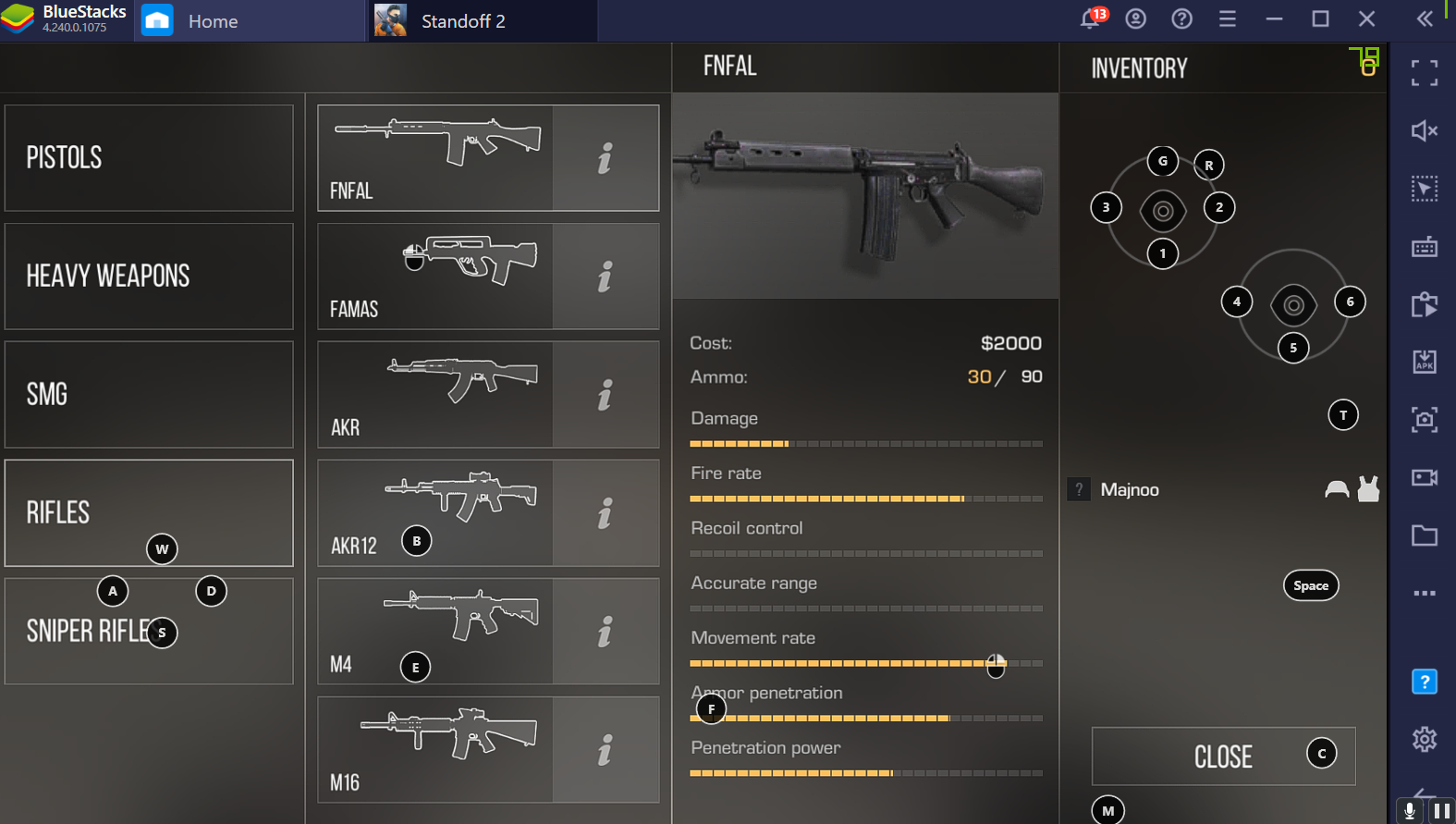 AKR – The AKR is the most versatile gun in this game. It has high accuracy with medium recoil and gives you a kill if you shoot the enemy in the head. Body shots have high damage too, giving you the edge in a fight. Long-range fights will require high accuracy because it has no scope.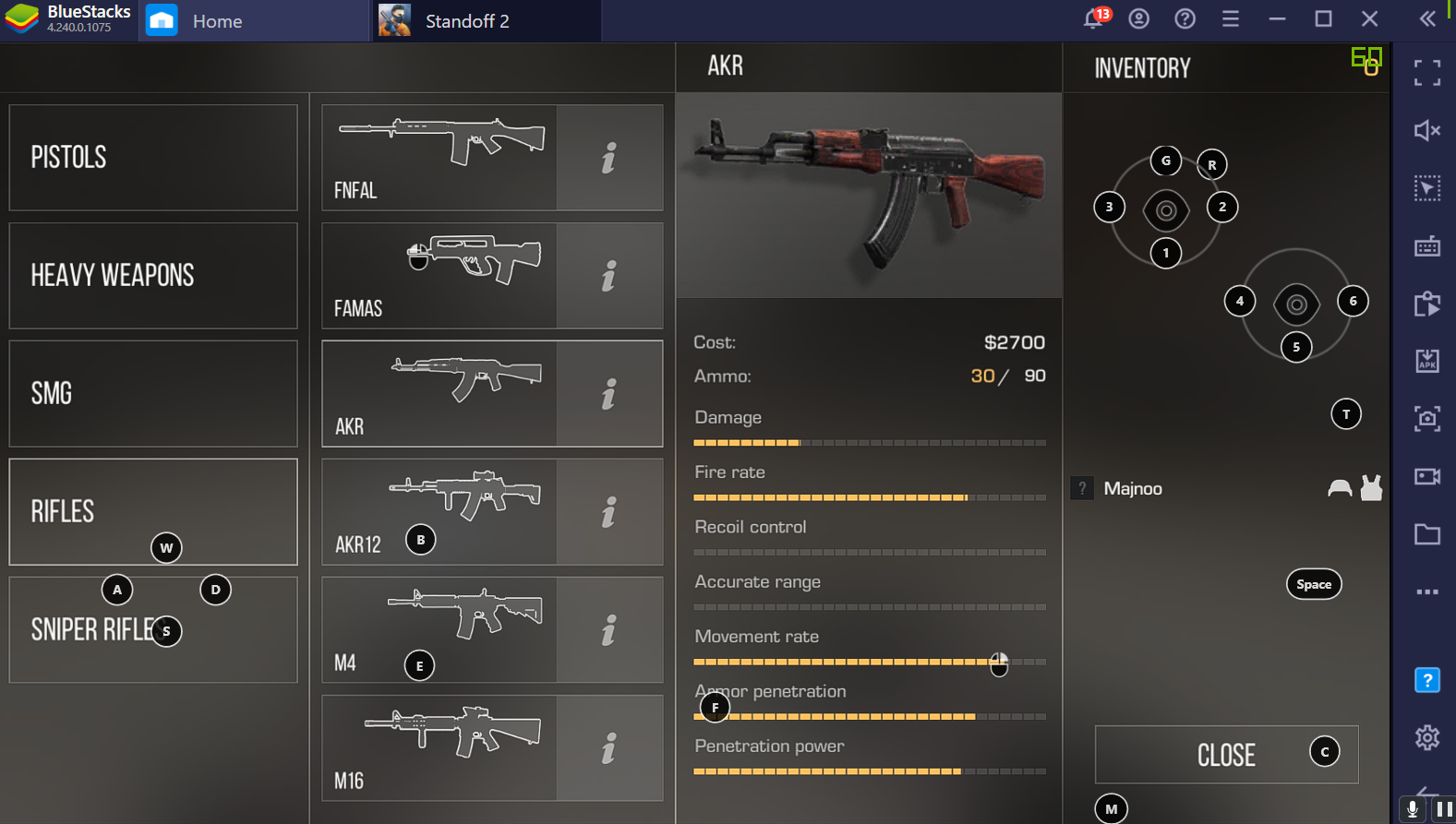 AKR12 – With an attached scope, high damage, and high fire rate, this gun is basically the best option for a player who likes to push into enemy territories and attack from all ranges. Even though it doesn't kill the enemy with a headshot, with damage as high as this, you can simply go for body shots instead.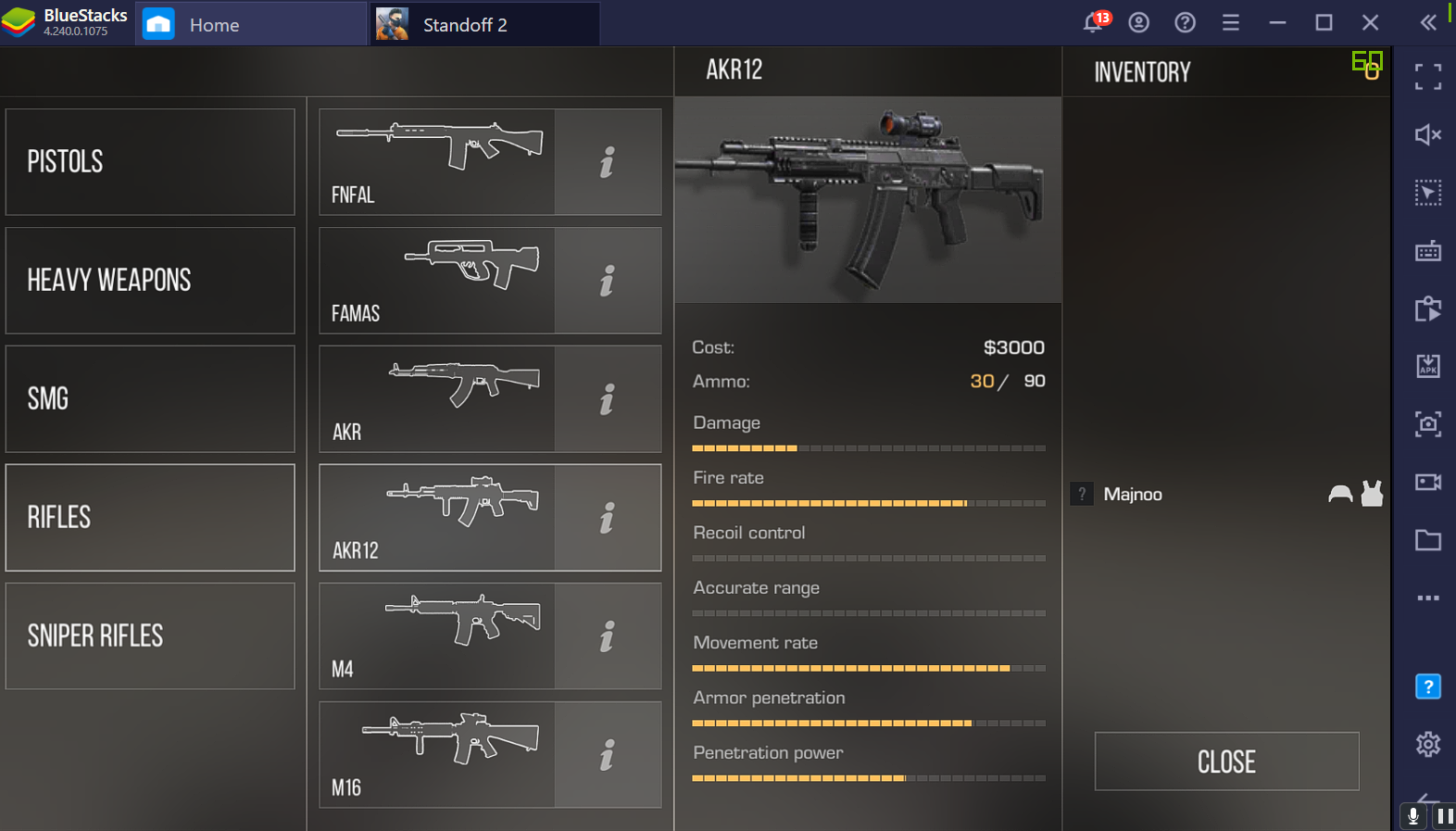 FAMAS – For counter-terrorists, this is a good option if you want to buy a cheap rifle. The recoil is easy to control and the fire rate is decent with 25 bullets in the chamber. Use this gun for a close and medium-range fight. Avoid getting into a long-range fight with this gun, since the damage drops over distance and gets very low. It is a good gun for starters.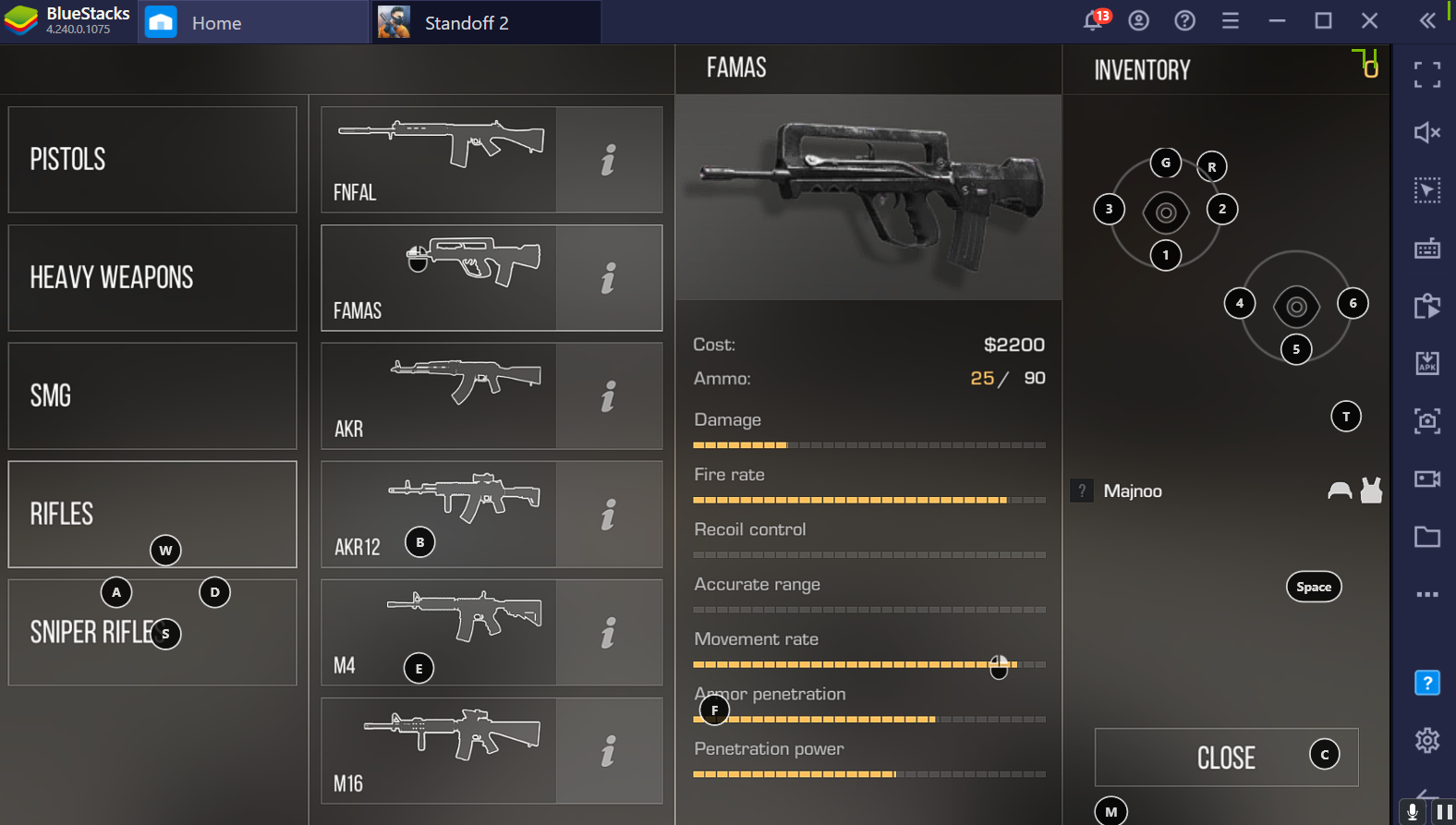 M4 – The M4 is more expensive than the AKR but with lower damage output. This means that you would not be able to kill the enemy with a single headshot. But due to the high fire rate and a more consistent recoil pattern, this gun stands out for the CT side. It can be used in short, medium, and long-range fights thanks to its attributes.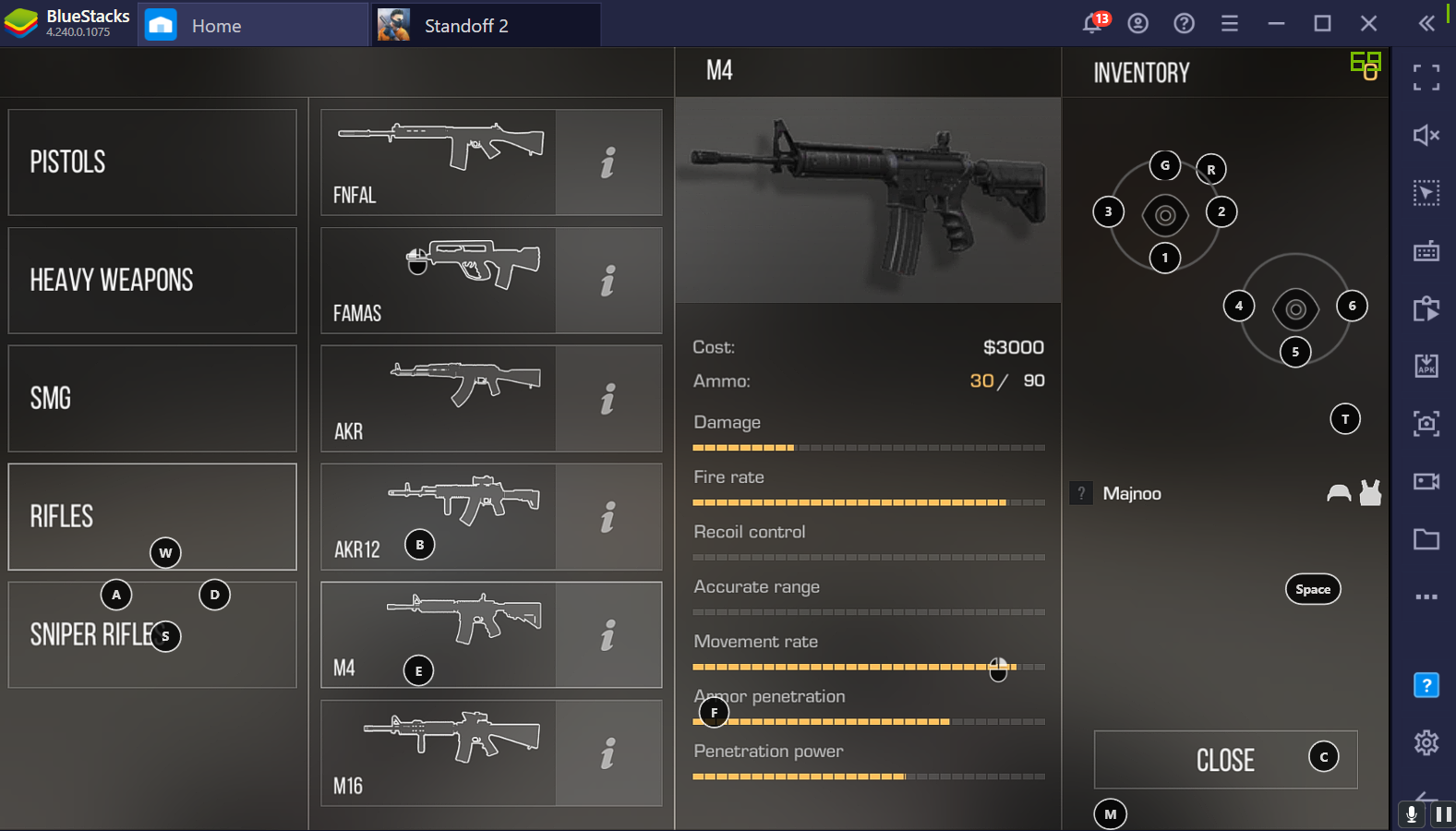 M16 – Due to its high damage and accuracy with an attached scope, this gun helps take out enemies in the long and medium-range. The recoil is high but gets easier to control when you scope in. Players generally refrain from buying this gun due to its low running accuracy and high cost. Although one of the perks of using this gun is the high jumping accuracy it wields. This can get you out of sticky situations and help hit accurate shots while jumping. So you should try to stay still when firing this weapon.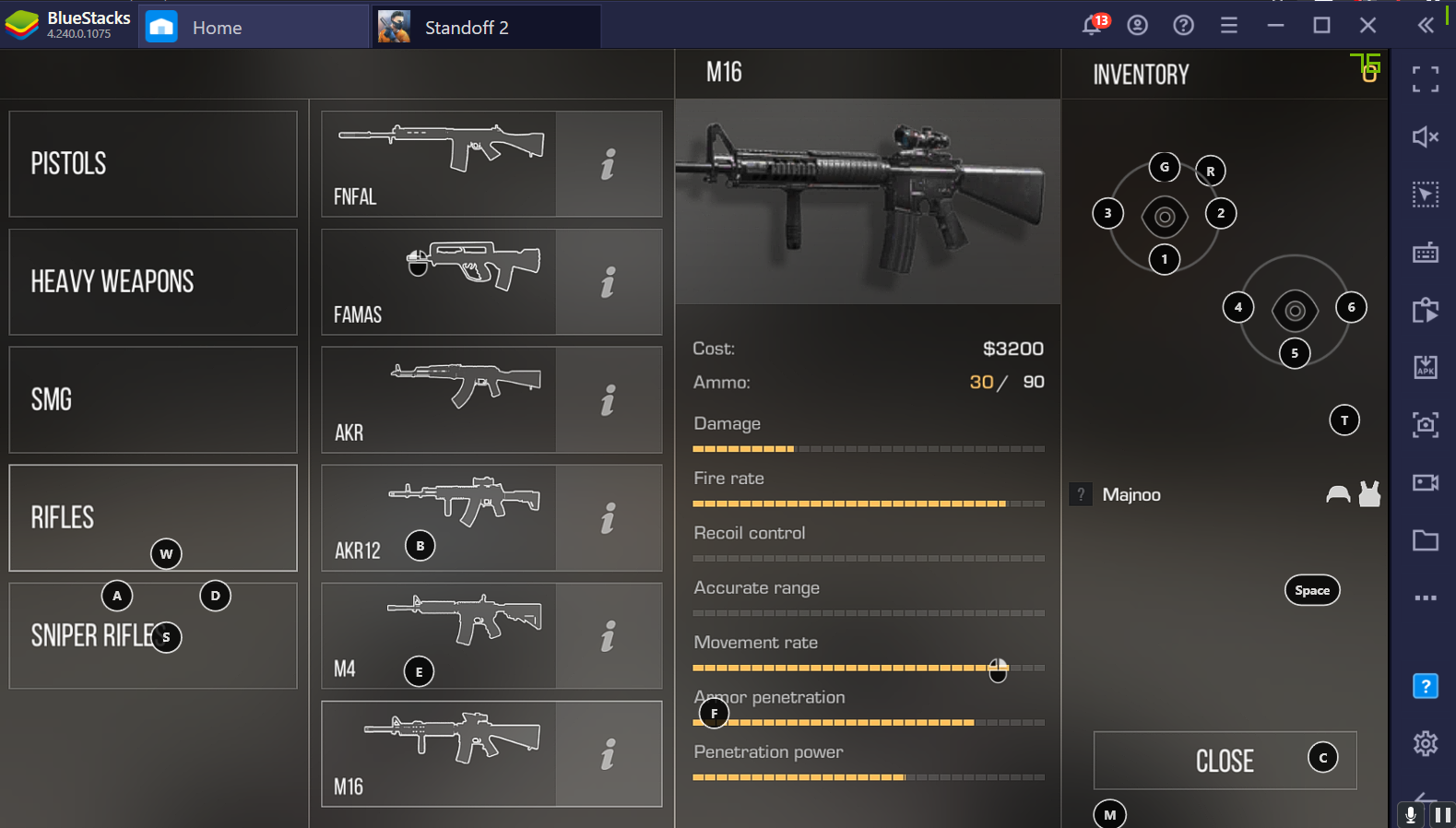 This weapons guide will help you get information on the various guns in Standoff 2, but your performance depends on how you use this information. Try applying this in practice, team deathmatches, or casual defusal matches before you jump into competitive. This way you will have an idea of which weapon suits your play style and you won't have to experiment with it when you need to apply what you learned. More guides to ease your experience will be coming soon, so stay tuned.