Game Guides
How to Unlock Awesome Characters in Star Wars: Galaxy of Heroes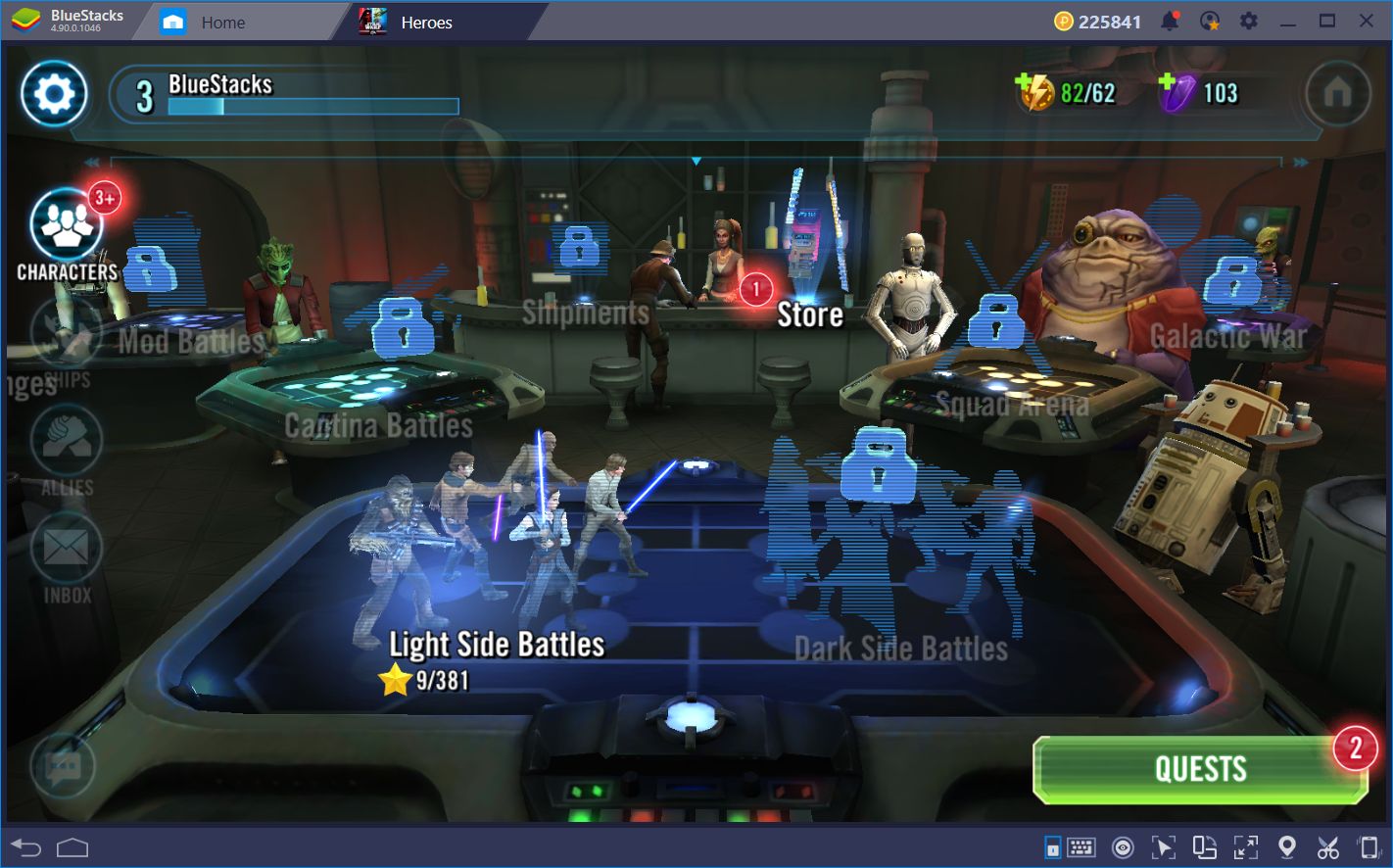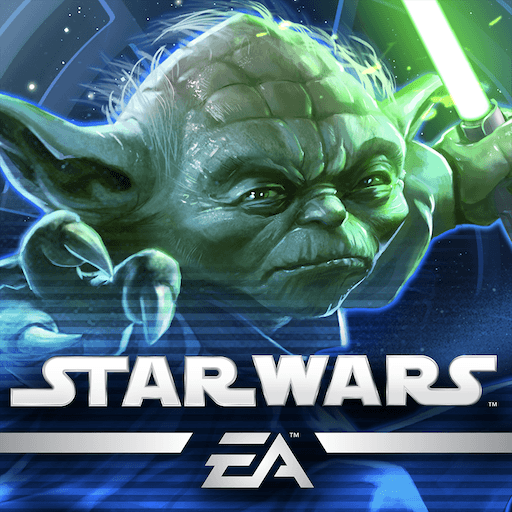 The essence of games like Star Wars: Galaxy of Heroes, in contrast to what many players may think, is not about winning fights; that's only a byproduct of the game's primary objective. No, the purpose of gacha games like this one revolves around collecting cards, tokens, characters, or whatever the playable characters are called in the title in question. In Galaxy of Heroes, the goal is to unlock as many characters as possible to combine them and create teams with great synergy to overcome every challenge that you encounter.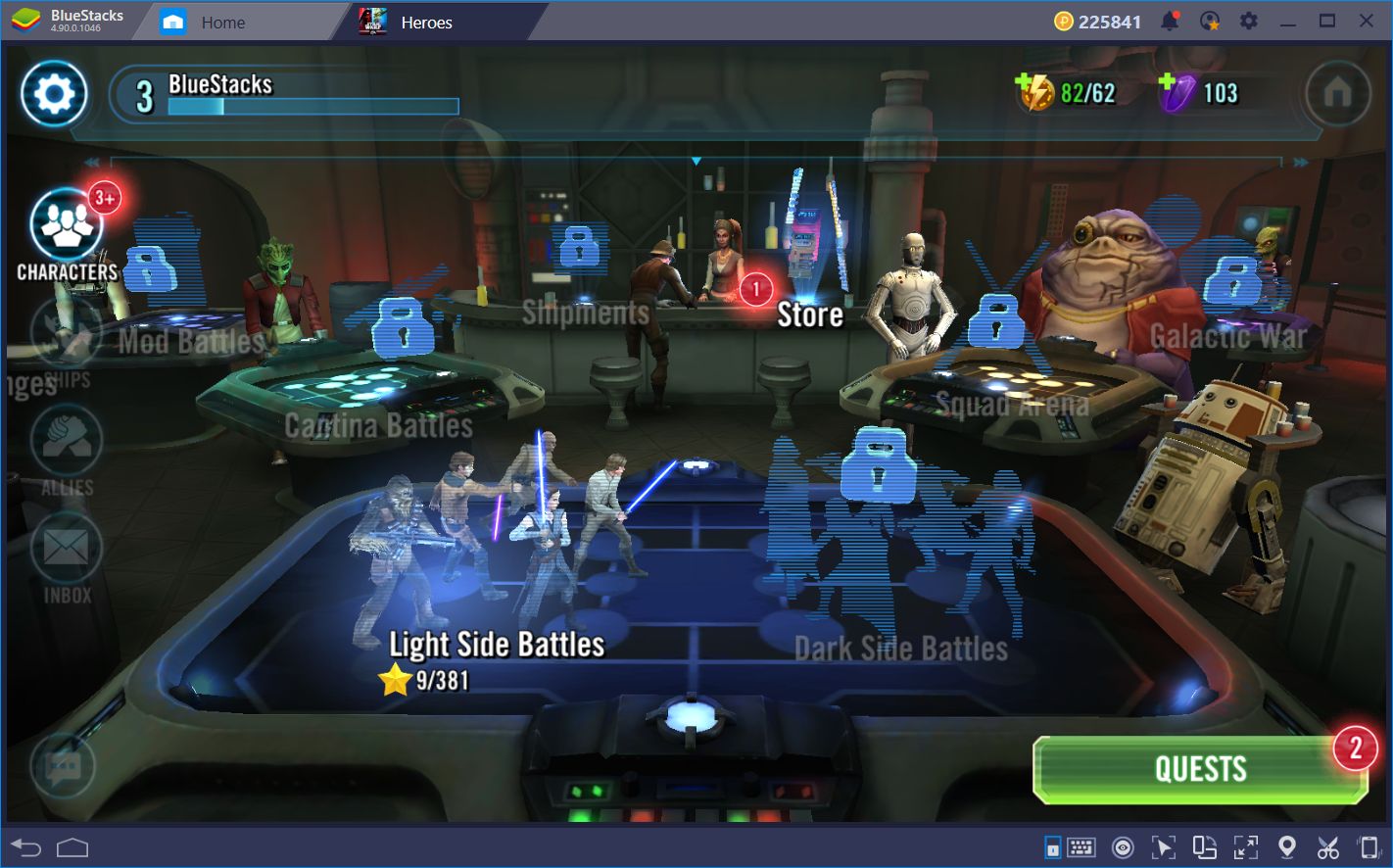 However, in this game, there are many, many characters to unlock and, as developers implement new patches, this number will only grow. Due to this extensive character catalog, you will have to become acquainted with the best methods for farming the different game modes so that you may obtain the necessary materials to unlock new heroes.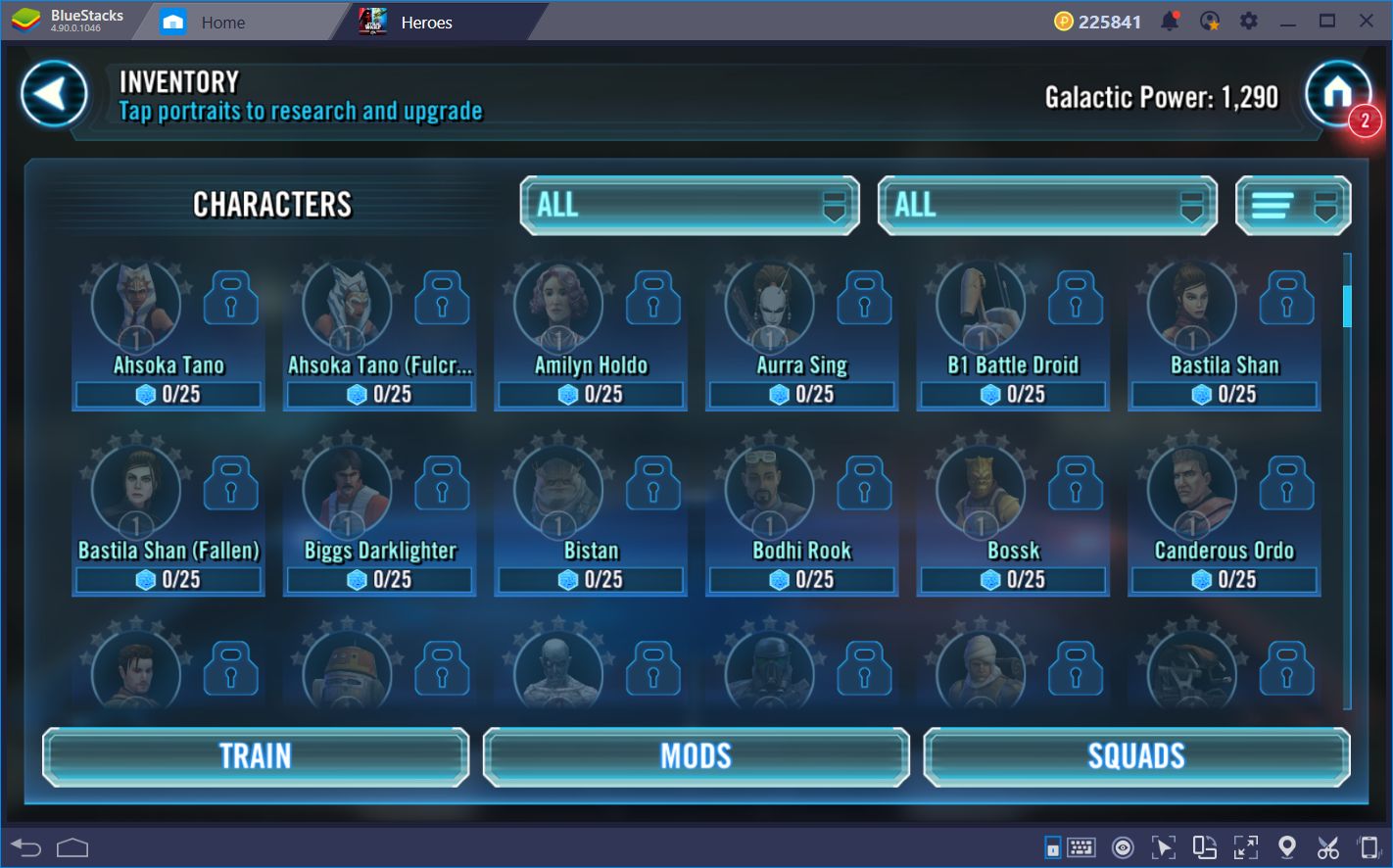 Luckily, to complement its vast repertoire of characters, Star Wars: Galaxy of Heroes has many game modes that you can unlock and participate in. Each one of these modes offers different rewards and materials that you can use to unlock specific characters. For instance, the Cantina Battles provide items to unlock low-level heroes as well as currency to purchase goods from the store. Similarly, the squad arenas offer valuable prizes, especially early on, such as coins that you can use to unlock some of the strongest characters in the early game.
In this guide, we will dive into the different game modes, as well as the most important characters that you may unlock through them.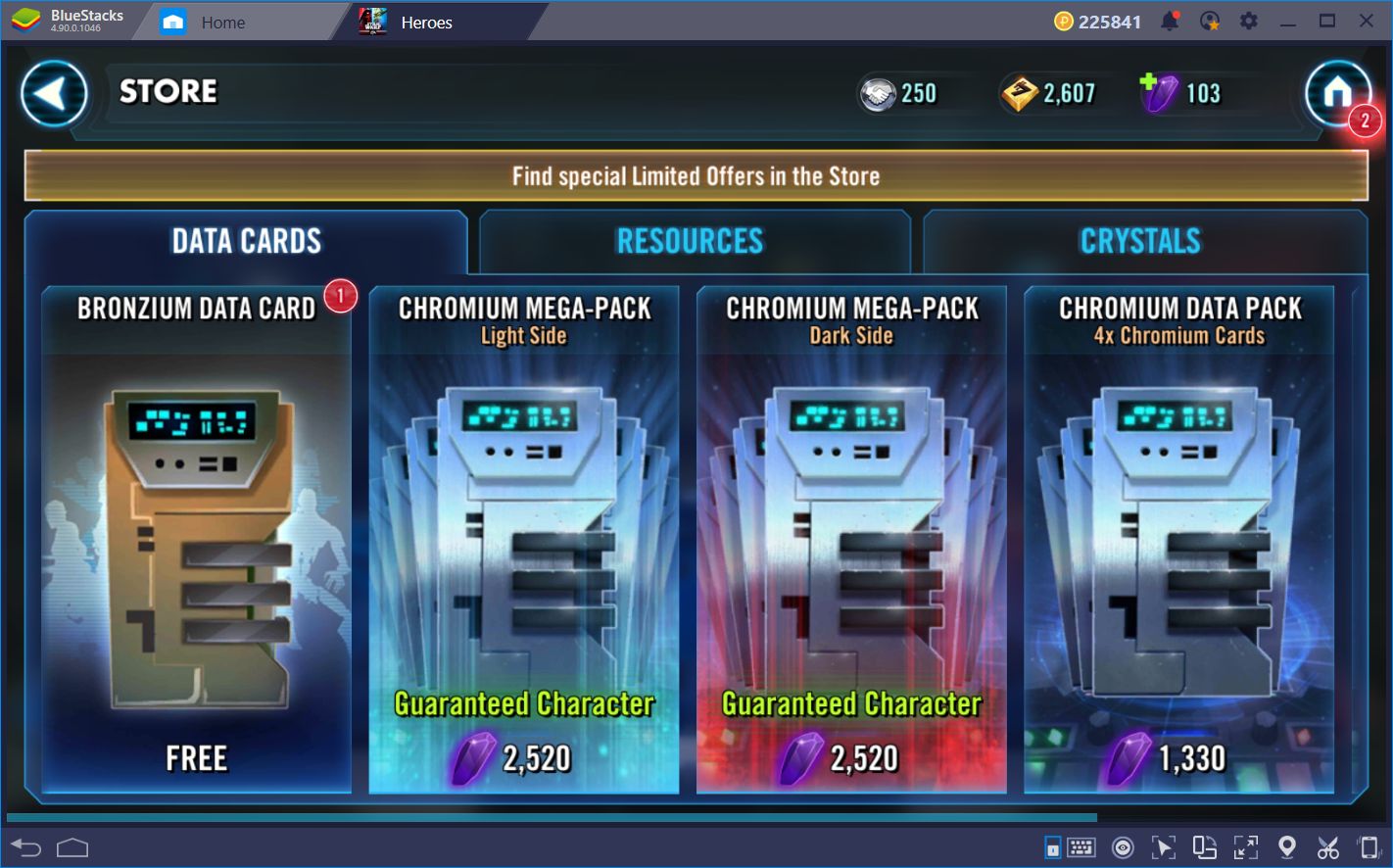 Cantina Battles
Once you reach level 8, you will gain access to the cantina where you may participate in different battles, which have a chance to drop fragments that you can use to unlock some powerful characters. This will be your most visited game mode, especially since it's the first one you unlock, and because it'll be your prime source of characters early on.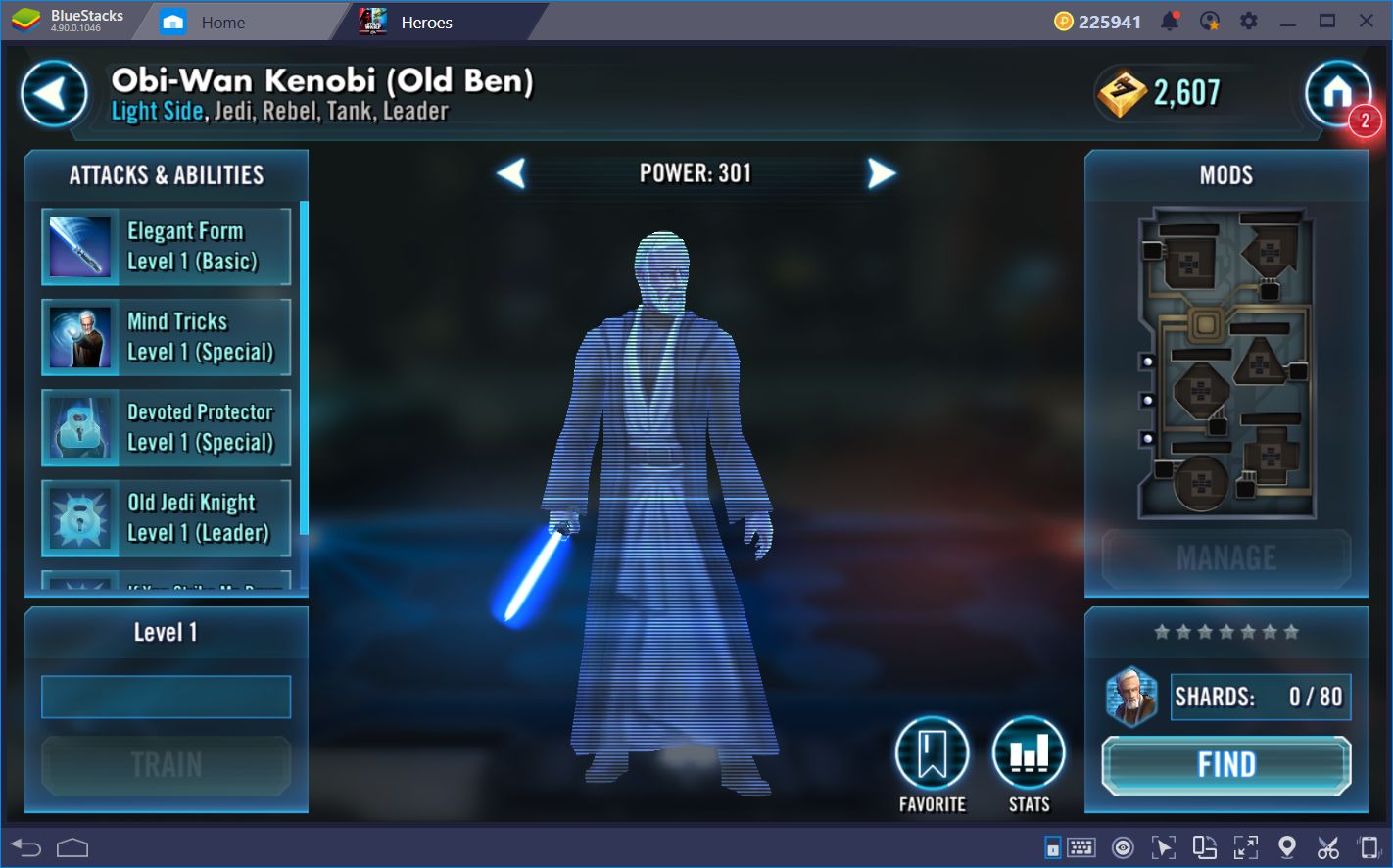 In this mode, we recommend focusing on unlocking Lando, Obi-Wan Kenobi (Old Ben), Ezra Bridger, and Bariss, all of which are some of the best units for the early game. Old Ben, especially, is an integral part of any team due to his ability to interrupt the opponent. For example, his Mind Tricks damages the entire enemy team, blocks their skills for one turn, and buffs himself with damage reduction for two turns. Furthermore, he has a 50% chance to delay the enemy turn by 20%. And as if that wasn't enough, this attack can't be evaded.
In the cantina store, you may also pick up several characters using the currency you obtain from participating in its battles. In this regard, we recommend purchasing Boba Fett and Qui-Gon Jinn, both of which are tremendously powerful at the start.
Squad Arena
For many players, this mode is the main attraction of the game. You can unlock it after reaching level 28, and it offers you the opportunity to fight against other players for a chance to receive prizes such as crystals. This is important since it's the only way to obtain this currency consistently. Similarly, this currency is used in the store for purchasing a variety of items, including data cards used in summoning new characters. Furthermore, you can also receive arena coins that are used for buying stuff in the arena store.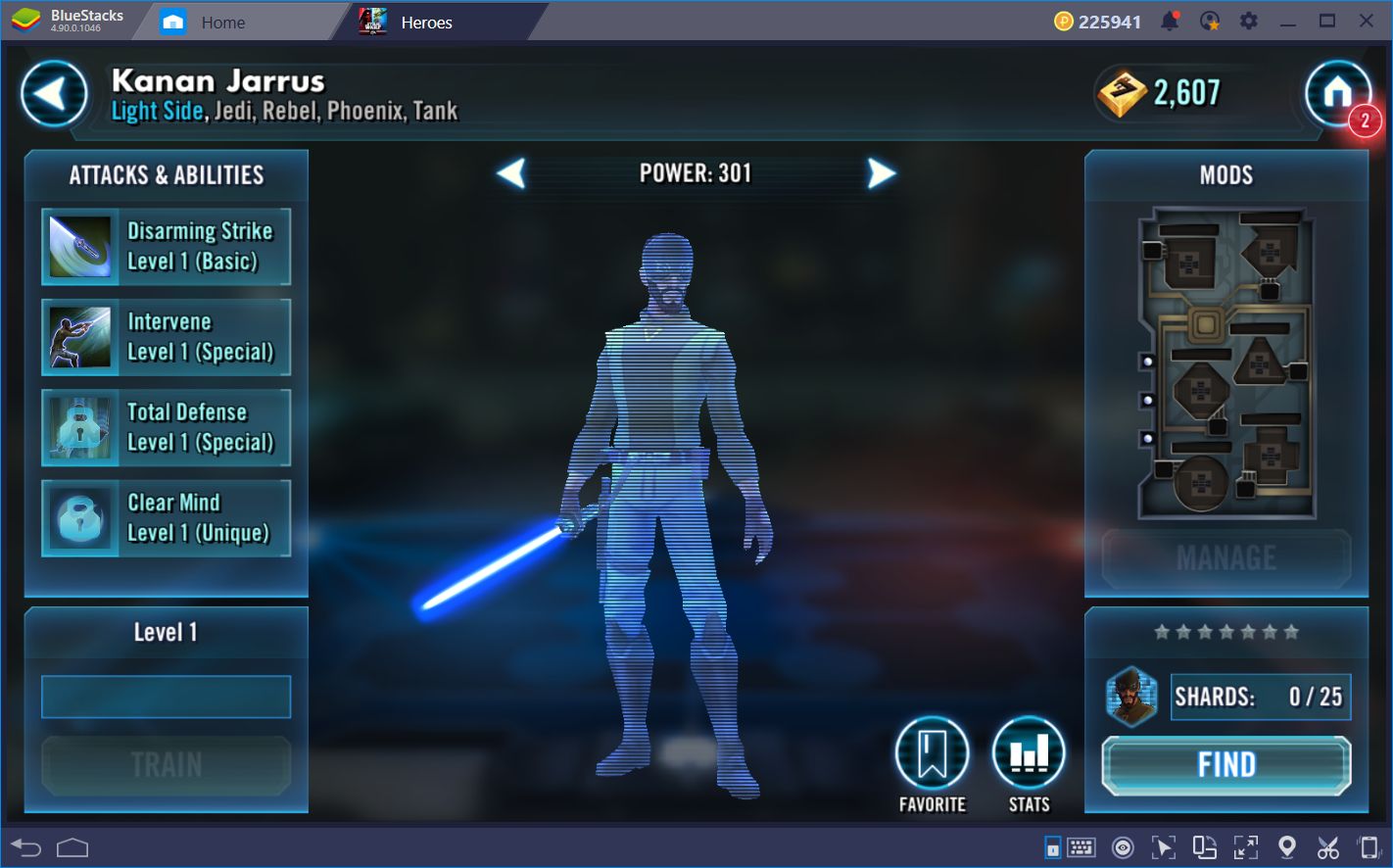 The best characters that you can obtain from this game mode are Kanan Jarrus, which is necessary for unlocking Grand Admiral Thrawn, one of the most powerful characters in the game. Additionally, you can also work towards unlocking Princess Leia and Stormtrooper Han, which are some of the most useful Rebel units in the game. The latter, especially, is a great support unit since he allows your characters to have their turns more often. Leia, on the other hand, is an offensive powerhouse that can wreak havoc as well as render herself invisible and increase her damage for several turns.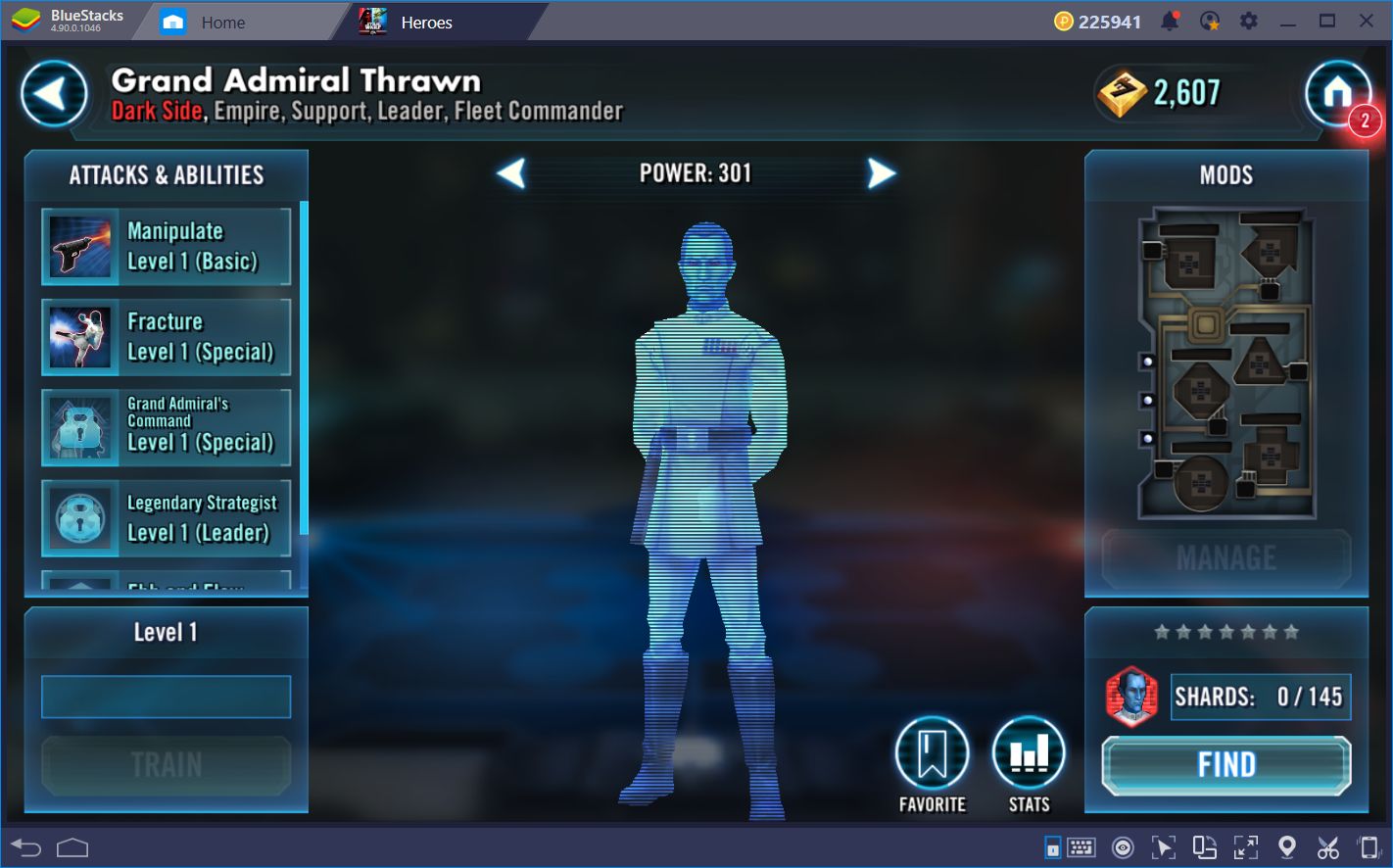 Galactic Wars
Despite being quite tough at the level when you unlock it (level 40), the Galactic War is one of the best methods for quickly unlocking powerful characters. This mode consists of a series of battles that you can complete daily and that, once finished, reward you with galactic coins. You can then use these coins for purchasing character fragments. In this regard, it's a consistent way to unlock certain characters.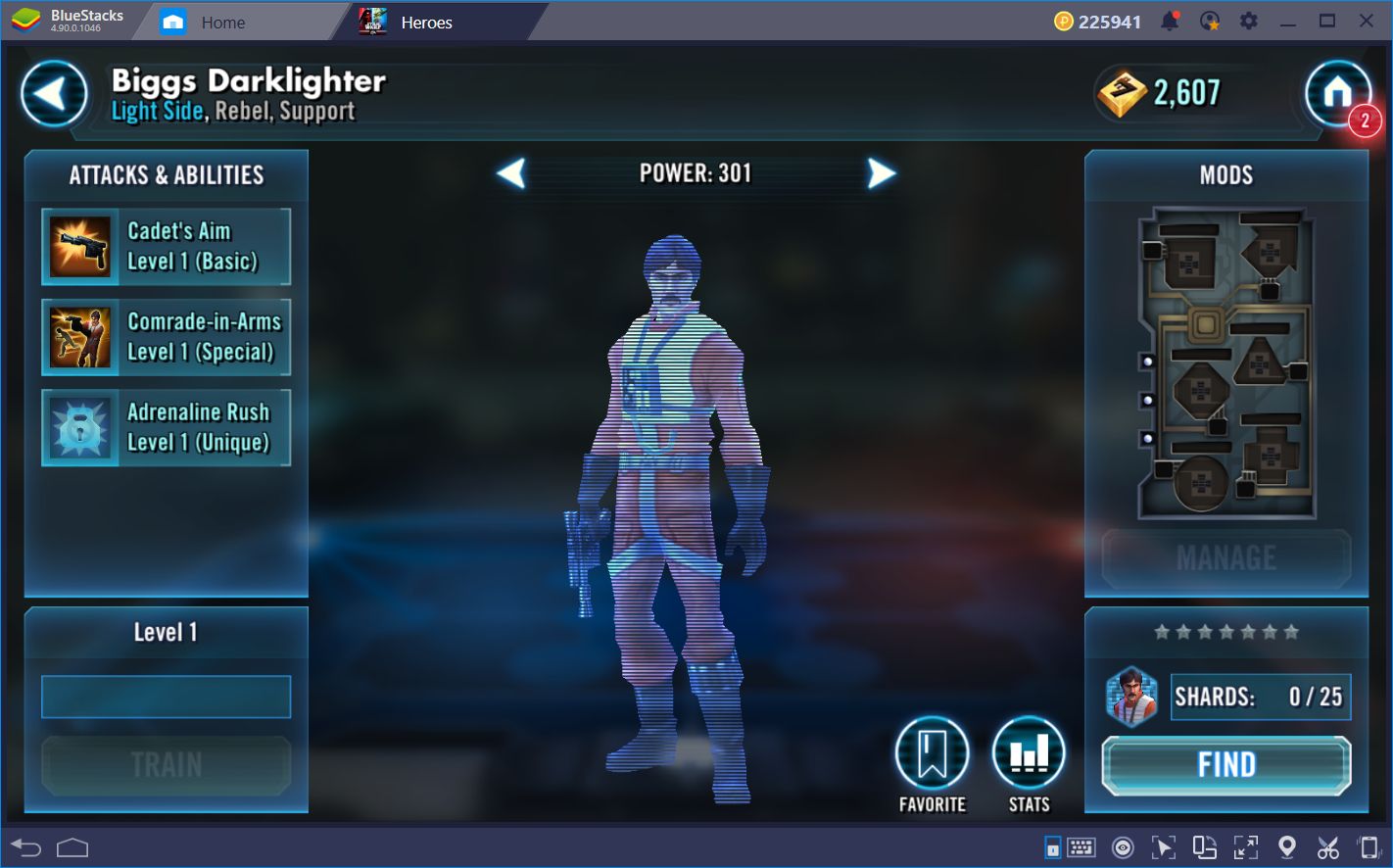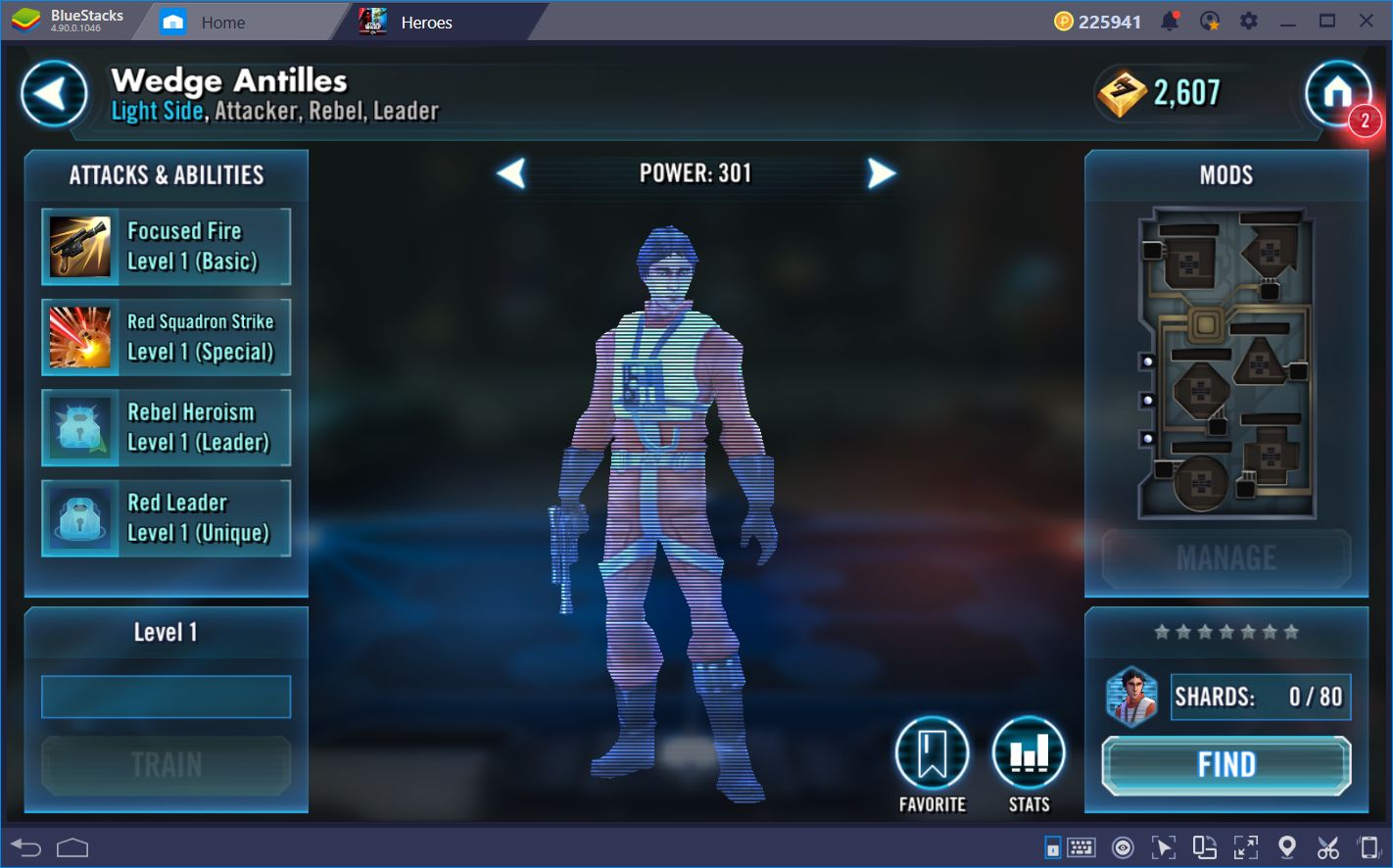 There are two specific characters that you should try to unlock in this game mode: Biggs and Wedge. The former is one of the strongest offensive units for free players. He's simple to use, does significant damage, and has very powerful synergy with his pal Wedge. Their strength comes from the fact that, whenever both units are present on the field, they bestow several passive bonuses to each other. For example, Bigg's "Comrade in Arms" skill unleashes a normal attack with a higher crit chance. However, if Wedge is on the field, he will also participate in the assault, doubling the damage caused.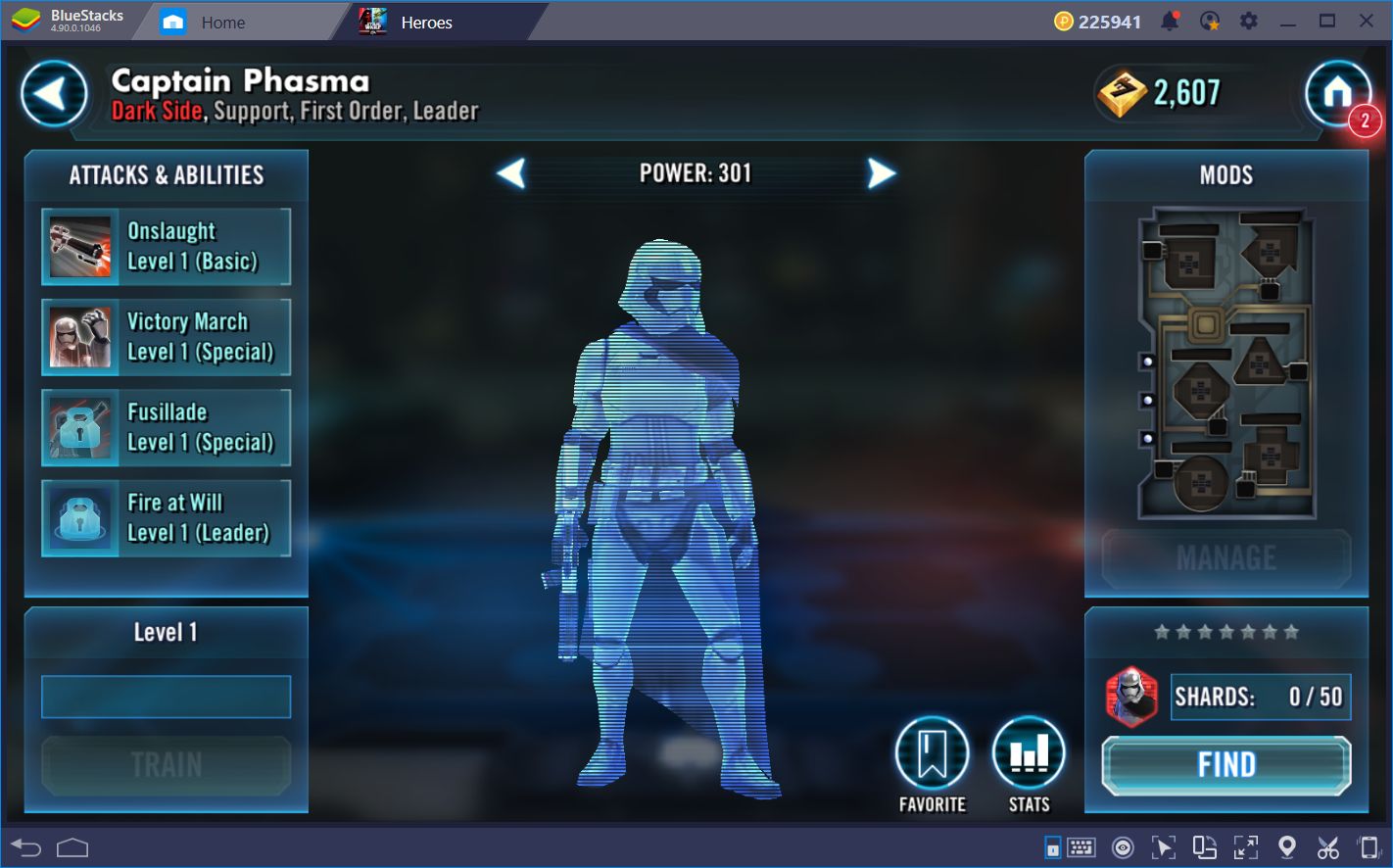 Another important character that you can unlock through the Galactic War is Captain Phasma. She's a great leader that, with each ally attack, has a 10% chance of calling support and giving the said ally a free attack with a 30% reduction in damage. This chance is doubled if the attacking partner is a member of the First Order.
These are the three main methods for acquiring new characters in the beginning. If you focus on these game modes, you'll be able to form elite squadrons in preparation for the larger challenges that lie ahead.