Game Guides
The Basics of Combat in Stellar Age on BlueStacks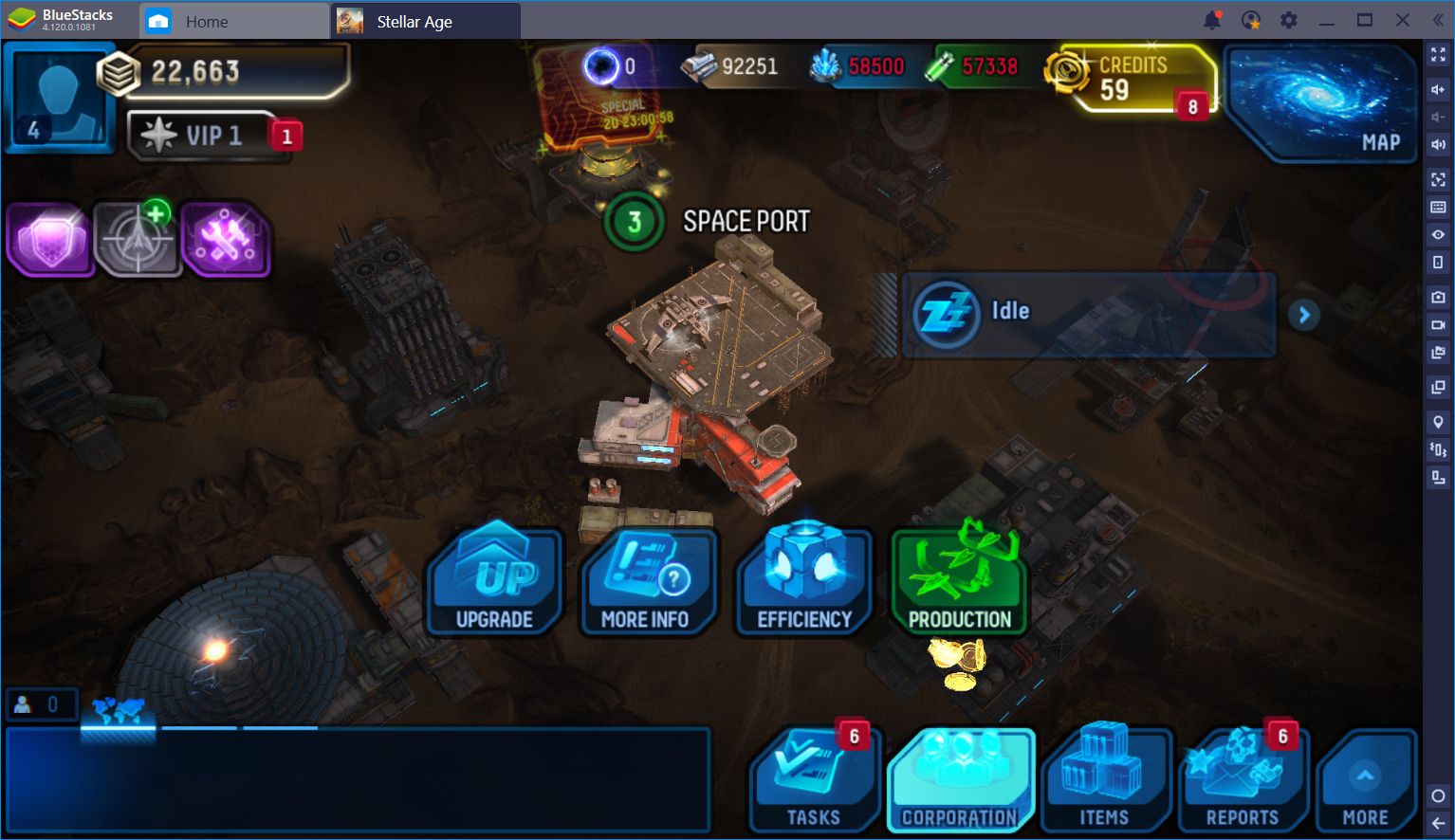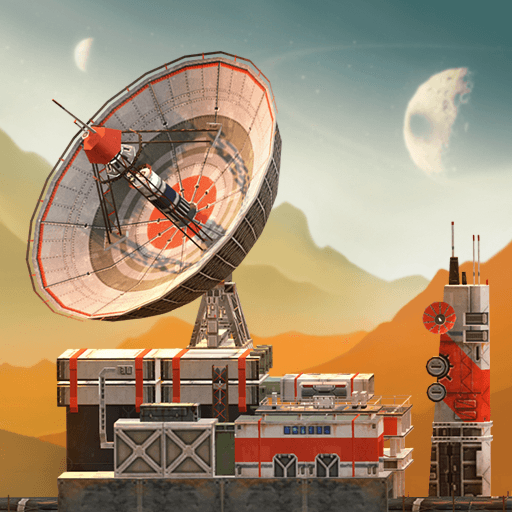 Combat is an intimate part of any conquest game, including Stellar Age. Even though you spend most of your time improving your colony, upgrading your buildings, and growing your fleet, it's all so you can stand a decent chance on the battlefield. After all, what's the purpose of gathering resources if not for investing it in the safety of your colony? Sadly, while your traps and defenses go a long way for ensuring your longevity in this strategy game, you'll eventually need to go on the offensive.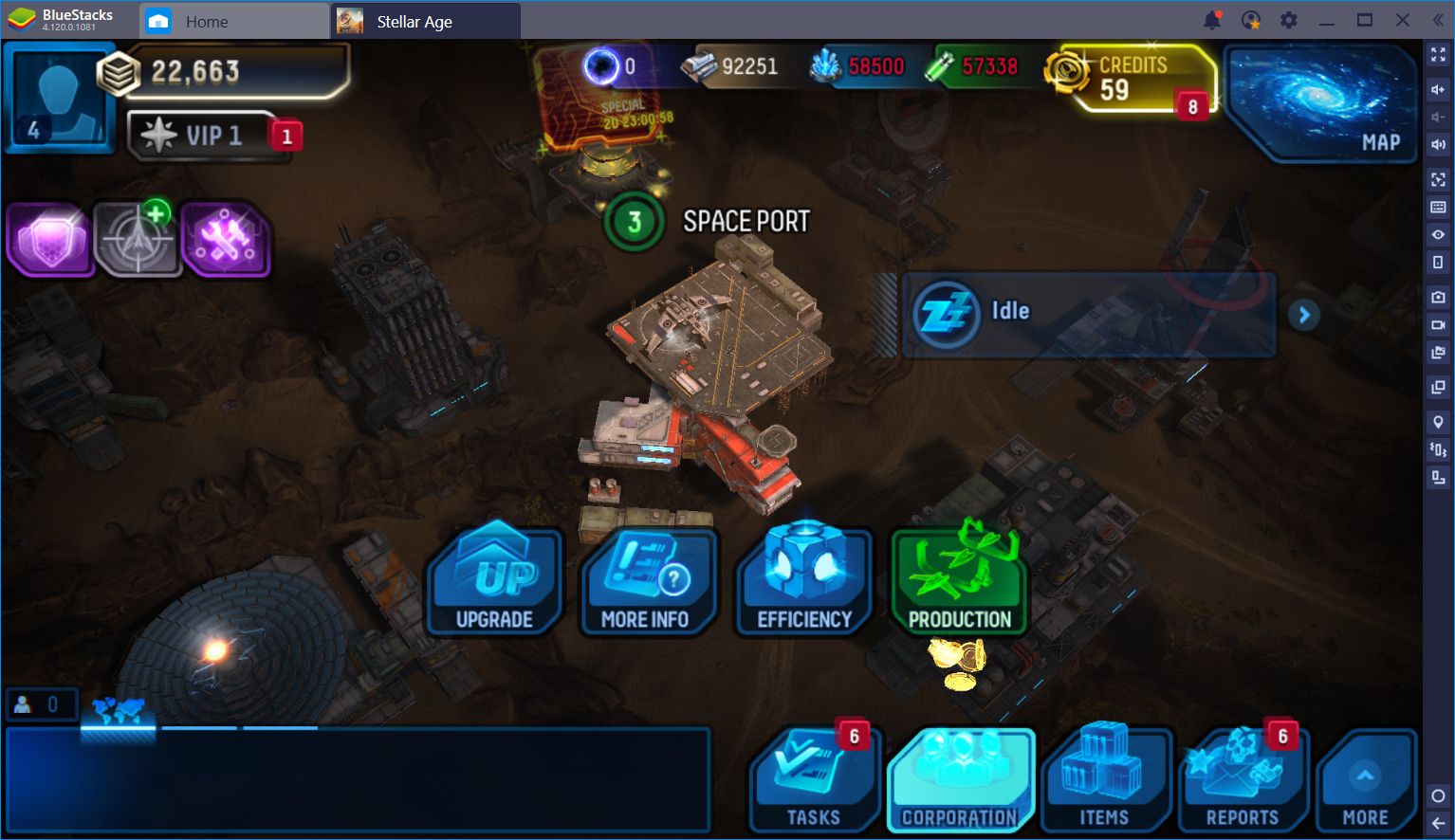 Which begs the question: Are you a bad enough dude to go against all the other space colonies and come out on top? Are you ready to build a massive fleet and take the fight to the enemy's doorstep? If you answered yes to both these questions, then you're halfway ready to dominate in Stellar Age. However, before actually committing to this objective, you must first design a good approach. This is a strategy game we're talking about, after all.
If you haven't done so already, consider taking a look at our BlueStacks usage guide for Stellar Age where you'll find many tips on how to use our app player to gain an advantage over others in this awesome strategy title.
If you're new to this game, then you'll definitely want to take a look at our BlueStacks blog, where we have several other guides on the game. However, when it comes to combat in Stellar Age, keep in mind the following tips, as they'll allow you to hunt for pirates and other players with relative ease, while keeping your fleet casualties as low as possible.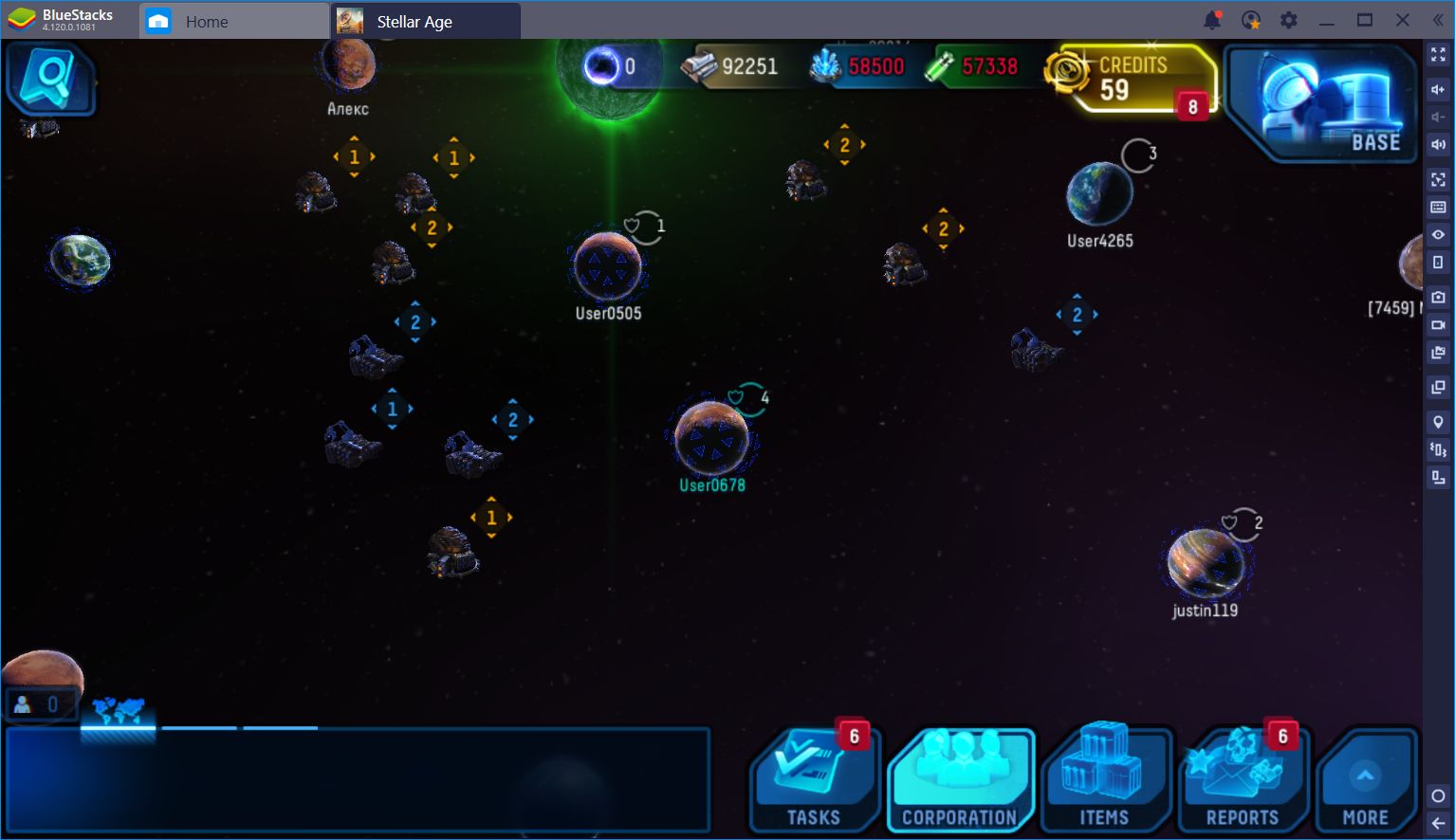 Metal, Metal, and More Metal
In order to develop a decent fleet to conquer your foes, you'll need a large amount of metal. This resource is crucial at the beginning since building an entire production line of freighters requires almost your entire storage of metal. Luckily, while your Ore Mine does most of the passive production of your colony, you can significantly speed up your accrual of this resource by partaking in pirate hunts.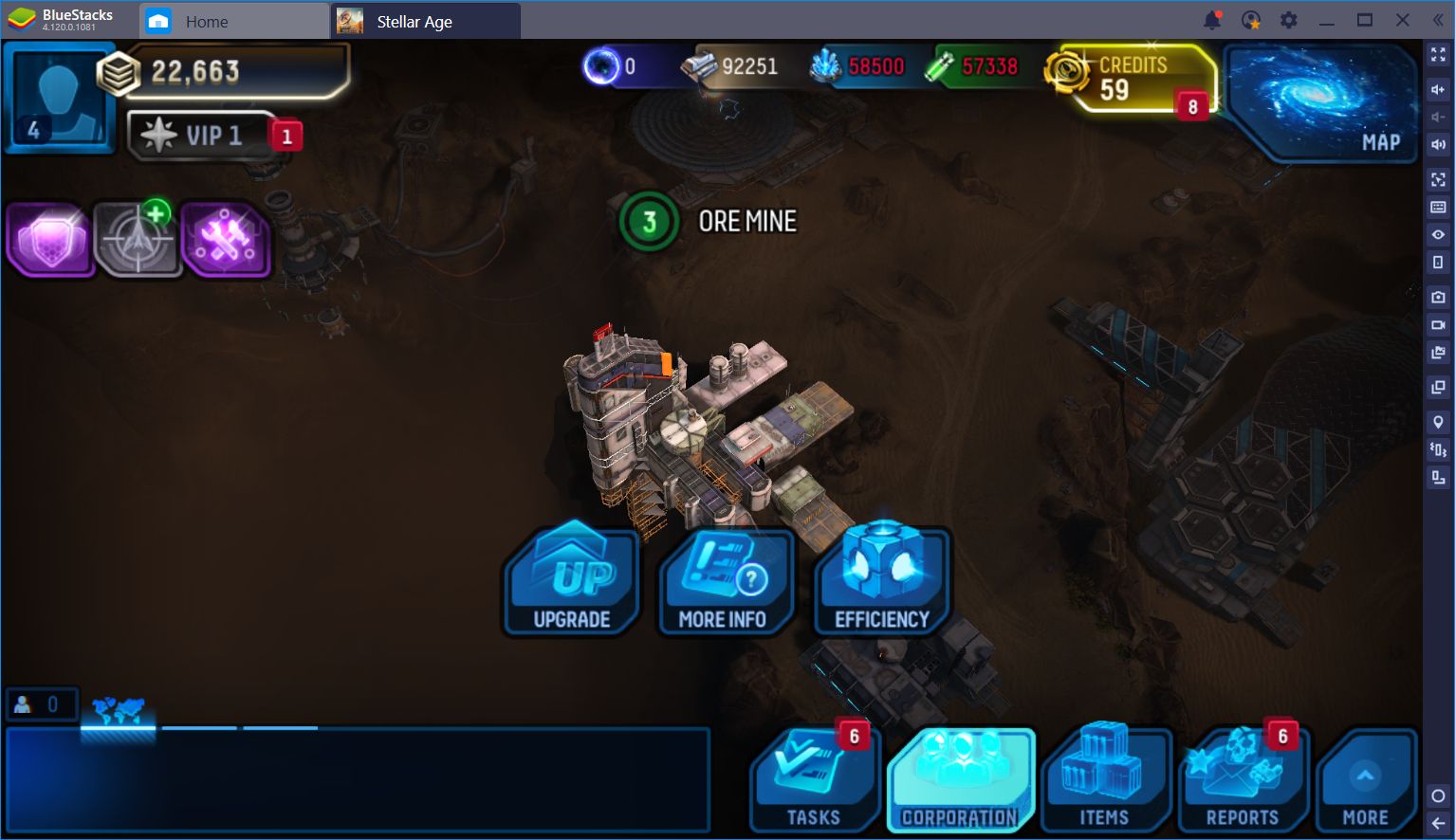 If you take a look at your galaxy map, you'll notice a bunch of pirate ships hanging around in the nearby sectors. In ascending order of difficulty, these pirates are the Steel Rats, the Blood Legion, and the Star Dominion. Luckily, the ones we're after belong to the weakest group and are prevalent throughout the entire galaxy.
Even though Stellar Age is a strategy game, there's not much strategy when it comes to fighting the Steel Rats. Most of their fleets are comprised of Light Freighters, which are vulnerable to your own Heavy Freighters, as we'll explain a bit later on. If they're low level, you won't even need to spy on them before launching an attack; just send over your fleet of heavies and make short work of them.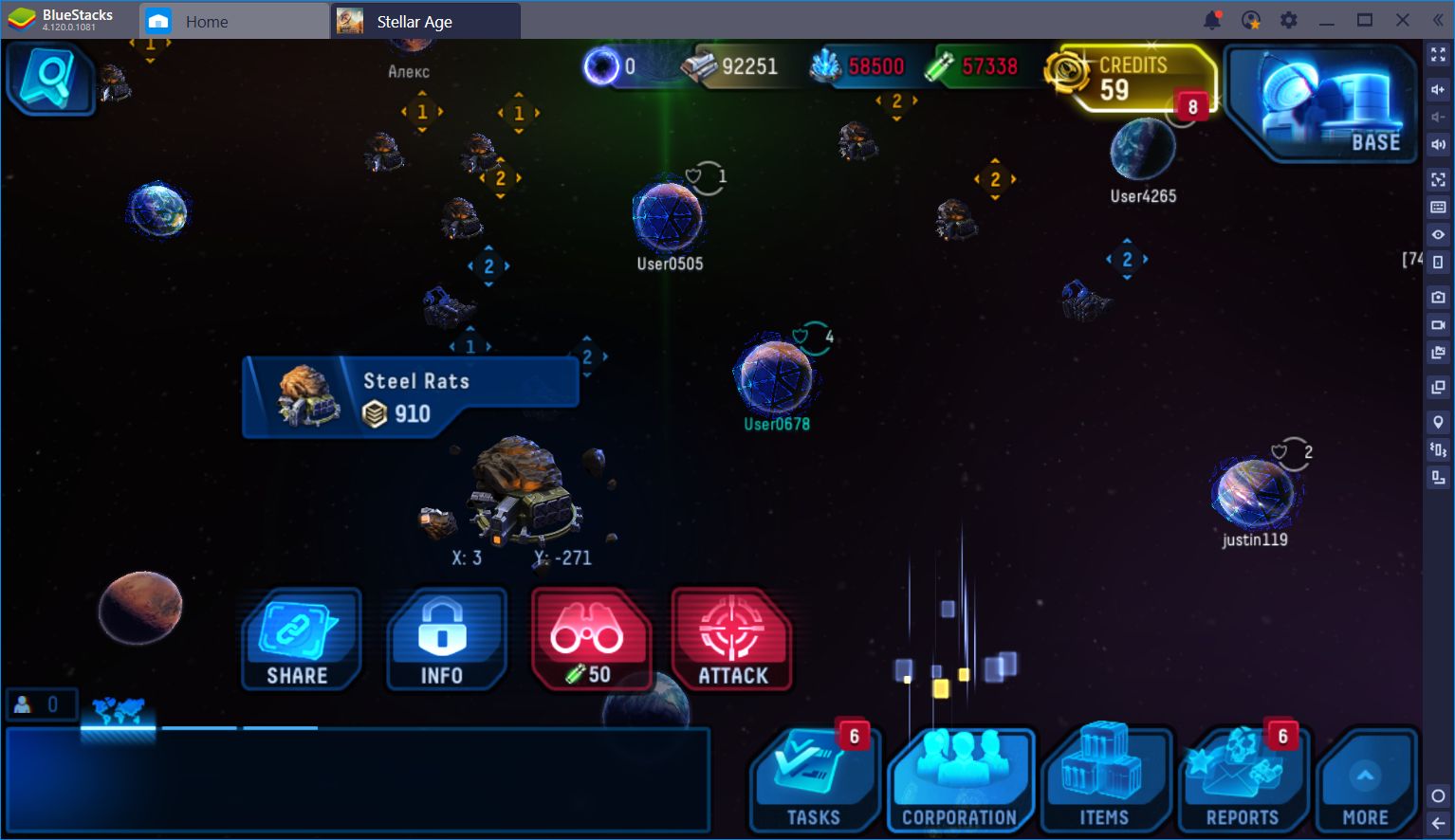 After the deed is done, and your enemy lies broken, you're free to take all the metal back to your base, where you can use it to continue growing your fleet. It's important to note here that the Blood Legion and the Star Dominion carry polymer and antimatter, respectively. You'll need both of these later on, though you should focus on the Steel Rats for now.
Spaceship Types and Their Significance
By taking a look at your Space Port, you'll notice that you can build several different types of ships. These include Light Fighters, Heavy Fighters, Bombers, Battleships, and Cruisers, to name a few. Each of these ships have their own strengths and weaknesses, which manifest in the form of type matchups. In other words, some types of ships are stronger against a few, and weaker against others.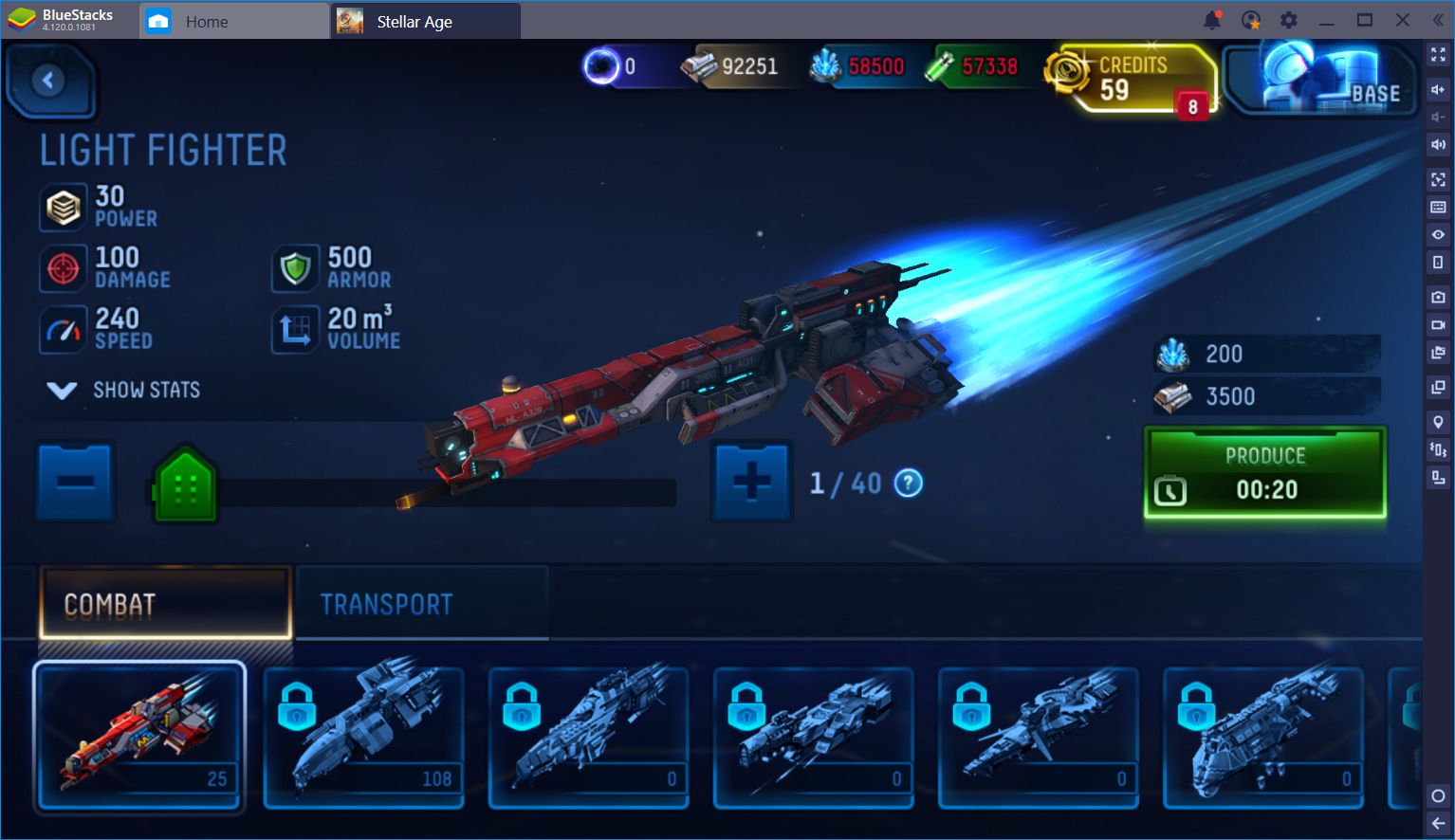 When it comes to combat in most strategy games, variety is everything. Here are some of the type matchups in Stellar Age:
Light Fighters

Strong Against: 300% against Cruisers and Titans, 400% to Bombers.
Weak to: 300% Against Heavy Fighters, 500% Against Dreadnoughts.

Heavy Fighters

Strong Against: 300% against Bombers and Light Fighters, 400% to Dreadnoughts.
Weak to: 300% against Cruisers, 500% against Destroyers.

Cruisers

Strong Against: 300% against Heavy Fighters, 500% against Destroyers.
Weak to: 500% against Battleships and Dreadnoughts, 300% against Light Fighters.

Battleships

Strong Against: 500% against Cruisers, 300% against Titans.
Weak to: 500% against Dreadnoughts

Dreadnoughts

Strong Against: 500% against Light Fighters and Battleships.
Weak to: 400% against Destroyers and Heavy Fighters, 300% against Titans.

Bombers

Strong Against: 400% against colony defenses.
Weak to: 400% against Light Fighters, 300% against Heavy Fighters.

Destroyers

Strong Against: 500% against Heavy Fighters, 400% against Dreadnoughts.
Weak to: 500% against Titans and Cruisers.

Titans

Strong Against: 300% against Dreadnoughts, 500% against Destroyers, 200% against enemy colony defenses.
Weak to: 300% against Battleships and Light Fighters.
As you can see, there are many types of ships in Stellar Age, most of which are inherently superior than others. The key to creating a good offense and defense is to construct a fleet of diverse ships. In this manner, you'll not only be able to hunt down all types of pirates, but will be a more threatening target for other players.
Safeguard your Resources
One of the most important structures for protecting your colony is the Bunker. This structure is present in many different presentations and forms throughout other strategy games. However, this building doesn't inherently protect your base from enemy attackers.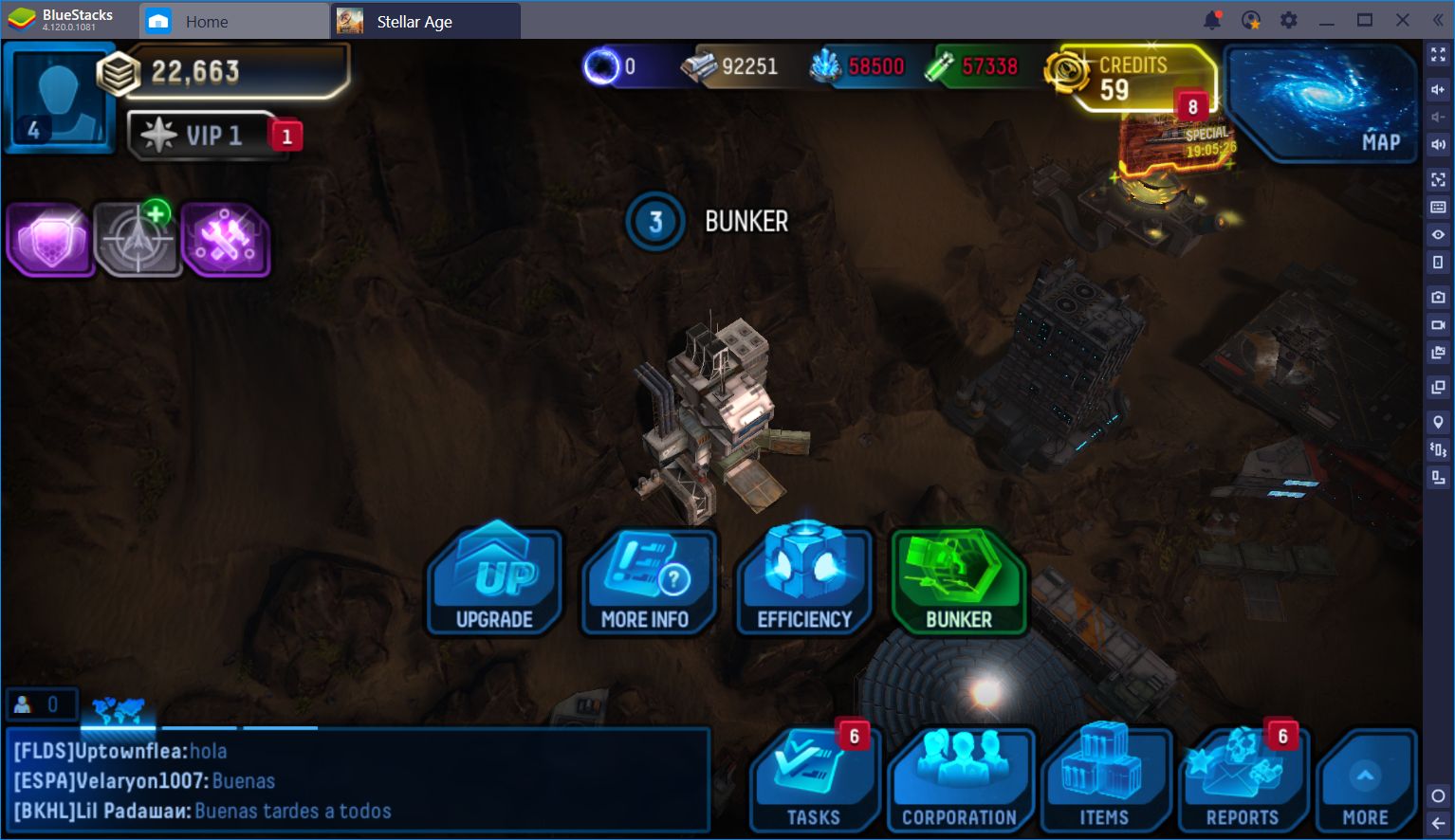 At the beginning—when you're at your weakest—most wars are waged over resources. Consequently, by keeping an upgraded bunker, you'll safeguard most of your precious metal, polymer, and antimatter, and deter potential aggressors from capitalizing on your weakness.
Although your top priority should always be your Mission Control Center, followed by your production buildings, your Bunker should always be a close third. Especially if you're going offline soon, upgrading your Bunker will allow you to keep your resources safe over extended periods of time.
The ultimate deterrent against enemy scavengers, however, is by completely spending your resources. If possible, try to hold on to as few resources as you can. While your buildings will slowly produce more resources, you'll likely have less than what your Bunker can accommodate. In this sense, even if you get attacked, you'll lose 0 resources.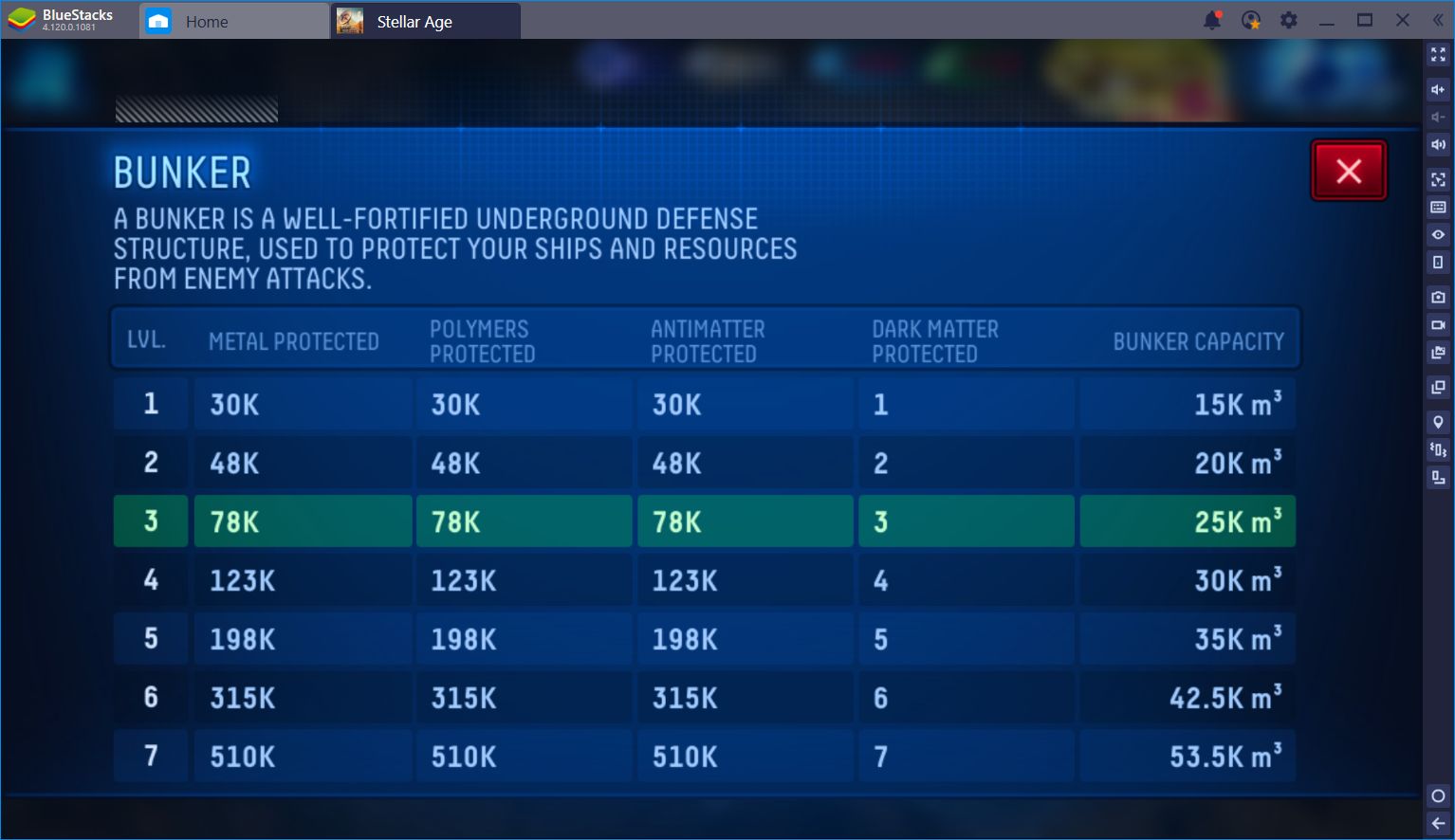 There are many ways to both keep safe and advance in Stellar Age. However, most of them boil down to keeping a good offense and a strong defense. If you can stand your ground in the battlefield, and defeat all who stand in your way, then you'll have nothing to fear. Luckily, you have all you need to get started in this guide.