Game Guides
Optimizing Your BlueStacks for Stellar Age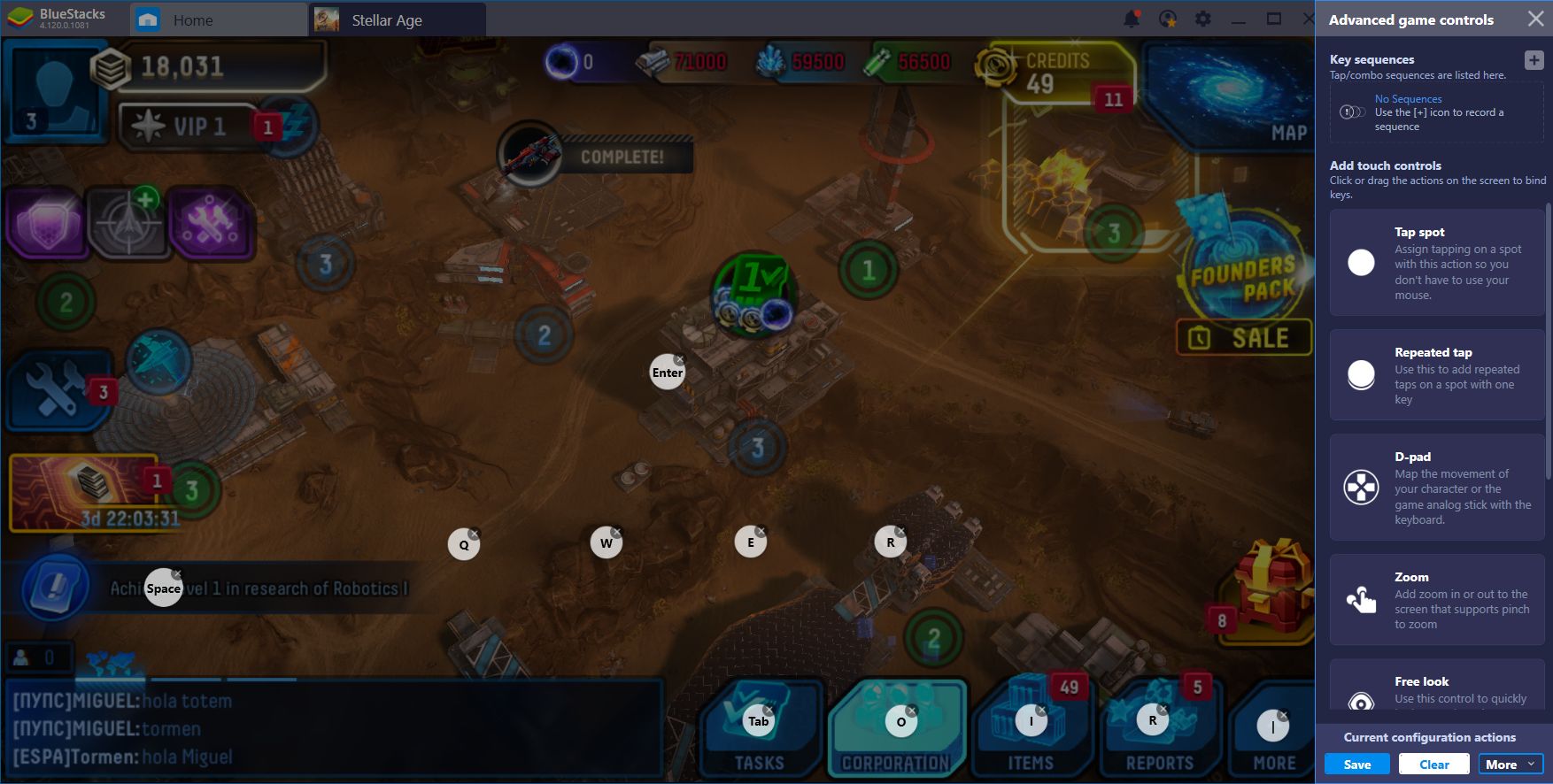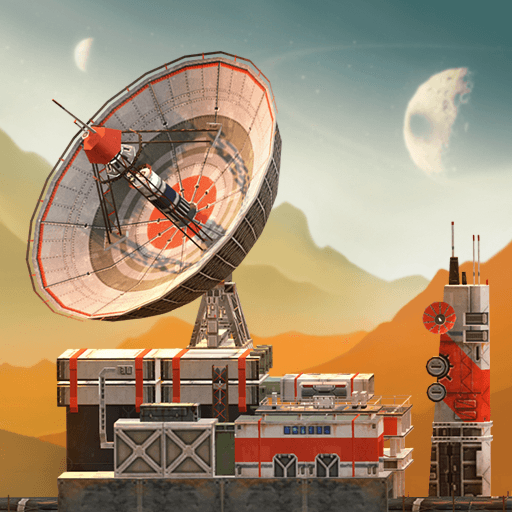 Imagine being in charge of a colony in your very own planet. Imagine developing your structures, creating new spaceships for your fleet, and hunting space pirates to clean up and the galaxy and grab some extra resources in the process. Now, imagine doing these and all sorts of other techy stuff, with the rudimentary controls of a phone.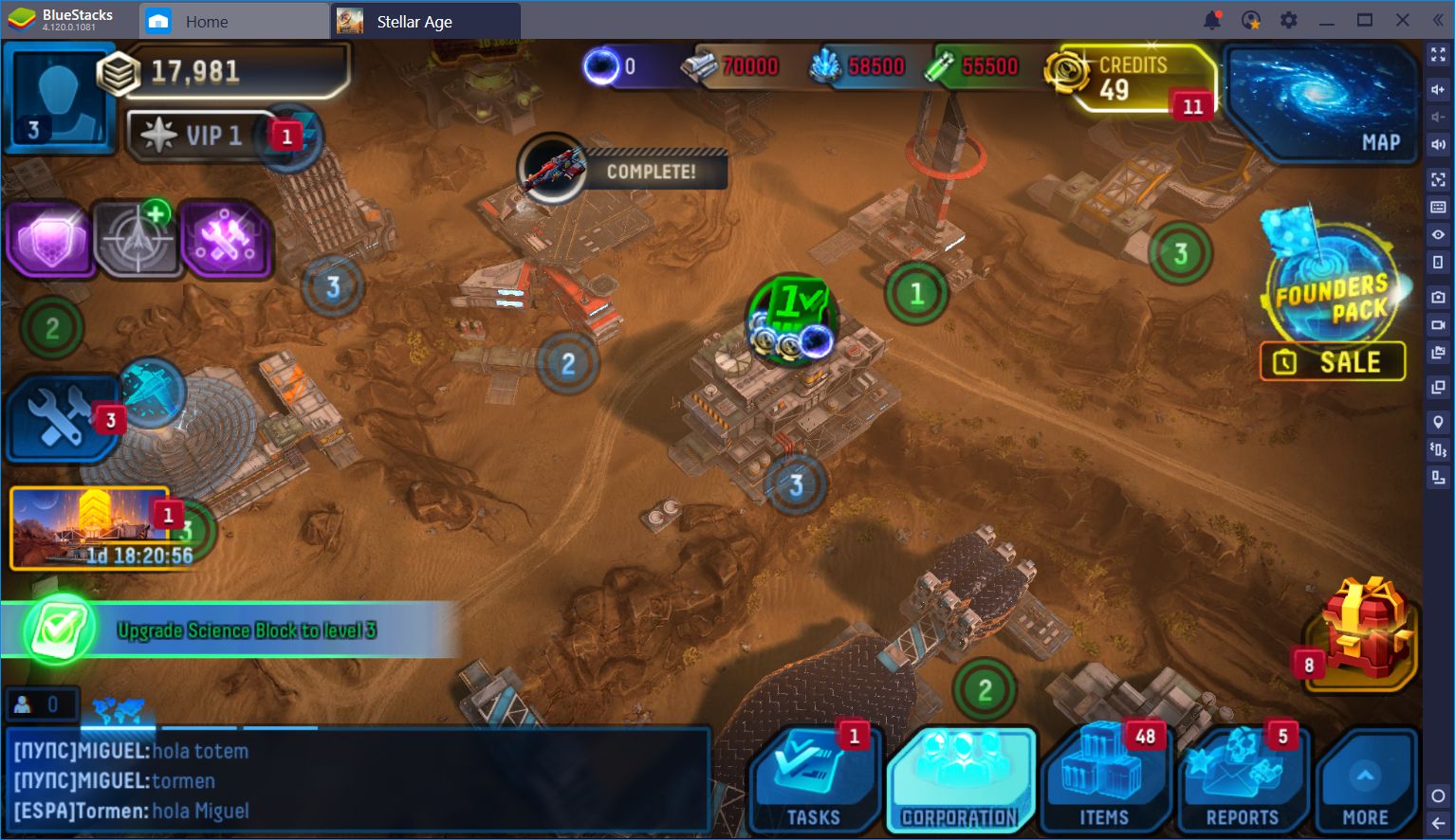 Sure, phones nowadays are stronger than ever, with the power of their CPUs rivaling even that of some PC processors. Their RAM has also steadily increased over time, allowing them to render better and more complex textures without shirking in performance. However, no matter how powerful (and expensive) a phone can get, they're still limited by the shortcomings inherent to the platform. Case in point, gamers who like to play on their phones are subjected to small screens, clunky touchscreen controls and a whole bunch of negative aspects.
Meanwhile, those who play Stellar Age on BlueStacks can do so on a bigger screen, with vastly improved graphics over the original, and without having to cheap out on the visual settings. Even when playing on the higher resolutions and with the graphics settings cranked to the max, it's likely that you won't suffer any types of slowdowns or interruptions. In short, playing on BlueStacks is better than playing on even the most expensive and powerful phones.
But we digress. We could spend this entire article talking about how gaming on BlueStacks is better, but honestly, we'd rather show you all the cool things you can do when using our platform to play Stellar Age.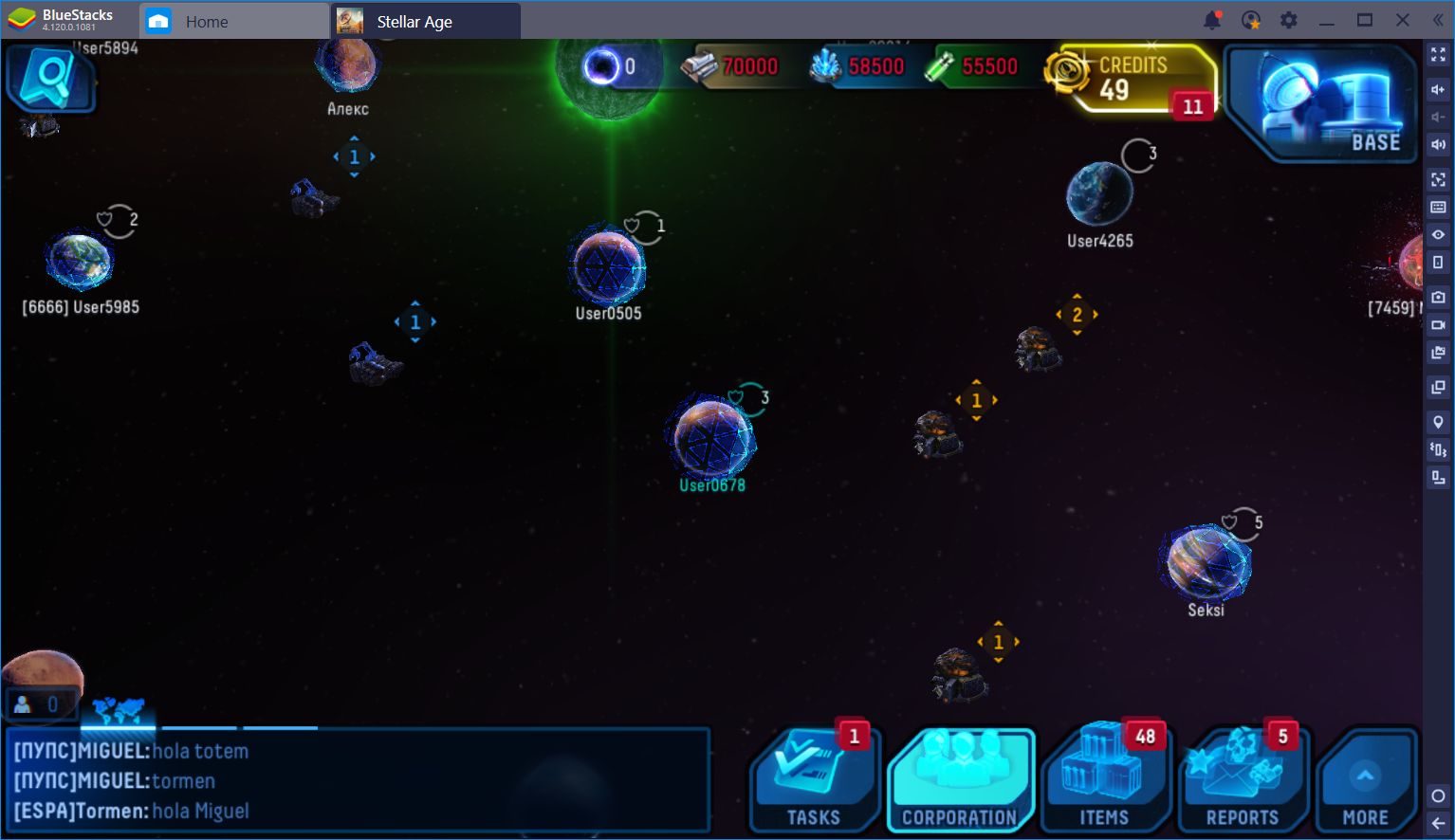 Manage Your Base With the Keymapping Tool
In this game, you're in charge of managing a base by issuing commands to your worker drones, sending spaceships out on expeditions, and a bunch of other important tasks. To achieve all of this, you'll need to navigate through different menus, most of which require several clicks. When it comes to strategy games like these, playing on BlueStacks has the inherent benefit of allowing you to control your operations using your mouse, like you would on any other PC games.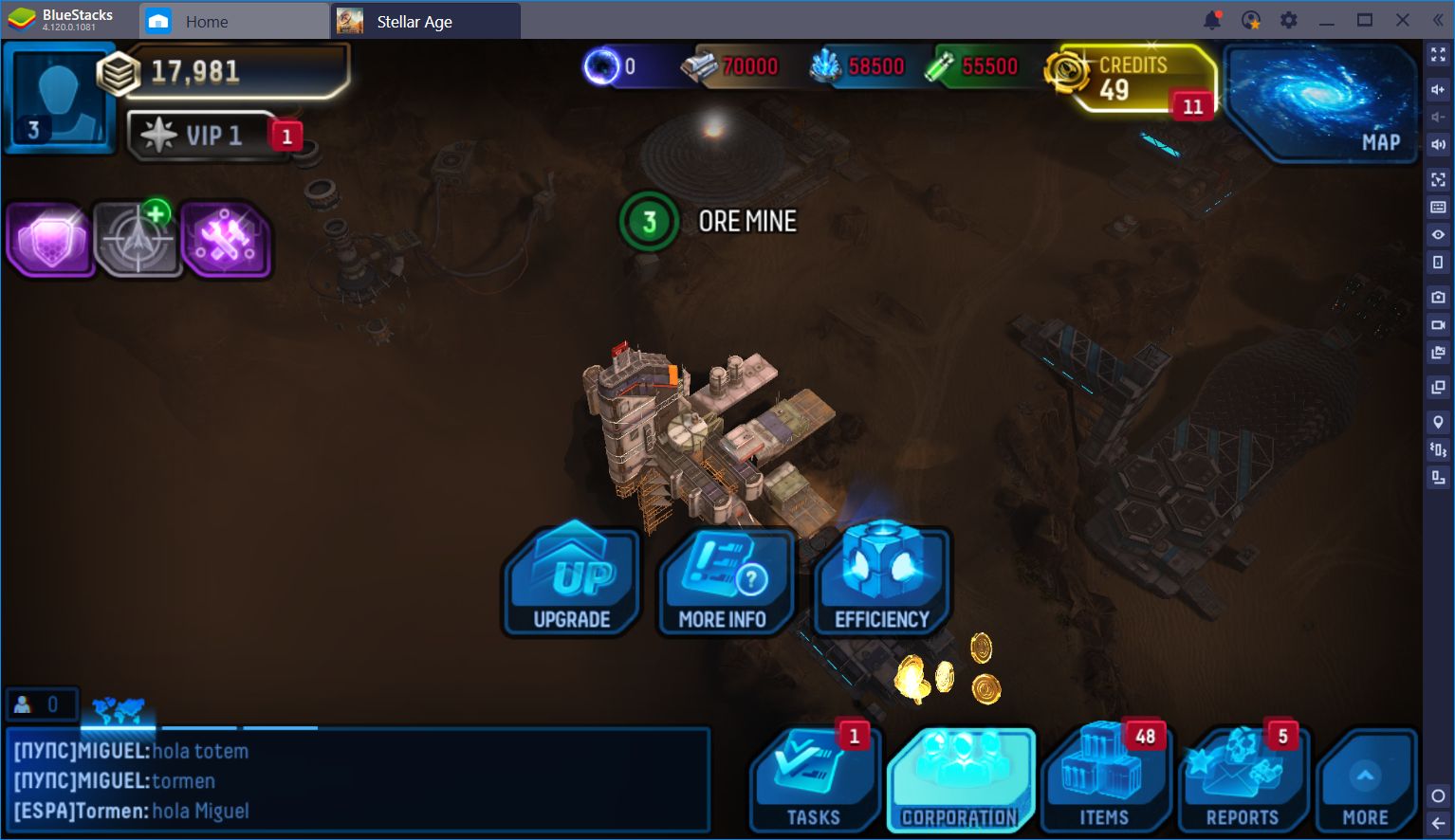 However, as if this added comfort wasn't enough of an advantage, you can also use our BlueStacks Keymapping Tool to assign intuitive shortcuts and control schemes to the screen. In this sense, you could manage your base using not only your mouse, but your keyboard as well, significantly optimizing your operations in the process.
Imagine wanting to perform many different projects at any given moment. Normally, these tasks would require scrolling and clicking multiple buttons on the screen. However, by assigning the said multiple shortcuts on the screen, you can control most of your colony's operations using only your keyboard, as you would do in a PC strategy game.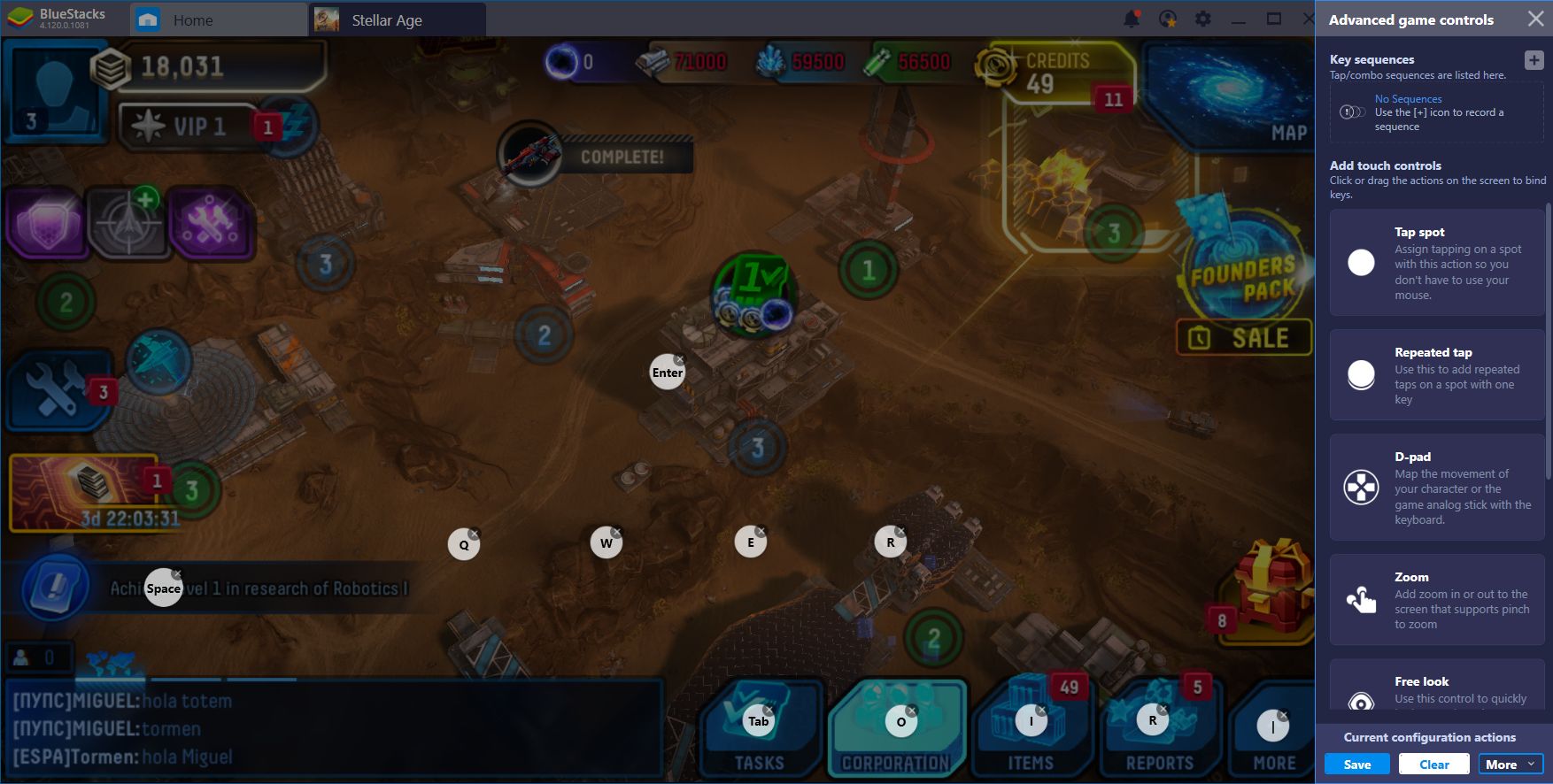 One thing in particular that we liked about the Keymapping Tool in Stellar Age is the way in which we can use it to streamline completing pending tasks. If you set a shortcut on the "next task" located on the bottom left corner of the screen, you can immediately center your camera on the next task. Then, through another shortcut, you can access the corresponding building's menu, and perform all the necessary operations—using other shortcuts, if need be.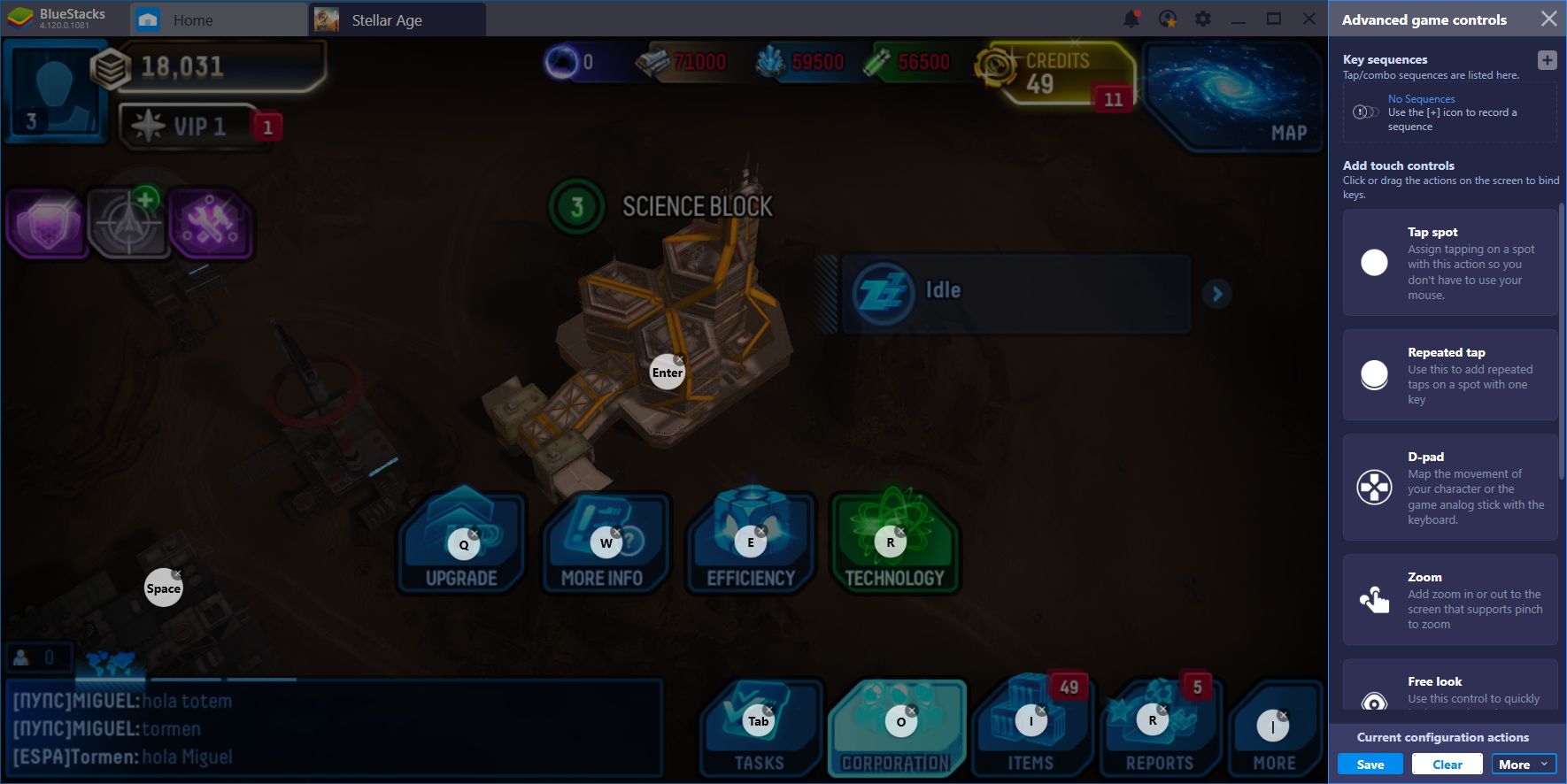 Further Automate Base Operations With the Combo Key
While the Keymapping tool can save you lots of clicks when it comes to issuing upgrades or doing any other repetitive tasks, it's the Combo Key that will help you to fully automate your operations.
As we've mentioned on multiple occasions, the Combo Key is a tool through which you can record sequences of commands, and then reproduce them later on with the press of a button. Imagine upgrading a structure in Stellar Age: You need to access the building first, then click on the upgrade button, and then on the green confirmation button to begin the process. Now, imagine doing that for multiple other buildings. It can get really tedious, really fast.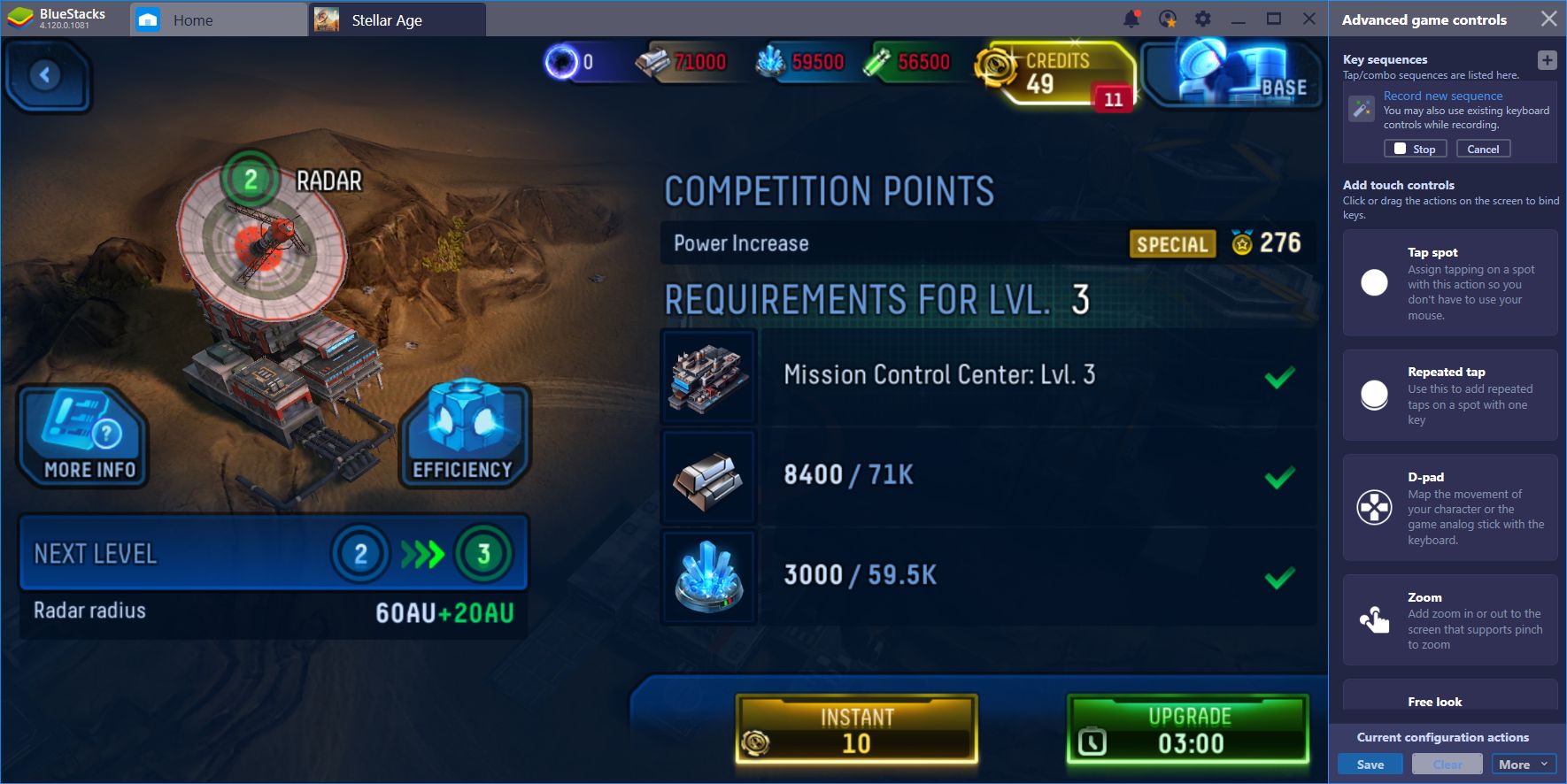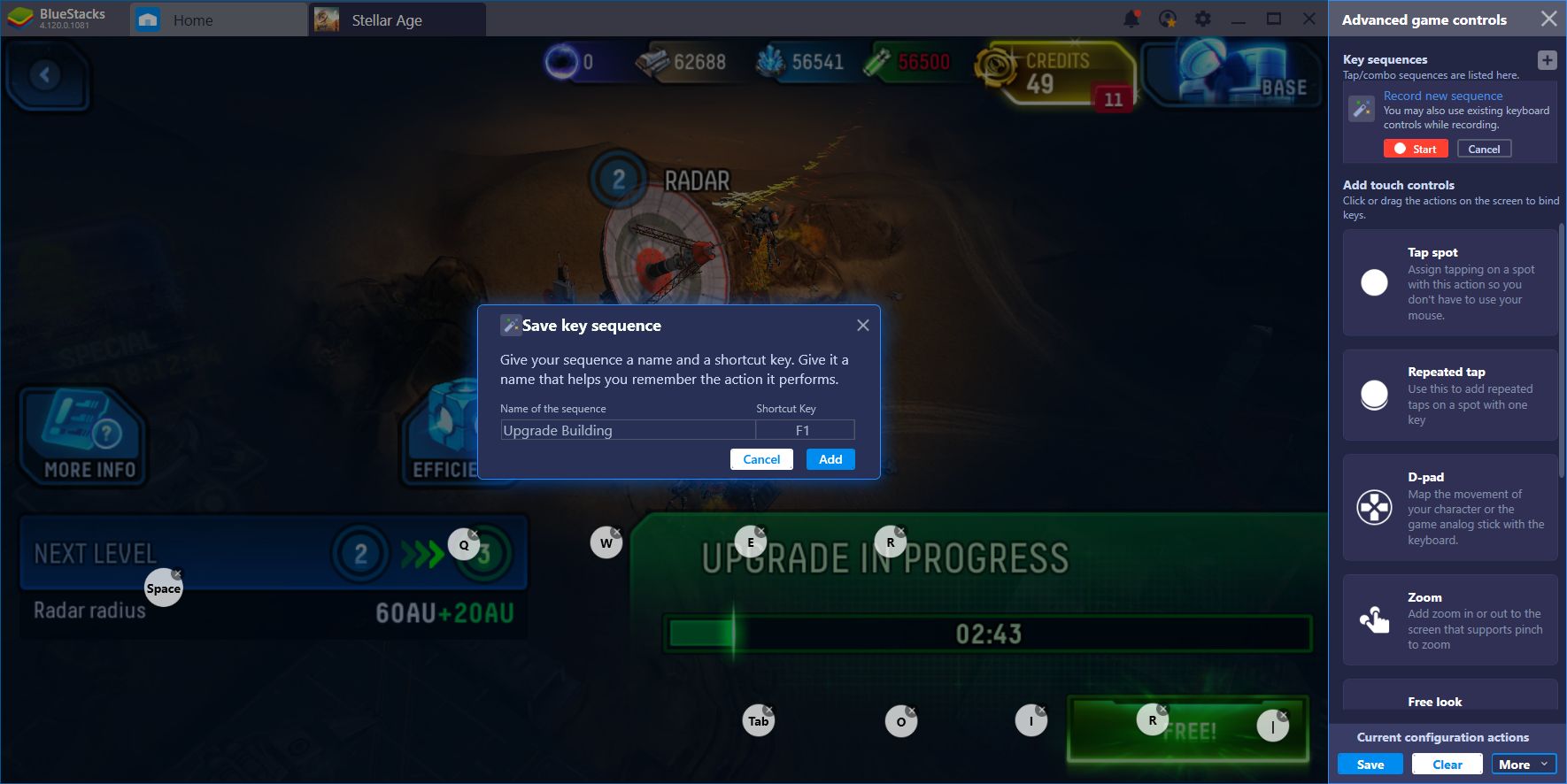 Luckily, with the combo key, we can easily record the sequences of commands necessary for upgrading a building, and then pressing the corresponding button to automate the process in every subsequent attempt. This can save you many clicks, especially if you're serious about progressing in Stellar Age.
Obtaining the Best Performance in BlueStacks
Stellar Age is not the only game in which you can enjoy many benefits when playing on BlueStacks. However, while our tools are very effective at improving your performance in many aspects, it's the way that BlueStacks uses your hardware to create a smooth gameplay experience that truly matters. After all, what good are our tools if the game runs like molasses?
In this sense, there is a certain way to configure your Engine so that it makes the best use of your hardware. If you fulfill the recommended requirements for our platform, all you need to do is navigate to your settings menu, in the engine tab, and configure your settings in the following manner: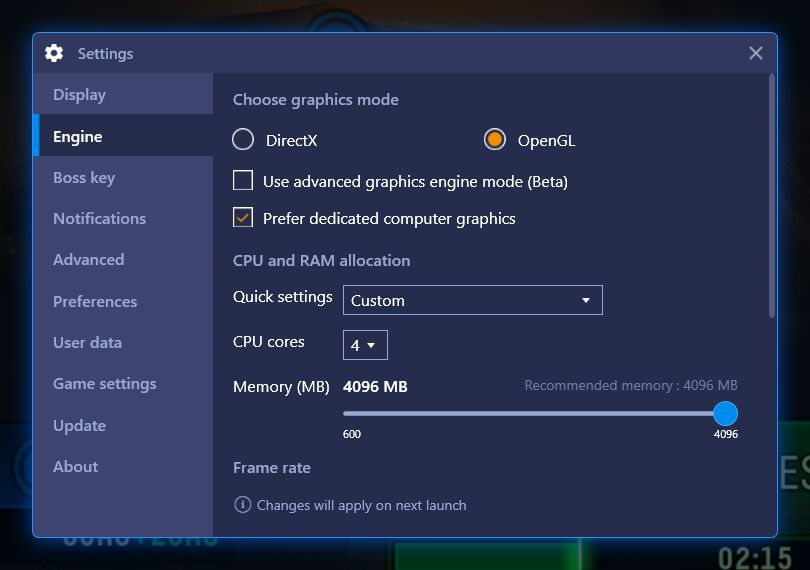 By assigning at least 4 CPU cores and 4GB of RAM to BlueStacks, you'll give the platform more than enough resources than necessary for creating a smooth gameplay experience. Our app player takes the best that your PC has to offer, and puts it to good use when enjoying your favorite Android games.