Game Guides
Summoners Era – The Best Tips, Tricks, Cheats, and Strategies to Get Godlike at the Game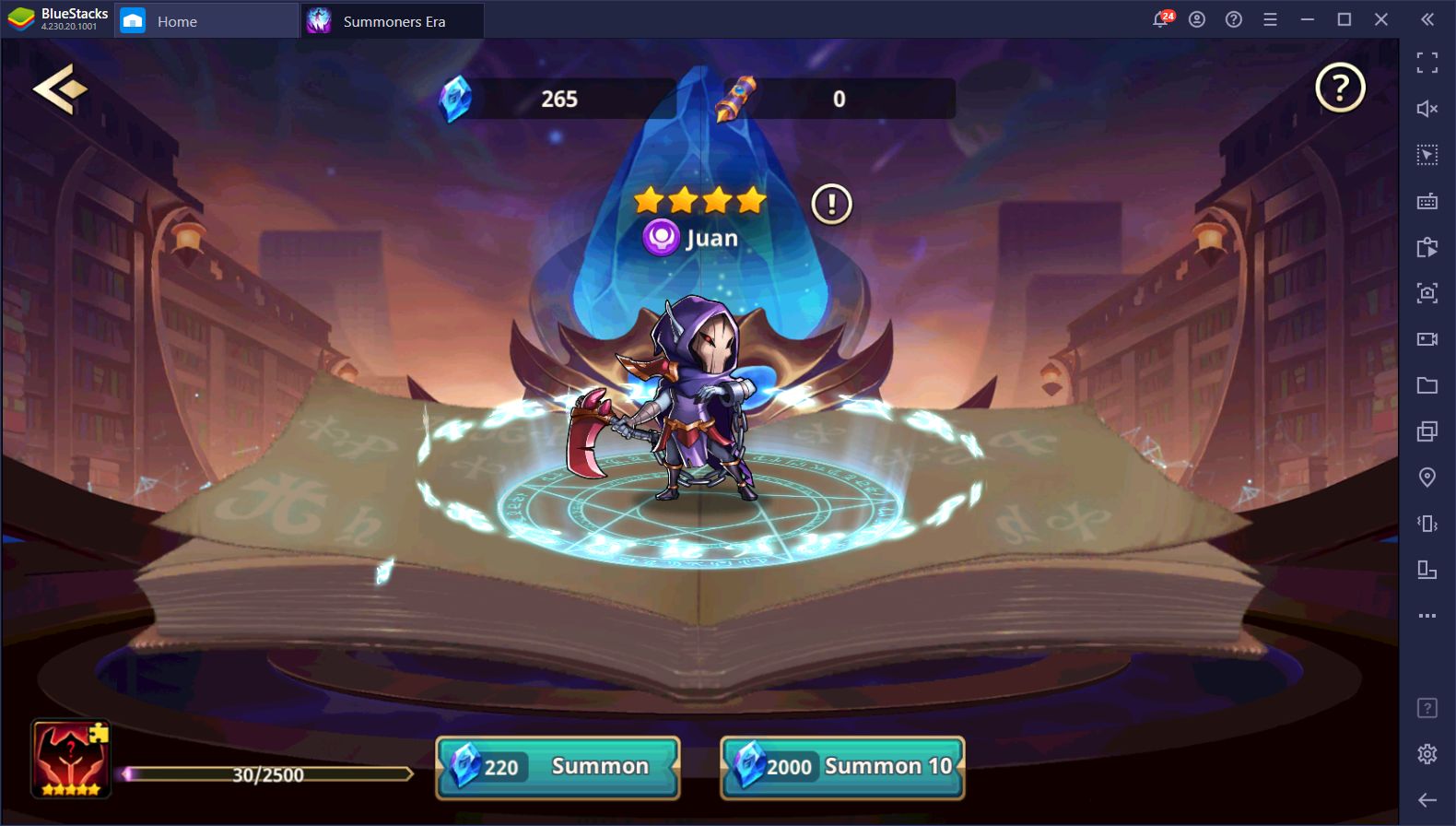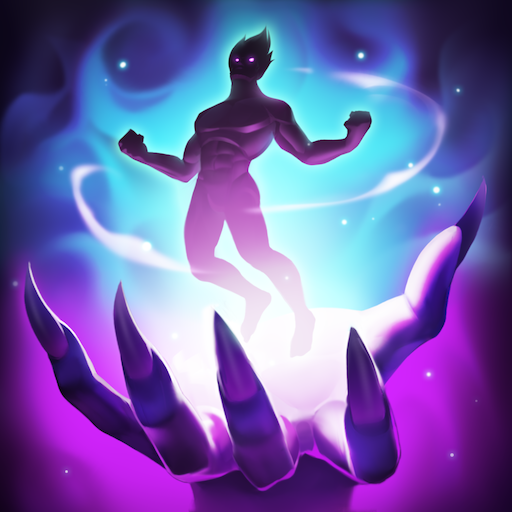 Getting good at any idle RPG, for many players, can be quite daunting, and Summoners Era is no exception. The sheer number of unlockable characters, coupled with the different upgrade methods and other mechanics that you can use to boost your power can make it a bit overwhelming if you're new to the genre. Luckily, most of these games are generally easier than they look—once you know exactly how to proceed, that is. In this sense, we created this guide to share several important tips and strategies for Summoners Era, so that you can get a headstart while the game is still new.
Reroll to Start on the Right Foot
Speaking of headstarts, one of the best ways to boost your power from the very beginning is by unlocking the best characters in the game and adding them to your team. However, the summoning system in Summoners Era makes it exceedingly difficult to recruit powerful characters, with the 5-star versions having only a 0.04% chance of appearing in a basic summoning, or a 4% chance in its premium counterpart.
A good 5-star character can trivialize the first few chapters of the game, even to the point of soloing the toughest stages. However, with the low odds of getting one of these bad boys, you'll need to potentially do hundreds of basic summonings before receiving your first 5-star champion, which is exactly why many players prefer rerolling to get a good beginning in the game.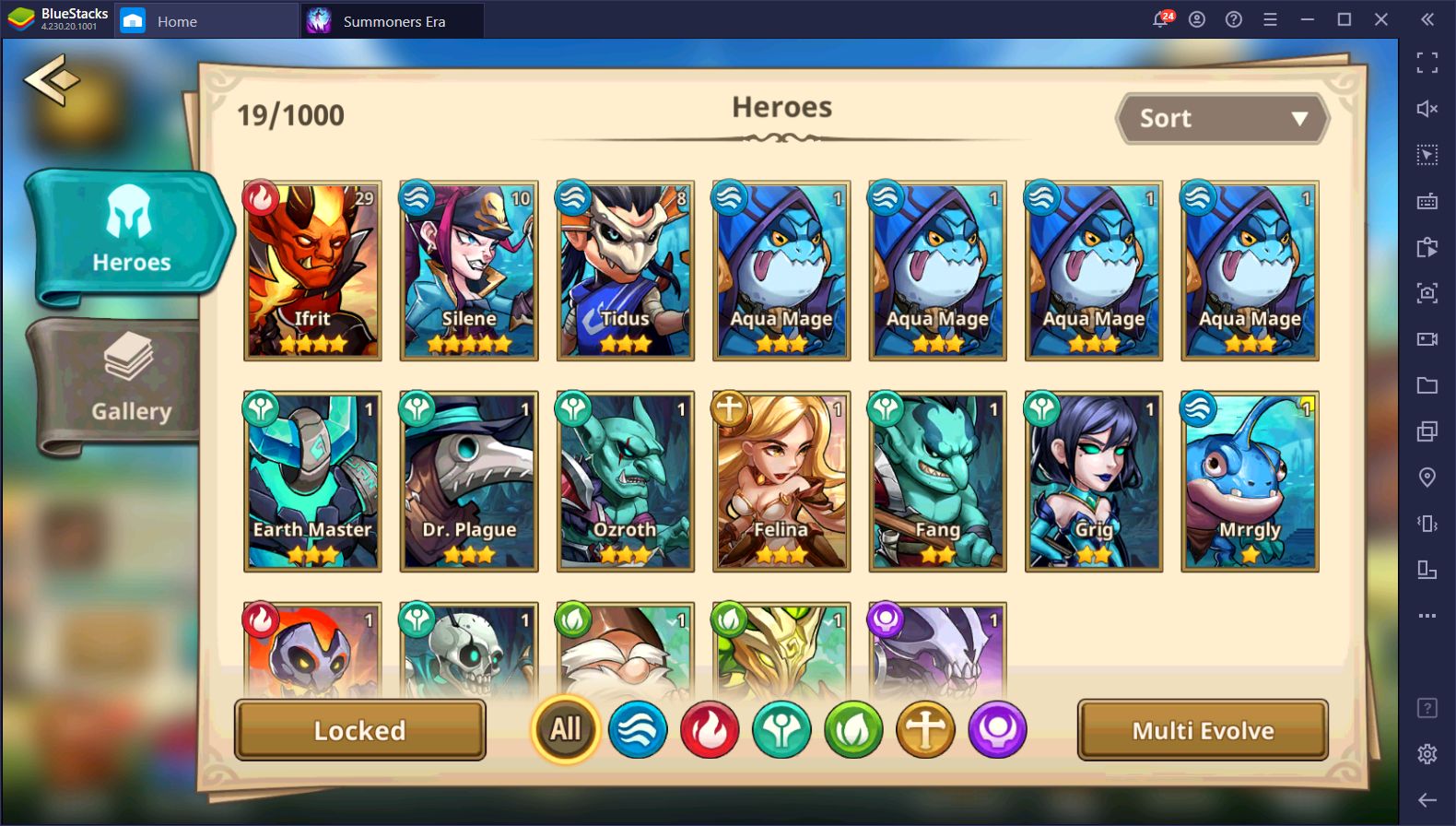 For those who are unfamiliar with the term, rerolling refers to performing the first summoning after completing the tutorial in a gacha game, and restarting their progress if they don't get a good hero. The exact method varies according to the game; some can take a few minutes, while others can take over an hour. Similarly, resetting your progress is impossible in some games, which only adds tedium to the process as you'll need to create a different Google account for every attempt.
Rerolling in Summoners Era, luckily, is quite simple and can be done in just a few steps:
Start a new game and complete the tutorial, which should take a few minutes. During the tutorial, you will receive a premium summoning scroll that you can use in the summoning feature.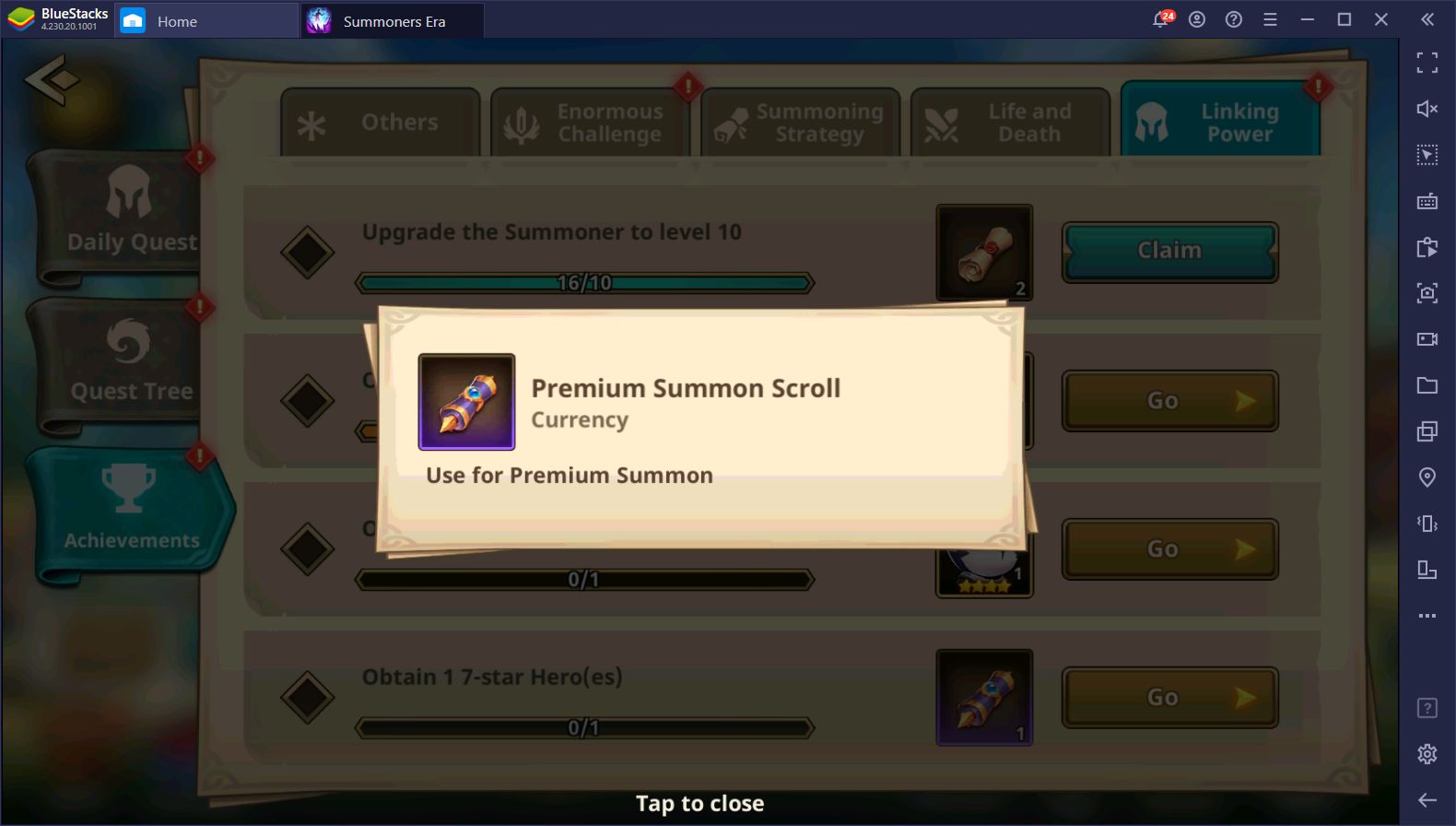 Use your summoning scroll to perform a premium summoning.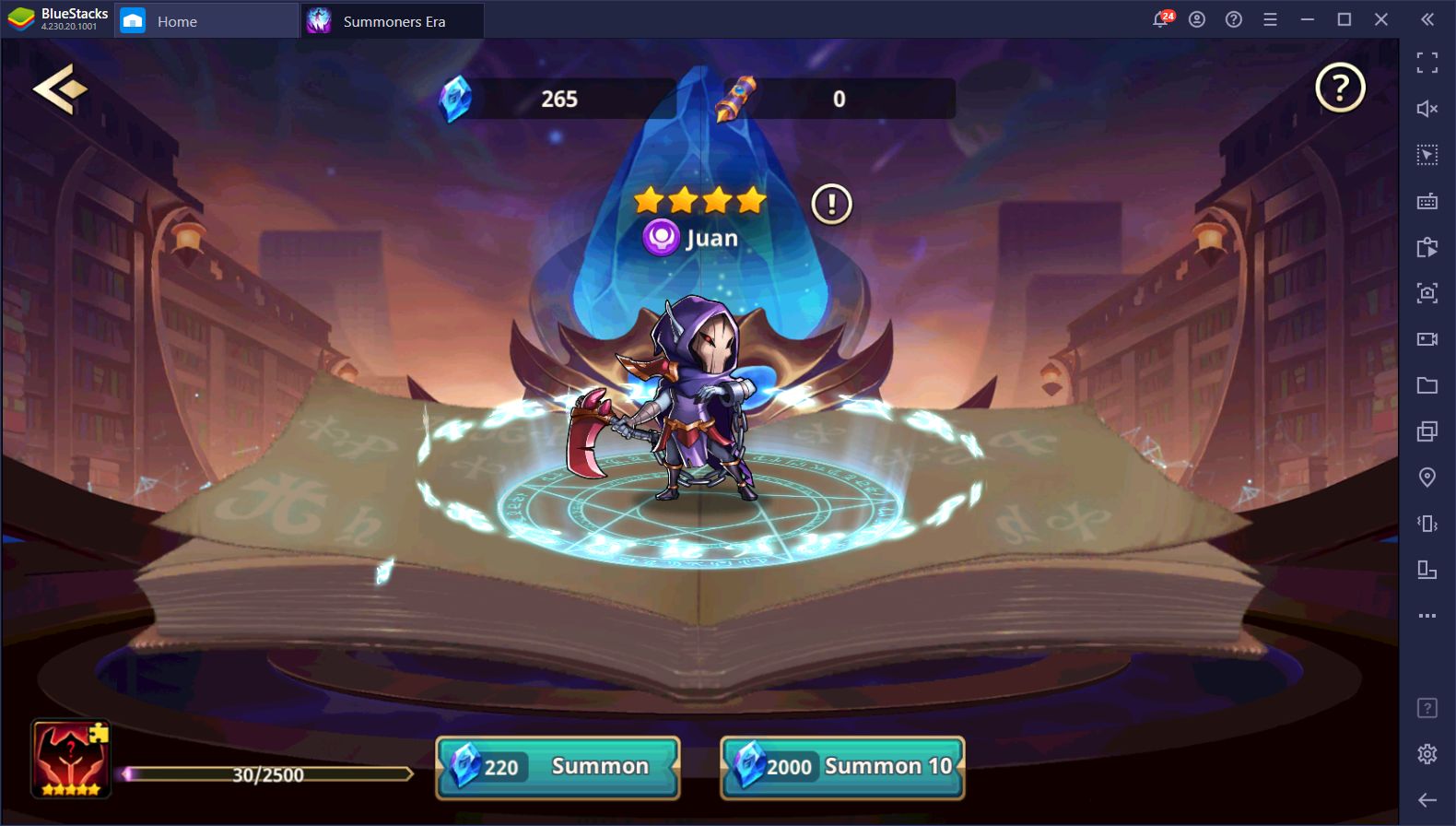 Complete a few achievements and daily quests to save up 220 crystals and perform another premium summoning.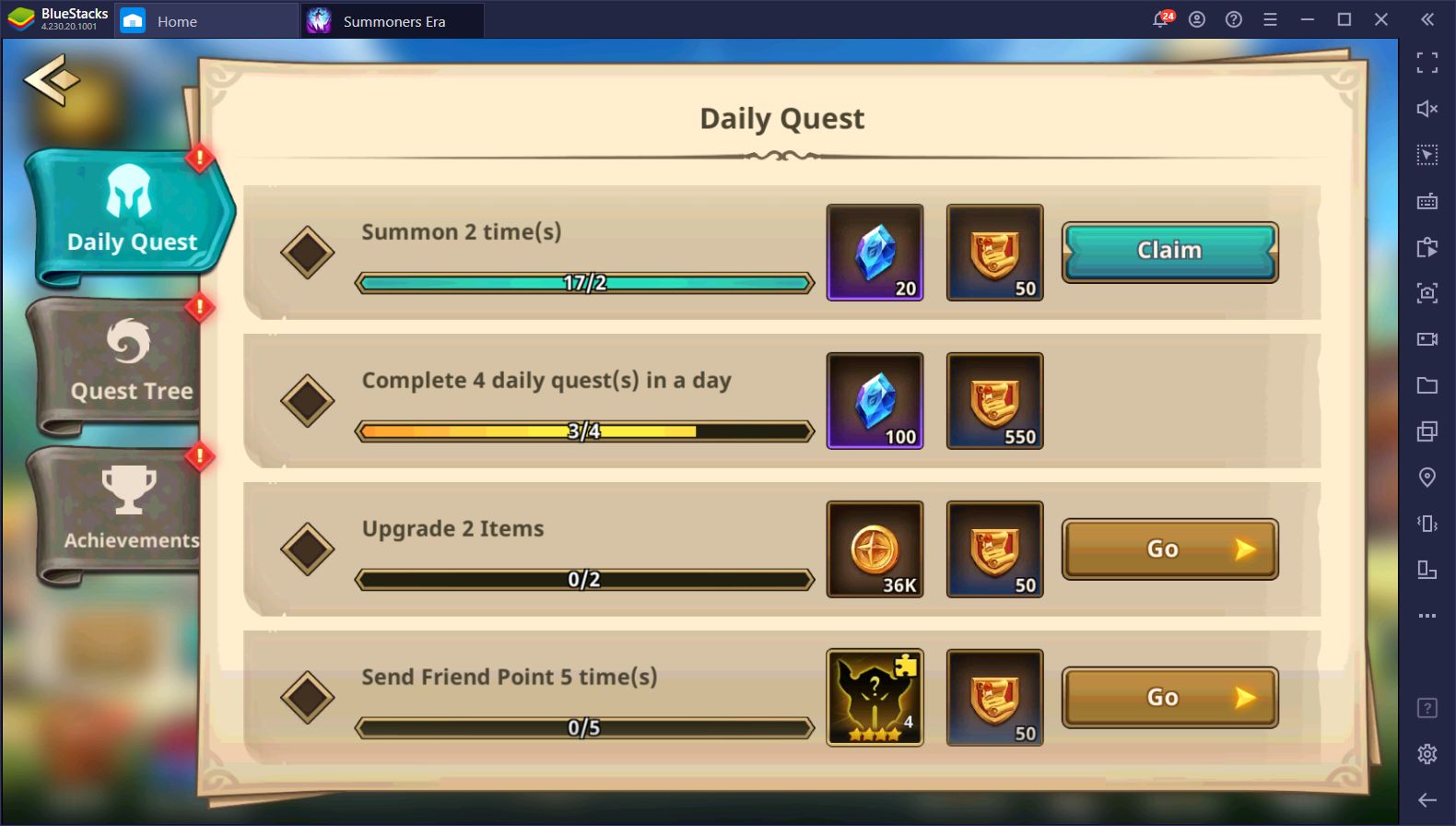 If you're not satisfied with what you got, simply switch to another server via the settings menu and try repeat steps 1-3.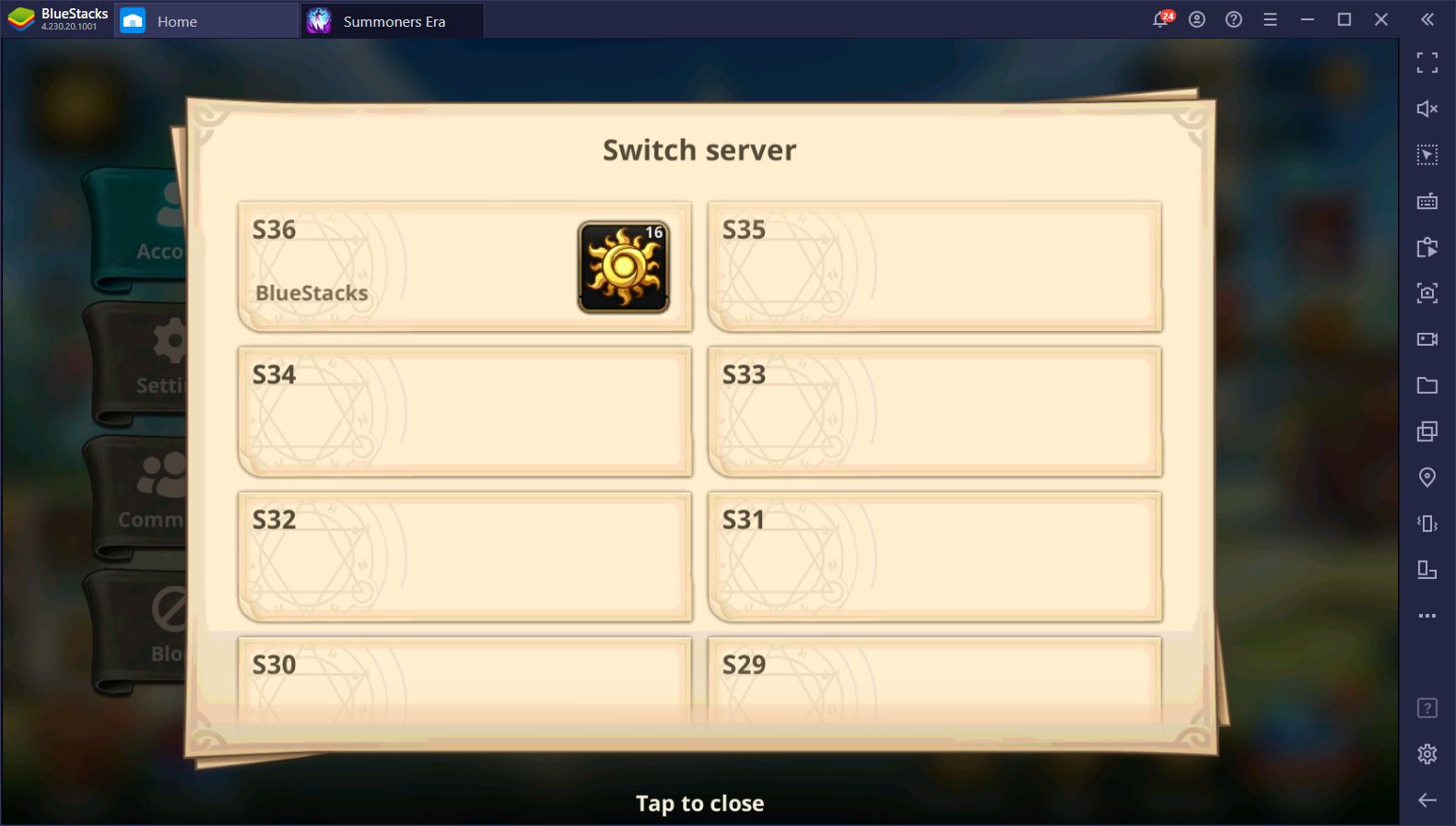 Once you're happy with your results, go to the settings menu and bind your account with Google Play to avoid losing your heroes in the future.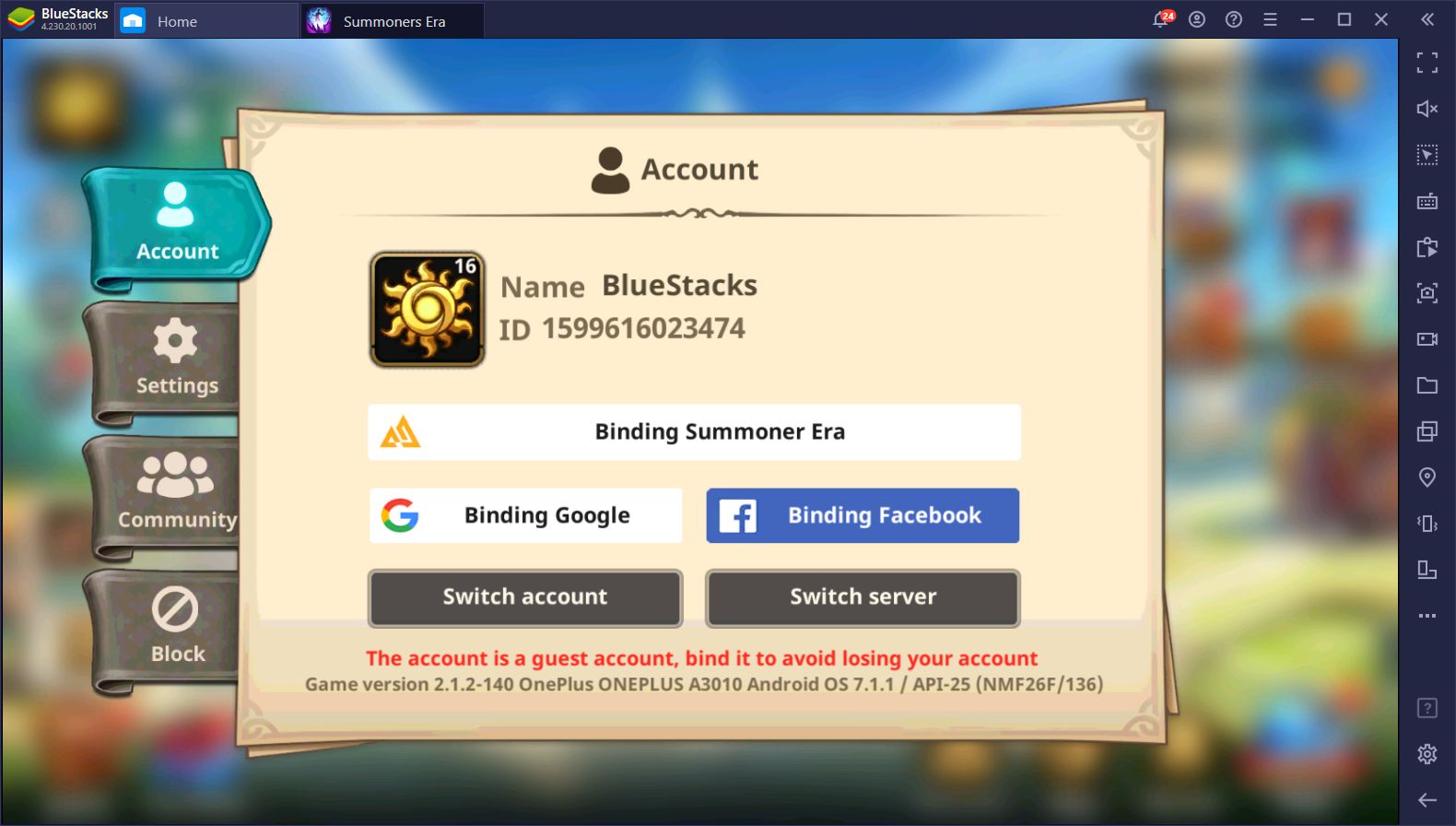 The entire process should take around 10 minutes per run, which is quite good when it comes to rerolling, compared to other games. By playing Summoners Era on PC with BlueStacks, you can also use the Instance Manager and Multi-Instance Sync features to reroll using multiple accounts simultaneously, which allows you to expedite the process considerably. Take a look at our BlueStacks guide to learn how to install and enjoy this game on your computer.
Position Your Characters Correctly
One important aspect you need to consider when it comes to the combat in Summoners Era is that the positions of your heroes in your formation will significantly determine the outcome of the battle. Specifically, different slots provide different bonuses to your champion, with the front slots giving them +30% HP, and the back slots giving +30% ATK. In this sense, your tanks should always go in the front, and your DPS/Support should always go in the back row.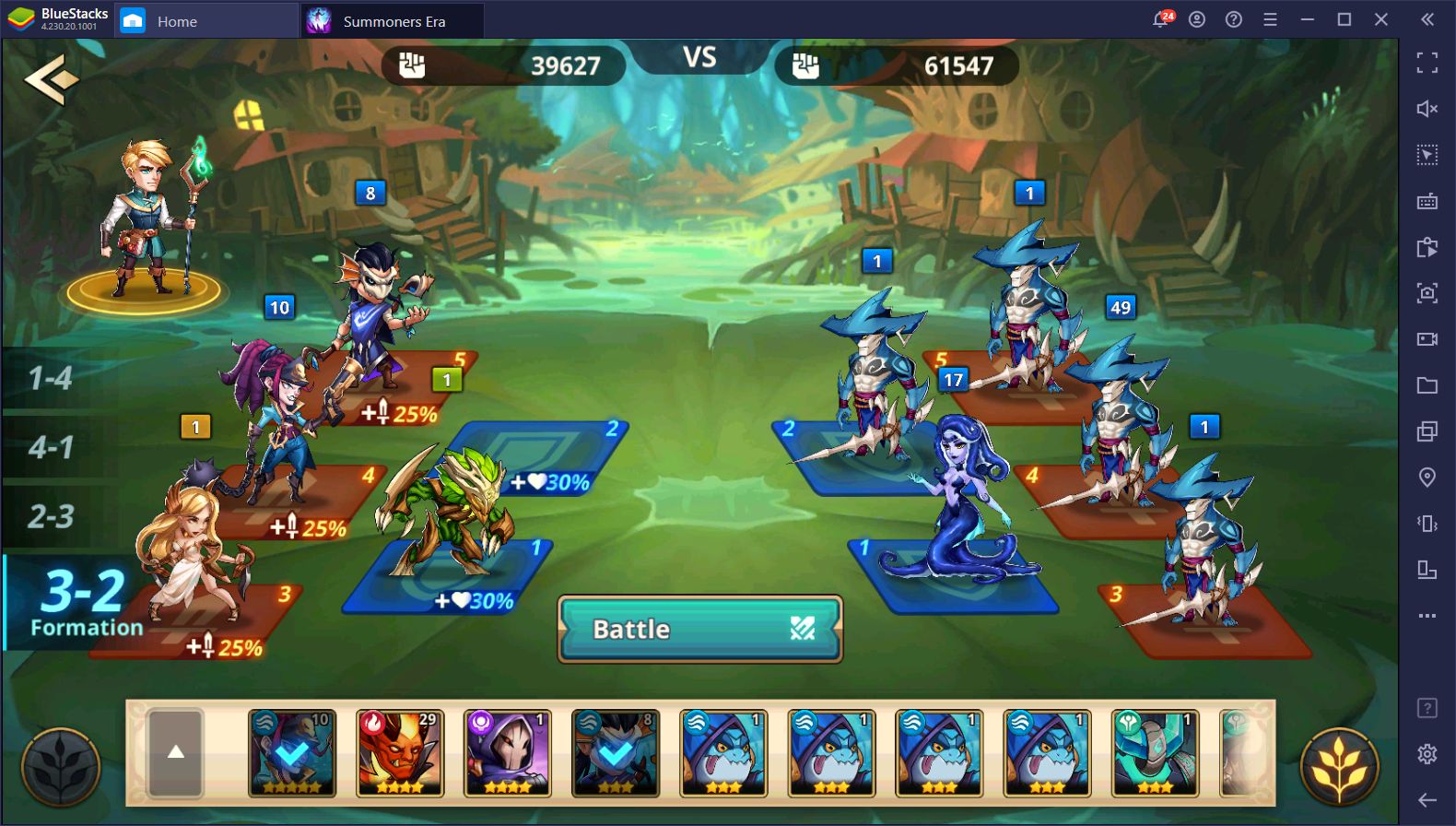 The positioning of your units is also important to determine who will absorb most of the damage. This is because regular attacks and most skills automatically target the character in Slot 1. This is another reason why you should place your tanky characters in the front row. However, this also allows for certain strategies where you can place certain DPS characters in the front so that they can get attacked and retaliate with their own counterattacks. This isn't possible with most DPS characters, and is more of an advanced tactic, but it's a good example of how you can use positioning to your advantage in Summoners Era.
Claim Your Idle Rewards Twice Per Day
This game has an AFK grinding system that allows you to continue farming even while offline. In this manner, you can passively generate both gold and hero exp., as well as a variety of useful upgrade materials over time. However, these AFK rewards cap out at 12 hours, after which your team will stop farming until you manually check the chest and claim your rewards.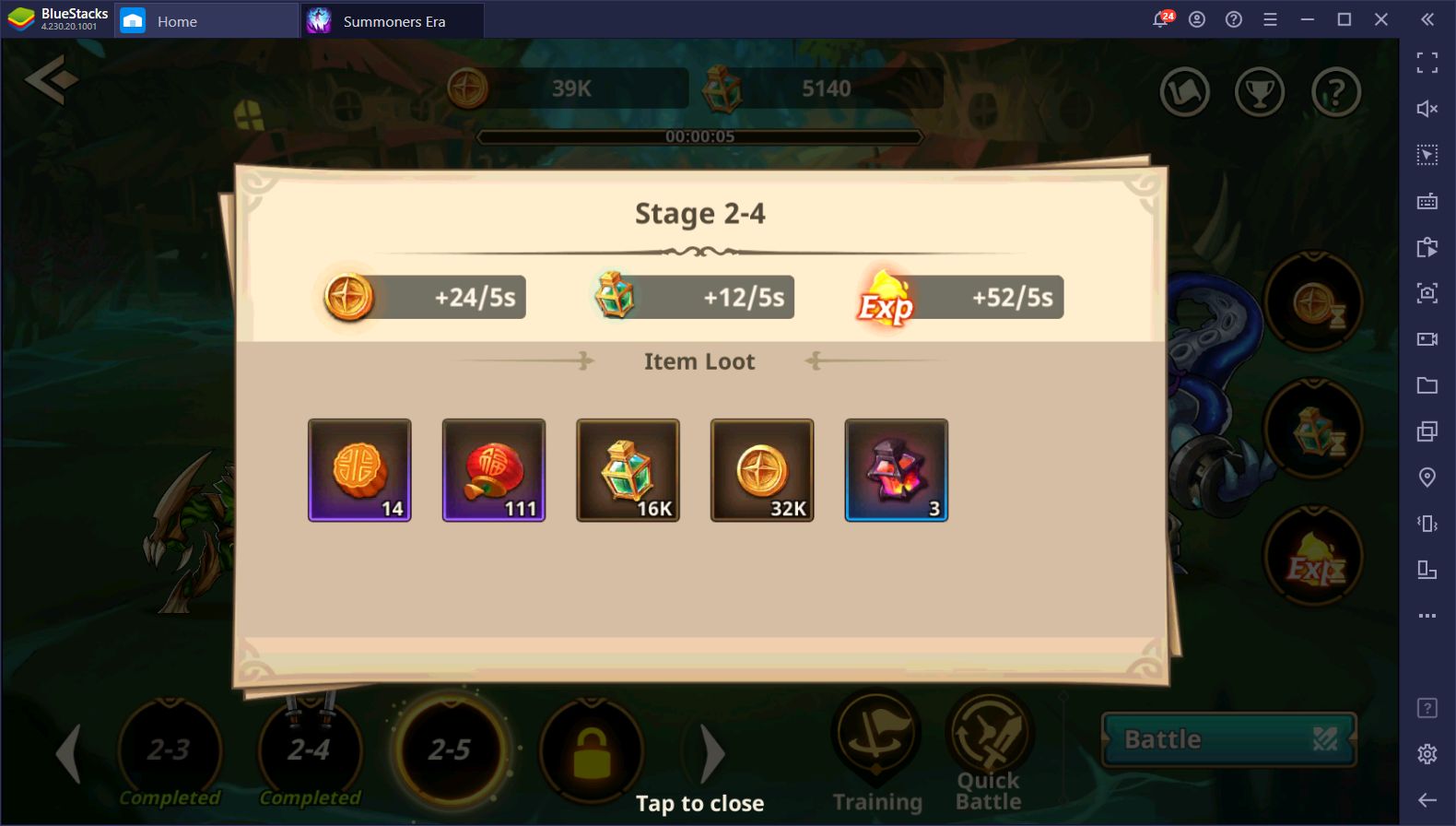 A general rule of thumb when it comes to these AFK rewards is to empty the chest twice per day, even if it's not full. Once in your morning and once in the evening before bed should be enough to grant you a steady income while avoiding overcapping on resources.
If Stuck on a Level, Upgrade Your Heroes
This might be fairly self-explanatory, but it's impressive the number of players who don't realize the importance of keeping their characters upgraded as much as possible when progressing through the main story.
Oftentimes, the difference between struggling to complete a single level and quickly blazing through the story missions is a few level-ups. If you're having trouble with a stage in particular, consider upgrading your characters' levels as much as you can. And if you're having issues, try equipping them with better gear. Remember that you can always upgrade your gear at the Blacksmith, as long as you have the necessary materials.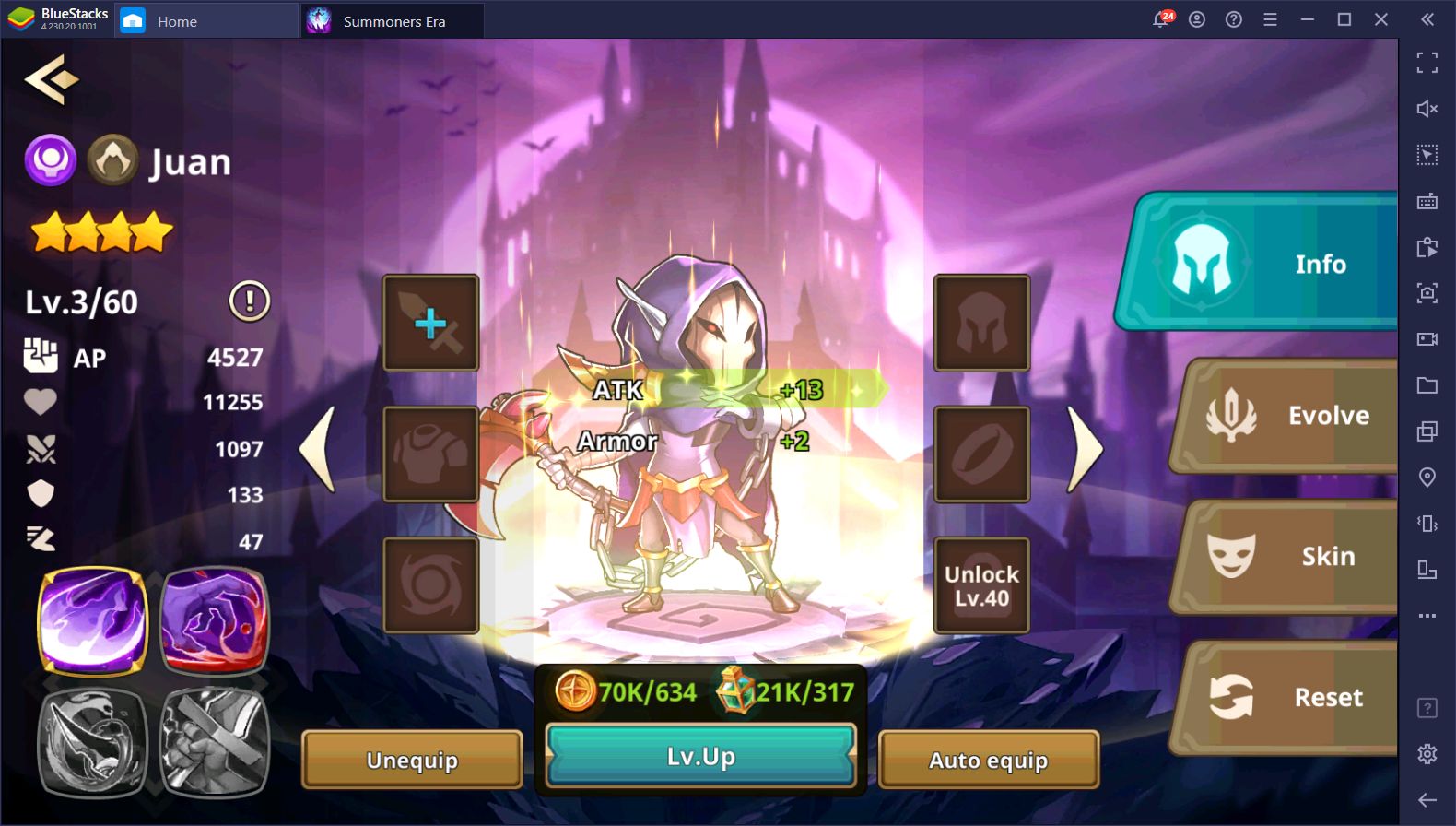 Complete Daily Quests to Earn Important Materials
Aside from AFK grinding and completing story missions, the best way to score additional loot and upgrade materials in Summoners Era is by completing the daily quests. And as their name suggests, these missions reset on a daily basis, and grant plenty of rewards, including points to level up the Daily Quest Pass.
The Daily Quest Pass is a set of monthly rewards that players can receive by reaching certain contribution milestones. The way you can earn points is by completing the aforementioned daily quests. Players can receive a maximum of 800 points for completing all the daily quests, and can receive milestone rewards every 1,000 points. The Daily Quest Pass rewards refresh monthly, which means that there's plenty of time to snag at least several milestone rewards, as long as you play a few minutes every day and complete a several daily quests.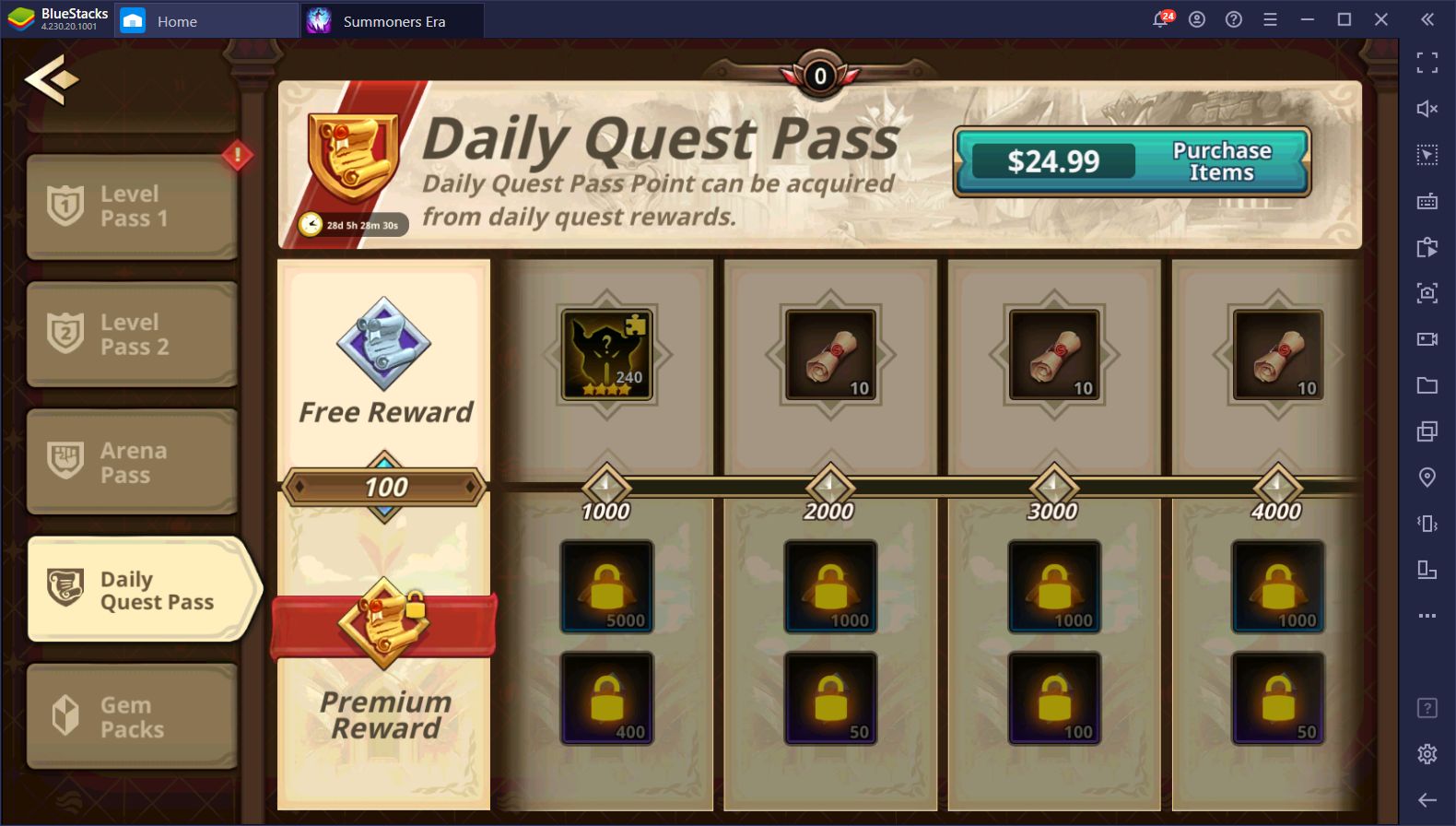 These are 5 useful tips that you can keep in mind to improve your performance in Summoners Era. Leave us your own strategies and tricks that you've discovered in the comments below to help out your fellow gamers!