Game Guides
How to Play Tales of Crestoria on PC with BlueStacks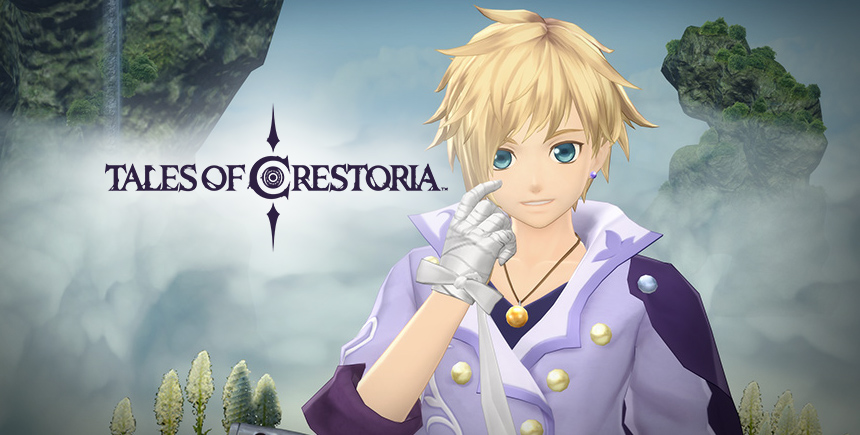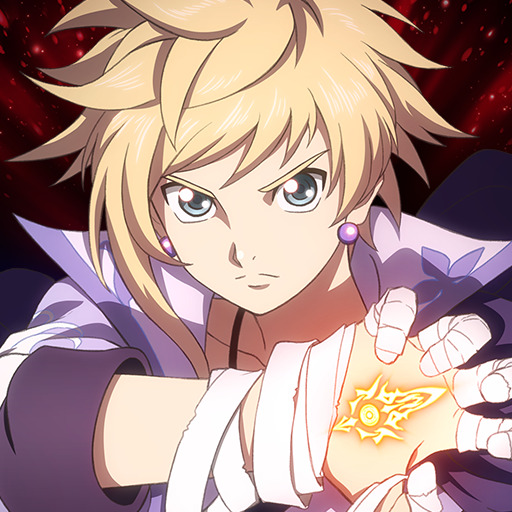 Tales of Crestoria, the newest entry in the "Tales of" series of games, has just launched for Android and iOS. And you know what this means: You can easily enjoy it on your PC with BlueStacks.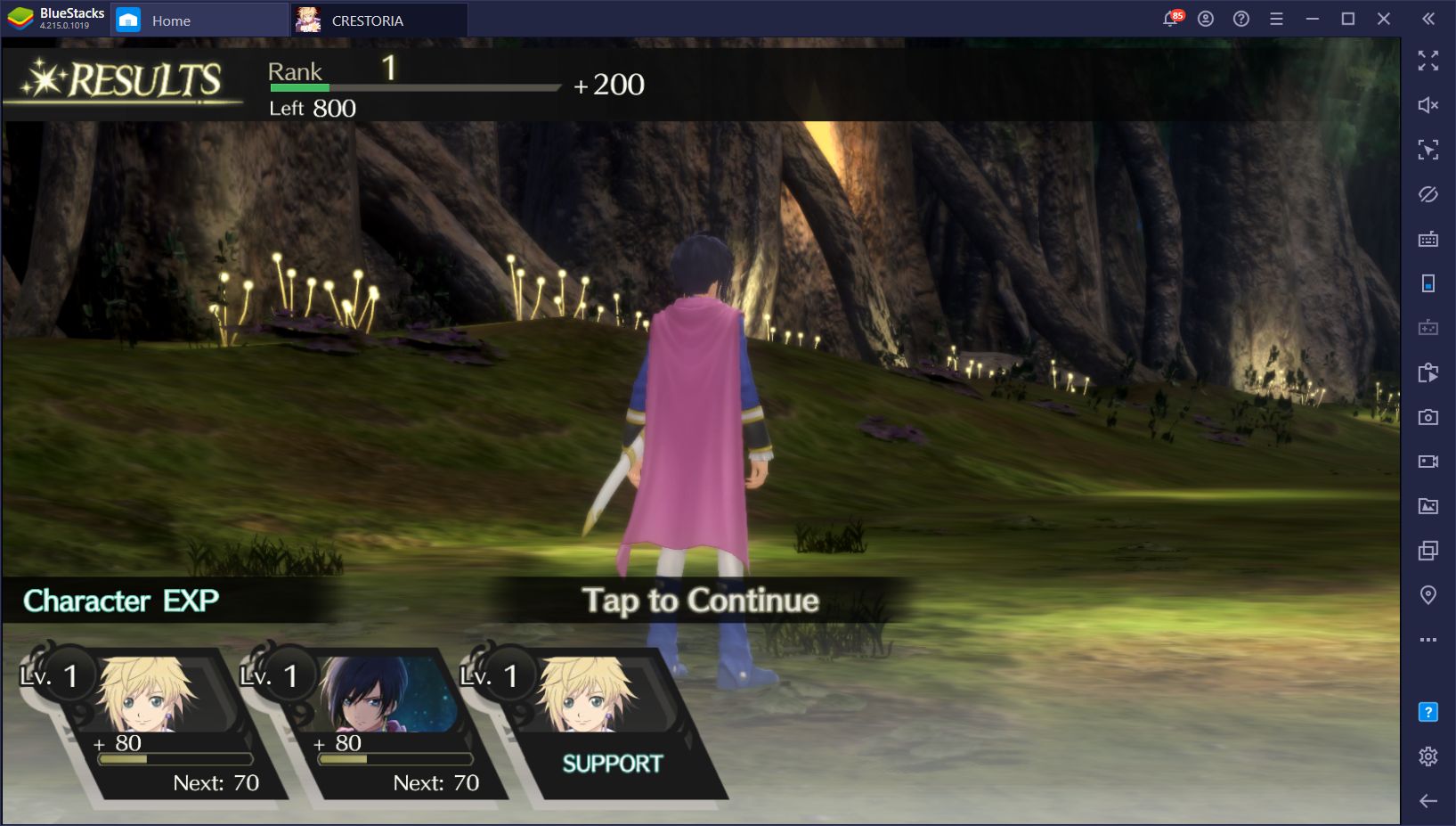 In order to install Tales of Crestoria on PC, please follow these steps:
Download the latest version of BlueStacks from our website. Run the installer and let the program run its course. After it's finished, the app player will launch automatically.
In the BlueStacks home screen, use the text box to search for Tales of Crestoria.
Click on the game's image in the search results and install it as you would with any normal game from the Play Store.
To launch your newly-installed game, just click on its icon on the home screen.
Downloading BlueStacks and installing Tales of Crestoria on PC takes only a few minutes, and gives you days, or perhaps even months, of fun. Especially since this is a gacha game, most of your time will be spent grinding for resources to summon the best characters that you can add to your team. This process can take a lot of time, depending on your luck.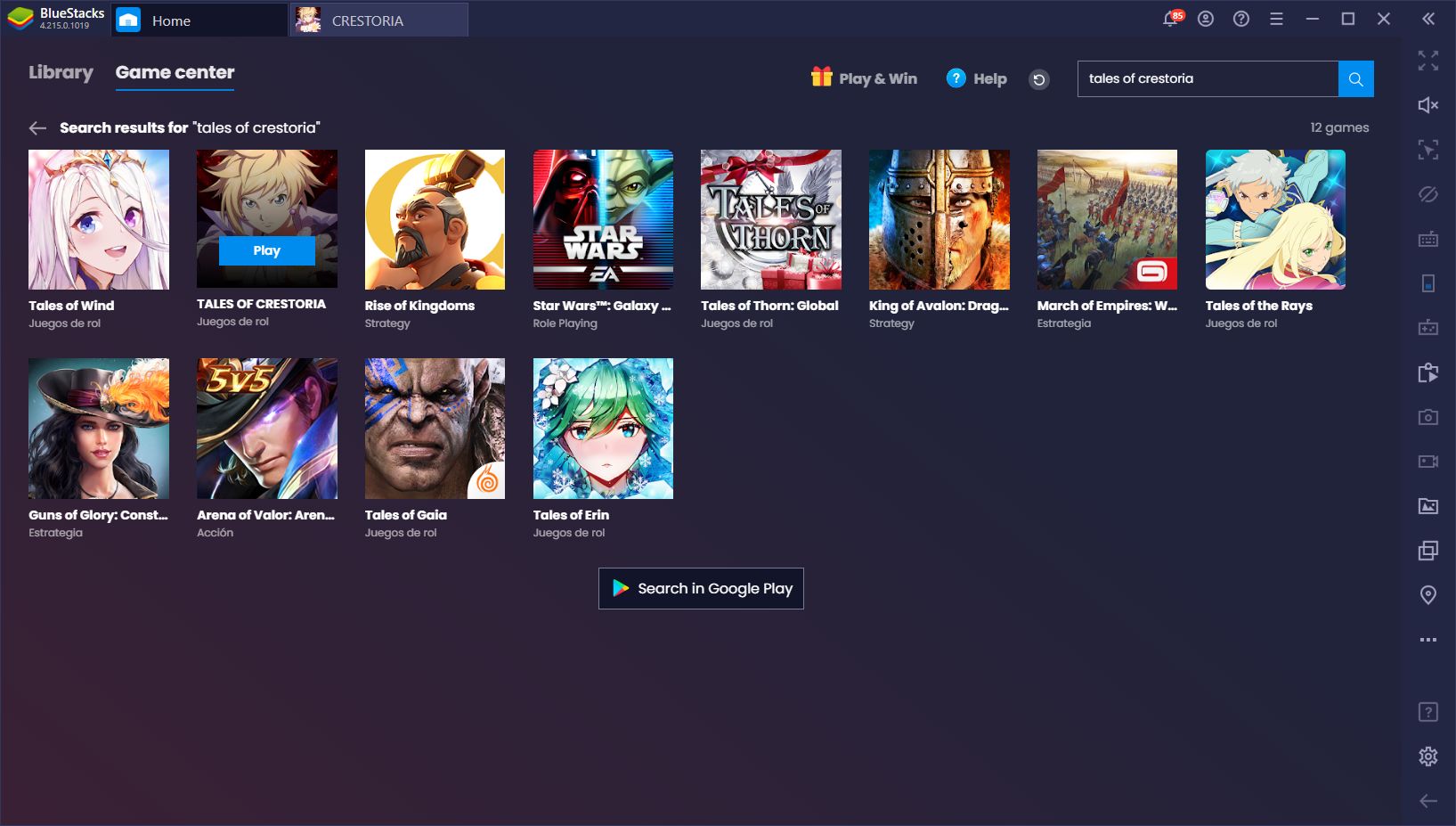 However, if you're playing Tales of Crestoria on PC with BlueStacks, you'll have access to a plethora of tools that can make your experience with this gacha RPG a more enjoyable game. Even though the game is quite good in its current state, you're still limited by the inherent restrictions of the mobile platform such as playing on a small screen, having to rely on touchscreen controls and, if you have all but the most powerful phones currently available, performance issues and lag, in general.
In this article, we're going to show you how to get the most out of this Tales of game with BlueStacks.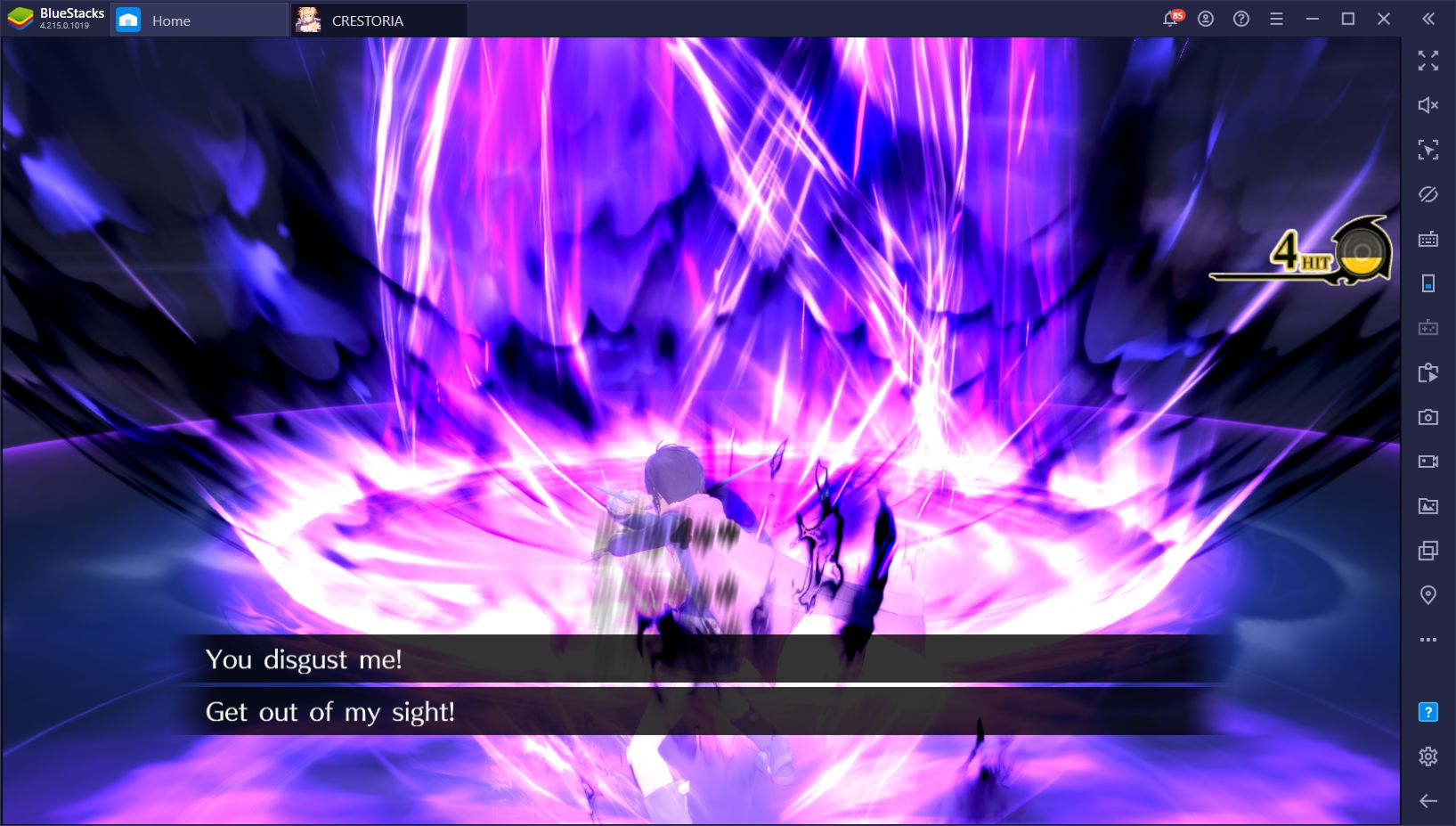 Enjoy the Best Graphics and Performance
One of the particularities of mobile games is that, just like their PC counterparts, most of them feature some sort of graphical settings that allow you to tweak your graphics to various levels. This is necessary for those who are playing on lower end phones and that need to lower the graphics to achieve decent performance. On the flipside, those who have the best phones can set the graphics to the highest settings, and enjoy a silky smooth experience with the best visuals.
However, regardless of your phone, all of these devices have one thing in common: limited battery life. Even if you have a good device, you'll still want to set the graphics at mid settings, and limit the performance to 30 FPS to save battery life whenever you're out and about.
This isn't the case with BlueStacks.
If you're playing Tales of Crestoria on PC with BlueStacks, you can easily set your graphics to the max settings without having to worry about running out of battery. Moreover, if your PC meets the recommended requirements for our app player, you'll have over six times better performance than even the most expensive phones on the market. This means that you'll be playing with a stable 60 FPS, no slowdowns, without having to worry about running out of battery. Just crank those settings as high as they can go and enjoy the ride!
Improve Your Experience With our BlueStacks Tools
However, while enjoying a better experience, in general, is something you can easily achieve with BlueStacks, this is far from everything our app player has to offer when it comes to playing mobile games on PC. Our emulator has a variety of tools that can give you the advantage in many games, and even to reduce the tedium of grinding in gacha titles like this one.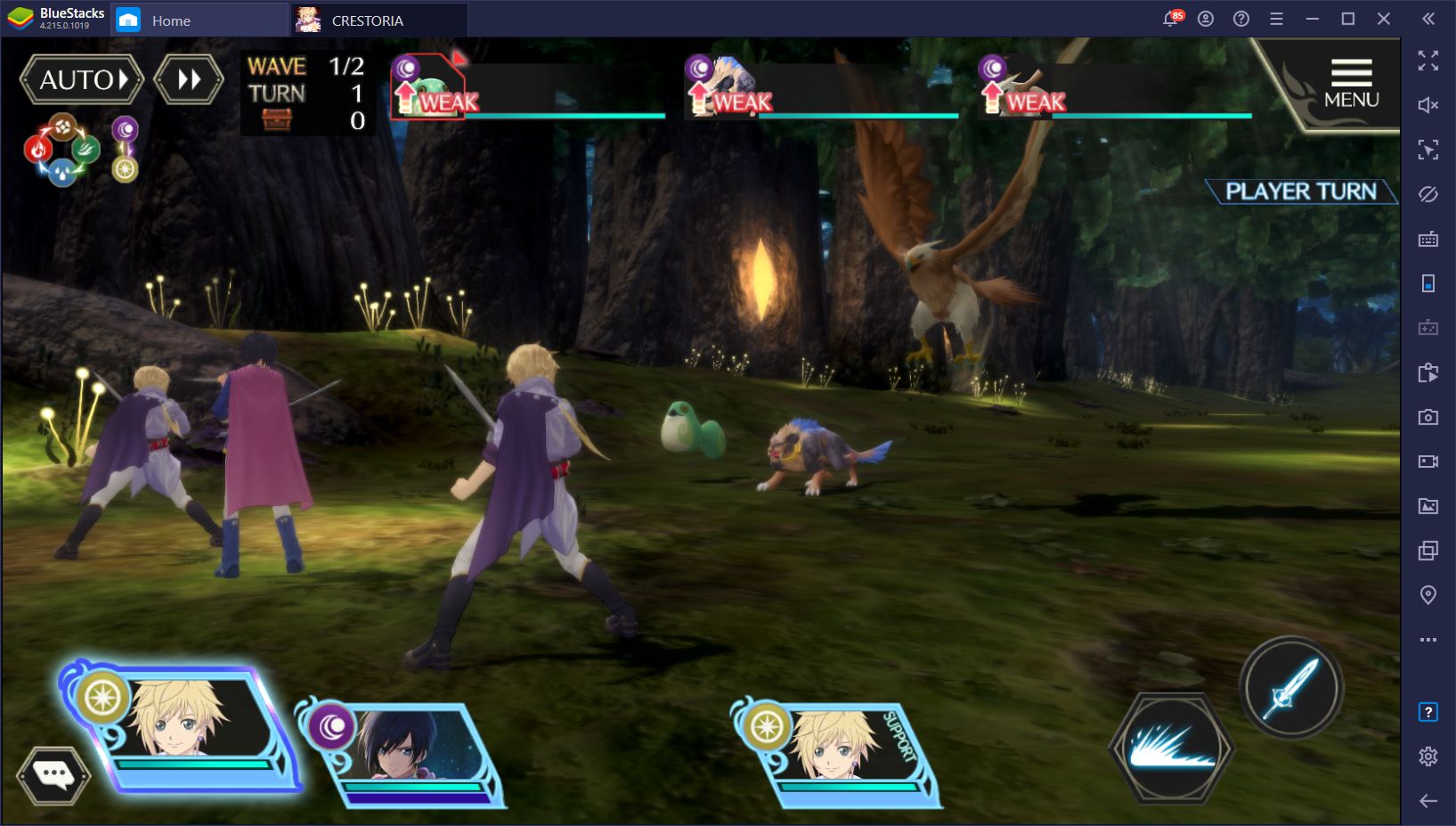 Streamline Combat and Menu Navigation With the Keymapping Tool
One of the particularities of Tales of Crestoria is that its combat is mostly command-based, which means that you'll need to choose all your attacks from a list and watch them play out until your turn ends. Usually, you'd click on your skills with your mouse cursor to choose your attacks. However, once you become familiarized with each character and their skills, you could benefit from using the Keymapping Tool to choose your moves by using your keyboard.
This BlueStacks feature allows you to create custom control schemes for any mobile game. For this Tales of game, this means that you can essentially fight using only your keyboard, kind of like you'd do with a typical PC game. Instead of having to clumsily hover over every button with your mouse, simply press the corresponding button and what your characters perform their moves.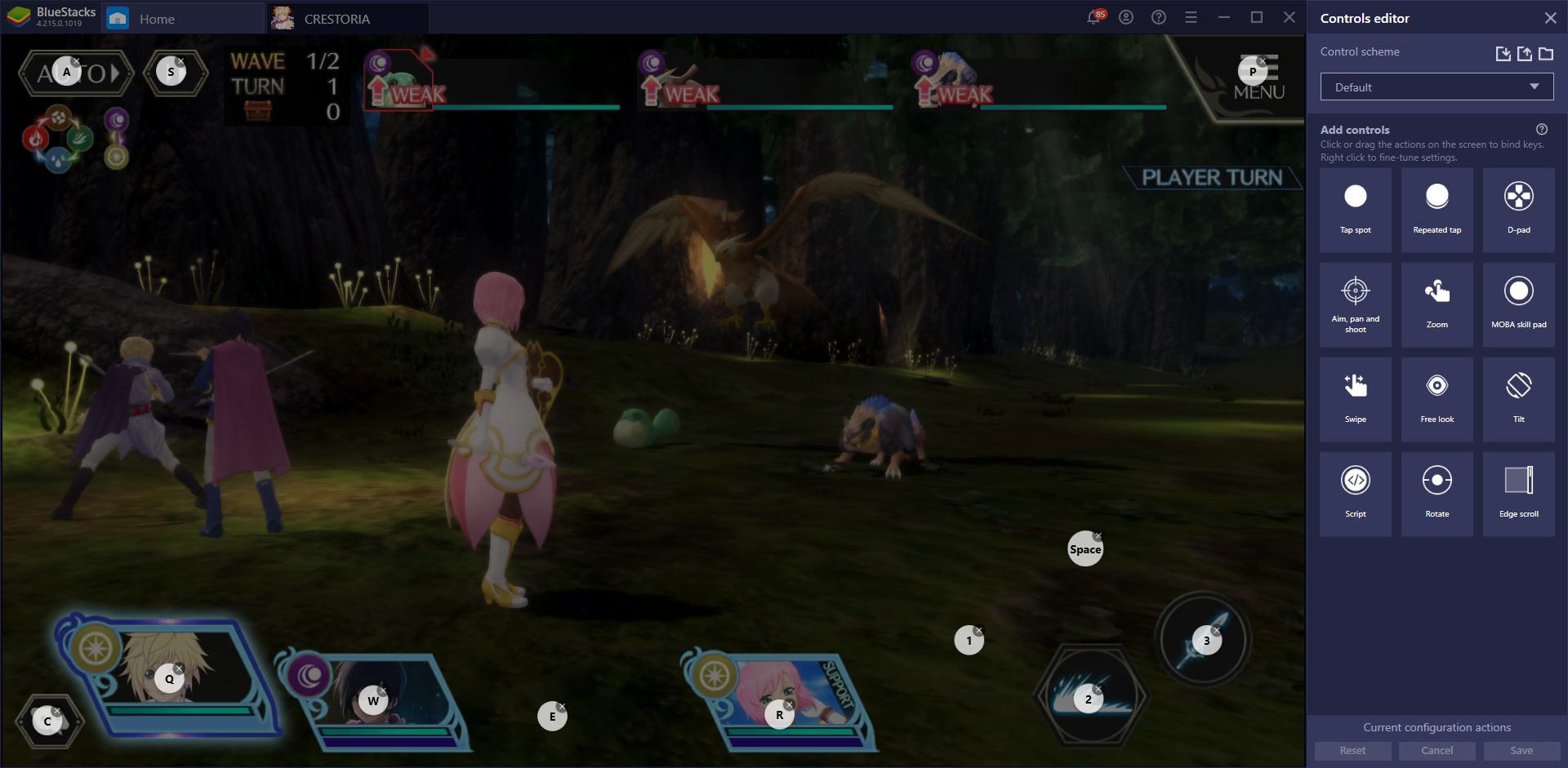 This function is not limited to the combat screen, though, as you can easily place keyboard shortcuts on other parts of the screen by accessing the Keymapping Tool properly by pressing Ctrl + Shift + A. In this manner, you can also add bindings to navigate through the different menus, and control most aspects of the game using only your keyboard.
Reroll Better With the Instance Manager and Multi-Instance Sync Features
If you want to start off on the right foot in Tales of Crestoria, you're definitely going to want to reroll in order to unlock the best characters from the very beginning. Rerolling in this game is quite simple and takes just a few minutes per attempt. However, with BlueStacks, you can use the Instance Manager and the Multi-Instance Sync tools to create multiple instances of the game, and then use them to summon tens of characters per run, instead of the usual 10 or so.
We give a much better explanation of how this process works in our reroll guide for Tales of Crestoria. Feel free to take a look.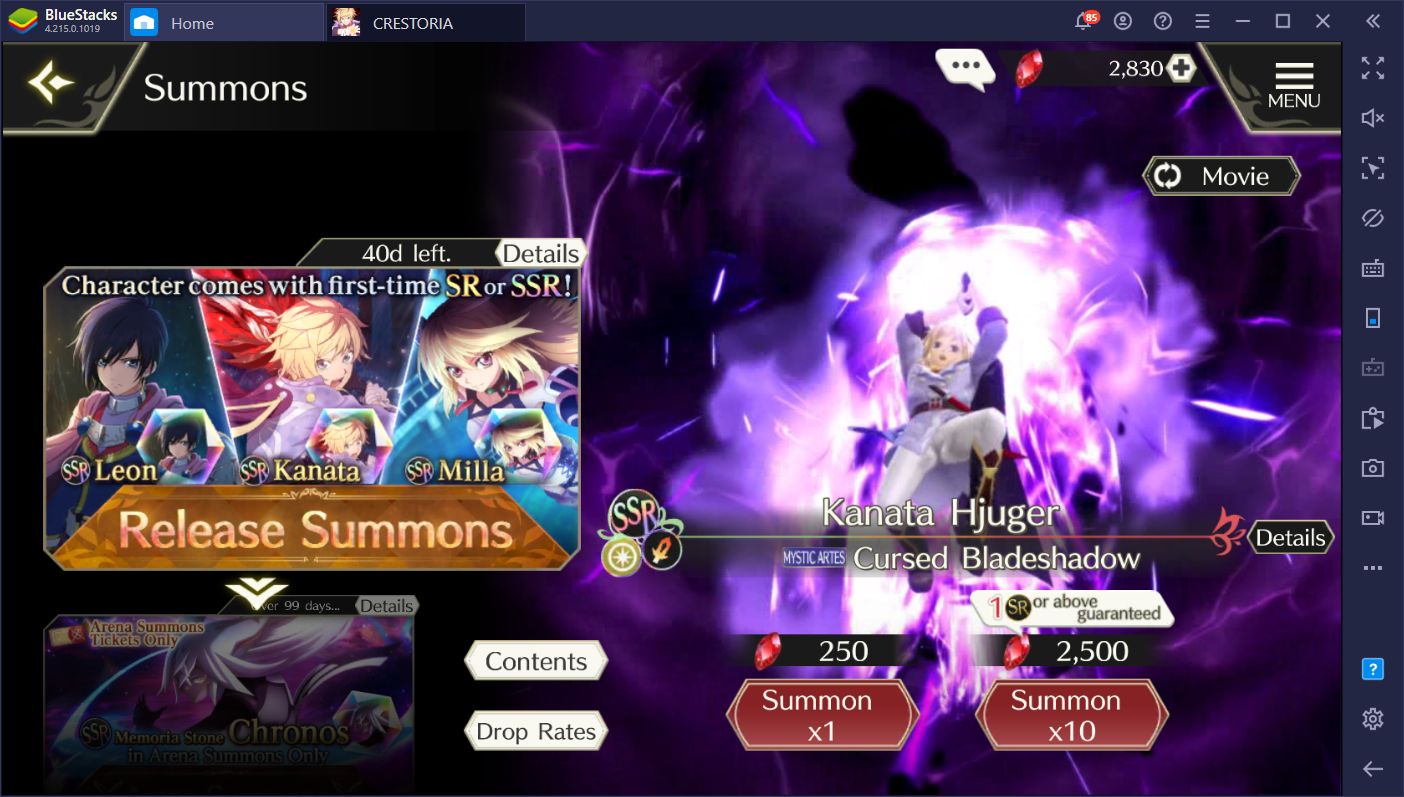 No matter how you slice it, the latest entry into the Tales of series is much more enjoyable on your PC. Not only do you get much better performance with no issues, but you also have access to many different tools that can help to streamline your experience. The methods we've shared here are just a few examples of how BlueStacks can help. With our Android emulator, the possibilities are endless, so download the game and get started today!