Game Guides
Reunite the Family – How to Play The Grand Mafia on PC with BlueStacks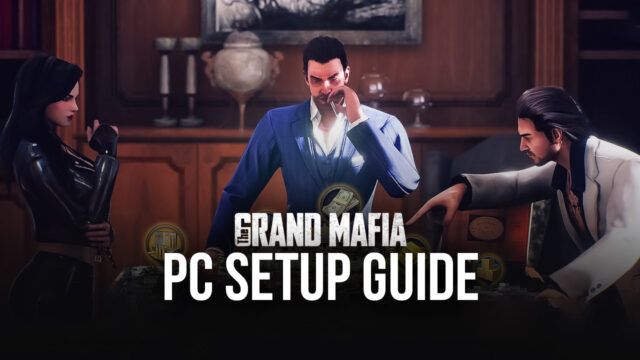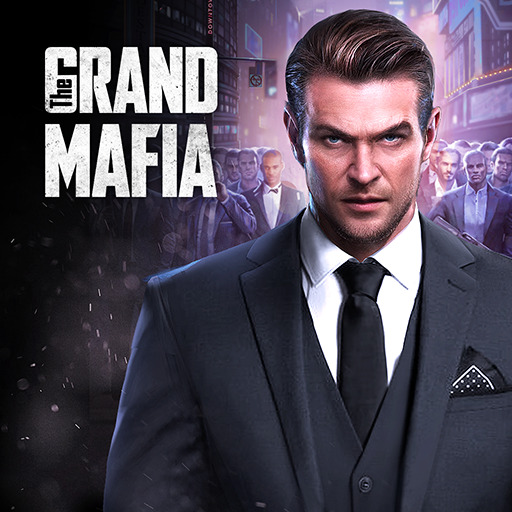 During a gloomy night, your father, the godfather of the Family mafia, was assassinated by rival gang members. The assailants made one mistake however, and that is they did not kill you. As you are left with your father's corpse, only one thing comes to mind: payback.
The Grand Mafia is a thrilling and content-rich strategy game by YottaGame that gives you the opportunity to become the mafia boss the Family – a legendary one at that. As part of your quest for vengeance, you must reestablish the name of the Family by rebuilding the criminal empire. You do this through taking over rival gang territory and building your own infrastructure on it, robbing places in the city to garner resources, and much more. Of course, these are all done with the help of some trusted companions and a massive mafia army.
It is time to retake the city and become the dominant criminal mastermind and you can do so by installing The Grand Mafia on your PC or Mac with BlueStacks. Here's how:
How to Install The Grand Mafia
Download and install BlueStacks

on your PC.

Complete Google Sign-in to access the Play Store, or do it later.

Look for

The Grand Mafia

in the search bar at the top-right corner.

Click to install

The Grand Mafia

from the search results.

Complete Google Sign-in (if you skipped step 2) to install

The Grand Mafia

.

Click the

The Grand Mafia

icon on the home screen to start playing.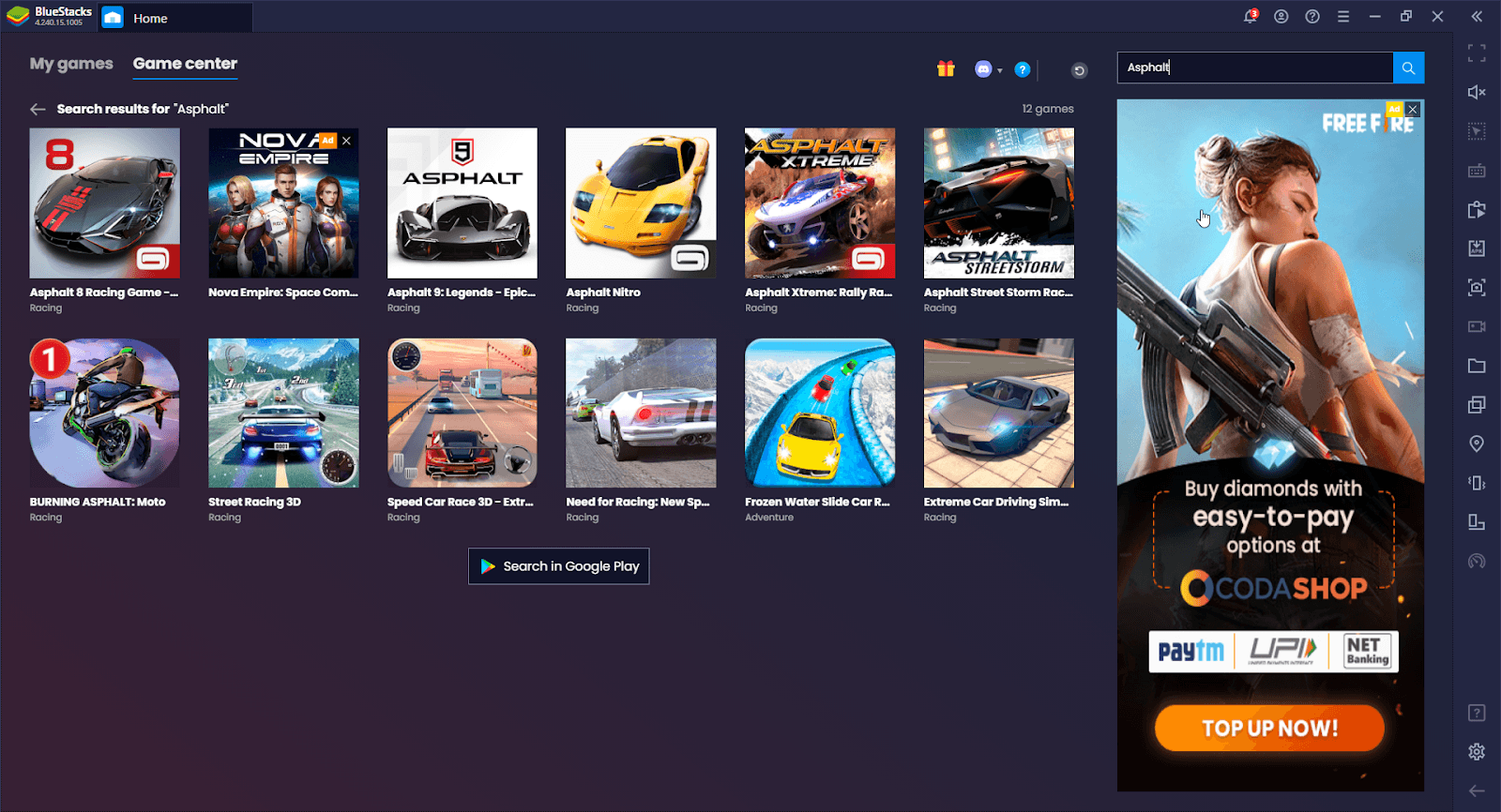 Build Your Turf
History's greatest empires all started from bare hectares of land. It is no different in The Grand Mafia as you start out your mafia career by slowly building and expanding your turf until it eventually becomes its own criminal empire.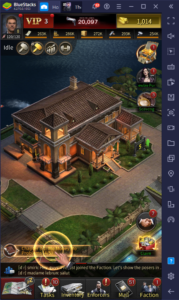 The game offers plenty of buildings for you to construct on vacant spots of your mafia territory. The most paramount of these is the Mansion, the central hub for all of the mafia's activities. In fact, this is the first building that you will have access to once you start the game. The Mansion can be levelled-up and you unlock more buildings and features as you continuously upgrade it.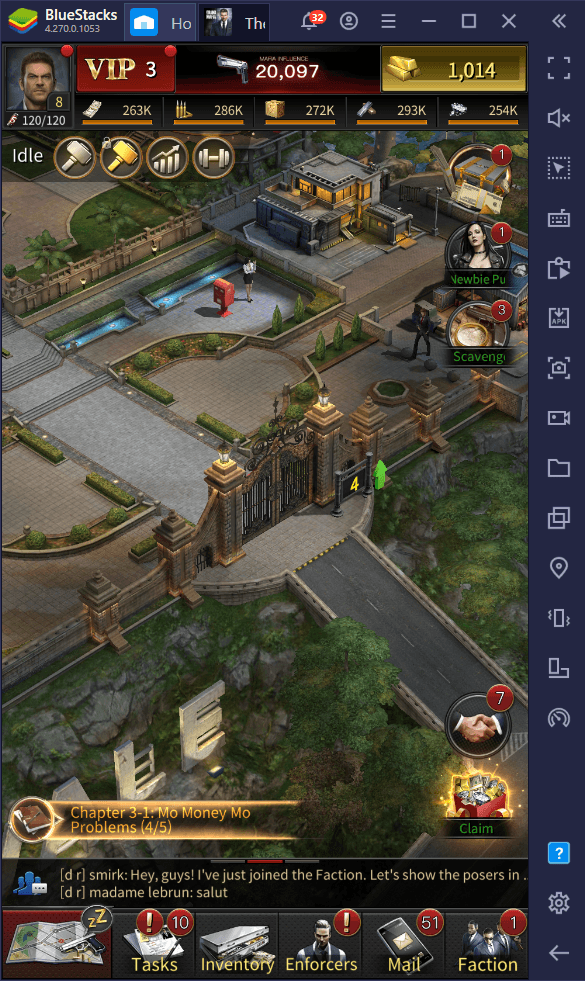 Aside from the Mansion, you also have structures such as the Wall which serves as your turf's primary fortification. You also have a Radar which can detect incoming rival gangs that plan on attacking your turf.
The Grand Mafia has five resources: cash, arms, cargo, metal, and diamonds. One way or another, these resources are used for almost every mafia-related activity whether it would be building more infrastructure or training members. This is most especially true with first four resources.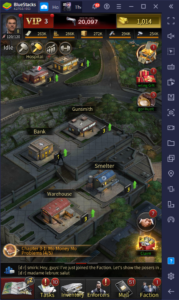 Plenty of resources are going to be needed to progressively develop your turf. Luckily enough, you do not have to go beyond the walls to acquire resources because you can generate them in your base. The game offers you five buildings that generate resources and these are the: bank, gunsmith, warehouse, smelter, and diamond lab. These facilities are responsible for generating cash, arms, cargo, metal, and diamonds respectively every hour.
To know more about developing your turf to its maximum potential, read this guide here.
Raise a Gangster Army
A mafia needs plenty of tough men to do all of the dirty work; otherwise, how else would the mafia prosper? In The Grand Mafia, you can recruit thugs – formally known as "associates" – into your mafia army through the training center.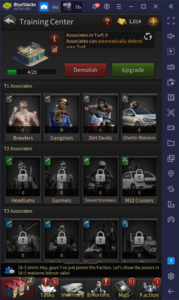 There are four types of associates that you can train in the game: bruisers, hitmen, bikers, and mortar cars. Each of these associates are unique in terms of combat ability and statistics. Basically, every associate has their own purpose in combat. For instance, bruisers are best suited for the actual fighting while mortar cars are tailored for breaking down the walls of rival gang turfs.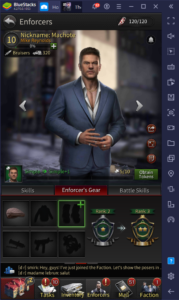 You can also recruit special characters called enforcers in your army. These enforcers act as generals to your associates. What is interesting about them is that they can give passive buffs to your associates (i.e. additional attack and health) during battles. Strategically speaking, it is a must to assign enforcers into your army in order to strengthen your mafia.
Know how to craft the strongest mafia army now by reading this in-depth guide on associates and enforcers.
Take Control of the City
Do not be afraid to go beyond the walls of your turf because there are plenty of opportunities available in the world map.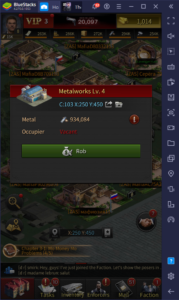 In the world map, you can order associates to rob particular places called resource tiles. These resource tiles carry a number of resources that you can use for your own turf so it is greatly advisable to loot them. You have to hurry however because other mafia gangs (other players) can also rob those places and take all the resources for themselves.
If you feel lucky and strong, you can try to attack the turfs of other players and reap resources from them. Do make sure that your associates are strong enough successfully invade other turfs.
Fight Rival Kingpins
Perhaps one of the easiest ways to gain power in the criminal underworld is to simply eliminate the competition. Throughout your mafia journey, you can take down rival mafia bosses and even take their territory from them.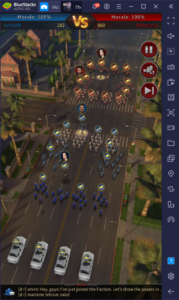 There are essentially two single-player modes in this game. One are plot tasks which involve completing five tasks in order to engage in battle with a major rival gang. Upon completing this, you unlock new territory which effectively expands your entire turf. In these battles, your associates as well as your enforcers go to all-out war with the enemy and it's only a matter of hoping that your side wins.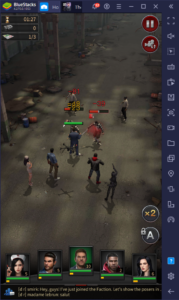 The other mode is an official campaign mode. Contrary to the plot-task battles, only your enforcers can fight in these battles. What is awesome about campaign battles is that your enforcers can use special abilities called "battle skills" in order to inflict a large amount of damage to their enemies.
To know more about campaign battles as well as more information about the game's world map, read this guide here.
Be a Mafia Boss with BlueStacks
It is going to take a lot of work to gain the most power in the criminal underworld but determination and ambition are all it takes to build a successful mafia empire. You can make your mafia journey even better and more convenient by playing The Grand Mafia on your PC or Mac with BlueStacks.
By playing on BlueStacks, you get the benefit of playing the game with flexibility. This means that you can move the game's window anywhere and resize it as you please. You can also run the game in the background, allowing you to do other things on your computer while the game is running (and generating resources).
If you want to go back to square one, you can easily do so with BlueStacks' Multi-instance tool. This tool allows you to create a separate virtual Android engine in which you can reinstall the game and replay it as if it is a brand new account.
How far have you reached in your mafia journey? Let us know in the comments below.