Game Guides
War and Peace on PC – Discover the Tools for Success on BlueStacks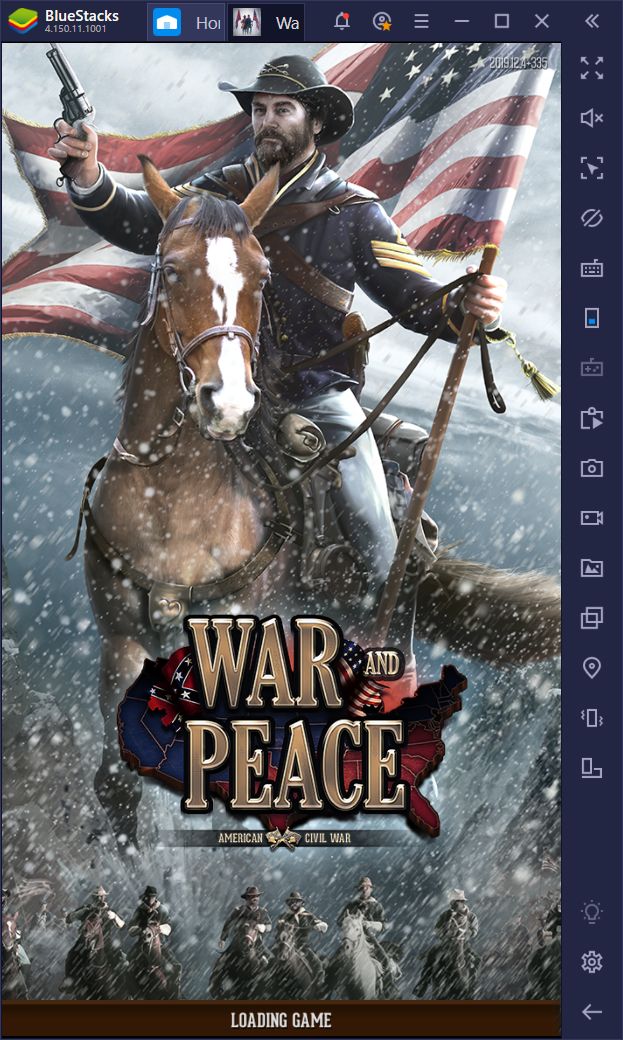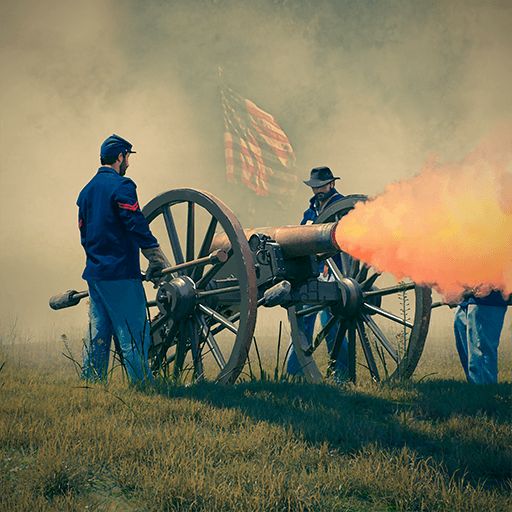 Whoever thought the American Civil War was a good setting for a strategy game was definitely playing outside the box, considering that a game like War and Peace actually exists. Nevertheless, this title is yet another entry into the strategy war game genre of mobile games, and it's a great addition to boot.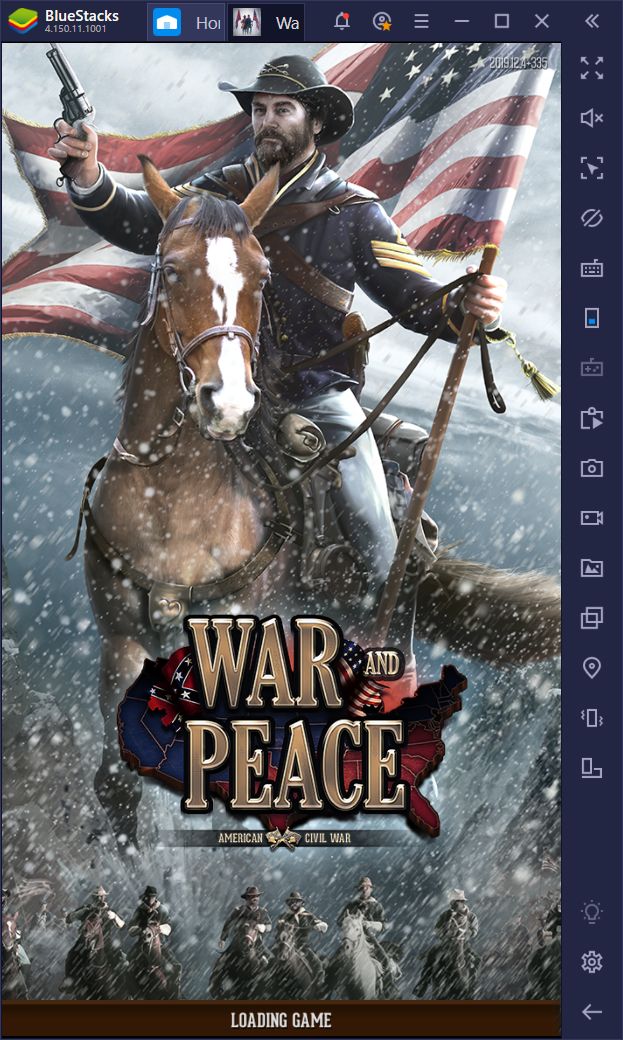 In essence, War and Peace offers similar elements to that of other war games, but with a fresh coat of paint designed after the old-timey Western aesthetics. Instead of tanks, vehicles, planes, and other war paraphernalia, we have mounted troops, militia armed with sabers, and old artillery weapons from back in the day. In this sense, if you're a fan of the old Western setting, and also enjoy building towns and destroying your enemies in these war games, then War and Peace will definitely be up your alley.
Like with any mobile game, you can benefit greatly from playing War and Peace on BlueStacks. Not only can you play on a large monitor (which is a godsent considering this game can only be played in portrait orientation), but you also have superior controls by using your mouse instead of your fingers on a small screen. Moreover, our Android emulator also has a plethora of tools that can help to assist your progression in this war game.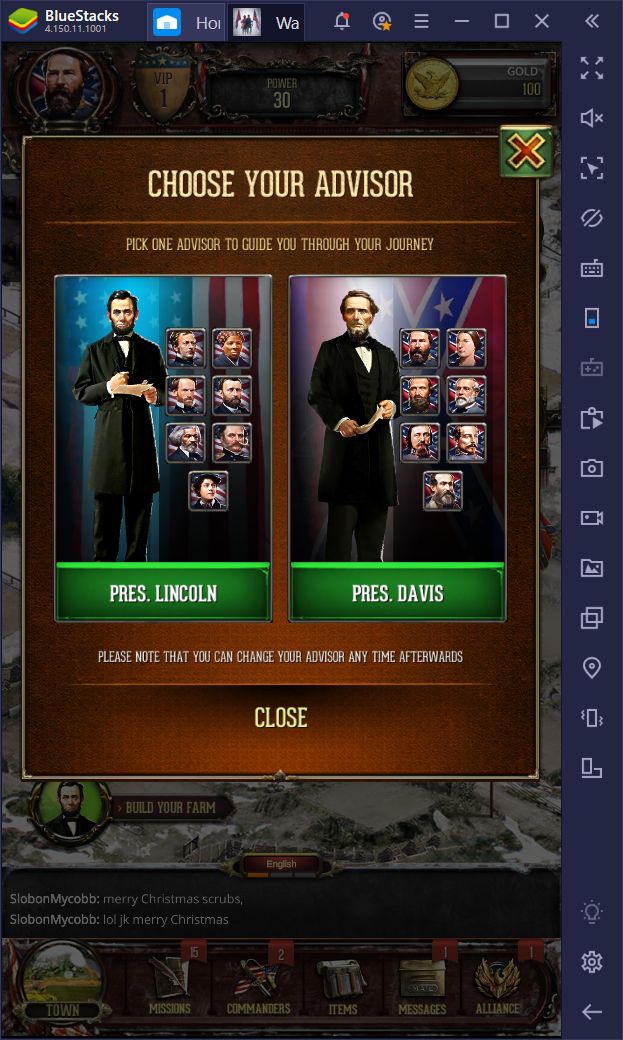 Let's take a look at how BlueStacks can aid you in War and Peace:
Upgrade, Attack, and Defend Using Your Mouse and Keyboard
As we just mentioned a few seconds ago, being able to control your game comfortably is key to having the best experience. In this regard, BlueStacks excels as you can easily press any button without missing a beat using your mouse. However, through our Keymapping Tool, you can also place shortcuts on the screen and assign them to any button on your keyboard. This means that, instead of constantly clicking on the UI buttons, you can control all the action using your keyboard as you would do with any other strategy game on PC.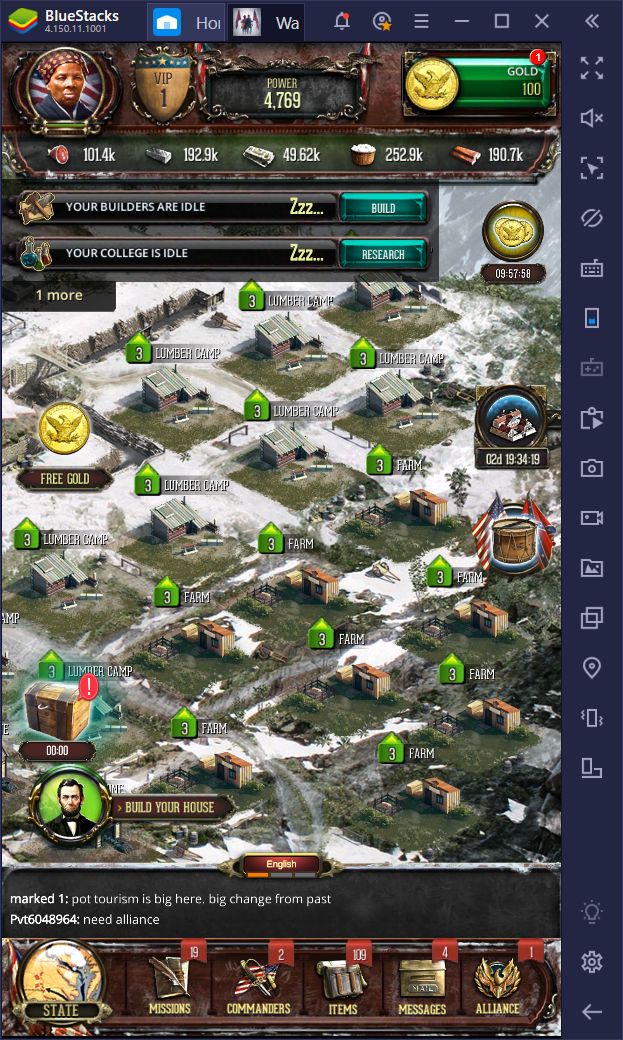 There's a great deal of constructing and upgrading in War and Peace, which means that you'll have to constantly click on the exact same buttons thousands of times. It goes without saying that this process can get very tiring, not to mention tedious. However, this is vastly improved by using comfortable keyboard shortcuts.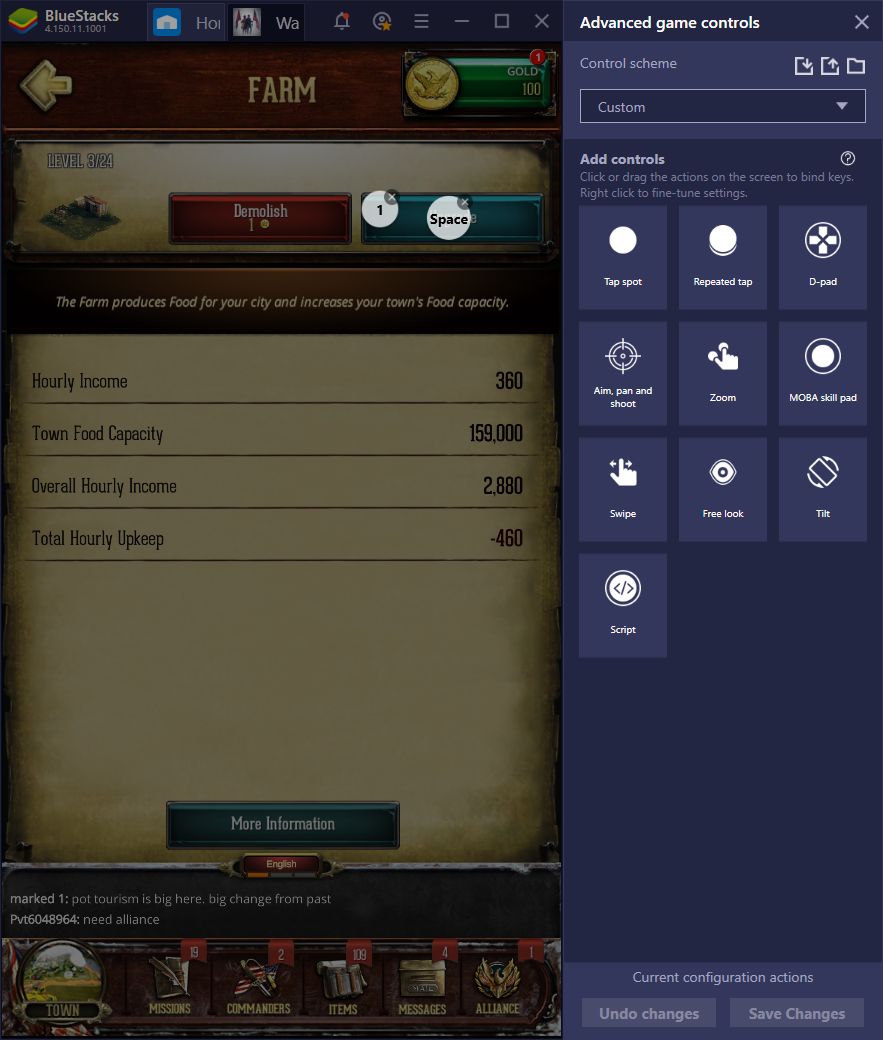 In our case, we added shortcuts to the upgrade buttons on the building menu so we can easily issue upgrades to any structure in our base. Considering that your building levels aren't limited by the level of your HQ in this game, you'll be performing upgrades left and right, especially at the beginning. These shortcuts will definitely make your life in this game much easier. For added, comfort, we also placed a shortcut on the "rush" button so we can speed up a construction once it has 5 minutes or less on the timer.
Other shortcuts you can place, and that will come in handy in War and Peace, are on the world map button, as well as on the button for claiming quest rewards. It's not uncommon for you to complete many quests in quick succession in this game, which would require many clicks to claim the rewards. If you set a shortcut on the topmost completed quest, you can just mash the corresponding key to claim all your rewards since the list scrolls up as you receive your prizes. Other than that, you can place a few other shortcuts on the buttons in the lower panel to simplify accessing these menus.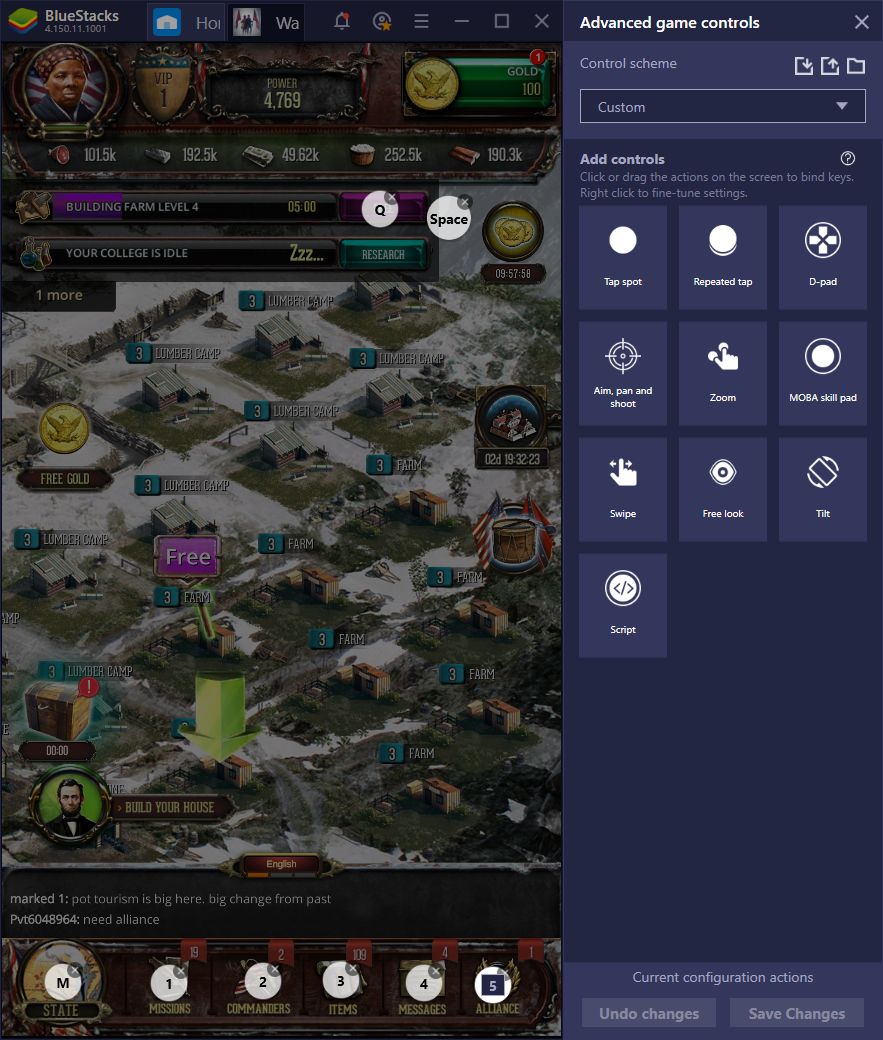 Automate Many Vital Actions With our Macros
Just like with building and upgrading your structures, you'll need to constantly send out troops to the map to gather resources and fight nasty enemies on the map. Both of these actions are essential ways to supplement your resource production and to receive rare materials, respectively. However, while you can definitely streamline the process using several well-placed keyboard shortcuts, wouldn't you prefer to automate these tasks entirely?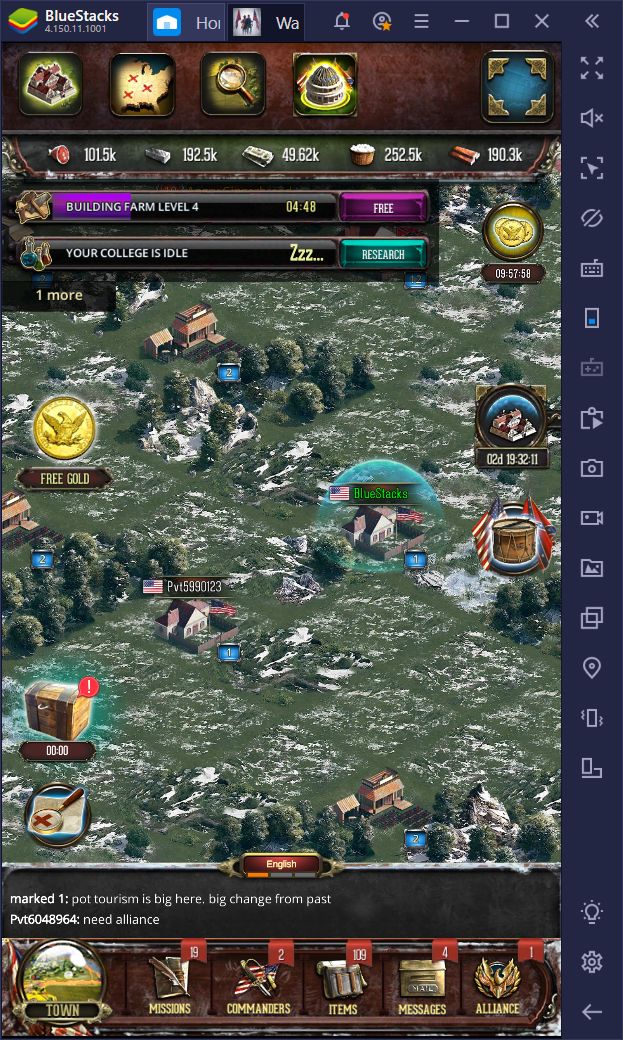 Through our BlueStacks Macros, you can create sequences of commands that can be reproduced at any time by pressing a single button combination. Imagine recording yourself doing a tedious chore once, and then being able to automate it from that moment. Imagine sending your troops out to gather once in War and Peace, and then never having to do it again.
Through the macro menu, you can even set your macros to repeat themselves after a period of time. For example, if you send your troops to gather food from the map, and they take 30 minutes to travel, load up, and go back to your town, you can set the macro to repeat itself in a half hour. In this sense, even if you're not paying attention to the game, your troops will be diligently gathering resources in your stead.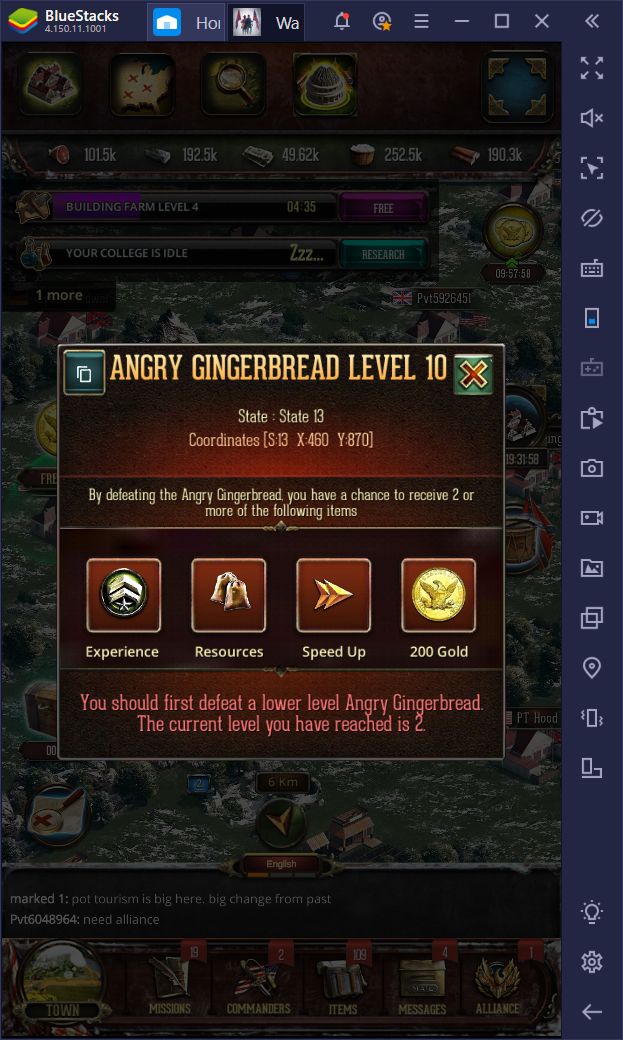 For War and Peace, you can create macros for gathering from the map, as well as for attacking NPC targets in your vicinity. However, since travel times vary according to the location of the target, we recommend creating a macro for a specific objective. For instance, if you want to gather resources from a spot with 20,000 units, and your army can carry only 1,000 units per trip, you can create a macro specifically for the spot, and have it repeat itself 20 times. In this manner, you can easily automate your farming in this game.
Aside from automating the aforementioned activities, other useful macros for War and Peace include sequences to streamline opening certain menus. For instance, opening the town quests is a process that takes two clicks in different parts of the screen. With a macro, however, you can easily access this menu with a single button. You can also create a macro for your most frequented menus in this manner, which will help to save you tons of time in the future.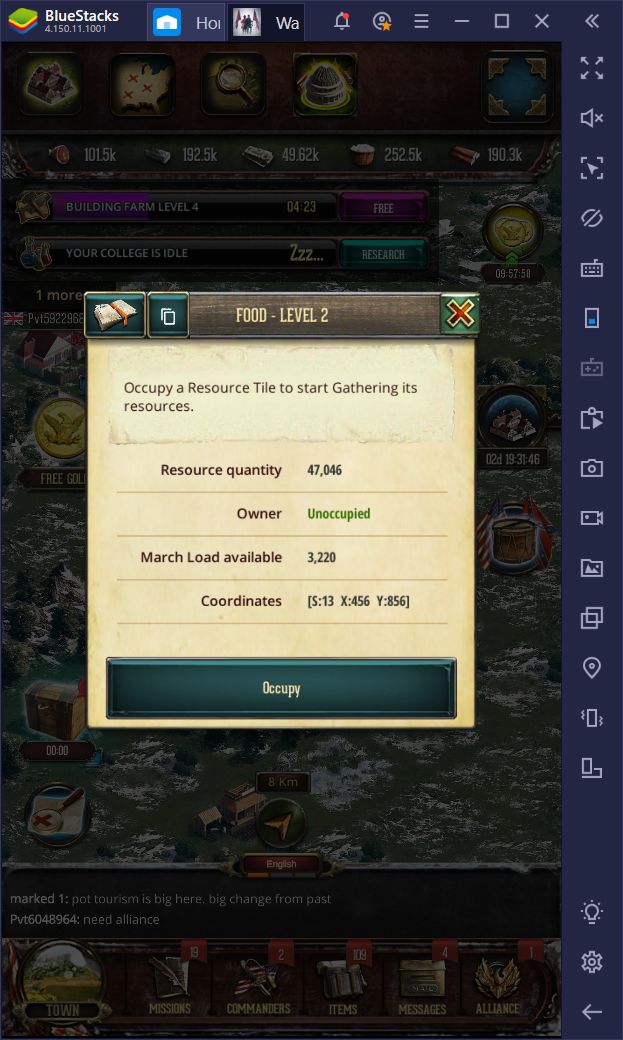 Both the Keymapping Tool and the Macro recorder are valuable features that will definitely improve the way you experience War and Peace. Why struggle to play on your phone with a smaller screen when you could be playing this awesome war game on your PC, with a large monitor, and with all the useful tools that our emulator offers?